Newsletter
January 2012
Newsletter Editor:
In This Issue:
MAGIC MUG News
Software Updates
Macintosh News, Information and Stories
iPhones, iPods, and iPads
By The Way
* Indicates author is a member of MAGIC
---
Meeting information
Day:
The 3rd Wednesday of the month. 18 January 2012 this Month
Place:
Whidbey Telecom Building
1651 Main St., Freeland (see map.)
Time:
4:00 p.m. - 6:00 p.m. with the first hour dedicated to new users and their questions.
Presentations:
•Apple Q & A
•Creating Newsletters with Pages by Ron Norman
Future Meetings: (subject to change)
15 February 2012
Whidbey Telecom (see map.)
•Apple Q & A
•Taking advantage of iCloud and DropBox by Robert Elphick

21 March 2012
Oak Harbor Senior High?
•Macintosh Q & A
•Creating Movies?

Do not forget to bring your used ink cartridges.
MAGIC will dispose of them for you and make some change for the group.
---
Minutes of the December Meeting
By Susan Prescott, MAGIC Secretary
The Macintosh User Appreciation Group of Island County (MAGIC) met at 4 p.m. at the Useless Bay Country Club (UBCC) on Wednesday, December 21, 2011. About 18 people attended. One of the dining halls was set up with round tables for holiday festivities. The bar was open for members to buy drinks and MAGIC paid for freshly baked cookies from the UBCC kitchen. Projected on the big screen was a cozy fireplace complete with crackling sounds. It is a free download, Fireplace Live.app, from the App Store.
Business meeting: President Elphick called the meeting to order about 4:15 p.m.
Treasury: Treasurer Sue Keblusek reported $2,095.51 in the treasury. A basket to collect the suggested dues/donation of $2 was passed around. The collection goes directly to the country club for MAGIC's use of its facility.
Board elections: Robert reported that all the board positions have candidates except Vice President of Presentations. Anyone willing to take this position should contact Vice President Penny Holland. Elections will be January 18, 2012, at the regular member meeting. To learn more about the board and its function, visit the About page of this website.
Classes: Robert announced a Macintosh Essentials class series to begin Saturday, January 14. The cost of the classes is $50 and a deposit of half is required. Registration is online through PayPal.
Ink cartridge revenue: Penny Holland has been collecting spent printer ink cartridges from members, for recycling in exchange for cash for the club. She shipped a large box off and received $54.45. Unfortunately many of the Canon and Epson cartridges were not accepted. Members should check with www.empties4cash.com/cartridge-price-list.html to determine if their empty cartridges are worth money for recycling. Individual printer manufacturers have recycling programs don't pay anything.
Holiday party: Nancy Ruff introduced a new story theme, "The Outage." A laptop was set up for each member to write three or four sentences to move the story along. Only the last sentence or two would be visible. Last year's story was read as an example.
Adjournment: The business portion of the meeting ended about 5 p.m. The bar was open and soon the warm cookies arrived. Every person was invited to share their name and a little about themselves. There were several new members in attendance.
Questions and Answers: Robert fielded and answered questions while cookies were munched, drinks sipped and the story progressed. A member asked, "Why does the calendar freeze in iCloud?" Robert suggested a program about iCloud glitches may be presented at the February 15 meeting.
About 5:45 p.m. the annual projection of collected funny pictures were run on the big screen.
The general meeting dispersed about 6:30 p.m. after a full reading of "The Outage."
---
MAGIC Moments
by RYE
Board meeting
The board of directors met in Freeland on January 7 and discussed a number of issues including future meeting places, upcoming schools and proposed schools. The board approved the expenditure of a new iPad 2 to be used for classes on iPads and as a loaner to MAGIC members interested in testing an iPad before buying one of there own.
Future Meeting Places
The meetings for January and February will be held new Whidbey Telecom facility in Freeland. Whidbey Telecom have graciously allowed us to have these two meetings gratis. In March we will probably visit Chris Douthitt at his school in Oak Harbor to see his Video studio and hear from him and the students who make the videos. After that we have yet to find a home for the monthly meetings.
Board of Directors Elections
Penny Holland has taken on the role of heading the nomination committee. Elections will take place at the January meeting and be effective for two years for most of the elected officers. Please note that the list of Officer Duties are posted on the MAGIC website. Here is a summary of Penny's activity at the time of writing:
PRESIDENT - Sue Kablusek
VP - open
VP/EDUCATION - Robert Elphick
VP/PROGRAMS - Susan Prescott
VP/MEMBERSHIP Ed Severinghaus
TREASURER - Bonnie Abney
SECRETARY Penny Holland
NEWSLETTER Ron Sharp
WEBMASTER Robert Elphick
DIRECTOR AT LARGE and "PARTY ANIMAL" Nancy Ruff

DIRECTOR AT LARGE Daryl Thomas' position will continue until January 2013
DIRECTOR AT LARGE Vi Frederik's position will continue until January 2014

Please volunteer or nominate someone by contacting Penny at
New Schools
Another Essentials class will be held in January and February starting January 14th. We also are planning an iWork school concentrating on Pages to begin February 18 2012. Details can be found on the Education page of the MAGIC website as they are forthcoming.
The school broke even financially, partly due to several "no-shows". We might ask for deposits in the future so that we can fill the classes and reduce the chances of turning people down for the limited spaces. Several people were turned down for the last one.
PayPal account
MAGIC now has a PayPal account. This is now on the website to allow people to make donations to MAGIC directly. Also it will provide a mechanism for deposits on future schools (see above). It can be found at the Donation Page.
MacWorld/iWorld
MacWorld/iWorld conference takes place January 26 to the 28th. 2012, at the Moscone Center in San Francisco.
Details: http://www.macworldiworld.com/
---
SOFTWARE UPDATES
Note: This Software Update section of the newsletter lists the most relevant Apple updates. Not all updates are listed for all products. Additionally, I'll add other pertinent updates on occasion.
Apple updates Brother, Lexmark drivers
by Jonathan Seff, Macworld.com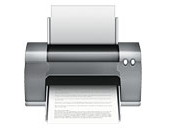 Do you like printing and scanning things? Are you running OS X 10.6 or 10.7? Then it's your lucky day—assuming you have Brother or Lexmark hardware connected to your Mac and get excited by printer driver updates.
Apple has released Brother Printer Drivers 2.8 and Lexmark Printer Driver 2.7 for users of OS X 10.6 or later. The downloads include the latest drivers for Brother and Lexmark devices, and should show up in Software Update if you've used a printer/scanner from one of those companies in the past. As usual, the incremental updates via Software Update are pretty small, but the full downloads weigh in at 149.6MB and 182.9MB for Brother and Lexmark, respectively. Both are available from Apple's Support Downloads page.
Click here for complete article.
---
iTunes 10.5.2 addresses iTunes Match problems
by Jonathan Seff, Macworld.com
Hope you're in a firmware-updating mood, because Apple's released updates for both the MacBook Pro as well as the AirPort Base Station and Time Capsule.
On Monday, (Dec. 12, 2011) Apple updated its iTunes software to 10.5.2, with unspecified fixes for problems with iTunes Match. Apple's brief description reads "iTunes 10.5.2 includes several improvements for iTunes Match and fixes an audio distortion problem when playing or importing certain CDs."
iTunes Match is Apple's $25-a-year service that stores your iTunes library in the cloud, matching the tracks in your library with those in Apple's 20-million-song catalog—meaning you don't have to upload them yourself—and letting you upload the ones it can't match (for a total of 25,000 tracks not purchased from the iTunes Store). It is currently available for U.S. customers only.
You can download iTunes 10.5.2 directly from Apple's iTunes download page. At the time this story was posted, the software wasn't showing up in Software Update, and the Apple support page for the update was still showing iTunes 10.5.1.
iTunes 10.5 requires OS X 10.5 or later, and is also available for Windows XP (SP2 or later), Vista, and 7.
---
Mozilla launches Firefox 9, speeds up JavaScript
by Gregg Keizer, Computerworld
Mozilla on Tuesday (Dec. 21, 2011) shipped Firefox 9, claiming that the new browser processes JavaScript up to 36 percent faster than its predecessor.
The company also patched six Firefox vulnerabilities, and released a security update to the nearly-two-year-old Firefox 3.6 to quash a single bug there.
Firefox 9, released six weeks after November's Firefox 8, uses a technology called "type inference" in its SpiderMonkey JavaScript engine to generate native code more efficiently using the JaegerMonkey JIT (just-in-time) compiler Mozilla first added to Firefox last March.
The result: Firefox 9 renders JavaScript—the backbone of many online games, content-rich websites and advanced Web apps—between 16 percent and 36 percent faster than Firefox 8, according to results Mozilla posted from Mozilla's Kraken, Google's V8 and the widely-cited SunSpider JavaScript benchmark test suites.
Mozilla also tweaked Firefox's Interface on Mac OS X 10.7 to support Lion's two-fingered swipe gesture for navigating backward and forward through already-viewed pages or sites.
The Windows version did not spot any noticeable interface changes.
As part of the upgrade to Firefox 9, Mozilla also patched a half-dozen vulnerabilities, four of them rated "critical," the company's highest threat warning. The other flaws were rated "high" and "moderate."
The most serious of the six was actually a bucket of 23 memory bugs that developers found and fixed in the core browser engine.
"Some of these bugs showed evidence of memory corruption under certain circumstances, and we presume that with enough effort at least some of these could be exploited to run arbitrary code," Mozilla wrote in the accompanying 2011-53 security advisory.
Mozilla also released Firefox 3.6.25, the latest security update for the still-supported 2010 browser, re-patching a single flaw on Mac OS X that was originally—and incorrectly—addressed in late September.
Firefox 3.6 may be on its last legs: On Dec. 1, Mozilla offered those users a newer edition in an attempt to move them to the rapid-release schedule that produces an upgrade every six weeks.
It's unclear how successful that offer has been—Mozilla hasn't released its own data—but statistics from Irish metrics company StatCounter showed that Firefox 3.6's share has dropped by eight-tenths of a percentage point since the first of the month, more than during all of November.
Firefox still does not sport the long-promised "silent update" mechanism that will put it on par with Google's Chrome, which upgrades itself without any user interaction.
Silent updates, which have been on Mozilla's radar since the summer of 2010, have been again delayed, according to the company's website: The final piece of the service is now slated to appear in Firefox 12, currently set to release in April 2012.
At the same time that it shipped Firefox 9 for desktop computers, Mozilla also released a new Android version of its browser that features a reworked interface for smartphones, and its first designed for tablets.
Firefox for Android can be downloaded from Google's Android Market.
Windows, Mac and Linux editions of Firefox 9 can be downloaded manually from Mozilla's site; people running Firefox 4 or later will be offered the upgrade through the browser's own update mechanism. The next version of Firefox is scheduled to ship Jan. 31.
Click here for complete article..
---
News, Info and Stories
---
Fix Lion's erroneous autocorrections, permanently
by Lex Friedman, Macworld.com
Sometimes, one person's hint is another person's incredibly obvious feature. In this case, I was the guy who needed a hint that—once it was pointed out to me—I felt silly for not thinking of on my own.
I was getting frustrated by Lion's built-in, iOS-style autocorrection. I normally like the feature, which corrects misspellings as you type, but it was making life difficult for me when I searched my email for messages from Macworld senior editors Chris Breen and Scholle Sawyer McFarland. When searching for messages from Chris, I'd type "from:breen" into Gmail; for Scholle, I'd type "from:scholle" instead. Lion unhelpfully wanted to replace their names with "green" and "school," respectively.
I griped on Twitter, and Flying Meat Software's Gus Mueller shared the easy fix. If Lion's autocorrecting a word that you'd prefer it simply leave alone, let it make the correction, then fix the word so that it's spelled the way you'd prefer again. Next, Control-click (or right-click) on the word in question, and choose Learn Spelling from the contextual menu that appears. From now on, Lion won't autocorrect that word any longer.
Now, I already knew about the Learn Spelling option, but in my mind, I used it to fix words that my Mac mistakenly gave the "red squiggly underline" treatment. But indeed, as Gus pointed out, Learn Spelling fixes rogue autocorrections, too.
If you'd prefer that Lion never autocorrect the words you type, remember you can go to System Preferences, click on the Language & Text pane, navigate to the Text tab, and uncheck Correct Spelling As You Type.
---
USB 3 on a Mac
contributed by: tvalleau
It's worth noting USB 3 devices are faster, even with USB 2. Here's something you may find interesting.
While Mac's don't support USB 3 yet, USB 3 is backwards compatible with USB 2, which is what recent Mac's have. USB 3 used in under USB 2 conditions (which I'll call USB 3/2 to save typing) is much faster than USB 2.
For example, the ADATA S102/16GB USB 3 memory stick is about 50% faster than even the fastest USB 2 stick I've found.
And for more of a surprise, how about this: the $19 Transcend USB 3 card reader (TS-RDF8K) is nearly twice as fast as my fastest USB 2 card reader (500MB copied in 11 sec vs 20 sec.)
So, if you're into moving data from your camera faster, get a USB3 card reader even if your computer doesn't support USB 3 yet. As usual, however, YMMV.
Click here for complete article.
---
Scrolling the New Way for New Users
by Carl Grasso, smalldog.com
Over the holiday weekend, billions of people got new Macs (not a scientifically accurate number), and many of those users are new Lion. I'm betting aside from the squeals and screams of joy at getting one of the greatest computers currently in existence, the phrase, "Why isn't this scrolling in the right direction?" was uttered.
When you first start up Lion on a laptop (or a desktop with a Magic Mouse or Magic Trackpad paired with it), it will show you that scrolling doesn't function in our commonly accepted method before it will let you into the system (i.e. when you move your scroll wheel up, the text doesn't move down). Apple's "natural scrolling" method now means that text moves in the direction of your finger—just like it does on an iOS device.
I've found this works fine on a touch device like the Magic Trackpad, but for those of us who still use mice with a physical scroll wheel, it's not as good. The good news is that you can return your Mac to the old fashioned way by going into System Preferences (go to the Apple in the top left of your screen or go to Launchpad) and choose the Mouse preference pane. At the top of the window, you'll see "Move content in the direction of finger movement when scrolling or navigating." Uncheck the box next to that if you'd like to return to the tried-and-true method of scrolling that we're all used to.
As Apple moves toward greater integration of Mac OS and iOS, as well as a shift toward touch screens on all their devices, this new way of scrolling is going to become standard.
Click here for complete article.
---
Life after iWeb: The state of Web design on the Mac
by Adam Berenstain, Macworld.com
It hasn't been a great year for iWeb users. Apple's lone Web design app wasn't updated with the release of iLife '11, and future versions—much less a successor—are in doubt. Even if iWeb's prospects are as bad as they seem, there's more to creating websites on the Mac than just one program. Whether you're looking for an easy-to-use iWeb replacement or a more sophisticated program with more powerful features for you and your site's visitors, a host of applications is available for every skill level and budget. Here are some of the highlights and how current iWeb users could find them useful.
The iWeb problem
While iWeb may be unavailable on the Mac App Store, it's still currently sold in boxed editions of the iLife '11 suite. This summer, the app was updated to version 3.0.4, and will presumably keep working even after Apple ends MobileMe Web hosting on June 30, 2012. After that date, many iWeb users will have to find new hosts for their sites, but iWeb will still export to FTP and Finder folders. However, many iWeb features, like password protection, blog and photo comments, and blog searches won't work without MobileMe hosting. While iCloud provides convenient data and photo syncing, it's not a Web host. It's possible that Apple could bring some MobileMe features to iCloud, but which features, and when they would be added, is an open question. Whether you're thinking about replacing iWeb now, or are forced to do so later, finding an application that's right for you depends on your needs.
Professional and prosumer options
If you're ready to take your skills and sites to the next level, professional Web design software can help. These applications offer sophisticated WYSIWYG features, rich code editing tools, or both, and are aimed at building and maintaining complex sites. Dreamweaver CS5.5 ($400) is the choice of many Web design pros for designing cutting-edge sites using HTML, CSS, JavaScript, or PHP. It's suited to building and maintaining complex database-driven sites, but its rich graphical tools (and integration with other Adobe software like Photoshop) let you unleash your inner artist, too. Flux (£70, or roughly $112), sometimes referred to as MacFlux, is an HTML 5 and CSS design app for new and experienced designers who don't mind guidance like page templates and libraries of HTML, JavaScript, and CSS widgets. Flux can also create Ruby on Rails, Concrete5, or ePub projects, as well as WordPress themes. Freeway Pro ($229) is a strictly WYSIWYG designer that's user-friendly enough to include templates to get your site started. But it doesn't skimp on advanced features like support for PSD, TIFF, and EPS files as well as CSS layouts and full CSS text styling.
Template-based consumer apps
For a more iWeb-like experience that lets you build sites with themed templates you can customize with your content, you have several options. These programs offer a wider variety of templates, widgets, and social media features than iWeb '09 while still remaining easy to use. RapidWeaver ($80) offers more than 40 themes and templates for your site that you can edit in an uncluttered interface. The features and behavior of your site can be extensively customized with Flash photo slideshows, custom favicons, WebClip icons, meta tags, and more. Sandvox ($80) offers over 50 themes and templates and easy access to both your iLife media and browser bookmarks. Its widget-like objects can easily add Facebook "Like" buttons, your Twitter, Skype, or IM status, and other social interactivity to your site—even a contact form and Facebook, IntenseDebate, or Disqus comment systems. Freeway Express ($69) is a streamlined version of Freeway Pro that retains many of its sibling's powerful features, like templates, CSS navigation bars, and master pages that let you easily add menus, media, and more across pages when designing a site from scratch. A $50 version, called Freeway Express AS, is available on the Mac App Store.
Sometimes, even the best-looking templates aren't enough. If you'd prefer to create pages on a blank canvas, but still want user-friendly design features, there are apps for that, too. Muse (free until early 2012; $180 annual or $15 monthly subscription thereafter) is an Adobe application that works like a simplified mix of InDesign and Photoshop. Users of either application will be at home with its floating palette of tools and quick access to Web-safe colors, fonts, and text-styling options. Its widgets can easily add navigation bars, slideshows, and other interactive features to your site; and these can be extensively customized along with objects you create yourself. Hype ($30) lets you create HTML5 animations, but it can also be used to create an entire site. Animating objects is as easy as giving them different states (such as position or color) on a timeline. The "in-between" frames are created for you, and a recording feature that tracks changes simplifies the process even further. Animations, page transitions, and even JavaScript actions can be triggered when visitors mouse over content, or at other points you define.
Free applications and Web-based services
Each application above is available to try before you buy, but some Web design software comes with no price tag at all. These free cross-platform programs may lack the look and feel of modern Mac apps—and conveniences like iLife media integration—but with them you can create and upload Web pages using a combination of WYSIWYG and code-based tools without breaking your budget. KompoZer, Amaya, and BlueGriffon are three options that are worth a look.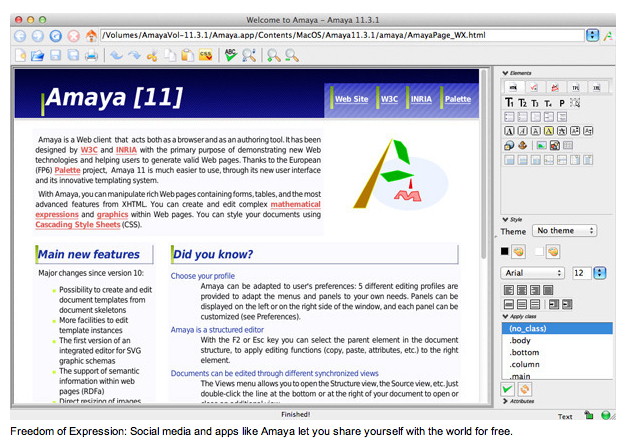 If your budget is zero, you may not even need a dedicated design application, thanks to social media sites. Odds are you're already using Flickr for photos, YouTube for videos, or Blogger or WordPress to share your writing (and more) with the world. The ubiquity and ease of use of these services can't be denied. But even if you're comfortable with some or all of them, packaging that content in a single site of your own design can be a great way to present yourself online.
No matter what the future holds for iWeb, or what your needs are, the Mac Web design scene offers plenty of alternatives. With so many choices, you're bound to find a new tool that's right for you - and probably some new skills along the way.
Click here for complete article.
---
Clean out Launchpad completely
by Lex Friedman, Macworld.com

Launchpad takes the iOS home screen springboard and recreates it on your Mac. Some users love this new Lion feature; others aren't sold. If you're among the latter, you can ignore Launchpad pretty easily: Remove its icon from your Dock, turn off the Launchpad gesture, and you can live fairly Launchpad-free from then on. But what if you want to get a fresh-start with Launchpad, configuring it to give you quick access only to those apps you choose?
You could manually remove entries from Launchpad while it's onscreen by holding down the Option key and clicking on the jiggling apps. But that won't work on stock Apple apps, which seem permanently affixed to Launchpad's surface. And it's a laborious process if you have a lot of apps.
But there is a way to empty Launchpad completely—removing even Apple's own apps. The crux of this trick is wiping out the contents of the database Lion uses to know what goes where in Launchpad. To do so, launch Terminal (which, as always, is in /Applications/Utilities) and paste in this sequence of commands at the command line:
sqlite3 ~/Library/Application\ Support/Dock/*.db DELETE from apps
DELETE from groups WHERE title<>''
DELETE from items WHERE rowid>2
Killall Dock
Now, open Launchpad again. It'll be as blank as the faces on those guys in Apple's 1984 commercial. Of course, if you purchase an app from the Mac App Store, its icon will show up in your newly naked Launchpad.
Getting the apps you want back into Launchpad is simple: You can just drag the apps you'd like to add directly onto Launchpad's Dock icon. (Merely dragging icons onto the Launchpad icon in the Finder won't work; you must drag onto the Dock icon.)
Miss the old, overstuffed Launchpad? You can get it back by forcing Lion to rebuild your Launchpad database with this Terminal command:
rm ~/Library/Application\ Support/Dock/*.db
killall Dock
Click here for complete article.
---
How to shop at the Mac App Store
by Roman Loyola, Macworld.com

Got a new Mac for the holidays? Congratulations! We bet you're anxious to get started using your new Mac—in fact, you might be reading this on that new Mac right now. The key to getting things done is to have the right software. Your Mac comes with plenty of software to get you started: Mail, Safari, iCal, Address Book, iLife, and more. But where can you find software that's not already on your Mac? One place—and perhaps the easiest source to use—is Apple's Mac App Store.
The Mac App Store is filled with thousands of software programs for all different types of people and tasks. You can find recipe databases for the family chef, artistic effect filters for photographers, audio software for musicians and DJs, system utilities for the Mac expert, and upgrades to OS X Lion for your friends. And, of course, there are games, games, and more games.
But wait—you say you've never bought anything on the Mac App Store? Don't worry, we're here to help. In this tutorial, we'll go through the steps for buying software on the Mac App Store. It's very easy.
Step 1: Go to the Mac App Store
Sounds simple enough to start, right? It is, if you are running OS X 10.6.6 or later. If you have a brand new Mac, that includes you, since it's probably running the latest version of OS X, Lion (10.7).
If you are using an older Mac with OS X 10.5.x, you need to buy an upgrade to OS X 10.6 Snow Leopard (OS X 10.7 Lion isn't necessary to access the Mac App Store). Once you upgrade, you then have to use Software Update to update OS X to the latest version of Snow Leopard, 10.6.8, which includes the Mac App Store app. (You can then decide if you want to upgrade to OS X Lion, which you can buy in the Mac App Store. Or you can get your shopping done first and then upgrade to Lion.)
Assuming you've got Lion or the latest version of Snow Leopard installed, you should have the Mac App Store app. Look in your Applications folder, your Dock, or (if you're running Lion) in LaunchPad—it looks like the icon at the top of this article, a blue circle with an A inside. Open the app, and you're in the store.
Step 2: Sign In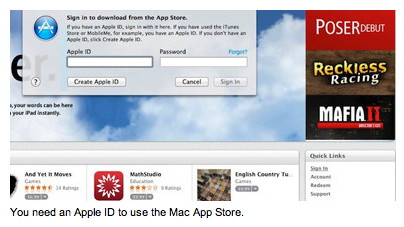 If you've shopped at the Mac App Store before, you're probably still automatically signed in. If not, you need to sign in with your Apple ID. If you've used the iTunes Store before, you can use the same Apple ID. Click the Sign In link in the Quick Links section on the right-hand side of the Mac App Store window. (You don't need to sign in to browse the contents of the store, so you can wait to perform this step when you're ready to make a purchase.) A pop-up box will appear and prompt you to sign in with your Apple ID.
If you don't have an Apple ID, click Create Apple ID and create one—you will need to enter credit card information or a PayPal account.
Step 3: Look around
There are different sections of the Mac App Store to help you find the right app for your needs. The New and Noteworthy section features apps that have just entered the Mac App Store. The What's Hot, Top Paid, and Top Free section show which apps are popular at the moment. Apple also has a Staff Favorites section, as well as a Top Grossing section.
You can also peruse apps by category, either by clicking on the Categories button at the top of the Mac App Store, or by using the categories pop-up menu in the Quick Links section.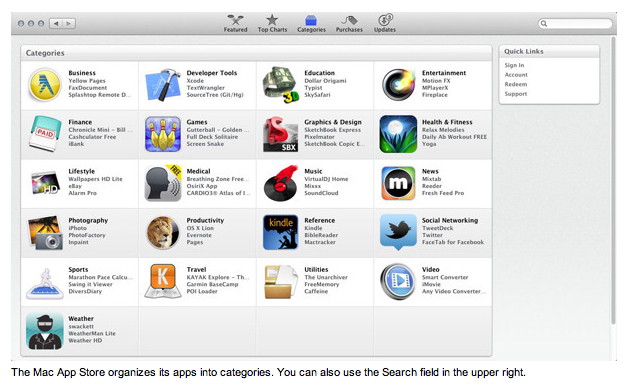 Of course, you can also use the Search field in the upper right corner to find an app based on its name, or to perform a search based on the type of app you are interested in.
Step 4: Buy an app
Found an app you want to buy—or, better yet, a free app you want to try? Great. When you're ready to buy, look for the price of the app in the upper left corner of the app's page. The price is actually a button. Click on it, and it changes to a button that reads Buy App. Click the button again to buy the app. If you haven't signed in, you'll have to do so at this point. If you don't have an account, you'll have to create one to complete the purchase.
After you've purchased the app, the Mac App Store downloads the app and installs it on your computer. (Your credit card or PayPal account will be charged for the purchase.) If you are running Lion, your Mac's screen will switch to Launchpad and you'll see the new app's icon at the end of the list as a dimmed icon with a progress bar labeled Downloading. You can do other things while you're waiting for the app to download; just click any blank space (or press the Escape key) to leave Launchpad. The new app will continue downloading in the background. If you want to check the progress of your download, you can reopen Launchpad, or you can check the Purchases section in the Mac App Store app. In the latter, your new app will be at the top of the list, displaying a progress bar and the amount of time left on the download. Below that app are the other apps you have bought (if any).

The amount of time it takes to download a new app depends on the size of the app and the speed of your Internet connection. You can pause the download if needed by clicking the Pause button next to it in the Mac App Store's Purchases screen; to resume the download, just come back to the Purchases section and click the same button, which is now labeled Resume.
Step 5: Use your new app
When your new app has finished downloading, it will be listed as Installed in the Purchases section of the Mac App Store, and the app's icon in Launchpad will no longer be dimmed—the app is ready for you to use. You can launch your new app just as you would any other app: by double-clicking it inside the Applications folder, by clicking it in LaunchPad, or, (if it's in the Dock) by clicking it in the Dock. You can also customize where it appears in Launchpad, if you want. (We have a separate article on how to rearrange apps in Launchpad.) 
Update your apps
Apps purchased through the Mac App Store are also updated through the Mac App Store, so you might want launch the Mac App Store app every once in a while to check for updates—just click the Updates button in the toolbar. You can also look at the Mac App Store icon in your Dock on in Launchpad; if the icon has a red badge with a number on it, there are updates available. (The red badge does not appear on the Mac App Store icon in your Applications folder.)
Click here for complete article.
---
Configuring Mail's rules
by Christopher Breen, Macworld.com
Many of us live and die by email, and because we do it makes sense to organize that email so that you can quickly find the messages you need. One way to organize email is to create filters or rules to automatically file it as it's received. In this week's Macworld Video I show you how to do just that.
Show Notes
In this video I specifically addressed Apple's Mail email client, but all email clients have some kind of rule or filter capability built in. Of course if you have an account that lives largely on the Web—a Gmail account, for example—you can create filters within the Web client rather than in the email client on your Mac. (Though there's no harm in doing both.)
To subscribe to the Macworld Video stream via iTunes, click here.
You can also see a complete archive of all our videos on Macworld's YouTube channel. Subscribe to that channels and you will be notified whenever we post a new video.
Or just point your favorite podcast-savvy RSS reader to: http://feeds.macworld.com/macworld/video/
Click here for complete article.
---
How-To: Resurrect Your AppleTalk Printer in Snow Leopard
by Dave Greenbaum, gigaom.com
Did Snow Leopard leave your old AppleTalk printer out in the cold? Grab a hot cup of cocoa and warm your printer up with some of these handy tips to continue to use your classic AppleTalk printer with your state of the art operating system.
Print Via USB
Of course! Get a longer USB cable if possible, but what if your printer doesn't have a USB port? It may have an old-style parallel port probably marked "LPT." For those people who have not seen them, here is a picture of one of these ports. Support for laser printers with these can be spotty, so use at your own risk. Not all the USB to Parallel Port adapters work well with the Macs, so do some research beforehand or buy from a place with a generous return policy.
Print Over IP
Some printers that support AppleTalk support other protocols such as IP. Many old LaserWriter workhorses such as the 16/600 fall into this category. If you are in a large office, ask your IT staff for help, but for those in a small office environment who are their own IT person, follow along! The hardest part is figuring out how to configure the IP address of the printer.
Step one is to find an open IP. Don't try to use DHCP settings because if the IP address changes for some reason, it will be invisible on the network. Look at the IP address on your Mac by going to System Preferences and then Network. Your IP address will be in the format XXX.XXX.XXX.XXX. If you are using an Airport router, it's probably 10.0.1.x, other routers will most likely be 192.168.1.x or 192.168.0.x. I always make printers .150 simply because I was taught that in school. Why? Just because. Avoid numbers in the low single digits, one hundreds, or two hundreds. Other devices may use these. To be extra safe, open up terminal and ping the address you decide on just to make sure nothing else is using it.
Actually configuring the printer may be tricky. Some will let you do it in the printer's control panel in a "Network" or "TCP/IP" sub-menu. Let Google be your guide and simply search for your printer and TCP/IP settings or address. I wish I could be more specific. Some printers will have a "Printer Utility," but those may not work in Snow Leopard. Try and print a test page so you confirm that you set the IP address correctly. Since HPs are such popular printers, here's a link that covers most of its printers.
Next, go to the "Print & Fax" system preference pane and click the plus icon and then "IP" icon. Which do you choose from under the "Protocol" options? First try "HP Jetdirect-socket," even if it's not an HP printer. If it's an older printer, start with LPD. Newer printers might accept IPP. Just type the IP address. Even if the IP address says valid and complete, that doesn't mean you are talking to it. Most likely, Snow Leopard won't be able to figure out which driver it to use. You'll need to select it manually from the "Print Using" drop down. Since the printer worked in Leopard or Tiger, you'll most likely have the driver already. Click "Add" and then run a test print. One of those three protocols should work. If not, you have other options.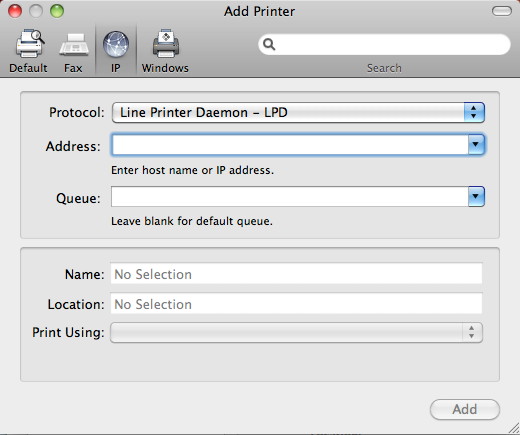 Personally, I've had to do this with quite a few clients lately, printing to the larger business machine class multifunction copy stations, and it works like a charm.
Use a Parallel (or USB) to Ethernet Print Server
These boxes cost around $50. In my experience, I've rarely seen an Ethernet-only printer. As stated earlier, they usually have a parallel port as another port option.
You'll need to confirm the print server supports printing over TCP/IP, but I've found that most do. It may have a Windows-only configuration utility, so be sure to check if it supports Mac out of the box, if you don't have access to a Windows machine. Follow the procedures in the Print Over IP option above to pick an IP address and add the printer.
Alternatively, if you have a Airport Express or Airport Extreme, hook the printer up to that if the printer supports USB.
Use a Windows Machine as a Print Server (GASP!)
If you've tried everything else and it just doesn't work, or you happen to have an old PC lying around, you can make it into a print server. Install the printer normally (if there is such a way) in Windows and make sure it works. Then go to "Add Printer" and click on "Windows" and your PC and the associated shared printer should appear. If it doesn't, additional info can be found in this Apple Support document. Not all printers can be shared over Windows, but if it worked over ethernet, it should work over Windows via Print Sharing. Setting this up is not easy nor for the faint of heart! Often times a firewall needs to be configured on the PC to allow printer sharing.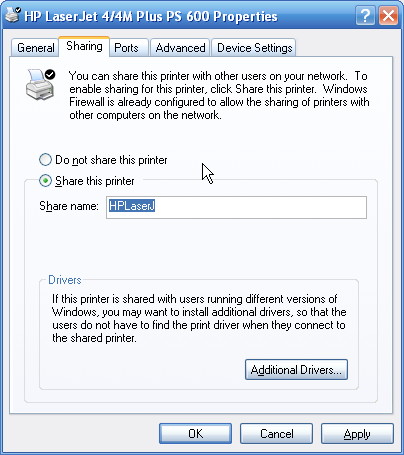 Buy a New Printer
If your primary method of printing was via AppleTalk, your printer is probably pretty old, so maybe it's time to buy a new one. A new printer has easier-to-find consumables and is most likely more energy efficient than your old one. Sure, you've already got money invested in the toner for the old one, but check its specs as compared to a new printer. Look at the material and labor cost of retrofitting your old printer versus buying a new one. You might be surprised at the ultimate value of buying a newer printer.
None of these solutions are a perfect guarantee you will be able to use your old printer forever, but they might help you get life out of the old bucket of bolts for a while longer, saving you money while letting you enjoy the features of Apple's latest and greatest cat.
Click here for complete article.
---
Pioneer introduces new AirPlay audio receivers
by Joel Mathis, Macworld.com
Pioneer this week (Jan. 6, 2012) introduced two new AirPlay audio systems that can play audio wirelessly from the listener's iPhone, iPad, or iPod touch.
The company unveiled the $499 N-30 and the $699 N-50 networked audio players on Wednesday. In addition to the AirPlay feature, both models include a 2.5-inch LCD screen to display music information—including album artwork—and both can be remotely controlled from your iOS device using Pioneer's free iControl app. Both are Wi-Fi-ready and Bluetooth-enabled to allow playback from music libraries on any compatible computer.
In addition to those basic capabilities, the pricier N-50 also includes gold RCA jacks for improved sound reproduction, along with two features—Advanced Sound Retriever and Sound Retriever AIR—designed to offer a song's full sound even when played from compressed digital formats like MP3 or Internet radio.
A year after its introduction by Apple, AirPlay has finally become widely available in new products by audio manufacturing companies. Pioneer jumped in with both feet last spring, introducing its first line of AirPlay-compatible receivers while the market was otherwise taking its time getting up to speed. Both the N-30 and N-50—part of Pioneer's "Elite" line of receivers—are now available.
Click here for complete article.
---
Screen Cast On-Line - Lion Tutorial
from Tom Johnson*
For those running Lion now or in the future.
This video is about two hours long and is a much easier way to comprehend the new features of Lion.
Note - The purchase must be done from a Mac running Lion i.e. it will not download to a Mac running Snow Leopard unless you select the "video only" option. It can be found at href="http://www.screencastsonline.com/appstore/scotutorforlion/
The Snow Leopard version can be viewed at: http://www.screencastsonline.com/appstore/scotutorforlion/snowleopard.php
Take a look at the Apple Store Reviews on this product. Here is one:
Worth every penny and then some... by Gerald Corder
There aren't many apps developers or software suppliers that I would purchase products from sight unseen or without reading users reviews. However, Don Mc Allister is one such person. Don's products are always professionally produced, superior quality and grade and the content detailed informative and well thought out. Don seems to anticipate the questions of users and through his own experiences, educates us on the usefulness of a product and it's pro and con's. By not accepting sponsor dollars for most if not all of the products evaluated and disclosing when free copies are secured, his unbiased reviews and training videos are invaluable and priceless to the Mac Community. Don alone has directly been responsible for saving me hundreds if not thousands of dollars in time and monies by avoidance of purchasing software on a trial and error method. My biggest regret of this particular app is that there is no way for me to directly purchase this app as a gift for family and friends as with purchases via ITunes. This app is worth $39.99 if not $399.99.
Names like Don Mc Allister, Leo Laporte, etc. are just names we've come to trust and depend on.
---
Computer Support - sort of
from Penny Holland MAGIC support specialist*
origin unknown
The joys of Computer Support and getting paid for it.
*******************
Tech support:
What kind of computer do you have?
Customer:
A white one...
*******************
Customer:
Hi, this is Celine ... I can't get my diskette out.
Tech support:
Have you tried pushing the Button?
Customer:
Yes, sure, it's really stuck.
Tech support:
That doesn't sound good; I'll make a note.
Customer:
No ,wait a minute. I hadn't inserted it yet... it's still on my desk... sorry...
*******************
Tech support:
Click on the 'my computer' icon on to the left of the screen.
Customer:
Your left or my left?
*******************
Tech support:
Good day. How may I help you?
Male customer:
Hello... I can't print.
Tech support:
Would you click on 'start' for me and....
Customer:
Listen pal; don't start getting technical on me! I'm not Bill Gates..
*******************
Customer:
Hi, good afternoon, this is Martha, I can't print. Every time I try, it says 'Can't find printer'. I've even lifted the printer and placed it in front of the monitor, but the computer still says he can't find it.
*******************
Customer:
I have problems printing in red..
Tech support:
Do you have a color printer?
Customer:
Aaaah....................thank you.
*******************
Tech support:
What's on your monitor now, ma'am?
Customer:
A teddy bear my boyfriend bought for me at the 7-11.
*******************
Customer:
My keyboard is not working anymore.
Tech support:
Are you sure it's plugged into the computer?
Customer:
No. I can't get behind the computer.
Tech support:
Pick up your keyboard and walk 10 paces back.
Customer:
OK
Tech support:
Did the keyboard come with you?
Customer:
Yes
Tech support:
That means the keyboard is not plugged in. Is there another keyboard?
Customer:
Yes, there's another one here. Ah ... that one does work.
*******************
Tech support:
Your password is the small letter 'a' as in apple, a capital letter V as in Victor, the number 7.
Customer:
Is that 7 in capital letters?
*******************
Customer:
I can't get on the Internet.
Tech support:
Are you sure you used the right password?
Customer:
Yes, I'm sure. I saw my colleague do it.
Tech support:
Can you tell me what the password was?
Customer:
Five dots.
*******************
Tech support:
What anti-virus program do you use?
Customer:
Netscape.
Tech support:
That's not an anti-virus program.
Customer:
Oh, sorry... Internet Explorer.
*******************
Customer:
I have a huge problem. A friend has placed a screen saver on my computer, but every time I move the mouse, it disappears.
Tech support:
How may I help you?
Customer:
I'm writing my first email.
Tech support:
OK, and what seems to be the problem?
Customer:
Well, I have the letter 'a' in the address, but how do I get the little circle around it?
*******************
Customer:
I have with a problem with my printer.
Tech support:
Are you running it under windows?
Customer:
'No, my desk is next to the door, but that is a good point. The man sitting in the cubicle next to me is under a window, and his printer is working fine.'
*******************
Tech support:
'Okay Bob, let's press the control and escape keys at the same time. That brings up a task list in the middle of the screen. Now type the letter 'P' to bring up the Program Manager.'
Customer:
I don't have a P.
Tech support:
On your keyboard, Bob.
Customer:
What do you mean?
Tech support:
'P'.....on your keyboard, Bob.
Customer:
I'M NOT GOING TO DO THAT!
*******************
---
iPhones, iPods, and iPads
Simulating traditional painting with the iPad
by Kyle Lambert, Macworld.com
Digital art doesn't have to look sterile and cold. Digital artist Kyle Lambert shows us how to create a painting that looks like it was made the old-fashioned way.
Traditional painting
Digital artwork has exploded over the past 10 years with graphics tablets and painting packages becoming more affordable and available to everyone. More recently, devices such as the iPad have taken digital art production mobile, with apps for sketching and painting on the go. But digital art isn't everyone's taste, particularly in the art world.
One of the major criticisms of digital art is the clean and unnatural results it can produce compared to traditional tools. In a number of cases this is certainly a valid argument, but many of the problems come down to the tools and methods used by the artist. In this slideshow we'll take a look at some techniques and app features that can help iPad artists achieve a more natural quality when painting with the iPad.
Click here for article slideshow.
Click here for complete article.
---
How iOS multitasking really works
by Fraser Speirs, Macworld.com
There's one bit of iOS misinformation that I keep hearing. Even supposedly authoritative sources such as Apple Geniuses don't seem to get it. It has to do with how multitasking works in iOS.
Here's the statement I keep hearing, and it's wrong:
All those apps in the multitasking bar on your iOS device are currently active and slowing it down, filling the device's memory or using up your battery. To maximise performance and battery life, you should kill them all manually.
The iOS multitasking bar does not contain a list of all running apps. It contains a list of recently used apps. The user never has to manage background tasks on iOS.
Except in a few cases, which I'll explain, the apps that appear in the multitasking bar are not currently running. When you press the home button, iOS will tell the app to quit. In almost all cases, it quits, it stops using processor time (and hence battery), and the memory it was using is eventually recovered, if required.
The five faces of apps
iOS apps can exist in any of five states of execution. These are:
Not Running: The app has been terminated or has not been launched.
Inactive: The app is in the foreground but not receiving events (for example, the user has locked the device with the app active).
Active: The normal state of "in use" for an app.
Background: The app is no longer on-screen but is still executing code.
Suspended: The app is still resident in memory but is not executing code.
Active and Inactive are not relevant to this discussion. Most of the confusion is around what happens as an app goes from Active to Background to Suspended to Not Running.
When you press the home button, the app moves from Active to Background. Most apps usually then go from Background to Suspended in a matter of seconds. (Suspended apps remain in the device's memory. This is so they can resume more quickly when you go back to them. They're not using processor time and they're not sucking battery power.)
You may think that if an app is resident in memory, you might have to remove it manually in order to conserve memory. But you don't: iOS does it for you. If you launch a memory-intensive app such as a game, iOS will start to purge Suspended apps from memory and move them to the Not Running state. That is, they will be completely removed from memory and will launch afresh the next time you tap their icon.
Here's the confusing part: None of these states are reflected in the multitasking bar. That bar always shows a list of recently used apps, regardless of whether they're in the Background, Suspended, or Not Running states. (You may also have noticed that the app that is currently Active does not appear in the multitasking bar.)
Background tasks
Let's take an app that downloads largish files from the Web, such as Instacast, my favorite podcast app. When Instacast is Active, it can start to download new podcasts. By default, if I hit the home button on my iPhone, Instacast would get five seconds to run in the Background state before it would be moved to Suspended. That would interrupt the download of my podcasts, which can take some time. (They're large files.)
But iOS allows apps such as Instacast, which have time-intensive tasks that can run in the background, to ask for a reprieve. The app declares its downloading of podcasts as a "background task." This allows Instacast an extra period of Background running, after I hit the home button, to complete its downloads.
Instacast doesn't have all day. An app gets about ten minutes of Background running time before it is forcibly suspended by iOS. But regardless, this isn't a feature regular users should worry about.
Indefinite background running
So all apps get five seconds of Background running, to clean things up, and some apps (such as Instacast) can request a ten-minute extension. There are, however, a small number of apps that genuinely need to run indefinitely in the background, and iOS allows this.
There are exactly five kinds of apps allowed to run indefinitely in the Background state in iOS 5:
Apps that play audio while in the Background state. A good example is Instacast while it's playing a podcast.
Apps that track your location in the background. For example, you still want voice prompts from your turn-by-turn GPS navigation app, even if another app is Active.
Apps that listen for incoming voice-over-IP (VOIP) calls. If you use Skype on iOS, you can receive incoming Skype calls while the app is in the background.
Newsstand apps that are downloading new content.
Apps that receive continuous updates from an external accessory in the background.
All well-written apps in the above categories should become Suspended when they are no longer performing the task in hand. When Instacast finishes playing a podcast, it should be Suspended. There are some built-in apps that also run continuously in the background on iOS—the most-used one is probably Mail.
As long as these apps are running in the Background state, they will consume memory, CPU time, and power. It's also important to know that an app which is enabled to run indefinitely in the background can do anything that it can do when it's Active. This may include much more than just playing audio or tracking your location. For example, as long as Instacast is playing audio it can also continue to download new episodes in the background.
In general, though, you would know that you were using such apps. The developer has to declare which category of Background running they require, and part of the App Store review process is to check that these declarations are not being abused—although App Store review is never a perfect catch-all.
I said earlier that "the user never has to manage Background tasks on iOS." The only exception to this is when one of these Background-running apps either goes berserk or will not Suspend itself properly. In such a case, you may want to manually kill the app from the Multitasking Bar. This, however, is an unusual situation and not a normal part of being an iOS user. I do think, though, that iOS could do a better job of showing which apps are currently in indefinite Background running, perhaps similarly to the way that apps using Location Services are shown.
Summary
Let me wrap this up by giving you a quick summary:
If someone tells you that all the apps in the multitasking bar are running, using up memory or sucking power, they are wrong.
When you hit the home button, an app moves from Active to Background and quickly to the Suspended state, where it no longer uses CPU time or drains power.
An app may request an additional ten minutes of Background running to complete a big task before becoming Suspended.
If memory is becoming scarce, iOS will automatically move Suspended apps into the Not Running state and reclaim their memory.
Five classes of apps—audio, GPS, VOIP, Newsstand and accessory apps—and some built-in apps such as Mail may run indefinitely in the background until they complete their task.
Put simply: You do not have to manage background tasks on iOS. The system handles almost every case for you, and well-written audio, GPS, VOIP, Newsstand, and accessory apps will handle the rest.

Click here for complete article.
---
By The Way
Bits & Pieces: Lawmakers seem intent on approving SOPA, PIPA*
by Ron Sharp, MAGIC
"The two bills, SOPA and PIPA for short, appear headed toward approval this year, unless opponents can change the minds of many lawmakers. Dozens of legislators have voiced support for the bills, despite reports from digital rights group Fight for the Future that more than 1 million people have sent email messages to Congress in opposition."
Click here for the complete MacWorld article.
Interesting videos
Everyone probably gets video links sent to them, some interesting and some not so. Here's a few I consider interesting:
Amazing owl footage
Painted semi-trucks
Slide show of murals
Berlin Store Front

For MacWorld video tutorials,
go to this web page, Then select a video to open in iTunes.

Or open iTunes, select the Podcasts tab and chose Technology in the drop down menu. Then on the right side of the window select the video tab, then type "macworld video" in the search.

I recommend the DropBox video.

---




Bookmarks*

by Ron Sharp, MAGIC

Firefox has more than enough bookmark options to satisfy anyone. Besides creating new folders, you can create separator lines between groups of bookmarks and you can select individual or groups of bookmarks to move or delete. You can, however, just drag bookmarks to other folders in Firefox and Safari as well.

Safari has the nice Cover Flow view, although you have to browse a site before an image is saved. And since I don't use Safari much most of the site images are blank making Cover Flow less useful for me.

Firefox also gives you the choice of eight column items to show, such as Keyword and Visit Date, and allows you to have them sorted alphabetically by Name, or by Keyword, Visit Count, Visit Date, or other criteria.

In both Safari and Firefox you can change the name that shows for a bookmark, which I do frequently because sometimes the name is too long and is much quicker to recognize when shortened, from say a long part number and geeky description. You can also add keywords to your bookmarks in Firefox which can be used for sorting or helpful for searching bookmarks.

I'm sure Chrome and other browsers have similar functions, although sometimes it takes a little searching and playing to see what options are available and useful.

---

MAGIC, the Macintosh Appreciation Group of Island County, serves people who use Macintosh computers, software and peripherals. Our goal is to share information and get answers to questions to make us more productive with our use of technology. Our monthly meetings give us a chance to discuss computer problems and share ideas with other Mac users, feature speakers on specific topics, and to keep apprised of Apple news.