Newsletter
February 2012
Newsletter Editor:
In This Issue:
MAGIC MUG News
Software Updates
Macintosh News, Information and Stories
iPhones, iPods, and iPads
By The Way
* Indicates author is a member of MAGIC
---
Meeting information
Day:
The 3rd Wednesday of the month. 15 February 2012 this Month
Place:
Whidbey Telecom Building
1651 Main St., Freeland (see map.)
Time:
4:00 p.m. - 6:00 p.m. with the first hour dedicated to new users and their questions.
Presentations:
•Apple Q & A
•Creating Newsletters with Pages by Ron Norman
Future Meetings: (subject to change)
21 March 2012
Oak Harbor Senior High?
•Apple Q & A
•Creating Movies?

18 April 2012
Location to be Determined
•Apple Q & A
•Taking advantage of iCloud and DropBox by Robert Elphick

Do not forget to bring your used ink cartridges.
MAGIC will dispose of them for you and make some change for the group.
---
Minutes of the January 2012 Meeting
By Susan Prescott, MAGIC Secretary
Meeting Cancelled due to Winter Storm.
---
MAGIC Moments
by RYE
Mentor Program
MAGIC would like to make more advice available for beginners. We are seeking volunteers who would be willing to meet members with questions or problems either in a local public venue (library, coffee shops, etc.) or go to members homes where a large computer is involved or the member has mobility issues. The new programis being set up by our VP-Membership, Ed Severinghaus who can be contacted
Please contact him with your name and any particular experience or expertise that you can offer. Many of the needs are for beginner level problem solving so please let us know even if you are not a high level expert. Sometimes, just going to a member and figuring out what the problem is may be enough and a wizard can provide a solution.
Future Meeting Places
We are still figuring out where our meetings will take place from April into the future. Several possibilities have been found in the Freeland area so we hope to have the meetings in this central location. More soon.
Board of Directors Elections
Elections will take place at the February meeting (delayed due to the snowstorm that cancelled the January meeting) and will be effective for two years for most of the elected officers. Please note that the list of Officer Duties are posted on the MAGIC website. Here is a summary of candidates at the time of writing:
PRESIDENT - Sue Kablusek
VP - open
VP/EDUCATION - Robert Elphick
VP/PROGRAMS - Susan Prescott
VP/MEMBERSHIP Ed Severinghaus
TREASURER - Bonnie Abney
SECRETARY Penny Holland
NEWSLETTER Ron Sharp
WEBMASTER Robert Elphick
DIRECTOR AT LARGE and "PARTY ANIMAL" Nancy Ruff

DIRECTOR AT LARGE Daryl Thomas's position will continue until January 2013
DIRECTOR AT LARGE Vi Frederik's position will continue until January 2014

Please volunteer or nominate someone by contacting Penny at
New Schools
Another iWork school concentrating on Pages is to begin March 10 2012. Details can be found on the Education page of the MAGIC website as they are forthcoming.
iPad Classes will be set up soon. MAGIC has acquired an iPad to be used for training and also to be made available to members who wish to try it out for a few days for a modest donation. Details will be posted on the Education page of the MAGIC website as they develop.
PayPal account
MAGIC now has a PayPal account. This is now on the website to allow people to make donations to MAGIC directly. Also it will provide a mechanism for deposits on future schools (see above). It can be found at the Donation Page.
It will also be used to accept deposits for all future classes run by MAGIC.
Inkjet Cartridge Recycling Project
As many MAGIC members know, we collect empty inkjet cartridges from members (and members' friends) and send them in once or twice a year, earning a little over $50 per year for our club. Several years ago I found the Empties4Cash site on the internet, notified the MAGIC members, and have been gathering your empties ever since. Now I'm wondering if there is somebody else who would like to take over this job. It's really simple--here's what it entails:
People bring cartridges to the meetings and the recycler takes them home and throws them in a box or bag. (IF you miss a meeting, never fear, the cartridges will be kept by someone leading the meeting and will bring them back to you the next month.)
Once a year (or more if you feel like it) sort them out and place them in a box. The Empties4Cash company provides us with FREE Fedex shipping labels, so all you have to do is call the Fedex number when the box is ready for pickup, put it on your porch the night before, and Fedex will pick up the box. No fuss, no cost to you.
A couple weeks later a check arrives in the mail.
SIMPLE!
Since Penny Holland is probably going to take on the job of secretary this coming year, we'd really appreciate it if somebody else would take on the recycling. Thanks for considering this job that is pretty darn easy and very rewarding. We promise to get you started with all the information you need and even the collection bag to take to meetings.
To volunteer, please contact Penny at
---
SOFTWARE UPDATES
Note: This Software Update section of the newsletter lists the most relevant Apple updates. Not all updates are listed for all products. Additionally, I'll add other pertinent updates on occasion.
Apple updates AirPort Utility, base station firmware
by Dan Moren, Macworld.com, Macworld.com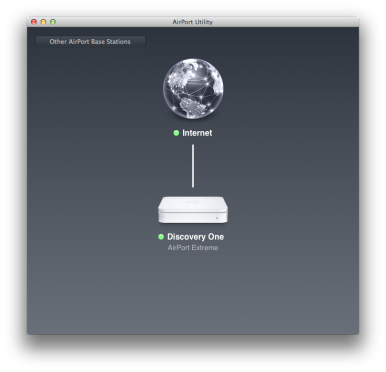 The cloud has finally descended upon Apple's networking hardware, as the company on Monday released updates for its AirPort Extreme, AirPort Express, and Time Capsule base stations, along with a new version of its AirPort Utility network software.
Chief among the improvements in AirPort firmware update 7.6.1 is the capability to remotely access a Time Capsule's hard drive or a hard drive connected to an AirPort device via USB. This feature previously operated via the Back to My Mac feature of Apple's MobileMe online service, but it became unusable once MobileMe users transitioned their accounts to iCloud; the new update relies instead on the latest incarnation of Apple's online service. There's also an additional fix for wireless performance, and security improvements. The update applies to all 802.11n AirPort base stations and Time Capsules, and Apple recommends installing AirPort Utility 5.5.3 or later before installing the firmware update.
Speaking of AirPort Utility, the software you use to manage your wireless network on your Mac gets an overhaul in two separate versions: 6.0 applies to 802.11n base stations, while version 5.6 is targeted at older 802.11g versions of the AirPort Express and AirPort Extreme. The latter also fixes a problem with using networked passwords stored in the Keychain.
Version 6.0 is the more impressive of the two, featuring a graphical user interface that looks almost identical to the AirPort Utility for iOS app that Apple released last year. While it still maintains most of the features of the previous iteration, the graphical user interface makes the system somewhat friendlier and easier to use. Some of the more advanced features of the software, however, have been left behind, but those who need those capabilities can install both version 5.6 and 6.0 on the same computer and use them independently. Note, though, that both versions 5.6 and 6.0 require Lion, so users of Snow Leopard and earlier are out of luck.
All of the updates are free and available both via Software Update and Apple's support downloads site.
Click here for complete article.
---
Apple revises Snow Leopard security update
by Dan Moren, Macworld.com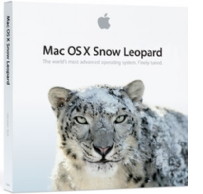 Suffering from bizarre errors related to the latest Snow Leopard security update? Apple's already on top of things. On Friday, the company released Security Update 2012-001, version 1.1, for Snow Leopard Macs.
In its usual fashion, Apple only says that the update is "recommended for all users and improves the security of Mac OS X." But if we had to place a wager, Vegas-style, we'd guess that the update in question has been issued to replace version 1.0 of Security Updated 2012-001, released on Wednesday, which had some nasty side effects.
Many users who applied the security update on their Snow Leopard found they could no longer use applications designed for PowerPC-based Macs, thanks to the fact that the update wreaked havoc on files crucial to Apple's Rosetta technology.
It seems likely that the update fixes that problem, although we haven't yet confirmed it for ourselves.
There's no sign, however, of an update to fix the issues with the latest Lion update, Mac OS X 10.7.3, which saw some users having problems launching applications or experiencing weird textures.
Security Update 2012-001 version 1.1 is available via Software Update, but as of this writing was not on Apple's support downloads site.
---
Apple releases Mac OS X 10.7.3
by Lex Friedman, Macworld.com

Apple on Wednesday released Mac OS X 10.7.3, an incremental update to Lion. As usual, Apple recommends the update to all Lion users, saying that it addresses stability, compatibility, and security issues.
The update includes Safari 5.1.3, and it adds support for a variety of languages, including: Catalan, Croatian, Greek, Hebrew, Romanian, Slovak, Thai, and Ukrainian.
OS X 10.7.3 also fixes bugs related to using smart cards to log in, issues authenticating with directory services, and compatibility issues with Windows file sharing. Also included: fixes for an issue printing certain Microsoft Word documents, a graphics performance problem after certain iMacs wake from sleep, and a Wi-Fi connection issue after waking from sleep. There are also a slew of improvements for Directory Services.
Apple offers the 10.7.3 update through Software Update. You can also download the updater directly from Apple's website, whether you need the client version or the only slightly larger combo updater.
Also released Wednesday was Mac OS X Lion 10.7.3 Server edition, which packs numerous fixes and improvements. Apple offers the regular updater at its site, along with the combo updater and updated Server Admin Tools.
Wizard's Warning: This update is over a GigaByte so you might want to download it at night while you are sleeping.
Click here for complete article..
---
News, Info and Stories
---
Mac Basics: How to set up Time Machine
by Leah Yamshon, Macworld.com
One of the most important things to stay on top of is a regular system backup. If you're new to Mac usage—or just never bothered to backup before—you'll want to get familiar with a built-in Mac program called Time Machine. Time Machine works with your Mac and an external drive to regularly save important documents, photos, and even important system files. Apart from keeping spares of every file, Time Machine also keeps a record of how your system looked on any given day, making it easy for a full system restore if something goes wrong.
Before you get started, make sure your external drive is Mac compatible. This is done by formatting it using the Mac file format. Time Machine is found on Mac OS 10.5 (Leopard) and above. When selecting the proper hard drive to use, you'll want one with plenty of space for repeated backups. This how-to is done using an external hard drive dedicated to Time Machine, and a Mac that has not been set up for Time Machine backups.
Step 1: Connect your external drive
First, hook your drive up to your Mac via the proper port: Thunderbolt, USB, or FireWire, depending on your drive and your machine. Your Mac should recognize the added hardware, and a pop-up window will prompt you to your next step. The window asks if you want to use the drive to back up with Time Machine; click Use as Backup Disk. A full system backup will start immediately.
Your first full system backup will take a little while (a few hours), but regular backups will only take a fraction of this time since the drive just needs to update what's already there and save new files. If your drive stays connected to your Mac most of the time, the scheduled hourly backups take seconds.
By default, you'll see a Time Machine icon in your menu bar—it looks like a clock with an arrow running counter-clockwise. You can prevent this icon from appearing in the Time Machine system preference. (Time Machine preference are also accessible through System Preferences.) If Time Machine doesn't automatically launch, if you have multiple hard drive options of where to store your backups, or if you'd like to set up a wireless Time Capsule, click on the Time Machine icon in the menu bar and a pop-up menu will appear. Select Open Time Machine Preferences, then click on the Select Disk button. Find the drive that you'd like to save your backups to, highlight it, and click Use Backup Disk.
Step 2: Configure and customize your backups
If you don't need to save everything as a backup, you can manually select items to omit from regular backups. Just click Options from the main Time Machine window, and then the + sign on the left-hand side of the popup box titled Exclude These Items from Backups. From there, pick and choose what items you'd like to leave out, then click Exclude when finished. You'll see the folders or individual files you selected in the large exclude list. You can change your mind on these at any time by selecting the file and clicking the minus sign.
When your external drive gets full, Time Machine will automatically erase older backups to make room for new ones. The default setting is to notify you when older backups are deleted, but if you don't need this information, you can change it. From the same Options menu, you can also lock documents after they've been edited.
Step 3: Remember to launch Time Machine
Regularly using Time Machine and backing up your files is the final step. If you have a desktop Mac, you can leave your external drive plugged in—Time Machine will subtly launch and perform backups hourly. You can also manually start a backup by clicking the Time Machine icon and selecting Back Up Now. If you don't keep your backup drive connected to your Mac, remember to hook it up on a regular basis to protect your data. The Time Machine icon will display an exclamation point when its time to perform a backup. Just like your first full system backup, Time Machine will start running as soon as your drive is plugged in.
---
Epson expands WorkForce line with three new printers
by Karissa Bell, Macworld.com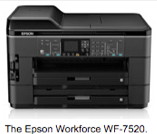 Epson introduced three new wide-format printers to its WorkForce line on Tuesday. The printers include all-in-ones WorkForce WF-7520 and WorkForce WF-7510, along with the single-function inkjet Workforce WF-7010. Each offers small businesses and creative professionals high quality wide-format printing and scanning capabilities.
According to Epson, the new all-in-one printers boast the fastest single and double-sided print speeds in their class—15 ISO pages per minute in black and 8 ISO pages per minute in color for single-sided documents. They print 7.8 ISO pages per minutes in black and 5.2 ISO pages per minute in color for double-sided documents. Additionally, both the WF-7520 and WF-7510 models can print documents up to 13 inches by 19 inches and scan documents up to 11 inches by 17 inches.
The all-in-one printers also offer mobile printing for on-the-go use. Users can print remotely to the printers from their mobile devices using Epson Connect, Epson's mobile and cloud-based printing service.The single function inkjet WF-7010 offers built-in Ethernet networking, and is replacing the Epson's WorkForce WF-1100 model.
All three printers will be available in early February. The WF-7010 will cost $200, the WF-7510 will cost $250 and the WF-7520 will cost $300.
Click here for complete article.
---
Mozilla ships Firefox 10, relieves add-on updating pain
by Gregg Keizer, Computerworld
MacWorld Editor's Note: This story is excerpted from Computerworld. For more Mac coverage, visit Computerworld's Macintosh Knowledge Center.
Mozilla today patched eight vulnerabilities in Firefox as it shipped the latest iteration in its rapid release schedule.
Firefox 10, sixth in the line of updates that have been rolling off the development line every six weeks since mid-2011, fixed half a dozen flaws rated "critical," Mozilla's highest threat ranking, and another two labeled "high."
One of the notable vulnerabilities addressed in Firefox 10 could open users to cross-site scripting (XSS) attacks because the browser did not properly run a security check when calling untrusted scripting objects, said Mozilla.
"The fix enables the Script Security Manager (SSM) to force security checks on all frame scripts," an accompanying advisory noted.
Mozilla also fixed several bugs that caused Firefox crashes, including one traced to a recent Java update that Apple shipped to users last year.
Although Mozilla touted several new features in Firefox 10 it thought were important to developers, the most noticeable change to users is the browser's ability to automatically mark nearly all add-ons as compatible with each upgrade.
Firefox users have complained about incompatible add-ons since Mozilla shifted to the faster release schedule last summer, as add-on developers have been slow to revamp their code or tag their extensions as suitable for the newest edition.
Mozilla began automatically marking add-ons as compatible back in March 2011 when it launched Firefox 4, but limited that move to extensions distributed through its own website; Firefox 10 does the same for all add-ons, including those not available from Mozilla.
Automatic add-on compatibility marking is one component Mozilla has identified as necessary for a "silent update" mechanism to match that in Google Chrome, which upgrades itself without any user action.
Other pieces, however, are not ready: The final part of the service is now slated to appear in Firefox 13, set to release in early June, or six weeks later than Mozilla's estimate when it shipped Firefox 9 last month.
Mozilla also released Firefox 3.6.26, the latest security update for the two-year-old browser, to patch five vulnerabilities, four of them critical.
Firefox 3.6 is closing on retirement: Mozilla has said it will stop shipping security updates for the browser after April 24.
To replace Firefox 3.6—which many enterprises retained when they balked at upgrading every six weeks—the company also kicked off the first edition of Firefox ESR (extended support release).
Firefox 10 ESR will be supported with security updates through its 54-week lifespan, but its user interface and feature set will not change during that stretch. Mozilla will upgrade ESR users to a new edition starting November 20, 2012.
Windows, Mac and Linux editions of Firefox 10 can be downloaded manually from Mozilla's site. People running Firefox 4 or later will be offered the upgrade through the browser's own update mechanism.
The next version of Firefox is scheduled to ship March 13.
Click here for complete article.
---
A Few Quick Lion Tips
by Jon Spaulding, smalldog.com
Quite on accident the other day I found a nice addition to Lion that mirrors behaviors of iOS. When typing a document should you hold a key down, in my case the letter 'e' as I was trying to add extra letters for emphasis, I was greeted with a 'pop up.'
In this pop up was seven different characters: the letter 'e' with several different accent options. Hold the key down to select the character you need.
In Finder windows, as long as I remember, there has always been information about the system including number of files and available space. With Lion these defaults have been removed. To restore this data in Lion follow these few steps:
Open a new Finder window—without it, the options will not be available.
Click in the View option in your menu bar.
In the view menu drop down click Show Status Bar. (This can also be accomplished by using the command key and the /.)
By doing so, you will now have the folder information restored at the bottom of your Finder window.

Click here for complete article.
---
Browser Spoofing
by Mikhael Cohen, smalldog.com
Today we had a customer in the store who had just switched to Apple by buying a new MacBook. He was running into trouble with his company's web-based calendaring and collaboration system, as the site required Internet Explorer 6 or greater to run. He'd browse to it using Safari or Firefox, and the site would throw an error and refuse access, presumably to make it easier for novice users to know which browsers work and which don't. Turns out, it was compatible with Safari after all. We just had to tell Safari to masquerade as Explorer.
Unfortunately, not all web developers keep up with the times. It's likely that this site's administrators hadn't conducted compliance testing since at least the release of Internet Explorer 7. It's getting rarer and rarer, but plenty of sites out there still require Explorer. This trick won't work on all of them, but it will for a good chunk of them.
While in Safari, select Preferences from the Safari menu. Now, click the Advanced button at the top right of the Preferences window, and check "Show Develop menu in menu bar." Close the Preferences window, and notice the new Develop menu on top of your screen. In the Develop menu is the User Agent sub-menu. From the sub-menu, select Internet Explorer 7.0. Once this is done, the web sites you visit will think you're using Explorer, and some of the especially restrictive sites will work for you!
Be mindful of the setting you choose, as Safari will not render some web sites correctly when pretending to be Explorer.
Click here for complete article.
---
Tip of the Week: Faster DNS Servers
by Matt Klein, smalldog
Here in the Mad River Valley of Vermont, we are fortunate to have high-speed Internet access via the local utility, Waitsfield Telecom. Much of the system was just upgraded from 1.5 Mb/sec to 6 Mb/sec, some of us can upgrade to 12MB/sec, and some new constructions can even have fiber to their home or business.
Small Dog recently installed a new fiber connection, upgrading from a creaky old T1 that handled our web traffic and internal bandwidth needs. Despite my recent upgrade to 12 Mb/sec at home, it still takes a while for web pages to "resolve," or begin to load, after entering the address and pressing return.
The Domain Name System (DNS) has many functions, one of which is to translate alphanumeric web addresses (www.smalldog.com) into Internet Protocol (IP) addresses. All internet-connected devices must have an IP address, and the IP address must be unique: no two devices on the Internet have the same IP address.
All Internet Service Providers (ISPs) maintain their own DNS servers, designed for use on their network, but in many cases these servers are not especially speedy. I decided to ask Google for fast free DNS servers, and I settled on two: 4.2.2.1 and 4.2.2.2. Web pages now seem to resolve much faster, making web browsing a more satisfying experience.
There is a better way, though. Namebench is an open-source utility from Google that seeks out the fastest DNS servers, and lets you graphically see just how much more speed you might get by switching to something faster. I gave it a try last night and did notice that pages seem to load a bit faster than before. Google also recently announced its own DNS server, and the terms and conditions say that browsing habits and history are not recorded. Give it a go!
Your DNS server settings can be changed in the Network Preference Pane under all versions of Mac OS X, or with AirPort Utility if you wish to change the DNS settings at the router level.
Click here for complete article.
---
iBooks Author offers free e-textbook creation
by Joel Mathis, Macworld.com
Apple on Thursday launched iBooks Author, a free Mac app designed to let authors and publishers easily create multimedia-rich e-textbooks for the company's updated iBooks 2 app for the iPad.
Although digitial textbooks were the focus of Thursday's Apple event, Phil Schiller, the company's senior vice president of worldwide marketing, noted that iBooks Author could be used to create other media-intensive offerings, such as cookbooks and travel guides, for Apple's iPad. (Currently, iBooks Author does not work for creating iBooks for the iPhone or iPod touch.)

The app itself is a WYSIWYG editor with a user interface similar to Apple's iWork product line, which includes Pages, Keynote, and Numbers. Text can be dragged directly from Pages or Microsoft Word into the editor; the app uses the document's styles to automatically create sections, headers, and layout. Keynote presentations can also be automatically inserted into textbooks, giving the final document more interactivity than a traditional publication.

Images can also be dragged into the text; iBooks Author uses live alignment guides to flow text around the picture as it is placed in the correct spot. A Multi-Touch widgets feature allows users to create image galleries that can also be dragged into the book, then easily resized; the widgets also let users add movies and 3D objects to the pages. The app can also connect to Internet databases to present numerical information without cutting-and-pasting.

Another feature of iBooks Author is a new glossary creator. If an author clicks a word in the text, that word appears in a new Glossary listing; users click "Add Term" to create definitions and add images.

The app also offers a preview mode: If your iPad is connected to your Mac, the app builds the book live and sends it across the wire to be previewed on the tablet. iBooks Author is in the Mac App Store now. It requires Mac OS X 10.7.2 or later.

Click here for complete article.
---
Apple updates iBooks Author license, clarifies sales restrictions
by Dan Moren, Lex Friedman, Macworld.com
Apple on Friday rolled out a minor update to iBooks Author, its new tool for creating interactive ebooks. Though the 1.0.1 update weighs in at nearly 150MB, Apple says only that it "provides an updated version of the End User License Agreement." While that hefty piece of legalese helps clarify some of the agreement's contentious wording, it doesn't address all the complaints over its restrictions.
In the original release of the app, that EULA sparked some controversy, as it stated that output generated by iBooks Author could only be sold via Apple's iBookstore. With Friday's update, the company has now backed off from that position slightly, saying that only files with the .ibooks suffix are subject to the restriction. Since iBooks Author can also be used to create text or PDF versions of a work, the original incarnation of the EULA could have implied that documents in those formats would be subject to the same terms.
But the rule for .ibooks files remains the same: If you want to sell them, you must go through the iBookstore, which means that 30 percent of your book sales go into Apple's coffers. If you intend to give away your iBooks Author-created masterpiece, however, you can do that wherever you'd like. The updated EULA also makes clear that if you export text or PDF copies of your book from iBooks Author, you're clear to sell them or use them in any way you see fit.
The original terms of the iBooks Author license agreement were the subject of much dispute, with some suggesting that it signaled nefarious lock-in practices by Apple, and others arguing that the terms were not unreasonable, given that Apple had made the tool for producing these interactive ebooks freely available. In many ways, the contentions echoed previous criticisms of the company's iOS App Store, which has a similar restriction—albeit one enforced by technology rather than by licensing.
In contrast to Apple's App Store policies, the rule regarding where you can sell ibooks books isn't one that the company can implement on a strictly technical level. There's no technological reason why you couldn't use iBooks Author to create an interactive ebook and start selling the title to iPad users from a store or website of your own choosing—it's just that doing so would be in direct violation of the EULA. Presumably, were your illicit ebook sales to come to Apple's attention, the company would urge you neither to pass Go, nor to collect $200.
It remains to be seen whether the change to the license agreement will appease those who found the initial version objectionable. The alteration certainly softens the blow by explicitly exempting those alternative formats, but the root issue—that interactive iBooks can be sold only on the iBookstore—hasn't changed.
This application requires OS-X 10.7 (Lion)
Click here for complete article.
---
Apps
by Ron Sharp, MAGIC
I imagine everyone with an iPhone knows about apps. The small applications that you can download to your phone. There are thousands of them. I'm sure most iPad users are familiar with them also. But I don't think they have caught on with computer users so much. It's true that it seems more useful for iPhone and iPad users because their devices don't have the memory space for a lot of large applications. So the small apps that serve a particular need are more crucial. But there also wasn't a significant introduction to them directed to computer users.
For iPhone and iPad apps you can download them to your computer with iTunes then sync to your device. iTunes does not offer apps for your computer, just iPhone and iPad.
To find the apps with iTunes you to go to the iTunes store first, then choose "App Store" from the menu at the top of the store window. (not the menu at the top of your screen) And then just below that menu are the tabs for either iPhone or iPad.
---
Repair Permissions in Lion
from Robert Elphick*
Apparently, when you use the Disk Utility in Repair Permissions - a standard troubleshooting maneuver in OS X - it doesn't actually repair the permission settings on folders and files in your Home folder in Lion (OS-X 10.7).
There is another Repair Permissions tool hidden away in Lion. This tool is squirreled away inside an obscure password reset feature. Here's how you use it.
Restart Lion, and before you hear the chime, hold down the Command and R keys.
You'll be at the Repair Utilities screen. Click the Utilities item in the Menu Bar, then click Terminal.
In the Terminal window, type resetpassword and hit Return.
The password reset utility window launches, but you're not going to reset the password. Instead, click on icon for your Mac's hard drive at the top. From the dropdown below it, select the user account where you're having issues.
At the bottom of the window, you'll see an area labeled Reset Home Directory Permissions and ACLs. Click the Reset button there.
The reset process takes just a couple of minutes. When it's done, exit the programs you've opened and restart your Mac.
---
iPhones, iPods, and iPads
Apple releases iBooks 2 with support for interactive textbooks
by Serenity Caldwell, Macworld.com
At Thursday's education-themed Apple event at the Guggenheim museum, Apple executives Phil Schiller and Roger Rosen were on hand to introduce iBooks 2, which heads the first of two education initiatives unveiled by the company.
Before introducing the app, which is now available from the iOS App Store, Schiller outlined the problems with modern textbooks: They aren't portable, durable, interactive, searchable, or updatable. In his words, "The iPad stacks up better."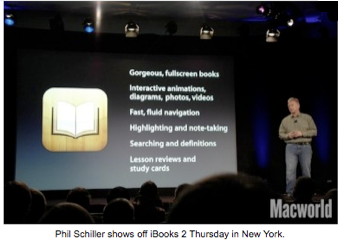 More specifically, it stacks up better with iBooks 2, which brings fullscreen textbooks with interactive animations, diagrams, photos, and videos to students and teachers. Apple vice president of productivity software Roger Rosner took to the stage to demonstrate the app's new features for textbooks, which include a revised index for easier search, page thumbnails, virtual study cards, interactive multiple choice questions for section and book quizzes, and new portrait and landscape views.
When in landscape mode, textbooks flow from one page to the next, with embedded interactive content—3D models, videos, and charts. Students can tap and zoom on any content. When in portrait, the content splits: on each page, any interactive content is shifted to the left-hand side, with the text isolated in a Safari Reader-like layout.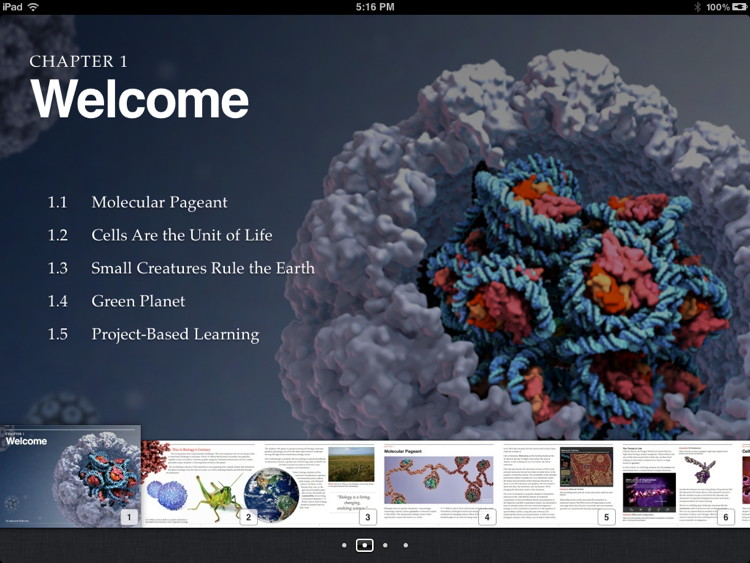 To search through the book, students can swipe from page to page, browse thumbnails, or search for terms and page numbers using iBooks 2's search features. Highlighting is also easy enough: Swipe to highlight, then tap to change the highlight color. You can add notes, as well, and any highlights and notes can be automatically converted into new Study Cards; you can use these to study your highlighted notes, or even use them as flash cards with glossary terms and definitions, with a built-in shuffle mode. The typical end-of-book quizzes have also undergone an overhaul: Quizzes have multiple-choice questions with illustrated answers, and immediate feedback for the user.
Students can find new-and-improved digital textbooks for iBooks 2 in the iBookstore, which has received a new Textbooks category. Currently, just eight textbooks are available (from publishers McGraw Hill and Pearson), with more slated to arrive. Textbook previews include screenshots and grade level. The textbooks themselves are currently only supported on the iPad. iBooks 2 is currently available from the App Store for free.
(Available for iPhone, iPad and iPod Touch according to Apple's website)
Click here for complete article.
---
Apple unveils iTunes U app
by Roman Loyola, Macworld.com
At the Apple education event on Thursday, Apple executives Eddy Cue and Jeff Robbin unveiled the iTunes U app, a new way for students and teachers to manage course material for classes on an iPad, iPhone, or iPod touch.
While the iTunes app provides access to the content that's available in the iTunes U section of the iTunes Store, it also offers a means for teacher and student interaction. The opening interface looks a lot like Apple's iBooks app, with a bookshelf that hosts icons representing your courses. Tap on a course, and you'll see a list of topics on the left, such as Overview, Instructor, and Outline. These topics can be customized with additional topics. Teachers can post a syllabus, notes, and assignments to the class, and students receive notifications when new posts are available. With the assignment lists in the iTunes U app, students can mark off when an assignment is done.
The iTunes U app also allows for interoperability with other media. A teacher can tell students to read certain texts, with links that send the student to the iBookstore or another source. Or a teacher can assign videos for students to watch; the student can watch a video stream, or download the videos to the iOS device for viewing at a later time.
The Notes tab in the iTunes U app is a place where notes from all your textbooks and courses are gathered together. It's similar to the Notes view in the new iBooks 2 app, announced earlier Thursday.
The Materials tab in the iTunes U app collects all the releated materials for a course. The materials can include audio, video, books, PDFs, Pages documents, Keynote presentations, and other apps. Missing course materials can be obtained through iTunes U.
According to Apple, students anywhere can take iTunes U courses with access to all course materials. Before the iTunes U app was released, only students in the classroom at that time were able to access the iTunes U content.
"The all-new iTunes U app enables students anywhere to tap into entire courses from the world's most prestigious universities," said Cue, Apple's senior vice president of Internet Software and Services in statement released by Apple Thursday. "Never before have educators been able to offer their full courses in such an innovative way, allowing anyone who's interested in a particular topic to learn from anywhere in the world, not just the classroom." According to Cue during the education event, iTunes U provides the largest catalog of free education content to the world, with more than 1000 universities using iTunes U to deliver education content.
The free iTunes U app is available now in the iTunes Store.
Apple has set up several Web resources for teachers interested in creating and distributing courses through iTunes U. You can enroll in the iTunes U portal (at the time of this writing, the site was down for maintenance). The iTunes U support site has links to several how-tos and the iTunes U support community, where you can get feedback from other iTunes U participants. Apple also notes on its iTunes U website that iTunes U is available for K-12 teachers, as well as colleges and universities.
When you're ready to create a course after you've enrolled in iTunes U, Apple offers the iTunes U Course Manager, a Web-based tool. Apple offers step-by-step instructions on course creation, and materials (such as a syllabus and handouts) can be uploaded and hosted by Apple.
Click here for complete article.
---
Creative apps at Macworld / iWorld
From photography to music, app developers had plenty of offerings on display at Macworld / iWorld to stoke your creative muse.
Click here for complete article.
---
By The Way
MacWorld/ iWorld Expo- Product and App Choices*
by Ron Sharp, MAGIC
The MacWorld/ iWorld Expo happened January 27th to the 29th. I found interesting videos to stream of a few events. One video had three developer representatives demo their apps.
MacWorld chose 11 products for this years award winners. The one that impressed me the most is an app called TourWrist by Spark Labs. It's cool. You can view places kind of like Google Earth but like you're right there..."augmented realty." And, soon to be approved for the app store, an app that allows you to record stills with your iPhone and puts it into a 360 degree panoramic view to instantly upload to TourWrist for online viewing. These apps are all free to download. What's really impressive is they create the apps and have everyone with an iPhone create their video data warehouse. It's so interesting and easy that it's fun! The videos can be viewed online but the app is available as a download for the iPad, and soon for the iPhone.
Smile developers have created the PDFpen app for the iPad. With PDFpen you have ultimate PDF editing capability. You can change text, resize images, make annotations, and add signatures. Although, with the last several version of Apple's OS, the Preview application also will allow you to make changes and annotate PDFs. Although the text tool in Preview is not the best.
Boinx software offers iStopMotion. For one frame at a time animation. It's available for OSX Leopard and newer, and for iPad.
DevAudio makes MicroCone recording app that can record up to six tracks simultaneously.
Another interesting product is called FileThisFetch. It's actually a service that fetches your documents, such as bills and statements, and saves them to your desktop or in the cloud, and cost $2 a month.
Adonit developers created Jot Touch. It's a pressure sensitive stylus / pen that can be used on most touchscreen devices that are equipped with Bluetooth.
And one of the most handy new devices enables iOS devices to locate and print to any available printer. LanTronix makes this iPhone sized product that you plug into your device and should enable you to print to any printer connected to your network.
---
Funnies for the Month*
by Ron Sharp, MAGIC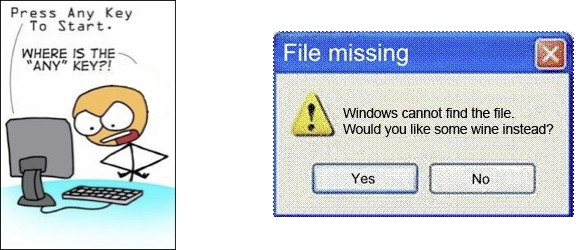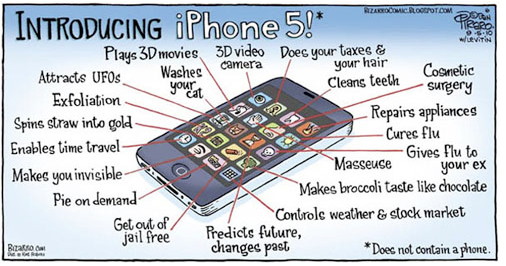 by Seth Leizman http://blog.smalldog.com/article/some-thoughts-on-the-apple-rumor-mill/
---
MAGIC, the Macintosh Appreciation Group of Island County, serves people who use Macintosh computers, software and peripherals. Our goal is to share information and get answers to questions to make us more productive with our use of technology. Our monthly meetings give us a chance to discuss computer problems and share ideas with other Mac users, feature speakers on specific topics, and to keep apprised of Apple news.