Newsletter
April 2012
Newsletter Editor:
In This Issue:
MAGIC MUG News
Software Updates
Macintosh News, Information and Stories
iPhones, iPods, and iPads
By The Way
* Indicates author is a member of MAGIC
---
Meeting information
Day:
The 3rd Wednesday of the month. 18 April 2012 this Month
Location:
Unitarian Universal Congregation of Whidbey Island (see map.)
Time:
4:00 p.m. - 6:00 p.m. with the first hour dedicated to new users and their questions.
Presentations:
•Flashback Trojan on Macintosh computers - finding it, destroying it, and protection against it.
•Apple Q & A
•Taking advantage of iCloud and DropBox by Robert Elphick
Future Meetings: (subject to change)
Day:
16 May 2012
Location
Unitarian Universal Congregation of Whidbey Island (see map.)
Presentations:
•Apple Q & A
•TBA
Day:
20 June 2012
Location
Unitarian Universal Congregation of Whidbey Island (see map.)
Presentations:
•Apple Q & A
•TBA
Do not forget to bring your used ink cartridges.
MAGIC will dispose of them for you and make some change for the group.
---
Minutes of the March 2012 Meeting
By Penny Holland, MAGIC Secretary
This month's meeting was a field trip to videography teacher Chris Douthitt's Oak Harbor High School classroom. Because of this, there was no actual meeting. Robert fielded a twenty minute Q and A session and then the group was treated to demos and videos in this amazing facility which is not quite three years old.
We watched several of the students' video productions, and Chris Douthitt (middle picture in collage below) showed examples of some of the equipment, in particular, cameras and audio recorders that his students use. Following the classroom demonstrations we moved into the adjacent studio where we stood in front of a green-screen and different backgrounds were superimposed behind us.
During the course of the two or more hours we spent there, Chris played examples of students' movie trailers, animation, and stop motion projects. He shared with us his philosophy of this medium, stressing the importance of continuity by using tight closeups which include few or no extraneous props. Some of the free or inexpensive software he told us about included MORPHX (for morphing one face into another), MPEG STREAM CLIP (for transferring video from one format to another), STYKZ and iSTOPMOTION (both for animation), and FINAL CUT 10 (for video editing). He also uses an older version of Apple's iMovie (iMovie 6) because it more closely resembles that of professional film editors. Chris Douthitt's enthusiasm for his subject was contagious, and many of our group stayed an extra half-hour to ask questions.
---
MAGIC Moments
by RYE
Home at last
We have come to an agreement with Unitarian Universal Congregation of Whidbey Island to use their facility for the rest of the year. They have a hall big enough for our meetings complete with parking and WiFi. This facility was the best alternative af all the possibilities in the Freeland area and is within our budget. I look forward to seeing you all there.
MAGIC Schools
The iWork school that began March 10, 2012 in Maple Ridge has now completed. There were three afternoons about pages and additional afternoons for Numbers and Keynote. Student response was all positive. I am considering doing another iWork class in the Fall.
A two hour iPad Class was held 20 March at Maple Ridge. MAGIC has acquired an iPad to be used for training and also to be made available to members who wish to try it out for a few days for a modest donation. The class was filled to capacity. There will be more and longer classes in the near future.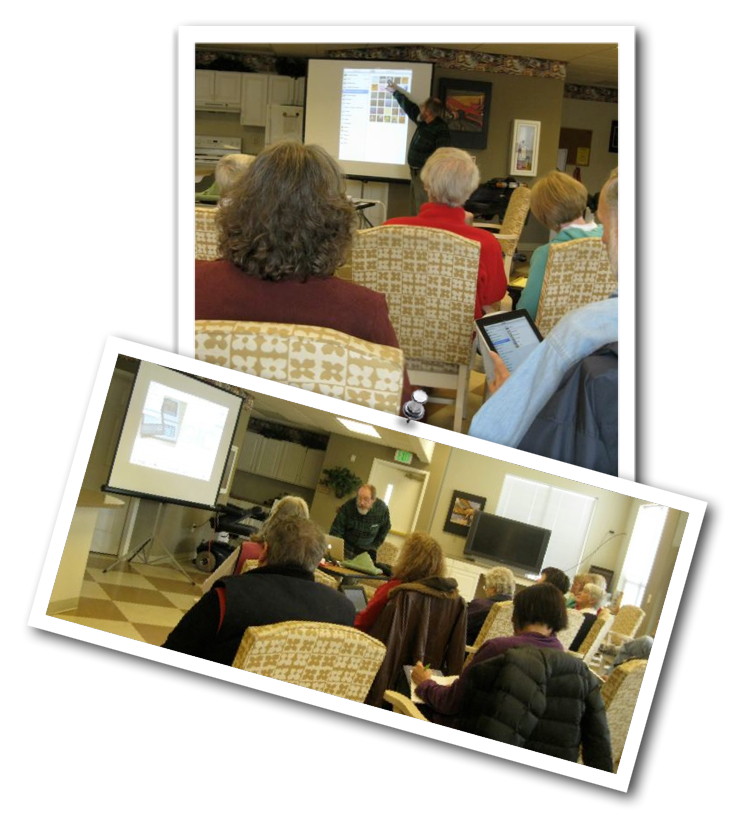 Moments from the recent iPad class
Oak Harbor Mac Users Group
Mac SIG meets on the second Tuesday at 1 PM of each month at the Oak Harbor SeniorCenter The purpose is to provide a forum for the those in the Whidbey Island Mac User's Group community, interested in participation. The appropriate subject matter for this forum is intended to be questions/answers, observations, and helpful hints pertaining to the many uses of the Mac computer and its peripherals. http://www.whidbey.com/wimug/
PayPal account
MAGIC now has a PayPal account. This is now on the website to allow people to make donations to MAGIC directly. Also it provides a mechanism for deposits on MAGIC schools (see above). It can be found at the Donation Page.
Mentor Program
Ed Severinghaus, VP - Membership has put together a new mentoring program to help members to answer questions and solve problems with Macs and other Apple devices. The program now has mentors listed in the following areas:
Oak Harbor
Coupeville
Greenbank & Freeland
Langley & Clinton
We currently have 16 mentors to do the mentoring backed up by two wizards when required. Details can be found
on the MAGIC website
.
---
SOFTWARE UPDATES
Note: This Software Update section of the newsletter lists the most relevant Apple updates. Not all updates are listed for all products. Additionally, I'll add other pertinent updates on occasion.
Apple releases Java security updates
by Lex Friedman, Macworld.com Apr 3, 2012
It's probably safe to turn your Mac on again. Just a day after reports spread about a Java-based Trojan horse that could install itself on your Mac without requiring that you enter a password, Apple has released Java for OS X Lion 2012-001 and Java for Mac OS X 10.6 Update 7.
The updates, which are available for Mac OS X 10.6.8 Snow Leopard and 10.7.3 Lion (including both OS's Server editions), patch multiple vulnerabilities in Java 1.6.0_29—including some that could allow malicious code to run on your Mac outside of the Java sandbox, triggered merely by your visiting a webpage containing the right nefarious code.
For full details on the update, Apple points to Oracle.
The update patches no fewer than a dozen vulnerabilities, including the one exploited most recently in the newly-discovered Flashback Trojan horse variant.
The patches are available from Apple's website or via Software Update.
Click here for complete article.
---
iTunes 10.6.1 squashes several bugs
by Jonathan Seff, Macworld.com Mar 28, 2012
Apple has released iTunes 10.6.1, an update that addresses several problems introduced in iTunes 10.6.
According to Apple, the update offers fixes for glitches that may cause iTunes to unexpectedly quit when playing videos, changing artwork size in Grid view, and syncing photos to devices. It also corrects an issue in which some iTunes interface elements are incorrectly described by VoiceOver and WindowEyes, and it fixes a bug that caused iTunes to become unresponsive when syncing the iPod nano or iPod shuffle.
For me, however, the most welcome news is that the update resolves a problem that cropped up when browsing TV episodes from your iTunes library on the Apple TV. Starting with iTunes 10.6, programs appeared in unexpected order when you sorted them by show, making it hard to find what you wanted to watch in large TV show libraries such as mine.
iTunes 10.6.1 is available now via Software Update or from Apple's iTunes download page.
Click here for complete article.
---
News, Info and Stories
---
Synchronization 102
by Glenn Brensinger, smalldog
I received a question from a longtime reader asking me how comfortable I was with Wi-Fi synchronizing of apps versus using a cloud method. It's a legitimate question; suddenly all our private data, normally kept within our own local network, is now being sent out to the Internet for (potentially) all to see. How safe is the data we're putting out there?
iCloud automatically encrypts your data as it is copied, so anything flying through the airwaves is not likely to be grabbed by someone with a packet sniffer. With wireless networking, however, the encryption has to be set up when the network is created. If you have a wireless network that does not require a password to connect to it, there is no encryption of the data as it passes over the wireless. If you're not the person who set up the network, the encryption level is out of your control. (Some applications may do their own encryption, but the network itself does not.) While an open network is sometimes okay for the average home user, a business should never use an unencrypted wireless network for transmitting data.
Of note was 1Password—where it used to require local syncing, now it can sync via Dropbox. How safe is this? Dropbox uses the same level of encryption used by financial institutions, i.e. Secure Sockets Layer (SSL) and AES-256 bit encryption. In addition, 1Password uses encryption for your password file. The only way to unlock the file is with your master password. Rather than re-explain it, here's the info from Agile's page.
In the case of iCloud, your data is encrypted both in transmission and storage, most likely using your Apple ID's password as part of the encryption key. Apple's article about it is here. In theory, anything you put up on iCloud is secure enough for most people. If you are seriously concerned about privacy, you can always use some other encryption program on your files before sending it to the cloud (regardless of whose cloud you use.) This would probably only apply to documents; I can't think of any reason why music files would need to be encrypted. This does not apply to Wi-Fi sync via iTunes however—anything you sync between your computer running iTunes and your iOS device is subject to the same encryption (if any) as is used by your wireless network.
Personally, I use both Wi-Fi sync for my iPhone as well as iCloud for keeping all my stuff the same across systems. The key part is that at some point, you have to place your trust in the company providing the service. Apple created not only our Macs, but also the OS we're using, and we trust that they aren't putting in any backdoors to collect our stuff. (If they were, you can bet that it would be all over the news.)
Security is a big buzzword now; where people years ago knew nothing and cared less, now everyone is aware that data needs to be protected (some even tipping towards the fanatical side). On the other hand, we have always suspected that Google and Facebook are collecting private information, yet we continue to use them regularly. One would assume Apple would never risk its reputation by intentionally collecting personal data.
In my mind, it's really no different than handing your credit card to a restaurant server. How do you know that card isn't being taken into the back room and copied for later use? Restaurants are places that have been in existence for years, so there is an inherent trust. Large computer companies that have been in business for as long as Apple and Microsoft tend to garner trust in its users (although you will always have the conspiracy theorists who assume ANY large corporation is up to no good.)
---
How to restore data from Time Machine
by Leah Yamshon, Macworld.com Mar 16, 2012
Now that you've been using Time Machine regularly to back up your computer, you should be fully prepared if your Mac crashes or if you need to move data from one Mac to another. Restoring data from Time Machine is just as easy as backing things up in the first place.
Apple recently released a Supplementary Update for OS X Lion users that fixes a Time Machine restore bug, so make sure your system is up-to-date with OS X Lion 10.7.3.
This how-to is done using an external hard drive dedicated to Time Machine, a Mac that performs regular Time Machine backups, and an additional Mac to demonstrate how to move data from one Mac to another.
Restore a single file or folder
If you're just looking for a certain file or folder, start by connecting your drive and launching Time Machine. Choose Enter Time Machine. All of your saved backups will appear in chronological order, and you can use the visual timeline on the right hand side to scroll through your backups to look for specific items or folders. Older dates are indicated in pink, which show data saved on your backup drive, and the most updated data on your Mac is indicated in white (hint: It says "Now" in bold, white letters).
If you're not exactly sure when the backup was performed that you'd like to access, you can perform a Spotlight search in Time Machine based on keywords.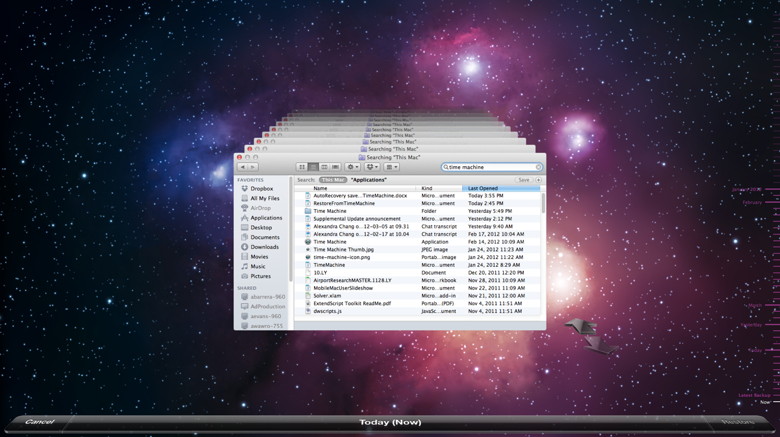 Once you find what you're looking for, use Quick Look to preview the file to make sure it's the one you want (just highlight the file and click the space bar to bring up a quick look without having to launch the application).
When you're sure you have the proper backup, select the file or folder and hit the Restore button. The file will automatically be copied to your desktop or to its original folder. This may take some time, depending on the size of the transfer.
Restore an entire system
If you're restoring your entire system from a backup—in the event of a crash or if you wanted to start over from a specific backup—connect your Time Machine drive, and start up your Mac from the Lion recovery partition by holding Command-R at startup. (Or, if you have one, you can use your Mac OS X installation disk.)
A window called Mac OS X Utilities will appear. Select Restore from Time Machine Backup.
Select your Time Machine drive, then the backup you want to restore from, and then select your destination drive—the hard drive on your Mac. (Using Recovery Mode erases your Mac's hard drive before restoring from Time Machine, but once the process is finished, you'll be able to log in and use your Mac normally).
Transferring data between Macs
Let's say you bought a new Mac and want to restore data from your old system, or you want to transfer data from one Mac to another. Use a utility called Migration Assistant. Once your backup drive is connected, go to Finder -> Applications -> Utilities, then open Migration Assistant. An intro to Migration Assistant will ask how you want to transfer your information, so click "From another Mac, PC, Time Machine backup, or other disk," and then Continue.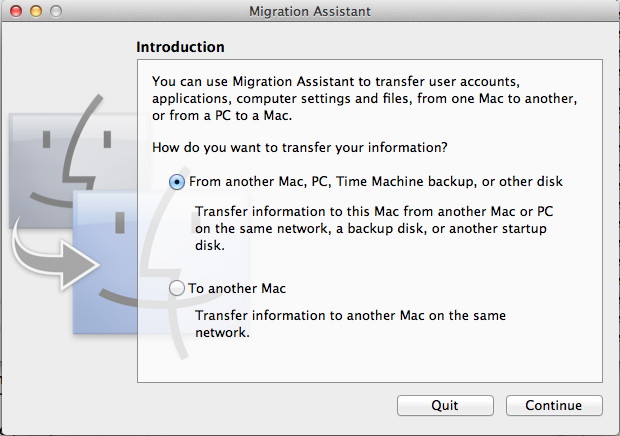 Next, you'll be asked to select your Migration Method—click "From a Time Machine backup or other disk."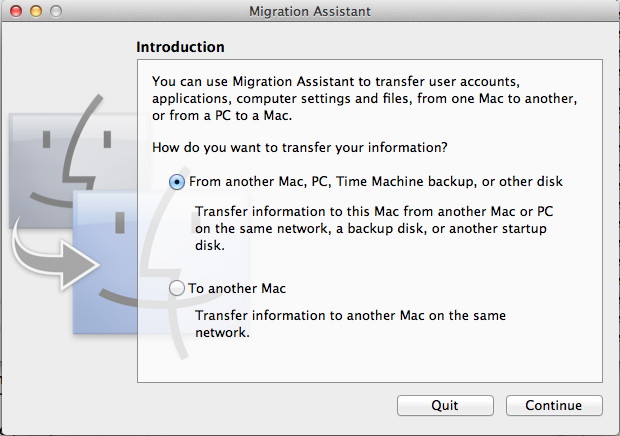 Select your backup drive, then choose which items you'd like to Migrate. Click Continue, and your files will begin to transfer.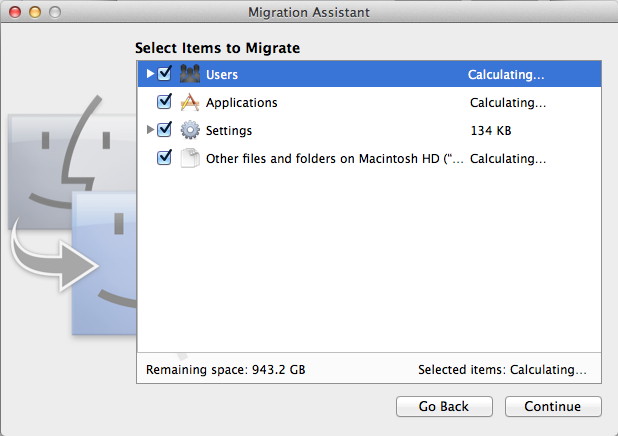 Click here for complete article.
---
Brother Multifunction Printer
By Jon L. Jacobi, PCWorld - April 2, 2012
Brother MFC-J430w is a fast MFP for little cash
Pros:
Average or better speed
High-capacity inks are economical
Cons: Price when rated: $100

For a printer that retails for only $100 and is heavily discounted online, the Brother MFC-J430w gets things done in a hurry: Text pages print at a brisk 7.6 pages per minute or faster. Other strengths include sharp text output and below-average ink costs, if you stick with the high-capacity supplies. You get some nice features for the price, but note that color graphics quality is merely adequate, paper capacity is minimal, and automatic two-sided printing or scanning is nonexistent.

The MFC-J430w's appearance is best described as conventional. The all-black MFP has a small, 1.9-inch LCD that tells you what's going on, plus the usual array of navigation, job, and fax buttons. The buttons are logically placed, and navigating the menus is very easy. You can even scan to a computer directly from the control panel.

Although the MFC-J430w is easy to set up and supports both Wi-Fi and USB connections, it has no ethernet, no card slots, and no USB/PictBridge port. If you frequently need to print photos from a camera, look for another MFP. The input tray holds just 100 sheets, and the ADF for the A4-size scanner holds 20 sheets. It's definitely a light-duty machine.

Brother has implemented one software feature that's currently unique: The iPrint&Scan app for iOS, Android, and Windows Phone 7 lets you scan from the MFP directly to your phone or tablet via Wi-Fi. It's pretty cool. Printing over email happens through Google Cloud Print, which has apps for iOS and Android, but not Windows Phone 7. Brother provides both Mac and PC drivers, as well as OCR software (Presto PageManager for the Mac and Scansoft Paper Port 12 for Windows).

Alas, while Brother embraces the Mac, it's less than a bear hug: You'll find no support for even manual two-sided printing. Also, you'll need to download the latest driver from Brother's website to get around a problem we encountered using version 4.1.4 from our installation CD: The Mac scanner driver would not install automatically. We confirmed that the company solved this problem with driver version 4.1.5. (If you've already installed version 4.1.4, you'll have to download and install the new driver, then delete and re-add the printer, to fix the problem.)

The MFC-J430w's ink costs aren't as low as those for the Kodak ESP C310 (), a like-priced competitor, but they are cheaper than average if you use the higher-capacity cartridges. With the standard 300-page cartridges ($15 black and $10 per color), you pay 5 cents per page for black, 3.3 cents per page per color, and 15 cents for a four-color page. The 600-page XL cartridges ($25 black and $15 color) reduce costs to 4.2 cents per black page, 2.5 cents per page per color, and 11.7 cents for each four-color page. Stick with the XLs for the best deal.

Output from the MFC-J430w is competent. Text appears dark gray rather than black, and color graphics look clear but a bit washed out, with shadows that darken too quickly. Our larger photo scan suffered even more from the steep contrast curve. Copies are generally good.

I mentioned up front that the MFC-J430w is fast. In our tests, text pages printed at an impressive rate of 8.2 ppm on the Mac, and at a faster-than-average 7.6 ppm on the PC. Half-page photos printed to plain paper at a brisk 4.8 ppm, but slowed to a more normal 1.2 ppm when we used Brother's glossy photo paper. Full-page photos printed on the Mac to the same glossy paper took about 2 minutes apiece, which is about average, but scans and copies to plain paper were quite quick.

Macworld's buying advice

If your scanning and printing needs are minimal, but you want jobs to be done in a hurry, the Brother MFC-J430w is a cheap and efficient option. The output is serviceable, the ink is affordable, and aside from the lack of automatic duplexing, the MFP has no salient weaknesses.
Macworld Labs (Quality)
Print quality: Text
Very Good
Print quality: Color photo
Very Good
Print quality:PDF
Good
Scan quality: Color photo
Good
Scan quality: Line art
Good
Copy quality
Good
Macworld Labs (Speed)
Print speed: Text
8.2 ppm
Print speed rating: Text
Very Good
Print speed: Color photo
110.32 seconds for 8X10 photo
Print speed rating: Color photo
Good
Print speed: PDF
66.95 seconds for 4-page PDF
Print speed rating: PDF
Superior
Scan speed 1
48.7 seconds for 8 x 10 color photo at 600 dpi
Scan speed 2
92.8 seconds 4 x 6 color photo at 1200 dpi
Scan speed rating
Good
Click here for complete article.
---
Useful iPhoto Links*
from Penny Holland
Listed below are some links to web pages (some are short movies) that provide useful information about iPhoto. If you open the electronic version of this document (which I'll send you via email), all you have to do is click on a web address and you'll go right to the site.
---
Strategy for moving from Word to Pages
by Tonya Engst TidBITS
I want to share the strategies we used in switching from Word to Pages, along with some of my favorite Pages tips.
Look at the Bottom -- A classic mistake of the long-time Word user switching to another program is to assume that if you look long enough in the menus and dialogs, you'll encounter all the important commands available (that's even more true if you include Word's Customize Keyboard dialog, which lists a wealth of obscure commands). In Word, you can use the menus and dialogs as training wheels and pretty soon you'll start using keyboard shortcuts for commands that you choose often.
This approach failed dismally in Pages. In Pages, key functions are stuck hither and thither in the user interface and there is no apparent reference that lists them all.
Important options appear at the lower left of a Pages document, in a location that is precariously close to the Dock with a full-height Pages window and a horizontal Dock. I'll explain the three options I use, but note that there is also a checkbox in the Pages General preference pane to show the word count in this lower area; I work with that turned off.

The leftmost pop-up menu lets you change your zoom level and how many pages are showing at once. Although Pages does have a Zoom command in the View menu, it won't let you choose a specific zoom percentage and it lacks the pop-up menu's One-Up and Two-Up commands that control how many pages appear. I like to work at 100% with two pages showing, but many other Take Control folks prefer a higher zoom level in only a single page, so each time one of us opens the file, the zoom and display layout must be adjusted, which can be done only from this little pop-up menu.
The Pages area in the bottom window border turns out to be clickable. Click it, and a "Go to Page" box appears where you can type the page number that you want to move to. Again, you can't access this navigational control from any normal menu, dialog, or keyboard command.
The Scroll To triangles and associated gear menu that appear next are incredibly valuable. You use the gear menu to set what the triangles do. For instance, they can advance you to the next comment in the document, or the next hyperlink. If you want to flip through all the comments in a document quickly, this is where to work.
Reveal Hidden Track Changes Toolbar -- Another popular chunk of interface real estate for a group of people working on a document is the Track Changes toolbar, which you can bring up by choosing Edit > Track Changes or by clicking the Track Changes button on the main toolbar. The Track Changes button isn't present on the main toolbar by default, but you can customize the toolbar with View > Customize Toolbar or by Control-clicking it and choosing Customize Toolbar, just like in other Apple applications.
The Track Changes toolbar has two pop-up menus on its right side that most Take Control people failed to spot on their first few rounds of writing or editing. The View Markup menu controls the extent of tracked changes that you can see, which is essential for hiding your tracked deletions (you might think you could hide them using the Deleted Text menu in the General preference pane, but you'd be wrong). The gear menu gives you commands to accept or reject changes wholesale, and it is useful for picking the color of your change-tracked text. (I have a great deal of fun monkeying with the colors; the second figure below shows Adam editing in purple and me editing in green; comments are always in yellow.)

To establish a comfortable workflow with the commands available only in the Track Changes toolbar, I had to extend myself outside the confines of Pages because I needed keyboard shortcuts for some of its functions, particularly for accepting changes and for toggling track changes on and off, both functions that I might invoke hundreds of times in a typical day. I finally turned to Keyboard Maestro to create macros that give me keyboard shortcuts for those actions.
One warning. It's not uncommon in a workgroup situation to end up with two copies of a file, each with marked changes. There is, unfortunately, no way in Pages to copy text between files and retain marked changes, or to compare two documents to identify changes between them.
Inspect the Inspector -- The Inspector is a panel that comes up if you choose View > Inspector (Command-Option-I) or click the Inspector button on the toolbar. Many Pages options are available only from the Inspector, and the Inspector has a bank of tiny buttons at its top, which you click to switch between the different panes of options. I find working with the Inspector easy now, but for the first month it felt slow and cumbersome.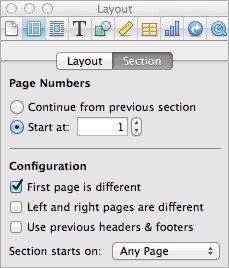 Frustratingly, each of the Inspector panes is a different size. I like to keep the Inspector open, for faster access, but it seems that as soon as I get it in the right spot on my screen, I switch panes and it becomes the wrong size for that spot. Some authors get around this by opening multiple copies of the Inspector with View > New Inspector. Personally, I wish the Inspector would open to one size and then lock onto an edge of the Pages window in a neat way, as palettes in InDesign do, since all too often I wind up with it in the way of something else. (Word has a similar problem with its Formatting Palette, but since most of its functions are available in other ways, you can keep it closed most of the time.)
Rummage around in the Styles Drawer -- Another exciting chunk of Pages real estate is the Styles drawer, which can be opened from the View menu, with a keyboard shortcut, from a button on the Format bar, or with a non-default toolbar button. Within the Styles drawer, it took me a while to realize that an accurate hover over the right of a style name would reveal a tiny triangle pop-up menu and it also took a while to be able to click that minuscule menu reliably on the first click. It all seems easy now, but at first it required persistence.
Eventually, I made that menu open enough times and absorbed its capabilities to the point where I tried the Hot Key command, which lets you assign a function key (like F3, say) to a style, so that you can apply it by pressing a key on your keyboard. However, most of the Take Control crew already have our function keys assigned to other functions. Third-party software again came to the rescue, this time in the form of AppleScripts for popular styles — each writer could install the scripts on his or her Mac and then use a macro utility (such as Keyboard Maestro or QuicKeys) to assign a keyboard shortcut to each script. In case you'd like to try this, here's an example:
tell application "Pages" set mySel to (get selection of front document) set paragraph style of mySel to "Chapter Name" end tell
(Chapter Name is the "Heading 1" style that you must assign to your top level headings when exporting an EPUB from Pages.
Although we read the manual and searched high and low in Pages, we've yet to find a way to configure a paragraph or list style by hand, by selecting the various attributes that we'd like it to include. This is sort of possible when creating (but not editing) a new character style by choosing Create New Character Style from Selection from the None character style's pop-up menu and then expanding the Include All Character Attributes control. But there is no equivalent to the technique in Word where you choose Format > Style, then click New or Modify and select all the style details via checkboxes and menus. Instead, you must make a paragraph or list look the way you want and then redefine the existing style. Wacky.
My Kingdom for an Outline! -- A great feature in Word, and one that I am sorry to have left behind, is the Navigation bar, which has been given different names in different versions of Word, all while remaining functionally the same. You open it as a left-hand bar in the Word window, and it shows the outline of your entire document, as long as you've used Word's built-in heading styles (any experienced Word user will always use those built-in styles — they are Word's crown jewels with their elegant integration with the Table of Contents feature and full, useful Outline view; Pages has a decent Table of Contents feature, but doesn't begin to compete with Word's Outline view).
In Word's Navigation bar, you can see the "forest" surrounding the "trees" of what you are reading at all times, and you can even edit the headings right in the Navigation bar. So, if you are in the middle of a chapter and deeply into a set of Heading 3 level topics, and suddenly the manuscript starts alternating between Heading 2 and Heading 4 level topics, you know you are in trouble and can adjust immediately. You can also click any line in the Navigation bar to jump to the corresponding heading.
Alas, Pages has no such organizational navigation interface, Also, because Pages has neither a Back command after clicking a link nor any other sensible way to jump back and forth between two sections of a document, we are finding it challenging to get around in longer documents.
To simulate the Navigation bar in Pages, some of us have taken to displaying the View > Page Thumbnails bar at the left, expanded as large as possible (drag its right border). It gets large enough that you can read the text in its thumbnails. I like to open it to the table of contents pages, so I can see the "outline" there, and sometimes I open another copy of the manuscript in a separate document window so that I can more fully view the outline or a second portion of a manuscript.
Unfortunately, all of these workarounds pale in comparison to Word's Navigation bar and, frankly, the quality of the link-based user navigation in the Take Control series has decreased slightly because of this, because it is so much more difficult for authors and editors to determine where a possible link might lead.
Find the Documentation -- Another classic strategy for learning a program deeply is to read the manual or some other form of documentation. I have read the entire Pages manual, and I found it frustrating because, while it does document how Pages is supposed to operate, it doesn't clarify which features that you might expect in a word processor are not present. (To be fair, very few programs document their shortcomings.) Also, I've found some features to be a bit dodgy, most notably section breaks and style modifications, and I can't figure out if it's me or a bug in Pages; the manual doesn't provide examples or describe common use cases.
You can find the manual by choosing Pages > Help, but if you plan to refer to it often, I suggest downloading the PDF and storing it somewhere handy.
A useful resource for ebook publishers is a short document published by Apple called "ePub Best Practices for Pages," which you can download from a link in the Apple support note "Creating ePub files with Pages". The document mentions the handful of styles that you need to use in a Pages document slated for EPUB export and notes the all-important fact that graphics in such a document must be inline, not floating.
It took time to learn that the best way to place a figure-sized graphic as inline is to first create a paragraph formatted so that the "Line" is "At Least" a specified line height; the "At Least" setting allows the line height to increase to the height of the graphic (open the Inspector, click the T (for Text) button, click the Text button). Once you have the proper line height format set, press Command while you drag the image file in from the Finder.
Another useful resource is the Pages Apple Support Community, which I've visited several times to ask questions and to try to help out by answering a few. If you have Pages questions, this is a good place to ask.
Work with Great People -- Although it was fairly easy to write this article, it was not easy to learn everything that I've mentioned in it. It would have been all the harder had I not been part of a small working group of smart and good-spirited people who could commiserate with my woes and sometimes point out options that I'd overlooked.
I could write a great deal more about the fine points of Pages and working with change tracking, about how I had to make a macro in order to insert a comment without the timestamp being pre-highlighted (such that when you start typing the timestamp disappears, unless the first key you press is the Right arrow key), about Pages versus Word templates, and more, but I have covered the main high (and low) points for now.
Click here for complete article.
---
iPhones, iPods, and iPads
The iPad's charging challenge explained
by Dan Frakes, Macworld.com Mar 23, 2012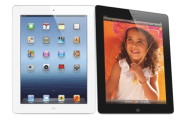 If you've recently taken possession of a shiny new iPad, you may have noticed an odd message when connecting the tablet to some computers or USB chargers: the words Not charging in the iPad's status bar. Or maybe you've plugged a third-generation iPad into Apple's official charger while you're using the tablet, and later noticed that it doesn't seem to have charged at all. Or perhaps you've left the new iPad to charge and it seems to be taking longer than with your older iPad.
Why? Compared to iPhones and iPods, the iPad simply has more-demanding charging requirements—and for the latest iPad, those demands are even more challenging. Some USB ports, especially those on older computers and many USB hubs, don't provide enough power to charge an iPad when the screen is on. And with the third-generation iPad, even Apple's own charger can struggle at times. What this means is that whether or not a particular USB port or charger can charge the iPad's battery—and how quickly—depends on which iPad you have and how it's being used.
Here's a quick summary of options and information, based on our experiences, Apple's support site, and information provided to Macworld by Apple:
Fastest charging - iPad charger: For the fastest charging of any iPad, use the iPad's included 10-Watt USB Power Adapter or a third-party charger certified for fast-charging an iPad. This will fully charge a first- or second-generation iPad in a few hours, even if you're using the iPad at the same time; the third-generation iPad will take a bit longer, as explained below.
Slower charging - high-power USB port: When connected to a high-power USB port—such as one on a recent Mac, Apple's USB Power Adapter for iPhone, or third-party chargers certified for the iPhone—a first- or second-generation iPad will charge, even during use, but more slowly. (Some third-party USB hubs provide higher-power USB ports, but many don't; similarly, the USB ports on many Windows PCs don't provide this additional power.)
Slowest charging - lower-power USB port: When your iPad is connected to a lower-power USB port—those on older Macs, many Windows PCs, and many USB hubs (powered or unpowered)—the battery is charged only while the iPad is asleep. If a first- or second-generation iPad is awake and in use, its battery essentially holds its current charge level. What's confusing here is that the message Not Charging appears in the menu bar when the iPad is awake, which might lead you to assume that the offending USB port can never charge your iPad. But rest assured that once you put the iPad to sleep, the battery will charge.
The third-generation iPad: The newest iPad has even heftier charging requirements than its predecessors, for a couple reasons. First, it has considerably more battery capacity than the first two iPads—42.5 watt-hours, compared to 25 watt-hours—so even at the fastest rate of charging, the third-generation iPad takes noticeably longer to fully charge. (And, in fact, according to testing by DisplayMate, the new iPad's battery doesn't reach a full charge until about an hour after its battery meter displays 100%.) So no matter how you charge, it will take longer to fully charge a third-generation iPad than either previous iPad.
Second, though every iPad model charges more slowly if you're using it while charging, this slowdown is much more noticeable on the third-generation iPad because the new iPad's electronics—its screen, processor, and the like—require more overall power than the previous models' components.
What this means is that the first three charging guidelines above apply differently to the latest iPad. For starters, some users report that even when using Apple's 10-Watt power adapter, if you're doing processor- and graphics-intensive tasks such as playing a demanding video game, and you've got the iPad's brightness set to maximum and Wi-Fi or cellular data enabled, it may seem as though the battery isn't charging at all. During other tasks, the tablet might instead charge very slowly. Using a high-power USB port, a third-generation iPad will charge slowly when asleep, but generally not when in use—in my testing, a 2010 iMac's USB port held the battery level steady while I watched video at medium brightness. And when connected to a lower-power USB port, the iPad will charge—very slowly—only when asleep; when in use, a third-generation iPad will likely use more power than it gets, resulting in a gradual decline of battery level (although at a slower rate than if the iPad wasn't connected to power at all).
How you use it matters: Because the iPad's screen is such a huge part of the tablet's power drain—especially on the third-generation iPad—your own experiences will vary depending on your preferred brightness level. Most of the observations above were based on screens set to roughly 50- or 60-percent brightness. If you set an iPad's screen to full brightness, it will take longer to charge while in use than if it's set to medium brightness. In fact, with a third-generation iPad set to maximum brightness, the battery level may even decline if you use the iPad while it's connected to a high-power USB port. Similarly, actively using Wi-Fi or a cellular-data connection will lengthen the charging time, as will playing a demanding game or streaming high-definition video. On the other hand, if you've got your screen brightness set to the lowest level and you aren't accessing a network, your in-use charging time will be shorter.
The takeaway here is that if your iPad's battery seems to take a long time to charge—or, for owners of a third-generation iPad, even longer than before—there's nothing wrong. The tablet is just hungry (or hungrier) for power. But by keeping an eye on how you charge the iPad, and what you're doing while you're charging it, you help it charge more quickly.
Click here for complete article.
---
How to Reset an iOS Device
by Lance Putnam, smalldog.com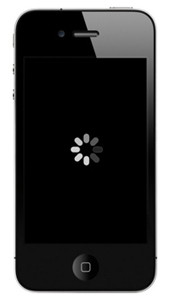 I often have customers report that their iPad, iPhone, or iPod touch is not working properly. Some common issues are freezing, slow performance, graphic distortion, or the device will not power on at all, even after a full night's charge.
When this happens, the first thing that you will want to try is a hard reset. To perform a hard reset, hold down the home button and the power button (at the top of the device) simultaneously for about 10-15 seconds. The screen will go blank; when the Apple logo appears you can let go of the two buttons.
Wait for the device to restart; this may take several minutes. Once it comes back up, test out your apps again. In a lot of cases, this will bring it "back to life." For you old time PC users, this is the equivalent of Ctrl-Alt-Del.
Keep in mind that this reset will not delete any apps or data; it simply clears out RAM and reboots the unit. Before stopping by the store with your device, it may be worth trying out this quick and easy reset to save you a trip.
Click here for complete article.
---
Cancel My Subscription
by Carl Grasso smalldog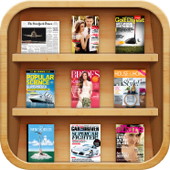 Since getting an iPad I've slowly moved all my old analog reading material into the digital world. I've been very slowly obtaining digital versions of books that I have in print form, and with the advent of Newsstand, I'm now able to get nearly every magazine I read on the iPad as well. Many of them I've been getting in Zinio (a good app and a good service), but the app versions have the potential to be much more interactive than what I believe can be obtained through Zinio.
I encountered something this past weekend that lead me to an idea for a tip for you, our readers. I had one magazine that I wasn't particularly enjoying but had inadvertently signed up for a recurring monthly subscription. Each time the magazine came through I'd read it, get disappointed and think to myself, "I should really cancel this subscription." I'd look through the magazine's preferences to find an unsubscribe button of some kind, but always to no avail. Then I'd get distracted by something shiny and I'd forget all about the magazine for another month…
This time, I was determined not to be beaten by a poorly designed app and a short attention span. I did a little Googling and discovered that the subscription preferences aren't in the magazine itself but in the iOS App Store. That makes sense, right? (I didn't think so either.) Here's what you do:
Tap on the App Store
Tap on Purchased at the bottom
Tap on your Apple ID
Tap View Apple ID
Enter your password
Tap Manage (under Subscriptions)
Here you can manage how your subscriptions will be renewed. It's so tucked away you'd think you were using Android. Needless to say, that magazine will no longer be polluting my Newsstand.
Click here for complete article.
---
Auto-convert songs at higher bit-rates in iTunes 10.6
by Kirk McElhearn, Macworld.com Mar 27, 2012
The recently released iTunes 10.6 has plenty of notable new features, including support for 1080p video and some tweaks to iTunes Match. But many music lovers will appreciate one new feature in particular: In the past, you could automatically convert songs with a high bit-rate to a more manageable 128 kbps when syncing them to an iPod or iOS device. Now, with iTunes 10.6, you have three bit-rate options for that conversion: 128, 192 and 256 kbps.
To access this feature, connect an iPod (or iPhone or iPad) to iTunes, select the device, and go to its Summary tab. At the bottom of that window, in the Options section, you'll see the Convert Higher Bit Rate Songs To option. If you select that option, you can then choose the bit-rate you want from a drop-down menu.
Many iTunes users have been hoping for this option for a while. If you have a lossless library, it allows you to convert audio tracks with higher quality when you sync your iOS device. Note that this conversion can take a long time the first time around, but subsequent syncs will be much faster.
Click here for complete article.
---
Bump Pay will let users exchange money by bumping smartphones
by Cameron Scott, IDG News Service Mar 30, 2012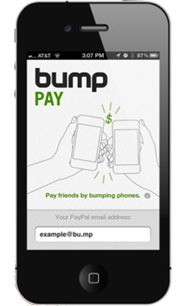 The startup Bump Labs threw its hat into the crowded mobile payments ring on Thursday, launching an app that allows people to exchange money by tapping their phones together.
The app, called Bump Pay, builds on the company's core technology, which enables two smartphones using Bump apps to transfer data by being tapped together. Unlike NFC (near-field communication), which Google and others are promoting for mobile payments, Bump requires physical contact between devices. The company's current app, called Bump, allows users to transfer contact information and photos.
To use Bump Pay, a user types in how much money he or she wants to send and then bumps phones with the intended recipient. Bump's software determines which two phones collided. The app then transfers funds from one user's PayPal account to the other's. Both users must have previously downloaded the app and linked it to their PayPal accounts.
"Bump Pay is interesting because of its novelty, which may spur trial, but being within arm's reach of the person you're paying back is not always convenient and will limit its usefulness," said Denee Carrington, an analyst with Forrester Research.
But Chris Silva, an Altimeter Group analyst, sees proximity as the right approach in the U.S., "where people are just so paranoid about using any type of technology where there's a transaction taking place and you're not actually exchanging funds or a card."
"I think it makes sense for what people are going to feel comfortable using," Silva said.
As for the security of the app, Silva noted that some Bump Pay users could claim that they had accidentally tapped another person's phone, and thus attempt to recoup their funds. "There's a risk, but it's almost completely borne by the credit card issuers and the banks who are going to be stuck arbitrating those disputes."
Bump Pay will compete with Venmo, Square and PayPal Here, among other companies.
Bump Pay is initially available only for the iPhone.
Click here for complete article.
---
Inspire Pro - Paint, Draw and Sketch Review
by Kyle Lambert, Macworld.com
App may appeal to iPad users with a traditional painting background
When the iPad was originally launched in early 2010, artists looking to use it as a creative tool had a relatively small range of apps to choose from. But in the two years that followed, developers have packed the app store with a vast range of powerful creative tools, now making it difficult to discover the right art app for you.
As someone who uses a number of art apps, I generally ask myself two major questions when looking at new contenders: Does this app offer anything new that I can't do already? And will this app do something that I can do already, but in a better way? Let's take a look at KiwiPixel's Inspire Pro and see how it compares.
Interface
Inspire Pro's interface is, for the most part, simple and easy to understand and use. The gallery area greets you at the app's launch with impressive examples of how the app can be used. A row of buttons at the bottom of the gallery allows you to create new canvases, export, duplicate, rename, delete, and share your paintings, and provides help and tips for those new to the app.

Simple interface: The program is inviting to artists who are just beginning to work on the iPad.
Once you create or choose a canvas, the interface changes to reveal seven hotspot buttons around the edge of your screen. The buttons give you quick access to brush settings, undo and redo, dry brush toggle or an alternative menu with additional tools. The hotspot buttons are useful, but the additional menu set can at times make navigating the app awkward. Similarly, I found the inclusion of two different menus for the paint and brush settings confusing, as these are often found in a single menu.
Painting
Once I familiarized myself with the interface of Inspire Pro, I began experimenting with paint. The first thing that impressed me was how quick the app is. Brush strokes render fast, and zooming and navigating the canvas is super responsive. While there are relatively few choices of brushes to paint with, the program compensates by offering some great options for customizing the rotation and virtual pressure of the brushes to create subtly different effects. In the Paint menu there are other advanced options that, for example, allow you to adjust the amount of paint that will be applied with each brush stroke. Luckily, every setting has popup help to explain when and how best to adjust it.
Experiment in paint: Inspire Pro has relatively few brushes, but the program facilitates many effects.
It took some thought to figure out why anyone would choose this app over other competing art apps available, and it only began to make sense when I discovered that Inspire Pro has easily the best color blending system of any painting app I have used. With the Dry Brush toggle button to apply and blend colors together the workflow is incredibly fast and reminds me of working with oil paints. Another impressive feature is the Recent Color palette, which saved lots of time mixing colors I had already used.
Despite this, Inspire Pro does lack a major feature many artists have come to expect from digital painting apps: Layers. The lack of layer support will be a big problem for most digital painters who are used to sketching and painting on separate levels with the ability to move, resize, and rearrange sections of their work.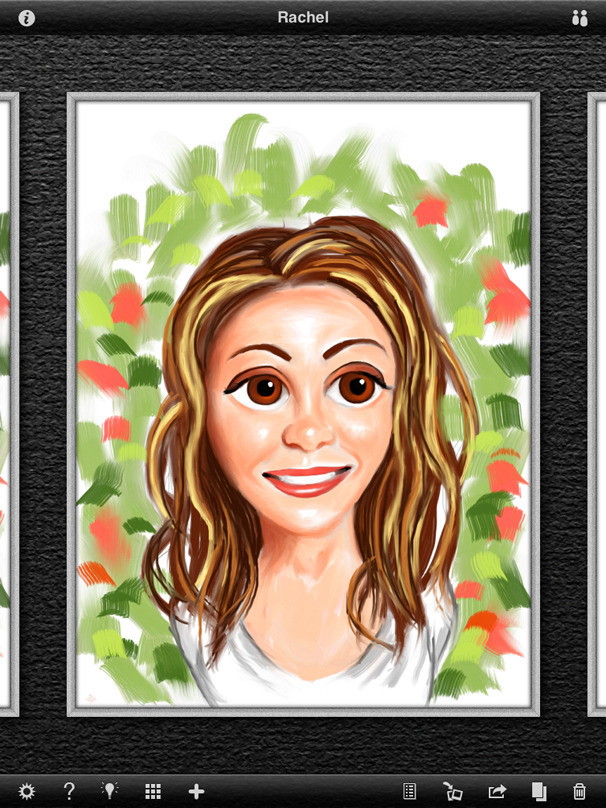 Better color blending: Inspire Pro does a better job of color blending than many popular art apps on the market.
Excellent color blending
Now let's go back to the two questions I asked at the beginning. Does this app offer anything new that I can't do already? Not really. Inspire Pro doesn't have any major additional features that are not available in similar apps such as ArtRage, ArtStudio, and ProCreate.
As for the second question—will this app do something that I can do already, but in a better way? The answer to this is yes. Inspire Pro's color blending is incredible and the app is amazingly fast. Also, given that I can import and export images from Inspire Pro, there is no reason why I wouldn't use it as part of my workflow in combination with other apps.
If you are looking for a standalone art app, Inspire Pro may be a letdown due to its lack of a basic feature like layers. But if you come from a traditional painting background, and are new to iPad art, this app's simple workflow and responsive performance might be just what you are looking for.
Click here for complete article.
---
By The Way
Checking for the Trojan virus*
by Ron Sharp, MAGIC April 5, 2012
A new Trojan style virus has been detected that has infected some Macs via a Java applet. On April 3rd an Apple software update became available that blocks the vulnerability. To see if your computer has been infected before the update, you can use some Terminal commands, or just download this AppleScript Trojan check file to do it for you. The scripts were created and offered by the tech site mashable.com and work on Intel Macs only. (about 2007 and newer)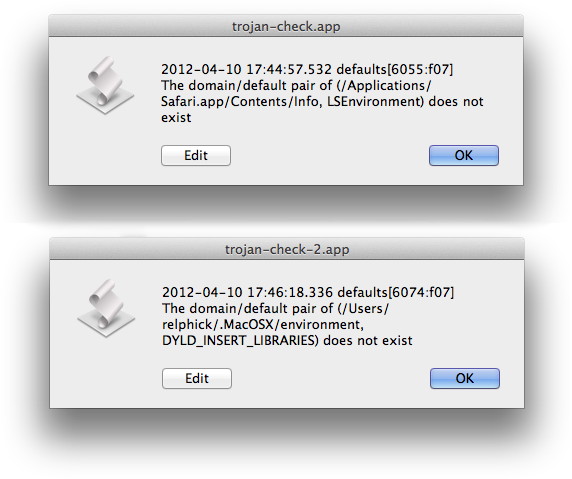 There are two scripts in the .zip download because there are two places on your computer that needs to be checked. You need to run them both and you'll get the message that the LSEnvironment does not exist, or similar, if your computer has not been infected.
If your computer has been infected you can go here to find a procedure for correcting the problem.
WIZARD'S ADDITION - Since this malware gets in through Java and other future ones might too, consider turning it off in Safari and other browsers. Java was a big deal twenty years ago but now it is very rare to see it and we get along just fine without it. In Safari go to the menu Safari->Preferences... and simply uncheck the Java option.
Note that Java has nothing to do with JavaScript. JavaScript should be left on because most websites use it (including this one!)
---
Funnies for the Month*
Submitted by Penny Holland, MAGIC
---
MAGIC, the Macintosh Appreciation Group of Island County, serves people who use Macintosh computers, software and peripherals. Our goal is to share information and get answers to questions to make us more productive with our use of technology. Our monthly meetings give us a chance to discuss computer problems and share ideas with other Mac users, feature speakers on specific topics, and to keep apprised of Apple news.