Newsletter
June 2012
Newsletter Editor:
In This Issue:
MAGIC MUG News
Software Updates
Macintosh News, Information and Stories
iPhones, iPods, and iPads
By The Way
* Indicates author is a member of MAGIC
---
Meeting information
Day:
The 3rd Wednesday of the month. 20 June 2012 this Month
Location:
Unitarian Universal Congregation of Whidbey Island (see map.)
Time:
4:00 p.m. - 6:00 p.m. with the first hour dedicated to new users and their questions.
Presentations:
•Apple Q & A
•Synching between computer and iOS devices, using iTunes and iCloud.
•Screen Sharing (from Last month)
Future Meetings: (subject to change)
See the Meetings Page on this website.
Do not forget to bring your used ink cartridges.
MAGIC will dispose of them for you and make some change for the group.
---
Minutes of the May 2012 Meeting
By Penny Holland, MAGIC Secretary
The monthly MAGIC meeting began at 4:00 PM at the Unitarian Congregation Meeting house north of Freeland. Robert Elphick began with the Q&A session the first hour and then led the business meeting that was held at 5:00.
We have a balance of $4022.29 according to our treasurer Bonnie Abney. Robert further announced that, thanks to Maple Ridge's generous donation of meeting space the education program has been able to net $1,900 so far this year. This accounts, in part, for the increase in our bank balance.
Susan Prescott, Program VP, requested that members provide her with ideas for topics of future meetings. Some things that were of interest were iPhoto and iTunes, and a program covering Onyx, iDefrag and Jiggler. Several people were interested in classes on iMovie and iDVD, which Robert said would be better covered in a longer classroom- type situation.
Robert also announced that the iPad class scheduled for next Monday and Tuesday afternoons is almost full.
Today's program was on FaceTime, Skype, and iChat, and was co-led by Robert and Prescott. It included a discussion, comparisons, and some live demonstrations on these conferencing and chatting programs. They promised to include an article with some of the information they presented on our MAGIC website under Tips and Tricks.
The meeting concluded shortly after 6:00.
Respectfully Submitted, Penny Holland, Secretary
---
MAGIC Moments
by RYE
MAGIC Schools
The May iPad class at Maple Ridge was well attended. We had over twenty students. This class was much longer than the previous iPad class and allowed us to cover much more material as well as allow for more Q&A.
THere will be no more classes during the summer. WE will run more classes in the Fall - currently we are looking at one iPad class, one more Mac Essentials class, one iLife (particularly iTunes, iPhoto and iMovie) class, and another iWork (Pages, Numbers, Keynote, and possibly iBooks Author) class. Keep you eyes on the MAGIC website and this newsletter for updates.
Board of directors meeting
The MAGIC Board of Directors will be meeting 16 June to discuss the current status of the organization including such things as Classes, Monthly meetings, Donation policies, Mentoring program, Equipment Rental, and our 4-H connection. I will report on major outcomes of this meeting next month.
Mentor Program
Ed Severinghaus, VP - Membership has put together a new mentoring program to help members to answer questions and solve problems with Macs and other Apple devices. The program now has mentors listed in the following areas:
Oak Harbor
Coupeville
Greenbank & Freeland
Langley & Clinton
We currently have 16 mentors to do the mentoring backed up by two wizards when required. Details can be found
on the MAGIC website
.
---
SOFTWARE UPDATES
Note: This Software Update section of the newsletter lists the most relevant Apple updates. Not all updates are listed for all products. Additionally, I'll add other pertinent updates on occasion.
Apple releases OS X 10.7.4, Safari 5.1.7
by Dan Moren, Macworld.com - May 9, 2012
Apple released updates to several of its iOS apps on Tuesday, including GarageBand, iMovie, iPhoto, and Cards.
Get your clicking finger ready, because Apple's dropped a few updates for your Mac. On Wednesday(May 9th), the company released OS X 10.7.4, Safari 5.1.7, and Security Update 2012-002.
The update to 10.7.4 fixes the password vulnerability for users who had enabled FileVault encryption prior to Lion, first reported in February. In addition, it patches a number of other security flaws in the software. Snow Leopard users will get similar security fixes in Security Update 2012-002.
An issue where the "Reopen windows when logging back in" option is always enabled is also fixed in 10.7.4, and the update brings improved compatibility with certain British third-party USB keyboards, better Internet sharing of PPPoE connections, improved printing to an SMB print queue, better performance when connecting to a WebDAV server, additional Raw image compatibility, and more.
Though OS X 10.7.4 supposedly updates Safari to version 5.1.6, a separate 5.1.7 update appears to be available to Snow Leopard users (and to Lion users after they've updated to 10.7.4). Most notably, that browser update disables older versions of Flash Player that don't have the latest security updates. Users who attempt to load Flash content will be prompted with a dialog box to visit Adobe's site and update to the newest version of Flash.
The update also improves Safari's responsiveness in low memory conditions and fixes a problem the could affect websites which authenticate users via forms.
All updates are recommended for all users and are available via Software Update or Apple's support download site.
Click here for complete article.
---
News, Info and Stories
Adobe patches critical Flash bugs, ships sandboxed plug-in for Firefox
by Gregg Keizer, Computerworld - Jun 8, 2012
Editor's Note: This story is excerpted from Computerworld. For more Mac coverage, visit Computerworld's Macintosh Knowledge Center.
Adobe on Friday patched seven critical vulnerabilities in Flash Player—the fifth security update so far in 2012—and released a sandboxed plug-in for Mozilla's Firefox.
The company also released the "silent update" tool for OS X, and said it had prepped Flash for the upcoming OS X 10.8, aka Mountain Lion, by signing its code, a requirement if users are to install software downloaded from sources other than Apple's own Mac App Store.
"These updates address vulnerabilities that could cause a crash and potentially allow an attacker to take control of the affected system," said Adobe in an advisory published Friday.
The flaws were all over the map, and included memory corruption, integer and stack overflow, and security bypass bugs. One of the seven was tagged as a "binary planting" vulnerability in the Flash installer.
"Binary planting" is a synonym for what others call "DLL load hijacking," a bug class first uncovered nearly two years ago by HD Moore, chief security officer at Rapid7 and creator of the open-source Metasploit penetration-testing toolkit.
Because many Windows applications don't call DLLs using a full path name, instead using only the filename, hackers can trick an application into loading a malicious file with the same title as a required DLL.
Unlike the last Flash security update, which Adobe issued May 4, Friday's bug patches are for vulnerabilities that the company has not seen exploited in the wild.
Among those Adobe credited for reporting the vulnerabilities was a researcher from the Google Chrome team, another from Symantec and two engineers who work for Microsoft.
Microsoft and Adobe have been working even closer than usual of late: Last week, Microsoft announced that it had, with Adobe's help, integrated Flash Player into the Metro version of Internet Explorer 10 (IE10). vThat move seemed to contradict Microsoft's earlier promise that it would not allow plug-ins—Flash Player is probably the most widely-used browser plug-in on the planet—in IE10 on Metro, the new tablet-oriented user interface (UI) within Windows 8 and the sole mode on Windows RT.
Also included in Flash Player 11.3 was a sandboxed plug-in for Firefox and the promised silent update tool for OS X users.
Adobe first talked about sandboxing Flash for Firefox in February, when it released a beta version of the plug-in for that browser on Windows Vista and Windows 7.
A sandbox isolates processes on the computer, preventing, or at least hindering, hackers trying to exploit an unpatched vulnerability, escalate privileges and push malware onto the machine. Adobe first sandboxed Flash Player for Google's Chrome in late 2010 after working with Google engineers; the sandboxed plug-in for Firefox came after similar cooperation from Mozilla engineers, Adobe said several months ago.
The Mac background updater debuted just over a month ago in a beta version of Flash Player 11.3, but went final Friday. The tool is identical to the Windows version, which Adobe launched in March: It pings Adobe's servers every hour until it gets a response. If it reaches Adobe and finds no ready update, the tool re-checks the servers 24 hours later. Found updates, however, are applied entirely in the background, and do not display notices on the screen or require the user to take any action.
By default, Flash 11.3 has silent updates switched on for OS X users, but they can change the setting to continue to receive on-screen alerts, or more dangerously, decline all updates.
Adobe has also prepared Flash Player for the release of Apple's next desktop operating system, Mountain Lion.
Mountain Lion includes a new feature called Gatekeeper that by default will let users install only software downloaded from the Mac App Store — the Apple-curated market that debuted in January 2011—or signed with certificates Apple provides free-of-charge to registered developers.
Gatekeeper is Apple's reaction to last year's spread of the Mac Defender malware, which was tucked into fake security software: Gatekeeper will prevent such "scareware" from ending up on Macs.
"Starting with Flash Player 11.3, Adobe has started signing releases for Mac OS X using an Apple Developer ID certificate," said Brad Arkin, Adobe's senior director of security, products and services, on a company blog today. "Therefore, if the Gatekeeper setting is set to 'Mac App Store and identified developers,' end-users will be able to install Flash Player without being blocked."
Because Flash is not distributed through Apple's desktop app market, if users set Gatekeeper to the most restrictive option—"Mac App Store"—they won't be able to install or update Flash Player.
Flash Player was upgraded Friday to version 11.3 for Windows and OS X, to 11.2 for Linux and to 11.1 for Android. As of 3 p.m. ET, Google had yet to update Chrome, which includes its own version of Flash, to gives its users the patched edition.
Click here for complete article.
---
Viruses, Malware and Trojans, Oh My
by Carl Grasso, smalldog
The latest malware attack on the Mac OS has largely blown over, though I still hear people talking about Flashback and viruses on the Mac. One thing that keeps coming up are the amount of people calling Flashback a virus when it's actually a trojan. Intego, an antivirus software company, runs a Mac security blog and they did a pretty good article recently on the various terms for different types of malware, so I thought I'd share some of it with you.
Most people seem to lump all malicious software into the term "virus." This is inaccurate. All malicious software can be lumped into a catchall term of malware. Viruses are a very specific type of malware that replicates and spreads itself once installed on the computer. To my knowledge viruses are still pretty rare on the Mac, mostly because the majority of black hat hackers are writing code for Windows-based systems. What Macs are currently vulnerable to are trojans. These are malware that masquerade as legitimate programs and are installed by the user. Once installed they can cause harm to your system.
Flashback was a trojan (as was MacDefender) that hit last year, and both of which were done by the same people. Flashback disguised itself as an Adobe Flash updater and once you installed it, it would redirect certain ad-centric web traffic to a different server. Had it worked like the hackers planned, the revenue for those ads would have gone to them rather than the advertisers. These trojans almost always require user intervention to install themselves. So if you're not paying attention to what you're clicking on or entering your passwords for you are vulnerable.
I think it's a good idea nowadays to have antivirus software installed on your computer. While the majority of malware out there will not affect your computer, that number is going to change. The market share of Apple computers is increasing, and with the popularity of iPhones and iPads we're becoming more of a target to nefarious computer users. There are many antivirus programs on the market, and some are better than others. Some will slow your machine down to a crawl and others let your machine still run great but don't actively scan your hard drive.
I've gone back and forth between Sophos and ClamX, and it really comes down to personal preference. If you'd like to read Intego's article on security jargon (I've only covered a small fraction here) you can read it here.
Click here for complete article.
---
RAM vs. Hard drive (HD)
by Glenn Brensinger, smalldog.com
When it comes time to upgrade the RAM in your machine, it's often a cause of confusion—the question we usually hear is "will this wipe all my data?" As many of you tech gurus know, the short answer is no, it will not.
The long answer is no, because your data is not stored in RAM. The operating system, applications, your documents, pictures, and movies are all stored on the hard disk. The difference is important: a hard disk is (historically) a series of rotating platters that store data magnetically, and accesses this data through a read/write head similar to a record player. RAM (Random Access Memory) is used for temporary storage while your computer is running.
Any time you launch an application, it is copied to RAM for faster access. When you load a document, it is copied to RAM as well. This is why you have to be sure to save your work from time to time—if something were to happen like a power failure, you would lose everything in RAM since RAM is cleared every time you shut down your system. (Note that RAM is not erased when your system goes into "sleep mode.")
The main purpose of RAM is to run applications. The more RAM you have, the more applications you can run at once. If you start to run low on RAM, then the operating system will start to swap out data to a space on the hard disk. This space is called a cache; Windows used to call it a swap drive. For example, if you have four applications running and try to launch a fifth, OS X will take whichever application you're using the least often and put its data into the cache on the hard drive to make room for the new application.
This is why occasionally you will switch to an application and it takes a few seconds to bring it up—the OS is copying data from RAM to the cache to make room for the application you selected, then it copies the data from the cache back to RAM. Adding more RAM means you can have more applications running so this swapping doesn't happen as often. Most of the time this swapping is not too noticeable, but when you are dealing with large data files then it can show the infamous spinning beach ball.
The hard disk, on the other hand, is where all your applications and data live. If you were to upgrade to a larger hard disk, then yes, your data would be gone unless you transferred it over. Changing out the RAM has no effect on the contents of the hard disk.
I used the word "historically" earlier because up until the past few years, a hard disk was just that—a solid disk. In the last few years, a new technology has hit the market, called a Solid State Drive (SSD.) There is no spinning disk involved; instead it uses flash memory that is similar to RAM but does not lose its data when the system is powered down.
It works similarly to a USB thumb drive—you can copy data to and from it, and it is retained when the drive is unplugged. SSDs are faster than hard disks, but don't quite match up in terms of price and capacity. As an example, a 320GB hard disk for a notebook computer goes for about $110. A comparable SSD costs about $460 for a 240GB drive. A 1TB hard disk is about $140, whereas a 1TB SSD would set you back about $3700. Might wipe out your bank account, but your data is safe!
Click here for complete article.
---
Make Sure You're Clean Before July 9th
by Glenn Brensinger , smalldog.com
July 9th is being called "Internet Doomsday" by some security firms and trade magazines. Last year, the FBI arrested several people who were running an international scam. They used malware called "DNSChanger" to modify network settings on millions of computers worldwide; instead of going to local DNS servers, these infected systems went to rogue servers controlled by hackers who made an estimated $14 million from advertising revenue.
The servers were rendered harmless, but a lot of people are still unknowingly using them, so the FBI kept them running to give people time to clean up the mess. These servers will be taken offline on July 9th, so anyone still pointing to them on that date will have problems accessing Internet sites.
Last November, we featured an article that explained how domain name resolution works. The rogue DNS servers mentioned above took advantage of DNS redirection in order to draw traffic. Normally, your system has the address of your ISP's DNS server, or the address of your company's internal server. The DNSChanger malware would alter this setting to point to a network controlled by hackers, so instead of sending DNS requests to Comcast or Verizon, you're sending them to a compromised server that may or may not give you what you wanted. Unless you went into your network settings and checked, you would have no idea that anything was different. Even if you did check, how would you know whether or not the numbers were correct? They're just numbers, which by themselves don't mean anything to most people.
Internet Service Providers typically have multiple DNS servers. If one goes down for any reason, another will take over. However, the entire cluster of formerly-rogue DNS servers will be taken offline July 9th, and there is no automatic failover. When an infected system tries to go to Facebook, instead of their wall coming up, it will return an error that the site could not be found. The system will no longer have a DNS server to look up where "www.facebook.com" is. Tech support lines will be flooded with people who suddenly can't access the Internet, most of them assuming that it's the fault of their provider.
Before that all happens, everyone should check their system to make sure they are clean. Here are two sites to visit: DNS-OK and The DNS Changer Working Group. DNS-OK is run by the FBI, and will run a quick check on your system to make sure it is set correctly. DCWG will not only tell you if you're clean, but offer tips and links to fix the problem if you have it.
I urge everyone to check out one of those sites to verify that they were not affected. That goes for Mac users as well as those on Windows—gone are the days of sitting back and smugly saying, "I'm on a Mac, it can't affect me." WRONG—the past year alone has shown that we ARE vulnerable, if not by flaws in the OS, then by flaws in Internet clicking discipline. Check out your system before the deadline so you're not dead in the water.
Click here for complete article.
WIZARD'S Note: As long as you have been keeping your Mac up to date and following MAGIC recommendations this malware should not have got onto your computer. To be sure use the DNS-OK site - it will tell you immediately whether you have a problem.
---
Why Apple is making OS X more like iOS
by Kirk McElhearn, Macworld.com - May 18, 2012
Cross-pollination improves both platforms, brings new customers to the Mac
When Apple unveiled its preview of OS X 10.8 Mountain Lion earlier this year, many people in the blogosphere concluded that Mac OS X was being "iOSified." In other words, features from iOS were being ported to OS X for use on the desktop, a continuation of the Back to the Mac campaign Apple first initiated with Mac OS X Lion. Some lamented that this has been a bad thing—as if features that work, in some cases, better on iOS than on the desktop, shouldn't be added to OS X, because the former is a mobile operating system, and the latter built for the desktop.
iOS and OS X have the same foundation, and there is no reason why efficient features of one shouldn't be added to the other. But Apple is, in my opinion, developing a much deeper and longer term strategy in iOSifying OS X.
In its most recent fiscal quarter, Apple's earnings were dominated by sales of iOS devices. Out of $39.2 billion in revenue, the iPhone and iPad represented three quarters of the company's sales. While Mac growth is still well ahead of the rest of the PC market, the Mac now makes up less than one-fifth of the company's revenue. Apple is making some 75 percent of its income from product lines introduced within the past five years.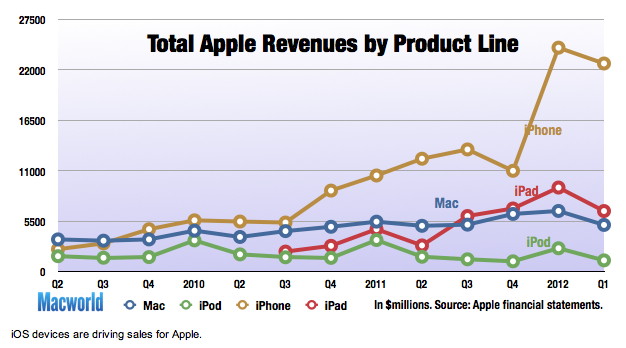 At the same time, there's another stat Apple presents during its quarterly earning announcements: Half of the Macs sold at the company's retail stores are to new customers—to switchers.
Put yourself in the shoes of a person who owns an iPhone or iPad. If they want a new computer, and they have been happy with their iPhone or iPad, they might consider buying a Mac. When they go to an Apple Store today, they'll look at a Mac and see applications like iCal and Address Book, or System Preferences and iChat. While the icons are similar enough for them to figure out the link between these and their mobile equivalents, it would be a lot easier if they saw Calendar and Contacts; Settings and Messages. And those little Share buttons? People use them all the time to send things by e-mail, but it's not immediately clear how to do this in OS X.
Apple's Mac growth is impressive, but the company can do so much more to bring into the fold people who have already been converted to iOS. What better way to do so than to say, "You know how to use an iPhone; so you already know how to use a Mac." This iOSification is not a dumbing down of OS X, but rather a drive to create consistency across the two platforms. I certainly don't expect touch-screen laptops—just think how tired your arm would get after constantly raising it to touch the screen—but making the two operating systems coherent is the best thing that Apple can do to get new customers to buy Macs.
In addition, Apple's iCloud strategy is clearly designed to link the two types of devices. With OS X Mountain Lion, iCloud will be enhanced, managing reminders, notes, passwords and much more. Once Apple makes iCloud syncing fully transparent, the ability to switch from an iPad to a Mac will be simple enough that it will become second nature.
I can see Apple launching a major marketing campaign to get its iOS customers to buy Macs. With the rapprochement of the two operating systems, I can even picture a new commercial the company might run. It might start something like this:
A: Hi, I'm an iPhone.
B: I'm an iPad.
C: And I'm a Mac.

The three characters can then go on to point out how easy it is for one of the hundreds of millions of iOS users to buy a new Mac, enter their Apple ID, and start working (and playing). They could show how so many familiar apps and concepts make picking up and using a new Mac simple for anyone who is used to an iPhone or iPad.
Taking the best of iOS and adding it to OS X will not weaken the desktop platform, as some have suggested; the features being added are those that have proven effective on mobile devices. If anything, this cross-pollination will improve both platforms, and simplify tasks for those who use both platforms to get things done. And, in the end, the iOSification of OS X may be the catalyst that allows Apple to take Mac sales to a new level.
Click here for complete article.
---
OS 10.7.4 Update Blocks Old Flash
by Glenn Brensinger, smalldog.com
Apple released the latest update to Lion (May 9th), version 10.7.4, which also updated Safari to 5.1.7. One of the features of this new Safari is to block older versions of Adobe Flash Player. This is causing some problems; the typical support call is "it could get to a web page yesterday, then I got a Software Update, now it doesn't work anymore."
By itself, Safari can't read certain web page content without the help of plugins. Out of the box, Safari supports QuickTime and viewing PDF files online. If you want to watch videos from YouTube, you need the Flash Player plugin from Adobe. Most of the time when Flash is needed, you will get a note on the web page; click on that note and you're taken to Adobe's web page to download the Flash Player.
The reason for this is because Apple considers older versions of Flash Player to be vulnerable to various malware attacks, so they have added code to Safari to block these versions from running to better protect you. If Safari sees an outdated version, it will act as if no Flash Player is installed at all, so you will get a prompt to install it the next time it's needed.
Another example of a plugin is Silverlight, which is required to watch Netflix on your Mac. Java is also a plugin, but is not included with Lion due to recent security issues. Most of the time when you try to view a page that requires a plugin you don't have, a link is provided to install it.
Note that plugins are not the same as extensions. I have seen some review sites use the terms synonymously, but in fact they are not the same thing. Plugins are required to view web page content, while extensions add to the functionality of Safari itself. 1Password has a browser extension to fill in logins and passwords for you; another example is AdBlock, which prevents advertisements from showing on web pages.
When prompted for a plugin, first ensure that you're familiar with the site. If you are viewing a Yahoo news page and a plugin request comes up, it's most likely safe to install it. If you're searching for something on Google, and a random page pops up a "missing plugin" error, there is always the chance that it's not safe to install. Better to back out of that page and look elsewhere than to risk infection by malware. You can always search on Google for that plugin—if it's harmful, there will be reports of it.
Once the plugin is downloaded, click the "Show downloads" arrow on the Safari toolbar, then double-click the Adobe Flash installer. It will open up a disk image containing a red Flash icon. Double click on this icon and follow the prompts to install it. Once it's complete, go back to the web page and it should now work properly.
Click here for complete article.
---
OpenDNS Blocks Flashback and Other Threats
by Glenn Fleishman, tidbits.com
Malicious Web sites install code without our knowledge, or rely on our gullibility, in order to hijack our computers. Anti-malware software can help by blocking known attacks, but does little or nothing about new vectors. Some software, like McAfee's security package, can show whether a site linked via a search engine is known to be safe or malicious. But OpenDNS can go a step further.
OpenDNS promoted itself as a way to avoid being exploited by the Flashback malware last month, but it takes a little unpacking of that claim to understand how the service can help. Flashback attacked Macs by using an exploit in Java triggered when a user visited a Web site hosting the necessary malicious code (see "How to Detect and Protect Against Updated Flashback Malware," 5 April 2012). Once the malware was installed, Flashback attempted to contact command-and-control servers at obscured domain names built into the code. (Security firms and anti-virus companies ferreted out these domains and registered those that weren't already controlled, while those already registered were blocked by ISPs and other parties.) When successful, Flashback's goal was to infect network applications and steal identity and financial information, transmitting it back to those command-and-control servers.
You could thus be protected from infection if your computer were deterred from visiting compromised and malicious sites that have all manner of code that could cause you trouble. And you could reduce the liability of being infected if Flashback were blocked from connecting to its command-and-control sites. OpenDNS provides both those benefits by controlling DNS lookups.
DNS (Domain Name System) is as complex as any other bit of Internet plumbing, but simple to explain at its highest level. It converts a name of a host and domain, like www.tidbits.com, into an Internet Protocol (IP) number, like 173.255.250.214. DNS enables users to initiate connections to remote servers by using human-readable names instead of the numeric IP addresses that operating systems rely on.
When you switch your Mac or router to use OpenDNS instead of your ISP's DNS servers, OpenDNS can intercept a DNS request and respond based on what it knows about the destination IP address. This is used for simple but useful purposes, such as fixing a typo like .cmo to .com. (Basic OpenDNS features are free; the firm offers a $20 per year account with additional reporting, support, and controls, and more expensive business and academic institution accounts.)
But it can do more. OpenDNS built a system called PhishTank that accepts reports of "phishing," or schemes in which spam email messages lure unwary recipients to counterfeit Web sites designed to steal passwords, credit card numbers, or other personal information. PhishTank relies on community reporting and review, letting users examine reports and vote on whether a given Web site should be categorized as one that's associated with phishing.
Here's the key for how OpenDNS can protect you from malware. When you're using OpenDNS, if you visit a Web site identified as being involved in phishing scams, the site is blocked, and OpenDNS displays a message warning you about the site. Other network applications that try to connect to a PhishTank-listed IP address are simply blocked. OpenDNS also maintains a list of servers that are used to control zombified computers, and blocks access to those as well. Finally, OpenDNS can optionally keep DNS from resolving to private address ranges, the ones reserved for use only on local networks (like the 192.168.0.0 - 192.168.255.255 set) that would never be used for publicly reachable domain names. That might seem unnecessary, but malware can try to rewrite DNS to point to other compromised machines on the same network or to load a Web site from the computer on which it's running.
I've been using OpenDNS for years, and I also recommend it as something you could set up for friends, family, and colleagues who may not be sophisticated enough to avoid phishing attacks, or who ask you for help in protecting their computers. Adam and Tonya Engst point out that kids — notably young teenagers — are also a prime audience for protection via OpenDNS, since the teens that they've observed often click seemingly randomly on Web pages (and in program interfaces in general), exercising little or no discretion as to whether a risk is involved.
You can use OpenDNS at either the level of a single computer, or, more effectively, at your router, so it protects your entire network. (In fact, for laptops, it's worth doing both, so you're protected even when you're away from your home or office network.) For a single Mac, manually enter OpenDNS's two DNS server IP addresses (208.67.222.222 and 208.67.220.220) into the DNS view of the appropriate network adapter's Advanced dialog.
For an AirPort base station, run AirPort Utility, edit your base station's configuration, and in the Internet view, enter 208.67.222.222 in the Primary DNS Server field and 208.67.220.220 into the Secondary DNS Server field.
A final option for advanced users is to use OpenDNS's DNSCrypt software, currently in beta. DNSCrypt encrypts DNS lookups, which can prevent malicious redirection on public networks or in subverted nations. I wrote more about DNSCrypt at Macworld.
OpenDNS certainly can't prevent malware attacks or even protect against unknown malicious Web sites. But by using DNS as part of an Internet-wide reporting and deterrence approach, and requiring that you install no software to take advantage of the benefits, OpenDNS can play a useful role in your overall security strategy.
Click here for complete article.
---
Fix a slow Mac with Activity Monitor
by Lex Friedman, Macworld.com - Jun 7, 2012
Transcript
I'm staff writer Lex Friedman, and I'm going to show you how to identify and deal with apps that are slowing down your Mac.
Sometimes, our Macs behave badly. If your Mac is grinding to a halt, occasionally, a single misbehaving app is responsible—but it's not always obvious which app that is. The good news is, you can turn to another application that came free with your Mac for help, one that lets you quickly identify—and severely punish—the misbehaving app in question.
Go to your Applications folder, and find the Utilities folder inside it. Here, I typed the letter 'U' in the Applications window to jump right to the Utilities folder I was after. Inside the Utilities folder sits Activity Monitor. Double-click it to launch it as you would any other app.
Activity Monitor shows all the apps and processes that are currently running on your Mac. When trouble's afoot, you generally want to find out which app is dominating your Mac's processors. To do that, you want to sort Activity Monitor by the "%CPU" column—so click on it. You might have to click on it twice to ensure that processes using the most CPU are sorted at the top.
Now, things hop around a bit in Activity Monitor, and that's normal; different apps and processes are always running on your Mac, and sometimes will need to use a bit of extra CPU processing power—so don't worry about that. What we're looking for is an app that's misbehaving, one that's gobbling up more than it s fair share of CPU, and for too long a time.
This isn't an exact science. But if my Mac's going too slow, and I see, say, iTunes is up there gobbling up 90 percent or more of my CPU, I'll gladly shut the app down to see if that improves things in a hurry. To quit a process, click on it, and then click the Quit Process button. Then you choose whether to Quit or Force Quit it. Force Quitting is riskier, if it's an app that has unsaved changes—like, say, a Word document. But most of the time, I choose Force Quit anyway. It ensures the process will get terminated immediately, and it's more viscerally satisfying, too.
Now, one more important tip about Activity Monitor. Its Dock icon can be extremely useful. Sure, the default chart looks lovely, but you can turn the Dock icon into a live-updating chart that shows precisely what's going on behind-the-scenes on your Mac, in real-time. Control-click, two-finger click, or right-click on the icon, and choose an option from the Dock Icon submenu. I like the Show CPU Usage option. If that bar fills up too much—say, beyond halfway—I know something troubling may be unduly burdening my Mac's processors, and I can click to see if there's a process or two that I ought to Force Quit With extreme prejudice.
So that's Activity Monitor. If your Mac isn't running right and you're not ready to reboot the whole enchilada, it's worth a look. Thanks for watching.
Click here for complete article.
---
Permanently Unhide Library
by Lex Friedman, Macworld.com - Jun 7, 2012
When Apple shipped Mac OS X Lion 10.7, the "Library" folder located within every user's home folder, which had previously been visible to users in the Finder, was made invisible. This hint shows how to make the folder visible and keep it that way forever.
As you may know, and as mentioned in this hint, the Library folder can be made visible again by running the following command in Terminal:
/usr/bin/chflags nohidden ~/Library
Apple keeps making the folder invisible again with every System update, so it gets tedious re-running the above script. You can automate this by adding a Login Item with an AppleScript "script application" containing the following code:
do shell script "/usr/bin/chflags nohidden ~/Library" Read detailed instructions for this hint, and download a ready-made script application file on the Red Sweater Blog.
[kirkmc adds: There are any number of ways to unhide the ~/Library folder. Macworld has an article with 18 different methods, plus a few more in the comments to that article. This hint also tells you how you can create an alias in your .profile file to easily run this command.]
Click here for complete article.
WIZARD's Hint: Hold down the Option key while clicking on Finder's Go menu and the Library will appear in the menu.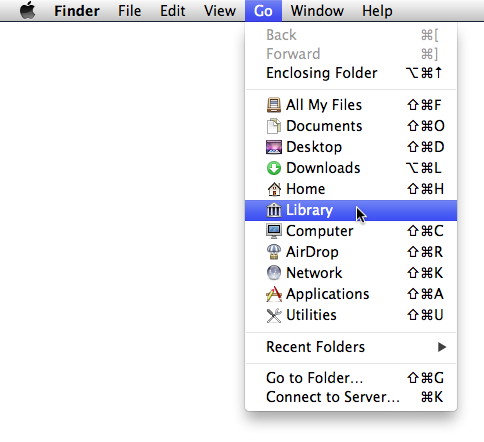 ---
New MobileMe Hosting
from NewMobileMe
On July 1, 2012 Apple will cease hosting websites on MobileMe that were created by users of Apple's iWeb software. If you are one of those users you need to find an alternative web hosting service or your iWeb site will no longer appear on the internet. iWeb is not going away, just the MobileMe hosting service. iWeb will continue to be the same easy-to-use web site application it has always been, but you must take steps quickly in order to avoid any interruption in service.
There are a confusing number of options out there for hosting web sites. Most are expensive, very difficult to use, and not very Apple or iWeb friendly, and that's where we come in. NewMobileMe is a web hosting service created especially for iWeb users. Our service is designed to be easy to use, just like iWeb. Follow the one-time setup instructions and then with a few clicks of the mouse you can publish your website just like you used to with MobileMe.
Most every web hosting service requires that you have a domain name purchased at extra cost before they will host your site. Not us. NewMobileMe hosts your site with or without a domain name. And you can host up to 10 domain names or iWeb sites at no additional cost when you host your sites with us.
Click here for complete article.
---
iPhones, iPods, and iPads
Mobile printing gets easier with or without AirPrint
by Derrick Story, Macworld.com - May 14, 2012
We can now use our mobile devices for many of the tasks that once required a computer. Unfortunately, for the longest time, printing documents didn't feel like one of them.
The situation improved when AirPrint became available, along with a gaggle of compatible printers from the likes of Epson, HP, Canon, and others. Yes, there have been improvements, but we still have a ways to go before printing becomes as ubiquitous and as easy on our devices as it is on our Macs.
While we wait for that day, we can still output prints right now from the iPad, iPhone, and iPod Touch. By spending a little time reviewing the iOS software available, and the Wi-Fi printers that can use it, we can configure a tidy workflow that will have us dishing out email attachments and photos faster than a short-order chef.
Not all of these configurations are AirPrint related. And for the moment, we're not bringing our Mac into the workflow either.
In the past we've covered popular workarounds that involve using the Mac as an intermediary device to manage the print jobs. One of our favorites is Printopia, which lets your Mac share all or any configured printers, no matter how they're connected to your Mac, with iOS devices on your local wireless network.
These solutions are terrific—if you don't mind having your computer as part of the printing workflow. But if you do mind, there are still options that allow direct communication between your mobile device and the printer. Here are some of the major ones available.
AirPrint
Let's take a look at the state of AirPrint, then move on to other options. iPhones and iPads with current operating systems (iOS 5.1 at this writing) can print directly to AirPrint printers that reside on the same Wi-Fi network. I've tested this capability with my iPad 2 and iPhone 4S using Pages, Keynote, Mail, Photos, and Safari.
The concept is straightforward. If you're viewing a picture you took in the Photos app on your iPhone, tap the Share button and you'll notice the Print option at the bottom of the list. Tap it, and you move to a second dialog that has two options: Printer (selection) and Number of Copies. Tap Printer to select an AirPrint device on the same Wi-Fi network. Now all you have to do is tap the Print button to output one copy of your photo.
It's simple, but your options are limited to selecting how many copies you want to print. That's it. Image size defaults to something around 4-by-6 inches regardless of the printer you're sending it to. If you want another size, you'll have to use a different app. If all you have is letter-sized paper in your AirPrint printer, then you get a snapshot sized photo placed somewhere on an 8.5-by-11-inch sheet.
Pages and Keynote printing for iOS are a bit more intelligent. You can print full letter-sized output of the projects you create. Plus with each, you're provided with a Page Range setting to control what gets printed and what doesn't.
To send a job, click on the wrench icon in the upper right corner, tap on Share and Print, tap on Print to set up the job, then tap Print once again to send it off.
Printing email from the Mail app isn't too painful, as long as you want to print the entire document—no page range controls here. But the output looks pretty good. If there's an attachment, you can also print that. Again, without much control over its appearance.
This lack of control really comes into play when trying to print webpages from Safari. You can quickly end up with a 10-page document with bits and bobs of the webpage on different sheets of paper.
Print Agent Pro 1.8.5
To improve these AirPrint scenarios, consider a third-party app that provides more control when setting up the job. Dar-Soft's Print Agent Pro is a good example.
There are two versions of the iOS software: iPad for $6 and iPhone for $4. Both aim to do the same thing—make AirPrinting more functional. Once installed, you can easily open email attachments using the Open In command, available in Safari and Mail. Once you open the document in Print Agent Pro, you have control over the paper orientation, page range, number of copies, and some nice extras such page numbering.
Print Agent Pro also allows you to copy items to the Clipboard from anywhere on your device, and then print that information. It also has hooks in your Contacts app, enabling the printing of a single or multiple contacts on one page. If you want to print a screenshot from your iPad (from a webpage or from another app), first make the capture (hold down the Home and Power buttons simultaneously). Your device will send the image to the Camera Roll. Open the screenshot from the Camera Roll in Print Agent Pro, then use its controls to get a perfectly formatted letter-sized output.
Printer manufacturers' applications
iOS apps such as Epson iPrint andHP ePrint Home & Biz often provide more functionality to their own printers than using the generic AirPrint commands.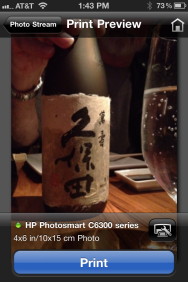 HP ePrint Home & Biz 4.1 The HP app, for example, connects to a variety of HP printers on the same Wi-Fi network, regardless of whether they are AirPrint enabled or not. It allows you to print saved documents that you store in the app itself. On my iPad, I keep a model release stored for quick output after a shoot.
Printing photos from your Camera Roll or Photo Stream is also straightforward. Choose the image on your iOS device, select the paper size (3.5-by-5, 4-by-6, 5-by-7-inch, letter, and A4 are available), then choose the paper type, and tap the Print button. The output is generally quite good, especially from iPhone 4S photos.
The HP app includes its own Web browser that provides better print output than Safari on iOS. The problem is that the browser is very slow, and it has a hard time building previews of complicated websites. I found it too slow, even on an iPad 2, for me to rely on. Too bad. It's a good idea.
Overall, the free HP ePrint Home & Biz iOS app is a gem. It connects to a large number of HP printers, and adds many of the controls that you'll want when printing documents and photos.
Epson iPrint 2.2 This terrific iOS app allows you to send jobs to a variety of Epson Wi-Fi printers, including the R2000 wide format photo printer. First you point the app to the Epson device on your Wi-Fi network. There are plenty of settings available to help you configure the job to your liking. For printing photos, start with paper size—you have 12 options ranging from 3.5-by-5 all the way up to 10-by-12 inches. You can choose between Standard and Best print quality, Borderless or Border, number of copies, and Advance Settings. In that second dialog you can set Color or Monochrome, Print Date, Brightness, Contrast, and Saturation.
Another bonus is the ability to check ink levels on the printer using the iOS app. If you want to know how much ink is left, just open Espon iPrint and take a look. Very handy!
The output is beautiful. If you have an Epson Wi-Fi printer and an iPhone 4S, you may find yourself printing photos far less often from your Mac. And if you have a multifunctional Epson printer, documents are a snap too.
Lexmark LexPrint 3.1 Lexmark's entry into the iOS app derby is a handsome one, with a good set of options including Print Quality (Draft, Normal, Photo), Print Size (eight sizes ranging from 3-by-5 inches to Legal), Scale to Fit, and Number of Copies.
My problem with the app is that it could not see my Wi-Fi-enabled S600 Lexmark multifunction device. The app encouraged me to download LexPrint Listener for my Mac to spool the jobs from the iOS device to the printer. Having to do so dampened my enthusiasm, leaving my Lexmark printer out of iOS the horse race.
Printing apps that require additional software
When you search for printing applications in the Mac App Store, you'll see quite a few results that may look enticing at first. Be sure to read the technical information and reviews before purchasing. Many of these applications require that you install additional software on your Mac in order to send documents to a Wi-Fi printer. In these cases, the Mac acts as a print spooler.
If you don't mind this sort of thing, then you might be quite the happy camper. Just know what you're purchasing before making the leap.
Bottom line
AirPrint printers provide easy output, and the technology is sure to improve. In the meantime, you can enhance its functionality with apps that provide more options, such as Print Agent Pro.
Another route, and one that tested well with Epson and HP Wi-Fi multifunction printers, is to review the manufacturer's iOS apps before making a purchase. If the printer you're considering is supported, and you like the looks of the iOS app, then you can happily print photos and documents without AirPrint.
Click here for complete article.
---
Fix a Sluggish Home Button
by Carl Grasso, smalldog.com

Do you have an older iPod or iPhone that has a sluggish Home button? Does it take a couple taps to get it to register? It may just need to be recalibrated. Before today, I didn't even know you can do this; I'd always figured it was just a failing part. But thanks to an article on snapguide.com, I learned that you can recalibrate the button.
In order to do this, you need to open up one of the stock Apple apps (like Calendar, YouTube, Weather, Maps, etc.). Once the app is open, hold down the power button until the red "slide to power off" shows up, then immediately press and hold down the home button until the slider goes away. The app quits and you're back at the home screen. There's no guarantee that this will fix the problem, but depending on the issue, it may.
You can read the original article here.
Editor's Note: I discovered that I had a bad habit of using the Home button to turn on my iPhone instead of using the Sleep/Wake button. As a result, my Home button was very sluggish and I was afraid it was starting to fail. Once I trained myself to use the Sleep/Wake button, I reduced the amount of use on the Home button dramatically, and in return, it's much more responsive. In conjunction with this tip, I think any Home button seemingly "on the verge" can be saved. -KH
Click here for complete article.
---
What Does 4G Mean?
by Alex DeRossi
One question that we hear often is, "What exactly does 4G mean?" Well, answering that doesn't require a big technical background. The "G" in 4G stands for "generation." Every time a wireless carrier upgrades the equipment on their towers, they refer to it as the next generation of their network. In basic terms, every time they make their internet faster, they give it a new name to add value for their customers.
This does not mean that all 4G networks are the same. If Verizon's 3G was as fast as T-mobile's 2G, then T-mobile's 4G will be a lot faster than Verizon's. You will also see terms such as LTE or HSPA+. These are terms for the actual technology—the current generation of the network. LTE stands for "long term expansion."
This is currently the fastest technology on the market, and the carriers use it because it can easily be upgraded for years to come. Knowing and recognizing these terms can help you compare different carriers and how fast their networks actually are, not just what "G" stands for.
Click here for complete article.
---
By The Way
Weird gmail settings*
by Ron Sharp, MAGIC June 2012
I had the opportunity, or rather the time consuming occasion to use gmail, Google's mail. Although I imagine most gmail users already know what they need, I have a few tips for the event that you may have trouble or need to transfer to a new computer.
If you are just setting up a gmail account, or switching to a new computer, you may find that no matter how you change your Apple Mail program preferences it will not access your gmail account. The problem is a Google mail spam filter that will not allow other apps to access the account. The procedure for fixing the problem is to go to this Google page and "unlock Captcha." After clicking "Continue" on the web page you will have ten minutes to access your account with the new mail program. Then once you click on "Get New Mail" in your Apple Mail program it should work.
I found it frustrating trying to figure out the details of a gmail account. The settings I wanted were either difficult to find or not available. The gmail help was not helpful.
In one gmail account I was working with there were 18,000 emails. How any mail program automatically saves all messages is strange. The difficult part here was trying to delete them. You would think that wouldn't be so hard. When you click on the "Select" drop down menu and check the "Delete All" box it would delete all on that particular page. The most emails you can get on a page is 100. So you'd have to select all and delete 180 times to empty this mail box. No way. But gmail's help did not explain any other way. I did a general web search and found a video that showed the procedure. You have to put a check on the selection box itself rather than use the drop down menu, (which is an odd procedure in the first place) then a small line of text comes up on the other side of the page that you can select to delete all mail. Why they didn't just put that option in the drop down menu is beyond comprehension.
I got the task accomplished. Just remember to look for help via a regular internet search before you waste too much time with gmail help.
---
Sizing photos for web use*
by Ron Sharp, MAGIC June 2012
My sister is always, inadvertently, helping me with topics for articles. She wanted to upload 35 pictures to a family blog and needed help. The blog media library only allowed 10MB uploads. So if you drag 35 photos from iPhoto to the blog upload page it's not going to work. iPhoto stores photos at the size you import them. The photos from my Panasonic Lumix camera average about 5.5 MB. This is a 14 megapixel camera which is typical, although cameras can be set to take much smaller photos. So what needs to done is to reduce the file size of the photo you want to use for a web page. The smaller size photos for web pages also open quicker when browsers display them.
If you "Export" your photos after selecting the ones you want, iPhoto will give you some options. If you choose to export as a jpg format you have the options of small, medium, or large size and low, medium, or high quality.
Exporting one of my photos at medium size and medium quality jpg reduce the file from 5.6 MB to 99 kb. Big difference. There is also a script available from macHelpTech.com that will do the same thing and but you can choose what percentage to reduce by. Either way your photos will be exported or saved wherever you choose to save them. Preferably to a folder on your desktop that you create just for this purpose.
Below is a list of size reduction examples when you "Export" from iPhoto to give you an idea of which export options will work for your task. This is helpful because when you export a photo you get the options to choose but have no idea what file size or dimensions they will end up.
Exporting from iPhoto a 5.6 MB photo as a jpg (4320 x 3240 pixels)
Reduced sizes: Low Quality, Small Size = 16 kb and 320 x 240 pixels Medium Quality, Medium Size = 99 kb and 640 x 480 pixels High Quality, Medium Size = 174 kb and 640 x 480 pixels High Quality, Large Size = 585 kb and 1280 x 960 pixels Exported as png: Medium size, 760 kb and 640 x 480 pixels 5.6 MB exported as "Original" = 6.3 MB and 4320 x 3240 pixels
---
Updating Firefox Plugins*
by Ron Sharp, MAGIC June 2012
If you use Firefox then you know about the convenient Add-ons page in the "Tools" menu. Your plugins are listed on that page. Clicking on the Plugins tab you'll see at the top where you click to check if your plugins are up to date. When you update your Firefox application it does not automatically update these plugins. Many plugins are security vulnerable and should be kept updated.
Check to see if your plugins are up to date
---
Funnies for the Month*
Submitted by Penny Holland, MAGIC
---
MAGIC, the Macintosh Appreciation Group of Island County, serves people who use Macintosh computers, software and peripherals. Our goal is to share information and get answers to questions to make us more productive with our use of technology. Our monthly meetings give us a chance to discuss computer problems and share ideas with other Mac users, feature speakers on specific topics, and to keep apprised of Apple news.