Newsletter
July 2012
Newsletter Editor:
In This Issue:
MAGIC MUG News
Software Updates
Macintosh News, Information and Stories
iPhones, iPods, and iPads
By The Way
* Indicates author is a member of MAGIC
---
Meeting information
Day:
The 3rd Wednesday of the month. 18 July 2012 this Month
Location:
Unitarian Universal Congregation of Whidbey Island (see map.)
Time:
4:00 p.m. - 6:00 p.m. with the first hour dedicated to new users and their questions.
Presentations:
•Apple Q & A
•Mac maintenance: defragging, using Onyx, defeating malware, cookies.

Future Meetings: (subject to change)
See the Meetings Page on this website.
Do not forget to bring your used ink cartridges.
MAGIC will dispose of them for you and make some change for the group.
---
Minutes of the June 2012 Meeting
By Penny Holland, MAGIC Secretary
The monthly MAGIC meeting began at 4:00 PM at the Unitarian Congregation Meeting house north of Freeland. About 30 people were present. We had placed 3x5 cards along with the new MAGIC flyer and Magic postcards with our contact information on each table and hung curtains on the south windows and doors to dim the room so that the screen would be more easily visible. Sue noted that all the postcards were taken by attendees of the meeting.
President Sue Keblusek welcomed attendees and alerted them to the 3x5 cards we had placed on the table, briefed the group on our agenda (Q & A followed by program) and then introduced Robert.
The Q&A ranged a bit with three focus points: iPhoto, how to respond to Apple's replacement of MobileMe and the compatibility of Keynote/PowerPoint and Pages/Word when exchanging materials with PC users.
During the business portion of the meeting, President Sue cited learning opportunities to include our mentoring program as a way to receive a few hours of personal instruction, MAC 101 as described in the newsletter, and our classes. She also suggested assisting at classes as a path to becoming a mentor. Treasurer Bonnie Abney reported a balance of $4361.67 in the MAGIC treasury.
Sue Prescott gave a presentation on how to sync programs across devices modeling the process for Address Books and Calendars.
The final 20 minutes featured the silent movie created by the 4-H team on the the life of 100+ year-old Achilles "Savy" Savinelli from his childhood through the end of World War II.
Meeting ended at 6:04. We received three handwritten comments on 3x5 cards that have been turned over to Programs. (Probably #1 and 3 will become meeting topics): 1) Mini demos on i-Movie, iPad and Mac 2) Mini demo on Numbers 3) Overview of GraphicConverter and its capabilities
Respectfully Submitted,
Penny Holland, Secretary
(With assistance from Bonnie Abney--Thanks for taking notes in Penny's absence.)
---
MAGIC Moments
by RYE
MAGIC Schools
There will be no more classes during the summer. We will return to offering classes in the Fall. Currently we are considering one iPad class, one more Mac Essentials class, one iLife (particularly iTunes, iPhoto and iMovie) class, and another iWork (Pages, Numbers, Keynote, and possibly iBooks Author) class. Keep your eyes on the MAGIC website and this newsletter for updates.
Board of directors meeting
Issues discussed at the last Board meeting in June included: Our new meeting place at the Unitarian Congregation Meeting House - we agreed that it is working well for us; Classes to begin again in the Fall - several class topics were discussed but no timetable established yet; Programs for the monthly meetings remainder of 2012; Mentoring, and some problems with some members looking for a complete education rather than help to solve specific problems; The new Equipment rental program (see the Home page of the MAGIC website); and a new policy for making and approving charitable contributions.
The last item involved a lot of discussion and the presentation of a first draft of the policy. Further discussions will refine and finalise the way we make charitable contribution.
---
SOFTWARE UPDATES
Note: This Software Update section of the newsletter lists the most relevant Apple updates. Not all updates are listed for all products. Additionally, I'll add other pertinent updates on occasion.
Apple printer driver updates
by Dan Moren, Macworld.com - Jun 29, 2012
If you own a printer, chances are its driver got an update. Epson's drivers have been updated to version 2.11, Canon's to version 2.9, Lexmark's to 2.8, and Infotec's, Gestetner's, Ricoh's, Savin's, InfoPrint's, NRG's, and Lanier's have been updated to version 2.3. You can find all of these updates on Apple's Support Downloads website. Free.
Click here for complete article.
---
AirPort Utility 6.1 for Mac
AirPort Utility 6.1 allows you to configure and manage the new AirPort Express with simultaneous dual band 802.11n. It also allows you to configure the base stations for IPv6 and includes additional bug fixes. For the latest information on AirPort software, check Software Update in System Preferences or the following Apple website: Apple Support Downloads. Learn more about Apple Wi-Fi at: this website.
---
News, Info and Stories
Deauthorizing the iTunes account on an old computer
by Christopher Breen, Macworld.com - Jul 2, 2012
A colleague who shall go unnamed is in the process or moving and has unearthed what he believes to be tainted treasure. He writes:
I have a really old iBook that's still running 10.2.8 and iTunes 4. I am trying to deauthorize this computer, but when I try, it says that it can't connect to the iTunes Store. (Got it plugged into Ethernet, so Internet connectivity isn't the issue.) Please tell me I don't have to upgrade iTunes just to turn off this account on this computer.
You don't have to upgrade iTunes just to turn off this account on this computer.
You're welcome.
Oh, you wanted more than that? Very well. This can be filed among several similar "I have/inherited/know about Computer X that is authorized with my Apple ID and I'm unable to deauthorize it" conundrums that routinely scoot across my desk.
It's generally considered bad form when playing a board game to grab the aforementioned board and throw it and its accompanying pieces into the air. However, in this case, I heartily recommend it. And by that I mean rather than spending hours trying to elevate this computer to a state where it and the iTunes Store see eye-to-eye, you're better off starting over. And by that I mean resetting all your authorizations and then reauthorizing just those computers that you currently use.
This is easily done. On the computer you currently use launch iTunes. Then click on the "iTunes Store" icon on the left. You will see your Apple ID in the top-right of this window-example@me.com, for instance. Click on your ID and in the resulting dialog box, enter your iTunes password and click the View Account button.
In the Account Information pane that appears, seek out the Computer Authorizations area. Here you'll find the number of computers that are authorized to use your Apple ID—your ancient iBook is one of them. Next to this entry is a Deauthorize All button. Click it to do exactly what it says. All your computers will be deauthorized.
At one time this button didn't become visible until you'd used all five of your allowed authorizations. This is no longer the case. However, you're still limited to deauthorizing all of your computers to just once a year. If you do it today, you must wait a year before you're allowed to do it again. Now, as needed, authorize the computers you currently use by choosing Store -> Authorize computer. Update: Corrected suggestion that you can deauthorize more than once a year. That is not the case.
Click here for complete article.
---
Report: Trojan Horse found in the iOS App Store
by Armando Rodriguez - Jul 5, 2012
Early Thursday morning, Kaspersky posted a blog entry that details a new malicious app that has made it's way to both the Apple App Store and Google Play Store.
The app's name is Find and Call, and once installed, the app asks you to register your phone number and email address. Find and Call will also ask if you want to "find friends in a phone book" before discretely uploading your entire contact list to a remote server. The app will continue to upload your contacts, and will SMS messages to those people that contain a link to download the app themselves. These SMS messages show up as if they were sent from your number, so the recipients are much more likely to click on the link.
"The Find & Call app has been removed from the App Store due to its unauthorized use of users' Address Book data, a violation of App Store guidelines," an Apple representative told Macworld at 12 p.m. PDT. Find and Call appears to have been pulled from the Google Play Store as well.
Kaspersky was tipped off to the existence of the app by Russian mobile carrier MegaFon via Twitter, and the app appears to be getting blasted in its reviews as being a virus, according to Google Translate. 
While malware in the Play Store isn't anything new, it's concerning to see such an app make it into Apple's walled-garden. This raises questions as to how an app like Find and Call made it into the App Store in the first place, and what other dangerous apps have managed to slip past Apple's screeners. Hopefully this was just a fluke, but in the mean time remember that if an app looks suspicious—even if it's in the App Store—it's best to play it safe and not download it.
Click here for complete article.
---
Bad Chrome
by Jon Spaulding, smalldog.com
This week I have unfortunately received in the service area a new Macbook Pro 13" model with the Intel HD4000 graphics chip set. (See Note Below) The customer had brought the unit into us complaining of frequent kernel panics when online. After receiving the unit and running some preliminary testing, all of which gave the machine a clean bill of health, I started to investigate the Console logs seeking the reason behind the abhorrent behavior. A clipping of the logs is presented below:
Thu Jun 21 00:08:16 2012
panic(cpu 2 caller 0xffffff80002c4794): Kernel trap at 0xffffff7f816c69b1, type 14=page fault, registers:
CR0: 0×0000000080010033, CR2: 0xffffff8094414e54, CR3: 0×0000000051bc3028, CR4: 0×00000000001606e0
RAX: 0xffffff7f816c6a84, RBX: 0×0000000000000077, RCX: 0xffffff8094414e4c, RDX: 0×0000000000c481ea
CR2: 0xffffff8094414e54, Error code: 0×0000000000000002, Faulting CPU: 0×2
Backtrace (CPU 2), Frame : Return Address
0xffffff807f2ab660 : 0xffffff8000220792
0xffffff807f2ab6e0 : 0xffffff80002c4794
0xffffff807f2ab890 : 0xffffff80002da55d
0xffffff807f2ab8b0 : 0xffffff7f816c69b1
0xffffff807f2ab9c0 : 0xffffff7f816caf7d
0xffffff807f2abb00 : 0xffffff7f816c7ed4
0xffffff807f2abb60 : 0xffffff800065593e
0xffffff807f2abb80 : 0xffffff800065621a
0xffffff807f2abbe0 : 0xffffff80006569bb
0xffffff807f2abd20 : 0xffffff80002a3f08
0xffffff807f2abe20 : 0xffffff8000223096
0xffffff807f2abe50 : 0xffffff80002148a9
0xffffff807f2abeb0 : 0xffffff800021bbd8
0xffffff807f2abf10 : 0xffffff80002af140
0xffffff807f2abfb0 : 0xffffff80002dab5e Kernel Extensions in backtrace: com.apple.driver.AppleIntelHD4000Graphics(7.2.8)[6B02D782-A79F-399C-81FD-353EBFF2AB81]@0xffffff7f816be000->0xffffff7f81724fff dependency: com.apple.iokit.IOPCIFamily(2.7)[C0404427-3360-36B4-B483-3C9F0C54A3CA]@0xffffff7f80847000 dependency: com.apple.iokit.IONDRVSupport(2.3.4)[474FE7E9-5C79-3AA4-830F-262DF4B6B544]@0xffffff7f80cbd000 dependency: com.apple.iokit.IOGraphicsFamily(2.3.4)[EF26EBCF-7CF9-3FC7-B9AD-6C0C27B89B2B]@0xffffff7f80c84000
BSD process name corresponding to current thread: Google Chrome He
Mac OS version:
11E2620

Looking through the logs, all four kernel panics had the same basic information. Other than the core that faulted to cause the panic, the process remains the same, Chrome. Looking through the various chat boards, this is an issue that many have voiced concerns about. With the move to sandboxing of applications, why can Chrome kernel panic a system? Secondarily, what are Google and the Chrome developers doing to resolve this issue? Until we know more or until a new version of Chrome is released, I would have to say Chrome is not recommended for use with the HD4000 graphics chipsets.
Click here for complete article.
MAGIC Editors Note: These would be new MacBooks. To check your Graphics Chipset, select About this Mac in the Apple menu, click on More Info, then System Report (or System Information), and select Graphics/Displays.
---
Mountain Lion: What you need to know
by Macworld Staff, Macworld.com - Jun 13, 2012
Answers to your questions about Apple's next OS X update.
MacWorld Editor's Note: This article was originally published on February 17, 2012 when Apple first previewed Mountain Lion, the next major update to Mac OS X. At June's Worldwide Developers Conference, Apple revealed more Mountain Lion info. So we've updated this article to reflect the latest on OS X 10.8.
We have a Mountain Lion sighting. At June's Worldwide Developer Conference, Apple told us when to expect the next major update to Mac OS X and unveiled a few more features that will appear in the new operating system. With an OS X update looming, it's time to familiarize yourself with Apple's latest big cat.
Not to worry: We've had a chance to spend some quality time with the next version of the Mac operating system, and, after Apple's WWDC keynote, we're prepared to answer any questions you might have about its availability, new features, and enhancements to existing applications.
Availability
When will Mountain Lion be available?
Previously, Apple told us to expect a summer release. At WWDC, Apple's vice president of software engineering Craig Federighi narrowed down that date a bit: Mountain Lion ships in July. We don't have an exact date, but if this release is anything like last year's Lion release, expect it to show up sometime in the latter half of the month.
How much will it cost?
You'll be able to pick up a copy of Mountain Lion for just $20. By way of comparison, Lion cost $30.
How will I get my hands on Mountain Lion?
The same way you got a hold of Lion—via the Mac App Store. Apple seems pretty happy with its online distribution method, with more than 26 million copies of Lion sold in the last year. When it's time to pick up Mountain Lion, you'll queue up in front of your computer rather than a physical store. Like Lion, Apple will let you pay for and download one copy of Mountain Lion that you can install to multiple Macs—a welcome feature for multi-Mac households.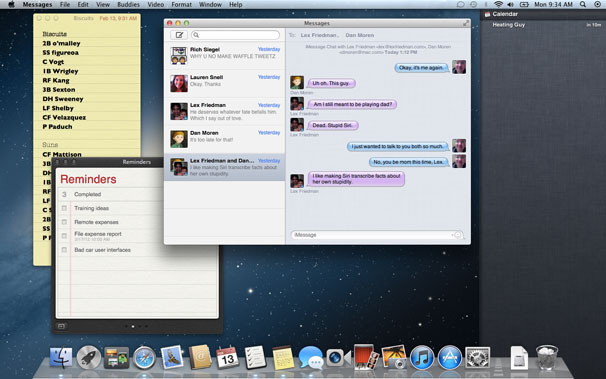 Will I need to be running Lion to upgrade to Mountain Lion, or can I upgrade straight from Snow Leopard?
According to the information Apple has provided with the developer preview, you need to be running at least the latest version of Snow Leopard (OS X 10.6.8) to install Mountain Lion.
What version of Mac OS X is Mountain Lion?
10.8. (And it's "OS X" now. With Lion, Apple's marketing material began referring to "OS X" rather than "Mac OS X," but with Mountain Lion all traces have been eradicated. Even the About this Mac box says "OS X.")
Which Macs will be able to run Mountain Lion?
Apple says the following models are supported:
iMac: Mid-2007 and later
Mac mini: Early 2009 and later
Mac Pro: Early 2008 and later
MacBook: Late 2008 Alumnium, Early 2009, and later
MacBook Air: Late 2008 and later
MacBook Pro: Mid- and Late 2007 and later
Apple's current specs page omits the 2009 Xserve, which was included in the supported models back in February. That may be more of a reflection of Apple's regard for the now-retired Xserve than that machine's ability to run Mountain Lion, however. You may notice that some models supported by Lion aren't in that list—just because your Mac can run Lion doesn't mean it will be able to run Mountain Lion. Specifically, the following models can run Lion, but aren't compatible with the initial developer preview of Mountain Lion:
2006 iMacs
Mid 2007 Mac mini
2006 and 2007 Mac Pro
2008 (original) MacBook Air
Early 2008 and earlier MacBook
2006 (15-inch and 17-inch) MacBook Pro
2006 and 2008 Xserve
Features
Did Apple announce anything new at the Worldwide Developers Conference that we didn't already know about?
Most of what Apple talked about at this week's WWDC keynote recapped the features revealed in February. Still, Apple's Federighi mentioned a few new ones, highlighted by systemwide dictation on the Mac and an intriguing new Power Nap feature.
Dictation? Does that mean Siri be available in Mountain Lion?

Not at this time. Instead, Mountain Lion's Dictation capabilities will let you talk anywhere you can type, with your words converted into text. That includes third-party apps and websites, according to Apple. Dictation will be able to support English (U.S., UK, and Australia), French, German, and Japanese.
If you want to ask your Mac what the weather's like, though, it's going to remain maddeningly silent. For that, you'll need Siri and an iPhone 4S. (Or third-generation iPad, once iOS 6 extends Siri support to that device in the fall.)
So what's intriguing about Power Nap? What does it do?
Power Nap is a feature available to laptops with solid-state drives. It allows your Mac to sync and download updates while it's sleeping. According to Apple, your Mac laptop will be able to Mail, Contacts, Calendar, Reminders, Notes, Photo Stream, Find My Mac, and Documents in the Cloud; keep the computer plugged in to a power source, and it will download software updates and make Time Machine backups, too. While that's happening, your Mac runs silently—no lights or fans will come on, awaking you from any slumbers. (That's why the feature only works with SSD-based Macs—no moving parts in your drive.)
What else has changed since February for Mountain Lion?
The updated OS promises Facebook integration, which means you'll be able to share with the social networking service from within other applications. That means posting photos from iPhoto and links from Safari. Facebook notifications show up in Mountain Lion's new Notification Center (more on that below), and you'll be able to post status updates from there. Facebook integration figures to work like Twitter integration currently does on iOS device: You sign in, and you're set up to share.
With Facebook integration built into Mountain Lion, sharing photos, links, and status updates with the social network should be easier than ever.
A potentially neat feature with Facebook integration invloves the Contacts app. OS X will add Facebook friends and their profiles to Contacts. When that information is updated on Facebook, OS X will update the Contacts entry, too.
Other Mountain Lion features announced this week include support for full screen apps on multiple monitors (a feature our own Dan Moren advocated for last year); iCloud tabs for Safari, which show websites open on your other devices; and an offline version of your Safari Reading List
Lion drew heavily on iOS for its feature set. Will that continue in Mountain Lion?
Yes. Like Lion, Mountain Lion offers numerous additions that will be familiar to iOS users. This OS X release continues Apple's philosophy of bringing iOS features "back to the Mac," and includes iMessage, Reminders, Notes, Notification Center, Twitter integration, Game Center, and AirPlay Mirroring.
Are there any Lion features that Apple is dropping in Mountain Lion?
Largely, any features introduced with Lion are here to stay—though those of you who haven't yet switched to Lion's "natural" scrolling can rest easy: It's still optional in Mountain Lion. iCal and Address Book will receive name changes to Calendar and Contacts, and feature new layouts similar to their iOS counterparts. Certain apps, like Preview, have had their interfaces simplified. And RSS organization is being phased out of Safari, with Reader taking charge.
What - if any - features in Mountain Lion will be available to Lion or Snow Leopard users?
Apple hasn't announced yet whether it plans to make any of these new apps or features available for Lion or Snow Leopard users, but if we had to hazard a guess, we'd say it's not very likely that users of previous operating systems will see them. Faster, cheaper OS updates from the company means less time to integrate newer apps with older operating systems; if you're still holding back on upgrading, you'll have to forgo the newest features.
So which iOS features will appear in Mountain Lion?
Mountain Lion will now share and sync Messages, Notes, and Reminders (sans the location-based reminders that iOS sports). It will also integrate Game Center, the gaming service Apple introduced to iPhone and iPad users with iOS 4.1. In addition, OS X will add its own versions of Notification Center, Share Sheets, syncing with iCloud documents and accounts, systemwide Twitter integration, and AirPlay Mirroring. Certain Mac apps have also taken design and functionality cues from iOS apps, like Preview's new iBooks-style annotations and iChat's transformation into Messages.
How will notifications work in Mountain Lion?


When you receive a notification, a small floating window appears in the upper right corner of the Mac's display, containing the notification. Notifications come in two forms: banners and alerts. If it's a banner, the message appears for a few seconds, then disappears from view; alerts require you to manually acknowledge them before they disappear. Clicking on a banner or alert will send you directly to the relevant application, while clicking and dragging dismisses the notification.
So who decides what's an alert and what's a banner?
You do. Using the new Notifications pane in the System Preferences app, you can set on a per-app basis whether you want your notifications to appear as five-second banners or alerts that remain visible until you click them.
In System Preferences, you can set how you want notifications to perform on an app-by-app basis.
That preferences pane is also where you can set which apps appear within Notification Center—think of it as the OS X version of the Notifications submenu in iOS's Settings app. By default, Calendar, Reminders, Game Center, Safari, Mail, and Messages are configured to send notifications. You can also choose how many reminders appear per application—1, 5, 10, or 20 Items—and you can choose to display a badge on each application's Dock icon when a notification from that app is received. You can additionally configure notifications so that a sound is played when a notification is received.
What if I don't see a banner notification before it disappears?

If a banner notification disappears before you can get to it, you can bring up Notification Center by clicking on the Notification Center icon in the menu bar (the double circle in the upper right corner of the menu bar), entering a keyboard shortcut, or using a two-finger swipe. The desktop will shift to the left, displaying all current notifications in a dark gray column, sorted by app along the right edge of your screen. When you click on a notification in this list, the corresponding application will open and display the related item. For example, if you click on a Mail subject heading, Mail will open and display that message.
What's the multitouch gesture to open Notification Center?
Starting at the far right edge of the trackpad, swipe with two fingers to the left (as if you were pulling something away from the right side of the screen). You can also assign a keyboard shortcut to show and hide Notification Center. You can do this within System Preferences -> Keyboard -> Keyboard Shortcuts.
Can you hide the Notification Center menu bar icon?
Not that we can tell. But we expect that might change.
What is Gatekeeper? How will it work?
Gatekeeper is a new security technology Apple has released with Mountain Lion, which allows you to download and install apps from developers registered with Apple, regardless of whether those apps are available for sale on the Mac App Store or on the Web. If an app that has been signed by a registered developer misbehaves, Apple can disable that app and ban the developer from creating new software registered with Apple. Read more about Gatekeeper in our hands-on with the new feature.
With Mountain Lion, will Gatekeeper prevent my current software collection from running? Will I only be able to run apps I download from the Mac App Store?
No; you'll be able to open any software you choose to, though you can restrict this to Mac App Store-only purchases if you wish. In System Preferences -> Security & Privacy -> General, you can choose whether to run software exclusively from the Mac App Store; from the store and from non-Mac App Store developers who have registered with Apple; or from any developer, anywhere.
How will Mountain Lion's sharing features work?
Like iOS, Mountain Lion has a new Share button that allows you to send just about anything—website, picture, video, file, text excerpt—using a variety of services. Those services vary depending on the app: For instance, in Safari, you can share websites to your Reading List as well as via email, iMessage, Twitter, and—in the Fall—Facebook, while videos can be shared via YouTube, Vimeo, or AirDrop. If you right-click any text, you'll be able to share that via email, iMessage, or Twitter, too.
Share websites to your Reading List as well as via email, iMessage, and Twitter by using the new Share button in Safari.
In addition, the Mail, Contacts, and Calendars pane of System Preferences has been updated so that you can add systemwide integration with Twitter, Flickr, and Vimeo, along with three other China-based services.
How does Mountain Lion integrate with iCloud? What's different from Lion's iCloud integration?
Building off Lion's basic iCloud integration, Mountain Lion will support Accounts sync, allowing you to take your passwords and preferences from one machine to another, along with Documents and Data. You'll also be able to sync your notes, and sync your open Safari windows, too.
Will integration between iCloud and Mountain Lion replace any soon-to-be-dead MobileMe features?
You are referring, of course, to Apple's plans to discontinue iWeb publishing, MobileMe Gallery, and iDisk in June. Mountain Lion's Accounts sync will transfer passwords, but otherwise, there are no major MobileMe feature resurrections.
Does this foreshadow any changes in iLife or iWork? Does it break anything in iWeb?
Mountain Lion now has access to iCloud's Documents in the Cloud, and Apple showed us a version of Pages that worked with that feature. That's a stealth announcement of a new version of the iWork Mac apps that will support Documents in the Cloud on Mountain Lion. It would be nice to see such an update of the iLife apps too, allowing users to transfer projects to and from their devices without wires or iTunes File Sharing.
iWeb is still functional in Mountain Lion, but seeing as how MobileMe hosting for websites is being discontinued this month and Apple shows no interest in updating the app, it might be time to look at alternatives.
What other minor features and enhancements will Mountain Lion deliver?
At this year's Worldwide Developers Conference, Apple boasted that Mountain Lion contains more than 200 new features, though we haven't had time to go and count each of those ourselves.
However, Apple did provide us with a few new Mountain Lion features without going into greater detail. These include: Backup to multiple disks, new graphics infrastructure for OpenGL/OpenCL, improved privacy in Safari, a Dashboard Widget browser, form input in Preview, inline find in Mail, virtual memory performance optimizations, OS X updates in the Mac App Store, improved smart card support, search suggestions in calendar, drag and drop files in screen sharing, launchpad search, swipe between pages in Mac App Store, encrypted backups, kernel ASLR, and improved gesture APIs.
Apps
What's this I hear about the Mac App Store and Software Update being merged?
You heard correctly. The Mac App Store will now be the sole place for Apple software updates. When new software is available, you'll receive a notification in Notification Center; you can download it by opening the App Store app and selecting the Updates tab. Notifications also carry over to any Mac App Store apps, as well, meaning that you no longer need to perennially leave the App Store open to check for new updates to your programs.
What's new with iCal and Address Book, besides their name changes?
We've spent a little time with both Contacts and Calendar; both sport interface changes, including a three column view in Contacts and a left sidebar for calendars in Calendar. Apple's scheduling app also sees the removal of to-dos (which head to the Reminders app) and integration with the same advanced search tokens used in Lion's Finder and Mail.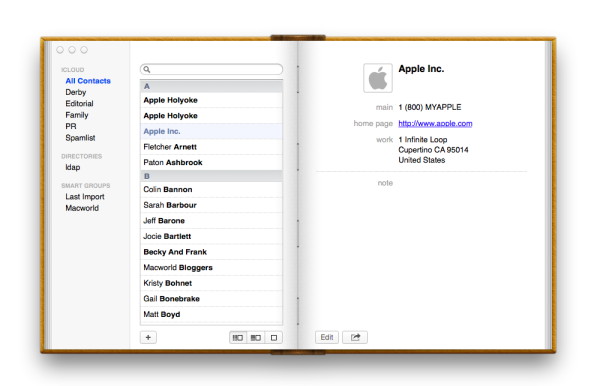 Contacts (formerly Address Book) gets a three-column view in Mountain Lion.
Does Dashboard get any love? How about Launchpad?
Surprisingly, yes. Dashboard receives a new widget browser reminiscent of Launchpad (or the iOS home screen), along with a search bar along the top; it's to be determined whether this means Apple may be interested in porting over more iOS-like widgets, but color us intrigued.
Launchpad gets a small tweak—a search bar, present at the top of each Launchpad screen.
What does Game Center on the Mac mean for games on the Mac?

We'll have to wait and see until Mountain Lion actually comes out, as Game Center isn't very useful without apps that utilize it. That said, your iOS Game Center accounts will carry over, and you should be able to do many of the same things you use Game Center on iOS to do—invite others to games, keep track of achievements, and find new things to play. You can also challenge iOS users to head-to-head matches if they're running a game that also works on your Mac.
Has Apple done anything about the behemoth that is iTunes?
No—at least, not yet. This may change before Mountain Lion launches, but we don't know for sure.
What cool features are in store for Mail in Mountain Lion?
Mail has three new features: VIPs, inline find, and selective notifications. VIPs are special contacts, chosen by you, whose messages are treated differently from other contacts. For example, you can set Mail to use Notification Center to alert you only when Mail from VIPs arrives. You can also use Mail Rules to filter items from VIPs in a different way. Inline find works much like it does in Safari or TextEdit—hit Command-F, and you'll be able to search the body text of a message. Selective notifications allow you to choose what messages show up in Notification Center—useful if you don't want to have your screen flash every time you get a spam message.
With Mountain Lion, Mail gets a VIP feature that alerts you when message arrives from selected contacts and an inline find capability.
So iChat is becoming Messages. Does that mean I'll be able to send messages to people with an iPhone, iPod touch, or iPad from my Mac? How will that work?

Yes, you can use Messages to chat with people between Macs and iOS devices—iMessages are Internet-based, and thus can be sent between two devices running the Messages app. If you have contacts you iMessage but don't IM, you'll need to type in their phone numbers or email addresses manually, or add them to a buddy list anyway—just as you would in iChat. If you use Messages to send iMessages and your iPhone and/or iPad are nearby, you'll receive your replies on all your devices, along with your Mac.
Can I still screen share, host video conferences, and use iChat Theater?
You can, though that functionality requires an AIM account, rather than an iMessage one. Video chatting can be done on AIM traditionally, or you can launch the FaceTime app through an embedded button in the chat window.
What happens to FaceTime?
FaceTime is still there. FaceTime sessions take place within the FaceTime app on the Mac. Though Messages offers integration with FaceTime—you can kick off a FaceTime session from within the Messages window—it doesn't actually do the FaceTime part itself. That's still a separate app. (Other video chats and screen sharing still occur within Messages, as they did before when it was called iChat.)
Does Messages for Mac have a background listener for messages? Or must I have it open in order to receive messages?
You won't currently see notifications pop up in Notification Center when Messages is closed —for all we know, that could change before release. But if you have Messages as part of your Dock, the app's icon will display a red badge alert with the number of messages you've missed.
Are there any notable differences between Notes on iOS and on Mountain Lion?
Notes translates pretty closely between the two operating systems: You can display and edit single notes, view a list of all your notes, or, if you have multiple accounts, you can choose to view just a selection of notes based on the account that created them.
Unlike Notes on iOS, you can use any font found on your Mac. Mountain Lion's version of the app also supports rich text and text alignment.
What's up with Photo Booth and QuickTime?
Both get new Share options.
So Preview gets a new toolbar? Did it lose any features?
Preview gets a slight interface redesign, and gains two features: form input and iBooks-style annotations.
How similar is the Reminders app in Mountain Lion to its iOS counterpart? Do reminders work the same?
Reminders in Mountain Lion retains the same look and feel as the iOS app. Unfortunately, you can't create shared lists within either app—you'll have to visit icloud.com to do so.
Anything new with Safari?
Yes. Safari has a redesigned toolbar in Mountain Lion. The dedicated search box is gone. Instead, if you want to search, you just type your search query in the URL bar. Safari will be smart enough to know you're trying to search instead of entering a Web address. You can search in-page, for your search engine's top result, and through your bookmarks and history. The toolbar's URL display has been simplified, too, cutting off the "http://" part and highlighting the domain name in heavier text than the rest of the URL.
The Safari Reader toolbar button is also much larger, as active RSS support has been officially retired. (If you try and view an RSS feed, it will attempt to bump you out to an external reader.) Safari will store offline copies of your Reading List as well, so you can enjoy webpages while on a plane or in a Faraday cage. Safari also scores a new Passwords pane in the Preferences window. It behaves a bit like a miniature Keychain Access, limited to your logins for websites.
iCloud will additionally sync your browser tabs, so you can move from your Mac to an iOS device and your open links will follow you.
Can I set my search engine to anything I want?
No, you're limited to Google, Yahoo, Bing, and (if you're using a Mac in China) Baidu.
Please tell me TextEdit still exists in 10.8? Or was it replaced by Notes? What about Stickies?
TextEdit is still around. So is Stickies. Both appear largely unchanged. It's possible that Apple might kill them at some point, but it seems unlikely. They both serve their purposes, and are decidedly different from Notes.
Is System Preferences now called Settings?
If you're on a Mac, the app is still called System Preferences—but you're right, given that they're called Settings on iOS, it seems like only a matter of time before the utility's name changes as part of Apple's apparent embrace of universal naming.
I hoped Mountain Lion would introduce Find My Friends or iBooks apps just as they brought over Reminders and Notes from iOS.
It would sure be nice to have those apps, but don't get misled by their lack of existence in the Mountain Lion announcement. On iOS, both Find My Friends and iBooks are apps released via the App Store, not bundled with the operating system. Presumably the same would be true for the Mac versions. If Apple does create iBooks for the Mac, the company would presumably release it on the Mac App Store, and not as part of Mountain Lion proper.
Click here for complete article.
---
Keeping Your Notebook Battery Healthy
by R.J. Murphy, smalldog.com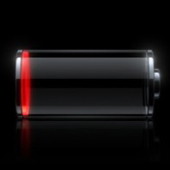 I consistently speak with customers that complain about their laptop's decreased battery runtime. Unfortunately, all batteries do have a definite lifespan, and will inevitably fail at some point. The upside is that your battery's lifespan can depend on how you treat it.
The built-in batteries in the unibody MacBook Pro and MacBook Air are designed to last up to 5 years, and you can help your battery make it that long by following some of these maintenance tips:
First of all, always make sure your Apple software is up to date. Apple has released many software updates that improve battery performance.
Second, it is not recommended to keep your laptop plugged in constantly. The electrons in a lithium-based battery need to keep moving occasionally. Fully discharging and charging your battery at least once a month is recommended. You can always pop an event in iCal to remind you each month!
If you are planning on leaving your notebook off and unused for more than six months, it's recommended that you leave the battery at about a 50% charge. Storing a battery for that long while fully discharged could result in a "deep discharge" state, which would basically render the battery useless.
Storing your notebook in the optimal temperate zone is also recommended. This is defined by Apple to be between 50 and 95 degrees Fahrenheit.
All these battery maintenance tips are directly from Apple's website. The full article can be read here.
Click here for complete article.
---
Art Application for Mac, App Store
from the App Store
Love using paint on your PC? Wish that something similar or better was available for Mac? Wish no more, iArt Pro is here at an unbelievable price! iArt Pro is an affordable app that brings the best of what you're used to, but to your Mac! Whether you're a beginner or professional, you can take advantage of tools like paint, text, crop, select and much more to create or edit beautiful images! Enjoy the simple user interface to edit images or for quick fixes of your pictures. Easy to use which makes it easy for kids and adults alike!
iArt Pro supports PNG, JPEG, GIF, TIFF and BMP files. Here is a list of just some of the features:
Color Palette
Free-Form Select
Polygonal Lasso
Eraser/Color Eraser
Fill With Color
Pick Color
Magnifier
Pencil
Brush
Text
Line
Curve
Rectangle
Ellipse
Rounded Rectangle
Blur, Sharpen, Burn, Dodge, Sponge Effects
Eyedropper
Regular Price - $19.99
Sale Price - $7.99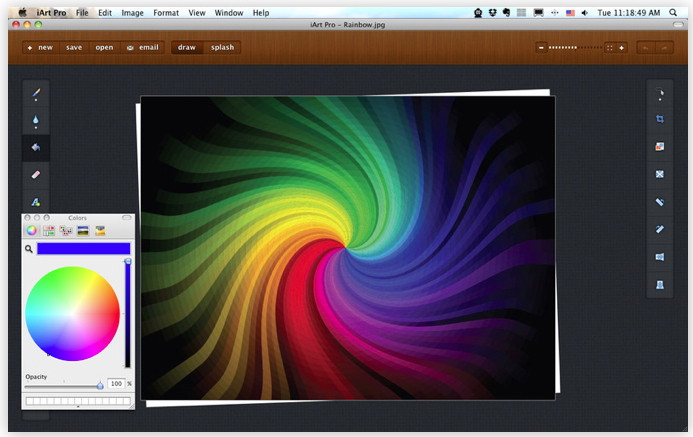 ---
Life after iWeb: The state of Web design on the Mac
by Adam Berenstain, Macworld.com - Dec 27, 2011 and updated by RYE July 2012
It hasn't been a great year for iWeb users. Apple's lone Web design app wasn't updated with the release of iLife '11, and Now we know it will not be continued. iWeb will continue to work for a while but not with MobileMe now that it has been discontinued. Do you know about NewMobileMe where you can put your MobileMe websites and have them continue to operate?
Whether you're looking for an easy-to-use iWeb replacement or a more sophisticated program with more powerful features for you and your site's visitors, a host of applications is available for every skill level and budget. Here are some of the highlights and how current iWeb users could find them useful.
The iWeb problem
While iWeb may be unavailable on the Mac App Store, it's still currently sold in boxed editions of the iLife '11 suite. Last summer, the app was updated to version 3.0.4, and will keep working even after Apple ends MobileMe Web hosting on June 30, 2012. After that date, many iWeb users will have to find new hosts for their sites, but iWeb will still export to FTP and Finder folders.
However, many iWeb features, like password protection, blog and photo comments, and blog searches won't work without MobileMe hosting. While iCloud provides convenient data and photo syncing, it's not a Web host. It's possible that Apple could bring some MobileMe features to iCloud, but which features, and when they would be added, is an open question. Whether you're thinking about replacing iWeb now, or are forced to do so later, finding an application that's right for you depends on your needs.
Professional and prosumer options
If you're ready to take your skills and sites to the next level, professional Web design software can help. These applications offer sophisticated WYSIWYG features, rich code editing tools, or both, and are aimed at building and maintaining complex sites. Dreamweaver CS5.5 ($400) is the choice of many Web design pros for designing cutting-edge sites using HTML, CSS, JavaScript, or PHP. It's suited to building and maintaining complex database-driven sites, but its rich graphical tools (and integration with other Adobe software like Photoshop) let you unleash your inner artist, too. Flux (£70, or roughly $112), sometimes referred to as MacFlux, is an HTML 5 and CSS design app for new and experienced designers who don't mind guidance like page templates and libraries of HTML, JavaScript, and CSS widgets. Flux can also create Ruby on Rails, Concrete5, or ePub projects, as well as WordPress themes. Freeway Pro ($229) is a strictly WYSIWYG designer that's user-friendly enough to include templates to get your site started. But it doesn't skimp on advanced features like support for PSD, TIFF, and EPS files as well as CSS layouts and full CSS text styling.
The Deep End of the Pool: If you've chafed at iWeb's limitations, applications like Flux offer a new world of site design.
Template-based consumer apps
For a more iWeb-like experience that lets you build sites with themed templates you can customize with your content, you have several options. These programs offer a wider variety of templates, widgets, and social media features than iWeb '09 while still remaining easy to use. RapidWeaver ($80) offers more than 40 themes and templates for your site that you can edit in an uncluttered interface. The features and behavior of your site can be extensively customized with Flash photo slideshows, custom favicons, WebClip icons, meta tags, and more. Sandvox ($80) offers over 50 themes and templates and easy access to both your iLife media and browser bookmarks. Its widget-like objects can easily add Facebook "Like" buttons, your Twitter, Skype, or IM status, and other social interactivity to your site—even a contact form and Facebook, IntenseDebate, or Disqus comment systems. Freeway Express ($69) is a streamlined version of Freeway Pro that retains many of its sibling's powerful features, like templates, CSS navigation bars, and master pages that let you easily add menus, media, and more across pages when designing a site from scratch. A $50 version, called Freeway Express AS, is available on the Mac App Store.
No iWeb, No Problem: Many consumer design apps, like Freeway Express, offer more tools and flexibility than iWeb.
Freehand consumer programs
Sometimes, even the best-looking templates aren't enough. If you'd prefer to create pages on a blank canvas, but still want user-friendly design features, there are apps for that, too. Muse ($180 annual or $15 monthly subscription) is an Adobe application that works like a simplified mix of InDesign and Photoshop. Users of either application will be at home with its floating palette of tools and quick access to Web-safe colors, fonts, and text-styling options. Its widgets can easily add navigation bars, slideshows, and other interactive features to your site; and these can be extensively customized along with objects you create yourself. Hype ($30) lets you create HTML5 animations, but it can also be used to create an entire site. Animating objects is as easy as giving them different states (such as position or color) on a timeline. The "in-between" frames are created for you, and a recording feature that tracks changes simplifies the process even further. Animations, page transitions, and even JavaScript actions can be triggered when visitors mouse over content, or at other points you define.
With Great Power Comes Great Simplicity: New design apps like Muse are blurring the lines between desktop and Web design.
Free applications and Web-based services
Each application above is available to try before you buy, but some Web design software comes with no price tag at all. These free cross-platform programs may lack the look and feel of modern Mac apps - and conveniences like iLife media integration - but with them you can create and upload Web pages using a combination of WYSIWYG and code-based tools without breaking your budget. KompoZer, Amaya, and BlueGriffon are three options that are worth a look.
Freedom of Expression: Social media and apps like Amaya let you share yourself with the world for free.
If your budget is zero, you may not even need a dedicated design application, thanks to social media sites. Odds are you're already using Flickr for photos, YouTube for videos, or Blogger or WordPress to share your writing (and more) with the world. The ubiquity and ease of use of these services can't be denied. But even if you're comfortable with some or all of them, packaging that content in a single site of your own design can be a great way to present yourself online.
No matter what the future holds for iWeb, or what your needs are, the Mac Web design scene offers plenty of alternatives. With so many choices, you're bound to find a new tool that's right for you—and probably some new skills along the way.
[Adam Berenstain is a freelance writer in upstate New York and a frequent contributor to Macworld.]
Click here for complete article.
---
iPhones, iPods, and iPads
Printing From Your iPad, iPhone or iPod touch
by Mike Bagtaz, smalldog.com
We can now use our mobile devices for many of the tasks that once required a computer. Unfortunately, for the longest time, printing documents didn't feel like one of them.
A question we often get from customers about their new iDevice is, "Can I print from it?" This comes up so often because people are looking for a replacement for their old computer or laptop and they want to be able to replace it with something thin and light. The answer to this question is…yes.
There are two ways you can print from your iPad (all models), iPhone (3GS or later) and/or iPod touch (3rd generation or later): the Apple way (via AirPrint) and the AirPrint Activator way.
The Apple way is very simple and usually means getting a new printer (but not always). AirPrint is the wireless printing standard that Apple has created for people to be able to print wirelessly from their iDevice to an AirPrint-capable printer. No driver to install, no apps to manage it—just attach your printer to your home wireless network and like magic, you are able to print from within your apps on your device over the air to your printer. A list of all AirPrint-capable printers can be found here. The AirPrint Activator way is a little harder and requires that you use your current computer, but doesn't involve purchasing any new printers. First, you must download a program from the internet called AirPrint Activator. (Note that this is the Mac version; the PC version can be found here.) Install the program and make sure your printer in your System Preferences is set to "Shared." The printer will appear in the list and then be available to use as an AirPrint-capable printer on your iDevice.
Those are the two ways you can print from an iDevice; I personally use the AirPrint Activator method because I found it easy and quick to set up, plus I get to use my own printer which I wasn't planning on replacing any time soon. Both ways work just as well, so have fun getting the most out of your iDevice!
Click here for complete article.
---
Podcasts Review
by Christopher Breen, Macworld.com
Apple's new Podcasts app is a welcome step to bringing attention to audio and video podcasts that were previously buried in the Music app. But while it has some good things going for it, it's a step that's not yet fully realized.
Procuring podcasts
My colleague, Dan Moren, has written an admirable first look at the Podcasts app, so I needn't go into extensive detail on how it works. The gist is that this app functions, in many ways, like the iBooks app, complete with ways to listen to podcasts as well as obtain new ones.
Obtaining podcasts is one of the app's strengths. Whereas in iTunes and in the iTunes Store app, podcasts could be lost among all the store's other content, the Podcasts app brings such content firmly to the fore. To view available podcasts, simply tap the Catalog button and you're taken to the store's collection of podcasts. You can view this in a few ways.
The first is by tapping the Featured button at the bottom of the screen. Do so on an iPhone or iPod touch and you see a few featured slots and then a list of podcasts that include both audio and video offerings. On an iPad there's a New & Noteworthy area and, currently, a Podcaster Starter Pack section that includes the kind of podcasts—Radiolab, TEDTalks, and This American Life—that those new to podcasting will want to check out.
Tap Top Charts on an iPhone or iPod touch and you see the store's top ten podcasts—this can include video as well as audio podcasts. On an iPad you see audio and video podcasts listed under separate headings.
You can further narrow your search by tapping a Categories button and choosing a podcast genre such as Arts, Health, Music, News & Politics, or Technology from a list. Do so and the top podcasts for that genre appear. And, of course, if you know what you're looking for, just use the Search field.
When you've found a podcast you're interested in, tap it and you can subscribe to the podcast, stream an episode, or download an episode. Once you've subscribed to a podcast, you can choose the option to auto-download new episodes when they become available as well as sort episodes by newest or oldest first and mark all as played or unplayed. Regrettably, there's no way to create a playlist of podcast episodes. If you want that kind of functionality you must create those playlists in iTunes and sync your podcast episodes to your iOS device. The playlists will be available within the Music app rather than the Podcasts app.
What isn't clear—but welcome—is that you can additionally subscribe to podcasts that aren't offered on the iTunes Store. However, the feature is anything but intuitive. To subscribe to such a podcast enter the RSS feed for the podcast in the app's Search field. When you do so and tap the Return key, you're asked if you'd like to subscribe to the podcast associated with that RSS address. It then appears in your library of podcasts.
Audience and interface
The lack of playlist support and the hidden feature for subscribing to podcasts outside the iTunes Store is evidence of an app intended for a general audience rather than the podcast aficionado. Podcasts seems aimed at the person who listens and subscribes to a handful of podcasts but doesn't require a lot of bells and whistles. (The bells-and-whistles crowd is better served by third-party apps such as Downcast and iCatcher that do offer such features.) With that audience in mind, Apple has loaded the Podcasts app with some intriguing interface elements, but sometimes sacrifices functionality to those elements.
For example, while the library page is useful—allowing you to view shows by large thumbnail or in a list, the Top Stations feature needs a lot of work. It's laid out so that podcast categories such as Arts, Business, Comedy, and Education appear on a large side-scrolling wheel across the top of the screen. Within each large category are subcategories that appear as you move the wheel—Design, Fashion & Beauty, Food, Literature, Performing Arts, and Visual Arts in the Arts category, for example. Below, you see one large hunk of cover art. To see the next program you must swipe up to move to the cover art below. This cover art is the only thing that identifies the program. If a program lacks artwork (something I encountered many times) you have no idea what the program is until you tap the small Info button next to it. At this point, the artwork flips around (iPad) or scrolls up (iPhone and iPod touch) and you can see the show name, a Subscribe button, and available episodes that can be downloaded or streamed. If you're new to podcasts and seek some of podcasting's most popular shows, this can be helpful. But another, smaller view that offers multiple programs would be a more efficient and informative use of space.
The Now Playing screen for audio podcasts is another interesting design decision—some of which is useful and other bits, not so. When you first start playing a podcast, the Now Playing screen shows that large piece of cover art. Below the art are Back, Forward, and Play/Pause controls in addition to buttons for skipping back 10 seconds and jumping forward 30 seconds. If you'd like to view other episodes of the program, simply tap the Playlist icon in the top right corner of the screen and a playlist appears. To play an episode within that playlist, simply tap on it and it will stream to your device. This is all great and easy to use.
When you swipe up on this artwork you're taken to the tape recorder view, where you find additional controls. Among them is a speed control for speeding up or slowing down the podcast without changing pitch (Apple claims the faster "rabbit" setting makes the audio play twice as fast. It's actually about 1.5 times as fast.) You also find a timeline, a Share button for sharing links to the podcast via email, Twitter, or the Messages app; and a sleep timer button, which allows you to configure the podcast to play for a certain amount of time (from five minutes to an hour in increments) and then stop playing. As the episode progresses, the virtual tape on the reels decreases on the left reel and increases on the right. It's a clever effect, but as the timeline shows you where you are in nearly all cases, it seems more gimmick than help.
Like the built-in Music app, the Podcasts app supports scrubbing at a variety of speeds. Start a podcast playing and drag on the playhead. When you do, the podcast scrubs (plays short snippets of audio) at high speed. Drag your finger down while scrubbing and the scrubbing speed decreases from high speed, to half speed, to quarter speed, to fine scrubbing. You can scrub both back and forward. That timeline can be confusing in that it contains Back and Forward buttons that don't appear to do anything—that is, until you play an audio podcast you've downloaded that contains chapters. When you play such a podcast, you see new chapter buttons below the timeline. The first button will read Chapter 1 and the second, All Chapters. When the episode gets to the next chapter, the name of the first button changes to Chapter 2. If you tap All Chapters, the timeline becomes segmented, with each mark indicating a new chapter.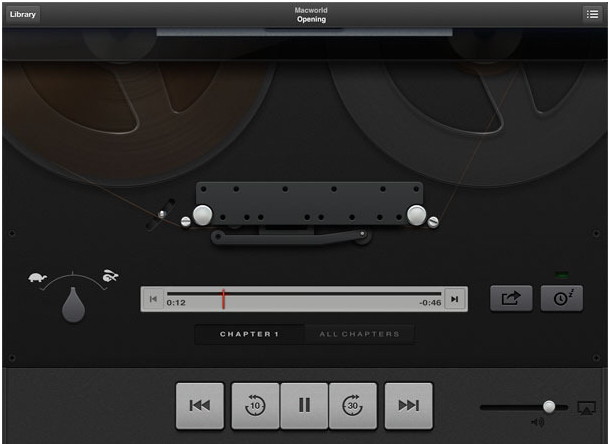 Chapter and Verse: The Podcasts app supports navigating via chapters, but provides no chapter titles.
Those Back and Forward buttons in the timeline now come into play. When you tap on them, you skip back or forward a chapter, respectively. As you do so, the reels speed up to show that you're skipping through a significant amount of time, which is kind of cute. But I'd like more from the chapters feature. When you listen to an episode that contains chapters in iTunes, you can easily navigate to other chapters by selecting them from a list (plus those chapters include their chapter titles rather than a generic "Chapter 1, Chapter 2, and so on). While Podcasts' chapter button and segmented timeline work reasonably well with the timeline conceit, they're not the most efficient way to move between chapters.
About syncing
The app is capable of syncing—to an extent. When you play a podcast episode on one iOS device and then move to another iOS device tied to the same Apple ID, playback on the second device will pick up where the first left off. (Provided, of course, that each device has Internet access.) However, this isn't true between iOS devices and iTunes. (Apple makes no claim that it is.) The Podcasts app won't bookmark a podcast in iTunes so that when listening on your computer you can continue from where you last stopped.
Additionally, subscriptions don't sync. So, if you've subscribed to a podcast on your iPad and later fire up your iPhone, you won't find that podcast on your phone. If you want it, you have to subscribe to it on that device. Once you do, playback between the two devices will be synced. This lack of subscription syncing seems odd, particularly given that an app like Downcast can do it, using Apple's own iCloud service to do so.
Macworld's buying advice
While I've been more critical than encouraging in this review, Podcasts isn't a terrible app. People new to podcasts will find it useful and reasonably easy to operate. And the fact that Apple broke podcasts out of the confines of a busy store is a boon for fans (and soon-to-be-fans) of the spoken word. But with its occasionally quirky interface and lack of features such as iTunes and subscription syncing, it's only a modestly capable first step. I'm hopeful that we'll see some significant tweaks and improvements in the next iteration. In the meantime—for the price of a couple of bucks—the App Store has a handful of better podcast apps.
Click here for complete article.
---
iPad Digital Art Contest Winners
macWorld.com
Check out the winning images at: http://www.macworld.com/article/1167480/ipad_digital_art_contest_winners.html
Peruse reviews of iPad drawing apps at this website.
---
By The Way
Lion, Mountain Lion and iCloud*
by Ron Sharp, MAGIC July 2012
Since the official release of Lion was July 20, 2011, and Mountain Lion will be available this July, 2012, I figured it's time to comment on the operating systems. There is plenty of information about Lion and Mountain Lion already, but here's a view with relation to iCloud.
I waited a long time before updating to Lion, 10.7, having only installed it in April, 2012, and I know a lot of people who have not ventured to Lion yet. The reason being, speaking primarily from my experience but voicing the thoughts of others I'm sure, our current operating system is, or had been, filling our needs and that Apple's Lion operating system is steering users toward the cloud. iCloud that is.
While iCloud is going to have many advantages for some, the direction is for mobility. If you travel a lot, particularly if you use an iPhone and iPad, Mountain Lion and iCloud are going to be great. You'll be able to access your information from anywhere and just about on any device. And your Apple devices will be kept in sync automatically. Everything from contacts, calendar events, photos, music, bookmarks, and documents, all synced hassle free. A huge advantage for people struggling to keep their devices in sync without ending up with duplicate and triplicate entries.
Then there are the rest of us, people who don't travel much, or don't care to travel electronically connected. Some of us don't mind keeping up with technology but don't want to be forced into a specific process or system. Others may have an issue with their stuff in the "cloud." That is probably something that will just take a bit more time to get used to, and maybe a little more convincing that our personal stuff won't be used for others gain, such as marketing.
One of the big issues is to be able to easily opt out of iCloud. Yes, you can choose not to store your stuff there. But if you try it, then decide to opt out, when you delete all the information you chose to put into iCloud, it still syncs to your devices and deletes your information off them as well. The user information needs to be much more specific as to what is going to happen when we decide to make changes like opting out. I lost a contact group of over 300 addresses after deciding to opt out. (I did have it backed up but the backup wasn't quite up to date and was still a pain in the gluteus maximus.) This may well be something that is changed with Mountain Lion. I'll let you know.
So, if staying connected from any location isn't the center of your world, there isn't a big incentive to upgrade. Not to mention that Snow Leopard is a great operating system. However, there are other features you might like with Lion or Mountain Lion, including some applications that require the new operating systems to use, such as iBooks Author and Face Time. I should also mention that improved security has been an important part of the Lion operating systems. Then there is the price which couldn't be more reasonable. $30 for Lion and $20 for Mountain Lion. And Mountain Lion can be installed from Snow Leopard, without having to install Lion.
In general, there are really a number of reasons for frequent new operating systems that include;
security changes to combat the new Trojans
to take advantage of cloud services and app stores and new device syncing procedures
to keep up with new micro chips and take advantage of how they operate
to be compatible with improved hardware like retina displays and Thunderbolt ports
At any rate, Apple has a way of making our digital lives easier without annoying us too often so there's always hope that will continue.
---
Cool Tips*
by Ron Sharp, MAGIC July 2012
Here are a few tips you might find useful. I think they're cool, and probably little known.
When typing a word and you get two letters crossed, instead of either deleting back to the error and retyping or using the mouse to accurately position the cursor on the error and then making the correction, you simply put the cursor between the crossed letter and then hit the control and "t" keys. The letters will switch place. This feature works with Leopard and Lion operating systems but only with Apple software, for instance, Pages, TextEdit, Mail, and even in iPhoto, etc.
Here is another text shortcut; when selecting text, if you double click then drag the cursor, it will select to the end of words. For more Keyboard shortcuts of everything imaginable check out MacRumors.com keyboard shortcut guide.
When typing an email with Lion operating system, and you want to indicate humor, instead of typing the colon and parenthesis, use the real thing. Click on your "Character Viewer" icon in the top left menu and choose Character Viewer. Then locate your favorite character or "Emoji" and double click it to put it into the email at the cursor location. These characters will also work in text documents but the "Emoji" images do not work with Pages (08) application. Leopard and Snow Leopard have the same thing but without the "Emoji" images.
If you don't have the Character and Keyboard Viewer image in you menu bar, you can get it there with the System Preferences>Language and Text, and choose the "Input Sources" tab. Then check the box for "Keyboard and Character Viewer" and the box for "Show Input in Menu Bar."
---
MAGIC, the Macintosh Appreciation Group of Island County, serves people who use Macintosh computers, software and peripherals. Our goal is to share information and get answers to questions to make us more productive with our use of technology. Our monthly meetings give us a chance to discuss computer problems and share ideas with other Mac users, feature speakers on specific topics, and to keep apprised of Apple news.