Newsletter
December 2012
Newsletter Editor:
In This Issue:
MAGIC MUG News
Software Updates
Macintosh News, Information and Stories
iPhones, iPods, and iPads
By The Way
* Indicates author is a member of MAGIC
---
Meeting information
Day:
The 3rd Wednesday of the month. 19 December 2012 this Month
Location:
Unitarian Universal Congregation of Whidbey Island (see map.)
Time:
4:00 p.m. - 6:00 p.m. with the first hour dedicated to new users and their questions.
Presentations:
•Apple Q & A
•Members holiday Mac creations
•Creative Writing Game
•Fun Slide Show
•

Door prize - a iPad mini will be given away to the member present with the winning ticket!
Future Meetings: (subject to change)
See the Meetings Page on this website.
Do not forget to bring your used ink cartridges.
MAGIC will dispose of them for you and make some change for the group.
---
Minutes of the November 2012 Meeting
by Penny Holland, Secretary

The November monthly meeting of MAGIC took place at the Unitarian Congregation Meeting House in Freeland from 4 to 6 PM on Wednesday, November 21.

First hour

Prescott has invited everyone to email her a PDF format of holiday greetings made on the Mac to be shown at the December meeting. Robert and Prescott presented a short demo about two ways to create a PDF from within PAGES. To share your card with the MAGIC group, use the Pages command: Export->PDF->Good. Next, precede the file title with a letter e to help distinguish it from a file for print, i.e. eHoliday_letter.pdf. Then send your ecard to Prescott to be shared at the December meeting.

This demo segued into our Q&A session led by Robert that lasted nearly an hour and included a CiphSafe demo.

Business Meeting

President Sue Keblusek led a brief business meeting. Next month we are going to have a party on the 19 December meeting. Nancy, our official "party animal," asked the group for suggestions of what they would like at the meeting. Several expressed wanting time to get to know each other.

Treasurer Bonnie Abney reports our treasury today amounts to $6606.84

We were given two reminders: Our Web page has a Swap page and wanted items, and remember to bring in recycled ink cartridges.

Presentation

Following is a brief description of today's program presented by Robert Elphick. He did a demo of a password protection program for Macs, CiphSafe, a free download from the internet. He also showed us the Apple program, Keychain Access program located in Applications->Utilities.

For the second topic, "creating Holiday cards", Robert did a brief review of using iPhoto and its various choices for making calendars, cards, books, etc.

To email a card, you can use the MAIL program. For those with Lion or Mountain Lion be sure that SHOW STATIONERY is one of the buttons in the Toolbar. When you create a new card, using SHOW STATIONERY, you will be given many choices to select from. (Snow Leopard also has the Mail Stationary option, however, you have to open a new mail message and then click on the "Show Stationary" button in the toolbar. If the button isn't there you will have to go to the "View" menu and "Customize Toolbar" to put the stationary button in the toolbar.)

And a third way to make a card if you want to print it yourself is to use PAGES templates for making cards, letterheads, newsletters, posters, etc.

Meeting was adjourned at 5:55 by Robert Elphick.
---
MAGIC Moments
by RYE
MAGIC Door Prize
At the December meeting we will have a very special door prize. All members who attend will be eligible but you must be present to win. The prize is a brand new iPad mini!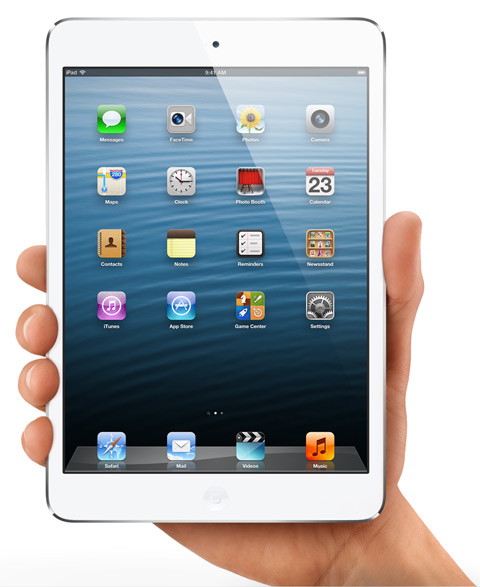 iPhoto class
Another iPhoto class has been scheduled to take place on January 14th & 15th 2013. Since the last one filled in only two days, you might want to book and pay for this on as early as possible. Details can be found at this web page. Applications are now being accepted.
Mac Essential Classes
The next Mac Essentials class will begin on 2 February 2013. Details of the class can be found at this web page and we will start accepting applications in the new year.
SOFTWARE UPDATES
Note: This Software Update section of the newsletter lists the most relevant Apple updates. Not all updates are listed for all products. Additionally, I'll add other pertinent updates on occasion.
Apple TV Update 5.1.1 May Fail over Ethernet
by Josh Centers, tidbits.com, December 2, 2012
Apple last week released Apple TV Software Update 5.1.1 for second- and third-generation Apple TVs, adding support for the new Up Next feature that debuted in iTunes 11, along with performance and stability improvements. However, there are a number of reports of problems updating over wired Ethernet connections. In some cases, the Apple TV may fail to boot after a failed update.
The solution is to unplug the Ethernet cable and update over Wi-Fi. That has worked for many people for whom the update wouldn't install. However, if your install failed such that the Apple TV won't boot at all, you can manually restore the Apple TV by unplugging the power and HDMI cables, and connecting it to your computer with a micro-USB cable (for a third-generation Apple TV, you'll have to reconnect the power cable after this). Open iTunes, select the Apple TV from the Source list (located in the sidebar in iTunes 10 and from the Devices button in the upper-right corner in iTunes 11), and click Restore.
Of course, it may also just be worth holding off on the 5.1.1 update entirely if you don't need the Up Next feature and aren't experiencing any other problems that the update might fix. Apple will likely release either 5.1.2 or a new version of 5.1.1 shortly.
Click here for complete article.
---
OS-X Mountain Lion 10.8.2 Supplemental Update 2.0
from apple.com
This update addresses an issue with Keychain that can affect 2012 Mac systems. This update is recommended for all Mac systems introduced in 2012.
---
Thunderbolt Firmware Update v1.1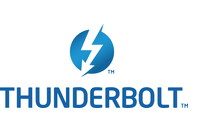 from apple.com
This update addresses an issue with MacBook Pro (mid 2012) and some Thunderbolt cables that may prevent bus-powered Thunderbolt devices from functioning properly.
---
iWork update 9.3
from apple.com
iWork Update 9.3 adds support for iWork for iOS 1.7 apps.
This update is recommended for users of iWork 9.0 and later.
For detailed information on this update and individual application changes, please see Apple updates Pages, Keynote, and Numbers for iOS in this newsletter.
---
News, Info and Stories
Apple IDs
by David Boyd, smalldog.com
Apple created the Apple ID system originally in order to improve customer experiences on their online store. You could get an email copy of your receipt, track your order, file a rebate, etc. Then, Apple launched the iTunes store in 2003 which leveraged your Apple ID to purchase music.
By 2008, we were using Apple IDs to purchase movies, television shows, music videos, audiobooks, and of course, apps! In 2010, Apple added ebooks to the mix. By late 2011, Apple was using Apple IDs as the user login credential for freely available iCloud accounts. Apple IDs have come a long way (at inception, they did not require an email address, unlike today).
As much as Apple's Apple ID system has its faults, it is still an effective way of tying your data to you! And in an ideal world, every individual has their own Apple ID. In the real world, customers often have more than one Apple ID or some customers might even share an Apple ID. It is important to remember that due to how Apple IDs are used, sensitive and important data is associated with them.
An effective way to understand the way Apple IDs work is to understand the two primary ways they are used: for personal data and purchased data. Today, a family can share an Apple ID and use it on Apple's iTunes, App, and iBooks Stores to purchase content once and access it on anyone's device.
However, it would be ill advised to use that same Apple ID for any one member of that family for their personal iCloud account. That's because every other member of that family is only a few taps away from syncing their personal data with yours. Therefore, it's a common practice to share a single Apple ID with members of a family for purchased data while every individual has their own personal Apple ID for iCloud synchronization of personal data.
Click here for complete article.
---
How to remember passwords (and which ones you should)
by Joe Kissell, macworld.com
The best way to ensure that you never forget your passwords is to offload the task of remembering to a password manager such as 1Password ($40). For most passwords, most people, and most of the time, that's the only trick you'll need. However, no matter what tools you use, you'll have to memorize at least a few passwords. Because those are among your most important, you don't want to trade security for memorability. Here are a few tips that can help you make sure your brain doesn't betray you.
Wizards Note: CiphSafe is an alternative that is FREE.
Determine which passwords you must memorize
I have no idea what 99 percent of my passwords are. Honestly, none whatsoever. They're long strings of random computer-generated characters, and I've never even glanced at most of them. When I need to use them, I let my password manager fill them in for me or, if that won't work for some reason, I copy and paste them. After all, it's no harder for an app to enter a 14-character random password than for me to type in the word baseball, so I figure I have nothing to lose by going the crazy-secure route.
However, one password I've memorized cold is the password that unlocks all the other passwords stored in my password manager. That's a pretty important one. I've also memorized my OS X user account password, because I enter it many times a day—and since I use OS X's FileVault, I need that password to start up my Mac before I have access to any automated tools. Since I'm frequently prompted to enter the passwords for my iCloud, Gmail, and Dropbox accounts (often in situations where it would be awkward to copy and paste), I've memorized those too.
Depending on your habits and needs, your list might be different from mine, but most people can get by with no more than half a dozen passwords committed to memory. Considering that you may have many hundreds of passwords overall, memorizing five or six is a pretty minor task.
Choose a path to high entropy
Once you know which passwords you need to memorize, your next job is to choose passwords that are strong enough to defeat automated hacking attempts yet memorable enough that you can produce them instantly—and, for bonus points, they should be convenient to type. Undoubtedly you know the basic drill by now. All things being equal, longer passwords are better than shorter ones; random passwords are better than those that follow a pattern; and the best passwords combine upper- and lowercase letters, numbers, and special symbols such as punctuation. It turns out, though, that you don't necessarily need all those qualities in a password to make it secure—for example, a long but simple password can be just as secure as a short but complex one. This is provable through a concept called entropy, which refers to a mathematical approximation of how difficult, on average, any given password is to guess.
Depending on how you do the calculation, the passwords "7H#e2U&dY4" (ten random characters) and "blanketsensory" (14 nonrandom characters) are approximately equal in strength, but the latter is much easier to remember and type. Even though it contains only lowercase letters and blanket and sensory are both ordinary English words, the password's entropy is high enough that a concerted brute-force attack would take days or weeks to crack it. The moral of the story (as brilliantly illustrated in this XKCD comic) is that when you have to memorize a password, a longer phrase composed of random words or syllables will make your life easier than a shorter string of entirely random individual characters.
If your memory is excellent and having to type the fewest possible characters is your biggest consideration, then go with a shorter random password—but remember that whereas "short" used to mean 8 or 9 characters, nowadays 12 or 14 are safer. Nevertheless, since most people can type long words faster than short bursts of random characters, you might find a 25-character phrase more convenient in daily use than a 12-character string of nonsense.
Let a computer pick your passwords
I've sometimes advised people to use mnemonic cues to remember passwords. For example, taking a sentence such as "I once drank three cups of coffee before realizing it was decaf" and using just the first letter of each word, with a capital and a number thrown in, creates "Iod3cocbriwd"—a reasonably strong password. But because humans have a tendency to unconsciously introduce patterns into passwords produced through these means (which can increase the ease of guessing a password), I prefer to let a computer create a selection of random (but memorable) passwords, and then choose one that sounds good. You have numerous ways to do this.
If you open Keychain Access on your Mac (in /Applications/Utilities), choose File -> New Password Item, and then click the key icon next to the Password field, you'll see a Password Assistant window. In this window, choose Memorable from the Type pop-up menu and select a password length. The utility will produce a password consisting of a combination of words, numbers, and symbols (such as "nineteenth8590.middlingly" or "baiting325@certifications". Don't like the first suggestion that appears? Click the pop-up menu to see more, or choose More Suggestions from that menu to get another list.
1Password's password generator also has a mode that creates a series of pronounceable syllables (not necessarily English words), with or without intervening digits or hyphens—such as "liegnicroci", "lieg7ni2croc5i", or "lieg-ni-croc-i". To generate them in the 1Password app, choose File->New Item-> New Password, click Pronounceable, and select the separator and length you prefer. Click the Refresh button to see another password choice. (The directions are similar when you're using 1Password's browser extensions, although the layout and options are slightly different.)
Have a backup plan (or two)
If, despite choosing memorable or pronounceable options for your top few passwords, you're afraid you might forget them, writing them down on paper is not a terrible idea—as long as you keep that paper in a safe place. Obviously, a sticky note on your computer is not very safe, but your wallet might be an excellent location (and is precisely the recommendation of security expert Bruce Schneier). If you're especially paranoid, you might obfuscate them in some way, such as swapping the first and last characters—but of course, if you forget how you altered them, you've done yourself a disservice. Finally, consider giving a copy of that paper to your spouse or a trusted friend, or putting it in a safe deposit box. If something were to happen to you, and your family or business associates urgently needed access to your data, the "security" of having your passwords stored only in your head would work against you. Just be sure that whoever holds your passwords keeps them as safe as you do yourself.
Click here for complete article.
---
Create a holiday newsletter with Pages or iPhoto
by Chris McVeigh, macworld.com
The holiday season is upon us, and for many folks it's become tradition to include a family newsletter with their greeting cards. It's a great way to share photos, family milestones, and yearly retrospectives with your loved ones. Happily, putting together a holiday newsletter is a snap using the apps included with your Mac. You can use both Pages and iPhoto to create simple, elegant newsletters to include with your mailings. (Both are also available on the Mac App Store for $20 and $15 respectively.)
Pages
Although Pages hasn't received a major update in a few years, it's an excellent, easy-to-use page-layout program that is loaded with great built-in templates.
Step 1: Choose a template. Choose File -> New From Template Chooser; then, when the Template Chooser appears, look to the left column and click Newsletters. You're then presented with a number of great templates which will serve as a starting point for your own newsletter. I'll select the first template, called Informal Newsletter, for this example. It's a family-oriented design that's easy to customize.
Step 2: Make it your own. You're free to modify a template as much as you like, but if you're looking to get a quick start, here are a number of simple tweaks that will help make the template unique.
Change fonts. The simplest way to customize the template is to change the fonts. Double- or triple-click any text block to select all the text. The Format Bar (just below the tool bar) will then show text-specific options, including a pop-up font menu. (If you do not see the format bar, click the View icon at the far left of the tool bar and choose Show Format Bar from the drop down menu.) Choose a font you like from this menu to make the switch, and then repeat this process for other text blocks.
Change colors. Another quick way to give the template a facelift is to change its color scheme. Here's an example:Click the red background of the Informal Newsletter template. You'll notice that tiny X's appear at the corners. This is because the shape is locked; to unlock and change it, choose Arrange -> Unlock. Now head over to the Inspector (View -> Inspector) and click the Graphic inspector tab. At the top, you'll see Fill. The shape is currently being filled by a tiled graphic, but to keep things simple, let's change it to a solid color. Choose Color Fill from the topmost pop-up menu and then click the color block at the left. You can then choose any color you like for the background. (Want to change more? The fill or stroke color of any object on the page can be changed by clicking it and returning to graphic section of the Inspector to choose the new look.) Change graphic attributes. It's easy to tweak the look of many graphic objects. Let's tackle the lead photo. Click it once to select it, and then return to the graphic section of the Inspector. The only current attribute is a drop shadow, but drop shadows are a bit last-century, so let's get rid of it by unchecking Shadow. Now give it an outline by choosing Line from the Stroke pop-up menu. Unfortunately, the default line is white and a rather plump 6 points, so let's tweak that, too. Click the color well to choose a color that complements the background color you chose earlier, and then use the directional arrows to adjust the line weight to 1 point. Lastly, let's pare back the object's rounded corners. In the top left you should see a small blue circle; click it and drag it to the left to tone down the corner roundness.
Step 3: Add photos. Once you've tailored the template you can go about the business of adding content, and this typically starts with photos. Choose Show -> Media Browser to access your photo library or click the Media button in the tool bar. Find a photo you'd like to use and drag it onto one of the placeholder images in the newsletter to replace it. Repeat this process until you've filled up the template with your own photos. Want to adjust the placement of a photo within the frame? Click it once and you'll see a pop-over with a slider that lets you adjust the size of the photo. And if you click Edit Mask, you can then click and drag the photo to reposition it.
Step 4: Add written content and more pages. The toughest part of this process will likely be adding written content to your newsletter. I can't help with that part, but I can offer a few tips to help streamline the process:
Keep it short. Too much detail can cause eyes to glaze over. If you're telling a story, focus on the basics and avoid unnecessary detail. (Save that for a novel!)
Keep it fun. A family newsletter doesn't have to be a dry retelling of the year's events. Add in a tasty new recipe, a funny joke, and a snapshot of the kids' latest artwork. Be entertaining.
In all likelihood, you will need to add at least one additional page to your newsletter. All Pages templates come with a series of secondary template pages, each with its own specialized function (text, text with sidebars, photo collage). To add a new page, click the Pages icon in the top left of the toolbar and choose the template that makes the most sense for your newsletter. And don't forget to tweak the design to match your first page.
Step 5: Print it! The last step of this process is printing your newsletter. If you're including it with a greeting card, use a medium weight paper that has some rigidity (to give it some heft) but that isn't so stiff that it cannot be folded. A 20-24lb paper is probably best.
Alternatively, you can always output the newsletter as a PDF. Choose print, and when the print form slides into view, simply choose Save as PDF from the PDF pop-up menu in the lower left corner. You can then attach your newsletter to email messages or even post it to your website for family and friends to download.
iPhoto
We'll take a bit of a different approach with iPhoto. Instead of putting together a newsletter to include with your card, we'll create a newsletter that is a card. First, launch iPhoto, and then do the following.
Step 1: Collect your Photos. First things first—you'll need a create an album full of photos you'd like to include in your card. Choose File -> New Album, give it a name, and then return to your photo library by clicking Photos in the top left. Now drag and drop the images you'd like to use into the new album.
Step 2: Choose a template. After you've collected your photos, you can get to work making the card. Click your new album to select it and then choose File -> New Card. You're now presented with dozens of card templates. There are three card types across the top of the window: Letterpress, Folded, and Flat; to continue, click Folded. For this example, we're going to use a gorgeous template called Year in Review, which should be the first template to the right, but if it's not, just click till you find it. Click the Create button to get started.
Step 3: Tweak the layout. Once the card has been created, you can tweak the layout, add text, and move photos around. Clicking just above the card on either the left or right page will call up the options for that page, and allow you to choose different layouts (in some cases) as well as choose a different trim color. Here's one way you can mix things up: click just about the left (front) page, and select the layout option in the top right. Now choose a red trim color, to give the card a festive look. Note that the new layout has a space for a text at the bottom, so click the text field and enter an appropriate title, such as "Our Year in Review."
At the bottom right of the iPhoto window, you'll see three important icons: Layout, Options, and Photos. Clicking any of these icons will slide open a drawer at the right, giving you access to different functions.
Layout lets you select trim color and alternate layouts (just as you can by clicking at the top of a page), but adds one important option: Horizontal or Vertical. If you'd like your card to have a tall (or portrait) crop, choose Vertical.
Options lets you change the fonts used in the card, as well as apply one of three effects to any photo: Black & White, Sepia, and Antique. (Available options will change depending on what you've clicked.)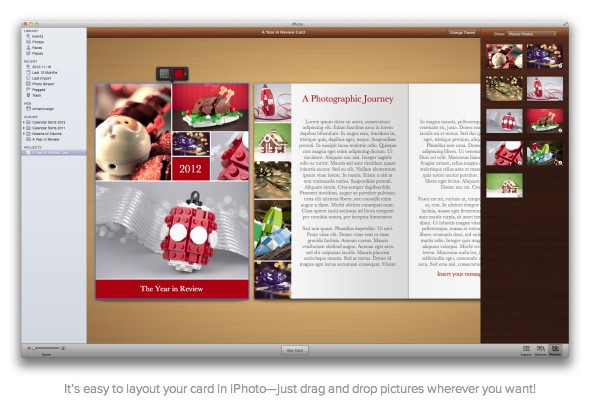 Photos allows you to quickly reconfigure the photo layout. Simply drag and drop your photos on the card where you want them to appear. Note that a pop-over slider appears each time you drop a photo, allowing you to adjust the size of the photo within the frame. You can also drag the photo around within the frame for a better crop.
Step 4: Add text. One of the most daunting tasks of creating a newsletter is adding written content. I recommend keeping it light-hearted. There's also very limited space for text with these card layouts, so choose your words carefully. (Unlike a newsletter created with a page layout app, you can't simply add another page when you run out of room!)
Step 5: Print (or even buy) it. Once you're happy with your card layout, you have two options. You can order the card directly from Apple by clicking Buy Card, or you can go ahead and print it yourself. Note that all prints include red crop lines so that you know where to trim. If you plan to print of a lot of cards yourself, it might be helpful to have a paper trimmer handy.
Click here for complete article.
---
Sneaking past the Gatekeeper
by Christopher Breen, macworld.com
Reader Richard Patterson finds his way blocked when trying to launch a favorite application. He writes:
I have been using the Onyx utility for years to tweak the Mac OS. I recently upgraded to Mountain Lion and downloaded a compatible version of Onyx. While I was able to download it I'm told that I can't open it because I didn't get it from the Mac App Store. What's going on?
Though you're unaware of it, you've just shaken hands with Mountain Lion's Gatekeeper feature. It works this way:
Gatekeeper is designed to prevent cootie-laden applications from releasing their bothersome payload into your Mac. It does this by offering three levels of protection. The most strict allows you to initially launch only those applications that you've acquired from the Mac App Store. The second level requires that you launch applications from either the Mac App Store or from approved developers. (This second option is the default setting.) And the least restrictive is the ability to launch applications that you've found any old place on the web. Some explanation follows.
First, you'll note that I said launch rather than download. You can download any software you like, regardless of how Gatekeeper is configured. It's when you attempt to launch an application for the first time that Gatekeeper kicks in. Once you have launched that application, it's no longer of interest to Gatekeeper. You've apparently approved that initial launch and so Gatekeeper won't butt in again for that specific application.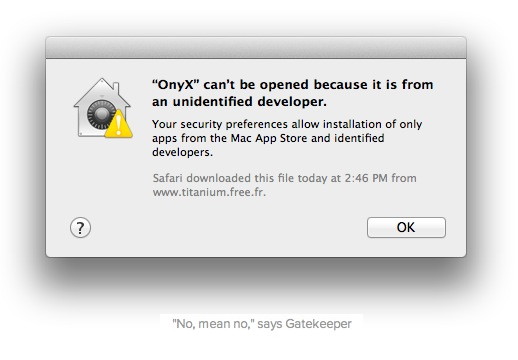 Secondly, about those approved developers. Those developing Mac software sold outside the Mac App Store don't have to suffer through an onerous approval process. Rather, to become approved in the eyes of Gatekeeper, developers need to apply to Apple for a Developer ID and then code-sign their applications. Doing so identifies the application to Gateway so that it doesn't throw up the Ixnay sign when you attempt to launch it for the first time.
For reasons best known to him, Onyx developer appears to not be interested in getting Apple's blessing. And that means that unless you have Gatekeeper configured correctly you won't be able to launch it without knowing a trick I'll reveal shortly.
To configure Gatekeeper to allow these kinds of applications, launch System Preference, select the Security & Privacy preference, and click on the General tab if it's not already selected. In the area marked Allow Applications Downloaded From you'll see three choices—Mac App Store, Mac App Store and Identified Developers, and Anywhere. Click the Lock icon, enter an administrator's user name and password, click Unlock, and change that setting to Anywhere. Onyx will now launch without complaint.
But what a bother to dash between the application you want to launch and the Security & Privacy pane. Unless you always want to open applications from anywhere, don't bother making this kind of trip. Instead, Control-click on the application you want to launch and select Open from the contextual menu that appears. A different dialog box will appear that includes an Open button. Click Open and Onyx launches, never to bother you again with these kinds of messages.
Click here for complete article
---
Lab Tested: 2012 Build-to-order iMacs equipped with Fusion Drives, CPU upgrades
by James Galbraith, macworld.com, Nov 30, 2012
Five weeks after they were announced, the new iMac has made its way to market. Apple started shipping the 21.5 inch iMac on Friday, as well as began taking orders for the new 27-inch models.
Macworld Lab has two new iMacs, build-to-order systems with the fastest optional processors and equipped with the new Fusion Drive. While we wait for our standard configuration models to arrive, let's look at the performance—the very fast performance—of these maxed-out iMacs.
Inside the new BTO iMacs
The new iMacs come in four standard configurations, all with updated processors and graphics, and all with 8GB of 1600MHz DDR3 SDRAM and 1TB hard drives. The 21.5-inch models ship with either a 2.7GHz quad-core Ivy Bridge Core i5 processor and Nvidia GeForce GT640M graphics with 512MB of dedicated memory for $1299, or a 2.9GHz version of the same Core i5 CPU and Nvidia GeForce GT650M graphics with 512MB of dedicated RAM for $1499. The low-end standard configuration 27-inch iMac now comes with the same 2.9GHz Ivy Bridge quad-core Intel Core i5 processor as the high-end 21.5-inch iMac, but with Nvidia GeForce GT660M graphics with 512MB RAM for $1799. The higher-end 27-inch model uses a faster 3.3GHz quad-core Intel Core i5 processor and has an Nvidia GeForce GTX 675MX with 1GB of dedicated memory for $1999.
The BTO models we tested have Core i7 processors: a 3.1GHz quad-core version in the 21.5-inch model, and a 3.4GHz version in the 27-inch model. Both processor upgrades are available as $200 options. The 21.5-inch iMac had 16GB of RAM, a $200 upgrade, while our 27-inch model had the stock 8GB of memory. The 21.5-inch iMac had the stock Nvidia GeForce GT650M graphics with 512MB of dedicated RAM, but the 27-inch had the optional Nvidia GeForce GTX 680MX with a whopping 2GB of memory (a $150 upgrade).
Both custom iMacs include Apple's 1TB Fusion Drive. A new technology that marries a roomy 1TB hard drive to a fast 120GB of flash storage and presents them as one single drive to both the user and applications. Our previous tests show that in most instances, the Fusion Drive keeps up with the speeds of a standalone SSD, while offering the high capacity of standard hard drives. The 1TB Fusion Drive is a $250 optional upgrade to the higher-end 21.5 and both 27-inch iMacs. For those without a calculator, our BTO 2012 iMacs came to $2149 for the 21.5-inch model, and $2599 for the 27-inch model.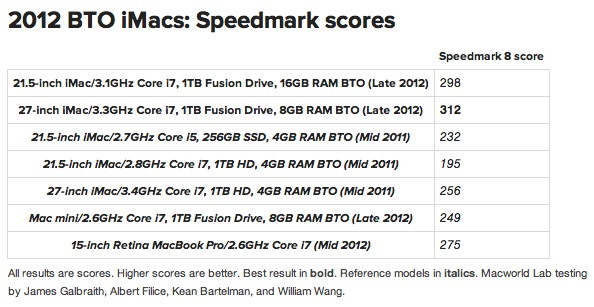 To see how these new custom iMacs perform when compared to previous models, as well as the Fusion Drive-equipped Mac minis we just looked at, we turned to our overall system performance benchmark suite, Speedmark 8.
In our tests, the 3.1GHz 21.5-inch iMac was 53 percent faster overall than a 2011 BTO 21.5-inch iMac with an upgraded 2.8GHz quad-core Sandy Bridge Core i7 processor, 4GB of RAM and a 1TB hard drive. The Fusion Drive in the new 21.5-inch iMac finished our file copy and uncompress tests in a third of the time of the 1TB drive in the 2011 model. MathematicaMark showed the 3.1GHz Ivy Bridge processor to be 16 percent faster than the 2.8GHz Sandy Bridge CPU found in last years model and the new system's processor helped it finish the Cinebench CPU test 21 percent faster.
We also have a 2011 21.5-inch 2.7GHz Core i5 iMac with a 256GB Fujitsu/Apple SSD, that is otherwise standard issue. The new iMac with Fusion Drive was 28 percent faster, overall. The Fujitsu/Apple SSD was comparatively pokey when compared to the Fusion Drive, taking nearly twice as long to complete our file copy and uncompress tests. The new iMac's 3.1GHz Core i7 was 21 percent faster than the older model's Sandy Bridge Core i5 in our Mathematica test and 38 percent faster in the Cinebench OpenGL tests.
Compared to the current Mac mini with a 2.6GHz Ivy Bridge quad-core Core i7 processor, 8GB of RAM and a 1TB Fusion Drive ($1249 with the upgrades), the 21.5-inch iMac was 20 percent faster overall. Many of the test resultss were similar; file copy times and uncompressing times on the two Fusion Drives were virtually identical. The biggest difference, performance-wise, was pointed out in the graphics tests with the discrete graphics of the new iMac pushing nearly twice as many frames per second in the Cinebench OpenGL test and more than twice as fast in the Portal 2 test.
The new BTO 21.5-inch iMac was also faster, about 8 percent overall, than the 15-inch Retina MacBook Pro, with its "pure" flash storage, 8GB of RAM and quad-core 2.6GHz Core i7 processor. The Retina's flash storage was a bit faster in our copy file test and in PCMark. Photoshop and iTunes was about 4 percent faster on the BTO 21.5-inch iMac. HandBrake scores showed the biggest performance differences, with the iMac finishing 38 percent faster than the Retina MacBook Pro.
The BTO 27-inch iMac was 5 percent faster overall than the BTO 21.5-inch model. Its iMovie export was 22 percent faster and Portal 2 was 15 percent faster on the new 27-inch. We compared the new BTO 27-inch iMac to a custom 27-inch from last year that had a faster 3.4GHz Core i7 processor, 2GB AMD Radeon graphics card, a 256GB SSD and 4GB of RAM. Those tests show the new iMac to be 22 percent faster overall, with better times in all but the Cinebench Open GL test, in which the AMD Radeon was faster than the Nvidia GeForce. Portal 2 scores were faster with the 6 percent faster with the new iMac and its Nvidia graphics. Again, the SSD on the 2011 BTO iMacs not as fast as the Fusion. The 27-inch iMac was 25 percent faster overall than the BTO, Fusion Drive-equipped Mac mini and was 13 percent faster than the 2012 2.6GHz Core i7 Retina MacBook Pro.
You can see how these BTO iMacs compare to some older iMacs we have tested, as well as other Mac models.
Click here for complete article.
---
Q&A: Mountain Lion's notifications
by Kirk McElhearn, macworld.com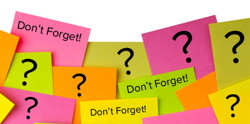 Mountain Lion helps you stay on top of things, and notifications are its chief tool for doing this. A notification can alert you to impending Calendar events and reminders, as well as new email, Facebook, and Twitter messages. Sometimes the alerts require you to click a button to dismiss them. But other types of alerts appear for just a moment, as small, subtle messages at the top right of your screen, and then disappear.
The Notifications feature is a core part of Mountain Lion. If you've been using an iOS device for a while, you've seen notifications there: banners that pop up on your lock screen to display alerts for calendar events or to let you know you've received text messages. Still, notifications in OS X involve issues that bear some explanation. Here are some of the most frequently asked questions:
Q: What can notifications notify me about?
A: Any application can use notifications, as long as the app hooks into OS X's notifications feature. For starters, Apple programs such as Mail (), Calendar, Reminders, and Messages can display notifications.
Many third-party apps use notifications as well. If you've added your Twitter and Facebook logins to Mountain Lion's Mail, Contacts & Calendars preference pane, you can see status updates and tweets. On my Mac, I also see notifications from Panic's FTP program, Transmit; Red Sweater Software's blogging tool, MarsEdit (); and Literature and Latte's writer's tool, Scrivener (), among others.
Q: Can I control how how notifications look?
A: Choose Finder > System Preferences (or click the System Preferences icon in the Dock) and click Notifications. Here you'll see all your options.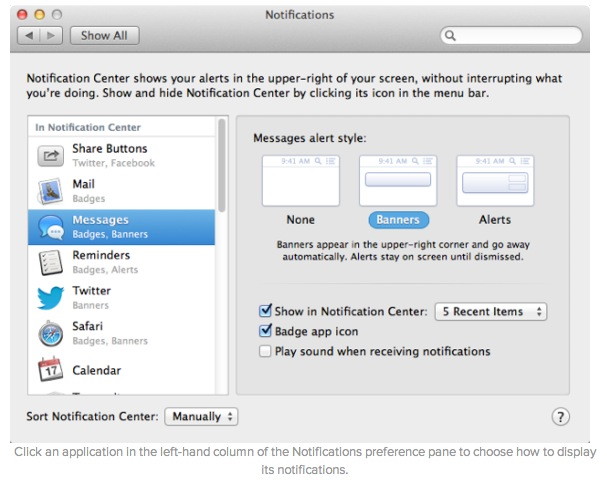 You make your decisions on an app-by-app basis; so first select an application from the list on the left. You can choose from three alert display styles: None, Banners, and Alerts. None means that you won't see any notifications. Banners are the type of alerts shown in the first screenshot above; what is unique about them is that they display on your screen for just a few seconds and then disappear. Choose this type of alert style for notifications you want to see when you're at your Mac but don't care about missing.
The last display style is Alerts. Like banners, these appear at the top-right of your monitor, but unlike banners, they don't go away until you act on them.
You can click the Close button to dismiss the alert, but you can also click the Show button to go to the application in question and see what just happened. In this example, you see an alert from the program Transmit telling me my file upload is complete. If I click Show, I'll open Transmit and see that app's window. If this were an alert for Mail, on the other hand, the Show button would display the email message the alert is telling you about; with the Messages app, clicking that button would show you the message; and so on.
Whether you select Banners or Alerts depends on how important it is for you to be notified. Remember, Alerts won't go away, so if you've left your desk, you'll see these alerts when you come back.
Q: Can I get more specific about what I get notified about?
A: Yes. If you look closely, you'll see more options in the Notifications preference pane, but the choices will change depending on which app you've selected. For example, click Calendar and you can choose how many items to show in the Notification Center. You can also choose to display information on the app's icon badge—the little red circle with a number in it on the corner of the icon. You can also choose whether to have an alert sound played when a Calendar notification comes in. Click on Twitter in the list, and then click the Notifications button to get even more specific. You can, for instance, determine whether notifications will show mentions and replies from only people you follow or from anyone.
Q: What exactly is the Notification Center?
A: So far, I've been talking about the alerts that display above your other windows, but there's another place to see your alerts: OS X's Notification Center, a kind of sidebar at the right edge of your screen. Click the rightmost icon in your menu bar—the one with the three lines—to display it.
Depending on your settings, different applications can display their notifications here. As mentioned earlier, you can choose to have an application display an alert or not, but it can also show its notifications only in the Notification Center.
You need to choose which of your applications display in the Notification Center. To do this, scroll the list at the left-hand side of the Notifications preference pane until you find a divider labeled 'Not in Notification Center'. Then, drag the apps you want from below that divider to the top section.
You can choose the order in which apps display as well. From the bottom of this preference pane, click the Sort Notification Center menu and choose either By time (with the apps you've most recently received alerts for listed at the top) or Manually (in the app order you've specified in the Notifications preference pane).
The Notification Center offers a quick way to hop to applications that need your attention: Just click an item to open the parent application. Click an email notification, for example, and Mail will open to that message. To dismiss notifications in the Notification Center, click the X button to the right of an application's name.
Q: Are there any shortcuts for viewing the Notification Center?
A: One way to view the Notification Center is to swipe from the right side of your trackpad with two fingers to the left. Swipe back to the right to hide the sidebar.
While there's no keyboard shortcut to view the Notification Center set up by default, you can create one if you wish. Go to the Keyboard pane of System Preferences, click on the Keyboard Shortcuts tab, and then select Mission Control in the left-hand column. You'll see a Show Notification Center entry. Check the box, double-click the rightmost part of its line, and then enter your keyboard shortcut.
I find it easier to set up a hot corner. With this, I move my cursor to the corner of my screen to show Notification Center. To do this, go to the Mission Control preference pane, click the Hot Corners button, and then click one of the menus to choose Notification Center for the corner you want to use.
Q: I'm overwhelmed by notifications. Can I get rid of them?
A: If you get too many notifications, go to the Notifications preference pane and choose the None alert style for all the applications you don't need to know about. Pare down your notifications to only those for the applications where they're most useful.
Q: I need to minimize distractions. Can I turn off notifications for a short time?
A: You can turn off notifications temporarily (until the next day) by Option-clicking the Notification Center icon in the menu bar. You'll see the icon go gray. Also, if the Notification Center is visible, scroll down, and a Show Alerts and Banners toggle switch will display; use this to get the same result.
Click here for complete article.
---
How to set up Time Machine in Mountain Lion
by Leah Yamshon, macworld.com
If you value your data—whether it's some perfect photos you took last weekend, your entire music collection on iTunes, or your draft of the next great American novel—you must stay on top of regular system backup. One of the easiest ways of doing so is to use OS X's built-in backup program, Time Machine. Time Machine works with your Mac and an external drive to save important documents, photos, and system files regularly. Apart from keeping spares of every file, Time Machine maintains a record of how your system looked on any given day, so you can easily put everything back the way it was if something goes wrong.
OS X has included Time Machine since OS X 10.5 (Leopard). Here's how to get set up in OS X 10.8 (Mountain Lion) using an external drive. For more tips on backing up your data, see "Backup basics" and "Bulletproof backups."
Step 1: Select an external drive
To ensure that you have room for multiple versions of files, select an external drive that's at least two times bigger than your Mac's hard drive. To determine how large your Mac's hard drive is, select it in the Finder and press Command-I. If your drive capacity is 999GB, for example, you'll be best off with a backup drive that's 2TB or larger.
The best type of backup drive to use depends on the type of Mac you have. If you have a Mac with Thunderbolt, select a drive that's Thunderbolt-ready, to take advantage of its speed. The options for Macs without Thunderbolt are FireWire- and USB-compatible drives. Though USB 3.0 and FireWire provide equivalent performance, Apple's latest MacBook Pro release lacks a FireWire port, which suggests that Apple may be phasing FireWire out of its designs. Consequently, a USB 3.0 drive may remain compatible with future Macs longer.
Step 2: Prepare your external drive
Once you have an external drive, confirm that it's properly formatted for the Mac. If in doubt, connect the hard drive to your Mac and open OS X's Disk Utility (in the /Applications/Utilities folder). In the left-hand column of the Disk Utility window, select the disk that you want to designate as your Time Machine backup. At the bottom of the window, you'll see information about it. If the disk's Format reads 'Mac OS Extended (Journaled)', you're good to go.
If not, you'll have to reformat the drive: Click the Erase tab, choose Mac OS Extended (Journaled) from the Format pop-up menu, and click Erase.
For more information, see "How to format a hard drive."
Step 3: Get set up for your first backup
If you already know that your hard drive is compatible, just hook it up. Your Mac will recognize the added hardware, and a window will appear, asking you whether you want to use the drive to back up with Time Machine. Click Use as Backup Disk. A full system backup will begin immediately.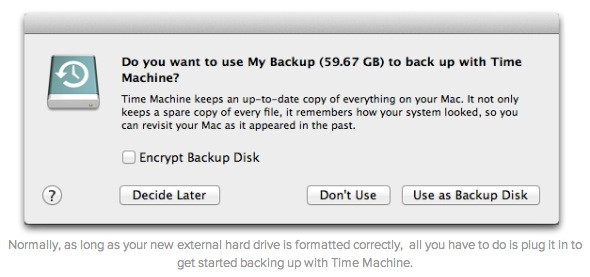 If you don't see this dialog box automatically, or if you've just reformatted your drive, click the System Preferences icon in the Dock (or select Apple menu > System Preferences). Click Time Machine and then click Select Disk. Your external drive should appear in the list. Select the disk and click Use Disk. Time Machine will begin a full system backup.
The Time Machine window gives you access to most of the program's options.
Your first full system backup will take a few hours or more, depending on the size of your Mac's hard drive. But subsequent regular backups will take only a fraction of that time because the drive will limit itself to updating what's already there and saving new files. If your drive stays connected to your Mac, the scheduled hourly backups will take just seconds to complete.
By default, you'll now see a Time Machine icon in your menu bar; it looks like a clock encircled by an arrow running counterclockwise. Click this icon to get quick access to information about your last backup and to the Time Machine preferences panel. If you don't like it, you can prevent this icon from appearing by going to the preferences panel and unchecking the Show Time Machine in menu bar option.
Step 4: Configure and customize your backups
You can tweak several settings to optimize your Time Machine backups.
Exclude items you don't need: If you don't need to save some items—restaurant takeout menus in your Downloads folder, for example, or miscellaneous screenshots that live on your Desktop—you can select items to omit from your system's regular backups. Go to the Time Machine preferences pane and click Options. Then click the plus-sign (+) button under the list labeled Exclude these items from backups. From there, pick and choose the items you'd like to leave out, and click Exclude when you're finished. In the large Exclude list, you'll see the folders or individual files that you selected. You can change your mind about these at any time by selecting a file and clicking the minus-sign (-) button.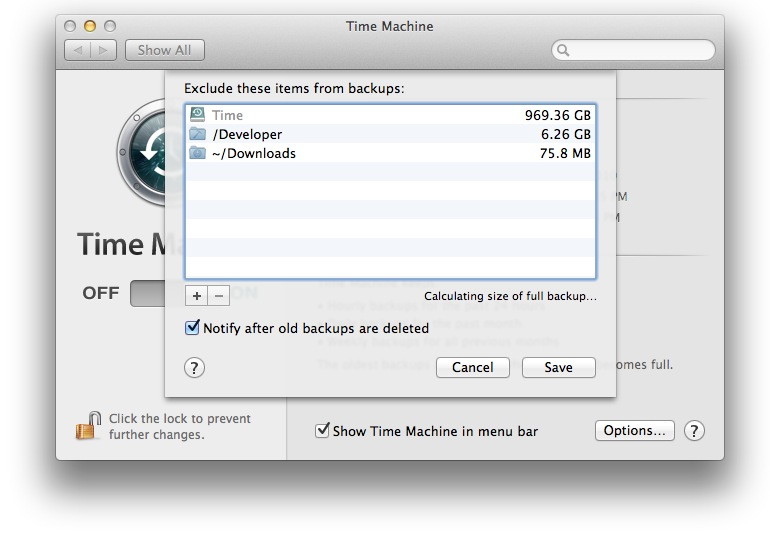 To save space on your backup drive, exclude items you don't need to backup.
If you use an external virtual machine, such as VMware Fusion or Parallels Desktop, to run Windows on your Mac, we recommend excluding it from your Time Machine backups. Backing up your virtual machine will quickly fill up your external hard drive, as Time Machine tends to perform a full backup of virtual machines each time instead of running a simple daily update. Several user have also reported instances where Time Machine crashed a VM session when it tried to perform a backup.
Erase older backups without interruption: When your external drive gets full, Time Machine will automatically erase older backups to make room for new ones. The default setting is for the program to notify you when it has deleted an older backup, but if you don't need this information, uncheck the box next to Notify after old backups are deleted in Time Machine's preferences.
Backup on battery power: If you're a MacBook user, you can also choose to back up while using battery power. Go to Time Machine's preferences, click Options, and select the Back up while on battery power option. By default, Time Machine will back up only when your laptop is connected to AC power, to ensure that your MacBook stays powered during the backup process. If the battery drains completely during a backup, the backup won't be complete and may get corrupted.
Step 5: Keep backing up
Regularly using Time Machine to back up your files is the final step. If you have a desktop Mac, leave your external drive plugged in—Time Machine will launch automatically and perform backups hourly. You can also manually start a backup by clicking the Time Machine icon in the menu bar and selecting Back Up Now.
If you don't keep your backup drive connected to your Mac—because your system is a laptop and you're using on the go—remember to hook it up regularly to protect your data. The Time Machine icon will display an exclamation point when you haven't run a backup for a while. Just as it did when creating your first full system backup, Time Machine will start running as soon as your drive is plugged in.
Click here for complete article.
Wizards Note: MAGIC also recommends that you use SuperDuper! as a backup in addition to Time Machine. For more details see this MAGIC webpage.
---
How to restore data from Time Machine in Mountain Lion
by Leah Yamshon, Macworld
Now that you've been using Time Machine regularly to back up your computer, you should be fully prepared if your Mac crashes or if you need to move data from one Mac to another. Restoring data from Time Machine is just as easy as backing things up in the first place.
Restore a single file or folder
If you're looking for a certain file or folder, start by connecting the external drive that you use for Time Machine backups or by making sure that you can connect to your Time Capsule. Click the Time Machine item in the menu bar at the top of your screen (it looks like a clock with an arrow running counterclockwise around it), and choose Enter Time Machine. Here, all of your saved backups will appear in chronological order. Use the visual timeline on the right side to scroll through your backups and look for specific items or folders. Older dates are indicated in pink on the timeline; the most up-to-date data on your Mac is indicated in white. (You'll see the word 'Now' in bold, white letters on the timeline.)
Not sure which backup might hold the last copy of your missing file? Try running a Spotlight search in Time Machine based on keywords. You'll see a search field in the upper right corner of each Finder window in the Time Machine view. Type in the file name or keywords from the file, and Spotlight will search through your backups to find the latest copy.
Once you think that you've found what you're looking for, use OS X's Quick Look to make sure: Select the file and then press the spacebar to view the file without having to launch its parent application.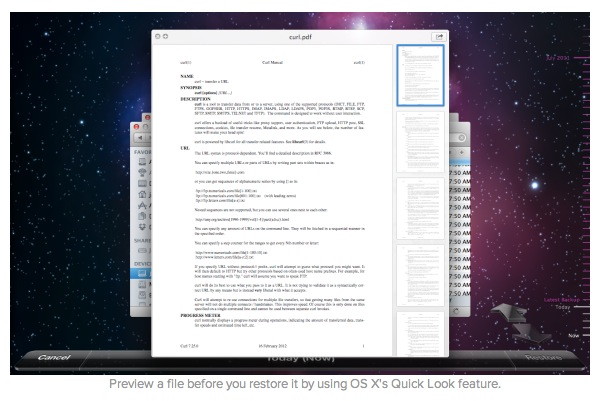 Select the file or folder, and press the Restore button. The file will automatically be copied to your desktop or to the file's original folder. This may take some time, depending on the size of the transfer.
Restore an entire system
Sometimes you may want to restore your entire system from a backup—say, in the event of a crash or when your computer is misbehaving and you'd like to dial the clock back to a kinder, gentler time. If that's the case, first connect your Time Machine drive. Then start up your Mac from the Mountain Lion recovery partition by pressing (and holding down) Command-R at startup. This launches Recovery Mode, a portion of your drive that Mountain Lion treats as a separate volume. It includes a few essential utilities for restoring files in case of a problem. For this approach to work, you must have a complete Time Machine backup that includes all system files.
The Mac OS X Utilities window appears. Select Restore From Time Machine Backup. This command will erase the destination drive—your Mac—so use it only if you're restoring an entire volume to its original source or to a replacement drive. (Read the next section for setting up a new Mac or transferring data between Macs.)
Click Continue until you reach the Select a Backup Source window. here, select your Time Machine drive and click Continue. In the Select a Destination window, choose your Mac's hard drive. (Using Recovery Mode erases your Mac's hard drive before restoring from Time Machine; but once the process is finished, you'll be able to log in and use your Mac normally).
Transfer data between Macs
Let's say that you bought a new Mac and want to transfer all of the data from your old system to it. Or imagine that you simply want to transfer data from one Mac to another. Time Machine can help here, too, but with the assistance of another built-in Mountain Lion utility called Migration Assistant.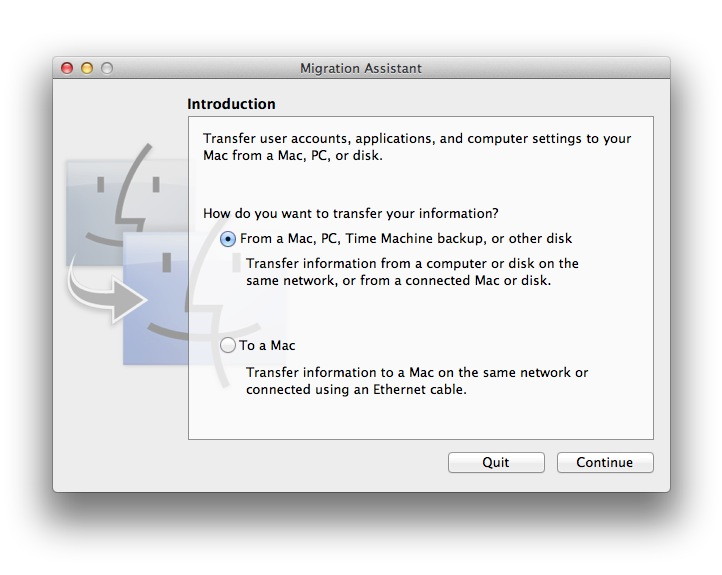 Once your backup drive is connected, launch Migration Assistant (in your /Applications/Utilities folder). A Migration Assistant window will appear and ask how you want to transfer your information. Choose the From another Mac, PC, Time Machine backup, or other disk option and then click Continue. You may be prompted to enter your administrator's password. Do so, if necessary, and click Continue.
Next, you'll be asked to quit other applications. Do so, and click Continue. In the next window, select the From a Time Machine backup or other disk option and click Continue.
Select your backup drive and enter a password for it, if necessary. Then choose which items you'd like to migrate (chances are, your choice will be to move everything). Click Continue, and your files will begin to transfer. For more tips about using Migration Assistant, see "Move data from an old Mac to a new Mac."
Click here for complete article.
---
Tim Cook hints that Apple plans to redefine the television set
by Neil Hughes, appleinsider.com
Apple Chief Executive Tim Cook has poured gasoline on the growing fire of speculation that his company plans to build a full-fledged television set in the near future, with comments disparaging current television sets as outdated pieces of technology.
Cook's strongest hints to date on the prospect of an Apple television came from an interview with Brian Williams of NBC's Rock Center, set to air tonight at 10 p.m. Eastern. In that interview, the CEO was asked what's next for Apple, and he hinted that the company has big plans for the living room.
"When I go into my living room and turn on the TV, I feel like I have gone backwards in time by 20 to 30 years," Cook said. "It's an area of intense interest. I can't say more than that."
Cook's comments are the most aggressive yet in hinting that Apple could be working on a television set — a product that has been rumored to be in the works for years. Previously, the CEO has also used the words "intense interest" to refer to its Apple TV set-top box, an existing television accessory that streams movies, TV shows and other content.
Rumors of an Apple television have persisted for years, but they picked up considerable steam late last year when the authorized biography of Apple co-founder Steve Jobs was published. In that book, Jobs told biographer Walter Isaacson that he had "finally cracked" the secret to building a television.
"It will have the simplest user interface you could imagine," Jobs said.
Then in January, a report from USA Today claimed that Apple's lead designer, Jony Ive, had a "slick" 50-inch prototype television set housed inside his secure California design studio. It claimed that Apple is looking to build televisions sized 42 inches and larger with built-in Wi-Fi connectivity.
Analyst Gene Munster of Piper Jaffray has long been a proponent for an Apple television. In November, he predicted that such a product would be one of three core launches for the company in 2013, joined by a refreshed iPhone and updated iPad lineup.
Munster believes Apple's television will be priced between $1,500 and $2,000, with screen sizes between 42 and 55 inches, and would go on sale in time for the 2013 holiday shopping season.
Click here for complete article.
---
Foxconn seeks expansion to US as Apple gears up for made-in-America Macs
by Neil Hughes, appleinsider.com
As Apple plans to begin building one full line of Macs in the U.S. in 2013, the company's primary assembly partner, Foxconn, is working to expand its operations in America.
A spokesperson for Foxconn indicated to Bloomberg that its partners have requested that more products be built stateside. Luis Woo said that challenges for Foxconn include a need for skilled engineers in America.
"We're looking at doing more manufacturing in the U.S. because, in general, customers want more to be done there," Woo said without naming specific clients.
The comments come as Apple Chief Executive Tim Cook has revealed that his company will spend $100 million to produce one entire line of Macs in the U.S. next year. Cook declined to say exactly which Mac product will be built domestically.
"We've been working on this for a long time, and we're getting closer to it. It will happen in 2013," he said. "We're really proud of it. We could have quickly maybe done just assembly, but it's broader because we wanted to do something more substantial."
Cook's comments indicate that assembly, which is handled by Foxconn, will only be part of Apple's solution, suggesting that Apple's investment could also be related to individual components. Earlier this year, AppleInsider offered an in-depth look at how iPhone parts are made across the globe before they are assembled for the final product in China.
The comments from Foxconn also lend support to a rumor from last month that claimed the Taiwan-based manufacturing company was looking to establish new plants in America. Specifically cited as potential locations were Los Angeles, Calif., and Detroit, Mich.
Terry Gou, chairman of Foxconn, also revealed at a public event that his company is planning a training program for U.S.-based engineers. Through a planned partnership with the Massachusetts Institute of Technology, Foxconn hopes to bring American engineers to Taiwan or China to be involved in product design or manufacturing.
Companies such as Apple have come under fire for their reliance on Chinese labor for the assembly of popular electronic devices. Critics have contended that wages are too low, and have pointed to employee suicides as evidence of poor working conditions.
Click here for complete article.
---
Startup Keystrokes
by Robert Elphick, MAGIC
When things are not quite working right and the computer will not boot up and run properly, you can use the following startup key combinations with Intel-based Macs to try and solve the problems. This is a not for amateurs so call a mentor/wizard if you are not comfortable with these procedures.
| Keystroke | Description |
| --- | --- |
| Press C during startup | Start up from a bootable CD, DVD, or USB thumb drive (such as OS X install media). |
| Press D during startup | Start up in Apple Hardware Test (AHT). |
| Press Option-Command-P-R until you hear startup sound a second time. | Reset NVRAM (Intel Macs) or PRAM (PPC Macs) |
| Press Option-Command-O-F | Open Firmware - Used to reset NVRAM |
| Press Option during startup | Start up in Startup Manager, where you can select an OS-X volume to start from including a SuperDuper! bootable backup. Note: Press N to make the the first bootable Network volume appear as well. |
| Press Eject, F12, or hold the mouse or trackpad button | Ejects any removable media, such as an optical disc. |
| Press N during startup | Attempt to start up from a compatible network server (NetBoot). |
| Press T during startup | Start up in Target Disk Mode. THis will make your internal hard drive appear as an external hard drive to another computer in the same network (try connecting with FireWire cable.) |
| Press Shift during startup | Start up in Safe Boot mode and temporarily disable login items. |
| Press Command-V during startup | Start up in Verbose mode. New users may find this useful. |
| Press Command-S during startup | Start up in Single-User mode. Useful for checking the hard drive with fsck |
| Press Option-N during startup | Start from a NetBoot server using the default boot image. |
| Press Command-R during startup | Start from Lion Recovery - Available on Macs that ship with OS-X Lion or Mountain Lion. Some CPUs require an EFI BootROM update to support this feature. |
Additional Information
For the best experience with startup keys, press the keys immediately after the startup tone plays.
---
Any phone in a storm: Staying connected after Sandy
by Lex Friedman, 6 November, 2012
I live in New Jersey, in an area hard-hit by Hurricane Sandy. Before the storm hit, my family took the traditional preparatory steps: We bought non-perishable foods, stocked up on water, took in our lawn furniture, and so on. But we also prepped our electronics for the coming storm—chiefly, by charging up our iPads, iPhones, and laptops.
We lost power on Monday, October 29, and it wasn't restored until the evening of Sunday, November 4. Seven days without power is a long time. Of course, the biggest problems were the cold and the food spoilage. But with the Internet out, we also lost our home phone service (which uses VoIP). Nearby cellphone towers took a beating, as well; early on, our iPhones lost service completely. Eventually, AT&T and T-Mobile started pooling their resources to let customers get online, so phones linked to one provider would occasionally show carrier logos for the other.
Our phones eventually went from mostly useless to occasionally able to send SMS text messages and place heavily-distorted phone calls. But that came with a cost: Our iPhones struggled so mightily to make even those basic connections that they gobbled up battery power far faster than usual, while accomplishing far less. With limited options for recharging our iPhones, we had to do what we could to maximize battery life.
Preparing for the long haul
The first few steps were easy: We turned off Wi-Fi, so that the phones wouldn't waste energy scanning for wireless networks that weren't there. We turned off Bluetooth, too. (Both are top-level options in Settings under iOS 6.) We dialed down our Brightness settings as low as possible—though that option was slightly harder to stick with: Our iPhones worked far better outside, and in sunlight the darkest screens were hard to read. Very dark iPhones are also subpar makeshift flashlights, which we needed with the power out.
I am fortunate enough that my job with Macworld affords me a slew of devices that can help juice iPhones in need. My collection of iPhone battery cases is huge: Before Sandy hit, I charged up five such cases. The only glitch: the ones I had work only with the iPhone 4 and 4S, so they could charge my wife's iPhone, but not my iPhone 5.
To take care of my iPhone 5, I turned to a few other options: the PowerBag Business Class Pack—a backpack with a built-in battery and the ability to charge devices over USB; a generic recharging device with USB, dock connector, and Micro-USB ports; and my car, thanks to a drugstore-purchased USB/cigarette-adapter plug. We also had three fully-charged laptops that could function as iOS device chargers in a pinch.
With all those charging devices available, we kept both of our iPhones alive for several days. My wife forgot to turn her iPhone off one night before we went to shivery sleep; since it spent all night trying to cling to spotty cell networks, the battery was on its last legs by morning. When you can't charge overnight, be sure to turn your iPhone off, or at least activate Airplane Mode.
We intentionally didn't plug our iPhones into the battery cases or other charging devices at night, because we only wanted them to charge when we could manually stop charging as soon as the batteries were nearly full. Otherwise, we'd needlessly drain extra stored-up juice from the chargers themselves.
I read on my iPad during the blackout—clearing out the bulk of my Instapaper queue and reading a few iBooks—with its brightness all the way down and Airplane Mode on. With relatively lengthy reading jags for a couple hours at a time, I squeezed five days of reading out of the iPad (a third-generation model) before its battery gave up.
One step at a time
Even now, more than a week after Sandy plowed its path of devastation, the cell reception around our home vacillates between awful and unusable, with patches of great and terrible service as we move about town.
Now, though, our power is back, so managing our batteries isn't a challenge any longer. Our new problem is finding reliable Internet access: Our home service is still out, and AT&T is offering EDGE speeds at best in our neighborhood. If I couldn't rely on the kindness of family friends, who are letting me use their Wi-Fi until our connection starts working again, I'd need to consider a Verizon MiFi or a Verizon iPad with tethering; it's the only cell carrier offering fast, reliable data in my area right now.
But, believe me, any connection at all is better than what we had a week ago.
Wizard's Note: This situation should remind us all that Whidbey Island is prone to big problems when the Cascadia Fault next goes off and communications will be just as important. Be Prepared!
---
iPhones, iPods, and iPads
Apple updates Pages, Keynote, and Numbers for iOS
by Leah Yamshon, macworld.com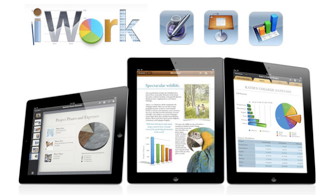 Apple on Tuesday (Dec. 4) released updated versions of its suite of iWork apps for iOS. Pages, Keynote, and Numbers for iOS were each updated to version 1.7 to makes it easier to collaborate and share items with iWork for Mac and Microsoft Office. Apple has a complete list of all features compatible between Microsoft Office and iWork for iOS
Apple also released an update to iWork for Mac; the iWork 9.3 update adds support for the new features introduced in the iWork for iOS apps.
Pages, iWork's word processing program, got a slew of new features to help the iOS app work more seamlessly with Microsoft Word and Pages for Mac. This update introduces the Change Tracking feature to iOS; you can now track changes to body text in a document you're editing. The Change Tracking feature also brings the ability to accept or reject individual changes, and you can now import a Pages or Word document that has change tracking enabled and continue to track these changes through iOS. These changes will be preserved when exporting a document from your iOS device to Pages or Word later on.
Other changes include the ability to add reflections to shapes and lock or unlock objects. Calculations in tables will also be preserved when importing from and exporting to Pages for Mac. (A full list of compatible features between Pages for iOS and Microsoft Word is available on Apple's Pages compatibility page.)
Keynote for iOS's new features provide a smoother transition between making a presentation on the iOS app and either Microsoft PowerPoint or Keynote for Mac. You can now make slides on iOS devices that you can export at the correct size for PowerPoint and Keynote for Mac; conversely, slides made through PowerPoint or Keynote for Mac can be imported to your iOS device at the correct size. You can also import and export presentation themes from an iOS device to your Mac, along with master slides and preset styles for that theme. You can play back all Keynote action builds (like Move, Rotate, Scale, and Opacity), and add new slide transitions. Another addition is new print layout that include the option to print with presenter notes, builds, or without backgrounds.
Like Pages, other new changes include the ability to add reflections to shapes and lock or unlock objects. Calculations in tables will also be preserved when importing from and exporting to Keynote for Mac. (A full list of compatible features between Keynote for iOS and Microsoft PowerPoint is available on Apple's Keynote compatibility page.)
If you use Numbers for iOS, you can now hide and unhide rows and columns, preserve rich text in tables when importing and exporting spreadsheets, add reflections to shapes, and lock or unlock objects. You can also import or export Numbers for Mac spreadsheets with filters, and turn filters on and off. These new features make it easier to move back and forth between your Mac and iOS device when working on a spreadsheet in Microsoft Excel or Numbers for Mac. (A full list of features that work between Numbers for iOS and Microsoft Excel is available on Apple's Numbers compatibility page.)
Pages, Keynote, and Numbers for iOS are available in the App Store for $10 each and have been optimized for the iPhone 5; version 1.7 is a free update if you already own any of these apps. Each requires iOS 5.1 or later, and is compatible with the iPad, iPhone 3GS or newer, and third-generation iPod touch or newer.
iWork 9.3 is recommended for users of iWork 9.0 and later and requires OS X 10.7.4 or later. It's available through the Mac App Store, Software Update, or through a standalone installer on the Apple Support Downloads page.
Apple has a complete list of all features compatible between Microsoft Office and iWork for iOS on the company's website.
Click here for complete article.
---
Gmail for iOS relaunches with sleeker interface, new features
by Joel Mathis, macworld.com, Dec 4, 2012
Google on Tuesday relaunched its official Gmail app for iPhone and iPad, redesigning it with a sleeker user interface and an overall increase in, well, the app's Googleness. The first version of the Gmail app—released, unreleased, and released again a year ago—wasn't always widely loved by users who found its features limited compared to the Sparrow application or even, sometimes, Apple's native Mail app. It wasn't much of a surprise, then, that Google ended up buying Sparrow, nor that this new Gmail update seems to incorporate some Sparrow-like features.
The first thing users will notice—after taking a gander at the stripped-down UI—is that they have more options: The Gmail app now lets users access up to five different Gmail accounts from within the app, a feature designed for power users who keep different types of communication in different accounts.
But Gmail doesn't just let users do more Gmailing; it also offers tighter integration with other Google services. If you receive a calendar invite in your inbox, for example, you can confirm straightaway, instead of clicking and transitioning to another app to finish the process. And there's also support for posting to the Google+ social network directly from your email.
One more way Gmail is now a bit Googlier: The search function now predicts possibilities while you type your query—much like Google's search engine offers likely inquiries in a drop-down box. (See the image at the top of this page.) The predictions don't catch all your commonly used phrases, but the new function will make it easier to find those old emails from a particular co-worker.
A final new feature: The inbox now scrolls "infinitely"—no requirement that you tap to download older messages after you get to the bottom of the list of your most recent 50 emails.
The update to Gmail for iOS came a day after the company upgraded the Android version of the app, largely to improve photo-handling issues on that platform.
Gmail for iOS is free and compatible with any device running iOS 5.0 or later. The app is optimized for the iPhone 5.
Click here for complete article.
---
iTunes 11 Thinks Different about iOS Devices
by by Jeff Carlson, tidbits
iTunes 11 promises a simpler interface for interacting with your media library, but don't forget that iTunes is also a central hub for working with your iOS devices. If you sync and configure an iPhone, iPad, or iPod touch using iTunes (versus doing it all via iCloud), the new version may initially be confusing.
The Hidden Sidebar - In iTunes 10 and earlier, iOS devices show up in the sidebar at the left side of the screen. When you select a device, the main iTunes window reveals options for choosing which media to sync, which apps to include, and so on. iTunes 11 doesn't have a sidebar — at least, it doesn't appear so initially. If you prefer the old look, choose View->Show Sidebar (or press Command-Option-S) to reveal it.
Tasty Popovers - If you'd rather give the new approach a try (and you should), iTunes 11 handles iOS devices in a new button at the right edge of the toolbar. If you have only a single iOS device, clicking the button (named for the device) displays its settings; if you have more than one, clicking the button (now named Devices) shows a popover listing connected devices, along with how much storage is being used and current battery level.
If your devices are set to sync wirelessly, they show up whether they're physically connected or not, although the battery level appears only for physically connected devices. (You enable Wi-Fi syncing in the iTunes Summary screen with "Sync with this iPad over Wi-Fi" in the Options box. If you've turned off Wi-Fi sync, you need to connect using a cable to re-enable it in iTunes.) Click a device name to access its settings, but beware that it may take a few seconds to appear if you're using Wi-Fi syncing. When you're finished, click the blue Done button at the upper right to return to your media library.
Redesigned Controls - The device syncing options are similar to what appeared in iTunes 10 and earlier, with a few notable differences:
The storage indicator at the bottom of the window incorporates labels for each type of media into the bars, instead of listing them below it. That means labels don't appear at all for small items, such as books in the screenshot above. For any media type, hover the pointer over a section to reveal how many items there are and how much space they take up.
The data backup options have become more obvious. You can choose to back up data automatically to iCloud or to the computer, as was available previously, but now there's a Manually Back Up and Restore section in the Summary screen. Click the Back Up Now button (previously hidden in a contextual menu when you Control-clicked the device in the sidebar) to back up your data to the hard disk. If you normally back up to iCloud, this feature gives you a local backup; that's great if you're about to travel and want to be able to restore your data quickly if necessary when a lengthy iCloud download isn't feasible. Should you want to revert to an earlier backup, you need only click the Restore Backup button — previously, you had to Option-click the Restore button.
On the Apps screen, Apple has brought a dedicated search field back to the app list. In iTunes 10, the main Search field at the upper-right corner of the window switched to apply to the app list when the App screen was visible, which was confusing.
Also on the Apps screen, the apps list now includes an action button for each program: Install for apps that reside in iTunes but not on the device, and Remove for apps that are already installed. This functionality was present in iTunes 10 as well, via the checkboxes next to each item, but it's decidedly more clear now.
If the normal sidebar isn't showing, a new On This iPhone/iPad/iPod button shows the content stored on the device, with an unusual new left sidebar look. This option is particularly helpful if you subscribe to iTunes Match and don't store much media on the device itself.

You can add new items individually here by clicking the Add To button (which flips the sidebar to the right side, oddly), and then dragging them from your library to the device. However, you can't add music if you also use iTunes Match.

When a device is syncing, you can cancel the operation by clicking the sync indicator (the two arrows following each other in a clockwise circle). Overall, the changes related to iOS devices in iTunes 11 aren't as dramatic as they first appear. You can go back to the familiar behavior of accessing your iPhone, iPad, or iPod touch in the sidebar, or enjoy a less-cluttered interface by jumping to dedicated screens for each device. And some of the ways Apple moved previously hidden functionality out into the open is certainly welcome.
Click here for complete article.
---
By The Way
Holiday digital creations*
by Ron Sharp, MAGIC
Here is a way to share your past year with relatives instead of a Christmas letter. Select some of your favorite photos of the last year and create a slide show. Or go one step further, and use Keynote to create a presentation with your photos. This way you can manipulate the slides in an artistic way and text can be added anywhere, along with background music. I created one with photos around my house, around the island, and a few of relatives at the last family gathering.
A short presentation (small file size) can be emailed to your group. Anyone with the Keynote application can view it as a Keynote file, otherwise Keynote can export it as a MS powerPoint application for the PC people. Keynote also has the option of exporting a file as a QuickTime video that about anyone can view.
However, the QuickTime video option will turn a 20 MB Keynote file into a 150MB file if you use the large size. Exporting at the medium size will greatly reduce the file size but the video will be too small to really enjoy fully.
You can choose instead to put it on a flash drive and share it when visiting relatives. But any format or anyway you decide to share it, it's makes for a creative project.
---
MADE ON A MAC, The Adoption of Boris*
by Ron Sharp, MAGIC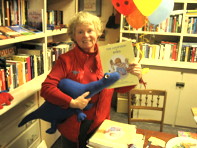 Penny Holland has authored and co-illustrated a picture book, THE ADOPTION OF BORIS. It is a 40 page full color softbound picture book for children created on her Macintosh computer. She will have copies of the book for sale at the December meeting for $10 and will be there to personally autograph them. To purchase the book online go to Penny's website: www.pennyholland.com
She can still sign your book the next time you see her.
---
MAGIC Wishes*
from Penny Holland and all the staff at MAGIC
---
MAGIC, the Macintosh Appreciation Group of Island County, serves people who use Macintosh computers, software and peripherals. Our goal is to share information and get answers to questions to make us more productive with our use of technology. Our monthly meetings give us a chance to discuss computer problems and share ideas with other Mac users, feature speakers on specific topics, and to keep apprised of Apple news.