Newsletter
January 2013
Newsletter Editor:
In This Issue:
MAGIC MUG News
Software Updates
Macintosh News, Information and Stories
iPhones, iPods, and iPads
By The Way
* Indicates author is a member of MAGIC
---
Meeting information
Day:
The 3rd Wednesday of the month. 16 January 2013 this Month
Location:
Unitarian Universal Congregation of Whidbey Island (see map.)
Time:
4:00 p.m. - 6:00 p.m. with the first hour dedicated to new users and their questions.
Presentations:
•Apple Q & A
•Home networks: How to share printers, computers and devices at home.
Future Meetings: (subject to change)
See the Meetings Page on this website.
Do not forget to bring your used ink cartridges.
MAGIC will dispose of them for you and make some change for the group.
---
Minutes of the December 2012 Meeting
by Penny Holland, Secretary
Our annual December Christmas/Holiday party meeting of MAGIC took place at the Unitarian Congregation Meeting House in Freeland, WA on Wednesday December 19, 2012 starting at 4:00.
Business
Following our typical Q&A hour which fielded many good discussions, we had a brief business meeting led by President Sue Keblusek, who welcomed everyone and gave an overview of the various projects that MAGIC has sponsored during the past year. These included Robert Elphick's mentoring of the 4H Earthquake Preparedness video; Membership Chair Ed Severinghaus's development of the Mentoring program, whereby MAGIC members listed online are available to assist people who have specific questions on their Mac computers. The mentors meet for an hour or more to solve the problems, and this program has been very popular this past year. In addition, Robert, along with his Wizards-in-training, have offered several classes during the past year, including a five week Macintosh Essentials class, two Intro to the iPad classes and a class on iPhoto. Treasurer Bonnie Abney reported that our treasury balance is at $6599,30. The anticipated raffle drawing was held with each member being given 1 ticket upon signing in. People were allowed to buy additional raffle tickets for $2. Our newest member in attendance drew a name from the basket and Gretchen Schlomann was the proud winner of an iPad mini. Cookies, cider and soft drinks were served before and during the meeting.
Presentation
Susan Prescott, our Program Chairperson gave a presentation on Holiday Greetings done by members on their Macintosh computers. Prior to the meeting she asked for submissions, and three people from the group shared their online Christmas cards. Vi Frederick, Ron Sharp and Penny Holland each had items that they had created or enhanced on their computers. Vi had an in-depth explanation of how she created her family newsletter using Pages. Ron Sharp had created a 12 month calendar in iPhoto using photos from his garden, and Penny Holland had scanned a picture she painted and added a text greeting on the top. Despite some technical glitches, lots of interesting ideas were shared.
Meeting was adjourned shortly before 6pm.
---
MAGIC Moments
by RYE
MAGIC Door Prize
At the December meeting the door prize was won by Gretchen Schlomann of Fern Ridge Alpacas. The prize was a brand new iPad mini!
iPhoto class
Another iPhoto class has been scheduled to take place on January 14th & 15th 2013. Since the last one filled in only two days, you might want to book and pay for this on as early as possible. Details can be found at this web page. Applications are now being accepted.
Mac Essential Classes
The next Mac Essentials class will begin on 2 February 2013. Details of the class can be found at this web page and we have started accepting applications.
Board of Directors meeting
The President has called for a Board of Directors meeting for later in January. This will be the first meeting for the year.

A gift from Penny Holland
SOFTWARE UPDATES
Note: This Software Update section of the newsletter lists the most relevant Apple updates. Not all updates are listed for all products. Additionally, I'll add other pertinent updates on occasion.
Apple releases iOS 6.0.2 with Wi-Fi fix
by Lex Friedman , macworld.com
Apple on (Dec. 18th) released iOS 6.0.2, an update aimed at fixing a Wi-Fi bug afflicting some devices.
The whole of Apple's release notes for the update read as follows: "Fixes a bug that could impact Wi-Fi." The update applies only to the iPad mini and iPhone 5.
To see the update, fast-acting iOS device owners initially at least needed to connect to iTunes. The built-in Software Update mechanism in the Settings app only coughed up a connection error. That issue has since been corrected; you can trigger the update by launching the Settings app, tapping on General, and then choosing Software Update.
Apple's failure to provide more specifics on just what the Wi-Fi fix addresses means we can only guess at what issues the update really aims to correct. Some iOS 6 users have reported issues with cellular data getting used even when their iOS devices are connected to Wi-Fi networks. And on Monday, Apple released a trio of updates aimed at correcting Wi-Fi issues for newer Macs connecting to 5 GHz networks.
If you prefer not to update your device over the air, connect your iOS device to iTunes and follow the prompts.
Click here for complete article.
---
News, Info and Stories
For Apple, change could be a good sign
by Jason Snell - Dec 14, 2012
My transition to iTunes 11 hasn't exactly been a smooth one. I've been using iTunes as the music player on my Mac every day for more than a decade, and in all that time it has pretty much looked and behaved the same way. The newest version is a radical rethink, and at first it left me confused and unhappy.
That's not an indictment of iTunes 11. (In fact, I've found a lot to like about it … along with quite a few things to complain about.) Really, any rethink of iTunes was going to make me unhappy, because it represents a major change to something familiar. Change is hard, and most of us dislike experiencing it.
But change is also inevitable—and, in the end, refusing to change is worse, because change will just keep on happening around you, whether you like it or not.
The design of iTunes 11 was under way long before Apple made its recent changes in its management structure. Even so, the departure of Scott Forstall from Apple leadership is, like the release of iTunes 11, a sign that Apple is in the throes of some major (and probably quite painful) changes, especially where Forstall's bailiwick, iOS, is concerned.
In general, I'm a proponent of change. Yes, I was comfortable with the old iTunes, but it was also old and inflexible, and probably in need of a long, hard look. The result might be better or worse than what came before, but doing nothing at all guranteed a lengthy, slow slide into irrelevance.
That's why I'm optimistic that the dismissal of Forstall to tend his garden might be just the shake-up that iOS needs. In the operating system's nearly six years of existence, Apple hasn't really rethought any of iOS's major features. We've seen the continual addition of new features, but very little has disappeared to be replaced by something utterly new. iOS is pretty good, but that stasis is odd, and perhaps even a little self-delusional on Apple's part: Nothing is inviolably perfect, especially on the first try.
With Forstall—a major driver of iOS development since its inception—out of the picture, it strikes me that this is a chance for new people to make different decisions and to take things in a new direction. Good or bad, it's at the very least an opportunity for change.
Michael Lopp, a writer I respect, argues that this personnel decision might mark the end of Apple's golden era. Forstall has often been called Steve Jobs's protégé, someone who had a very Jobs-like approach to his work. Like Jobs, he has accumulated strong supporters and detractors among his former colleagues. Lopp suggests that although Forstall's management style may have created internal strife, that strife led to innovation and change.
Lopp could be right. Eventually the first will be last—Apple's failure is as inevitable as our deaths and the expansion of the sun into a red giant. And perhaps Forstall's departure will hasten Apple's end.
But isn't it just as possible that Apple's shake-up is exactly what the company needs right now? Lopp may be correct in saying that the new Apple might foster executives who are less likely to fight for what's right; but then again, maybe the new structure will make it easier to slaughter some sacred cows.
In fact, when I heard word of Forstall's departure, the first thing I thought of was something Steve Jobs himself said:
Death is very likely the single best invention of life. It is life's change agent. It clears out the old to make way for the new. Right now the new is you, but someday not too long from now, you will gradually become the old and be cleared away. Sorry to be so dramatic, but it is quite true.
Life is change. You can't avoid it, no matter how hard you try. The best way to cope with change is to welcome it and to keep moving forward.
Apple's great success during the past decade makes the company awfully hard to criticize, whether you're on the inside or the outside. And much of that success has come from Apple's decision to embrace change rather than run from it. So perhaps the removal of Scott Forstall will lead to an exciting era of change for iOS.
Then again, maybe we don't have much to worry about on that score. Even as Apple sits at the top of the tech industry, Tim Cook has taken the guy who was responsible for his company's most important software asset and shown him the door. You have to give Cook credit: He's not afraid to mess with success.
In the end, I'm not afraid of Apple changing. On the contrary, I'm concerned about it becoming complacent. But given the company's moves during 2012, it's hard to accuse Apple's CEO of resting on his laurels.
Click here for complete article.
---
Bring Back My iTunes, Dagnabbit!
by Carl Grasso, smalldog.com
Love it or hate it, iTunes 11 is here to stay. This is one more step in the slow transition over to total touch interfaces that we'll likely see in the next decade. There is no real reason to despair however — you can get your old interface back.
The first thing to do is to set iTunes up to sort by songs instead of albums. I happen to like the new album view, but it does limit how much music can be shown on the screen at once. I have over 24,000 tracks in my library and even on a 27" screen, it can be a chore to go through the library by album cover. If you look across the top of the information section of the iTunes window, just under where it shows what song is playing, you'll see a tab for songs. Just click that.
Step two is to bring back the side bar. To do this, click on the View menu and choose Show Side Bar. This will change the library navigation from the drop down menu style to the full list style. This will also give you access to the playlists from all file types, not just music.
Step three will bring back the status bar at the bottom of your window. Again, go to the View menu and click on Show Status Bar.
Step four is to open iTunes preferences and make sure that Podcasts has a check mark and "Use custom colors for open albums, movies, etc." does not have a check mark.
This should bring you as close as is possible to the old view of iTunes.
Here are a couple of tips for people who are trying the new interface. The first one is that your iDevice will now be listed as a button on the upper right hand side of the window, right next to the new iTunes Store button. Second, to quickly create playlists, just click on the files you want in the playlists and begin to drag them on the window.
As long as your side bar is hidden, a playlists window will slide out of the right hand side and allow you to drop those files into a new playlist. The window will disappear once you're done. To see the playlists, choose Music from the drop down menu and then click Playlists. c
You can see all the other new new features on Apple's website.
---
New Year's resolution: Vanquish technology vices
by Kirk McElhearn, macworld.com
It's another new year—time to buckle down and make some resolutions that will improve your life. You may plan to lose weight, quit smoking, or hit the gym; but how about cleaning up your act with the computer, too? Here are a few ways to kick bad computing habits.
Stop littering your desktop
The desktop is a convenient place to store files, because you can see them easily and get to them quickly. But it can get messy, just like a real desk. What's worse, with Windows, applications stick shortcuts there; eventually, dozens of shortcuts may clog your desktop, hampering your ability to find the files you want to use.
The first step in cleaning up these files is to sort them. On both Macs and PCs, the Desktop is a folder as well as a virtual space. On a Mac, right-click the desktop, choose Sort By from the contextual menu, and choose a sort criterion. On Windows, right-click and choose Arrange Icons By or Sort By (depending on the version of Windows you're using); then choose a criterion.
Sort first by Date Modified to find files that have remained unchanged for an especially long time. Shunt these off to a folder elsewhere, and give the folder a name like Desktop Clutter. Then look for specific types of files that you might want to park in your archives. Candidates may include Word files you use for work, photos that people have sent you, and PDF files that you downloaded to read.
You may want to arrange the remaining files on your desktop by date modified, or by name, so that you can find them more easily. After you've cleaned up your desktop, you can do the same thing in your Downloads folder.
Stop using the same password
One of the most dangerous of computing vices is to reuse the same password for multiple purposes. If you use the same password for, say, your Gmail account, your Facebook account, and your bank's website, a crook who figures it out can steal your identity. And with your email password in hand, a bad guy can send password reset requests to other websites, and establish new passwords for for your accounts there, as well.
I won't go into detail about passwords; this Macworld article tells you what you need to know to tighten up your password security. But I will give you a couple of tips.
First, learn to distinguish between websites that need a secure password and ones that don't. Your email account, bank website, and any site with personal information (such as Facebook), are very important, and need the most secure passwords. But at a site that you log on to simply to play games, post comments, or participate in forums, can can get by with simpler passwords. For the former, learn to make strong passwords, and use a password manager so you don't have to remember them. For other sites, try to come up with passwords than aren't obvious, but that you can remember.
You may need to enter some passwords manually, even if you have a password manager. For example, if you have an iTunes account, you must enter your Apple ID manually; and you may need to do so often, when you buy music or movies, or when you buy apps on an iPhone. So make a strong password that you can remember. Use something long—12 characters or more—with, for example, a combination of two words and some digits, making sure to use one or two capital letters. For example, you might use a name, a word, and a memorable series of digits like this: joHn296Window.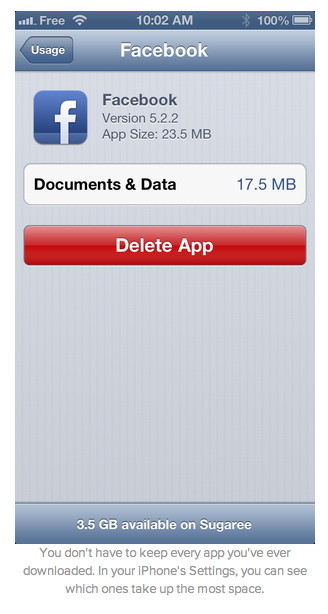 Clean up your smartphone
Even if you love smartphone apps, don't make yourself swipe through screen after screen of apps you never use. These rejected apps can clutter up your phone and occupy valuable space. It's easy to delete them, and cleaning out your phone once a year can be a good thing.
On an iPhone, you have two options for cleaning house. The first is to tap and hold an app until its icon wiggles, and then tap the x icon in its upper-left corner. Once your apps are wiggling, you can delete any of them by tapping the x icon. When you're done, press the Home button to stop the wiggling.
The second way to remove iPhone apps has the advantage of letting you see how much space each one takes up on your iPhone. To start, go to Settings->General->Usage. In the Storage section, scroll down a bit and tap Show All Apps. You'll see a list of all the apps on your iPhone, and how much space they and their files consume. To delete an app, tap its name, and then tap Delete App.
To accomplish the same thing on an Android phone, go to Settings->Applications->Manage Applications. You'll see a list of apps in different locations: Downloaded, Running, All, and On SD card. Tap one of these icons, tap an app name, and then tap Uninstall to delete it.
Click here for complete article.
---
iTunes playlists, tags, and track durations
by Kirk McElhearn, macworld.com
In my last "Ask the iTunes Guy" column of the year, I discuss turning on Grid View in playlists, making playlists from folders of songs, adding tags to your tracks, and identifying the duration of selected tracks in iTunes 11.
Q: I use playlists to sort classical music—and when I click a playlist, I like to see its albums in Grid View. I could manually click through dozens of playlists and turn on that view for each one, but is there a way to turn this view on, all at once, for all of my playlists?
Unfortunately, no. iTunes assumes that you want playlists to appear in List view, which displays individual tracks. In addition, your playlists are at the left of the window, and the View button is at the right, so if your screen is big, you'll have to do a lot of mousing to change it. I recommend that you make the iTunes window as small as possible while still showing playlists and the View button, and then go through all of your playlists and change views.
For more information on the changes to iTunes' views, see Understanding the new views in iTunes 11.
Q: I store a lot of music in folders. Each folder contains an album or live sets. I'd like to import these folders to iTunes as playlists, where each folder becomes a playlist with the folder name containing the music stored in that folder. Is there any way to do this?
If you have the sidebar visible (View->Show Sidebar), you can drag individual folders to the right of the word Playlists in the sidebar. iTunes will then create a playlist with the name of the folder and copy the contents of the folder over.
A more robust option is Doug Adams's Drop to Add and Make Playlists AppleScript. Drag a folder containing an album or live show onto the applet, or double-click it and choose a folder. (Alternatively, you can drop multiple folders, or a folder containing other folders, onto the applet.) At that point, you can choose to name the playlist after the folder name, or to identify it in Artist-Album format. The applet will then import the files into iTunes and create the playlist with the name format you've chosen.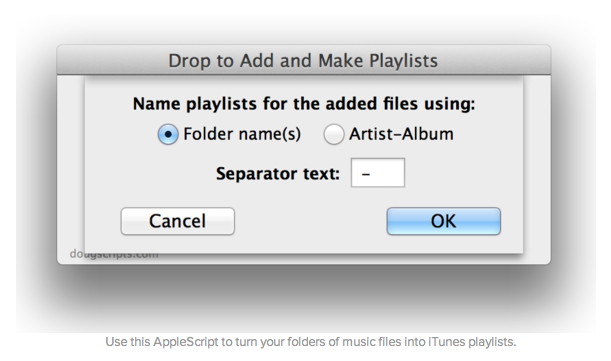 Q: Is it possible to place one's own tags or flags on songs? I would like to mark tracks that I have used for certain purposes, but I can't find a way to do so.
You can do this in a couple of ways. If you don't rate many of your songs, you can use ratings to flag them. For example, when I listen to music, I rate as one-star any tracks I encounter that have problems in them, such as ripping glitches.
Another possibility is to add comments to your tracks. Select a track and press Command-I, and a Comments field will appear in the Info window. You can put any text you want here; for example, you might add a keyword or tag that will serve to mark specific tracks.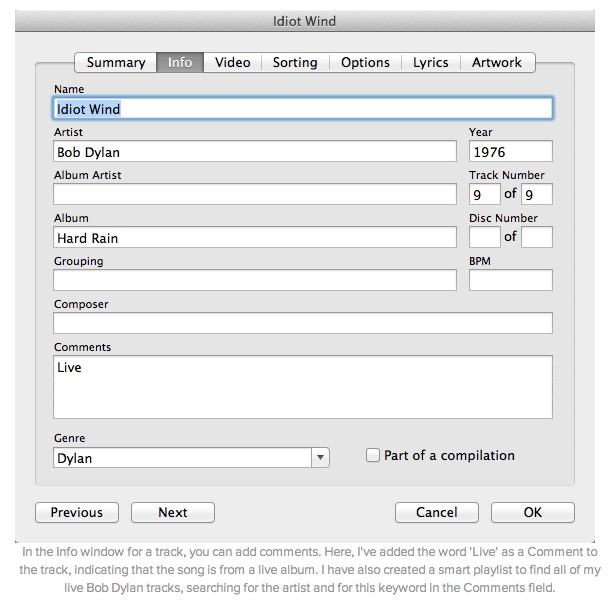 After adding comments, you can search for tracks based on the text in the Comments field in a smart playlist. Choose File->New->Smart Playlist; select Comments Contains in the Smart Playlist window; and in the empty box to the right of your rule selections, enter the text that you want to search for. You can also sort by comments, if you're in Songs view. Press Command-J to display the View Options window, and check Comments in the Personal section. A Comments column will appear. Click the column header to sort by comments alphabetically.
The smart playlist method is probably easier, since you can create a playlist for each specific tag you use.
Q: Before version 11 of iTunes I could always highlight subsets of my playlist to see how much time all of the songs would take to play. With version 11, I can't figure out how to display subsets of time. The total time of the playlist is visible at the top but that's not adequate. Is there any way to get this information?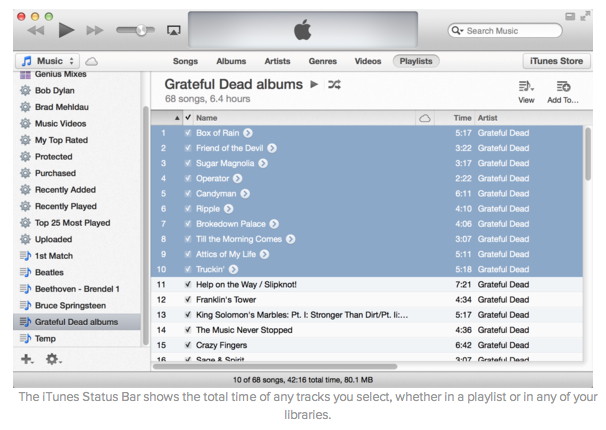 Yes - but by default, iTunes 11 has hidden it. In iTunes go to View->Show Status Bar. Select some tracks in your playlist, and look in the status bar to see their total time.
Q: I regularly purchase music content from iTunes and then convert the ACC files to Apple Lossless. I think I am hearing a sound quality improvement on my home stereo system, but after doing a bit of research, I am wondering now if the only thing I am accomplishing by upsampling a purchased ACC audio file to Apple Lossless is using up more hard drive space?
Short answer: Yep.
Long answer: Lossless files are great for letting you retain full sound quality in a smaller file size than uncompressed audio would occupy. But you can't get back any of the information discarded when encoding lossy audio files (such as AAC or MP3); consequently, as you suspected, converting them to Apple Lossless will balloon their file size without improving their sound quality.
Click here for complete article
---
MAC TREAT #196: Colors Utility + ColorPicker App
by Michael Burl, smalldog.com
Lately, I have been dealing a great bit with color (not too surprising for someone working in the marketing department!). I've found that Apple has a great base to build upon with their Colors Utility.
If you're wondering what the Colors Utility is, it's a good bet you've used it without realizing. In apps like Text Edit, Mail and Pages to name a few, there is a utility that lets you choose the colors you want for text, backgrounds and other stuff. You may find it in the Inspector in the native Apple apps, or in various menus, but it usually can be found with the same keyboard shortcut (Command + Shift + C). Once opened, you are able to select the color you want by choosing it via the virtual box of crayons or from the full color spectrum.
If you'd like to select a specific color from a source on your screen, you can use the magnifying glass, found in the upper part of the Colors window. If you click the magnifying glass, you can then hover over any part of your screen and then click to pick the color your cursor is over. Once the color is picked, it is now your active color and you can drag it to some highlighted text or shape to change the color of that element. My primary use is to figure out the RGB and CMYK values for certain colors I find.
Unfortunately, not every app has a need for the Colors Utility even if you might (like I do). I stumbled upon a website that has a script to launch the Colors Utility as a standalone app. There's an article that the developer wrote about the Colors Utility here; just scroll to the very bottom to find the link for her ColorPicker app.
Once you have downloaded it, just drag the script anywhere you'd like (I put it in the Applications folder). Click on it like you would any other app and it will launch the script. Then you are all set to start picking colors, regardless of the app you are currently using. Good examples: Now you can save that color you came across on a random website, or Facebook blue just because.
Note: ColorPicker is not an "Apple Approved" app since it is not found in the App store, so you must use this at your own risk. I have been using it for the past two months with absolutely zero issues and I love it. I recommend checking out the article at the very least to learn more about the Colors Utility.
Click here for complete article.
---
Four power tips for Safari 6
by Sharon Zardetto, macworld.com
How often do you use your Web browser? If the answer is constantly, then a few choice tips could save you loads of time and trouble. Here are some for Apple's Safari 6.
1. Cut through your bookmarks clutter
Overwhelmed by bookmarks? The first step is to organize them into folders (Bookmarks->Add Bookmark Folder). The next step is to organize the bookmarks within the folders. It's not hard if you use the Finder to alphabetize them.
Go to your bookmarks window (Bookmarks->Show All Bookmarks or Command-Option-B), and drag a folder from the Bookmarks sidebar to the Desktop. This action copies the folder to the Desktop, and the contents automatically sort by name.
You can't drag a folder directly into the Safari sidebar; so, instead, drop your sorted folder into the list area of the Bookmarks window, and then drag it from there to the sidebar. Unlike in the Finder, folders with the same name can exist in the same location in Safari, which means now you'll have two. After you place the organized folder, delete the original.
2. Easily share pages through email
Safari 6 makes it simple to share content you see on the Web. Click the new Share button in the Safari 6 toolbar to do so quickly. There you have the option to email the page, add a bookmark, add the page to your Reading List, or send a link to it through Message, Twitter, or Facebook.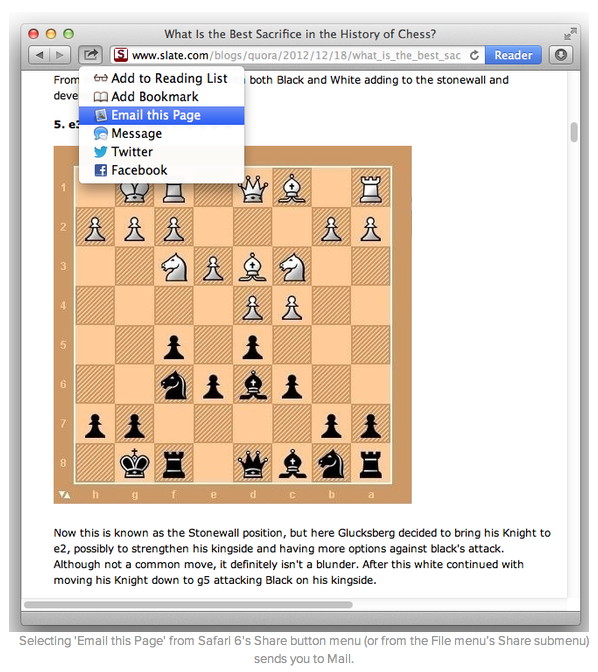 If you tend to email webpages, you might think this button offers little advantage over the File->Share submenu. When you use that menu, you can choose between mailing a webpage or just its link by pressing the Shift key while selecting. (If you're using keyboard shortcuts, press Command-I or Command-Shift-I, respectively). But no matter how you start, you wind up in Apple's Mail, where you can change your mind about how to send the page and choose from two more options.
In Mail, look above the message area to see the easy-to-miss 'Send Web Content As' menu on the right. This menu lets you send the webpage itself, a link to the page, a PDF of the page, or a version that matches what you see in Safari's Reader window (View->Show Reader). The Reader version includes easy-to-read type, no ads, and multipage articles threaded together in a single document. The application remembers the option you choose for the next time you use the Share command. Note that the Reader option isn't available for all webpages; if View->Show Reader works on the page in Safari, you'll be able to send it that way, too.
3. Get what you want with modified clicks on links
Safari has long let you Command-click a link to open it in a tab. (This default behavior is set up in Safari->Preferences, under the Tabs pane.) Safari 6 adds two new link-clicking options: Shift-click to send the linked page to the Reading List, or Option-click to download it to your Downloads folder. But that's just basic information.
Here's the tip: Watch the status bar at the bottom of the window (choose View->Show Status Bar if it's not there) to check what your modified click will do. This crib sheet is especially helpful when you're adding the Shift key to a window- or tab-opening click to toggle between having the link open in the foreground or the background. There are a lot of modifier options to remember. If you give up on learning your modified-click behaviors even with the status-bar crib sheet, you can always Control-click a link to see a list of options.
4. Reverse your 'never save password' decision
You enter a password for a webpage, Safari asks if you want to save it, and you click 'Never for this Website'. But what if you have second thoughts? You can rescind your decision because, although the password wasn't saved, your "never" choice was. Choose Safari->Preferences, and click the Passwords tab. Select the site in the list (it will say 'Passwords Never Saved' in the User Name column) and click the Remove button. Visit the site again, and this time let Safari remember your password.
Click here for complete article.
---
Notes on notifications
by Christopher Breen, macworld.com
If, as is the case for an increasing number of people, your first experience with an Apple product came via an iPhone, iPod touch, or iPad, you've likely noticed that your iOS device and your Mac offer some of the same features. This is part of Apple's "Back to the Mac" strategy, where features introduced in iOS, its mobile operating system, are then brought to the Mac OS. One such feature is Notification Center, the subject of today's lesson.
Notification Center, whether found on an iOS device or a Mac running Mac OS X Mountain Lion, is a place where alert messages of various kinds are gathered together. On the Mac you'll find a Notification Center icon on the far right of the menu bar—represented by what appears to be a bulleted list. Click this icon, and the Notification Center pane appears.
The topography of Notification Center
Exactly what you see in Notification Center depends on how you've configured the Notifications system preference, but here are the basics. Within Notification Center you'll see various application headings. You might, for example, see entries for Mail, Calendar, and Game Center. Beneath each heading is a list of notifications that apply to that application. In the case of Calendar, you see current and upcoming events. Under the Mail heading, you spy, by default, the last five email messages you've received.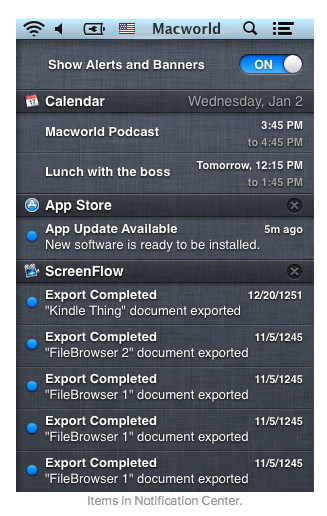 When you click on a notification, its host application opens and shows you the associated item. For instance, if you click on a notification that appears under the Mail heading, Mail launches (if it's not already running) and displays the entire message associated with the notification you clicked. If you click on a Calendar notification, Calendar opens and shows you the Edit window for the event you clicked.
To remove notifications from beneath most headings, just click the small X that appears next to the heading's name. The heading and its notifications will disappear. The heading will reappear when that application next generates a notification. The exception to this behavior is Calendar. There is no such X within this heading. Instead, Calendar notifications automatically disappear after events have taken place.
Above these notifications is a hidden area. You can view it by swiping up or down on a trackpad (depending on how you've configured the trackpad's scroll direction) or use the scrollwheel/ball on a mouse for this same purpose. Here you'll find a 'Show Alerts and Banners' entry with an On/Off toggle switch next to it. This is akin to iOS's Do Not Disturb feature (though the OS X implementation doesn't allow you to schedule when notifications are blocked). You use this switch to disable notifications until the next day (at which point the switch automatically toggles back on) or until you manually switch them back on, whichever occurs first.
You might use this feature if your Mac sits nearby your sleeping form and you'd rather not have late-night audio alerts wake you. If you find it too much trouble to use the switch, you can simply hold down the Option key and click on the Notification Center icon in the menu bar. It will turn gray, indicating that notifications have been switched off.
If you've set up Twitter and/or Facebook accounts within the Mail, Contacts & Calendars system preference (something we'll discuss in the future), you'll also find 'Click to Tweet' and/or 'Click to Post' buttons in this area. To use these buttons, just click on one and a small text window will drop down where you can enter your tweet or Facebook post. If you click on Click to Post, you can choose who can view your post on Facebook—everyone, friends, only me, family, close friends, or acquaintances. Both of the buttons support the Mac's ability to broadcast your location, so if you want the world to know where you've tweeted/posted from, just click Add Location and your whereabouts will be appended to your entry. At the bottom of the pane you'll see a Settings icon. As it happens, that's what we'll address next.
Notifications settings
Earlier I mentioned that what appears in Notification Center depends on how you've configured it. And configure it you shall in the Notifications system preference. You can reach this preference either by clicking on the aforementioned Settings button or by choosing System Preferences from the Apple menu and clicking on Notifications in the resulting System Preferences window.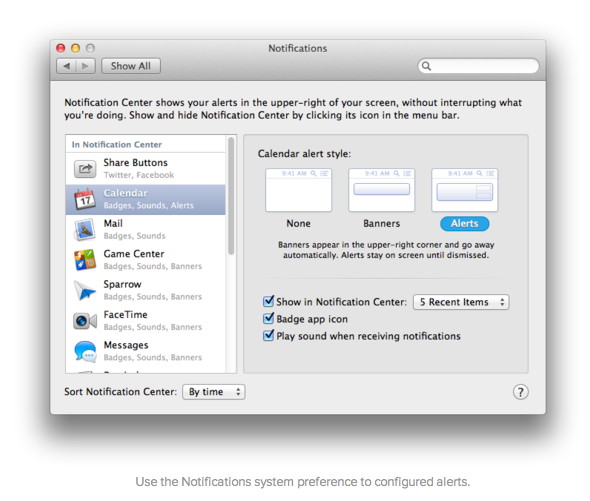 Along the left side of the window, you'll see a pane that lists applications that are capable of sending you notifications—this includes Apple applications as well as third-party applications that support notifications. Those that appear under the In Notification Center heading are capable of making their presence known in Notification Center. Applications that appear under the Not In Notification Center heading support notifications, but you've chosen not to allow them to produce such notifications. (I'll show you how that's done soon.)
To the right is the area you use to configure how notifications are presented. Select Calendar and I'll show you how this works.
Near the top of the area, you see three alert styles—None, Banners, and Alerts. We'll start with banners and alerts.
A banner notification is one that appears briefly and then disappears. For example, you might see the subject heading and sender of an email message. An alert notification requires that you manually dismiss the notification by clicking a button within the notification. Calendar alerts, by default, use this kind of notification.
If you select None, no notification will pop-up on your Mac's screen to warn you of the impending event. However, the notification will still appear in Notification Center.
In nearly every case, banner and alert notifications don't reappear. The annoying exception is Apple's own Software Update notification. When this alert notification appears, you can dismiss it only by clicking either its Details or its Update button, each of which causes the Mac App Store application to launch. Yes, you can drag the notification off the screen to the right but this is only a temporary fix—the notification will reappear after a few minutes.
Three options appear below the alerts area. The first, 'Show in Notification Center', allows an application to appear under the In Notification Center heading. If you uncheck the option, the application won't display notifications and will be relegated to a position under the Not In Notification Center heading. (You can optionally drag applications so that they appear under this heading.) Next to this entry is a pop-up menu where you can choose the number of items that appear under an application's heading—1 Recent Item, 5 Recent Items, 10 Recent Items, or 20 Recent Items.
The Badge App Icon option determines whether a small red icon indicating unaddressed actions appears on the application's Dock icon. For instance, with this option on for the Mail application, the number of unread email messages will appear within Mail's badge. Turn it off and you'll see no such badge.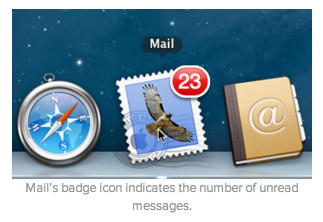 Finally, the Play Sound When Receiving Notifications option allows you to mute alert sounds.
If you've configured Twitter and/or Facebook for your Mac, you'll find at least two more entries at the top of the pane on the left side of the window. The first is Share Buttons, which appears at the top of the applications list. Select it, and you can choose whether to show the 'Click to Tweet' and/or 'Click to Post' buttons in Notification Center. If you've configured Twitter and select it in this preference, you see a Notifications button to the right. Click it and you can choose the kind of tweets that will appear in Notification Center—direct messages, messages and replies from people you follow, or mentions and replies from anyone. (You can also choose to see no mentions and replies.) Facebook lacks such a button, as well as the Badge App Icon and Play Sound When Receiving Notifications options.
Order up
It's within this system preference that you configure the order in which notifications are displayed. Choose By Time from the Sort Notification Center pop-up menu at the bottom of the window, and the applications in Notification Center will be listed in the order of the last received notification. For example, if the last notification you received was for an email message received by Mail, the Mail heading will appear at the top of the list. If the previous notification was from Calendar, Calendar will appear after Mail in Notification Center.
If you choose Manually from the Sort Notification Center pop-up menu, you can do exactly that. Within the preference pane, click and drag applications so that they appear in the order you prefer. If you want Calendar notifications to always appear at the top of Notification Center, for example, just drag Calendar to the top of the list. (And yes, it can appear above the Share Buttons entry, but it won't appear above the hidden 'Show Alerts and Banners' switch.)
There you have the ins and outs of Mountain Lion's notifications—a handy way to keep up-to-date on the events and messages that are most important to you.
Click here for complete article.
---
Fake installer malware makes its way to Mac
from TUAW
If you download a Mac app and its installer asks you for your phone number, you're likely looking at the latest malware to find its way onto OS X. According to Russian se- curity firm Dr. Web, a Trojan malware has been identified called Trojan.SMSSend.3666 that requests your mobile phone number in exchange for a promised activation code, but actually initiates automatic charges to your account should you be gullible enough to go along with it.
These Trojans can be attached to legitimate applications that would otherwise be avail- able without the need for SMS-based activation, the site points out, or even to junk pro- grams that do nothing at all. They're nothing new to Windows and Android users, but this is the first time that such malware has been identified on Mac.
Needless to say, if you find yourself presented with a request like this, you should exit the installer immediately. If you're trying to install an app you know to be legitimate, make sure you're downloading it from the developer's official site.
Click here for complete article.
---
Hands on with iTunes 11
by Dan Moren & Lex Friedman, MacWorld
Make no mistake: When you first launch iTunes 11, it's going to feel awfully different from the iTunes you've grown accustomed to. That's because it is awfully different, from many of the user interface choices right down to the brand new icon, which now even more strongly resembles that of the Mac App Store.
Edge-to-edge design
You can, if you desire, get the iTunes sidebar back. And it's back in color like the pre-iTunes 10 days, too.
The first thing you'll notice upon opening the new iTunes is that the sidebar—the one with links to your playlists, the iTunes Store, Books, Movies, Podcasts, and such—is gone. Apple describes the new look as an "edge-to-edge" design. Instead of using the sidebar, you rely on a dropdown for navigating between sections of the app, and a button at the upper right of the window takes you to the iTunes Store. But here's a quick spoiler: If you can't stand the dropdown approach, you can get the sidebar of old back. Go to the View menu and choose Show Sidebar. Bonus: The icons in the sidebar, which went to a faded grayscale in iTunes 10, regain their saturation in iTunes 11.
Another casualty of the "edge-to-edge" design is the status bar—you know, the one at the bottom that lists the number of songs in your library, or the current playlist, or what have you, along with how long it would take to play those songs and how much disk space they use. You can restore that as well with a trip to the View menu, by choosing Show Status Bar.
There's a host of new user interface conceits in iTunes 11, making it seem almost like a testbed for Apple's design. For example, the pop-up menus that appear when you click the black arrow button next to a song that you've selected feels more like something out of iOS than OS X. Clicking on a sub-menu item—Genius Suggestions, for example—doesn't pop-open a sub-menu, but rather slides into a separate screen. Likewise, clicking on an album in the Album view slides open a list of songs in that album that resembles the iTunes Store (and includes a button that lets you quickly toggle over to that album in the store, as well).
You'll see those pop-up menus all over, too. They don't just show up when you click on the caret that appears when you mouse over songs in iTunes; they show up when you use new features like the Up Next option (see below), or when you hold the mouse over the currently playing song in the Now Playing header.
Up Next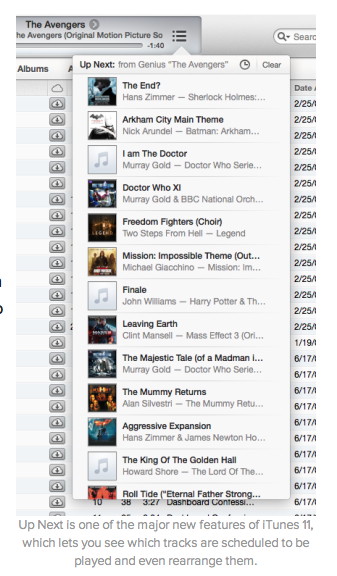 Up Next, accessible from an icon on the right edge of the header as well as the View menu, shows the next songs up in your queue. When it's open, you can see the songs iTunes intends to play next, remove the ones you don't want to hear, and reorder upcoming tunes as well. You can also click to see the most recently played songs.
You can click on the caret menu on an individual track and choose to add it to the Up Next list, or get more specific and specifically choose to play the chosen track next. You can also drag individual tracks to the Now Playing section to add it to the Up Next list.
Manually adding tracks to Up Next comes with an unusual caveat: When you do so, iTunes warns you if you try to switch playlists. Switching playlists, of course, means gaining a whole new set of songs to play "Up Next," so you'll see a dialog box prompting you to confirm whether you'd like to wipe out the current Up Next selection in favor of the new playlist you've selected. It's a confusing if understandable interruption; you're essentially saying yes, I want to play the songs I just said, not the songs I previously said I wanted to hear next. We expect this element of the iTunes 11 interface to evolve over time.
When you navigate to other playlists, you'll see a playlist-specific Play button. Press it, and the music will either start right away, or after you deal with the Up Next clarification dialog described above. If you hold down Option, the Play button becomes a Plus instead; clicking it now adds the contents of the selected playlist to Up Next.
Album view
When you click onto an album, you get an expanded view stylized to match the album cover. iTunes 11 pulls out a color from the album cover, and uses that as the background color, with the font colors tweaked to look readable atop that color.
The expanded album view offers two toggles on the right side: Songs and In The Store. The former lists all the tracks you own for the selected album. The latter view moves the tracks you own to the left edge of the screen, sliding in iTunes Store items to fill the rest of the screen: top songs and albums from the artist in question, and recommended songs based on your theoretical enjoyment of the album in question. Disappointingly, however, the In The Store section happily lists songs for purchase even when you already own them—even when they're listed directly adjacent on the track listing for the album you're looking at.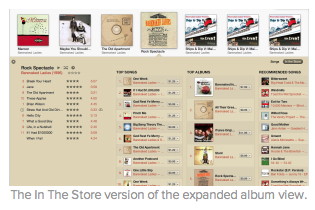 If you do see an item you're interested in owning, you can click to buy it without leaving the screen, or click to get more information from the iTunes Store. When you choose that latter option, though, there's no easy way to get back to the album view you were in before you entered the store; the Back button navigates only the store, and doesn't take you back to your music. When you click to go back to your music manually, the once-expanded album no longer is.
In earlier versions of iTunes, you could uncheck tracks as desired. Unchecked tracks could be skipped when shuffled, used in Smart Playlist creation, and such. That feature still exists in iTunes 11, with a tweak: In the expanded album view, you can't see the checkboxes, but unchecked songs will appear grayed out. That's mildly confusing, since such songs are still selectable, despite their gray appearance. (You can still toggle their checked or unchecked statuses via the Control-click/right-click contextual menu.)
When you're finished looking at the expanded album view, you can click on an embedded close button, click on a different album, or run from your computer screaming.
MiniPlayer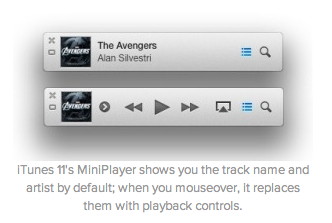 iTunes 11's MiniPlayer shows you the track name and artist by default; when you mouseover, it replaces them with playback controls.
Fans of the much neglected iTunes MiniPlayer have something to be psyched about in iTunes 11. The shrunken-size playback window is one of the marquee features of the new release; instead of being triggered by the green Zoom button, there's now a dedicated MiniPlayer button in the upper right-hand corner of the window. By default, clicking that causes the main iTunes window to disappear and be replaced by the MiniPlayer, but you can also view both windows simultaneously: While the main window is open, go to the Window menu and choose MiniPlayer.
You can also search your library and interact with the results right from the MiniPlayer window.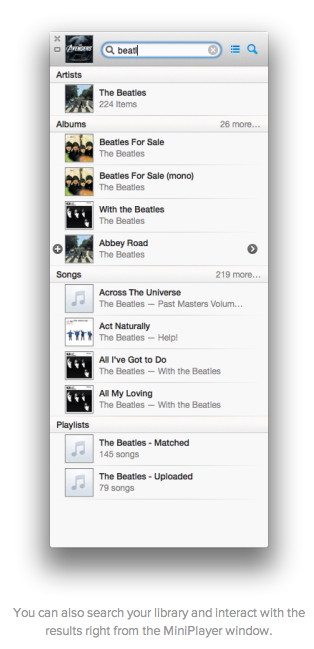 The MiniPlayer is far more functional than its predecessor, too. In its initial form, it displays the album art, track name, and artist, but as soon as you mouse over the window, it'll switch to showing you playback controls: Previous Track, Play/Pause, and Next Track. There's also an AirPlay speaker control, and a caret menu that lets you rate tracks, view them in the store, and more.
In addition, the MiniPlayer gives you constant access to the Up Next feature, as well as an integrated search feature. Click the magnifying glass icon and you'll get a search field; enter a term in it, and you'll get a list of matching items, displayed right in the MiniPlayer window. You can navigate through these via the keyboard for the most part, but sometimes you'll need to use your mouse to show results beyond the initial few.
At any time you can dismiss the MiniPlayer by hitting the x button in its top left corner, or toggle back to the full main window by clicking the rectangular icon below it. You can also opt to have the MiniPlayer always float above all other windows by checking an option in the Advanced tab of Settings.
TV, movies, and streaming
Perhaps the most significant feature in iTunes 11—one that we can't help but feel optimistic about because of its potential future impact—is its new support for streaming video content from iCloud. (This applies to podcasts and even music, too.)
Any content you purchase from the iTunes Store should appear playable (in the appropriate view), even if you haven't downloaded it to (or have removed it from) your computer. That means that, for the first time, you can use iTunes to stream movies and TV shows that you've purchased, without downloading them first.
Playing back purchased video no longer requires a download in iTunes 11. Anything you've bought from the iTunes Store can be streamed directly to your computer.
For music, this essentially functions as a pseudo (and very basic) iTunes Match implementation: You can stream songs that you purchased from the iTunes Store, even if they're not on your computer.
What's more, Apple says that iTunes will now sync your place in movies and TV shows: If you start playing them on your Mac and pause playback, you can then switch to your iPad and pick up the video from right where you left off. In our early testing, that doesn't seem to work yet.
By the way, if you're looking for your music videos in iTunes 11, you'll need to check the Music section, and then click on the Videos tab therein.
Store
As with iOS 6, Apple's given the iTunes Store a bit of a makeover in iTunes 11. The category bar has been rearranged, and there's a new Preview History feature, which lets you browse through all the media which you've previewed in the iTunes Store. That way, you can quickly re-preview any media again, or even buy that song that you previewed three days ago. You can also clear the list at any time, if you like.
The storefront itself now more closely resembles what you'll see on the iPad, with an automatically cycling Cover Flow-style carousel of highlighted items.
Syncing
You'll still use iTunes 11 for syncing your iOS devices (and traditional iPods). While the process remains the same, the visuals involved have scored a bit of an overhaul. The Summary and Info tabs get noticeable layout tweaks, and the Apps tab gives the app organization process a small redesign. Again, there's no real usability difference, but Apple's designers have done some redecorating.
When your iOS device or iPod is connected, you'll either see it in the iTunes sidebar (if you reenable it), or as a button on the upper right of the iTunes window, next to the Store button. Bizarrely, there's a second button—a button on the button, if you will—for ejecting the connected device.
With your device connected, you'll see an "On this [iPad/iPhone/iPod]" tab as you look at it in iTunes. Clicking that device shows a breakdown of all the data on your device, and even lets you play the music or videos stored on it. If you click on the Add To button, iTunes 11 switches you back to a view of your library; you can drag music, videos, and other content onto your connected device, which appears in a new pane along the right side. (This won't work properly if you have iTunes Match enabled. You can drag, but nothing happens—not even an error message explaining what's wrong.)
Miscellaneous notes
One clever new addition that might go unnoticed is the ability to redeem iTunes gift cards using the camera on your computer. Click on your account name in the iTunes Store, choose Redeem, and click the Use Camera button. Hold your card up to the camera, and it'll automatically detect the code from it, in a sort of Terminator-style camera mode.
The search window's gotten a bit of revamp as well. Unlike the previous version, which limited your search to whichever type of media you were currently viewing, the new search gives you results from across your library. So, for example, you could be viewing movies, type the name of a song in, and it would display the match from your music collection. You can also move the cursor to the search field by using Command-F, which in iTunes 10 activated full-screen mode. (To use full-screen mode in iTunes 11, Command-Control-F or click the full-screen button in the top right corner.)
If you turn on Full Keyboard Access in System Preferences (under Keyboard), note that you can now switch through the previous, play/pause, next, AirPlay, and other buttons with the tab key. In our experience, that occasionally meant that we accidentally ended up restarting a track when we tried to use the spacebar to pause, because that button had become tab-selected.
There's been a slight overhaul to the Books section of iTunes in the new version. At the top you'll now see categories for Audiobooks, Books, PDFs, and Authors. This lets you quickly toggle between these various types of media, and also seems to provide an easier way to view PDFs synced from iTunes to your iOS devices.
Some views in iTunes 11 seem oddly truncated. The Videos list under the Music section, for example, lists all the music videos available in our libraries, but with all of their titles abruptly cut off to fit on one line.
Click here for complete article.
---
Deeper takes you deeper
by Robert Elphick, MAGIC
THere are many variables in the Mac OS that are not made available to the user by Apple. Many of these can be accessed by third party develops including Titanium Software, the maker of Onyx. Deeper is a personalization utility for Mac OS X which allows you to enable and disable the hidden functions of the Finder, Dock, QuickTime, Safari, iTunes, login window, Spotlight, and many of Apple's applications, and more.

The application presents a tool bar as seen above. Each of the options in the toolbar produce a page of possible variables that can be tweaked by the user to change either it look or its behaviour.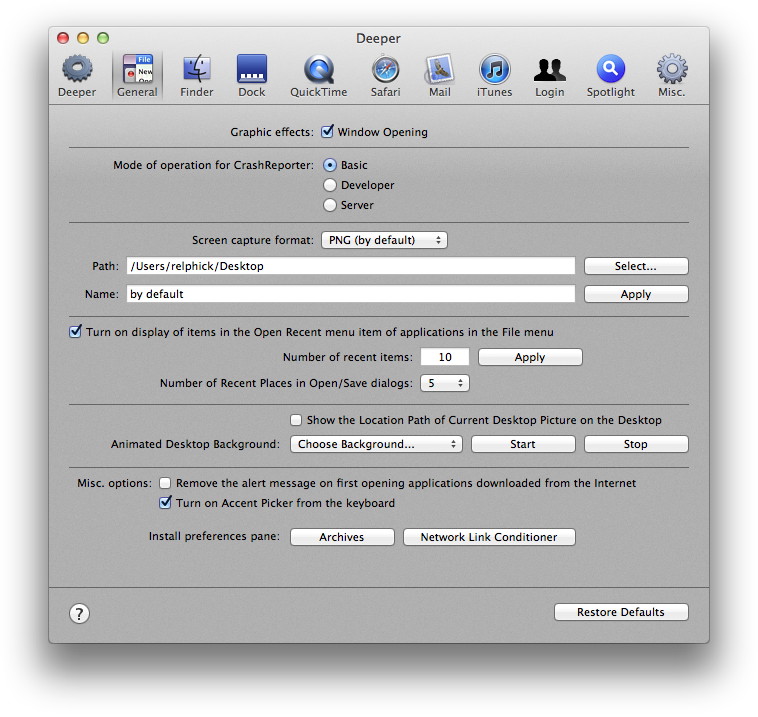 Try it out in your spare time. And do not forget to run Onyx once a month!
---
iPhones, iPods, and iPads
There Can Be Only One (Maps App)...Or Can There?
by Michael Burl, smalldog.com
As of yesterday, Google has released their latest incarnation of Google Maps for iOS! Everyone who hated Apple Maps can now breathe a sigh of relief and navigate their way out of the lake they mistakenly drove into while blindly following Apple Maps.
A few key things to point out. We will be doing a more in-depth review of this app once we get around to using it more. However, first impressions seem good. It looks like Google maps on my computer, it will find my location if I have cell service, and I can find a variety of places that I might be traveling to. It has turn-by-turn navigation and voiceover guidance. Some mighty neat features, but the true test will be if things are not where they are supposed to be, as was the complaint with Apple Maps. I doubt there will be, since Google is most likely pooling their map data from their existing map database, but at this time I can't confirm or deny that.
For those interested, you can find the app here. (It's free!) I recommend trying it out while you're traveling about this holiday season and let us know if you find any inconsistencies.
Click here for complete article.
---
Starter apps for your new iPhone
by Macworld Staff, macworld.com
Congratulations on unwrapping your brand-new iPhone! Undoubtedly, you've already fired up the device and are eagerly exploring what the phone has to offer. Now that you've learned your way around a bit, it's time to load your iPhone up with apps, both fun and functional. Although the iPhone comes preloaded with a handful of Apple's own apps, you have thousands upon thousands of third-party apps to choose from in the App Store. Sorting through the lists can be an overwhelming task, so here are a few suggestions to help get you started. With these excellent apps, you can make the most of your iPhone and really show off its capabilities.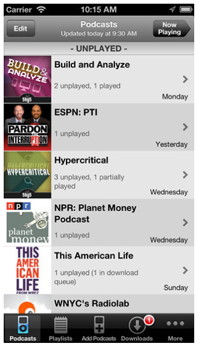 Downcast
Recently, Apple released a stand-alone app for managing podcasts, separating the podcast-listening experience from the iPhone's Music app. While the Podcasts app is good, Downcast ($2 in the App Store) is even better. Downcast lets you easily search for and subscribe to podcasts directly from your device. The app also allows you to create playlists, so you can arrange to listen to, say, Radiolab right after This American Life without too much toggling. And—as is standard these days—the audio can play in the background while you use other applications. You can also share your listening habits with Facebook and Twitter friends. Downcast stands out due to its simple navigation and iCloud integration—if you have an iPad or another iOS device, you can use iCloud to sync episodes, podcast subscriptions, and playlists between devices.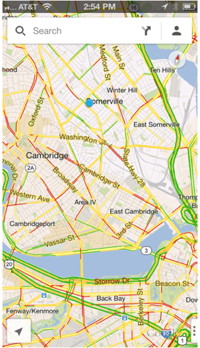 Google Maps
Since Apple's native map app still has some flaws to work around, consider adding another map tool to your app collection. Google Maps for iPhone (free in the App Store) is a very good mapping application that returns some much-missed features to the platform. Before the launch of iOS 6, Google Maps used to be the iPhone's default map app; now users must install it separately. Launch Google Maps and tap the arrow in the bottom-left corner to find your location, and then navigate through the map using the familiar swipe, pinch-to-zoom, and two-finger rotate gestures you use in countless other apps. Type in an address or landmark in the Search bar at the top of the screen to find and get directions to that location. You can show traffic, or you can view the map in a traditional view, in a satellite view, or through Google Earth (if you have that app installed). Another beloved feature is the option to get directions for driving, walking, or public transit, which is a real lifesaver when you're exploring unfamiliar territory.
Camera+
When it comes to taking quality iPhone photos, there's no bigger name than Camera+ ($1 in the App Store)—and for good reason. Camera+ helps you make the most of your iPhone's built-in camera, giving you even more reasons to ditch your stand-alone point-and-shoot. The app features four shooting modes as well as separate exposure and focus locks; it also lets you use the iPhone's flash as a continuous light source to brighten a scene. But what makes Camera+ so addictive are its simple and effective editing options: You can immediately enhance your images by choosing photo scenes (such as Food or Portrait), cropping, adding borders, and trying out fun retro effects.
Yelp
For finding nearby points of interest, Yelp (free in the App Store) is a must-have. Use the website's app to read reviews of restaurants, bars, museums and attractions, shops, salons, coffee shops, dentist's offices—you name it. If you have a Yelp account, you can check in to a location and post reviews or photos straight from the app. Yelp lets you bookmark hotspots to investigate later, and you can also connect with other Yelp users and follow their check-ins.
Zite
Zite (free in the App Store) surveys your Facebook and Twitter feeds to pull together stories on topics that the app thinks will interest you, and it stands out from the rest of the news-aggregator crowd thanks to an elegant design. The app also learns your preferences through remembering the stories you consume and which stories you rate with a thumbs-up or thumbs-down. The latest version of Zite shows off a refreshed interface that makes the app much more fluid to navigate, and its Explore feature introduces you to new content. Plenty of apps promise a similar experience, but Zite delicately balances personalized content with top-notch design.
Facebook
If you're one of the 1 billion people who use Facebook, you should download Facebook for iOS (free in the App Store). The app presents your News Feed posts in an easily scrollable, well, feed. Tap a post to view Likes and Comments (which are hidden by default), or add a Like or Comment of your own. Three buttons on the top let you quickly update your status, post a photo, or check in to a location. You can see which friends of yours are active by tapping the icon in the top-right corner (or by swiping to the left), and you can access your own profile, Favorites, Pages, Groups, and other settings by tapping the icon in the top-left corner (or by swiping to the right). If you always want to stay in the Facebook loop, enable Push Notifications to have your iPhone ping you when your friends share content with you.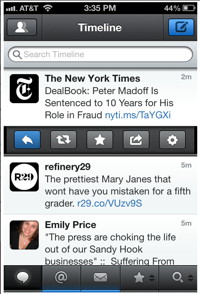 Tweetbot
Tweetbot ($3 in the App Store) is an excellent Twitter client for the iPhone.The app's unique interface and brilliantly implemented gesture support make it not just a powerful tool for reading and posting tweets, but a fun one, too. Swipe to the right on a tweet to see the full conversation surrounding it; swipe to the left to see replies sent to it. Tap and hold—on a tweet, a hashtag, a username, or a link—to expose contextual options related to that element. With support for services such as Tweet Marker (for keeping you in sync with your device or desktop Twitter client), Instapaper, and more, it's a full-featured Twitter app that's a delight to use.
Letterpress
The App Store offers oodles of asynchronous one-on-one word games, but Letterpress (free in the App Store), with its innovative gameplay, stands out. There's an element of Words With Friends, in the sense that you want to find the best words you can make with the available tiles, but Letterpress adds Risk-like strategy to the mix. To win, you must carefully take control of the board: Tiles turn blue when you use them, but your opponent can turn them pink by using them on his or her turn; only tactical tile usage can lock certain tiles to your color. When all tiles are claimed, the player with the most tiles wins. Letterpress is the rare word game where a mastery of vocabulary doesn't guarantee success, because you must master the strategy, too.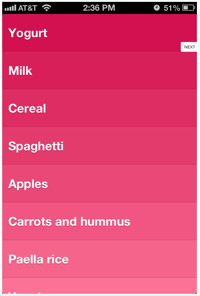 Clear
Clear ($2 in the App Store) is the rare task manager that focuses on one simple thing: lists. That may not sound exciting, but Clear's eye-popping design and effective use of iOS's gestures make the app a delight to use. In fact, if this is your first iPhone, you can use Clear to learn all about iOS's native gestures. There's no location-aware reminders; there aren't even due dates or notifications. (You can, however, sync Clear to its recently released desktop companion app or between devices via iCloud.) But it does its one trick—adding as many different lists as you'd like—really well. When you're in a list, you can add a new item by dragging down the top one, tapping underneath the last one, or doing a reverse-pinch between two others. You swipe right to delete an item, and left to mark it as done. What really makes Clear stand out is its use of color: Items are in deeper shades at the top and get lighter as the list continues, to indicate priority. This simple scheme gets the job done, with style.
Pocket
Sometimes, you would rather read a lengthy article on your computer screen than on your iPhone. Just as often, though, you might find that you'd like to load up your iPhone with some longer content from the Web so that you can read it, say, during the bus ride home. Several iPhone apps aim to help you achieve those two dovetailing goals; one such app is Pocket (free in the App Store), a great tool for saving websites to read later. If you save a mix of content from the Web, the app allows you to tap between your saved videos, images, and articles, so that you can focus on whichever kind of content you wish to consume. Several other services, such as Facebook, Reeder, Tweetbot, Twitter, and Zite, let you share stories with Pocket from within their apps. You'll need an account at getpocket.com to make everything work, but the account is free and painless to set up. The website also offers a couple of bookmarklets that you can add to your favorite browser, so that on any webpage you can click 'Pocket' to add that page to your list.
Click here for complete article.
---
By The Way
Where did that document save to?*
by Ron Sharp, MAGIC
When saving a document, I sometimes click on the save button before I check to see where the document is being saved to. Then I usually just start typing the name into Spotlight to find it and put it in whichever folder I prefer. The save procedure saves documents to the last folder selected but it's easy to choose one of the other folders listed or click on the little triangle for more options.
However, in Mountain Lion, the default location that documents get saved to is not the last folder chosen but always iCloud. And the little triangle is dimmed out, not available until you choose one of the listed folders first. Then you can click the triangle and find the folder you really want to save to. Unless you regularly use iCloud, it's annoying.
Here is a fix to change the default to "On My Mac" rather than iCloud. It involves using the Terminal application but it's easy.
Find Terminal in the Utilities folder, normally found in the Applications folder. Open Terminal and then copy and paste this command:
defaults write NSGlobalDomain NSDocumentSaveNewDocumentsToCloud -bool false
Then quit Terminal.
To change this back to the default, run this command:
defaults write NSGlobalDomain NSDocumentSaveNewDocumentsToCloud -bool true
---
Some interesting websites*
by Ron Sharp, MAGIC

Short video on how the internet works.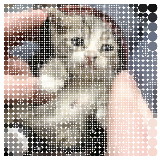 Fun useless website
---
Cartoons*
from our humor Corespondent
In Memory: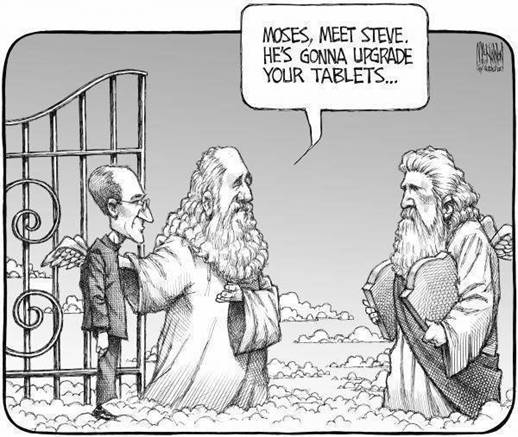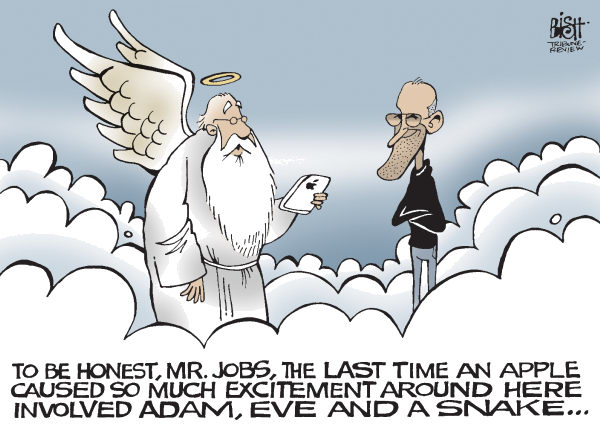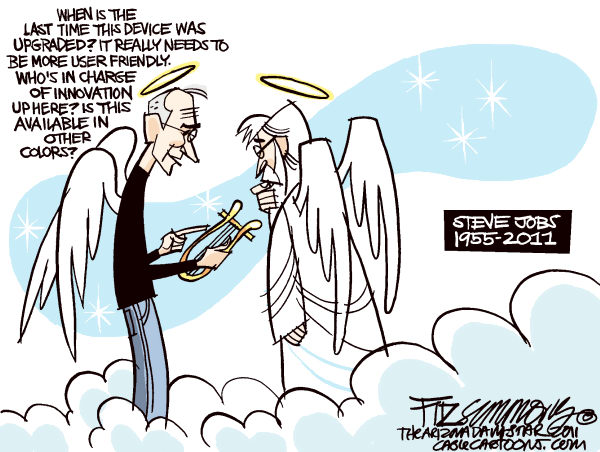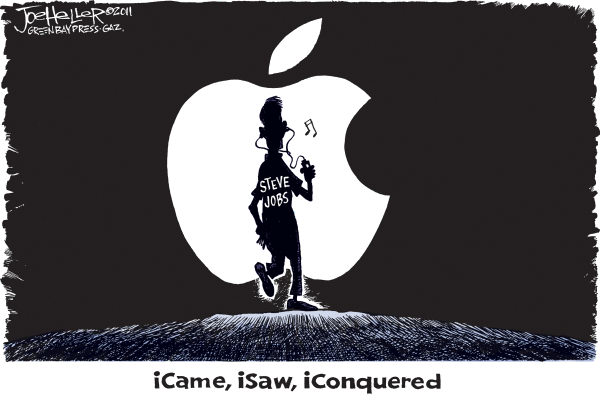 ---
MAGIC, the Macintosh Appreciation Group of Island County, serves people who use Macintosh computers, software and peripherals. Our goal is to share information and get answers to questions to make us more productive with our use of technology. Our monthly meetings give us a chance to discuss computer problems and share ideas with other Mac users, feature speakers on specific topics, and to keep apprised of Apple news.