Newsletter
February 2013
Newsletter Editor:
In This Issue:
MAGIC MUG News
Software Updates
Macintosh News, Information and Stories
iPhones, iPods, and iPads
By The Way
* Indicates author is a member of MAGIC
---
Meeting information
Day:
The 3rd Wednesday of the month. 20 February 2013 this Month
Location:
Unitarian Universal Congregation of Whidbey Island (see map.)
Time:
4:00 p.m. - 6:00 p.m. with the first hour dedicated to new users and their questions.
Presentations:
•Apple Q & A
•Clouds - especially iCloud and Drop Box.
Future Meetings: (subject to change)
See the Meetings Page on this website.
Do not forget to bring your used ink cartridges.
MAGIC will dispose of them for you and make some change for the group.
---
Minutes of the January 16, 2013 Meeting
by Penny Holland, Secretary
The January MAGIC meeting took place at the Unitarian Congregation Meeting House of Freeland, and was called to order at 4:05 by Robert Elphick. Approximately 25 people were in attendance.
Announcements
The annual business meeting has been postponed until February, but there were several announcements.
Robert showed an application that eliminates iPhoto duplicates. It's called Duplicate Annihilator and can be found at http://brattoo.com/propaganda/. This program will sort 500 photos for free or as many as you wish for $7.95.
Java rumors have been rampant lately. For most people, it's best to turn Java off, as it's an antiquated language that's not commonly used any longer. (Note: do NOT turn off JavaScript, as it is totally different and essential.) There are two places where you need to turn Java off: 1) in your browser. Look in Safari Preference->Security and uncheck the box that says ENABLE JAVA. Also in Finder: Go->Utilities->Java Preferences and Make sure that no Java shows. Any that do show need to be unchecked.
In Treasurer Bonnie Abney's absence, Penny Holland reported that we currently have $7,498.05 in our bank account.
Regarding our ongoing classes, Robert just finished teaching a 2 day iPhoto class yesterday. The next Mac Essentials class is a series of 5 consecutive Saturdays from 2:00 to 5:00 PM beginning on February 2. Penny announced that we need new helpers for the classes. Several people expressed interest in possibly helping.
An hour long Q&A session was led by Robert Elphick. Some questions posed had to do with adding memory to an iPad, changing the name of a document on the desktop, attaching a hidden document to an email message using the search window (OPTION + COMMAND + SPACEBAR in Lion and above) to find it first, deleting emails on an iPad, and using a POP email account to retain emails, adding more information to the Notes section of a contact card, archiving data, such as contacts, before deleting them from iCloud, using QuickTime to create a smaller sized movie appropriate for emailing, and a problem with a Cinema Display after upgrading to Lion.
Presentation
Tonight's presentation was given by Susan Prescott, who demonstrated ways of Networking computers and printers in your home. She brought in two MacBookPros, along with a Canon Printer with Wifi and also used an HP printer connected to her computer.
To share among home devices, she said you don't necessarily need an AirPort Extreme device. Prescott went to the Apple website support and selected network sharing, where there is a long list of choices that you can select, according to your own setup.
Prescott and Robert then proceeded to share various functions between their two computers. You must first make sure you have wifi turned ON on all computers you wish to share between. Then using System Prefs->Sharing to control what can be shared from each computer. They demonstrated how to turn on or off various services e.g. DVD sharing, screen sharing, file sharing, printer sharing, etc. For each of these choices you may allow access for ALL users, or just for specific users. To view and control another computer's screen, be sure screen sharing is ON. You may also choose what folders will be shared under file sharing, and change permissions in the right hand column for each user to read/write, etc. Make use of the + and - button to add or delete folders to be shared.
To view the other computer, in the Finder use the menu Go->Network pull down menu to enable you to see the other's screen and accessible files. If you have the IP address, this sharing can be done remotely, such as Robert's example of helping somebody from his home.
To use another computer's printer, select a document and choose PRINT. Then look at the list of printers and select one of the desired connected printers. This evening the print sharing worked with the printer that was connected by wire to Susan's printer. Printing to the wireless printer at Susan's computer provided some difficulties. In this case, Robert needed to download the Canon printer driver so that he could be allowed to print via wifi from his Mac to Prescott's wifi printer. Unfortunately the driver did not get downloaded in time.
The meeting was adjourned at 6:00 by Robert Elphick.
---
MAGIC Moments
by RYE
Presentations
We need to establish a calendar of Presentations for the remainder of the year. Members are invited to send in requests for presentations. Better still, offers to present something of interest. While some presentations last an hour, we are also happy to merge several small presentations together for one of our meetings. Got a 10 minute 'quicky'? send it in!
Send it your thoughts, ideas, requests, and offers to Prescott at
Classes
The iPhoto class on January 14th & 15th was once again completely filled. Since this has been a very popular class we will probably run it again in the summer.
I am receiving requests to run an iMovie class. This is a bigger subject so is likely to be a four or five day class. How many of you would be up to doing this later in the year? When would be best for you (assuming that it would have to be in the afternoons)? Let me know at
The Mac Essentials class began on 2 February 2013. It will continue until the beginning of March
Board of Directors meeting
On January 19 2013, the MAGIC Board of Directors met. Main subjects of discussion included:
Education - Some improvements in the way current classes are run were suggested and have been implemented. In addition we discussed the possibility of running the classes with paid personnel instead of the current all volunteer system. Several board members will look into the legal, financial and other implications of this before any changes are made.
The website - The website has been around for a while and should be upgraded to HTML 5. This could also be an opportunity to review the material and the design of the website.
Newsletter - Much discussion was given to making the newsletter easier to manage. Also to whether adding a blog to the newsletter/website would be worthwhile.
Mentors - Streamlining the Mentor program and tracking its activity was discussed.
Misc. - Managing upcoming presentations at monthly meetings is an ongoing challenge that needs further attention.

A gift from Penny Holland
For anyone who did not understand this last month - it is an eye-pod!
Newsletter Upgrade
The new format of clicking "continue reading" to continue reading the whole article has been implemented to save both the MAGIC webmaster, Robert, and the Editor, Ron, a lot of time.
These articles tend to be the really long ones that only some members will want to read fully. Now the newsletter should be a little shorter and also save us a bunch of work. Do you know how many hours we spend putting it together? However all the information is still there - if you are willing to click on a link to get it all.
Let us know what you think of it.
SOFTWARE UPDATES
Note: This Software Update section of the newsletter lists the most relevant Apple updates. Not all updates are listed for all products. Additionally, I'll add other pertinent updates on occasion.
Apple releases iOS 6.1 update
by Dan Moren, macworld.com
Get ready to reboot all your iOS devices. Apple on Jan 28 released iOS 6.1, the latest update to its mobile operating system. The 6.1 update includes a number of minor changes to the software.
Most prominently, Apple says that the update brings LTE compatibility to 36 new iPhone carriers and 23 new iPad carriers around the world, allowing users of compatible devices—specifically, the iPhone 5, fourth-generation iPads, and iPad mini—to take advantage of the faster wireless speeds.
In addition to the LTE upgrades, Apple also tweaked two of its services: iTunes Match and Siri. Users of iOS 6 who were disappointed by the removal of the ability to download individual songs to their iOS device will be utterly delighted to find that it's been restored as of this update. And Siri's picked up a welcome new skill: You can now use Apple's virtual assistant to purchase movie tickets via Fandango. That feature's only available in the U.S., however, and requires that you have the app installed - if you don't, Siri will prompt you to do so, much as it does with OpenTable.
Passbook gets a slight tweak as well: The introductory screen that lets you visit the App Store's selection of Passbook-enabled software is now its own "pass," meaning it doesn't disappear once you add your first digital pass. That way, you can always have access to the App Store collection. (You can, however, delete the pass like any other, if you prefer.)
Lastly—but presumably not leastly—there's also a new button that lets you reset the Advertising Identifier, which you can find under Settings -> General -> About -> Advertising. What is the Advertising Identifier? Apple's glad you asked:
iOS 6 introduces the Advertising Identifier, a non-permanent, non-personal, device identifier, that apps will use to give you more control over advertisers' ability to use tracking methods. You can reset a device's Advertising Identifier at any time. And, if you choose to limit ad tracking, apps are not permitted to use the Advertising Identifier to serve you targeted ads. In the future all apps will be required to use the Advertising Identifier. However, until then you may still receive targeted ads.
Apple's also included a variety of security fixes in version 6.1, including for WebKit, Wi-Fi, and other services. To update your device to iOS 6.1, navigate to Settings -> General -> Software Update and tap Download and Install.
Click here for complete article.
---
AirPort Utility 6.2 for Mac
from apple.com
Use AirPort Utility to set up and manage your Wi-Fi network and 802.11n AirPort base stations, including AirPort Express, AirPort Extreme, and Time Capsule. AirPort Utility 6.2 contains improvements and bug fixes, including:
The ability to extend the Guest Wi-Fi network on a network that is configured with multiple AirPort Base Stations
The ability to add a WPS-capable Wi-Fi printer
Improved international support
For the latest information on AirPort software, check Software Update in System Preferences or the Apple Support Downloads website.
---
AirPort Base Station and Time Capsule Firmware Update 7.6.3
from apple.com
This update is for all 802.11n AirPort Express, 802.11n AirPort Extreme and Time Capsule models. This update contains improvements and bug fixes, including:
Extend the Guest Wi-Fi network for a network configured with multiple AirPort Base Stations
Ability to add a WPS capable Wi-Fi printer
Support for additional countries
It is recommended that AirPort Utility 5.6 or later be installed before updating to Firmware version 7.6.3. Configuring the extended Guest network requires AirPort Utility 6.2 and Mac OS X Lion v10.7.5 or later.

Note: This firmware update is for all 802.11n capable AirPort base stations and Time Capsules.

Wizard comment: Be sure to first make sure you have version 6.2 of Airpot Utility in your Utility Folder (in the Applications Folder) and then double click on it - this will allow you to check the firmware you have on your Airport Extreme(s) and update them if necessary.

For detailed information on AirPort base station and Time Capsule firmware updates, including instructions how to install the update, please visit: All about Time Capsule, AirPort Extreme, and AirPort Express base station firmware updates.

For more information on using AirPort Extreme or AirPort Express with your Internet account, contact your ISP or go to the AppleCare Knowledge Base at: http://www.apple.com/support/airport

For information on the security content of this update, please visit: http://support.apple.com/kb/HT1222>/a>

Click here for complete article.
---
Java for Mac OS X 10.6 Update 12
from apple.com
Java for Mac OS X 10.6 Update 12 delivers improved security, reliability, and compatibility by updating Java SE 6 to 1.6.0_39.
On systems that have not already installed Java for Mac OS X 10.6 update 9 or later, this update will configure web browsers to not automatically run Java applets. Java applets may be re-enabled by clicking the region labeled "Inactive plug-in" on a web page. If no applets have been run for an extended period of time, the Java web plug-in will deactivate. Please quit any web browsers and Java applications before installing this update. See this page for more details about this update.

This Update from Apple at press time:

About Java for Mac OS X v10.6 Update 12

Summary

Java for Mac OS X v10.6 Update 12 delivers improved security, reliability, and compatibility for Java SE 6. Java for Mac OS X v10.6 Update 12 supersedes all previous versions of Java for Mac OS X v10.6.

Products Affected

Java

This release updates the Apple-provided system Java SE 6 to version 1.6.0_39 for Mac OS X v10.6.

On systems that have not already installed Java for Mac OS X 10.6 update 9 or later, this update will configure web browsers to not automatically run Java applets. You may re-enable Java applets by clicking the region labeled "Inactive plug-in" on a webpage. If no applets have been run for an extended period of time, the Java web plug-in will deactivate.

Wizard Advice: We are still recommending that you turn off Java unless you have an applications that really needs it (most of us do NOT). Java was one of those good ideas that never panned out and is now dying a natural death, especially since bad guys have learned how to use it to get onto your computer and do mischief. Use the application Java Preferences in the Utilities folder (in the Applications folder) to remove Java from your computer.
---
News, Info and Stories
EasyWeb promises a replacement for iWeb
by Joel Mathis, macworld.com
Apple's iWeb publishing software rode off into the sunset last year, but the guys at Rage Software are convinced the world is still looking for a suitable replacement. Coming soon is EasyWeb, which they say will help users create their own Web pages just as effectively as Apple's now-shuttered Web service—and just as easily.
"We've had iWeb clients begging us to come up with this," said Rage's Paul Levine, who previously developered add-ons for iWeb, and knew a number of the service's dedicated users. "A lot of people didn't realize how popular iWeb was."
The EasyWeb service is still in beta testing—it only has a Facebook page, and Rage Software only announced the product right before the opening of Macworld/iWorld. But a quick demonstration of EasyWeb certainly looked like it was worthy of the name: Users start out with predesigned templates, then customize them by dragging and dropping in elements—like menus, image galleries, social media buttons and more—at the user's discretion.
After the page is create, Levine said, users will have access to "one-click" publishing; Rage offers web hosting starting at $5 a month. EasyWeb should be available to the public "within a month or two."
Click here for complete article.
---
Apple TV emerges from the shadows
by Agam Shah, macworld.com
Apple TV was until now considered a "hobby," by Apple's own admission, but the product has taken on more importance for CEO Tim Cook.
Shipments for the Apple TV video-streaming box totaled 2 million units during the first quarter of 2013, growing by more than 60 percent year over year.
"We sold more last quarter than we did ever before," Cook said during a conference call on Wednesday to discuss quarterly earnings.
The Apple TV set-top box streams movies and music from the cloud and from other devices such as the iPhone and iPad. There have been rumors surrounding Apple's development of a TV set. The speculation gained steam after a mention in Walter Isaacson's biography of Steve Jobs that Jobs had discussed making an easy-to-use TV set that could sync with other devices and Apple's iCloud service.
During the earnings call, a financial analyst asked Cook about the importance of Apple TV to the company, and whether a TV set was under development.
Cook did not say whether a TV set or an update to the set-top box was under development. But he said what was once a product for a niche audience now has a "much larger number that love it."
The TV area is of a lot of interest to Apple, Cook said.
"I tend to believe that there is a lot we can contribute to this space," Cook said. "I don't want to be more specific."
Cook has expressed dismay with the current TV watching experience. In an interview with NBC News last year, he said that when he turns on the TV, he feels like he has "gone backwards in time by 20 to 30 years."
Click here for complete article.
---
Fission 2 is a powerful but easy-to-use audio editor
by Kirk McElhearn, macworld.com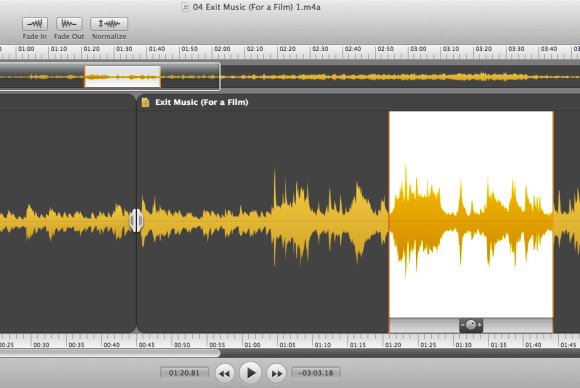 For years, Rogue Amoeba's Fission has been my go-to tool for manipulating audio files. Whenever I need to trim songs, splice tracks, edit voice recordings, fade tracks in or out, or create ringtones, Fission has been simple and efficient—once you've mastered the basics, you can do any of these tasks and more.
A big update, Fission 2, has been a long time coming, but it was worth the wait. In addition to an attractive new interface—with two themes, one dark and one light—it now supports FLAC files, and can convert files, alone or in batches, to and from any of the formats it supports: AAC, MP3,
Wizard words: A free demo of this product is available, the full version is $32. Also consider Audacity, freeware at this website.
---
Ron's iTunes Radio Streaming notes*
by Ron Sharp, MAGIC
Last month's newsletter included an article on using iTunes 11. The December newsletter had and article on using iTunes with iOS. This month I'll get you into internet radio.
With iTunes 11 I use the "Show Sidebar" under the View menu because I still like that layout of past iTunes. Selecting "Music" under the Library list shows the subcategory tabs across the top of the window: Songs, Albums, Artist, Genres, and Radio. I usually use the Songs view for music because I like the list rather than seeing the album covers. But if you select Radio, you get endless choices of internet radio stations. In the list of genres, click the small triangle/arrow next to the genre for a full list. For instance, clicking the arrow next to the Ambient genre, I get 191 streams. It's amusing to read through the list, names like Air Lounge, Ambient Sleeping Pill, Chillout FM, Janga Radio, Seasalt Radio, Powerstation Buddha. There's even a station called Brazillian Birds. If you have "Comments" selected in the "View Options" you'll see the comment for each, like "A sound trip through the Brazillian nature," for Brazillian Birds radio.
If you're a real audio file and only want the highest bit rate music, then click the Bit Rate box in the View Options menu, (command J) to show the bit rate column. Then click on the top of your window in the column labeled "Bit Rate" and the music will be sorted accordingly, highest to lowest, or click again to reverse. Click back on the column labeled "Stream" to view alphabetically by radio stream.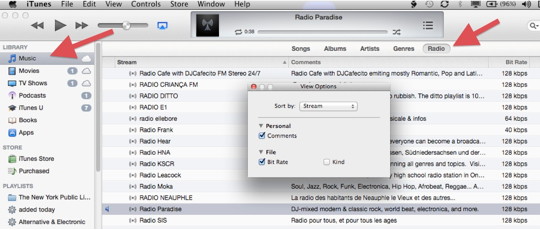 You can also create a new playlist and drag all your favorite radio streams to the new playlist. If you find an internet radio station website that doesn't automatically play in iTunes then just copy the URL and in iTunes click "Open Stream" from the File menu and paste the URL.
And if you use an Apple router connected to your home stereo system you can stream the music from your computer. It may even be worth it to buy an Airport Express just to dedicate to your music.
Here are few recommendations to sample: In the Eclectic Genre, WUMB-Folk Radio, Folk'n'Roll, and Radio Paradise. For the Jazz genre; Jazz 24, and don't forget KWPA Whidbey AIR in the News/Talk Radio genre.
I like piano music so in the Classical genre I might choose Solo Piano- SKY.fm but if you have a classical favorite already let me know. Because the only real difficulty with internet radio is choosing a station from the endless lists of tuneful titles.
Also, you might be interested in an app for playing online radio on your iPhone, iPod touch, and iPad. The Online Free Radio app requires iOS 5.0 or later.
---
5 Quick Fixes to Common Mac Problems
by Jordan Merrick, macworld.com
As Mac users we're used to not having to frequently troubleshoot our computer problems. However, that doesn't mean that our Macs don't misbehave from time to time. In this first of a two-part tutorial, we'll detail five quick fixes to your Mac's most common problems.
What's a quick fix? It's exactly what it sounds like - it's something that is very simple (usually a key combination or quick command) that is the first attempt by technicians to repair a problem quickly and simply. In tech support, time is a crucial factor for both technician and user.....
---
How to sign Digital Documents
by Christopher Breen, macworld.com

Reader Isabel Lorenzo has been asked to sign on the dotted line. She writes:
I've received some electronic documents that I'm supposed to sign. I could print and sign them and mail them back, but I've heard there's a way to sign them right on my Mac. Do you know how it's done?
You have a couple of options, Isabel. If you're running Mac OS X Lion or later, you can take advantage of Preview's Signature feature. Alternatively, you can use Adobe's Acrobat Reader. We'll start with Preview.
Preview
Launch Preview, open its preferences, and select the Signatures tab. Click the plus (+) button at the bottom of the window. A Signature Capture window will appear and your Mac's camera will light up.
---
IDrive offers online backup and cloud-based syncing services
by Lex Friedman, macworld.com
In its first year on the Macworld/iWorld show floor, IDrive told a compelling story about its cloud-based services. In fact, IDrive offers a pair of services: The core IDrive product is an online backup solution, and IDrive Sync provides Dropbox-style intra-Mac file syncing.
IDrive, the online backup service, is a true archival offering. That is, when you delete your files from your Mac, IDrive holds onto them—optionally, forever. Some of the company's competitors only archive such files for a finite window, like 30 days, before removing them.
You can sign up for a free IDrive plan with 5GB of storage. For $5 per month (or $50 per year), you get 150GB of storage; for $15 per month or $150 per year, you get 500GB. Archived files count against that quota, so you get the option to delete archived files that are gobbling up too much of your storage space. The company offers business storage plans, too.
Should you lose everything, IDrive will ship you a 1TB drive with all your data. If you ship the drive back at your expense, there's no fee for the service. If you choose to, you can instead keep the drive for $100.
IDrive Sync works an awful lot like Dropbox, complete with a menubar icon, and superimposed icons in the Finder that indicate whether a specific file or subfolder has been saved successfully to IDrive Sync or not. You can get 10GB of storage for free, which compares impressively to Dropbox's free 2GB storage offering. For $5 per month, you get 150GB of storage. The company claims that IDrive Sync is 31.3 percent faster than the average sync speed of its competitors.
Click here for complete article.
Wizard words: The usual caveat - NOTHING is safe in any cloud. You must weigh the convenience against the risk. Look at encrypting any data BEFORE you put it in the cloud no matter who runs the particular cloud you are considering.
---
Look this Gift Horse in the Mouth
by Liam Flynn, smalldog.com
Free Wi-Fi is great. It seems like the last few years have seen an explosion in Wi-Fi coverage. At this point, there are even apps that will lead you to cafes and restaurants with free Wi-Fi in your area. Pretty nifty. But most people never stop to think about the security implications of all this open Wi-Fi.
People who take this functionality for granted will jump on open Wi-Fi networks to do all the same stuff they do at home without blinking an eye. They leave file sharing on, they make travel reservations, do banking and online shopping, type in email and work login passwords, and so on. All this information could be scooped up by a savvy predator on the same network.
I log into free Wi-Fi whenever I can to see what people are doing and it's pretty surprising. People don't turn off file sharing, so there are usually at least a couple of iTunes libraries visible. Public folders too. If you put something sensitive in there, you could easily be in trouble.
I just looked in my Public folder, for instance, and I found a copy of a paystub I had forgotten that I put in there. If I did not make a point of turning off all sharing when I go out, that information (including my Social Security number) would have been there for the taking. And that's just the beginning. It is possible for someone to trick your computer into routing all your internet traffic through their machine. Imagine the guy sitting across the room from you just sifting his way through your browsing session and you'll get an idea of how creepy this can be.
Many companies set up secure VPN connections on their employees' computers so they can connect to company servers and resources over a public network with minimal risk. For consumers, there are some options as well, and one involves Terminal that will keep you (and your data) safe and secure. The only trick is that you will need another machine at home connected to the internet. Look for that article next week!
Click here for complete article.
---
Fusion Drives
by David Boyd, smalldog.com
In October 2012, Apple announced Fusion Drive as a feature for their consumer desktop Macs. Within a week, Ars Technica's Lee Hutchinson wrote an article about the viability of building a Fusion Drive for any Mac running 10.8.2 based on some initial research by Jollyjinx. Two weeks later, Macworld did some real-world testing and provided some easy to follow instructions.
Coincidentally, my girlfriend's Late 2009 iMac's 1TB spinning disk was getting frightfully full. Knowing that we hadn't used the optical drive in ages, I decided it would be a great opportunity to go Fusion (and the holidays were right around the corner). I snagged a 3TB Seagate drive and went to OWC to grab a 120GB Mercury Electra SSD. I knew I was putting this in an iMac's optical drive slot, so I knew I'd need an adapter. Luckily, I found one at iFixit.
The hardware installation went great, especially when we ended up having the iMac drive temperature sensor in stock to replace the firmware-fed sensor that the machine came with. Once I got it back together, I went ahead with the software install. I created a 10.8.2 install disk from my InstallESD.dmg file from my Install OS X Mountain Lion.app, booted from it, formatted each drive using Disk Utility, and went ahead with the diskutil Terminal commands. After the logical volume was created, I went ahead and installed OS X.
Installing iStat Menus allowed me to keep track of disk I/O as I installed software, configured the machine, and transferred data. In short, the algorithms Apple has in place heavily favor the SSD, but as soon as your drive reaches a certain allocation, the HDD bias affects access to large libraries of data. Overall, I was pleasantly surprised with the speed of booting and launching apps and greatly appreciate the ease of not having to manage multiple volumes. It's been a month and I can happily recommend this solution to anyone eager.
Just remember — don't forget to back up. (I've got Crashplan, SuperDuper, and Time Machine all working simultaneously.) If you want a bit more of an in-depth analysis of the pros and cons of Fusion Drives, I highly recommend Anand Shimpi's article.
Click here for complete article.
---
---
Remove problematic Flash Player*
from Tom John Son, RAVEN Consultants
Here is a good write up on what I have been recommending and how to implement it:
"On 7 February 2013, Adobe released an important security fix for Flash Player on the Mac, Windows, Linux, and even Android. This release fixes a vulnerability that is being used actively to exploit both Mac and Windows users through Web browsers and via malicious Microsoft Word email attachments (with Flash embedded). While we at TidBITS don't know currently the details of the Mac exploits, Adobe clearly states Macs are actually being attacked.

Under normal circumstances, we recommend updating immediately whenever an important security patch is released, but in this case, we have a somewhat different recommendation. Instead of leaving Flash on your Mac, you can instead isolate it and thus reduce the attack surface available to the bad guys. This is both easier and require far less fuss going forward than you might think, and it is how I've been using my Mac for the past year or so....."
The full article can be found here.
I also use Little Snitch to preclude undesired incoming/outgoing URL traffic
********************
Tom Johnson
RAVEN Consultants
********************
iPhones, iPods, and iPads
How to set up iCloud
by Serenity Caldwell, macworld.com
If you recently picked up a new Mac, iPhone, iPod, or iPad, you may have seen mention of something called iCloud when setting up your device. If you don't already know, iCloud is a free syncing and backup service from Apple that aims to keep all of your devices—mobile devices running iOS 5 or later and desktop computers running OS X Lion or later, or Windows Vista or later—on the same page, with the same data, no matter which one you're using at any given moment. We've written before about what you get with your iCloud account. But what if you're unsure about how to set up iCloud in the first place and how to get it to work on your Mac, PC, iOS device, and Apple TV? We'll show you....
Wizard WARNING! Do not use iCloud or any other cloud unless you understand that they are NOT secure. Also know that once you have put data into the iCloud it become the Masters (not your computer) so that when it is deleted it is deleted from all your devices. Be very careful and only use clouds when you fully understand both their strengths AND their weaknesses.
---
33 expert tips and tricks for iOS 6
by Dan Moren and Lex Friedman, macworld.com
Perhaps you are already an iOS master. Or maybe you consider yourself more of a novice. Either way, we feel confident that at least some of the tips and tricks for iOS 6 that we present below will be new to you. What's more, we hope you love them—and benefit from them—as much as we do.
Your iPhone or iPad can read to you. Enabling the Speak option makes it possible for your iOS device to read aloud any selectable text. Launch the Settings app, tap on General, and then choose Accessibility. Scroll down to Speak Selection, and tap to turn it on....
---
Make text more readable on your iPad mini or iPod-Touch
by Lex Friedman, macworld.com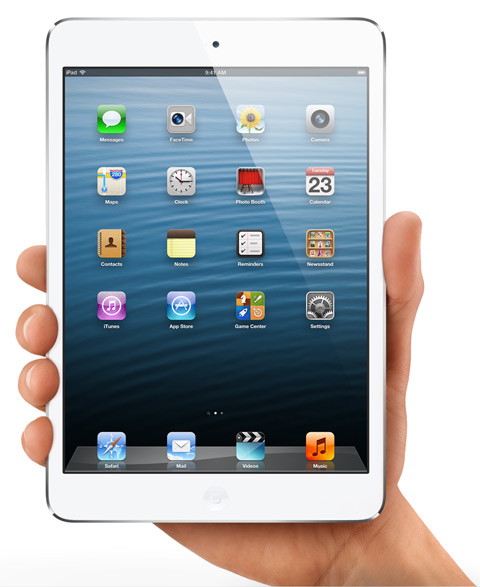 Struggling to read small text on your iPad mini? There's a fix for that. Watch the video above, or read the transcript below:
The iPad mini is, of course, smaller than the 9.7-inch versions of the tablet. And while that makes the iPad mini more portable, the scaled-down screen size also means that, in some cases, text can look awfully tiny. Luckily, there are workarounds.
If you find that your email, notes, address book, or iMessages are too tiny to read comfortably on your new iPad mini, there's a potential workaround you can try.
Launch Settings, tap on General, and then Accessibility. Next, tap the Large Text button and choose a font size.
Now, messages in Mail, notes in the Notes app, the texts you receive in Messages, and the contacts in the Contacts app will all use your larger font. (iOS says that Calendar should benefit from the font-size change too, but in my testing, that's just not the case.)
Now, this change won't make all the small text on your iPad mini bigger. Notably, the brief excerpts on display in the sidebars for Mail and Messages won't get any larger, and that text is pretty tiny. And third-party apps won't be aware of your text setting, either.
The good news is, most apps that are reading-centric will offer built-in text sizing options of their own. That's true for Kindle, iBooks, Instapaper, The Magazine, and many more. Though the interface for tweaking per-app font sizes can change app to app, in general, you'll want to poke through an app's settings, and look for these A/A buttons. Tap the larger A to increase the app's font size.
Remember too that you can zoom almost any text on your iPad. So as you're reading an email message for example, reverse-pinch with two fingers to magnify the text temporarily.
So if you've been struggling to read text on your iPad mini, with luck these tips will prove helpful.
Click for full article complete with instruction movie.
---
By The Way
More on wireless networking your home computers*
by Ron Sharp, MAGIC
If you have more than one computer or "devices" at home and think it would be convenient to have them "connected" then you may have been at the last meeting which wireless connectivity was explained. A recap of it can also be read in the Meeting Minutes article.
As described in the presentation notes you can share a printer that's physically connected to your computer with other computers on your network wirelessly without using an Apple router. You simply use your computers Airport and set Sharing preferences.
Other options are using a printer that is made with wireless capability although they can be quite a pain to set up. They require "programming" to link to your system and sometimes drivers or software need to be installed on your computer. It may also include reading the instructions and punching buttons and menu items and entering network names and passwords into the printer keypad. It's nice when it's set up but there is a much easier way if you use an Apple router.
With an Apple router, simply plug a printer into the Apple Airport Extreme, Airport Express, or Time Capsule, with a usb cord and all your Apple devices on your network will find your printer. If your computer doesn't automatically connect then there are two System Preferences to check for sharing a printer that should cover all operating systems; Printer Preference and Sharing preferences. Just click the Printer Sharing box.
---
Tricks for organizing cables*
by Ron Sharp, MAGIC
Here are a couple tricks I came across for organizing your cables. One is to use paper clips to keep your cables handy. The other is to use paper towel rolls, cut into appropriate length, for storing cables.

Another thing that can be done if you're worried about all the cables hanging down the backside of your desk, is to build a shelf for the cables and converters and power strips to sit on, and run all the cables off one end.
---
Newsletter format changes*
by Ron Sharp, MAGIC
The new format of clicking "Continue reading" to continue reading the whole article was implemented to save both the MAGIC webmaster, Robert, and myself a lot of time. Since just about all internet news contain links, I'm sure you're already used to it. I like to peruse a web page and use the browsing menu option "Open Link in New Tab" for all the links that I want to follow up. Then I go from tab to tab with all the pages open ready to read. The browsing "option menu" is accessed by a "control click," but on a laptop trackpad it's an easy two finger tap if you have your trackpad preferences set. I mention the two finger tap because, even though to some it's nothing new, I know others who were surprised when I informed them that their older laptops were capable of such things as two finger scrolling.
Back to your newsletter... I hope you find something of interest. If not then read something to learn that will enable your mastery and enjoyment of computing! And feel free to email with your thoughts.

---
Cartoons*
from our humor Corespondent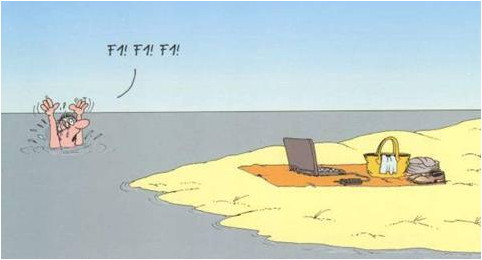 ---
MAGIC, the Macintosh Appreciation Group of Island County, serves people who use Macintosh computers, software and peripherals. Our goal is to share information and get answers to questions to make us more productive with our use of technology. Our monthly meetings give us a chance to discuss computer problems and share ideas with other Mac users, feature speakers on specific topics, and to keep apprised of Apple news.