Newsletter
March 2013
Newsletter Editor:
In This Issue:
MAGIC MUG News
Software Updates
Macintosh News, Information and Stories
iPhones, iPods, and iPads
By The Way
* Indicates author is a member of MAGIC
---
Meeting information
Day:
The 3rd Wednesday of the month. 20 March 2013 this Month
Location:
Unitarian Universal Congregation of Whidbey Island (see map.)
Time:
4:00 p.m. - 6:00 p.m. with the first hour dedicated to new users and their questions.
Presentations:
•Apple Q & A
•Organizing files on your Mac with Penny and Sue.
Future Meetings: (subject to change)
See the Meetings Page on this website.
Do not forget to bring your used ink cartridges.
MAGIC will dispose of them for you and make some change for the group.
---
Minutes of the February 20, 2013 Meeting
by Penny Holland, Secretary
The monthly MAGIC meeting took place at the Unitarian Congregation Meeting House in Freeland. Sue Kebluseck opened the meeting at 4:00 by welcoming everyone, and introducing Robert Elphick, our Wizard, who led the first hour of Q & A. Approx. 26 people were in attendance.
Q&A
Some questions that were covered in the Q&A: Getting rid of obsolete e-mail addresses (Mail>Window>Previous Recipients); getting rid of older versions of an application (AppCleaner, a free or low cost application that gets rid of the app and all associated items); recurring Mobile Me messages; computer falls asleep and then asks for password (Change settings in System Prefs); maintenance and cleaning questions (use Onyx); sometimes trying to share Pages or Numbers documents by email doesn't work (Robert's fix is to save as a PDF and then email as an attachment); linked messages or conversations in Mail (can all be saved into a text file via mail>prefs>responding); Reducing the size of a photo to send as a PDF (in Preview Save as PDF and use quartz filter to create a smaller filesize, or reduce the picture's size in a program such as graphic converter.) A final question asked about the pros and cons of having multiple users on the Mac. Robert says you should have at least one other user, such as EMERGENCY, so that a wizard can get in as the emergency user and fix the problem.
Robert next called our attention to a new item in Tricks and Tips for SAVE AS in MOUNTAIN LION. Remember, SAVE AS was eliminated in Lion, where you had to use the DUPLICATE command instead. Now you can SAVE AS is in Mountain Lion if you hold the OPTION key while choosing DUPLICATE--it turns into Save AS.
You can also turn on SAVE AS permanently in Mountain Lion (OS-X 10.8) via the System Prefs.
Robert has updated the website under Tricks and Tips about Backing up. System 9 information has been removed. Go read about backups.
Annual Business meeting
President Sue Keblusek led the business portion of the meeting. There was no monthly treasurer's report, but it will be available in the next newsletter. Prescott collected used ink cartridges for recycling, and had an unused one to give away. Darryl Thomas's Director at Large board position expires this year, and he has kindly offered to continue unless someone else wants the job. With no volunteers coming forth, Robert moved that Darryl continue, Penny seconded the motion, and it was passed. Sue Keblusek gave an impressive keynote presentation showing exploding pie charts illustrating the past year's income and expenditures. Over half of our total income of $6894 came from the various classes that Robert teaches, bringing in $3870. Mentoring and donations amounted to $2086, meeting dues $695 and miscellaneous $243. Total expenses from last year, $3132, were fairly evenly distributed. Our largest expense category was Grants of $800 (to 4H). The difference between income and expenses was $3762. Plans for Magic in 2013 is a new newsletter format, more volunteer teachers and helpers are needed for the classes, and more program presenters needed. Sue emphasized that a monthly program presenter need not be an "expert" but merely someone willing to talk about something of interest to him or her.
The presentation can cover the entire hour or can be divided up into 11-15 minute segments and shared by several people. Program VP Prescott passes out questionnaires at each meeting for input and also encourages people to offer suggestions as to what topics they would like to have covered.
Presentation
For today's presentation Robert talked about the Cloud. Apple is just one of a number of clouds available. We backup for several reasons: in case our computer goes down, or in case of a disaster, such as an earthquake. Some people might want to have an off-site backup. This is the advantage of using the cloud. Another idea is to have a second backup drive that could be safely stored off site, such as in a bank vault, etc. The advantage of backing up on a disk is that you have complete control of it, and there are ways to encipher these. The problem using the cloud is that you must trust that the cloud will encipher your data. Robert stressed that nothing in the cloud should be considered completely safe.
What kind of clouds are out there? Some allow you to store one or two files of your choice. Using the cloud is a convenience, especially for Road Warriors, but how many of us are in this situation? If you put all your information on iCloud and then decide to take it off, it can erase all your data on your computer, so you must know how to do it.
One way you can avoid losing information when deleting from the cloud is by archiving your data. Look at the website's Tricks and Tips/Backing Up. There is a topic called ARCHIVING APPLE APPLICATIONS: Mail, iCal, andAddress Book. Back these up in your Documents folder in a new folder called ARCHIVES. Start putting your archives into this folder, with titles including the archive date. The website has good graphics and info on how to archive a mailbox one at a time or all mailboxes at once. In ICal you can backup from under the file menu. Similarly with Address Book: File>export>vcard or AddressBook Archive. If you make this archive folder first, then you can think about putting these things onto the Cloud.
iCloud appeared with Lion and Mountain Lion. In System Preferences there is a section for iCloud. Click on it and it gives you a list of applications that you can turn on or off to connect to the cloud. Robert recommends: FIND MY MAC should be checked ON, even if everything else is off. This allows you to find your iPad or computer if it's been stolen! Account Details in this section of System preferences will tell you what you have put out in the cloud.
DropBox (a free application) is another way to store files off site. You set up a DB folder and choose what goes into it. That DropBox folder is available to all of your devices. You can also place a file in DropBox that you want to make available to other people. This is a good way to send large files, rather than by email which has size constraints. (Items are moved by FTP, which is much faster than email.)
Robert also discussed saving passwords. CiphSafe is a program that can be downloaded for saving passwords. This is more powerful than Keychain, which is available on all Macs in the Utilities folder.
Keychain can also be used to generate passwords.
Due to numerous questions, the meeting lasted till 6:10.
---
MAGIC Moments
by RYE
Presentations
We need to establish a calendar of Presentations for the remainder of the year. Members are invited to send in requests for presentations. Better still, offers to present something of interest. While some presentations last an hour, we are also happy to merge several small presentations together for one of our meetings. Got a 10 minute 'quicky'? send it in!
Send it your thoughts, ideas, requests, and offers to Prescott at
Classes
The iPhoto class on January 14th & 15th was once again completely filled. Since this has been a very popular class we will probably run it again in the summer.
I am receiving requests to run an iMovie class. This is a bigger subject so is likely to be a four or five day class. How many of you would be up to doing this later in the year? When would be best for you (assuming that it would have to be in the afternoons)? Let me know at
The Spring Mac Essentials class completed on March 1. We had an average of 21 students making for a profitable class at Au Sable (Pacific Rim institute) near Coupeville.
Newsletter Upgrade
The new format of clicking "continue reading" to continue reading the whole article has been implemented to save both the MAGIC webmaster, Robert, and the Editor, Ron, a lot of time.
These articles tend to be the really long ones that only some members will want to read fully. Now the newsletter should be a little shorter and also save us a bunch of work. Do you know how many hours we spend putting it together? However all the information is still there - if you are willing to click on a link to get it all.
Let us know what you think of it.
SOFTWARE UPDATES
Note: This Software Update section of the newsletter lists the most relevant Apple updates. Not all updates are listed for all products. Additionally, I'll add other pertinent updates on occasion.
Java for OS X 2013-001
from apple.com
Java for OS X 2013-001 delivers improved security, reliability, and compatibility by updating Java SE 6 to 1.6.0_41.
On systems that have not already installed Java for OS X 2012-006, this update disables the Java SE 6 applet plug-in. To use applets on a web page, click on the region labeled "Missing plug-in" to download the latest version of the Java applet plug-in from Oracle.
Please quit any web browsers and Java applications before installing this update.
Click here for complete article.
Note that the Wizard recommends not using Java at all unless you really need to and you know what you are doing. Notice the article below on how to disable Java.
---
iOS 6.1.2 Software Update
from apple.com
Fixes an Exchange calendar bug that could result in increased network activity and reduced battery life.
---
MacBook Pro SMC Firmware Update 1.7
from apple.com
This update addresses a rare issue on some Apple notebooks where a battery that has accumulated more than 1000 charge cycles may unexpectedly shut down or stop functioning.
Click here for complete article.
---
Apple releases Exchange fix in iOS 6.1.2
by Dan Moren, macworld.com
Exchange users plagued by shortened battery life now have respite in the form of iOS 6.1.2. Apple released the update to its mobile operating system on Tuesday, bringing a fix to the issue encountered by many users.
Specifically, the release notes on iOS 6.1.2 say that the patch "fixes an Exchange calendar bug that could result in increased network activity and reduced battery life." While that might help quell some users' woes of quick-draining batteries, it remains to be seen if the update will aid iOS users more broadly.
According to Ars Technica, this update does not patch another bug making the rounds last week: the ability to access a locked iPhone's contacts and photos by exploiting a flaw in the emergency call feature.
iOS users looking to update can do so by navigating to the Settings -> General -> Software Update and tapping on Download and Install.
Click here for complete article.
---
News, Info and Stories
How to disable Java on your Mac
by Rich Mogull, macworld.com
With the news that some Apple, Facebook, and Twitter employees' Macs were hacked, and Apple and Oracle's subsequent software patches, it's time to revisit the question of whether Java can be used securely.
After the Flashback malware attack that occurred in the summer of 2012, I discussed the risks and offered some advice about the safest way to use Java. But due to changes in the way Java works on Macs and the recent rise in Java-based security threats, I'm altering my advice: You should do everything you can to remove Java from your Mac or, if that isn't possible, to isolate it to the fullest extent possible.
I don't make this recommendation lightly. Removing Java will be problematic for some people, especially those who use Macs at work; and isolating it isn't simple. But I can't overstate the risk: Nearly all recent Mac malware attacks rely on exploiting Java or Flash in your Web browser. (I also have some advice on isolating Flash.) If you plan to keep Java, make sure that you update it as soon as possible.
---
Isolate Adobe Flash by Using Google Chrome
by Rich Mogull, tidbits.com
On 7 February 2013, Adobe released an important security fix for Flash Player on the Mac, Windows, Linux, and Android. This release fixes a vulnerability that is actively being used to exploit both Mac and Windows users through Web browsers and via malicious Microsoft Word email attachments (with Flash embedded). While we at TidBITS don't know currently the details of the Mac exploits, Adobe clearly states Macs are actually being attacked.
Under normal circumstances, we recommend updating immediately whenever an important security patch is released, but in this case, we have a somewhat different recommendation. Instead of leaving Flash on your Mac, you can instead isolate it and thus reduce the attack surface available to the bad guys. This is both easier and requires far less fuss going forward than you might think, and it is how I've been using my Mac for the past year or so.
The first step is to uninstall Flash by using Adobe's official uninstaller application. This completely removes Flash from your operating system, making it impossible for an attacker to target it.
"But wait," you say, "my kids will kill me if they can't play those Flash-based Disney games." Not to worry, there is an easy solution, thanks to Google.
The free Google Chrome Web browser includes its very own integrated version of Flash. Better yet, starting back in November 2012, Chrome sandboxes Flash from the rest of your Mac. This doesn't mean that Chrome's version of Flash is invulnerable, but an attacker must first compromise Flash and then break out of the sandbox to attack your Mac. This extra barrier makes it a lot less likely you will be compromised even when vulnerabilities are discovered in Flash. Plus, since Chrome automatically updates itself, you never have to fuss with the Flash Player installer again.
My recommendation is to install Google Chrome, even if you don't plan on using it as your primary Web browser. Then simply launch Chrome whenever you want to see Flash content. I originally got this idea from John Gruber of Daring Fireball, and over time I've found that this simple method of isolating Flash to Chrome works great, especially since an ever-increasing number of sites push HTML5 video to Safari automatically if Flash is missing.
Personally, I decided to switch to Chrome completely since it is, overall, the most secure Mac browser on the market, especially once Google sandboxed Chrome's version of Flash. After installing Chrome I do two things:
First, I go to Preferences > Settings > Show Advanced Settings > Privacy and disable everything except "Enable phishing and malware protection." That reduces Google's tracking, although turning off those other features also slows down both Chrome's page fetching and your Web browsing speed.
Second, I install the following Chrome extensions (just click each link within Chrome, and then click the Add to Chrome button in the Chrome Web Store page that loads)
Adblock Plus to remove ads (especially Flash ads)
Ghostery and DoNotTrackMe to improve privacy and reduce tracking
Blocking ads and Flash trackers also reduces your attack surface, since ad networks in particular are targeted and sometimes used to distribute malware through banners on legitimate sites.

As I noted, Chrome automatically updates itself by default, which is generally good for security, although there can be a lag between Adobe Flash updates and when those are integrated into Chrome. Fortunately, the sandbox is still there to help protect you.

And that's it! The entire process of uninstalling Flash and installing Chrome for those sites that still require it takes only a few minutes, and it provides a ton of extra security.

Click here for complete article.
---
Apple boosts performance, lowers prices on MacBook Pro with Retina display
by Lex Friedman, macworld.com
Apple early Wednesday announced that the MacBook Pro with Retina Display is now a bit faster—and cheaper, to boot. The updated laptops boast speedier processors and lower price tags.
The newly updated 13-inch MacBook Pro with Retina display starts at $1499 with 128GB of flash storage, and $1699 for a 2.6GHz processor with 256GB of flash storage. Those are savings of $200 and $300 off the previous prices. And the newly updated 15-inch MacBook Pro with Retina display gains a 2.4GHz quad-core processor, with an option to upgrade to a 2.7GHz quad-core processor with 16GB of RAM.
Apple also announced that it's dropping the price on the 13-inch MacBook Air with 256GB of flash storage to $1399, a price drop of $100.
Just Tuesday, CEO Tim Cook said at the Goldman Sachs Technology and Internet Conference that Apple is always eager to find ways to drive prices down as it improves its supply chain management.
---
iOS vs. OS X
by David Boyd, smalldog.com
If you asked most people what the difference between iOS and OS X is, most people would provide answers to the effect of "What's iOS?" or "One uses a touch screen and the other, a keyboard and mouse." A third, less obvious answer to this question is important to helping a user gain proficiency with either in the pluralistic Post-PC world we currently live in.
The first response reveals an interesting effect of the interaction design that Apple has made their priority for the past few decades. The integration of hardware and software that Apple is known for is expressed in the way that a user approaches and uses a device like the iPhone or iPad. The hardware fades away as the user focuses on and immerses themselves in the gesture-based touch interface. While this transition de-emphasizes the importance of the hardware, the direct manipulation of elements on the screen provides a more physical component to the pixels on the screen. The effect is a feedback loop of hardware and software interaction that combines the two so intrinsically that the user might not consider them as separate entities.
The second response points to an obvious difference in the input devices built into the hardware of the devices that run each OS (operating system). So far, Apple has avoided adding touch-screens to their Macs, and you'll notice that your iPhone lacks a pointer (replaced by your forefinger).
I believe that one of the most important distinctions to be made between iOS and OS X is the management of files. First, some background. The reason why your device X has the same data on it today as it did yesterday is because it has memory (in this case, long-term). This is a physical component, usually in the form of a spinning hard drive or a solid state drive, measured in GB (gigabytes). This memory stores everything from the operating system to applications (apps) to documents, photos, music, etc. All of these categories of data are essentially just files and folders (directories), stored in a hierarchical fashion that allows the device to keep track of everything, creating a file system.
The difference between iOS and OS X is that in iOS, this structure is invisible and in OS X, it is visible through the Finder application. Of course, iOS still stores data just like OS X does, but it's organized differently. Your iPhone's apps individually store their own data, so if you want to get access to some bit of important data, tap an app's icon. In OS X, if you open an app, you'll likely want to choose File > Open and browse through a Finder window to locate the file you wish to open.
In a possible future where we live in a completely post-PC world, you could imagine a Mac that relies on the app-based storage model for your documents and data like an iPhone or iPad, using iCloud as a conduit. However, I can report that we have yet to enter this post-PC world entirely. And thankfully, this should not stop you from trying to access your documents and data on all of your devices, Mac and iPad alike.
My recommendation is Dropbox, a service that allows you to bridge the gap that I went on about at length in the previous paragraph. It uses a folder on your Mac and an app on your iOS device. And it automagically syncs them using Amazon's servers. In some ways, it creates a file system for your iOS device, allowing you to open files from Dropbox and save files from other apps in your Dropbox, allowing them to be accessed on your Mac.
You can learn more about Dropbox on their site A target="_blank" href="https://www.dropbox.com/">dropbox.com. Sign up, download, and give it a whirl!
---
How To Migrate Your iPhoto Library To An External Hard Drive
by Michael Burl, smalldog.com
Recently, I purchased a massive 2TB external hard drive so that I could create a media server with my Mac mini and free up space on that machine and my MacBook Pro. Some of you may not have even considered this an option but it is a great way to save space on your computer's primary drive. At the same time it can make your photos a little safer and a little less safe as well.
Storing your photos on an external hard drive helps safety because typically you are not accessing your external as often as your primary drive which will increase the time before the drive fails, and before you ask, yes, every hard drive will fail at some point. It also makes them slightly less safe because Macs come standard with impact detection.
My laymen's understanding of how this works is that the Mac will quickly lock the drive's components in place whenever an impact is eminent. Since your average external doesn't have this feature, you run the risk of dropping the external while it is operating and damaging its internals. However, in the long run, I think this is a much better way to store all media including photos, music, docs, and movies.
Now onto the part you've been waiting for — how to do it!
Step 1. Plug in and power up your external drive so that it mounts on your Mac. Also make sure that iPhoto is not running. If it is simply click on the icon to open it up and hit command+Q to quit the app.
Step 2. Locate your iPhoto Library. This should be stored in your Pictures folder but if you can't find that, open up a new Finder window and follow this path: Macintosh HD -> Users -> "your username" > Pictures
Step 3. Move the iPhoto Library package to your external by using either cut and paste or by dragging the package to the external. If you are using the dragging method, I always find it much easier to have two finder windows open.

You might have to wait some time for this action to finish. The time it will take can greatly vary depending on the amount of data being moved, the type/speed of both drives and the interface in which they are connected (USB 2.0, FireWire, Thunderbolt, etc.)
Step 4. Once your iPhoto Library package has been moved, you need to tell the iPhoto app where to find the pictures. To do this hold down the alt/option key and launch iPhoto. This will open a new dialog window asking you to select the iPhoto Library you want to use. Select the option for the library we just moved. If you see multiple options and are unsure you can see the directory path for the currently selected library. Just make sure its path is going to your external hard drive and hit Choose to confirm the selection.

If by chance you don't see your existing library in the list simply click the Other Library… button and navigate to the iPhoto Library you moved to your external hard drive.
Whenever you open iPhoto, the app will automatically pull its data from the library on your external. Keep in mind that if you don't have the external connected, you won't be able to access the photos within iPhoto. That seems like a simple idea but I have been caught once or twice not powering up my external and wondering where the heck all my media is when I turn on iTunes.
If in the future you decide you want your iPhoto Library back on your Mac's hard drive, all you have to do is follow these steps again with one exception. Make sure you drag the iPhoto Library from your external to the Pictures folder on Mac and make sure to select the library with the directory going to your Mac and not your external.
Voila! You just freed up some space on your Mac's hard drive.
---
Open Files In A Different App
by Michael Burl, Smalldog
Have you ever wanted to open a file in a different application than usual? As a web designer, I often find myself opening HTML files in Safari (which is usually what I want), but every once in a while I want to open that same file in my text editor.
It is a relatively easy process to open a file in a different app. Simply use the secondary click command that you have set up — I right click my Magic Mouse (if you don't know how to use secondary click I will explain that later). Doing so will open a menu of which the second option from the top is Open With. When you hover your mouse pointer over that menu option, another menu will pop out with a list of apps that can launch that file. Select the app you want to open the file with, and presto-change-o — you're all set for this one time. If you don't see the app you want, you can always click on Other… to browse your entire Applications folder for the desired app. You can also go straight to the App Store if you know you don't have the program you want installed.
So what happens if you want that type of file to always open in that app? Well, you can set a specific file type to always open in a certain application. There are two ways that I know of to do this. The first is to select the file by clicking it once and getting its info with the shortcut command+I. A new window will open up and in the 4th drop down from the top labeled Open with: you can set the app this specific file uses to open. Once you have selected the app you want, hit the Change All… button and every file that has the same extension on your machine currently and in the future will open with that app.
Now, back to secondary clicking. If you don't know what your secondary click is, go to System Preferences > Mouse > Point & Click and make sure the Secondary Click box is checked and underneath is set to the way you want to click. It is the same process if you use a trackpad, except that you go to the trackpad section instead of the mouse section in System Preferences.
---
Thunderbolt/FireWire Adapter = huh!?
by Christopher Breen, macworld.com
Reader Jeff Adelson scratches his head over a FireWire issue. He writes:
I recently purchased a MacBook Air. After setting it up I decided to migrate my data from an older MacBook Pro. I purchased Apple's Thunderbolt to FireWire Adapter but it doesn't seem to work with Migration Assistant. The two computers won't connect. What's going on?
The connector does work, but not in the way you expect from a wired connection. If you sling a standard FireWire cable between two Macs that have FireWire ports, Migration Assistant does what it should. You choose one Mac to copy the data from and the other to copy it to. The "host" Mac (the one that will import data from the other) issues a code to the "guest" Mac and the two of them make the exchange once you've selected the data you want.
As you've observed, it doesn't work that way with this adapter. The two Macs recognize each other, but the transfer fails. Similarly, if you try to establish a FireWire network between the two using this adapter, failure also ensues. (Though Target Disk Mode works perfectly well.)
So great, you now know what doesn't work. What does? When configuring Migration Assistant on the host Mac you'll eventually reach the Select a Migration Method window. Normally you'd choose the From a Mac or PC option because, after all, you're connected to another Mac. But this leads straight down the path to Nowheresville.
Instead, after making the wired connection between the two Macs, you must throw the guest Mac into Target Disk Mode (restart that Mac and hold down the T key). Launch Migration Assistant on the host Mac and in the Select a Migration Method window I mentioned, select the From a Time Machine Backup or Other Disk option and click Continue. The guest Mac's hard drive will appear, labeled as a FireWire drive. Select it, click Continue, and you can then choose the data you want and proceed with the migration.
Or course you could forego this adapter altogether as Migration Assistant works over Wi-Fi and, with a Thunderbolt-to-Ethernet adapter, Ethernet connections as well.
Click here for complete article.
---
Exploring the Mac's sharing features
by Christopher Breen, macworld.com
Last week I showed you how to connect your Mac to the Internet and to a local network. Now that your computer is on speaking terms with other devices and services, let's examine exactly how you can put those powers of communication to use for sharing the devices and files associated with your Mac.
Sharing options for nearly everyone
To share elements of your computer with others, you must first grant permission for certain kinds of sharing to take place. You do this via the Sharing system preference, which you'll find in the Internet & Wireless section of Mountain Lion's System Preferences window. Once you've selected Sharing, you'll see a number of options. We'll start by looking at the ones you'll use most frequently.
Screen Sharing: This feature lets you remotely view the screen of another Mac on your local network, as well as optionally control that Mac. It has been part of the Mac OS for quite some time, and with Mountain Lion it's dead simple to use.
To allow someone to share your screen, you must first make the option available. To do that, open the Sharing preference and enable the Screen Sharing option. Once you've enabled Screen Sharing, you can designate exactly who may exercise this privilege.
---
Don't Hack Me, Bro
by Shawn O'Brien, smalldog.com
Almost everything we do online these days involves passwords and security. It's important to take some steps with your passwords to make them more secure. One simple thing you can do is to change your passwords often. Use different passwords between sites. Try to stay away from common words. A good safe option is to choose four random words.
Below is the Wolfram Alpha "estimated years to crack" and passwordmeter.com score.
Here are a few tips and examples for the password "asteroid", which as-is has a score of 9.64 days (what it takes to crack it) and 10% (efficacy). Here's how to make it more secure:
Use 133t (elite) speak. Elite speak is changing letters to numbers. Example: "ast3r0id": 2.497 months, 42%
Capitalize letters "Ast3R0id": 19.74 years, 68%
Add special characters "A$t3R0!d": 714.2 years, 94%
Add random special characters "(A$t3R0!d)": 4.92 million years, 100%
Sites to check your password strength:
Wolfram Alpha
Password Meter
---
Silent email filtering makes iCloud an unreliable option
by Dan Moren & Lex Friedman

These days, so much important communication is conducted by email that we expect it to be rock solid. So when emails don't arrive—or even worse, we don't know that they didn't arrive—it can be worrisome.

Last November, our friends at Infoworld reported that Apple's iCloud email system silently blocks emails containing certain phrases. And that hasn't changed in the intervening months, as Macworld UK reports.

Granted, the phrases in question may not be the kind that you're likely to exchange with your correspondents.

Through our own rigorous testing, we've managed to confirm that emails containing the phrase "barely legal teen" are simply never delivered to iCloud inboxes. In fact, we found that even emails with the offending phrase contained in an attached PDF—even a zipped PDF—were blocked.

Even if you, like us, would almost never receive a legitimate email with such a phrase, this could still be problematic. For example, had you emailed someone about the fact that Apple blocks emails with the phrase "barely legal teens," that email would itself never arrive. And if, as with the person who originally reported the issue to Infoworld, you were attaching a work of fiction with such a phrase, that too would be blocked.

In our tests, we did find that the filtering only occurs on inbound emails, not outbound emails. So you can at least send emails from your iCloud account with the phrase "barely legal teens" to your heart's content, though don't be surprised if you start to get funny looks from all your correspondents.
This email will never arrive.
Having discovered that, we also located a workaround that allows emails with the phrase "barely legal teens" to arrive in your iCloud inbox: If you send an email containing the filtered phrase, and the recipient replies to it, the reply will show up in your inbox. However, that's hardly a solution to the overall problem, unless you plan to ask all of your email correspondents to never send you brand new messages, but instead always reply to one of your messages.
We contacted Apple for their comment on the issue, and a spokesperson told Macworld "Occasionally, automated spam filters may incorrectly block legitimate email. If the customer feels that a legitimate message is blocked, we encourage customers to report it to AppleCare."
Why that's a terrible answer
Of course, that introduces a sort of existential dilemma here: How do you report the non-arrival of an email that you never received?
If it's an email whose arrival you've expected then, yes, you might very well be nonplussed when it didn't arrive. But we all get plenty of emails that we don't expect—and some of them aren't even spam. Reporting that you're missing an email that you don't even know someone sent you is a positively Sartrean task. To be clear, the problem is not that Apple is flagging terms that are most often used in unwanted, spam messages—it's the lack of transparency about this filtering. Apple is flagging messages that it seems very sure are spam, but it has no real system in place for dealing with false positives—messages that are filtered, but aren't actually spam.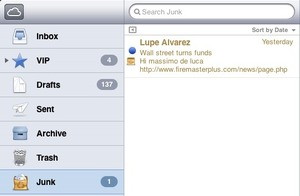 Even though Apple offers a Junk folder, these filtered messages never appear there.
What makes this more confusing for some users is that Apple already has spam handling procedures in place: Both iCloud and Mail on the Mac offer Junk mail folders, but the "barely legal" messages never even appear there. Apple presumably feels so certain that specific messages are spam that it's choosing to bypass the Junk folder entirely. That could be okay, if Apple did more to let users know what was happening.
Other services have different ways of handling problems like this: Many send you reports of messages that were blocked, and allow you to indicate when an email has been mistakenly flagged.
Apple's filter is also completely opaque to users: While we now know that the phrase "barely legal teens" is blocked, we don't know what other phrases might be on Apple's blacklist. And there's no way to find out, short of trying to repeatedly send emails with potentially triggering phrases in them.
And even if you do discover something Apple is filtering, calling up AppleCare and telling them that you didn't receive an email containing "barely legal teens"—or some other potentially crass phrase that you might discover Apple filters for—is not an experience anybody really wants to have.
Moreover, our sources indicate that even if you do contact them, AppleCare staffers can't actually recover the missing emails. So you can report that you're missing an important email, and maybe the AppleCare reps can do something—whitelist the sender, perhaps?—but you won't actually get the missing message unless you tell the sender to try emailing it again.
At best, you might hope that multiple reports of this kind might spur Apple to change its policy, but it seems unlikely that Apple will decide to stop filtering for those phrases, no matter how many people complain about not receiving emails with potentially offensive phrases.
Junk in the trunk
Some might be willing to forgive this practice if Apple's approach had magically solved the spam problem. But spam still occasionally gets through iCloud's many filters—and that's why the service offers a Junk folder. Apple's choice to delete certain messages before they arrive may help in the war against spam, but there's too much risk of collateral damage.
It's also worth noting that there may well be some customers who genuinely wish to receive emails containing precisely the sorts of content Apple's filters seek to ban. While Apple's prudish tendency feels at least defensible on the App Store, it seems puritanical when it comes to pre-screening a customer's private inbox.
But as distressing as all of this might be for users, Apple is technically within its rights when it filters your email. As Infoworld points out, Apple's iCloud Terms and Conditions include this policy:
You acknowledge that Apple is not responsible or liable in any way for any Content provided by others and has no duty to pre-screen such Content. However, Apple reserves the right at all times to determine whether Content is appropriate and in compliance with this Agreement, and may pre-screen, move, refuse, modify and/or remove Content at any time, without prior notice and in its sole discretion, if such Content is found to be in violation of this Agreement or is otherwise objectionable. (Emphasis added)
Time for a change
So, where does that leave iCloud email users? Some may feel that they aren't too bothered by this practice—we could even imagine that there are those who might consider Apple's aggressive spam-blocking a selling point.
But those who count on all their emails arriving reliably may want to reconsider their choice of email providers. We don't know what phrases Apple blocks, and we don't know when messages have been flagged for such blocking. That's an unacceptable situation for many users.
And it's not as if there's a lack of good, free email providers with years of spam-blocking experience: Google, Yahoo, and Microsoft all spring immediately to mind. And - as far as we know, anyway - those services aren't "helpfully" blocking any emails without telling their users.
---
iPhones, iPods, and iPads
Replacing Your Mac With An iPad: What Apps And Hardware You'll Need
by Charlie Sorrel, cultofmac.com
Can the iPad really take the place of a Mac?
Can an iPad really replace a "proper" computer? Can a ten-inch, 128GB tablet do the work of an eleven-inch 128GB MacBook Air? The answer is yes. Kinda. If your work involves having two windows sitting permanently open side-by-side, then the iPad might not be for you (although you might consider whether you need both windows open together). For most other regular workaday work type work, though. the iPad is ideal. And here's our guide to replacing your Mac with an iPad. Specifically a Retina iPad, but you might even manage with a mini.
Software
Software is the most important part of the setup. You can add keyboards and even an external display, but if the software doesn't cut it, you won't be getting paid. With that in mind, here's a look at iPad apps which will replace your desktop software.
---
Working with iOS's Shared Photo Streams
by Dan Moren, macworld.com
Snap and share: It's one of the most common things we do with our mobile devices these days. But sometimes you don't want to broadcast a picture for the whole world to see. Here's a quick overview of how Shared Photo Streams can help you with that.
Transcript from the video:
This is Macworld senior editor Dan Moren. Unlike Twitter or Instagram, iOS 6's Shared Photo Streams make it easy to share photos with only a select group of friends or family, no matter what kind of computer, smartphone, or tablet they use.
To create a Shared Photo Stream, open the Photos app and tap the Photo Stream tab. By default, you'll see your own personal photo stream, which syncs pictures shot with your iOS devices to all of your Macs and other iOS devices. (If you don't, you may need to enable both your Photo Stream and Shared Photo Streams under Settings -> iCloud -> Photo Stream.)
Tap the Plus (+) button to create a new stream. You'll be prompted to give the stream a name and invite some friends via email—but don't worry, if you forget somebody; you can always add them later. You'll also see an option to create a Public Website—more on that in a bit.
Once you've created a Shared Photo Stream, your friends will be notified by email that they've been invited; if they're Mac or iOS users, they'll also get a push notification. If they choose to join, your Shared Photo Stream will automatically appear in their Photos app.
To add a photo or photos to the stream, just go to the Photos tab of the Photos app and tap the Edit button. Select the photo or photos you want to add by tapping them, then tap the Share button. You'll see an option for Photo Stream. Select that and you'll be prompted to choose which of your Shared Photo Streams you'd like to add the picture to, as well as optionally enter a comment.
As if by magic, that photo will automatically appear on your friend's devices. They can add a comment or "like" the picture. Unfortunately, your friends can't add their own pictures to your shared stream.
But what if your friends don't have Macs or iOS devices? That's where that Public Website option from before comes in. Go back to the Photo Stream tab of the Photos app and tap the Edit button, then select a Shared Photo Stream. This is where you can also invite additional friends that you may have forgotten the first time around, or remove people you no longer want to have access to the stream.
Slide the Public Website switch to On and you'll be provided with a URL where anyone can view your pictures (provided, of course, that they have this URL). There's even a handy Share Link button to simplify the process. Note that people viewing your photos via the Web won't be able to comment on them or "like" them—though I'm sure they'll really like them just fine.
Click for full article including video.
---
Find My iStuff
by Shawn O'Brien, smalldog.com
Built in to iOS 5+ and OS 10.7 and later is the ability to use iCloud. iCloud lets you back up and sync contacts, email, photos, and a host of other data. Not everyone needs all of these features, but everyone is advised to take advantage of the security features, "Find my iPhone" and "Find my Mac."
You can easily track your iPhone, iPad, iPod touch, or Mac from another one of your devices or from icloud.com if the device or computer is lost or stolen. In addition to tracking, you can wipe its data remotely, lock it, or play a sound to help find it in case it has been kicked under the couch.
To use these features, the device needs to be connected to the internet. iPhones are obviously connected via a cellular network, and any cellular-enabled iPad would be as well. However, Wi-Fi-only iPads and Macs would need a Wi-Fi signal or hard-wired connection to be able to reach the iCloud servers. Apple suggests that users enable a Guest account and disable autologin for greater security, since if your Mac is lost or stolen, there is a better chance that somebody can start using immediately since no password is needed (and thus, it will connect to the internet).
iPod touches and iPads that do not have cellular service get more complicated. Neither of these have the ability to enable or access a guest account. If you have your device password-protected, then there is no way for the device to have the chance to connect to the internet. It's a tough choice at present. Maybe a future refinement will allow people to use this great feature without compromising their security in the process.
To enable Find my Mac:
Click the Apple logo in the top left hand corner
Select system Preferences
Select iCloud
Click the check box Find My Mac at the bottom To enable the Guest account:
Click the Apple logo on the top left hand corner
Click Users & Groups
Unlock preferences by click the padlock in the bottom right hand corner
Click the Guest account on the left hand side then click the check "Allow guests to log in this computer"
To enable Find my iPhone in iOS:
Go to settings
Select iCloud form the list on the left hand side
Make sure Find My iPhone is selected and switched to on
---
By The Way
The iWatch*
by Ron Sharp, MAGIC
Have you read about the iWatch? According to information from patents, Apple has designs for a wearable device. I generally enjoy reading about Apple rumored products but don't write about them because, well they're rumors. Otherwise, if and when a product is marketed, you just have to learn about the actual product and correct any info that rumors disseminated. Never-the-less, some ideas about this seem a worthwhile mention, particularly because of the patent information.
Although I don't wear a watch and not sure it would be hot product, the iWatch is interesting because I'm thinking it may actually be a test for a new design that will be a major advance in mobile devices. The watch or wearable device, according to patents, will have an integrated touch screen and solar panel. With all that mobile devices can do, a big limitation to function and size is the power supply. So if the touch screen solar panel performs well, think how it could improve the iPhone in particular, as well as other devices.
Apple CEO Tim Cook says Apple makes bold and ambitious bets on products, and innovation is deeply embedded in Apple's culture. So as one might expect, Apple is still innovating and creating.
Interesting Video, wearable controls (not Apple product) can be found here.
---
New TD Curran Store opening in Burlington this month.*
by Ron Sharp, MAGIC
Go to the Website to see how to win a MacBook Pro!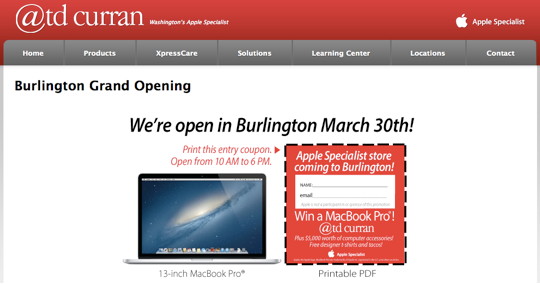 ---
Cartoons*
from our humor Corespondent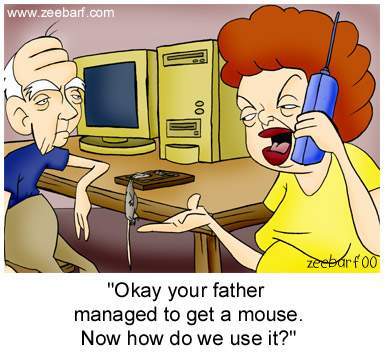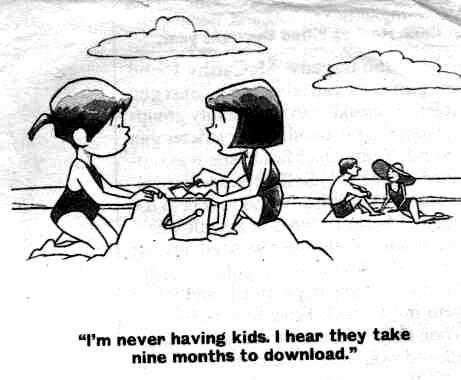 ---
MAGIC, the Macintosh Appreciation Group of Island County, serves people who use Macintosh computers, software and peripherals. Our goal is to share information and get answers to questions to make us more productive with our use of technology. Our monthly meetings give us a chance to discuss computer problems and share ideas with other Mac users, feature speakers on specific topics, and to keep apprised of Apple news.