Newsletter
April 2013
Newsletter Editor:
In This Issue:
MAGIC MUG News
Software Updates
Macintosh News, Information and Stories
iPhones, iPods, and iPads
By The Way
* Indicates author is a member of MAGIC
---
Meeting information
Day:
The 3rd Wednesday of the month. 17 April 2013 this Month
Location:
Unitarian Universal Congregation of Whidbey Island (see map.)
Time:
4:00 p.m. - 6:00 p.m. with the first hour dedicated to new users and their questions.
Presentations:
•Apple Q & A
•"Pages " with Sue Kebluseck
Future Meetings: (subject to change)
See the Meetings Page on this website.
Do not forget to bring your used ink cartridges.
MAGIC will dispose of them for you and make some change for the group.
---
Minutes of the February 20, 2013 Meeting
by Penny Holland, Secretary
The March monthly meeting of MAGIC took place at the Unitarian Congregation Meeting House in Freeland from 4 to 6 PM on Wednesday, March 20. There were approximately 24 in attendance.
Q&A
President Sue Keblusek opened the meeting and introduced Robert Elphick who led the first hour of Q and A. Some questions covered had to do with the following topics: Mail attachments arriving with a ? on the icon, the difference between editing notes and data fields in Contacts, the need for a Relational Database for entering info into several categories and later sorting through the categories, several home computers colliding with each other on the wifi and getting renamed, backing up of Aperture photos with two libraries, using Adobe's new Creative Cloud, moving up to a new computer and how to determine what software will still work in Mtn. Lion, recommended RAM size for a new Mac (4-8GB depending on how much photo, movie, and other heavy use), iPod virus fixed remotely by Apple who recommended buying Apple's new anti-virus software called Virus Barrier X6, with Tiger repeated messages about missing plugins for Adobe Flash Player.
Business
Sue led a brief business meeting. Treasurer Bonnie Abney reported a balance in our treasury of $8,014.81, not counting the money we took in today for dues. Used ink jet cartridges continue to be collected for recycle, which brings in a bit of revenue to the club. Sue encouraged other people to think about sharing something with the group in the way of a program. It can be the full hour or even ten minutes--something a member is excited about or familiar with using on the mac. Lastly was a reminder to take down the tables to prepare for the church meeting to follow.
Presentation
The final hour was a presentation on file management and organization led by Sue Keblusek and Penny Holland. Sue showed how a messy desktop could be organized and cleaned up with many slick tricks, including using a RIGHT CLICK to bring up various helpful contextual menus. Penny dealt with the Finder efficiently, and talked about file hierarchy on the Mac. Some of the notes may be available on the MAGIC website.
The meeting was adjourned at 6:00.
---
MAGIC Moments
by RYE
Classes
I am receiving requests to run an iMovie class. This is a bigger subject so is likely to be a four or five day class. How many of you would be up to doing this later in the year? When would be best for you (assuming that it would have to be in the afternoons)? Let me know at
No classes are scheduled for the next few months. Classes are being set up for the summer months. Current plans are to put on four:
Mac Essentials
iPhoto
iMovie
Pages
These classes will probably begin in June. Some will b e at Au Sable (Pacific Rim INstitute) and other will be held at Unitarian Universal Congregation of Whidbey Island. All classes will be limited to 20 people so remember to book early.
If you have any requests for other classes, Please contact me at
SOFTWARE UPDATES
Note: This Software Update section of the newsletter lists the most relevant Apple updates. Not all updates are listed for all products. Additionally, I'll add other pertinent updates on occasion.
Mountain Lion 10.8.3 Update
by Stephanie Farrell
Apple released their third update OS X Mountain Lion (10.8.3). This version brings along a few bug fixes that some users have been experiencing with 10.8.2, as well as some new features (which is mostly what we get excited about).
The first new feature allows you to redeem your iTunes gift cards using an iSight camera. Now, you can just take a photo of the card in the Mac App Store, and the system will then identify the number and redeem it!
In the past, you would need to redeem the card by typing in the number. Pretty interesting, since a lot of things these days seem to be moving toward submitting information visually. (Did you know you can now deposit checks via your phone through your bank's app by simply taking a photo of the check? Crazy!)
Boot Camp will now support Windows 8 and drives that are over 3TB, which was a previous limitation.
If you were having issues with the File:/// URL bug, which causes applications to crash, that has now been fixed. The stuttering audio issue for many 2011 Macs has now been resolved as well.
For all you gamers out there with one of those fancy MacBook Pros with a Retina Display, Apple has updated the SMC firmware, which fixed a problem where users were experiencing slow frame rates when playing graphic-heavy games.
If you have Mountain Lion and would like to update your software to the latest version simply click the apple in the upper left hand corner of your screen and select "Software Update" from the menu. This will open the Mac App Store and give you the option to update the software there. Enjoy!
Click here for complete article.
---
iOS 6.1.3 Software Update
from apple.com
This update contains improvements and bug fixes, including:
Fixes a bug that could allow someone to bypass the passcode and access the Phone app
Improvements to Maps in Japan
For information on the security content of this update, please visit this website: support.apple.com/kb/HT1222.
iOS: How to update your iPhone, iPad or iPod touch article support.apple.com/kb/HT4623.
Available via iTunes.
---
Boot Camp Support Software 5.0.5033
from apple.com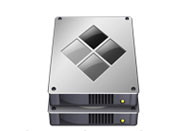 This download contains the Windows Support Software (Windows Drivers) you will need to support Windows 7 on your Mac.
For more information on which operating systems are supported on different Mac systems, click here.
Procedure:
The download file is a .zip file. Double click it to uncompress it.
Double-click the Boot Camp disk image.
Copy the entire contents of the .zip file to the root level of a USB flash drive or hard drive that is formatted with the FAT file system For detailed information about this update, please visit this Apple support webpage.
When running Windows, locate the Boot Camp folder on the USB media you created in Step 3 and double click to open it.
Double click on setup to start installing the Boot Camp Support Software.
When prompted to allow changes, click on Yes and follow the onscreen instructions.
Installation can take a few minutes. Don't interrupt the installation process. When installation is complete, click Finish in the dialog that appears.
A system restart dialog box appears. Click Yes to complete the installation.
For more information on Boot Camp, click here.
Click here for complete article.
---
News, Info and Stories
When you finally move to Mountain Lion
by Christopher Breen, macworld.com
Reader Tim Kisanuki is a bit late to the party and is unsure what to expect when he arrives. He writes:
I've been running Snow Leopard on my iMac since it was released. I'm finally ready to upgrade to Mountain Lion. Before I do, can you tell me about any serious problems or odd behaviors I might encounter?
I recently moved one of my Macs that remained on Snow Leopard to Mountain Lion so the experience is fresh in my mind. The few things that popped out at me soon after I restarted with my freshly installed version of the Mac OS include:
Rosetta: The deal-killer for many is the lack of Rosetta support—the technology that allows you to run PowerPC applications on an Intel processor. Rosetta isn't part of Mountain Lion and can't be added. If you have some old applications that you can't live without (AppleWorks, for example) you'll want to stay right where you are. I stopped using PowerPC applications years ago, understanding that the end was in sight for them, so this wasn't a problem for me.
If you do have a lot of PowerPC applications but don't use them, it's likely you'll see them cluttering up your Applications folder. They're doing no harm, but you might want to trash them to free up some space. They're denoted by a gray circle with a line through it (the universal sign for "nuh uh"). If you sort your applications by date created most of them will float to the top of the list, making it easier to spot them.
---
Make the most of the Spotlight menu
by Dan Frakes, macworld.com
The easiest way to access OS X's powerful Spotlight search technology is using the systemwide Spotlight menu. But chances are you aren't getting as much out of this menu as you could be. In this video, Dan Frakes show you a few tricks for making the most of the Spotlight menu.
Transcript
Apple's Spotlight search technology is everywhere in OS X, but the easiest and quickest way to use it is the systemwide Spotlight menu: the little magnifying-glass icon at the far right end of your menu bar. Click this icon, and you can instantly search for many kinds of files and data on your hard—even applications; just select a result to open it. But chances are you aren't getting as much out of this menu as you could be. In this video, I'm going to show you a few tricks for making the Spotlight menu more useful.
Continue reading, and/or watch video....
---
How to win the streaming set-top box wars
by Lex Friedman, macworld.com
It's getting harder to find a technology company that isn't working on a set-top streaming box of some kind. Apple, Roku, Microsoft, Google, Plex, and Western Digital already sell these boxes, which can stream movies and other on-demand content from the Internet directly to your television set. And just last month, Intel announced plans to join the club with a TV box of its own that promises live TV and on-demand content.
When Intel's box does arrive—and the company only promises that it will arrive sometime later in the year—it will find itself jostling for a position in a crowded field. Apple, of course, sells the Apple TV, which offers a set of predefined channels including Netflix, Hulu Plus, and the Wall Street Journal, many of which require a paid subscription of some sort. Features unique to the Apple TV include its integration with Apple-specific services: iTunes, iCloud, and AirPlay streaming. Roku's box offers hundreds of channels, offering most channels Apple has (with obvious exceptions like iTunes, and non-obvious ones like YouTube), with significant additions like Amazon, HBO Go, Crackle, and many more. Microsoft's Xbox gaming console offers support for streaming, and it's rumored that the company will up the ante with a dedicated set-top box later this year. Google TV's offering includes more channels than Apple's, but fewer than Roku's.
Roku's box is popular and versatile, but doesn't handle live TV.
And now, get ready to add Intel to that mix. It's hard to know precisely what Intel's final product, should it get released, will look like, but corporate vice president Erik Huggers told AllThingsD that the company's goal is to offer "a service that incorporates literally everything," including on-demand, DVR functionality, and streaming apps.
---
Our favorite Mac cleanup tips
by Macworld Staff
Spring comes with its own rituals. Here at Macworld, we like to throw open the windows, beat the dust out of the rugs, and straighten up our Mac desktops. Don't stop at cleaning your home this season—these tips from our editors will help you keep your Mac fresh and organized, too.
1. Tidy up your desktop
Last year I discovered Light Pillar's wonderful app Desktop Tidy ($5.00). This handy utility cleans up your Mac's desktop, keeping it free of clutter. It stores all desktop files and folders in a hidden Shadow Desktop, which you can access from the menu bar or in the Finder. That way, every file I download, each screenshot I capture, and every image I drag and drop to my desktop is stored and filed in an easy-to-reach location. The utility quietly works its magic at scheduled intervals—as often as every minute or as infrequently as every seven days. It even organizes desktop items by file type, which makes finding and renaming files easy.
---
Sharing is...Easy!
by Stephanie Farrell, smalldog.com
One of my favorite new features to Mountain Lion (and one that I use all the time) is the handy little Share button that is available in apps like Safari, Finder, Preview, Notes, Photo Booth, iPhoto and more.
For someone like me who creates and sends files all day long, this tool was extremely helpful. Have you discovered this yet? If not, here's a quick look into the magical Share button.
I'd say in one single day I might export my work to a PDF about 10-20 times, and in most cases, to email it to someone. Before Mountain Lion, the process looked something like this: Export to PDF. Open up Mail > Create new message > Click the little paperclip > Locate file > Attach > Send email.
Now with the Share button, my process looks something like this: Export to PDF. File automatically opens in Preview > Click Share button > Choose Mail. Boom! A new mail message pops open with the attachment ready to go in the email. Type a quick little blurb and send 'er off!
With the Share button, you are also able to send via Message, AirDrop, Twitter, Facebook and Flickr. For social media outlets like Facebook and Twitter, one quick click will open a little window that looks like a piece of paper, which allows you to write a blurb about what you're sharing and then post it. The Share options in Safari include Add to Reading List, Add Bookmark, Email this Page, Message, Facebook and Twitter.
If you aren't already familiar with the Share button, I recommend you check it out. It really is the simplest and quickest way to share things with others!
---
Apple adds two-step authentication option for iCloud, Apple IDs
by Lex Friedman, macworld.com
Apple has unveiled two-step authentication for Apple and iCloud IDs. As first reported by 9to5 Mac, you can now add the extra level of security to your accounts by heading to Apple's website.
Two-factor authentication requires that you not only know your password to log in to a service; you also need access to something else that's linked to you. Many times, this is a cell phone; that's precisely how Google's two-step authentication works.
Apple's approach requires that you have an iOS device or cell phone handy. To configure two-factor authentication, start by clicking the Manage button on Apple's account management website. Then, after logging in, click on Password and Security. Be quick! Apple logs you out after just a minute or two.
You may then need to answer your security questions to prove that you're really you. Then click the Get Started button under the Two-Step Verification section, and click through several screens of information. Apple stresses that it won't be able to reset your password for you if you enable two-step authentication, and that you'll always need at least two of the following three things: your password, your recovery key, and a compatible device.
Apple further requires that you change your password before enabling two-step authentication, should it decide that your existing password isn't secure enough.
Once you've gotten this far, you may need to wait. Apple requires that you wait three days before you can finish enabling the two-step process—if you were forced to change your password earlier in the process.
If you don't get the big time-out sign, you simply follow the remaining steps that Apple's site presents to confirm your cell phone number.
From then on, when you attempt to log in using your Apple ID, a unique numeric code will be sent to your devices; you'll in turn need to enter that code to complete the login process.
The recovery key Apple provides is a one-time use mechanism to log in to your account if you somehow lose all your associated iOS devices. Apple recommends that you print the recovery code and store it in one or more safe places. (Once you use it, you can get a new one.)
The advantage of two-step authentication is that it's far more secure than a simple password alone, as former Macworld staffer and now Wired senior writer Mat Honan can attest: It makes it considerably more complicated for a malicious user to break into your accounts, since they'll need possession of your device to complete the log in process.
---
Why you should use Mountain Lion's Spaces
by Kirk McElhearn, macworld.com
If you make your living working on your computer, as I do, you probably look for ways to be more productive. If you use your Mac just for fun or for basic tasks, you still want to be more efficient. We use a lot of apps on our Macs, and one of the things that can slow us down is rooting through the many windows of multiple applications to find just the right one. Mountain Lion's Spaces can make your work more efficient and productive by letting you set up virtual desktops, each one clean and tidy, so that you can focus on what you want and not be distracted by windows from other apps.
Spaces are a part of Mission Control, your Mac's built-in feature for getting a visual on every currently open app and window on your computer. As a reminder, you can enter Mission Control in several ways: Click the Mission Control icon in the Dock to display all your spaces, or press Control-Up Arrow, or, if you prefer, perform a three-finger swipe straight up on a multitouch trackpad. I have a hot corner set to display Mission Control as well.
---
What to do when you can't connect to the Internet
by Joe Kissell, macworld.com
If your Web browser, email program, or any of a hundred other Internet-connected apps on your Mac starts complaining about not having a connection, you may have to do a bit of sleuthing to figure out the cause. After all, a disruption anywhere along the chain between your Mac and a distant server could cause an outage, and it's not always obvious where to look.
I suggest trying each of the following steps, in order, until you're able to connect again.
1. Try another site or app
To make sure the problem isn't restricted to just one website, try visiting another - preferably one that's highly reliable, such as Google.com.
---
Join Me application*
from Sue Keblusek, MAGIC
I just used Join Me, an application that allows you to share your desktop (and the cursor if you wish) with someone at a distance. My sister needed to apply for a credit report but it had to come from the States and she's in India. So we connected on Skype, just voice, and opened and shared Join Me. I accessed and filled out the application and she could watch and provide all the information I needed. When we were through, we switched and I could see her desktop and, when she allowed, use her cursor around it.
The application is only visual so you need a voice connection in addition as appropriate. Within the states you could use Skype or phone. The part above is free and extremely simple to use. For a fee of $13-$19 per month there are additional things you can do.
---
International Technical Support*
from Vi Frederick, MAGIC
School bus in Japan
School bus in India
......and which country do I get when I have a technical problem with my computer?
---
iPhones, iPods, and iPads
Find My Friends
by Apple

Find My Friends allows you to easily locate your friends and family from your iPhone, iPad, or iPod touch. Install this free app on your device running iOS 5 or later and sign in with the Apple ID you use with iCloud. Adding a friend is easy — just send a request to see their location. Once your friend accepts using the Find My Friends app on their device, you will be able to see their location. And friends can request to see your location the same way.
If you prefer, you can also choose to share your location with a group of friends for a limited time.
Use Find My Friends to keep track of your traveling companions when you're on vacation. Or to see if the kids are home from school. Or to meet up with friends for dinner.
If you're running iOS 6, you can also set up location-based alerts — to notify you when your kids leave school or a family member arrives home safely — or have Find My Friends notify others about your location.
Find My Friends can send your current location to friends even when the application is in the background and has been optimized to avoid draining your battery.
Features
Easily locate friends and family
Temporary sharing option
Location-based alerts (requires iOS 6)
Simple privacy controls
Parental restrictions
Free for iPhone, iPad, and iPod touch
Open iTunes to buy and download apps.

Requirements:
Requires iOS 5 or later and an iCloud account. You can create a free iCloud account on your iPhone, iPad, or iPod touch.

---
How to control the volume in iOS
by Sharon Zardetto, macworld.com
Most of the time, you hit a volume button on your iPhone, iPod touch, or iPad, and it does what you expect, whether it's turning up your reminder alarms or turning down your music. And then there are the other times. But once you understand the different "kinds" of sounds, the interaction between software settings and the volume buttons, and how context overrides the default course of events, you'll have better control over your device's volume.
The sound of more than music
The key to mastering volume adjustment is understanding that most of the sounds on your device fall into one of two categories. General audio includes music and other media, and the voice volume on the iPhone and for FaceTime on all devices. The "ringers and alerts" category includes not only the iPhone ringer, but also: FaceTime rings; Clock app alarms; notifications and individual app alerts; keyboard clicks; and miscellaneous app sounds like the whoosh of sending Mail.
Basically, you can decide which kind of sounds—general audio or the ringers and alerts—your volume buttons control by going to Settings > Sounds and, under Ringers and Alerts, set Change With Buttons to On or Off; if you turn it off, the buttons control the general audio. But your default choice is easily, and often, overridden because what you're doing at any given moment takes precedence over the default settings
Context is everything
The volume buttons "just work" most of the time because they're context-sensitive.
If, for instance, you're in the Music app, the buttons change the media volume even if you've set them to control Ringers and Alerts; this happens even if the music controls are merely showing, on a Lock screen or in the multitasking bar, with no music playing. Conversely, when media volume is the default, you can change the Ringer volume when an alarm is playing. These changes affect the overall volume setting for that category, not just temporarily or for the current sound.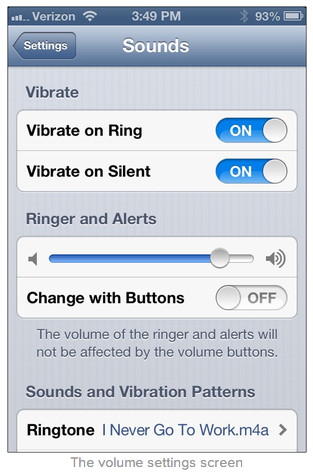 The volume icon that appears when you use the buttons helpfully indicates what you're adjusting. With Ringers and Alerts as the default, press a button when you're on a Home screen with no music playing and the icon is labeled Ringer (on the iPhone) or Sound Effects (on other devices). If Ringer and Alerts is turned off, you get the unlabeled icon that stands for general audio. If you're using headphones, it's their volume that's altered, not the device's speaker, and the volume icon notes that.
As for controlling the volume in games, that's complicated. Many games are set to the Ringers and Alerts volume when you first run them; some interact with that setting if you change the game volume. Some newly launched games inherit the volume level from the last game app you used. A game remembers its own volume setting from its previous use if it's been sitting in the multitasking bar. Luckily, no matter your default setting for the volume buttons, they will always control the volume of the current game. Want Siri to talk louder, or to lower its voice? Neither general audio nor Ringers and Alerts volume settings affect that. To adjust both the little chirp and the voice volume, start Siri with a press of the Home button, and use the volume buttons while Siri's open.
Setting limits
While you're in Settings, you can also set an upper limit for headphone music volume in Music > Volume Limit to protect your—or a child's—hearing. The setting doesn't restrict non-headphone volume. (A side effect of setting a lower limit is that each press of a volume button changes it by a smaller increment.) You can prevent the youngling from upping the volume by locking the level with a passcode. Go to Settings > General > Restrictions; tap Enable Restrictions if necessary, and supply a passcode. Tap Volume Limit and then Don't Allow Changes.
Mute and other silencers
Volume isn't the only thing that depends on context. How you mute your device can depend on which device you're using, the situation, and hardware or software settings.
When your iPhone is ringing, hit either volume button to temporarily mute it; this also works for FaceTime rings on any device.
On the iPhone, flip the Ring/Silent switch to kill the ringer; it will still ring through headphones. This also mutes Calendar and Reminder alerts, most games, and other sound effects (including the camera shutter) but not alarms—an important point if you're sitting in the front row for the New York Philharmonic.
On an iPad, use the Side Switch to mute button ringers and alerts; it doesn't affect music or other media. In Settings > General, under Use Side Switch To, tap Mute. To override the setting, or mute the iPad when the Side Switch is set to Orientation Lock, see the details in Lex Friedman's guide to muting notifications. You can also mute the volume with the volume button: Hold down the lower end for about two seconds.
Use Settings > General and turn on Do Not Disturb to silence notifications during the times you specify. This works only when your device is locked, and does not affect alarms.
You can mute certain sounds for some individual apps in Settings > Sounds. Tap New Mail in the Sounds list, for instance, and then tap None.
---
Understanding iOS passcode security
by Marco Tabini, macworld.com
Ah, the eternal question: Should you protect your iOS device with a passcode? On one hand, the knowledge that your data is presumably safe from prying eyes makes carrying around your phone and tablet less worrying; on the other, having to tap in a code every time you want to check your email or make a phone call can quickly become annoying.
Apple, for its part, isn't helping make this choice easier for consumers: Methods for bypassing the passcode screen or circumventing it altogether keep getting discovered, and though the company typically provides patches fairly quickly, these security holes don't instill confidence in iOS's ability to keep our data safe.
Besides, passcodes seem inflexible and at times even incompatible with the way we use our devices. I've stopped counting the number of people who have asked me why iOS doesn't use geolocation to automatically engage passcodes when, for example, you leave your house, where you don't need so much protection. And when you leave your passcode-locked device within reach of a toddler, you can find out rather quickly that Apple's deterrents aren't exactly designed with curious children in mind.
---
Hard Reset Your iOS Device
by Michael Burl, smalldog.com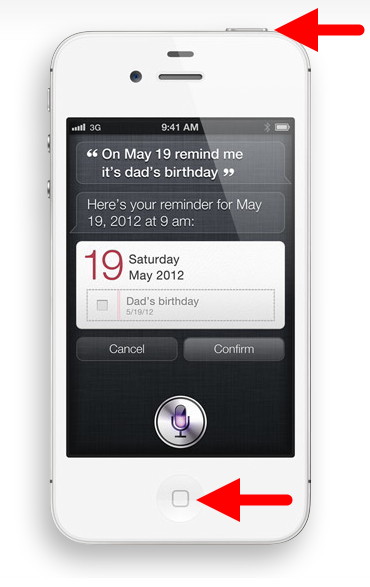 This week's Mac Treat is short and sweet. Back when I used to work the retail floor for Small Dog, we were taught to power cycle any electronics as a first line of troubleshooting. It is funny how something as simple as turning an electronic device off and back on again can fix some problems. However, your device might be locked up in a way that makes turning it off seem impossible.
Most electronics have some way of forcing a shut down and your iOS devices are no different. This procedure is guaranteed to work for iPod touches, iPhones and iPads (mini or biggie). I know for a fact that it works with iOS 4 and up but for anything older, I cannot say for sure.
To hard reset your iOS device:
Hold down the On/Off button (aka Sleep/Awake) and the Home button.
Wait at least 10 seconds — until the screen goes dark and the Apple logo appears.
Voila! You have just hard reset your iOS device. I would advise against using this method as your normal shutoff mode since it bypasses all the operating system's normal shut down procedures (which are necessary for smooth operating). It is basically like unplugging your computer from the wall without shutting it down, so use this sparingly and only when the normal power down function is not working.

---
Back up, wipe and restore your iPad
by Nick Barber, macworld
If you're planning to sell or give away your iPad, then it is essential that your personal information and data be erased from it. If it's running sluggish after a few years, sometimes backing up your data, erasing it from the tablet and restoring it might improve performance.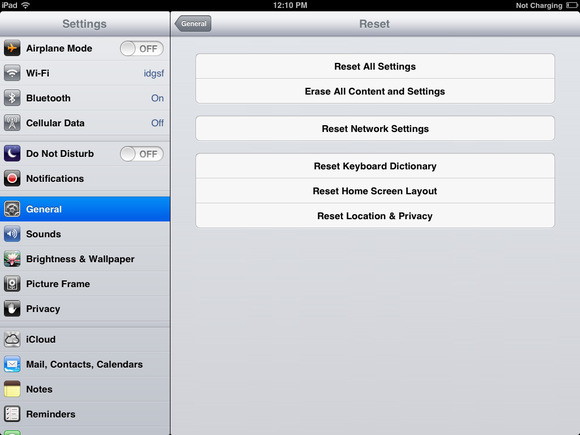 First, you need to make sure that you have the most current version of iTunes.

Once you're up to date, plug your iPad into your computer. On the iPad screen click "back up now." This may take some time depending on how much data and applications you have on your tablet.

After the iPad finishes backing up, unplug it and go to the settings menu (gear icon). Click on "general" and scroll down to "reset." Click it and then select "erase all content and settings." Your iPad will prompt you twice if you want to continue. If you've made sure that you've backed up your data, then initiate the erase. This may take some time depending on how much you have stored on your device.

After the iPad is wiped, it will prompt you for some basic information like which Wi-Fi network you'd like to connect to. When you complete this, it will ask you if you want to set up your iPad as new or restore information from a previous backup. In my case, I plan on keeping my iPad so I chose "restore from iTunes back up."

Plug your iPad back into your computer.

In iTunes a "Welcome to your new iPad" screen should appear. In my case I selected "restore from this back up." After a few minutes all of your data will be back on your device.
---
How to make iOS autocorrect work for you
by Sharon Zardetto, macWorld.com
Autocorrect is a boon from the computer gods for anyone engaged in tiny-screen typing, but it's also the bane of every iPhone and iPad user's existence. You can accept the gift and avoid the grief by paying attention to a few details.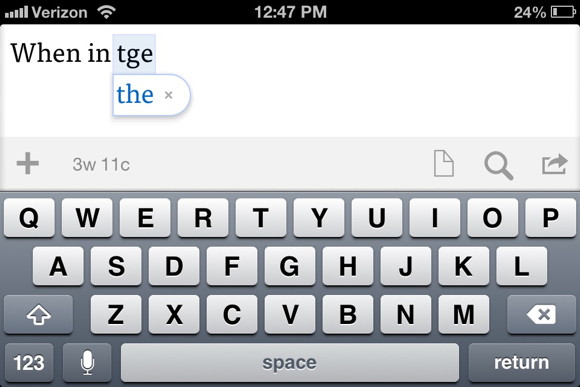 Go away!
Mistype a word—or even start typing a word properly—and autocorrect charges into the fray, offering a helpful suggestion to correct the misspelling or to save you the bother of completing the word letter by letter. And there's the first potential problem: If you've actually finished an unrecognized but correctly spelled word and you type a space or a punctuation mark, or tap Return, autocorrect will infer that you've accepted the substitution it recommended.
According to Apple's instructions, the way to dismiss an autocorrect bubble is to tap the tiny X inside the bubble. Fortunately, you don't have to be that precise: Tap anywhere in the bubble to reject it.
That's not much help on an iPad when the bubble happens to be far from the keyboard. Fortunately, you can overrule an autocorrect suggestion from the keyboard: Tap the Delete key, retype the last letter, and the suggestion disappears.
---
Four ways to get things done with Siri
by Lex Friedman, macworld.com
You can have a lot of fun with Siri, the artificially intelligent, voice recognition-based assistant built into newer iPhones, iPod-Touchs and iPads. But fun though Siri may be, it turns out the little voice inside your iOS device can also help you become increasingly productive. From reminding you to perform a task, to sending meeting invitations, to keeping track of book recommendations—Siri proves to be surprisingly helpful for taking care of everyday things. Here's an assortment of tasks to get done with Siri.
1. Schedule reminders
Though Apple's Reminders app isn't the most full-featured or powerful app around, I still rely on it for simple to-do list management. I almost never type in new reminders on my iPhone or iPad; I use Siri instead.
Time-based tasks and tricky math: The most common thing I use reminders for is time-based tasks: "Remind me to take out the recycling tomorrow at 6:30 p.m."
That's the simplest form of time-based reminder you can set with Siri, though, and I often get more complex. For example, Siri can do date math for me. When I signed up for a free trial with a premium Web service, it told me I would be charged if I didn't cancel within the next 20 days. So I told Siri, "Remind me to decide on the Web service in 19 days at 10 a.m." Siri knows precisely what to do.
Ongoing reminders: When my daughter battled a persistent pair of ear infections, the pediatrician prescribed an antibiotic. I told Siri, "Remind me to give Sierra her medicine every night at 6 p.m." (Sadly, though, I can't find a way to get Siri to understand an end date for a daily, repeating task; I must go into the Reminders app's interface to do that.)
Location-based reminders: Need to do something when you get to a certain place? Thanks to the magic of Location Services, Siri can help you with that too. You need to turn on Location Services for Reminders; if this setting isn't on, Siri will prompt you and take you to your iPhone's Settings to do so.
How does it work? Assuming you've entered your own home or work address into your contact record, you can say something like, "Remind me to turn off the slow cooker when I get home."
If you have your friend's address stored, you could say, "Remind me to share the latest office gossip when I get to Dan's house." When you arrive at the specified location, Reminders notices behind the scenes, and pops up a notification suggesting you take care of the task in question.
Siri also understands "here," in the context of: "Remind me to pick up flowers when I leave here."
Shared reminders: And if you want to create a shared list of reminders—say, so that you and your spouse can both check in on a grocery list or remember to get the kids from school—you can handle that with Siri, too.
Reminder overview: If you're on your lock screen (or anywhere else on your iOS device, for that matter) and want to check your reminders, just tell Siri, "Show me my reminders" to get the list. You can check off completed tasks from that view.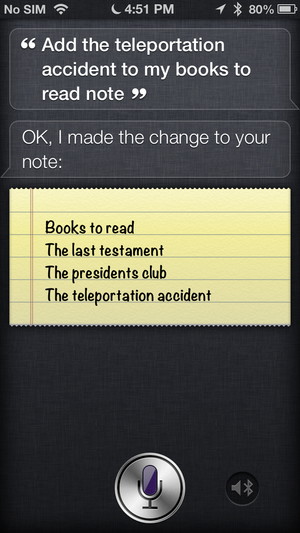 2. Take notes
You can save notes with Siri in a variety of ways. You might prefer "Note to self: My new great song idea is about gnomes." You can also say, "Make a note" or "Note that" to kick off a note. The importance of titles: The best way to manage notes with Siri is to remember to give your notes meaningful titles—which really means, make the first line of your notes useful.
For example, I might say, "Make a note called Books to read." Siri tells me it's done, and then I say "Add The Road by Cormac McCarthy." I can keep going: "Add The Presidents Club, new line, The Last Testament, new line, and The Teleportation Accident."
Later on, even if you're not working with that note, you can tell Siri: "Add The Gift of Fear to my Books to read note." When it's time to pick out a new ebook to read, just say, "Show me my Books to read note," and you'll be all set.
3. Send iMessages and texts
First things first: "Text" is one syllable; "iMessage" is three. Save yourself some effort and always say "text" to Siri; it will still send an iMessage when possible.
Spouse-savvy texts: If you simply say "Text my wife," for example, Siri will create a new, blank text or iMessage as appropriate to the person you've specified is your spouse. (That's true, by the way, even if your spouse is your husband; Siri's modern worldview uses "husband" and "wife" interchangeably.) Siri will then ask you what you'd like the text to say.
Fewer words=less effort: I prefer to skip a step: "Text my wife Let's get Chinese food for dinner." Siri understands the recipient and the message, and preps your text accordingly. (You used to have to say something like "Text my wife that I'm on my way home" or "Text my wife; say See you soon," but that's no longer necessary in iOS 6.) Siri's also content to read your incoming iMessages to you.
4. Make appointments and manage your calendar
"Make an appointment for 2 p.m. on Thursday called Dentist." You can say that. But, don't just dabble with entry-level Siri calendaring. Get fancier by making meetings with Siri that include invitees, durations, and more: Dates and invitations: "Create a 30 minute lunch meeting for Friday at 12 p.m. with Jason Snell." If the name you use matches an address in your contacts, Siri will even handle sending out the invitation.
Calendar control: You can do a lot of calendar manipulation with Siri, too. Instructions you can try include: "Move my 3 p.m. phone meeting to 4:30," "Reschedule my lunch with Jason to March 11 at 1 p.m.," "Cancel my planning meeting," or "Add Dan to my lunch with Jason." (If you, like many Macworld staffers, have more than one "Dan" in your contacts, fret not; Siri will seek clarification on which Dan you mean.)
All-knowing Siri: Siri really understands a lot about your calendar. You can ask questions like, "When is my lunch with Jason?" You can also say things like: "Show me my Friday" or "Show me today."
Armed with these tips, Siri can help you become more productive - with barely any tapping involved.
---
By The Way
Annoying messages*
by Ron Sharp, MAGIC
There are enough applications or notices getting our attention that extra message boxes at startup get annoying. Particularly ones that want us to buy or upgrade apps or ones that we haven't a clue what they are about. So if you get an annoying message at startup here's something to check. Go to System Preferences and click the "Users & Groups" or "Accounts" in Snow Leopard and older operating systems. Select your account and click on Login Items. Look through the list to see if you recognize one that's pestering you and select, then to remove it, click on the little minus sign at the bottom of the window.
If you're getting a message when opening an application rather than on start up, then check the preferences for that application. It would be a non Apple application. Usually there is an update schedule that has options. You may find it in the "Advanced" tab of the preferences and the options may be to update automatically, update manually, or "ask when an update is available."
---
Apple User Group Special Offers*
by Ron Sharp, MAGIC
Offers for User Group Members:
Special Offer - Que Publishing Products: 35-45% Discount
Special Offer - tiny lightbulbs Products: 20% Discount
Special Offer - MacTech BootCamp II: 40% Discount
Special Offer - Transporter Social Storage: 10% Off
Special Offer - ReAuthored iPad "Book" Cases: 20% Off
Special Offer - Atomic Training Video Tutorials: 20% Off
Special Offer - Mac|Life: Updated - Mac|Life: Now 65% Off
Special Offer - SlideShark iPad PowerPoint Viewer: Free App plus
Special Offer - AgileBits 1Password and more: 25% Discount
Special Offer - O'Reilly: Wonderful Discounts for User Group Members
Special Offer - Eltima Software multimedia products: Pay 20% less
Special Offer - Take Control Books: 30% Discount on All eBooks
Special Offer - Peachpit Press: 35% Discount
Special Offer - Macworld Magazine and more
Offers for User Group Leaders:
Special Leader Offer - Tropical Software: Free Leader Offer
Special Leader Offer - Camtasia for Mac and Snagit for Mac: Leader Offer
Special Leader Offer - IGG Software iBank4: Leader Offer
Special Leader Offer - Prosoft: Products Review Special
Offers Expiring Soon:
Special Offer - Installer Maker: 33% Discount
Click here to go to the User Group Resources.
Password, good through May 15, 2013 - ugcoolbuys
---
Cartoons*
from our humor Corespondent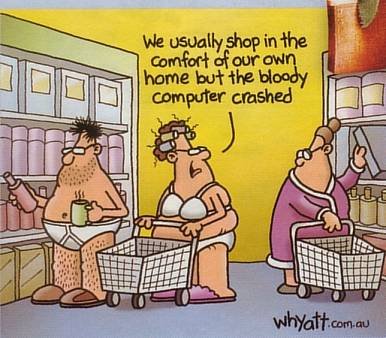 ---
MAGIC, the Macintosh Appreciation Group of Island County, serves people who use Macintosh computers, software and peripherals. Our goal is to share information and get answers to questions to make us more productive with our use of technology. Our monthly meetings give us a chance to discuss computer problems and share ideas with other Mac users, feature speakers on specific topics, and to keep apprised of Apple news.