Newsletter
May 2013
Newsletter Editor:
In This Issue:
MAGIC MUG News
Software Updates
Macintosh News, Information and Stories
iPhones, iPods, and iPads
By The Way
* Indicates author is a member of MAGIC
---
Meeting information
Day:
The 3rd Wednesday of the month. 15 May 2013 this Month
Location:
Unitarian Universal Congregation of Whidbey Island (see map.)
Time:
4:00 p.m. - 6:00 p.m. with the first hour dedicated to new users and their questions.
Presentations:
•Apple Q & A
•"Disaster Preparedness" with Robert and Prescott
Future Meetings: (subject to change)
See the Meetings Page on this website.
Do not forget to bring your used ink cartridges.
MAGIC will dispose of them for you and make some change for the group.
---
Minutes of the February 20, 2013 Meeting
by Penny Holland, Secretary
The April monthly meeting of MAGIC took place at the Unitarian Congregation Meeting House in Freeland from 4 to 6 PM on Wednesday, April 17, 2013. Approximately 24 people were in attendance.
President Sue Keblusek opened the meeting at 4:00 with a welcome and an announcement regarding a bag of unused Epson ink jet cartridges up for grabs. She then turned the first hour over to Robert Elphick who led the Q and A session. Following are some of the topics addressed:
Finding the DPI (dots per inch) of an image. (Graphics Converter or Preview>Info)
Turning off your printer each night to save ink and power. (Also clears memory and possible accumulated errors.)
A humming sound coming from a printer that is ON but not printing (no solution)
Photo Library Manager - an App you can check out with a free trial download, at http://www.fatcatsoftware.com/iplm/, but for pay you get more capabilities including the abilty to find and remove duplicates.
CiphSafe does NOT work on the iPad. Nobody knew of a free one that works on Macs and iPads.
How to set up a printer so that you can command a PRINT job with a printer that is turned OFF and that will go to the print queue.
How to view downloads window that no longer shows up when downloading. (Look for "button" on top right side of Safari toolbar.)
Before selling a Mac, how to get all the personal data files off the computer but leave the system software intact. (First remove any needed personal files, then reload the original CD that came with the computer. Finally, use DISK UTILITY to securely erase free space.)
Sometimes the iPad does not "recognize" the username when trying to send emails. (The Wifi connection might be weak. Check to see that there are at least 3 or 4 "bars.")
The iPad and home computer are communicating unbeknownst to owner. (Turn sharing off on the computer's System Prefs.)
Onyx is listed 3 times in Applications folder. Which ones to remove? (Look at dates and eliminate all but the most recent one.)
Getting rid of Parallels on a PC. (Google should give some good results.)
Switching to Mountain Lion--pros and cons. (Get instructions at the MAGIC website at http://www.whidbey.com/magicmug/archives/2011-06.html# as to which programs will no longer work with Mountain Lion. The new OS has some new features that some people like very much, and some are less enthused.)
AppDelete and AppCleaner are good freeware programs to use for completely deleting unwanted programs as well as all their ʻhidden' files.
Setting up ClamX to monitor the computer as it is running instead of just doing an occasional scan of the whole computer which takes hours. (Go to ClamX preferences and choose Monitor and at least add your email folder and your downloads folder for ongoing active scans.)
How to determine if you have a 64 bit computer. (The newer dual core Macs bought in the last five years or so are 64 bit.)
Siphos is a virus checking program that has been running in the background for over 3 days and has scanned 336,000 files, with many days left in order to finish the scan. It has already found several suspected "threats" that were not caught by ClamX. Slow progress may be caused by the computer going to sleep - use "Jiggler" to keep the Mac awake while scanning. (Suggestion is to first run Onyx to clean out cash and trash so there is less to scan.)
Business

Bonnie Abney, Treasurer, reported that we now have $8,125.56 in our treasury. President Sue Keblusek announced that at our next board meeting we will be discussing possible ways to use some of this money in keeping with MAGIC's goals.

Presentation

Given by Sue Keblusek on Pages, Apple's word processing program in direct competition with Microsoft Word.

Sue showed us the list of many templates offered by Pages, including Word Processing templates (documents, letters, envelopes, resumes, etc.) and Page Layout templates (newsletters, brochures, cards, certificates, etc.) She stressed the importance of checking out the Preferences when beginning to use a new program. These preferences allow you to set up your document in a manner that is most useful to the way you work. She showed how to customize the tool bar to your personal liking. Under Preferences->Auto Correction she demonstrated how to define your own personal shortcuts, such as typing the letters "sk" to cause the computer to type her name, "Sue Keblusek."

After a brief review of Page's tool bar and the format bar, she spent some time with the inspector and talked about how this looks very much like other Apple programs, such as Numbers and Keynote.

Using a paragraph she copied into a Pages document, she used the Inspector's Document tab to affect the headers, footers, page numbers, table of contents, and Paragraph Styles. " Next she showed how easy it is to drag and drop an image from the desktop to the document. Using the Inspector, it is then possible to define the image in various ways so that the text wraps around the image (or not). To get images from iPhoto and other folders you can use the Media Inspector, which also allows you to import music or video to your document. Then this multi-media document may be sent as an email.

Using the Graphic Inspector, a variety of picture frames can be put around an image. A shadow of various colors, thicknesses and directional angles can be added to any image.

Sue explained how she uses some of these effects in web pages that she designs. She used the color matching ability (available in probably every program that offers the color window). To pick up a color from a given image so that the color can be used, for instance, as a coordinating background, use the magnifying glass icon on the color picker window and drag it over any image. Wherever you click, that color will be selected.

Speech and dictation are also possible with Pages (as with many other programs on the Mac.) If you select a portion of text and right click (or control click) you will get a contextual menu where Speak Text is one of the choices. A computer voice will read the selected text to you. For dictation, you must have an internet connection as the words you speak are sent via the internet to a speech recognition program at Apple and a few seconds later the text appears in your document.
(NOTE: This is only available in Lion and Mountain Lion systems.)

The meeting ended at approximately 6 PM.
---
MAGIC Moments
by RYE
Board of Directors Meeting
A meeting has been scheduled for the Saturday before the May MAGIC meeting. Discussions will include some financial planning as we expect our cash flow to slow down in the coming month as we lose a primary mentor who contributed to our cash flow.
The board may also examine any requests for assistance or grants for projects involving Macintoshes. Now is the time to get any applications in.
Classes
I am receiving requests to run an iMovie class. This is a bigger subject so is likely to be a four or five day class. How many of you would be up to doing this later in the year? When would be best for you (assuming that it would have to be in the afternoons)? Let me know at
No classes are scheduled for the next few months. Classes are being set up for the summer months. Current plans are to put on four:
Mac Essentials
iPhoto
iMovie
Pages
These classes will probably begin in June. Some will b e at Au Sable (Pacific Rim INstitute) and other will be held at Unitarian Universal Congregation of Whidbey Island. All classes will be limited to 20 people so remember to book early.
If you have any requests for other classes, Please contact me at
SOFTWARE UPDATES
Note: This Software Update section of the newsletter lists the most relevant Apple updates. Not all updates are listed for all products. Additionally, I'll add other pertinent updates on occasion.
Apple keeps patching Java on OS X Snow Leopard after proposed drop-dead date
by Gregg Keizer, Computerworld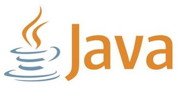 Apple has patched Java for the aged OS X Snow Leopard and tweaked Safari to give users more control over what websites they let run the vulnerability plagued Oracle software.
Oracle on Tuesday shipped an update for Java 6 and Java 7 to patch up to 42 bugs—the number depends on the version and platform—for Windows and OS X. Because Apple maintains Java 6 for OS X—unlike Java 7, which Oracle handles—it followed with its own update.
The Apple update was important beyond the fact that it fixed 21 Java flaws.
Not all Mac users can upgrade to the newest version, Java 7, which requires OS X Lion, or its successor, Mountain Lion. OS X Snow Leopard users are stuck on Java 6, and must rely on Apple to provide patches for that version.
Fortunately, Oracle has reversed an earlier commitment to halt security updates for Java 6—the end for Java 6 was originally slated for February, but Oracle extended it to early March when it shipped "out-of-band," or emergency, patches—and continues to support 2006's Java 6.
That meant Apple had access to the Java 6 patches and could, as Computerworld speculated last month, keep serving fixes to Snow Leopard.
The Oracle/Apple move was smart: According to Web metrics firm Net Applications, Snow Leopard accounted for 27% of all copies of OS X used to access the Internet in March. The 2009 operating system has resisted retirement, and in fact powered more Macs last month than OS X Lion, its 2011 successor.
If Oracle and Apple had not continued to support Snow Leopard with Java patches, the percentage of unprotected Mac users would have jumped from the current 9% to a whopping 36%, or more than a third of the installed base.
End date not certain
Oracle did not say how long it will continue to provide patches for Java 6 to Windows users, and thus how long Apple will be able to issue security updates to its customers still running Snow Leopard.
But Apple could do so for months to come. Even after Oracle halts support for Java 6, it will still distribute patches to enterprises that have negotiated contract support plans. Apple will probably have access to those only-for-corporate-customers patches and will use them to draft updates for its own users.
The last public patches for Java 5, for example, shipped in November 2009, but Apple continued to issue Java 5 updates for OS X Leopard until June 2011, or 20 months later. Tuesday's update to Java included fixes for the four vulnerabilities exploited by researchers at last month's Pwn2Own hacking contest. Each researcher (or in one instance, a team of researchers) was awarded $20,000 by HP TippingPoint, which co-sponsored the challenge.
With Oracle's patches for Pwn2Own's Java vulnerabilities, only Microsoft has yet to close a hole uncovered at the challenge. French bug broker Vupen exploited Internet Explorer 10 (IE10) on Windows 8 at Pwn2Own. Some experts anticipated IE10 fixes for the Pwn2Own flaws last week on April's Patch Tuesday, but Microsoft disappointed.
Apple refreshed Safari 6 for OS X Lion and Mountain Lion, and Safari 5 for Snow Leopard to add a new security tool. The browser now lets users closely manage Java permissions by selecting which sites can execute the software. Users comfortable with changing security settings can now allow Java to run on trusted websites—an online banking site, for example—while blocking it from executing on other domains.
Apple has published a support document outlining how the new site-by-site Java permission manager operates.
Safari Updates
The new Safari tool may come in handy: Hackers have turned up the heat on Oracle in the past year, exploiting a succession of Java vulnerabilities, including several so-called "zero-day" bugs, or unpatched—and in some cases even unknown—flaws.
A year ago, for instance, cybercriminals infected more than 600,000 Macs in the widespread "Flashback" malware campaign by exploiting a Java vulnerability that Oracle had fixed, but Apple had not. It was easily the biggest-ever security event on OS X, and a major embarrassment for Apple, which, in response, changed its Java patch cadence to match Oracle's.
OS X Lion and Mountain Lion users running Java 7 will also see new messages that appear in their browser of choice when attempting to launch a Java applet. Those messages, which were called confusing by U.K.-based security vendor Sophos, display small icons or badges that represent various risks.
The next scheduled Java security update is set for release by Oracle on June 18. Unless Apple changes its mind on Snow Leopard, it will also issue patches the same day for that version of OS X as well as for Lion and Mountain Lion. http://www.macworld.com/article/2035445/apple-keeps-patching-java-on-os-x-snow-leopard-after-proposed-dropdead-date.html
---
iPhoto 9.4.3 Update
from apple.com
What's New in Version 9.4.3:
Photos can now be deleted from My Photo Stream by dragging to the Trash
Photos can now be exported from Photo Stream using the Export command in the File menu
RAW images manually imported from My Photo Stream are now editable
Fixes a bug that could cause manually-rotated photos to appear unrotated when shared to Photo Stream
Addresses an issue that could cause iPhoto to quit unexpectedly while syncing to Facebook
Resolves an issue that could cause calendar text to appear at the wrong font size, resulting in order cancellation
Fixes an issue that could cause books to have an incorrect number of pages after rearranging two-page spreads
Includes stability improvements
---
News, Info and Stories
Fact or fiction: Eight Mac energy-saving techniques tested
James Galbraith macworld.com
We're all interested in saving energy. Maybe you conserve to be a better global citizen or to save money on your utility bills. Maybe you use your laptop on the go and want to squeeze every possible minute of battery life out of it. But what if the daily computing practices you follow to save energy end up wasting it instead? What if your assumptions about Mac power usage are wrong? To investigate this possibility, Macworld's lab compiled a list of eight widely held opinions about energy conservation, grabbed our trusty power meters, and started logging power usage.
We used two systems: a 2011 21-inch iMac and a 2011 15-inch MacBook Pro. We connected them to a Watt's Up Pro power meter equipped with a USB connection that allowed us to capture energy usage logs while we ran various tests. Here's what we found out.
---
How to track a lost computer with Find My Mac
by Serenity Caldwell macworld.com
If your computer is stolen or otherwise liberated from your possession, don't despair: If you've remembered to enable Find My Mac, you can track it, remotely lock it, and even send messages to your Mac's screen.
You may have already enabled the Find My Mac service if you've set up your Mac with a free iCloud account. You can check by opening the iCloud preference pane in System Preferences. If you're already logged in to iCloud, all you have to do is make sure you've selected the Find My Mac checkbox; if you're not logged in (or if you don't have an iCloud account), you can go ahead and do so from this screen. After you turn on Find My Mac, you're set—you don't need to do anything else unless your Mac falls into wayward hands.
---
Google Estate?
by Shawn O'Brien, smalldog.com
Have you ever worried about what's going to happen to your digital life when you die? I haven't, but Google has. They have released a new service for Google users that allows you to plan your digital estate called Inactive Account Manager.
Here's what you do: Set your Google account to be either deleted after three, six, nine or twelve months of inactivity, or have all your data and login information sent to a trusted family member or friend. Data sent to a trusted contact can be set to some or all Google services: Google+, Blogger, Contacts, Google Voice, Circles, Drive, Gmail, Picasa and YouTube.
To set up your digital afterlife, go to your Google account page by clicking your user name, then Account in the top right hand corner. On the main page, click Learn more and go to setup under Inactive Account Manager in Account Management.
Once at the setup screen, you can determine how you would like your account managed. I know that this isn't particularly technical, but I find it interesting as an example of a place that I'm sure none of us thought we'd be ten years ago.
Here is a link to a more in-depth article.
---
Minimize The Clutter
by Mikhael Cohen, smalldog.com
If you're a multi-tasker and have a lot of windows open, you know how cluttered the desktop can get. To clean up your screen, you can minimize your windows to the dock, but that will spread and clutter the dock. A quick and helpful option is to enable "Minimize windows into applications icon." With this feature enabled, any windows that are minimized will be listed under the corresponding app in the dock. To enable this feature:
Go to the Apple logo in the left hand corner and select System preferences.
Select Dock in the top row.
Check Minimize windows into applications icon.
To view your windows just right click or (control-click) on the app and a list of all open windows will appear.
---
Type special characters in OS X
by Dan Frakes, macworld.com
Your Mac's keyboard makes it easy to type any of the standard characters—the ones used most frequently in everyday typing. But OS X lets you use hundreds of special characters that don't appear on your keyboard's keys. This week's video explains three ways to access special characters in OS X.

Your Mac's keyboard makes it easy to type any of the standard characters—the ones used most frequently in everyday typing. But OS X lets you use hundreds of special characters that don't appear on your keyboard's keys. These include special symbols for currency and punctuation, symbols, and much more.

Earlier this year, I reviewed a great utility called Characters that makes it simple to find and type special characters using a systemwide menu. But you don't need third-party software: Here are three ways to access special characters in OS X.

Holding down keys If you're running OS X 10.8 Mountain Lion, you can type some characters—specifically, those that are accented or modified versions of common letters—by simply holding down the base character. For example, if you need to type an accented E, just hold down the E key for a second or so; you'll see a popover displaying the available variations on the letter E. Click one, or press the number corresponding to it, to type that character. On a U.S. English keyboard, this trick works for A, C, E, I, L, N, O, S, U, Y, and Z.

(The downside of this feature is that you can't hold down one of these keys to repeatedly type it. If you'd rather use one of the other methods, below, to access special versions of these characters, so that you can get key repeating back, you can use this hint.)

Using Keyboard Viewer For other characters accessible via the keyboard, you can turn to OS X's Keyboard Viewer. Before you use Keyboard Viewer for the first time, you must go to the Keyboard pane of System Preferences, and on the Keyboard tab, make sure the box for Show Keyboard & Character Viewers In Menu Bar is checked. This adds the Input Menu to the menu bar.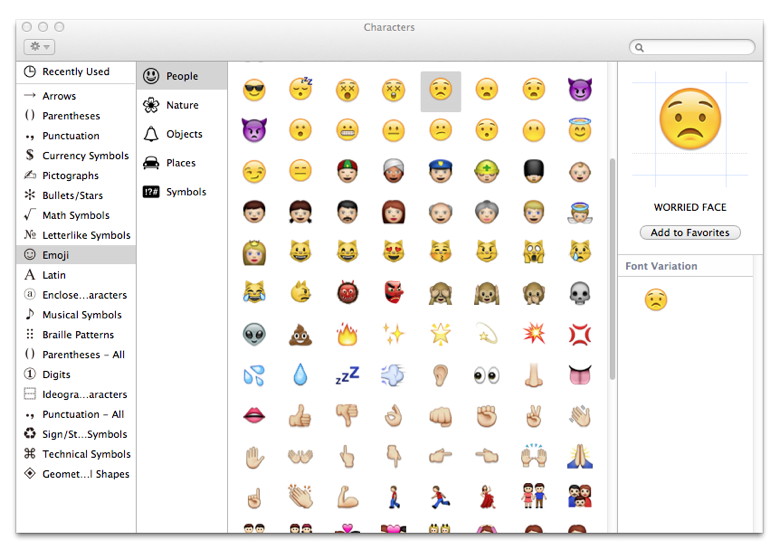 Choose Show Keyboard Viewer from this menu, and you'll see an onscreen representation of your keyboard. (This virtual keyboard matches your physical keyboard's layout, so it may not look exactly like what you see in this video.) By default, you see standard keys, but if you press modifier keys—Shift, Command, Option, and Control—or combinations of modifier keys, you'll notice that the keys on the screen change. For example, pressing Shift and Option changes the K key to an Apple symbol

.
This means that you can type an Apple symbol at any time by pressing Shift+Option+K, even if Keyboard Viewer isn't open. (You can also click the key in Keyboard Viewer to type it immediately.)
Note that Keyboard Viewer reflects the available characters in the frontmost app's current font, so a particular key combination may produce different results in a different app or font.
Using Character Viewer What about characters you can't access from the keyboard? From the same Input Menu, choose Show Character Viewer, and you see a window listing any special character your Mac is able to produce, organized by category. Select a category on the left, and you see all the characters available in that category. Double-click a character to "type" it in the frontmost application.
Character Viewer offers a few other useful features. The Recently Used list makes it easy to reuse recently typed characters, while the Favorites list includes any character you've designated as a favorite. The details area on the right shows a larger version of the selected character, along with more information about it, similar characters, and variations available in other fonts. (You can right-click any character to copy its detailed information to the clipboard for pasting elsewhere.)
Perhaps most useful is Character Viewer's search field. If you know what you're looking for, but you can't find it, type part of the character's name—such as euro or smil—to show only matching characters.
---
Introduction to Calendar
by Christopher Breen, macworld.com
Mountain Lion can help you do more than organize your music library, compose and receive email, and work out the complex equations necessary to design a hamster capable of sustained flight. With the aid of a bundled application, it can ensure that you know about upcoming chiropractic appointments, a favorite grandchild's birthday, or the dreaded yearly visit from a particularly long-winded cousin. That application is Calendar.
Launch Calendar (you'll find it in the Dock by default, as well as within the Applications folder at the root level of your Mac's hard drive), and you're presented with what's supposed to look like a real-world desk calendar—complete with leatherette top and bits of torn paper where pages have been ripped away.
---
How to import calendars
by Christopher Breen, macworld.com
Apparently my recent Mac 101 column on using Mountain Lion's Calendar has unearthed a lot of questions. Reader Michael Wolfson has one about Calendar and holidays.
I was wondering if there is a way to get the holidays to show up in Calendar (on Mac and/or iPhone). It would be nice to know these things when I look at the calendar.
There is. By default Calendar doesn't come equipped with a holiday calendar, but it's easy to add one through calendar subscriptions. The manual way to do this is to cruise the Internet until you locate the kind of calendar you seek, copy the URL for that calendar, choose File > New Calendar Subscription, and in the sheet that appears enter the copied URL and click Subscribe.
For example, if I wanted to add the San Francisco Giants 2013 baseball schedule to Calendar (and honestly, who wouldn't?) I'd enter this URL:
http://mlb.mlb.com/soa/ical/schedule.ics?team_id=137&season=2013
When I click Subscribe I see the calendar name along with its chosen color (you can choose a different one if you like). I can then choose where to add that calendar - on my Mac or to iCloud, for instance. I can additionally choose to remove alerts and attachments and choose how often I want the calendar to refresh—your choices are every five minutes, every fifteen minutes, every hour, every day, and every week. For this specific calendar you'll want it to refresh every day as the calendar is updated to include the previous days' scores.
---
Typography for all: Demystifying text for high-impact messages
by Lesa Snider, macworld.com
Text is incredibly powerful—whether you're making a business card or a garage-sale sign, you're sending a message. The look of that message influences the way the receiver reacts: If the message is visually pleasing, the reaction is generally positive, but if the text is hard to read, that feeling of difficulty transfers back to you, the messenger. Here we'll cover the basics of everyday typography, font pairings that are pleasing to the eye, practical formatting tips that work with a variety of software, and common mistakes to avoid.
---
How To Disable Notification Center In Mountain Lion
by Taylor Amon, smalldog.com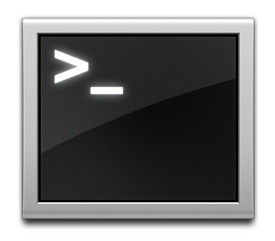 I like Mountain Lion a lot, but have to say that I'm not a fan of Notification Center. I see the benefit of this feature for some users, as it tells you when things are available to be done.
At the same time, it can be a nuisance, as messages reappear until you complete them, such as a software update to the system. Because it's built into 10.8 Mountain Lion, you only have the option to temporarily disable it. It will automatically turn itself back on after 24 hours.
After some research I have found a way to deactivate the notification center through Terminal. Remember, Terminal is an application that gives you, the user, access to the code that runs the machine. There are lots of useful things that can be done with it, but only experienced users should use it, as you can cause sometimes irreversible damage to your system. Before anything is done, I always recommend a full system backup.
Now to the fun stuff - first you are going to want to open up Terminal. Terminal is located in the ~/Applications/Utilities folder. If you are a fan of keyboard shortcuts, you can go directly to the folder with the easy shortcut of command+shift+U. Once terminal is open, type in:
sudo defaults write /System/Library/LaunchAgents/com.apple.notificationcenterui KeepAlive -bool false
A "sudo" command requires admin access, and will ask for the administrative password for the machine. After entering your admin password, enter:
killall NotificationCenter
Once that has been entered, you will need to log out and back into your account, and you will have disabled Notification Center. If you ever change your mind on this, the whole process can be reversed by entering the following code:
sudo defaults write /System/Library/LaunchAgents/com.apple.notificationcenterui KeepAlive -bool true
killall NotificationCenter
---
How the Internet Began*
from Penny Holland, MAGIC
In ancient Israel , it came to pass that a trader by the name of Abraham Com did take unto himself a young wife by the name of Dot. And Dot Com was a comely woman, broad of shoulder and long of leg. Indeed, she was often called Amazon Dot Com.
And she said unto Abraham, her husband, "Why dost thou travel so far from town to town with thy goods when thou canst trade without ever leaving thy tent?" And Abraham did look at her as though she were several saddle bags short of a camel load, but simply said, "How,dear?" And Dot replied, "I will place drums in all the towns and drums in between to send messages saying what you have for sale, and they will reply telling you who hath the best price. And the sale can be made on the drums and delivery made by Uriah's Pony Stable (UPS)."
Abraham thought long and decided he would let Dot have her way with the drums. And the drums rang out and were an immediate success. Abraham sold all the goods he had at the top price, without ever having to move from his tent.
To prevent neighbouring countries from overhearing what the drums were saying, Dot devised a system that only she and the drummers knew. It was known as Must Send Drum Over Sound (MSDOS), and she also developed a language to transmit ideas and pictures - Hebrew To The People (HTTP).
And the young men did take to Dot Com's trading as doth the greedy horsefly take to camel dung. They were called Nomadic Ecclesiastical Rich Dominican Sybarites, or NERDS.
And lo, the land was so feverish with joy at the new riches and the deafening sound of drums that no one noticed that the real riches were going to that enterprising drum dealer, BrotherWilliam of Gates, who bought off every drum maker in the land. And indeed did insist on drums to be made that would work only with Brother Gates' drumheads and drumsticks.
And Dot did say, "Oh, Abraham, what we have started is being taken over by others." And Abraham looked out over the Bay of Ezekiel, or eBay as it came to be known. He said, "We need a name that reflects what we are."And Dot replied, "Young Ambitious Hebrew Owner Operators." "YAHOO," said Abraham. And because it was Dot's idea, they named it YAHOO Dot Com.
Abraham's cousin, Joshua, being the young Gregarious Energetic Educated Kid (GEEK) that he was, soon started using Dot's drums to locate things around the countryside. It soon became known as God's Own Official Guide to Locating Everything (GOOGLE).
That is how it all began. And that's the truth.
---
Idiots at Hello Operator*
from Penny Holland, MAGIC
Customer: 'I've been calling 700-1000 for two days and can't get through; can you help?'
Operator: 'Where did you get that number, sir?'
Customer: 'It's on the door of your business.'
Operator: 'Sir, those are the hours that we are open.'
Samsung Electronics
Caller: 'Can you give me the telephone number for Jack?'
Operator: 'I'm sorry, sir, I don't understand who you are talking about.'
Caller: 'On page 1, section 5, of the user guide it clearly states that I need to unplug the fax machine from the AC wall socket and telephone Jack before cleaning. Now, can you give me the number for Jack?'
Operator: 'I think it means the telephone plug on the wall.'
RAC Motoring Services
Caller: 'Does your European Breakdown Policy cover me when I am traveling in Australia ?'
Operator: 'Does the policy name give you a clue?'
Caller (enquiring about legal requirements while traveling in Europe ) 'If I register my car in France , and then take it to England , do I have to change the steering wheel to the other side of the car?'
Directory Enquiries
Caller: 'I'd like the number of the Argo Fish Bar, please'
Operator: 'I'm sorry, there's no listing. Are you sure that the spelling is correct?'
Caller: 'Well, it used to be called the Bargo Fish Bar but the 'B' fell off.'
Then there was the caller who asked for a knitwear company in Woven.
Operator: 'Woven? Are you sure?'
Caller: 'Yes.. That's what it says on the label -- Woven in Scotland ...'
On another occasion, a man making heavy breathing sounds from a phone box told a worried operator: 'I haven't got a pen, so I'm steaming up the window to write the number on.'
Tech Support: 'I need you to right-click on the Open Desktop.'
Customer: 'OK.'
Tech Support: 'Did you get a pop-up menu?'
Customer: 'No.'
Tech Support: 'OK. Right-Click again. Do you see a pop-up menu?'
Customer: 'No.'
Tech Support: 'OK, sir. Can you tell me what you have done up until this point?'
Customer: 'Sure. You told me to write 'click' and I wrote 'click'.'
Tech Support: 'OK. At the bottom left hand side of your screen, can
you see the 'OK' button displayed?'
Customer: "Wow! How can you see my screen from there?"
Caller: 'I deleted a file from my PC last week and I just realized that I need it. So, if I turn my system clock back two weeks will I get my file back again?'
WordPerfect Helpline
Operator: 'Ridge Hall, computer assistance; may I help you?'
Caller: 'Yes, well, I'm having trouble with WordPerfect .'
Operator: 'What sort of trouble??'
Caller: 'Well, I was just typing along, and all of a sudden the words went away.'
Operator: 'Went away?'
Caller: 'They disappeared'
Operator: 'Hmm. So what does your screen look like now?'
Caller: 'Nothing.'
Operator: 'Nothing??'
Caller: 'It's blank; it won't accept anything when I type.'
Operator: 'Are you still in WordPerfect, or did you get out?'
Caller: 'How do I tell?'
Operator: 'Can you see the 'C: prompt' on the screen?'
Caller: 'What's a sea-prompt?'
Operator: 'Never mind, can you move your cursor around the screen?'
Caller: 'There isn't any cursor; I told you, it won't accept anything I type..'
Operator: 'Does your monitor have a power indicator??'
Caller: 'What's a monitor?'
Operator: 'It's the thing with the screen on it that looks like a TV. Does it have a little light that tells you when it's on?'
Caller: 'I don't know.'
Operator: 'Well, then look on the back of the monitor and find where the power cord goes into it. Can you see that??'
Caller: 'Yes, I think so.'
Opera tor: 'Great. Follow the cord to the plug, and tell me if it's plugged into the wall..
Caller: 'Yes, it is.'
Operator: 'When you were behind the monitor, did you notice that there were two cables plugged into the back of it, not just one? '
Caller: 'No.'
Operator: 'Well, there are. I need you to look back there again and find the other cable.'
Caller: 'Okay, here it is.'
Operator: 'Follow it for me, and tell me if it's plugged securely into the back of your computer..'
Caller: 'I can't reach.'
Operator: 'OK. Well, can you see if it is?'
Caller: 'No..'
Operator: 'Even if you maybe put your knee on something and lean way over?'
Caller: 'Well, it's not because I don't have the right angle -- it's because it's dark.'
Operator: 'Dark?'
Caller: 'Yes - the office light is off, and the only light I have is coming in from the window.'
Operator: 'Well, turn on the office light then.'
Caller: 'I can't.'
Operator: 'No? Why not?'
Caller: 'Because there's a power failure.'
Operator: 'A power .... A power failure? Aha. Okay, we've got it licked now. Do you still have the boxes and manuals and packing stuff that your computer came in?'
Caller: 'Well, yes, I keep them in the closet..'
Operator: 'Good. Go get them, and unplug your system and pack it up just like it was when you got it. Then take it back to the store you bought it from.'
Caller: 'Really? Is it that bad?'
Operator: 'Yes, I'm afraid it is.'
Caller: 'Well, all right then, I suppose. What do I tell them?'
Operator: 'Tell them you're too damned stupid to own a computer!'
---
iPhones, iPods, and iPads
What's All That "Other" Junk?
by Apple
I've always wondered what the iPhone data labeled "other" was when I looked at how much storage I had left to use. Recently I learned just what that "other" data on my phone might be: Among other things, it could be attachments from your SMS and iMessages, visual voicemails or even your Safari web cache.
Here are some tips to help free up some space on your device!
The first way to clear up some serious space is to delete old visual voicemails. To do this, simply open Phone (no, not your sweet flip phone — the Phone app on your iPhone). You may see a list of voicemails that you haven't already deleted under the Voicemail section of the Phone app; in that list there will also be "deleted voicemails." That is basically the trash can for all of the voicemails you've already deleted and that folder will need to be emptied (just like you would need to with the trash on your Mac). Those end up taking up quite a bit of room on your device and can quickly eat away at your storage.
Another way to clear up some space is to delete some of the attachments you receive from friends via text message. Just go into Messages and delete what you don't want. Another big user of data is the cache in Safari. Every few months, clear out the cache by opening Settings > Safari > Clear cookies and data. This will empty out the local cache and webpages you frequently access.
If all else fails, you can restore your device to factory settings to restore all of your storage; just make sure you do a backup first. About 800MB of storage will always be reserved for storing the operating system and the built-in apps, but the rest of it is yours to do with what you please!
---
Why Mailbox for iOS is a better email app for business
by Rick Broida, Macworld
About a month ago I offered up four productivity-boosting replacements for stock iOS apps. Among them was Mailbox, a much-anticipated email manager that was available only by joining a lengthy waiting list. (Like, seriously lengthy. Some users found themselves in line behind hundreds of thousands of others.)
Thankfully, as of yesterday, Mailbox has no more waiting list, so it's available to all comers. The question is, does it succeed as a business tool?
The answer is absolutely, with a few qualifications.
When it comes to email, I think Apple's stock app does a pretty decent job. I particularly like the VIP option introduced in iOS 6.
However, most of us deal with a daily avalanche of messages, and Mail doesn't do much to help us manage an overloaded inbox.
Mailbox, however, makes email processing much quicker and easier. That's because you can accomplish any of four different functions depending on how you swipe a message.
Specifically, while viewing your inbox, you can swipe right to archive an individual message or a little further right to delete it permanently.
But the real action comes when you swipe left: Mailbox swings into snooze-button mode, letting you delay that message for a later date and/or time. That incredibly useful capability used to require a third-party service like Boomerang or FollowUpThen, and then with the added step of forwarding your messages. Here, it's baked right in.
A longer swipe to the left lets you bypass the snooze options and add your message to a list (the equivalent of Gmail's labels). You can also tap and hold a message, then drag it to a different spot in your inbox—a neat way to manually prioritize mail.
The only real downside to using Mailbox is that it's currently limited to Gmail. Eventually it will support other IMAP-based mail services, but for now only Gmail users can get in on the action.
If you're one of them, I definitely recommend taking Mailbox for a spin. It's free, it's available now, and it really can make a difference in how quickly and efficiently you whip through your inbox.
---
App Review | Sleep Cycle
by Michael Burl, smalldog.com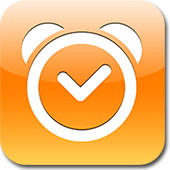 For my entire life, I have never been a "morning person." Even when I exercise and go to bed early the day before, I can never seem to get going in the morning. Now with the nice weather giving me motivation to be healthier, I did a little digging to find some health and fitness apps in the iTunes App Store.
I came across this one app calledSleep Cycle that claims to be an intelligent alarm clock.
The idea of an intelligent alarm clock is based from tons of sleep science research. The research has shown that you have different levels of sleep phases varying from deep sleep to light sleep. The ultimate goal is to avoid waking up when you are in a deep sleep phase. Doing so should ensure you are not groggy and stressed, and instead wake up feeling rested and relaxed.
You can see how your standard alarm clock is kind of like a crap shoot. Sometimes, you hit the jackpot and it goes off in a light phase and other times you will be forced to get up in a deep phase. The Sleep Cycle app takes the random factor out of your sleep equation. "How do they determine this," you ask?
The scientists have figured out that when you are in a deep sleep phase, you move less then you do in a lighter phase. That allows the super sensitive gyros in the iPhone can pick up on all of your movements and then determines which phase you are in. Now, you tell the app what time you want to be up by (like any standard alarm clock), and the app will sound the alarm when it knows you are in a light sleep phase. The app sets a 30 minute window from the time you need to be awake, since you might not be in a light sleep phase at the desired time. Beyond the intelligent alarm clock, Sleep Cycle's other features include:
Detailed sleep statistics and graphs for every night
15 different alarms
Notes to track your day
Shake/tap to snooze
And much more...
If you are interested in trying out Sleep Cycle, you can find it in the iTunes App Store or by clicking here.
---
Google and Adobe beautify fonts on Linux, iOS
by Katherine Noyes, PCWorld

Users of Android, Chrome OS, Linux, and iOS devices may not realize it, but FreeType open source software is used to render fonts on more than a billion such devices. Not only that, but the FreeType project this week got a significant update from none other than Adobe and Google.
Specifically, Google and Adobe on Wednesday released into beta the Adobe CFF engine, an advanced Compact Font Format (CFF) rasterizer that "paves the way for FreeType-based platforms to provide users with richer and more beautiful reading experiences," as Google put it in an online announcement on the Google Open Source Blog.
The new rasterizer is now included in FreeType version 2.4.12. Though it's currently off by default, the technology is "vastly superior" to the old CFF engine and will replace it in the next FreeType release, the project says.
Very high quality display
CFF is a descendant of the PostScript font format developed by Adobe. CFF fonts have been popular on the desktop over the last decade, but TrueType, developed by Apple, has typically dominated the Web and mobile devices.
"This reflects the legacy of low-resolution monochrome displays, an area where 'superhinted' TrueType fonts could produce better results, Adobe explained in a blog post.
"Hinting" refers to the adjustment in the display of an outline font so that it lines up with a rasterized grid.
In any case, with the addition of high-quality CFF font support, mobile developers now will have more fonts to choose from. CFF offers a smaller file as well as a method of hinting that "ensures excellent rendering across a wide range of environments and devices," Adobe added.
More faithful to typeface design
CFF fonts are "capable of very high quality display, but the technology places the burden for this display quality on the text rasterizer instead of on the font as is done in TrueType," Google engineers Stuart Gill and Brian Stell explained. "The new Adobe CFF engine brings that high quality rasterizer support to FreeType."
In fact, the new Adobe CFF engine is also considerably more faithful to typeface design, Google added. Among the improvements included are better stem widths and placement, fewer dropouts, dramatic reduction in the 'blobbiness' of Chinese, Japanese, and Korean, and more even visual weight. The code is now in "mature" beta and available for testing, according to the Git announcement.
Easier to read
Users of devices that incorporate the new version of FreeType will now be able to enjoy the same font rendering experience for CFF fonts that they have had for years on Windows and OS X, Adobe noted. Indeed, "while all of this may sound somewhat technical, the advantages are not, and will benefit technical and non-technical users alike," Google added, "These improvements lead to more beautiful looking text that is easier to read." The new beta is available for download from the Git repository.
---
Netflix for iOS is a must-have for subscribers
by Serenity Caldwell, macworld.com
From the moment it debuted for iOS, the free Netflix video-streaming app has been a must-have for nearly all owners of Apple's tablet. The streaming and DVD rental service offers a large library that can be streamed over Wi-Fi and 3G, in addition to several original programs financed and produced by the company itself.
The concept behind the app is fairly simple: those with Netflix accounts (which start at $8 a month) can stream any of the company's movies, television shows, or documentaries available via its Watch Instantly service to an iOS device. (Depending on your country, available programming varies.) The iPhone and iPad versions differ slightly in their implementation and extra features, but if you're looking to watch a Netflix television show on the fly, this app will allow you to do it on either device.
---
Master the Camera app on iOS
by Serenity Caldwell, macworld.com
Both the iPhone and the iPod-touch make for stellar pocket cameras, and the iPad and iPad mini aren't too bad in a pinch either. An iOS device isn't perfect for every photographic need. But it can serve awfully well in many situations where you might once have needed a digital camera.
The simplest way to shoot photos and video with your iPhone is to use Apple's built-in Camera app. The app launches by default in still-image mode; you can take a shot by tapping the Camera icon at the bottom of the screen or by pressing the Volume Up or Volume Down button. Switch between the front and back cameras by tapping the Camera icon (with the circular arrows) in the upper right corner; shoot video or photos by tapping the Photos/Video slider in the bottom right corner in portrait mode (or in the upper right corner in landscape mode).
Frame your subject
Photographers and artists alike adhere to the "rule of thirds," which says that photos look better when the subject is off-center, aligned about a third of the way from the right or left, or top or bottom (the same holds true for video—just look at TV shows and movies for proof). Imagine that the image area is divided by two equally spaced horizontal lines and two equally spaced vertical lines, According to the rule of thirds, the most visually interesting parts of the image should be positioned along any one of the lines, or at any point where the lines intersect.
While many seasoned photographers can imagine invisible grid lines when composing a shot, your iOS device makes it a bit easier: Just tap the Options button in the Camera app, and turn on the Grid feature. This overlays a three-by-three grid on your viewfinder, which allows you to abide by the rule of thirds with ease.
Set exposure and focus
The Camera app automatically sets exposure (how bright the image is) and focus (what part of the scene is sharp), but it doesn't always do so correctly. To manually set your exposure, tap once on the part of the image you'd like to source.
If you're taking a macro picture (one object in sharp focus, with the background blurred out), or if you're trying to keep your iPhone from focusing on a bright area and thereby washing out the rest of the picture, you can lock the exposure and focus on a specific point. Just tap and hold on that point until the blue focus box appears and pulsates, and then release; the words AE/AF Lock appear at the bottom of the app. To clear the lock and focus somewhere else, tap anywhere else on the screen. Keep in mind that the Camera app forces you to lock exposure and focus together; you can't set an exposure on one object and focus on something else. There are third-party apps that allow you to set each separately, however.
To view images you've recently snapped, you can either swipe to the right on the live image, or tap the square thumbnail icon in the lower left corner.
Use the flash
An iOS device's flash can save many a nighttime picture from complete darkness—but often at the expense of adding a red-eye effect, and temporarily blinding your subjects or making them close their eyes in the shot. Your device comes equipped with a bright LED flash, which can illuminate subjects well from up to about 6 feet away. After that, it peters out, so you'll want to use it only in close quarters. Additionally, your device's LED flash often imparts an odd blue glow to illuminated subjects, although you can fix this with third-party image-editing apps that adjust color balance. You can enable your device's flash by tapping the Lightning-bolt icon in the upper left corner of the screen.
Enable HDR
When using your device's rear-facing camera, you can enable HDR (high dynamic range) for your photos by tapping the Options button and toggling HDR on. Dynamic range is the light spectrum that an eye—or a camera sensor—can read, and the HDR option can be great for shots with multiple light levels. Your sunset-portrait shot, for example, will capture both your subject and the fire-red sky. Apple's HDR setting takes three images at different exposures (underexposed, overexposed, and in the middle) and combines them.
Because your device's HDR setting frequently results in improved images, it's tempting to leave it on all the time. After all, you can set the camera to save regular and enhanced copies of each photo to your Camera Roll (by going to Settings > Photos). That way, if the HDR shot doesn't wow you, you still have the original photo as well. Unfortunately, each HDR photo takes several seconds to save. And if you're short on storage space, the data required to save an additional, larger version of each image file can add up fast.
Take a panorama
The iPhone 5 comes with a fantastic feature for creating beautiful panoramas of just about anything—your room, the beach, even the Sierra Mountains. Begin by tapping the Camera icon on the iPhone, choosing Options, and selecting Panorama. You're presented with a screen that has an arrow pointing to the right and a line for you to follow as you record the image by swiping to the right. While you're using this feature, it may feel as if you're recording a movie, but you're not: The result is a still picture.
If you prefer to sweep from right to left instead, just tap once on the arrow while in panorama mode. It will change directions. You can also take vertical panoramas by holding your phone horizontally and sweeping upward. You can control focus and exposure, just as you can when you're taking a regular picture, by tapping an area in the composition that you want the phone to calibrate for.
---
Using a smartphone or iPod camera
from Robert, MAGIC
Smartphones are convenient to snap photos. A smartphone isn't as sophisticated as a DSLR, and it can't capture nearly the same quality of images. However, your phone is always in your pocket when you need it.
You can learn a few tricks to take photos that rival what you can get with a dedicated digital camera.
Hold it steady
Always use two hands to steady your phone, and keep it as still as you possibly can when you take the shot. You can get sharper photos by holding the phone close to your body rather than holding the phone at arm's length. Try not to even breath as you tap the phone's shutter button. Remember that your phone does not take the picture when you jab the screen with your finger - it takes it when you lift your finger off the screen. Hold the phone steady as you lift your finger.

Stay in bright light

Due to their very small image sensors, smartphone cameras tend to generate a lot of noise in dark conditions. Whenever you can, shoot outdoors in daylight. Indoors, turn on every non flourecsent light you can to help illuminate the scene. And in dim or contrasty lighting situations, if your phone has an HDR (high dynamic range) mode, try using it instead of the flash. HDR mode often produces far better photos than the smartphone's flash does because of poorly balanced for the colors of 'white' light.

Use the focus and exposure

Even though your phone doesn't have a lot of dedicated controls, you can still tell it where to focus by tapping the screen. Where you tap also determines where the cameras looks to set the exposure. Tap a dark part of the photo, and the camera will amp up the exposure to reveal details in the shadows; tap something bright to lower the overall exposure in the scene.

Try out complementary apps

Unlike DSLRs, a smartphone is that you can add features just by installing a new app. Smartphone cameras tend to have a very deep depth of field because their sensors are so small. Install AfterFocus (see picture) for the iPhone or an Android phone, and you can simulate the shallow depth of field that's so common in portrait photos taken with a DSLR. AfterFocus helps you blur the background to reduce the deep depth of field typical in smartphone cameras.

Based on this article.

---
By The Way
Playing with fonts*
by Ron Sharp, MAGIC
There are new fonts I've read about recently. I've seen about four of five new fonts in the last six months. I haven't really been excited about any one in particular but one I found interesting for the way it was created. It is the IQ font and you see how it was created in this Vimeo video.
I found my self checking one of the new fonts then ditching it. So it occurred to me to finally go through the Font Book and make a note of fonts I'd consider using most often, which I did. So here are my choices and my criteria for the selection process. Of course there are times when a specific font is desired for brochures or web sites for instance, but these are for everyday readability. I started with the standard OSX Font Book list. I haven't added more than possibly one or two new fonts since I've had this MacBook and maybe removed several others. So my Font Book has 147 fonts but many are either handwritten script styles, symbols, or not english.
First I scrolled through the Font Book list and checked for two items that just kind of annoy me. If the capitol "I" (as in Island) and lower case "l" (as in land) look the same or very similar they were excluded. Then I compared the letter "o" and the number 0. Too similar and they were out. I was left with ten fonts.
I created a new "Collection" folder in the Pages font window and added my ten fonts. (By the way, this is the same font window and fonts that the"TextEdit" and "Mail" applications use.) Then I took a block of text and compared the ten fonts for appearance and spacing and eliminated four more.
The four remaining fonts are: Palatino, Tahoma, Times, and Times New Roman. They are fairly similar, particularly when you adjust size and line spacing. Although I like and still use Helvetica and Optima often for their appearance and readability, they both failed the I and L test. Now that I've gone through the fonts and compared, I'll have my short list to choose from.
You can distinguish the difference between the Capitol I and lower case l (ell).
If my "I" and "L" criteria are not important to you, then you should include Helvetica and Optima as well as a couple others to your list. But one of the places fonts make a difference besides regular text is in things like serial numbers where letters and numbers are often used together.
Times and Times New Roman are also good for web use. Verdana's lower case letters make for easy reading on a web page but it's not as common a font as Times. If a computer doesn't have Verdana installed, the substitute font may not display it well. Here is a web page that lists web safe fonts: http://web.mit.edu/jmorzins/www/fonts.html
You can open your font window using the "Format" menu, selecting "Font" then "Show Fonts. Or use the Keyboard shortcut Command T. To add a font to your "Favorites" collection, just click on the little gear at the bottom of the font window and click "Add to Favorites." A really nice thing about using the Favorites collection is that it shows the style of text for each font in the font window and the other collections/lists do not.
---
MAGIC, the Macintosh Appreciation Group of Island County, serves people who use Macintosh computers, software and peripherals. Our goal is to share information and get answers to questions to make us more productive with our use of technology. Our monthly meetings give us a chance to discuss computer problems and share ideas with other Mac users, feature speakers on specific topics, and to keep apprised of Apple news.