Newsletter
June 2013
Newsletter Editor:
In This Issue:
MAGIC MUG News
Software Updates
Macintosh News, Information and Stories
iPhones, iPods, and iPads
By The Way
* Indicates author is a member of MAGIC
---
Meeting information
Day:
The 3rd Wednesday of the month. 19 June 2013 this Month
Location:
Unitarian Universal Congregation of Whidbey Island (see map.)
Time:
4:00 p.m. - 6:00 p.m. with the first hour dedicated to new users and their questions.
Presentations:
•Apple Q & A
•Mac user tips and Keyboard shortcuts with Ron Sharp
Future Meetings: (subject to change)
See the Meetings Page on this website.
Do not forget to bring your used ink cartridges.
MAGIC will dispose of them for you and make some change for the group.
---
Minutes of the May 15, 2013 Meeting
by Penny Holland, Secretary
The monthly MAGIC MEETING, held at the Freeland Unitarian Congregation Meeting House was called to order at 4:05 by Robert Elphick. Approximately 20 people were in attendance. There was no business meeting, but the treasury report indicates we currently have $8,147.56.
Robert began with an hour long Q&A session, covering the following topics:
Email with icon indicating a graphic is missing. Similar problems show up on websites when the graphic won't show. A square with a question mark inside it means the computer is trying to locate the graphic, but the graphic is not at the correct location on the web or there is some difficulty in getting it. Sometimes it just takes a longer than usual time for the graphic to be read. Keep email graphics under 1 MB or preferably to 50K by decreasing size and/or increasing compaction before sending. Sometimes the problem originates with the sender of the email.
New macbook pro with touch screen and screen image/window is sometimes "swiped" totally off the screen and can't be retrieved. Robert says, it was probably caused by accidentally pressing the mouse button while sweeping the mouse across the screen, so you should touch it carefully, and retrieve the window by shutting down the application and restarting it.
Using a browser and looking at a list images via a back arrow and a forward arrow and it keeps offering a window of many choices. It turns out the user was RIGHT clicking on the arrow, bringing up the contextual menu list.
Why do some e-mails group several emails together? It's called a Conversation where the email is grouping related messages, and it is a feature that can be turned off. In Mail, go to the View menu and deselect Organize By Conversation.
Is there a way to stop an email from loading if it turns out to be taking a very long time to load? Probably not, but you can have the program warn you if an email is larger than a certain size, and then you can choose to not load that particular email. How to see Mail Outboxes? The outbox only shows if there is something waiting to be sent in the outbox. After it has been sent it appears in the Sent mailbox and the outbox disappears.
A sent email won't show up as Sent on an iPod. Look at the settings and see if messages are set up to be deleted after being read or sent.
When addressing an email is there way the entire contact list can be seen? If the Address button is missing from the toolbar then use the pull down menu: View->Customize toolbar, add the Address button to Mail's toolbar. Then you can select an entire group or hold the Command key down while selecting random names in the list to add to the email. Is there a similar way to do this on the iPad? Hit the + button on the To line and your contacts will show up.
In Contacts, how do you get the first and last name in the order you wish. Goto Preferences->General, and choose Sort by and then chose the options you want.
Presentation: Disaster Preparedness
In addition to our own members, Robert Elphick and Prescott, we also had two visitors who contributed to tonight's topic: Nancy Waddell from the Red Cross and Reece Rose of Shelf Reliance.
Reece Rose (360-579-5880) displayed a 72 Hour Emergency Kit in a backpack that she sells through the Shelf Reliance website. It includes essentials such as lights, whistles, radio, a universal adapter, and rope, a hand crank flashlight radio, a first aid kit, and a small supply of emergency food and water. She was offering it at a half price of $78.39. For More information, visit her website.
Reece also brought a set of stackable bottles for holding emergency supplies of water. These come with a faucet that can be moved to each one in the stack as the containers empty. She also has a pocket size water filter for $16 that filters out viruses as well as impurities. Reece is the only local Whidbey seller of this type of emergency gear.
Prescott did a presentation and gave out a helpful handout on how to adjust the settings on iPads and iPhones and other such devices so as to maximize the battery life by dimming the screen's brightness. When all else fails, turn off WiFi and Bluetooth and set your device on Airplane Mode. There is a website to view these procedures online. This website also shows how to update your FaceBook status during an emergency, and how to tap your laptop or your car battery for more power.
Some other good tips that were mentioned are to get a USB port to connect to your auto cigarette lighter. In case of flood, move important gadgets to higher ground or wrap them in plastic. Prior to an emergency, put important information onto a thumb drive if you have time or upload to some sort of cloud storage. Then unplug all electronic devices. If you have been doing your regular backups, you can take your external hard drive with you instead of an entire computer, in case of evacuation.
Robert showed a solar powered battery about 4x6 inches in size for recharging devices in case of emergency. Google Solar laptop chargers to find them. He also showed a Family First Aid Kit for your car sold by Red Cross. Robert says he has already used his twice to assist heart attack victims.
Robert gave a Keynote presentation showing a list of emergency related APPS that are available for iPhones, iPods, iPads and such. For several of these he actually ran the APP to show some of the features, such as helpful first aid videos on CPR. This complete presentation is available on the MAGIC website in Tips and Tricks. The list of APPS is as follows:
My Medical for Macs - download a free trial, or buy it at MyMedicalApp.com/trial
ICE Standard - The Emergency Standard App for iPhone (ICE stands for In Case of Emergency.) Emergency response people are now trained to look for this APP on your local device in case of emergency.
First Aid by American Red Cross. Can be found here.
Pocket First Aid and CPR from the American Heart Association. There are instructions and a movie helpful to people who are not trained in CPR. It can be found here.
Earthquake by American Red Cross. It can be found here.
WikiHOW - How to and DIY Survival Kit including Escapes and Rescues, Home Emergencies, etc. plus some rather Unusual Extreme Scenarios. It can be found here.
Shortwave Broadcast Schedules Costs $1.99. (Useful if a shortwave band radio is available.)
Thuraya's SatSleeve Turns your iPhone into a Satellite Phone found here. Robert says the ratings for these are good and his home owners association may get one for emergencies.
A1 Panic Button is a free APP that makes a satisfying noise but is otherwise useless!
As well as finding the list on MAGIC's website, Robert said you can get these APPs at the Red Cross site or at the iTunes store. (Note: There are equivalent programs that will work on computers similar to the ones for the iDevices.)
An eye-opening chart by Mark Nowlin/The Seattle Times or Tricks and Tips at Magic displays the recovery time for services in case of a severe disaster. It was noted that on Whidbey Island some of the services will take a long time to restore.
Several helpful websites were also given: For the general population: www.safeinthesound.org and www.redcross.org ; and for businesses and organizations: www.readyrating.org. During a disaster, safeandwell.org is a registry by Red Cross where you can register and whereby family and friends can check to see if you are okay.
One further excellent tip: Put a copy if your ICE emergency card as one of your iPad wallpapers such that it will be the first thing that pops up when your device is turned on.
PowerPot is a wood fueled camp stove gadget that can be used to charge your devices.
Nancy Waddell added a PS about the Red Cross's occasional involvement in local fires. She showed us pictures of the big Langley fire from last Friday.
Other handouts - RedCross Volunteer (for anyone who would like to be a R.C. volunteer), and a booklet by the Rotary Club of South Whidbey Natural Hazards on Whidbey Island.
Please take some time to be prepared before a disaster happens here on Whidbey.
Note: Most of the material in this presentation is now on the MAGIC website here.
The meeting ended at approximately 6 PM.
---
MAGIC Moments
by RYE
No more Cats
At the Worldwide Developers Conference on Monday 10 June Apple has announced that future versions of OS-X will no longer be names for cats. The next one will be Maverick. Also a sexy new iOS 7 has been announced with a new look and several new features. More in the next newsletter.
Classes
The summer education season is being put together. Here is the proposed schedule:
Mac Essentials - July 29 to August 2, Unitarian Universal Congregation, Freeland
iPhoto - August 22 and 23, Au Sable Institute, Coupeville
iMovie - August 5 to August 9, Unitarian Universal Congregation, Freeland
Pages - 27 August to 29 August, Au Sable Institute, Coupeville
Details will be e-mailed to members when they become available as well announcements in the MAGIC website and Drew's List. All classes will be limited to 20 people so remember to book early.
Board of Directors meeting
In May, the MAGIC board of directors met. Items discussed included:
Establishing an instructors agreement for future classes.
Review of the Mentor program and whether we should somehow hold mentors harmless.
Upgrading the PayPal donation capability.
Reviewing the meeting and classes facilities.
Future MAGIC meeting presentations
Current and future finances
Future Education and classes
The board is generally satisfied that the club has grown and continues to prosper. Our membership has grown to over 400 people and many have expressed their appreciation for the club. We have received no complaints - a good sign!
SOFTWARE UPDATES
Note: This Software Update section of the newsletter lists the most relevant Apple updates. Not all updates are listed for all products. Additionally, I'll add other pertinent updates on occasion.
Security Updates for Lion & Snow Leopard
from support.apple.com/downloads/
Security Update 2013-002 has been released for Snow Leopard. All users of Snow Leopard should install this update.
Security Update 2013-002 has been released for Lion. All users of Lion should install this update.
---
Mac OS X 10.8.4 fixes iMessage ordering issue, and more
by Dan Moren, MacWorld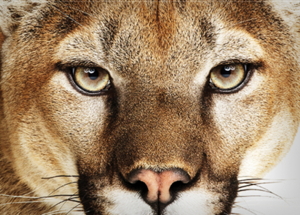 Even though eyes are on next week's Worldwide Developers Conference, which is rumored to usher in the next major update to OS X, Apple hasn't stopped supporting its current version. The company on Tuesday released Mac OS X 10.8.4, bringing numerous fixes and improvements.
Among the changes in the latest Mountain Lion update are improved compatibility with certain enterprise Wi-Fi networks, better Microsoft Exchange compatibility in Calendar, a fix for issues with FaceTime calls to non-U.S. phone numbers, and—to cries of joy heard round the world—a solution for an issue where iMessages might show up up out of order in Messages.
A new version of Safari, 6.0.5, is included in the download as well; Apple says it improves stability for some websites with chat features and games. (Not that anybody uses the Web for chatting or playing games, right?)
Additionally, Calendar birthdays should no longer appear incorrectly in certain time zones, VoiceOver compatibility for text in PDFs should be better, and an issue where the desktop background picture wasn't correctly preserved after restart should be fixed. There a number of other tweaks and enhancements, as detailed in Apple's support knowledge base document.
As per usual, the OS X update also features a number of security fixes, making it recommended for all OS X Mountain Lion users; the included Safari 6.0.5 likewise has its own security updates. Users of earlier versions of OS X can download Security Update 2013-002 to receive the same patches.
Mac OS X 10.8.4 is available as a free download via the Mac App Store. As of this writing, it wasn't yet available as an update from Apple's support downloads site.
---
Apple releases minor updates for iTunes, Aperture
by Lex Friedman, macworld.com
Apple on Wednesday dropped two quick updates to two of its apps. Fire up the Mac App Store, and you'll find iTunes 11.0.4 and Aperture 3.4.5.
The iTunes update addresses a bug that plagued many: Constantly getting prompted to enter your iTunes password. It also fixes a crashing bug related to switching between wireless and wired syncing.
Aperture's update addresses an issue that led to crashes when deleting items from a camera or memory card after importing those photos. The update now correctly ejects memory cards after using the Delete Items command. The Aperture update includes other, unspecified bug fixes as well.
News, Info and Stories
When QuickBooks for Mac is the wrong choice
by Joe Kissell, macworld.com
Mac users who want to (or have to) use Intuit's QuickBooks have plenty of choices—we can run the Mac, Windows, or Web app version. One of those options probably pops out as an obvious choice, but as I recently discovered, the least-obvious solution is sometimes the best one.
My wife and I are both professional writers. A few months ago, on the advice of our accountant, we reorganized our small business as a corporation. We agreed to endure a considerable amount of extra paperwork in exchange for significant financial and legal benefits. Accountants love QuickBooks (even if authors don't)
Our accountant all but insisted that we use QuickBooks so that she could easily view and update our financial records. However, ...
---
Syncing calendars between Mountain Lion and Snow Leopard
by Christopher Breen, MacWorld
Reader Ron Sharp has a question that continues to puzzle some Mac users. He writes:
I have an older Mac on a local network that is still using Snow Leopard - so it's incompatible with iCloud. How can I share calendars between it and my other Mac running Mountain Lion?
This was a popular subject when Mac OS X Lion (10.7) first shipped, as Apple drew a firm line between the new and old ways in regard to data sharing. MobileMe was out and iCloud was in. At that time there were a couple of sneaky ways to make Snow Leopard's iCal work with iCloud. Allow me to report that I've wasted plenty of my time so that you needn't waste yours. These schemes are broken and it's very unlikely Apple is going to do anything to make iCloud compatible with Snow Leopard.
But that doesn't mean you can't use an alternative—Google Calendar. In order to have such a thing you must sign up for a Gmail account. For the six of you who don't have one, hightail it on over to Gmail.com and set it up.
On the Mac running Snow Leopard launch iCal, choose iCal -> Preferences, and click the Accounts tab. In the resulting window click on the Plus (+) button to add a new account. In the Add an Account window choose Google from the Account Type pop-up menu and then enter your Gmail email address and password. Click Create and iCal will do the rest.
Repeat this process in the Calendar application on your Mountain Lion Mac.
Now, when you add an event to a Google calendar on one Mac, it will also appear on the other. Should different people be using each Mac, all you have to do is launch your web browser, travel to your Google home page, select calendars, choose a calendar you want to share, and then configure it so that it's shared with the person using the other Mac. Grant them editing powers and each of you can then add and remove events.
Note too that Google calendars can also be synced with iOS devices. So, while you may shed a tiny tear that you can't live entirely in iCloud, there's some balm in the fact that Google calendars are so well integrated with Apple's two operating systems.
---
Hands on with Chrome for iOS's new voice search
by Dan Moren, MacWorld
With all the voice-related features offered by our mobile devices, it's a wonder they haven't yet developed multiple personalities. The latest entrant in the category is Google Chrome for iOS, which on Monday was updated with improved voice search.
If you're a regular Chrome for iOS user, you'll know that Google's browser has long had a voice search feature that allows you to speak your search terms aloud instead of typing them in. However, the new version of the app incorporates the voice search feature used in the Google Search app for iOS, as well as more recently in the Chrome browser on Mac and PC. Google announced last month during its I/O developer conference that it would be bringing its voice search to all the platforms it supports.
---
Disable Notification Center
by Michael Burl, smalldog.com
Back in March, Apple issued their update to the latest OS, and one very convenient thing about Mountain Lion is that the Notification Center will tell you that there are software updates available.
This can be both convenient and annoying if you are like me and don't like to run your updates the second they're available. (Just in case there are any bugs in the system that didn't get worked out!) For me, that means I swipe to hide the notification and then, 10 minutes later, it is back.
I have been really lazy about my updates, so I have been swiping to ignore that notification since March and frankly, enough is enough. I should have just run the update to get rid of the notification, but instead, I found a way to disable Notification Center. The process is super simple and not permanent at all.
Hold down the option key and click on the Notification Center icon in the top right of the screen. This will make the icon turn grey to indicate that it is disabled. If you want it back, simply repeat the process. I have also noticed that if you close the lid to your laptop and reopen it, the Notification Center will be reenabled regardless of how you left it.
I hope you all find this quick Mac Treat as useful and stress relieving as I have. Enjoy.
---
Five Dictionary tricks I can't live without
by Scholle Sawyer McFarland, MacWorld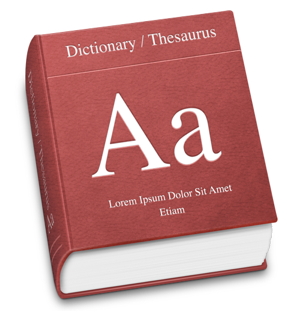 You've probably ditched your paper dictionary, but do you know how to use OS X's built-in one? Whether you need to know what a word means or just how to spell it, the days of leafing through hefty paper dictionaries are gone. But few Mac users really know how to make the most of OS X's built-in Dictionary app. Here are five tricks for doing just that.
1. Use pop-up definitions
A useful, and chronically underused, OS X feature is system wide pop-up definitions. In most Mac applications - including Safari, Mail, Pages, TextEdit, Twitter, you name it - just position your cursor over the word you want to define and press Command-Control-D. A pop-up window appears containing the definition, synonyms, and any relevant Wikipedia entry.
Click the header for Dictionary, Thesaurus, Apple, or Wikipedia to open Dictionary to the relevant page.
2. Use contextual menus
Say you've forgotten the Command-Control-D shortcut already. Are you out of luck? Of course not. In most applications, you can instead select a word and Control-click (or right-click). A contextual menu appears. Select Look Up in Dictionary (or Look Up) and the definition appears.
3. Use Spotlight
Another quick way to look up a word is by using the Spotlight search menu. Press Command-spacebar to activate it, and then type in the word you need defined. One of your results will be 'Look Up' next to the Dictionary icon. You don't have to select this and press Return. Instead, simply hover your cursor over the entry and a pop-up menu will appear with the full definition. If you don't want to reach for your mouse, press Command-L to jump immediately to the definition.
For more options - like the ability to look for synonyms—select the Dictionary entry (or press Command-D), and the Dictionary application will open to your word.
4. Make Dictionary talk
Perhaps your elementary school teachers taught you how to decipher the pronunciation symbols provided by the dictionary, but…perhaps not. Did you know that you can get Dictionary to pronounce words for you?
Go to System Preferences, click Dictation & Speech, click the Text to Speech tab, and choose a voice.
To make Dictionary talk, select a word and Control-click (or right-click) it. From the contextual menu, choose Speech > Start Speaking.
If the word isn't split into syllables (say, down below in its Thesaurus entry), you don't even have to select it. Just point to it with your cursor and Control-click.
5. Change your sources
Dictionary comes with a bunch of built-in reference sources. Select Dictionary > Preferences to see the list. Here you can determine which sources will show up when you search and what order they'll show up in. So, for instance, you could get rid of Wikipedia, add a Spanish language dictionary, or switch out the American English dictionary for a British English one. Note that you have to be connected to the Internet to access Wikipedia. And what's the Apple dictionary, you may ask? It includes a glossary of Apple terms—helpful for those times when you're not interested in the type of apple you can eat.
Click here for article plus video.
---
Eight easy ways to move between folders in OS X
by Kirk McElhearn, MacWorld
You probably spend a lot of time moving in and out of folders in the Finder as you navigate among your files and apps. Getting into a folder is easy: Just double-click it. But what about getting out of that folder and returning to where you were? You may be surprised to find that you have many ways to move up a folder in the Finder. Here are eight of them.
1. From the keyboard
If you use the keyboard a lot, you'll appreciate the simplicity of this technique for moving to the folder that encloses the contents of the current window. When you have a Finder window open, just press Command-Up Arrow, and your Finder window will shift to show the enclosing folder.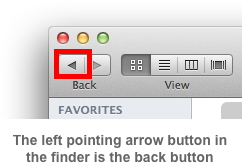 2. From the Finder toolbar
If you double-clicked a folder to enter it, you can easily get to the folder just above it: Click the Back button in the Finder toolbar. Note that this action goes up a folder only if you double-clicked a folder to enter it. If you entered a folder in another manner, the Back button will take you to the folder you were in previously. Here's a bonus tip: Click and hold the Back button to see a list of previously visited folders. This list shows folders you've accessed since your last login or restart, and it can be very long. Using this list is a quick way to return to a folder you've visited recently without navigating in the Finder.
3. From the Finder window title bar
The title bar of every Finder window shows the name of the current folder, and includes a proxy icon for that folder. If you hold down the Command key and click that icon, you'll see the directory structure for the current folder and all of the folders above it. You can select the folder just above it to go up one level, or select any other folder in the list to jump up elsewhere in your Mac's file system.
4. From the Finder's Path Bar
If you have the Path Bar displayed (when in the Finder, select View > Show Path Bar), you'll see the full path to the current folder. This display is similar to what you see when Command-clicking the proxy icon, as in tip number 3, but it's horizontally arranged and always visible. To move to any other folder in the Path Bar, double-click it. (For more tips about using the Finder's Path Bar, see "Five overlooked abilities of the Finder's Path Bar."

5. From the Path button in the Finder toolbar
The Finder's toolbar also can include a Path button. (Choose View -> Customize Toolbar, and drag the Path button to the Finder toolbar.) When the Path button is visible, click and hold it. It then shows the folder hierarchy, just as the proxy icon in tip number 3 does. Select the folder you want to open.
6. Using an 'Up' button in the Finder toolbar
Wouldn't it be nice if the Finder toolbar had an 'Up' button? Although Apple doesn't include one, you can add one. Download Teki's free Up Button app. After installation, go to your Applications folder, find the Up app, and drag it to the Finder toolbar. Wait a second until your cursor changes to a green plus-sign (+) icon, and then drop the Up button wherever you want. Click that button to go up a folder at any time.
If you prefer a do-it-yourself option, this hint on the Mac OS X Hints website shows you how to make a similar button using AppleScript.
7. In Column View
All of these methods work in all Finder window views. But if you use Column View (choose View > as Columns), you can also use the Left Arrow key to move up in the Finder. This option is visually more logical than pressing Command-Up Arrow (which also works).
8.In List View
When you're using the Finder's List View (chose the menu View -> as List), you can navigate easily using the arrow keys. The Up Arrow and Down Arrow keys let you move around in the list. You can go up a folder by pressing Command-Up Arrow, and enter a folder by pressing Command-Down Arrow. If you press Command-Right Arrow, the folder will expand in the current list, without going into that folder; in other words, you'll see the entire list, plus the contents of the selected folder.
---
Pixelmator launches smart, significant new upgrade
by Lex Friedman, MacWorld
Pixelmator has released version 2.2 of its $15 Mac App Store-only image editing app. "Don't be confused by versioning numbers," the developers wrote on their blog, because "it's a major upgrade." Among the new features are a slew of new shape tools, a Smart Move tool, a clever Paint Selection tool, a Light Leak Effect, and plenty more.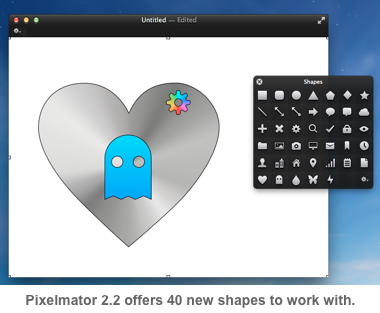 Pixelmator 2.2 includes 40 shapes you can easily insert into your images, and they're all customizable: You can give them solid or gradient fills, shadows, inner shadows, adjustable stroke styles, and a host of visual effects. The shapes include basic geometric objects, along with cameras, people, ghosts, clocks, and more. And, of course, you can create your own shapes and share them with other Pixelmator users.
There's another new option that lets you treat text layers as shapes, too. That essentially lets you warp text in all the same ways, with all the same sorts of effects.
Pixelmator 2.2 is smarter than previous versions. The new Smart Move Tool knows whether you're trying to adjust image layers or shape layers, based on where you click. In practice, you don't notice much, because it's one of those things that just works: You click where you think you should, and Pixelmator figures out what you're after.
The new Paint Selection Tool is similarly very cool. Instead of using the magic wand or painstaking selection, you paint over the area you want to select, and Pixelmator figures out what borders you want, with a live preview. And you can use the app's built in selection refinement tools to make things even more precise.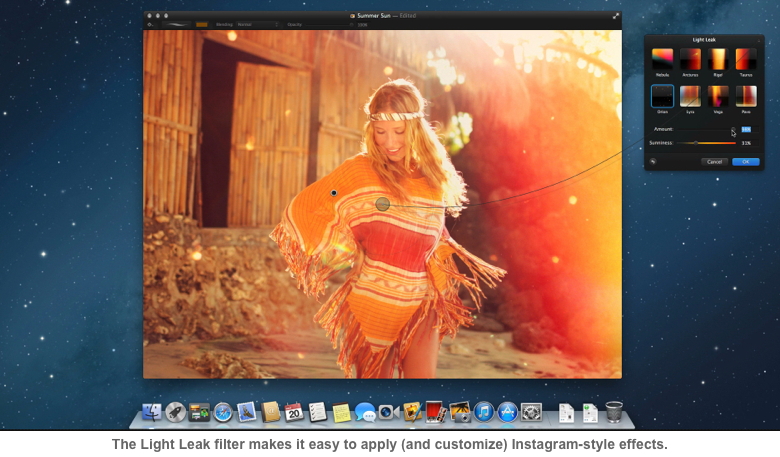 One other new feature worth mentioning is Pixelmator 2.2's Light Leak filter, which makes quick work of adding Instagram-style effects to images. You can choose among numerous filters, and then adjust the position of the visual effect, along with its center point and size.
The updated app includes a variety of other new features and under-the-hood improvements, and feels noticeably snappier when applying processor-intensive effects.
Pixelmator 2.2 is a free update in the Mac App Store, and the app costs $15 for new customers.
---
Petition against Adobe's Cloud
from Tom Johnson* RAVEN Consultants
Recommended reading and petition against Adobe's Cloud subscription.
In addition here is an article calling for Adobe to abandon the mandatory creative cloud subscription model.
Wizard Words: I have often cautioned MAGIC members about using any form of cloud. I concur with Tom and the authors of these articles that forcing people to use the cloud with any application is wrong headed.
---
iPhones, iPods, and iPads
Apple's iPhone Charger: Worth the Investment
by R.J. Murphy, SmallDog
Why pay $30 for an Apple iPhone charger? This is a question I've asked myself a few times, but in the end, I still dropped the cash for the Apple branded charger for my iPhone. Considering it's something that I know will last me a while, and that the Apple name means quality, I don't have much of an issue paying this much for something that seems to be so simple (and is cheaper elsewhere).
While I feel that this is mostly a good justification, techie blogger Ken Shirriff has come up with a much better reason. Recently, he completely tore apart the tiny charger and closely analyzed its components, resulting in quite the unexpected. Apple's charger is surprisingly more technologically complex than most other third-party chargers.
He describes each electrical component, in detail, explaining how these components allow Apple's charger to be efficient and intelligent. One major difference between Apple's charger and the generic third party charger is Apple's attention to the reduction EMI interference. This quality allows your iPhone to operate while plugged in exactly the same way as it would while not plugged in. Whereas, while plugged into a third party charger the iPhone may exhibit touchscreen interference.
Safety is also a factor in Apple's charger, with a complex circuit that shuts down the charger if it rises above a safe temperature or voltage. Shirriff states that Apple goes "beyond regulation" with with some of the electrical precautions that were taken.
Needless to say, the next time I need to buy an iPhone charger, I will not be thinking twice about which manufacturer I'm buying it from.
Please give Ken Shirriff's very detailed/complex article a read here: iPhone Charger Quality.
---
Haiku Deck for iPad takes the work out of building a slideshow presentation
by Rick Broida, Macworld
There was a time when PowerPoint presentations were seen as an answer to the age-old question of how to liven up dull meetings. That promise quickly gave way to a reality where such presentations—poorly thought out, or simply uncreative—have possibly made workplace meetings even more dull.
Enter Haiku Deck for iPad, a free offering from Giant Thinkwell. The app offers beautifully designed slideshow templates and draws upon immense resources—including more than 35 million free photos available under a Creative Commons license—to inspire users and help them easily craft a good-looking presentation in just a short period of time.
---
Save Battery Life With Brightness Settings On Your iPhone
by Rob LeFebvre, Cult of Mac
Battery life, it's the bane of every iPhone user's existence, right? It's hard to tell, really, reading the internet, which specific steps to take to make sure your battery is working at its most efficient, giving you the longest life without compromising performance.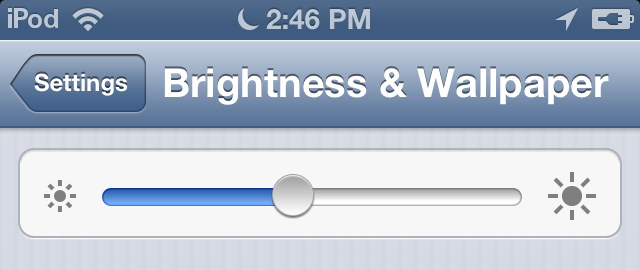 One of the most misunderstood areas of managing battery life may just be the brightness settings. Here's what Apple has to say about it.
Dimming your iPhone screen is an obvious way to use less power on your iPhone. If you're running iOS 5.0 or later, Apple recommends dimming the screen by heading into your Settings app. Tap into Brightness & Wallpaper, and drag the slider to the left until it's as dim as possible, while still letting you see enough of what's on the screen o do what you need to.
In addition, Apple says that turning on Auto-Brightness allows your iPhone (or iPad) screen to adjust to the ambient light, keeping the iPhone screen to the lowest brightness (as defined by where you set the slider) possible in dimmer light, saving you precious battery power.
To turn Auto-Brightness on, tap into the Settings app, then tap Brightness & Wallpaper. Tap the Auto-Brightness toggle to ON, and then hit the Home button to get back to your iOS device's home screen.
Wizard's Note: Not all devices have Auto brightness as they do not have a light detector.
---
Track iPhone Data Usage And Set Warnings with Beautiful DataMan Next App
by Eli Milchman, Cult of Mac
DataMan was one of the first iPhone data trackers when it debuted back in 2010, after AT&T 86ed the utopian guarantee of unlimited data.
This new iteration, DataMan Next, is much prettier, but essentially does the same thing: It tracks your data usage and warns you before you spend money needlessly on data overage charges; it can even predict whether you'll end up going over your monthly allowance. And today, it's free.
can set custom thresholds and alerts, view past usage by month and even track your wifi usage. If you've ever kicked yourself for slipping over your limit — or even just stressed about it — you need this app.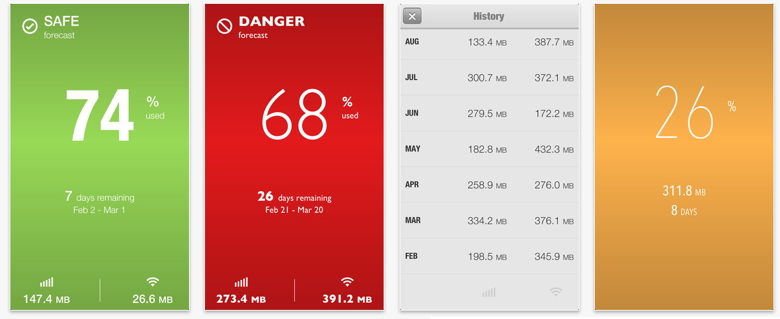 For more detailed tracking, DataMan Pro (iPad version here) is half off at $5 and gives you additional info like which apps are gulping the most data and maps all your data usage geographically.
---
By The Way
Wi-Fi Network Setup*
by Ron Sharp, MAGIC
With the popularity of laptops, netbooks, and multiple wireless devices most people have a wireless network in their home. If you have to set one up, change the settings on one or extend the range, you could have a challenge on your hands. Then again, it might be quick and easy. There's a simple network creation or other somewhat complicated options that one has to figure out which will work, what's best and what's easiest.
My partner tells me he doesn't want the details when I explain a computer issue, but let me tell you a simple, quick option and then a few considerations to keep you from being overwhelmed if you need more adjustments.
The simple option
If you have a computer that's connected to the internet with an ethernet cable and would like to create a wireless network, say to connect your new iPad or iPod Touch, simply open your computers System Preferences, click on Sharing, then check the box for Internet Sharing. Select "from your ethernet connection" to Wi-Fi. Close that window and turn your computers Airport Wi-Fi on from the icon on the top menu. That's it, now you're sharing your internet connection wirelessly. No router needed. This is also a great option if your grandkids come to visit with their iPads and you can simply turn your Wi-Fi on to get them all connected.
For other set ups
If you have an Apple router, setting it up can be fairly easy with Apples "Airport Utility." Particularly if you use the "Assist Me" button to walk you through the process. Unfortunately there can be complications particularly with the range you want your Wi-Fi to reach and when you try to use older routers with newer routers to extend the range. Yes, it always seem like you have to buy new stuff.
In many cases, trying to extend the range of a newer generation router with an older router is like trying to plug your coffee maker into a 220 volt outlet. No go.
The problem is older routers used different band specifications than newer ones. There is 802.11a, 802.11b, g and n, and the newest, 802.11ac. Some use 2.4 GHz and others use 5 GHz or both ranges. So many of the g routers will not work with Apples n routers for some options. For the older routers Apple thankfully made the older Airport Utility software (version 5.6) available so they can still be set up. But if you're trying to extend a network from a newer Apple router, good luck. Some confusion comes from the fact that with different routers you get different options from the Airport Utility software. Then you also get different options from the Airport software whether you choose to set it up "Manually" or use the "Assist Me" button. For instance, if you don't find the "Extend Wireless Network" using the "Manual" setup, then try the "Assist Me" setup.
Of the options available on some setups, one is called WDS, for Wireless Distribution System using two or three routers to extend a system. However, that option will not work with the newer n routers. (802.11n) Alas, if you have problems, there's always the option to directly connect using the ethernet cable from our modem. At least until you get help setting up the Wi-Fi.
---
MAGIC, the Macintosh Appreciation Group of Island County, serves people who use Macintosh computers, software and peripherals. Our goal is to share information and get answers to questions to make us more productive with our use of technology. Our monthly meetings give us a chance to discuss computer problems and share ideas with other Mac users, feature speakers on specific topics, and to keep apprised of Apple news.