Newsletter
July 2013
Newsletter Editor:
In This Issue:
MAGIC MUG News
Software Updates
Macintosh News, Information and Stories
iPhones, iPods, and iPads
By The Way
* Indicates author is a member of MAGIC
---
Meeting information
Day:
The 3rd Wednesday of the month. 17 July 2013 this Month
Location:
Unitarian Universal Congregation of Whidbey Island (see map.)
Time:
4:00 p.m. - 6:00 p.m. with the first hour dedicated to new users and their questions.
Presentations:
•Apple Q & A
•"Genealogy on the Mac" with Ann Wright and Dulca Baxter of the Genealogical Society of South Whidbey
Can you do SERIOUS genealogy on a Mac? The answer is YES! - You can enter data from your immediate family knowledge, you can research on-line and take trips to do on-site research and enter the information into your MAC computer. The software program which has been around the longest is REUNION by Leister. That's the presentation we want to discuss/share with you.
Future Meetings: (subject to change)
See the Meetings Page on this website.
Do not forget to bring your used ink cartridges.
MAGIC will dispose of them for you and make some change for the group.
---
Minutes of the June 19, 2013 Meeting
by Penny Holland, Secretary
The June, 2013 monthly MAGIC meeting convened at 4:00 at the Freeland Unitarian Congregation Meeting House. Approximately 15 people were in attendance. Robert Elphick began the meeting with the Q&A hour. These were some of the topics in question:
Q: What to buy--an iPad or a new laptop? (Uses it for photos, etc.)
A: Photos require lots of memory and 64 Gig is the highest you can get with the iPad at this time, so probably the MacBookAir would be a better choice, but its drawback is lack of many of the popular connection ports. So possibly consider the MacBookPro. Screen size is another consideration - 13 or 15 inch. Minimum RAM today is 4 Gig. For Movie making, recommendation is to have 8 Gigs of RAM. Hard Drives today usually hold at least 500 Gigs of data. For specific software requirements or to find out if your old programs will run on a new computer, go to the MAGIC website article of June 2011, "Prepare for Lion". Or go under the Apple menu to About this Mac on your computer, and then click on More info. Select System Report and locate the software group, and select applications to view a list of all your current computer applications. If the software's kind is Intel or Universal, the program will run in Mountain Lion. But if the kind is PowerPC or OS9 it will not run on the newer systems. If you have software that is not a 64 bit version, you might want to check and see if there is a 64 bit version of the software available. It will run much faster.
Q: Transferring various AppleWorks files onto a new computer.
A: Pages might be able to open these old files. Try moving one and see if Pages can read it. If not, you might have to export your file into another type, such as a text file, so that it can be read.
Q: Can you transfer data from Time Machine?
A: Only if you know WHEN that data was created or amended, and you then can go back to that date.
Q: Giving an iPad1 to daughter, what's the best way to prepare the iPad?
A: Restore the iPad to its original factory settings, a "naked" new version, which means all APPs will be lost. Have her plug the iPad into her Mac and sync it through her own iTunes account.
Q: PNG files coming from scanner--how to convert them to JPG?
A: Open the PNG file with Preview, Graphic Converter or even iPhoto and tell the program to export as JPG. For use of an image in Pages it would be best to use Graphic Converter for your conversion. Then you can get the size you want.
Q: In Mail, how to get rid of old unwanted recipients or outdated email addresses?
A: First go to your Contacts and remove any old information there. Then go to Mail>Window>Previous Recipients. This list includes anybody who has sent you an email. Note: there is an icon to the left of the names that indicates if a person is in the Contacts list. The ones with no icon should be the most suspect ones. There is also a button there to Add To Contacts any people who are on this list that you do want in your contacts. You can delete all of these previous recipients, or only those you choose.
Q: How to clean up your computer to eliminate outdated files, etc.?
A: Note that you can sort a group of files (such as all your documents) by Kind, or by Date, etc. Sort them in whatever way best suits your needs. Sorting by size will help you get all the large files, which maybe you want to move off your computer's HD. (Note: you can decide how to display windows by going to VIEW>Show View Options, and select how you want things displayed.)
Q: About Sharing. Finder shows people in the room that have Sharing turned on.
A: There are ways to set up sharing so anybody can get in, versus, you can set it up where it requires a password. (To do this go to SYSTEM PREFERENCES and select Sharing. Check File Sharing, for instance, and set it up the way that suits you.)
Q: How to make Google searches private.
A: Normally when you surf the web, you have an IP address that says who you are. You can go through VPNs, which mean you "hire" another computer to do your searching and then it looks like the IP belongs to this company. This disguises who you are. These companies usually charge for this service. (Later Ron Sharp talked more about private browsing. Using Firefox , he demonstrated under the File menu you can select NEW PRIVATE WINDOW. Then, anything you type in will not be saved. Within Google, if you go into your own account you can set it up with a preference: Don't record my browsing.)
Q: How to do file sharing by users on the same computer?
A: In your Users file there is a Shared file. Items placed in the Shared file are ones that all the computer's users can read.
Q: What projectors are recommended that work well for both Macs and PCs?
A: Any good one, now costing between $800 and $1000 should work with all computers. They all should have VGA today. Check to see the maximum pixels displayed. (Ours has 1024, but the more the better. Ours is an Epson and we are happy with it.)
BUSINESS MEETING: President Sue Keblusek held a very short business meeting. Bonnie Abney reports that we currently have $7402.56 in our bank account. We were reminded to put $2 in the basket to help defray room costs. Robert announced several summer classes have been scheduled: a basic essentials class, as well as classes covering iMovie, iPhoto, and Pages. These will be starting in July and running through August. Sue then introduced Ron Sharp, our newsletter editor, who is giving today's presentation.
RON SHARP PRESENTATION: Mac User Tips and Keyboard Shortcuts.
Ron gave a talk and demo about various timesaving keyboard shortcuts. He also showed how to go into System Preferences and define your own keystrokes to change a keyboard shortcut into something easier and more personalized for your own computer. He showed how to use symbol and text substitutions, also through System Preferences to help with automatically correcting common typos and as shortcuts to typing common words. He demonstrated various ways to set up and personalize the Finder windows, columns and sidebar; and how to more efficiently use the dock. Switching applications and getting to the desktop without moving around a series of open windows was another trick he revealed. Spotlight, Keyboard Viewer, Preview magnification, and troubleshooting were also topics he covered. Finding forgotten passwords using the Keychain application and also in various Browsers were also demonstrated. In addition to the wealth of information he covered, we were also provided with a similarly detailed 3-page handout. The information on this handout will all eventually be added to the MAGIC website.
The meeting was adjourned at 5:45.
---
MAGIC Moments
Classes
The summer education season has been announced. Here is the proposed schedule:
Details have been e-mailed to members. If there are still spaces in the classes, they will be advertised to the general public. All classes will be limited to 20 people so remember to book early. Also this is likely to be the last time at these prices. There is likely to be an increase as the cost of putting on the classes is rising.
Teachers contract
The board of directors has approved a new agreement for all the instructors who run MAGIC classes. It formalizes the relationship between the club and future teachers and provides for payment to the instructors.
SOFTWARE UPDATES
Note: This Software Update section of the newsletter lists the most relevant Apple updates. Not all updates are listed for all products. Additionally, I'll add other pertinent updates on occasion.
Get the latest updates. Automatically.
from Apple
In addition to releasing new versions of the system software at regular intervals, Apple also releases a stream of free software updates to enrich your computing experience. Mac OS X automatically checks weekly for software updates provided you have an internet connection.
You can choose a different schedule, or check manually if you don't have a continuous Internet connection. If Software Update finds an item to download, it appears in a list. Click on an item to get a description before downloading it. If you see updates that you will never use, such as a language you don't speak or drivers for a printer you don't own, choose Make Inactive from the Update menu. To get updates immediately, follow these steps:
Choose System Preferences from the Apple Menu.
Choose Software Update from the View menu.
Click Update Now.
Select the items you want to install, then click Install.
Enter an Admin user name and password.
After the update is complete, restart the computer if necessary.
Click here for the source of this article.
Wizard comment: Consider updating everything including the software you do not use so that you can sell your computer as being 'up to date'.
---
About Security Update 2013-003
from Apple
QuickTime
Available for: Mac OS X 10.6.8, Mac OS X Server 10.6.8, OS X Lion v10.7.5, OS X Lion Server v10.7.5, OS X Mountain Lion v10.8.4
Impact: Playing a maliciously crafted movie file may lead to an unexpected application termination or arbitrary code execution
Description: A buffer overflow existed in the handling of Sorenson encoded movie files. This issue was addressed through improved bounds checking. A buffer overflow existed in the handling of H.264 encoded movie files. This issue was addressed through improved bounds checking. A buffer underflow existed in the handling of 'mvhd' atoms. This issue was addressed through improved bounds checking.
Click here for article.
---
About the security content of Java for OS X 2013-004 and Mac OS X v10.6 Update 16
from Apple
This document describes the security content of Java for OS X 2013-004 and Mac OS X v10.6 Update 16, which can be downloaded and installed via Software Update preferences, or from Apple Downloads.
Java for OS X 2013-004 and Mac OS X v10.6 Update 16
Available for: Mac OS X v10.6.8, Mac OS X Server v10.6.8, OS X Lion v10.7 or later, OS X Lion Server v10.7 or later, OS X Mountain Lion v10.8 or later
Impact: Multiple vulnerabilities in Java 1.6.0_45
Description: Multiple vulnerabilities existed in Java 1.6.0_45, the most serious of which may allow an untrusted Java applet to execute arbitrary code outside the Java sandbox. Visiting a web page containing a maliciously crafted untrusted Java applet may lead to arbitrary code execution with the privileges of the current user. These issues were addressed by updating to Java version 1.6.0_51. Further information is available via the Java website.
News, Info and Stories
Fixing AirPort Utility 6.3 problems
by Ted Landau, macworld.com
Recently, my AirPort network hit a major snag. While my main Base Station continued to function properly, AirPort Utility (on my Mac and iPad) indicated that my three subsidiary AirPort devices had dropped off the network (see image above). Selecting any of the devices in the bottom row resulted in a "Device not found" error. Confirming that these AirPort devices were indeed MIA, none of my wireless devices (iPhone, iPad, MacBook Pro) would connect to them. The situation with AirPort Utility on my iPhone was even more disturbing: no AirPort devices showed up at all!
Huh? Everything had been working fine for months. I had made no changes to the AirPort hardware or settings. Why this sudden and unexpected collapse? One possibility focused on AirPort Utility itself. I had recently updated the application to version 6.3, the version needed to accommodate the new Base Stations with 802.11ac support. However, a software bug seemed more likely to precipitate only a communication failure between AirPort Utility and the AirPort devices, rather than an actual removal of the devices from the network.
In any case, a search of the web revealed numerous confirmations of networking problems first appearing after updating to AirPort Utility 6.3. The initial posting of one thread sounded exactly like an instance of my "Device not found" error. More generally, reported problems centered on various failures of AirPort Utility to access AirPort Base Stations.
Several possible solutions were offered, including the obvious one of downgrading back to AirPort Utility 6.2. However, the most recommended suggestion echoed advice that comes from Apple:
Go to Network System Preferences on your Mac.
Select your active network service (e.g., Wi-Fi or Ethernet) and click the Advanced button.
Click the TCP/IP tab.
Choose the "Link-local only" option from the Configure IPv6 pop-up menu and click OK.
To fix similar problems with AirPort Utility on iOS devices, Apple's advice is simpler: Just power down the device and turn it back on.
Unfortunately, I discovered all of this only after I had already made my own attempts to fix the problem. I wound up resetting all four of my AirPort devices and re-entering all their settings. This made for a long and frustrating evening, but eventually I got the entire network working again. As it turned out, my fix did not require any change to the Configure IPv6 setting; it remains set to "Automatically." This was not a big surprise, as I suspect my problem went beyond what the IPv6 setting addresses.
For my iPhone, Apple's recommendation to power down the device was what was needed to get its AirPort Utility back on track. After a restart, all my devices were again listed on the phone.
If you are experiencing AirPort problems similar to what I've described here, take heart. Your hardware almost certainly does not need any repair or replacement. Based on what I've read online and my own experience, at least one of the suggested fixes should remedy your situation.
---
OS X catches a wave, as Apple previews OS X Mavericks
by Serenity Caldwell, macworld.com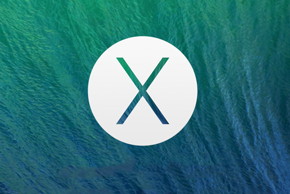 OS X Mavericks With more than 200 new features coming in the fall, OS X Mavericks brings Maps and iBooks to the Mac, introduces Finder Tags and Tabs, and enhances multi-display support for power users.
Apple senior vice president of software engineering Craig Federighi introduced the next iteration of Apple's Mac operating system on stage during Monday's Worldwide Developers Conference kickoff. Federighi began his presentation with a sly nod to OS X's past naming conventions. "We do not want to be the first software in history to be delayed due to a dwindling supply of cats," he said. While "OS X Sea Lion" was briefly considered, Apple has instead decided to launch a new naming convention, based on inspiring places in California.The first of these releases—due out later this year—has been named OS X Mavericks, after the northern California surfing spot.
---
Four ways OS X Mavericks will save your MacBook's battery
by Marco Tabini, MacWorld
When Apple unveiled the iPad in 2010, I immediately fell in love with its impressive battery life, and couldn't wait until they day when the same longevity would come to my Mac.
With the upcoming release of OS X Mavericks and the latest round of revisions to the company's laptop hardware, it looks like I (alongside, I suspect, many other Mac users) could finally get my wish, thanks to a few clever software tricks that have found their way into the latest incarnation of Apple's desktop operating system.
Hardware and software
The obvious way to improve battery life in a laptop is to increase battery capacity and decrease the electrical consumption of the machine's hardware components, both goals that Apple has been pursuing zealously for some time by changing the way that its computers are manufactured.
For example, the introduction of the unibody design allowed the company to fit its computers with custom-molded batteries that provide superior capacity in a relatively compact space. The company also continues to adopt the latest technologies, like solid-state drives and Intel's newest CPUs, to make its hardware less power-hungry.
---
Exploring Safari's preferences
by Christopher Breen, macworld.com
Last week, for the sake of completeness, I took you on a tour of Safari—an application that you likely used to read the lesson. This week we'll dig deeper and explore some of Safari's most important preferences. To begin, choose Safari -> Preferences.
General
The General tab is your gateway to choosing a default browser, selecting a search engine, and choosing what you see when you first launch Safari, and creating new windows and tabs. Here are the settings you'll see:
---
How to encrypt your email
by Christopher Breen, MacWorld
Reader Jack Burns is a bit disconcerted by some recent news. He writes: After reading stories about the U.S. government's program to collect phone and Internet data I'm a little concerned about my email privacy. What can I do to encrypt my email?
I'd first suggest that you take a gander at How To Protect Your PC From PRISM Surveillance from my pals over at PCWorld. As its name implies, it offers some hints on how to attempt to make your computing life more private.
I use "attempt" for good reason. Without being overly paranoid about it, there's every chance in the world that if the NSA and other government agencies want to read your email—encrypted or not—a way will be (or has been) found. On the other hand, the vast majority of the email we generate would be of no interest to your second-cousin, much less the government.
Still, these recent events do provide a perfect excuse for running through the steps for encrypting your email on a Mac. They go this way:
Obtain and install a personal certificate
You must first get your hands on a personal certificate. This is a small file, added to the Mac's keychain, that verifies your identity in sent mail. Symantec sells such things for $23 per year (you can also try one for free for 25 days). You'll need a separate certificate for each email address you wish to send encrypted messages from.
You'll be asked to register your email address with the certificate seller. An email message will be sent to that address that contains a link to the certificate. A password will also be sent to you. Click on the link and your default web browser will launch and take you to the certificate download page. Enter the password you received, click Continue, and the certificate will download to your Mac.
Double-click on it and Keychain Access should launch and install the certificate. You'll know that it has if you see the certificate when you click the Certificates category in Keychain Access.
Encrypting your mail
Now that you've installed the certificate, launch Apple's Mail and create a new message. In the New Message window choose the account you've obtained the certificate for from the From pop-up menu. To the right of that pop-up menu you'll see a couple of buttons that you haven't seen before. The first is the Encrypt button that's almost certainly grayed out. The second is the Digital Signing button. By default, this button will bear a check mark, indicating that when you send a message from this account it will be certified to be well and truly from you. Click that button, and you turn off digital signing.
In order for the Encrypt button to become active, you must have a certificate from the person you're sending the message to—their public key, in the parlance of the encryption game. And that means that they too must have installed a certificate. If that condition has been met, this is how the exchange works.
You first send a digitally signed (not encrypted) message to them. When you do this, your public key is also sent to them and added to their list of certificates. They then reply to that message using their certified address. In that reply is their public key, which will be added to your keychain. Now that the two of you have swapped keys, the Encrypt button will become active when you enter their address in a new message's To field.
Complicated? Yes, a little. But it makes sense that each party has a key to unlock the other's messages. This is something to bear in mind for company email that you want protected from a competitor or personal email that you'd prefer not be seen by friends or family. But, again, it's unlikely to do you any good with agencies that possess The Big Key.
---
SSD Installs
by Kyle Simpkins, smalldog.com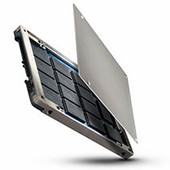 I want to take some time this week to revisit an article I wrote a couple of weeks back. I got a lot of great responses from our readers about SSDs and their experiences as well as trials. Overall, I would have to say that switching to SSD storage is the next best boost on computer performance after memory. That's definitely the new technology trend most machines are being converted to.
The new Apple laptops all have SSD options and very few actual HDD options anymore. One great response I got was from Winston, who wrote in about extending the life of his PowerBook. PowerBooks are classified as "obsolete" by Apple, yet his is performing like a new machine with a new, low power SSD. That is great feedback, and I'm glad to hear that the older machines can get a few more years out of them with an upgrade like this.
Another response I got was from Tarik, an IT specialist for a junior high school, who has a lot of experience with prolonging the use of older MacBooks with SSDs in a school environment. Also, the reduced disk failure rate from kids throwing the computers into their bags is a blessing. This feedback was very helpful and informative — as of this writing, I'm simultaneously downloading Chameleon SSD Optimizer for my Crucial 256GB SSD to play around with!
Working in the tech department, I get to see all types of issues with computers. Something I didn't expect to see was a failed SSD. I don't see that happen too often, but when it does, there isn't a whole lot we can do to recover the data on the failed drives. If the customer absolutely needs the data, at that point, we have to hand it over to DriveSavers, the company Apple uses for forensic level data recovery. They aren't a cheap service, but if anyone can get data on a failed drive, they can.
Ed. Note: We can never stress enough how important it is to back up your computer. Even if you have the latest SSD, failures can still happen. So, if you don't want to be shelling out the big bucks for data recovery, then back it up faithfully!
So far, I have been extremely happy with my SSD in my little 13" mid -2009 MacBook Pro. The SSD has given it new life over the standard HDD in conjunction with using external HDDs for storage. I am a data packrat and have terabytes of information on multiple hard drives that I'm constantly accessing or moving around. Despite my thirst for speed, I don't have any SSD externals (yet).
Switching to an SSD was the best decision I have made for my current MacBook Pro. I hope I've helped answer some questions and I would like to thank everyone who wrote in with responses to my original article. To those I didn't mention in this article, I have read your responses and I thank you.
---
Hands-on with OS X Mavericks: Finder tabs and tagging
by Jason Snell, MacWorld
OS X Mavericks With more than 200 new features coming in the fall, OS X Mavericks brings Maps and iBooks to the Mac, introduces Finder Tags and Tabs, and enhances multi-display support for power users.
Apple's relationship with the OS X Finder has been a funny one. Since 1984, the Finder has been how Mac users interact with their files, but it's always been a bit too confusing for many users. Starting with the introduction of the Dock in OS X's first release, moving on to Spotlight in Tiger, and culminating with the addition of Launchpad in OS X Lion, Apple has long been adding alternatives to using the Finder to dig through folders.
---
Passwords aren't dying any time soon. Here's how to manage them effectively.
by Tony Bradley PCWorld
It's tough to keep track of all of your passwords. In spite of advances in biometrics, and increased attention on the value of two-factor authentication, passwords remain the primary means of digital security. They're also one of the weakest links in the security chain. If we can't get rid of passwords, we need a better way to manage them.
Remember when passwords were going to die out? Bill Gates told an audience, "There is no doubt that over time, people are going to rely less and less on passwords. People use the same password on different systems, they write them down and they just don't meet the challenge for anything you really want to secure."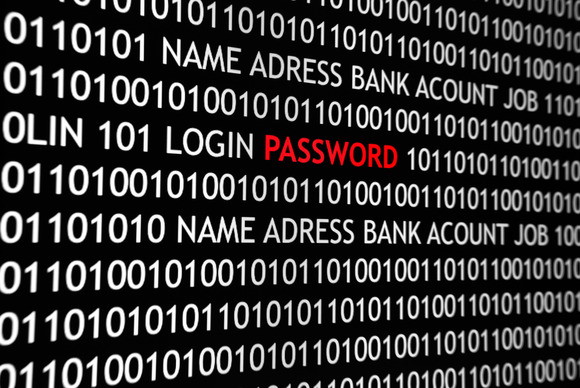 That was in early 2004. Nearly a decade later we still rely heavily on passwords, and passwords still suffer from all of the same weaknesses Gates described.
I used to be guilty of recycling the same password across virtually every account as well. The sites and services I use broke me of the habit because the password policies are so different from one to the next that it became very difficult to even find a password that meets the requirements of all of them.
Fair enough. It's a horrible policy anyway. Security best practice suggests you should use different passwords for different sites. Just as you don't use the same key for your front door, car, bike lock, and safety deposit box, you don't want to have the same password "unlock" all of your information. If one site or service is compromised and an attacker gets access to your password, you don't want it to be a universal key to your entire online identity.
Apple recently unveiled details of the new Mac OS X, "Mavericks." It is available only to developers right now, but one of the features Apple is adding is designed to help you choose more secure passwords, and manage them effectively without writing it on a sticky note pasted on the front of your monitor. iCloud Keychain basically takes the password storage and management features of the existing Keychain feature and moves them to iCloud, where they can be accessed by and synced across iOS devices as well. The Mac OS X system running "Mavericks," and any iOS devices with the upcoming iOS 7 will be able to auto-fill complex passwords from the iCloud Keychain.
That's awesome for users who live and die by the Apple ecosystem, but it won't work for someone using a Windows PC with an iPhone, or someone using a MacBook Pro with an Android smartphone—at least not yet. It's a good solution, but an Apple-centric one.
PasswordBox is a new service that functions much like iCloud Keychain, except that it works cross-platform. PasswordBox is available on Mac OS X and Windows, and it's available for iPhone, iPad, and Android mobile devices.
Like iCloud Keychain, PasswordBox stores passwords in the cloud using strong encryption to protect them from unauthorized access. When you need to log in, PasswordBox automatically retrieves the appropriate credentials. PasswordBox is free (for managing up to 25 passwords) and provides tools that let you share your credentials with family or friends—should they need the information if something happens to you—without directly revealing your passwords.
There are other services out there like 1Password, and LastPass that let you manage secure passwords more effectively. There is some concern about storing the keys to your digital life in the cloud—but it's probably more secure than writing it down on a piece of paper and shoving it in your desk drawer, and it gives you access to your passwords any time and anywhere, from just about any device.
Despite Bill Gates' prognostication, passwords don't seem to be going away just yet. Make sure you choose secure ones, and find a tool that lets you remember and use them more easily.
---
Hiding passwords
from Tom Johnson* RAVEN Consultants
I do not trust third party programs or any other feature like Keychain with my passwords.
I also have seen cases of File Vault encryption failure.
How do you know that these programs will not "harvest" your PWs for use by someone other than yourself for zeroing out your bank accounts, charging to your credit cards, etc. It is like storing your passwords on "the Cloud".
I keep my PWs invisible by using Text Edit's white font - ie the center dot on the color wheel :
When text is highlighted: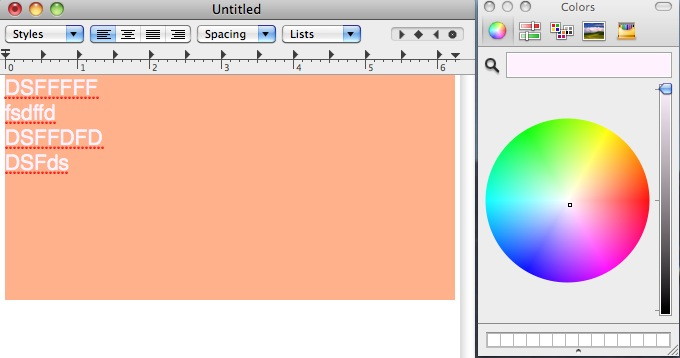 When text is not highlighted: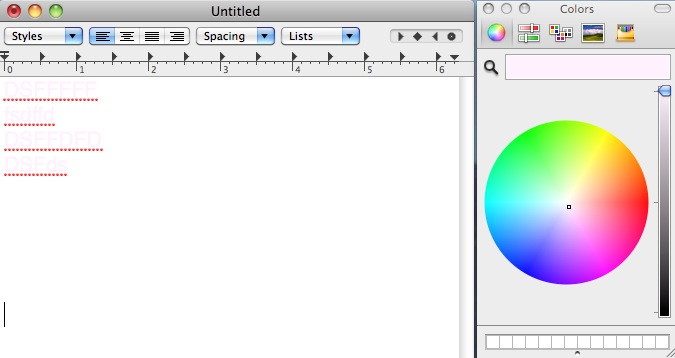 You can additionally make this file really invisible by following these guidelines:
http://osxdaily.com/2009/08/11/hide-any-file-or-folder-by-making-it-invisible-to-the-mac-os-x-finder/
http://osxdaily.com/2011/09/30/make-an-invisible-folder-hide-in-plain-sight/
http://osxdaily.com/2012/07/19/hide-file-mac-os-x-chflags/
http://osxdaily.com/2010/05/10/create-a-hidden-folder-in-mac-os-x/
http://reviews.cnet.com/8301-13727_7-20124895-263/how-to-hide-files-and-folders-in-os-x/
I then use Easy Find with these settings to locate my deeply buried invisible/invisible PW file with a file name something other than "PW file" or "White Text":
Even N$A and C$A will have problems finding your PWs :)
---
Apple Gives Sneak Peek Into the Future of the Pro Desktop
from Apple
Apple today showed a sneak peek into the future of the pro desktop with a first look at the next-generation Mac Pro. It introduces a completely new pro desktop architecture and design that is optimized for performance inside and out. "With the latest Xeon processors, dual FirePro GPUs, ECC memory, PCIe-based flash and Thunderbolt 2, all built around a revolutionary thermal core, the next generation Mac Pro is the most radical Mac yet," said Philip Schiller, Apple's senior vice president of Worldwide Marketing. "All this performance and expandability is packed into a dramatic new design that's one-eighth the volume, and best of all, it will be assembled here in the USA." The next generation Mac Pro will be available later this year. Read more on this web page.
Editors note: The webpage didn't seem to work great with Firefox browser. A small arrow shows at bottom of the page and clicking or scrolling should continue the presentation.
Or view the You tube video of Phil Schiller's presentation at the WWDC.
---
SMB2 in OS X Mavericks
by Jason Hyerstay, smalldog
In our Consulting department at Small Dog Electronics, we deal with numerous business clients who have mixed Mac and PC networks. This often means that we have to integrate Mac users with a Windows file server, or Windows users with a Mac file server.
Sometimes this is easy and seamless, and sometimes we run into problems because of differences in the default file sharing protocols used for each system — AFP (Apple Filing Protocol) on Mac vs SMB (Server Message Block) on Windows. While the Mac can host SMB and connect to SMB, it is not on equal footing with Windows, and on the other side, Windows requires special software to connect using the AFP protocol. If only it could all be simpler…
Now with OS X Mavericks, it will be. Apple is switching to SMB2 as the new default file sharing protocol for connecting to both Macs and Windows machines. This is a better and more powerful version of SMB than has previously been included in OS X, and should improve file sharing for mixed environments, with OS X servers and clients and Windows servers and clients. AFP will still be supported, but Apple is making a good move for interoperability, which I think is a good thing.
While there are all sorts of cool developments in Mavericks, this one will really simplify my working life and make supporting mixed environments much easier. I look forward to not having to worry about file sharing headaches that I have had to deal with in the past.
---
Protect your privacy
by Rich Mogul, MacWorld
When you browse the Web, it's like you've allowed a bunch of companies to implant a tracking device in your arm and a small camera in your head, recording where you go and what you look at. Thanks to ad networks, search engines, ISPs, and social networks, your online activities are tracked, analyzed, and sold. But there are a few things you can do to maintain some degree of privacy.
Continue Reading for a series of articles on Protecting Privacy....
iPhones, iPods, and iPads
Are You "In The Know?"
by Michael Burl, SmallDog
Last spring, cell service providers launched a Wireless Emergency Alert system. This system has been slowly rolled out ever since then. If you are an AT&T customer, you may notice some emergency alerts coming through to your phone now.
So what exactly is WEA?
WEA is a system where local, state and federal agencies can send an emergency text message to smartphones. Luckily for your wallet, these emergency alerts don't count against your text message plan and typically should be fewer than 90 characters.
There are three types of alerts that this system uses. The first is for "imminent threats." This could mean anything from flood or tornado warnings to security threats. The second covers AMBER alerts (America's Missing: Broadcasting Emergency Response), which are alerts for missing children. The third and final alert is used for breaking Presidential messages.
Two out of the three alerts have an opt-out feature: imminent threats and AMBER alerts. This means that by default, when your carrier settings have been updated, they are on. You'll need to then turn those off if you don't want to know there is a hurricane about to blow by your house or that your neighbor's kid is missing. (But you would, right? Well, it's up to you!) If you really want to disable these WEA alerts on your iPhone simply:
Go to Settings
Go to Notifications
Scroll all the way to the bottom to Government Alerts
Turn off or on whichever you alerts you desire
I have only received one alert in the past year since the system was introduced, and that was when Vermont was getting some heavy rain. I got it while at work, and it was funny to see the confused looks on people's faces when they got the same notifications. Ultimately, I think this is a good move on society's part to help out one another; kudos to the person or persons responsible for this!
---
First look: Hands-on with iOS 7
by MacWorld Staff, Macworld
iOS 7 won't come out until the fall, but since its unveiling at Monday's WWDC keynote it's been the talk of the Apple world.
Right now, we have four sources of information about iOS 7: What Apple said about it at that keynote; Apple's own iOS 7 website; what we gleaned from our conversations with Apple executives on Monday; and the preview version of the operating system itself that was delivered to iOS developers on Monday.
That preview version was released under Apple's confidentiality agreement with developers, which means that they're not supposed to talk about the beta or show the beta to anyone. But developers are people too, and the changes to iOS 7 are so dramatic that everyone's been passing around phones running iOS 7 this week, to see where the mobile OS is headed.
At this point, we don't think anyone's really served by detailed, page-by-page screen shots of iOS 7 right now: It's just a first beta and (if you ask us) the OS is going to change a whole bunch before it sees the light of day.
On the day iOS 7 ships, and regular people can actually use it, you can expect to see detailed coverage from Macworld. But in the meantime, here are some first-hand impressions from those of us who got to spend a little time with iOS 7 this week in San Francisco.
Fade to black
Locking and unlocking the iPhone comes with a fade-in/fade-out effect, which seems to be a combination of a fade effect on the screen itself as well as a change in screen brightness. It's gentle, but welcome.
Slide to unlock
As seen in the keynote, the new Slide to Unlock message on the lock screen no longer sits in a groove next to a button with an arrow on it. It's just there, by itself, assuming you'll know what to do. It's pretty, but maybe a bit too subtle; the upward-pointing arrow for Control Center right below that slider confused even veteran iOS users, causing us to swipe up even when we meant to swipe right. 
The parallax view
The most mind-blowing moment of Apple's iOS 7 video during the keynote was probably the parallax effect that happens when you move your phone: The icons on the home screen stay still while the background image moves slightly underneath them. The effect in Apple's video is much more pronounced than the one that's visible in the developer beta. Apple executives told us that the parallax effect is a bit of a work in progress, and it hasn't yet been decided just how pronounced it will eventually be.
Simon says cellular data
When the iPhone launched, it did so with an unlimited data plan. Even now, iOS doesn't give you much control over which apps are allowed to pull down data over your cellular connection (as opposed to Wi-Fi). But in this era of metered wireless data, that lack of control can lead to unanticipated data usage, which can lead to you running over your data allotment. The beta of iOS 7 suggests that you'll be able to bar cellular data access to individual apps, as well as to see how much data each app has actually been using. More tools for users to manage their cellular data and to see if a given app is eating more than its fair share? This is a welcome addition.
Animation everywhere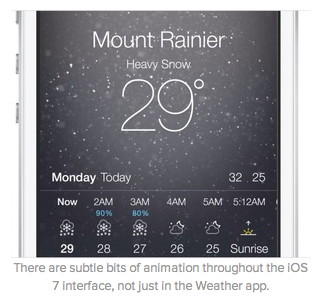 Taking advantage of the raw power of today's mobile devices, there are way more animation effects in iOS 7 than in previous versions of iOS. When you tap on an app to open it, the entire interface zooms toward the icon you tapped, and its content flies forward until its fills the screen. Press the home button, and the view pulls back from that icon to the home screen. Double-press the home button to enter the app switcher, and your current app similarly zooms backward and joins its fellow running apps in the lineup. When you unlock the iPhone, the icons drop onto the home screen slightly out of phase from one another. Even the little red notification badges that appear on apps pop into view with an animation. Some of these animations help to orient you, some are just for fun.
Living icons Your Calendar app's icon has long been able to show today's date, but the Clock app's icon has eternally been stuck at 10:15 since the first version of the iPhone OS. iOS 7's advances in battery life have at last brought the Clock app to life; you only have to glance at its icon to see the time of day.
Granted, you can also still look for the time in the iOS toolbar. But the promise of interactive app icons is intriguing indeed—even if it's unlikely that Apple will ever let third-party developers in on the action.
Better charging indicator
In iOS 6, when your iPhone is plugged in and recharging, the battery icon on the status bar simply displays a lightning bolt, indicating that it's plugged in; the lock screen displays a large battery icon indicating just how charged the battery is. In iOS 7, the battery indicator in the status bar remains visible and a lightning bolt appears next to the battery, gently pulsing. This is not just a cosmetic improvement: That battery indicator means you can see, at all times, how much more charging your battery needs before it's full. (There's also a subtle percent-charged indicator that's displayed in place of the current date, briefly, on the lock screen.)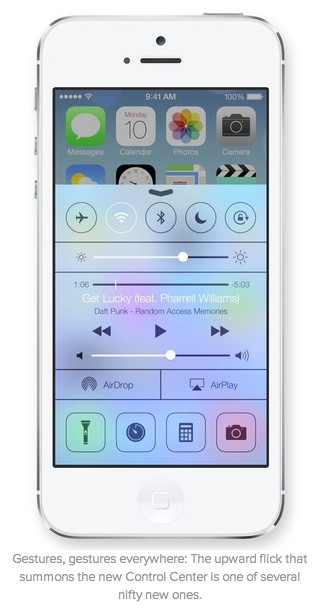 Even more gestures
If you're a fan of Multi-Touch gestures, iOS 7 has a few new fantastic ones to enrich the user experience. We saw some of these during Monday's keynote: the right swipe to return to the previous screen; the flick up to activate Control Center; and the upward drag inside the multitasking screen to kill a misbehaving app. One other neat gesture we've seen: drag down from the middle of a home screen to activate Search mode, which drops a search bar down from the top of the screen and brings a keyboard up from below.
Background multitasking control
While we're looking forward to background processing being opened up to all apps, we're wary about the impact of those background processes on battery life. Fortunately, Apple has added the ability to choose exactly which apps are allowed to update their data while running in the background. This is in addition to iOS 7's vaunted battery-life-saving measures, which should automatically prioritize background processes based on which apps you use most frequently and when you use them. But the ability to flip the override switch is still appreciated.
Remote app wake-up
As a part of iOS 7's new multitasking features, apps can be awakened remotely via a "silent push notification"—a message sent to your phone from the app's developer. You don't see any notification yourself, but the app does: it wakes up and can do work while you're not using it. This can be a big deal, because it means that apps can wake up and download new stuff so that when you open it, that new stuff is immediately available. Think, for example, of a service—Pocket and Instapaper, say, or book, comics, and podcast apps—that lets you add content from somewhere else and then read it on your iPhone. If Amazon updated the Kindle app to support this feature, the company could remotely load its app on your iPhone with books you've bought and new issues of periodicals that have arrived, and they'd be there ready to read the next time you open the app. In iOS 6, only Newsstand apps can do this, but in iOS 7 it's available to every app.
Folders
Many of us have screens on our iPhones that are filled entirely with folders. So for us the news that iOS 7's folders will themselves support multiple pages is music to our ears. Finally, we'll no longer have to maintain separate Games 2 folders to handle the overflow when our original Games folders run out of space. We'll no longer have to decide to drop utilities into a miscellaneous Web folder because they can't fit into Utilities. iOS 7's folders are bigger on the inside, and that's just fine by us.
Keychain restore
Restoring an iPhone works pretty well, but there's always that issue of re-entering all of your stored passwords. While we appreciate the security of that, it can be inconvenient when you can't recall some of those passwords you created back in the dawn of time. Fortunately, iOS 7 has an answer: If you've enabled the new iCloud Keychain feature, you can opt to have all of your stored passwords restored to your phone, along with the rest of your data. That's especially handy, given that iCloud Keychain will suggest strong passwords to you—and you might not otherwise remember those.
Privacy, please
Private browsing mode is a handy feature, but in earlier versions of iOS it was squirreled away deep within the Settings app. In iOS 7, it's far, far easier to find: When you open the tabs interface, just tap the Private button in the bottom left corner. No more digging three Settings screens deep just to flip it on or off.
A work in progress
iOS 7's new design is a stunning change to the iOS infrastructure, with layered looks and minimalistic icons. But for those of you thinking, "Gee, I might pay $99 for that developer's kit just to get a glimpse of that new OS interface," we'd suggest holding off. Sure, it's nice catching glimpses of iOS 7 in the Apple keynote, in briefings, and around WWDC parties. But a first beta is still just that: a first beta.
We've enjoyed what we've seen of iOS 7, for sure. But we'll enjoy it even more in the fall, when all the finishing touches have been made and the operating system is ready for primetime.
---
iOS 7, The Mobile iOS from a whole new perspective
from Apple
For more information on iOS 7, Apple's website offers short video demonstrations of features..
---
Repairing your iPad's network connection
by Christopher Breen, MacWorld
Reader Walt Czeka's iPad has suddenly turned a blind eye to his local network. He writes:
After using my iPad for a short time this morning it suddenly wouldn't recognize my AirPort network, even after I switched it off and on. I picked up my iPhone and it sees the network perfectly well so I don't think it's a network problem. What should I do?
There are a variety of things you can try and they work with any router. The first (and the one most likely to meet with success) is to shut off your iPad, pull the power plug on your AirPort base station to power it down, wait half a minute or so, plug the base station back in, wait for its green light to shine, and then switch on the iPad. This can clear out some funk in the routing portion of the base station, which allows your iPad's network connection to return.
If this doesn't work because the iPad's the funky character in this passion play, you can fiddle with a couple of its settings. First, go to Settings -> Wi-Fi and toggle the Wi-Fi switch Off and then back on again.
No success? Tap the blue dot icon to the right of your network's name in this same Wi-Fi pane and tap Forget This Network. Move back to the Wi-Fi page, tap your network's name, enter its password, and hope that this time it takes.
Still no? Travel to the General setting, swipe down to the bottom of the screen, tap Reset, and tap Reset Network Settings. Confirm your choice by tapping Reset in the window that appears. Your iPad will reboot. Once it has, return to the Wi-Fi setting, tap on your network's name, enter its password, and join in.
And then there are the more esoteric fixes - changing the channel on your router and switching the router's security scheme. But given that your iPhone sees the network I'll guess with a strong sense of confidence that you won't need to go that far.
---
By The Way
SSDs, what you should know 3rd party drives*
by Ron Sharp, MAGIC
I replaced the hard drive in my MacBook laptop in September 2012 with a SanDisk SSD. It works great, by the way, very fast. But it wasn't until now that I found out things one should know about Solid State Drives. (SSD) This, for the most part, does not apply to Apple computers that come with Apple SSDs.
First, the NAND technology used in flash drives has limited writes life. Currently at about 3000 to 5000 writes to a drive, then they become read only. Wow, it seems like that should have been mentioned on any site that was promoting SSDs. But I hadn't read it until now. So it's important to limit the number of writes to the drive that are unnecessary.
Second, there is an Operating System (OS) function that keeps your drive healthy. Unfortunately it only works with Apple hard drives. You can check this function by opening System Information and clicking on Serial-ATA, and selecting your hard drive. Scroll down the information about your drive until you see Trim Support. It should say "yes." If not, then you should get other software to do this job.
Third, there is a function with laptops that they store information before going to sleep. It's called hibernation, and it should be turned off. There are Terminal commands that can take care of this, and other adjustments for third party SSDs, but even better, there are free applications to improve OS functionality with SSDs.
The app Trim Enabler will tweak the system to turn on Trim Support. The app Chameleon SSD Optimizer also adjusts the Trim Support but handles several other adjustments as well.
For more information and Terminal Commands to make changes manually, check out this website: http://icomputerdenver.com/ssd-optimization-for-mac-os/
---
MAGIC Meeting Note*
by Ron Sharp, MAGIC
Just a mention on how great Penny Holland's notes are, from the monthly MAGIC meetings. She seems to capture everything and in an accurate, precise way. The Minutes of the Meeting is one of the best articles in the newsletter.
---
MAGIC, the Macintosh Appreciation Group of Island County, serves people who use Macintosh computers, software and peripherals. Our goal is to share information and get answers to questions to make us more productive with our use of technology. Our monthly meetings give us a chance to discuss computer problems and share ideas with other Mac users, feature speakers on specific topics, and to keep apprised of Apple news.