Newsletter
August 2013
Newsletter Editor:
In This Issue:
MAGIC MUG News
Software Updates
Macintosh News, Information and Stories
iPhones, iPods, and iPads
By The Way
* Indicates author is a member of MAGIC
---
Meeting information
Day:
The 3rd Wednesday of the month. 17 July 2013 this Month
Location:
Unitarian Universal Congregation of Whidbey Island (see map.)
Time:
4:00 p.m. - 6:00 p.m. with the first hour dedicated to new users and their questions.
Presentations:
•Apple Q & A
•Apple TV: how does it work and what do you need. Presented by Gayle Nixon
Gayle Nixon watches Apple TV and likes it. She offered to demonstrate how it works and describe what is needed to make it work. Anyone with a fast internet connection and a wireless fidelity-enabled router can confidently purchase the tiny box and TV monitor that makes Apple TV happen. Gayle will talk about what features are offered such as movies, music, television shows and photo viewing. She'll be covering some technical features that enhance the usability of other devices, such as using Airplay. She has a handy display comparing different devices such as WD TV Play, Roku 3, Vizio Co-Star, Boxee Box and Sony NSZ-GS8 to Apple TV. She'll be presenting an illustrated program at the monthly MAGIC meeting. Her presentation will be posted on the MAGIC website later.
Future Meetings: (subject to change)
See the Meetings Page on this website.
Do not forget to bring your used ink cartridges.
MAGIC will dispose of them for you and make some change for the group.
---
Minutes of the June 19, 2013 Meeting
by Penny Holland, Secretary
The monthly MAGIC meeting for July took place at the Unitarian Congregation Meeting House in Freeland. The meeting began at 4:07 with a Q&A session led by Robert Elphick, our Wizard. Approx. 20 people were in attendance. Questions covered in the Q&A:
WiFi dropping off. A: The effectiveness of the WiFi depends on the range and the intervening material. Wifi is usually effective to about 300 feet, but wiring, pipes, and other metal objects can reduce this substantially.
Can you put a photo from an email into iPhoto? A: Yes. But if you are going to print it, the resolution won't be as good because, due to size restrictions, you have to use a lower resolution for email. Just click and drag to desktop and then into iPhoto or click on the photo and hold, then save.
If I buy iWork can I install it on my laptop and my desktop? A: Yes, use the same Apple ID if you buy it from the Apple store.
Rewritable CDs not allowing you to erase and rewrite. A: Use Disk Utility to erase before rewriting, don't just overwrite. If you are doing music, do it on standard, as you might plan to play it on a CD player or car that doesn't use the MP3 format.
We have one computer but each of us has an Apple ID. A: That is okay, just set up 2 accounts. - Some text messages with photos take 3 tries for the photo to come up (iPhone) A: It may be a device problem since husband has no problems with his phone
How do you feel about boosters? A: Good if you can find a reputable source; MacMall is reasonable and reputable.
Some software is moving to the Cloud on a monthly rental (now an option with Office). A: Stay off the Cloud - it will always be a risky place to keep data or to generate data. There are evil people out there!
Following Q&A there were the following announcements:
Prescott reminded the group of the MAGIC website and all the resources available.
Joyce May has a MacBook Pro 17" and the screen died. She is looking for a 15" MacBook Pro to buy.
4 MAGIC classes are set up for this summer: mac Essentials, iPhoto, iMovie and Pages. The information is on the website. It will be advertised to the public in a few days so members need to register ASAP to be sure space will be available. One change, rather than successive Saturdays, these classes will be offered for 3 or 5 days in a row. Venues are split between Au Sable and UU Church.
Our treasury has a balance of $7,884.57
Presentation:
This month's presentation was provided by Dulca Baxter and Ann Wright who discussed Reunion 10, a genealogy program. The information should eventually be posted on the MAGIC website. You can get an APP for the iPhone that may be free. The computer version costs $100, but is worth it, as its advantages include being able to access genealogy websites through the computer at your home.
Upcoming Presentation Topics:
August meeting: Apple TV, Gayle Nixon
September: iPhone features for the sight impaired, Daryl Thomas
The meeting was adjourned at 5:50. Notes for minutes were taken by Nancy Ruff and submitted by Penny Holland, Secretary.
The meeting was adjourned at 5:45.
---
MAGIC Moments
Classes
August will see two more classes:
iPhoto - August 22 and 23, Au Sable Institute, Coupeville
Pages - 27 August to 29 August, Au Sable Institute, Coupeville
All classes will be limited to 15 people so remember to book early. Also this is likely to be the last time at these prices. There is likely to be an increase as the cost of putting on the classes is rising.
Genealogy on your Mac
The July Presentation on Genealogy on your Mac can be found on this site
here
. It was presented by Ann Wright and Dulca Baxter of the Genealogical Society of South Whidbey.
SOFTWARE UPDATES
Note: This Software Update section of the newsletter lists the most relevant Apple updates. Not all updates are listed for all products. Additionally, I'll add other pertinent updates on occasion.
Apple Finally Releases OS X 10.8.3 To the Public
by Buster Heine, cultofmac.com
After releasing the 14th beta build of OS X 10.8.3 to developers earlier this week, Apple has now released the latest build of Mountain Lion to the public. OS X 10.8.3 includes a couple of new features, such as the ability to redeem iTunes giftcards in the Mac App Store using Mac's FaceTime camera. Support for installing Windows 8 via Boot Camp, is now available, along with some other bug fixes. Here are the full release notes:
The ability to redeem iTunes gift cards in the Mac App Store using Mac's built-in camera
Boot Camp support for installing Windows 8
Boot Camp support for Macs with a 3TB hard drive
A Fix for an issue that could cause a file URL to quit apps unexpectedly
A fix for an issue that may cause Logic Pro to become unresponsive when using certain plug-ins
A fix for an issue that causes audio to stutter on 2011 iMacs
Includes Safari 6.0.3
Click here for the source of this article.
Wizard comment: OS-X 10.8.4 has also been released.
---
MacBook Air (Mid 2013) Software Update 1.0
from Apple
This update fixes an issue that in rare instances may cause an intermittent loss in wireless connectivity, an issue with Adobe Photoshop which may cause occasional screen flickering, and an issue which may cause audio volume to fluctuate during video playback.
Click here for article.
---
New Printer Drivers from Apple
from Apple
Apple have updated Printer Drivers for the following set of Printers:
Epson Printer Drivers v2.15
Gestetner Printer Drivers v.10.0
Savin Printer Drivers 10.0
Ricoh Printer Drivers v10.0
Infotec Printer Drivers 10.0
Lanier Printer Drivers v10.1
InfoPrint Printer Drivers v10.0
NRG Printer Drivers v10.0

News, Info and Stories
TotalFinder
by David Chartier, macworld.com
Can't wait for Mavericks? TotalFinder offers Finder tabs and more.
If the Finder feels like a hindrance as you organize your files, TotalFinder is the solution you need.
Apple's forthcoming Mavericks update to OS X will finally bring some new features to the Finder. But BinaryAge's TotalFinder 1.4 ($18) still offers the real power tools for users who work with files frequently and need more control (or users who have a Mac that they won't be upgrading to Mavericks).
TotalFinder is a plug-in—a modification, really—for the Finder that goes way beyond tabbed browsing (which Mavericks will include). One nice feature is a Dual Mode for displaying two folders side by side in tabs, which makes shuffling files around much easier.
Then there are TotalFinder's many preferences that make the Finder fit much better into your workflow. You can do everything from show system files to change how folders and files are listed together. You can even flip a switch and reintroduce some color to the Finder's sidebar icons. Oh, and TotalFinder adds a Cut command to the copy-and-paste file-management process.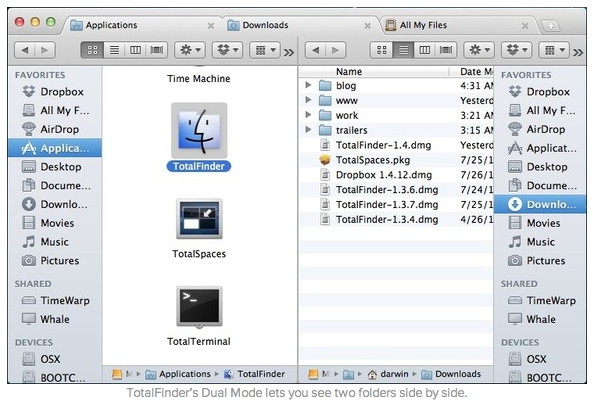 In short, if the Finder hinders your file-organization efforts, TotalFinder is probably the help you need.
---
Opera 15 for Mac
by Nathan Alderman, macworld.com
Free Opera 15 is speedier and less cluttered with features than previous versions of the browser, but it has lost some of its charming individuality in the bargain.
Opera used to burst with somewhat odd but charmingly ambitious features it almost certainly didn't need. The browser's last major release, Opera 12, took a welcome step away from all that clutter, while keeping a handful of innovations and all of its charm. By replacing its home-brewed rendering engine with a mélange of Chromium and WebKit, Opera 15 has now gotten slightly better at keeping pace with rival browsers—but it also feels bland and anonymous, a Stepford-wife version of its former self.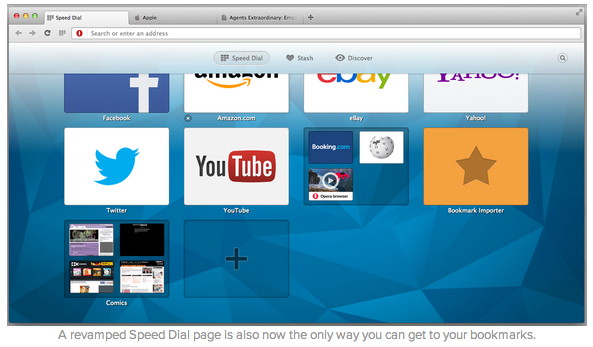 ---
Apple announces take-back program for iPhone power-adapters
by Dan Miller, MacWorld
Following recent reports of third-party iPhone power-adapters that were malfunctioning—"malfunctioning" in this case meaning "electrocuting their users"—Apple has introduced a take-back program for the things.
As reported on 9to5Mac, starting August 16, you'll be able to bring any USB power adapter to an Apple Retail Store or authorized service provider, and the company will take that adapter and make sure it's disposed of in an environmentally responsible fashion. If you want a new adapter, the company will, for a limited time, sell you a new, official Apple one for just $10. (They regularly cost $19.)
The offer is good through October 18, 2013, and is limited to one adapter per iPhone, iPad, or iPod you own. (You must bring the device with you for serial-number validation.)
This isn't just altruism on Apple's part. Headlines linking 'iPhone' and 'electrocution' are generally bad for business. More importantly, the program provides some justification for the company's strict hardware certification programs.
---
Editing and annotating PDF files with Preview
by Christopher Breen, macworld.com
If you flip back through your course notes, you'll see that last week we explored using Preview to edit and annotate images. But as I explained in that lesson, Preview has powers beyond images. It's also Apple's default PDF reader. And while it's no substitute for Adobe Acrobat Pro as a PDF document creator and editor, it has some useful talents of its own. We'll explore those talents now.
---
Are You Using Adequate Protection?
by R.J. Murphy, smalldog.com
Do you wonder if the data on your hard drive is truly protected from technological intruders? Apple has produced a variety of resources that can protect your files from unwanted hard drive peepers. However, just how secure are these methods of file protection?
First, let's look at the most common form of user file protection: the administrator password. Created when Mac OS is initially installed, this password prevents unauthorized users from accessing the files on your account… or does it? A simple click in the Reset Password Utility after booting from the Mac OS DVD proves otherwise. As long as the DVD is the correct version of Mac OS, it can boot any system with that corresponding OS.
Resetting the password only requires entering a new password, which becomes the new administrator password. So basically, all anyone would need to access an account that is simply password protected is the correct version of Mac OS installation DVD (this can also be accomplished using a string of commands in Single User mode — no DVD needed!). One thing to note is that the Keychain Access utility will not be viewable with this new password.
Here's where the extra-protected Mac users say "Hah! everyone knows that. That's why all my files are heavily protected by a firmware password." In this case, the intruder could pull out one stick of RAM and boot the computer, bypassing the firmware password.
So now, the real heavy hitters come out. FileVault is a file encrypting tool that works on the corresponding user's home folder, encrypting it when the user is logged out. Nothing is foolproof, but as far as the research I have done, FileVault is basically un-hackable. Knowing this, if you decide to use FileVault on your account, you had better remember that password.
So, are you using adequate protection? The first question I asked myself while trying to accurately answer this was: "Do I really care if someone could potentially have access to my files?" The answer is no. So in short, am I protected from potential technological intruders? Nope, not really; my information may be easily hacked into. However, is my protection adequate enough for the sensitivity of the files on my hard drive? Totally.
Still not satisfied? Well, if you truly believe the data on your hard drive is sensitive enough to warrant it, then FileVault it up!
---
New AirPort Extreme + AirPort Time Capsule Options
by Shawn Venti, smalldog.com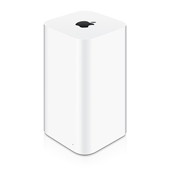 I have been a long-time fan of Apple's AirPort Extreme and Time Capsule and I have configured hundreds of them for clients over the years. When the new models came out, I decided to upgrade my own network and backup system at home and purchased a 3TB AirPort Time Capsule.
The setup was straightforward and the same as previous models, but I found a few new things while checking it out via AirPort Utility. First, there is a new Summary page which offers status information, including detailed statistics about connected clients that I haven't seen before.
The next item I noticed is on the Network tab under Network Options, and is a checkbox to "Enable IGMP Snooping." This is a way to regulate multicast data and limit it to interested clients, and may be designed to improve performance with streaming video and audio. One of my colleagues speculates that this goes hand-in-hand with the new beamforming antenna array technology, so specific clients can be targeted with just the data they need to see.
I haven't found any documentation at Apple for this, but I found an interesting article about multicast, read more about it here.
I'm really loving my new AirPort Time Capsule. The speed is great, the unit is quiet, and the tower design is cool.
---
The Trials of Data Recovery
by Kyle Simpkins, smalldog.com
Data recovery is a service that doesn't always yield results, and having done it a few times, I know that whenever a hard drive or a solid state drive fails, the data on it has a very good chance of being lost forever. There are tools that can help recover data in the event of a failure, but please know that nothing is guaranteed.
The process of rescuing data can also be very time consuming; we had one project on the tech bench that ran for ten days trying to extract data from the drive. Something was pulled off, but whether or not it is intact data instead of nothing but 1s and 0s of gibberish has yet to be determined.
One tool we use is Data Rescue by Prosoft. It's a handy OS X software to have to try and extract information, but if the drive in question has failed, expect it to take anywhere from hours to weeks to fully scan the drive. There was a project I was working on a while back, and the Data Rescue scan took three days and the subsequent extraction took four. Thankfully, we were able to extract the customer's valuable data on that one.
One problem that has been coming up a lot is that the board on the hard disk itself gets shocked and it no longer is seen by anything it's plugged into. We're unfortunately not able to extract any data when we see this type of failure. Next step: DriveSavers. Thought not cheap, they have the expensive equipment to be able to pull the drives apart and read the data directly from the platters inside.
Another type of failure is physical failure — you know, when there is a clicking or grinding sound coming from them as they attempt to spin up and function. People ask me all the time what makes a drive fail, and my answer is that it's most commonly when the machine is dropped, bumped, or generally handled roughly. Anything can really cause the little read/write heads inside to nick the platters and scratch them.
"Bad Blocks" are another form of failure, wherein the platters themselves are no longer able to hold information. Any information written cannot be retained, causing corrupted data. Once a hard drive starts having bad blocks, it's only a matter of time before the drive fails completely. Moral of this story? Back up your information to another hard drive or utilize a cloud storage backup service!
---
Ashton Kutcher: Steve Jobs Was Kind Of Like A Great Football Coach [Video]
by Buster Heine, CultOfMac
Getting into the psyche of any major historical figure is a difficult task, especially when you've never even met them, so to sympathize with Steve Jobs' dick-ish behavior for his role in JOBS, Ashton Kutchers says he thought of Steve as kind of like a great football coach.
During an appearance on The Colbert Report, Kutcher says he can totally relate to why Steve Jobs berated people, because his high school football coach/uncle used to throw temper tantrums to make the team better too.
Kutcher told Colbert that he also thinks the way Steve sought love and appreciation from people was by obsessing about making perfect products for them, so that kind of justified being an asshole to people.
---
Unlearn Words From Spell Check
by Michael Burl, smalldog.com
As a person who writes a fair amount for Small Dog, I use the Spelling and Grammar check on a daily basis. Often times, I write about products (among other things) that I know for a fact are spelled correctly, and yet Apple's dictionary doesn't know the word. Luckily for me, OS X has the ability to learn new words so they aren't continually marked as incorrectly-spelled words.
However, what happens when you accidentally click the Learn button instead of Ignore? Up to this point, I had feared the word would be permanently spelled wrong for all eternity! I did some digging, and found a way to unlearn words from Apple's dictionary.
If you want to unlearn words simply follow these steps:
Navigate to Library -> Spelling. You can find the Library directory by holding down the option key while clicking on the Go menu in Finder
Open the file named LocalDictionary in Text Edit or your favorite text editor
Delete the offending word or words from the list
Save and close the document
I can confirm this tip works with OS X Lion (10.7). I am not completely sure this will work in OS X Mountain Lion (10.8), but the process has been the same for many years now. While the Dictionary file name may change, the process is the same.
iPhones, iPods, and iPads
Roku app now beams videos from your iOS device to your TV
by Jonathan Seff, macworld.com
Roku has moved a step closer to Apple's AirPlay abilities with a cool new trick in the latest version of its iOS app.
The 2.3 update expands on the "Play on Roku" feature introduced back in September 2012. That feature let you stream music and display photos from your iOS or Android device on your TV via a Roku device. On Thursday, the company added video to the mix—for iOS users only right now—allowing streaming of videos in your iOS device's Camera Roll.
That means you can play anything you've shot with your iOS device—family ballet recitals and 15-second Instagram video masterpieces, say—but not TV shows or movies you've synced with your iPhone. Which makes it somewhat less useful than the Apple TV's AirPlay streaming, but still a pretty cool addition.
I tried out the new feature with a Roku 3—Roku 2, 3, LT, HD, and Streaming Stick models support the new capability—and it worked as expected. I just launched the app, tapped the Play on Roku button, and tapped Video at the bottom of the list. From there, I was presented with Instagram and Camera Roll folders to choose from. I picked a video to play, and after a brief Exporting notification, the video played on the HDTV in the TechHive offices clear as day. Think of it as a new Roku video channel for your home movies.
---
How the iPhone has changed the way we shop
by Marco Tabini , Macworld
In the span of a few short years, I've learned that my iPhone, among its many virtues, can be a valuable ally in making an agonizing experience slightly less agonizing. Take shopping, for example.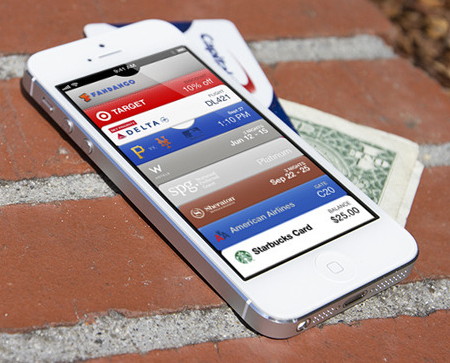 At the risk of perpetuating a stereotype, I confess that I don't love shopping. I hold no grudge against those who do; it's just that the idea of wandering aimlessly through aisle after aisle or waiting in line at the till while others fumble with their wallets is not how I like to spend my spare time.
Even though frequent trips to some store or other cannot be avoided, I've noticed that having Apple's handset with me has subtly changed the way I—and, I suspect, many others—shop.
Remember, remember…
One of the hardest aspects of shopping is remembering everything you wanted to buy, particularly when you're dealing with a long list of mundane items (think weekly grocery shopping). Using pen and paper to keep track of the products you need to buyrequires patience and discipline, and often results in forgotten purchases and repeated trips to the store. Computers, on the other hand, are good at this task, which explains the plethora of apps dedicated to to-do and grocery lists in the App Store.
You don't need to buy fancy software to get effective shopping reminders, however; the humble Reminders app makes the process of tracking your needs easy, particularly now that you can share lists between users and add items to them using Siri: Whenever inspiration strikes (or supplies run out), you need only reach for your iOS device or Mac and either type or dictate the items that need buying; later on, the list will be neatly available as you navigate the store aisles. Partners, spouses, and roommates can even add items to the list when they think of them, heading off arguments about whose fault it is that you're out of milk.
Of course, even with technology, things don't always go smoothly. But Reminders still offers a vast improvement over the old-school alternatives, particularly when you consider that its functionality is baked right into Apple's operating systems and integrates well with so many other technologies that we already use every day.
Find, compare, shop
To the chagrin of many a traditional retailer, the Internet has made comparison shopping extremely easy: A bit of planning and a couple of Google searches will quickly point you in the direction of a store that has the best price in your area; plus, because many retail chains now make their inventory available on the Web, you can actually be sure that your trip will not be in vain.
Having an iPhone in your pocket, however, turns this process on its head. You can quickly analyze and compare an item in one store against a multitude of other stores, both traditional and online, either via the Web or through one of many apps built for just this purpose; some of them, such as Amazon Mobile and eBay's Red Laser, even allow you to find products by taking a picture of their UPC barcodes.
This ability to meld the traditional retail experience with the wealth of information available on the Internet makes it easier than ever to be a smart shopper; even if you ultimately decide that the immediacy of the brick-and-mortar purchase is worth a small premium over buying online, you can still make well-informed decisions on the spot.
An express espresso
Once you've decided to buy something, you need to pay for it. Using cash requires figuring out the right combination of banknotes and coins, followed by waiting for the cashier to count your change. Even paying by card is often complicated by the fact that an overwhelming number of cash registers are seemingly unable to automatically differentiate between credit and debit tender.
Apple's Passbook, however, can make the payment process smooth and quick. Even better, it helps you keep track of everything you buy, making participation in loyalty programming and expense tracking much easier. Despite Passbook's somewhat shaky start, more and more companies, like AirBnB and even the McDonald's French subsidiary are allowing customers to use it for everything from renting a room to grabbing lunch, while other companies, like Boston-based LevelUp are turning it into a veritable virtual wallet.
Nowhere is Passbook's potential more obvious than at any of the average neighborhood's two dozen Starbucks. With my iPhone in hand, I can order and pay in a matter of seconds—at least on days when the customer in front of me isn't ordering a 30-syllable beverage. While I don't love Starbucks' coffee, the level of convenience that Passbook provides keeps me a loyal customer.
No more lines
Of course, I would much prefer not having to deal with lines at all, and this is where the iPhone has changed my shopping experience most of all.
Visits to one of Apple's retail locations used to be a fun affair; the staff is knowledgeable, the atmosphere is great, and watching so many nontechnical people browse and eagerly buy all sorts of electronic gear is a pleasure. Of late, however, the stores tend to be very busy, with the result that catching the attention of an employee can be challenging, and even simple purchases take longer than they should.
Thanks to the Apple Store app, I can now walk into a store and complete most minor purchases without having to interact with anyone. I simply place my order (something I can either do at home, or right at the store—where the app even allows me scan items using my iPhone's camera), grab the product, and leave minutes later.
In a sense, the Apple Store app is the ultimate marriage between tradition and technology: You get the convenience of online shopping and the convenience of a brick-and-mortar retail experience. Of course, Apple gains in the bargain as well, since you don't take up the valuable time of a store clerk who could otherwise be selling high-ticket items to a different customer.
A quiet revolution
Perhaps the most interesting aspect of how Apple's devices have affected the way I shop is that they have been able to do so using technology that has mostly been available to smartphone manufacturers for more than a decade.
While other vendors spent their time trying to convince the world that consumers needed broad support for near-field communication to reinvent commerce, the folks from Cupertino have quietly introduced profound changes to our shopping habits by taking what was tried and true, and making the most out of it.
This kind of ingenuity is precisely what makes me love Apple's products so much; I can only hope that more retailers will adopt technologies like Passbook, and take inspiration from what the company has done with the Apple Store app. And maybe, just maybe, I will hate shopping a little less.
---
Delightfully Simple Rise Alarm Clock Is Apple's App Of The Week
by Rob LeFebvre, cultofmac.com
Apple names a new and noteworthy app each week as its App of the Week. This week, it's Simplebot's Rise Alarm Clock, a universal alarm clock that's getting quite a bit of buzz in the tech sector.

Let's face it, alarm clocks are a dime nickel a dozen, so it's ironic to see one hit the top spot on the App Store. The app evokes another big buzz app, Clear: it's well-designed, looks great, and works with simple swipes and taps; what's not to love?

Continue Reading....
---
By The Way
The Next Big Thing*
by Ron Sharp, MAGIC
Product cycles are a huge thing in the computer industry. You need a new product in the works to hype and keep the attention up and keep the market analyst happy. Then, hopefully the product is a big hit. Google Glass doesn't seem to have the mass interest to really take off. Kind of like the Segway. Neat idea but how do you incorporate it into your life?
So what is Apple's next big thing. If they market a wrist watch, I don't think it'll be a big thing. I think wearable electronics have a unique challenge. Now even though this may not fit the consumer electronics description, here's my idea for Apple...pause here for the appropriate climatic intensity...the Apple plug in vehicle. How great is that. Can you imagine the possibilities? First of all, you know it would have the longest battery life and the most convenient quick disconnect cord! Or no cord at all, you would just park next to the charging outlet and it would charge wirelessly.
The Apple plug in, maybe called the Braeburn, would be a beautiful and most consumer friendly vehicle. You wouldn't need a key for it, it would recognize your face as you walk up to it and it would unlock for you. It would adjust to each user it recognized, like seat positions and music stations or playlists. It would be super quiet and smooth. The radio volume would automatically lower when you get phone calls and Siri would say, "You have a call from so and so, would you like to take it or should I take a message?" You could also just ask Siri for driving directions any time, or how long to get to your destination and what route is best. The car would also know how much battery driving time is remaining and where the closest charging station is.
Your car would be in communication with your other devices. You might jot down your shopping list on your computer sticky note or Reminders list and have your car print out a little receipt size list for you when you get to the store. Or when you add a new song to your iTunes playlist it would automatically be added to your "Braeburn" playlist.
So now, if you think about it, doesn't it make perfect sense for an Apple product? The only drawback I can think of is, it wouldn't come with a owners manual! But then there would be virtually no maintenance. Possibly any maintenance it needed it would let you know via Reminders.
---
MAGIC, the Macintosh Appreciation Group of Island County, serves people who use Macintosh computers, software and peripherals. Our goal is to share information and get answers to questions to make us more productive with our use of technology. Our monthly meetings give us a chance to discuss computer problems and share ideas with other Mac users, feature speakers on specific topics, and to keep apprised of Apple news.