Newsletter
November 2013
Newsletter Editor:
In This Issue:
MAGIC MUG News
Software Updates
Macintosh News, Information and Stories
iPhones, iPods, and iPads
By The Way
* Indicates author is a member of MAGIC
---
Meeting information
Day:
The 3rd Wednesday of the month. 20 November 2013 this Month
Location:
Unitarian Universal Congregation of Whidbey Island (see map.)
Time:
4:00 p.m. - 6:00 p.m. with the first hour dedicated to new users and their questions.
Presentations:
•Apple Q & A with Robert
•"Mavericks and iWorks - features and troubleshooting" with Robert
Future Meetings: (subject to change)
See the Meetings Page on this website.
Do not forget to bring your used ink cartridges.
MAGIC will dispose of them for you and make some change for the group.
---
Minutes of the October 16, 2013 Meeting
by Penny Holland, Secretary

The October 16 meeting of MAGIC began at 4:00 PM at the Universal Unitarian Congregation Meeting House in Freeland. Approximately 21 people were in attendance.

In the absence of our president, Robert Elphick presided over the meeting.

Questions and Answers Session

Q: After husband's PC died, data was moved to to the wife's Mac. Problems began. Things seem to be slower since the data transfer. (He created his own account, is working in Mac applications, not windows.) It appears that now Mail is slower than it used to be. A: The more the emails in your INBOX, the slower MAIL works. So set up multiple mailboxes to organize your emails. At the end of each year, make another mailbox, called LAST YEAR'S MAIL and move everything left int he INBOX to this new box. Also from time to time you should back up all your mailboxes.

Q: Why, using an ipad mini and Mac book air, syncing the calendar doesn't seem to work? A: In iTunes, select iPad, then go to INFO and check to Sync all contacts, and Calendars, and under calendars make sure ALL calendars are chosen, not selected ones. Hit SYNC and Apply. It should work this way.

Q: How to find out the various calendars active on an iPad? A: Under calendars hit the CALENDAR button. The list of calendars should appear.

Q: How to export a keynote file to a website. A: Best way is as a PDF, but you can also make it as a movie and put it on the website if you want it to look like a slide show. But be aware this takes up much memory. Some people put this kind of thing on a website using FLASH, but this takes some tools (not cheap ones) and expertise.

Q: Can't read PDF files on my mac--all of a sudden. A: One reason is that whatever they were attached to no longer exists.If you are using Adobe Reader, it is recommend you get rid of Adobe Reader . Let the Mac use Preview to read PDF files. To make this effective, Select any PDF file, Get INFO (COMMAND-I), and select OPEN WITH and choose PREVIEW. Next, select CHANGE ALL, so that every PDF file on your computer will be told to open by default with PREVIEW.

Q: What is ADOBE AIR? A: Adobe Air seldom used any longer and you can probably get rid of it. But once in a while it is still used for animations.

Q: About creating a PDF file. A: You can print to a PDF file.

Q: Can you edit a PDF? A: Only minimally editing is available in Preview, so you should keep the original file as well as the PDF file if you may want to edit it later. (NOTE: You can save a PDF TO WEB RECEIPTS FOLDER. This is helpful if you do a transaction on the web. This allows you to keep a list of your web transactions in this folder on your computer.

Q: In IOS when you want to print something and there is no print dialogue box, is taking a screen shot and printing resulted in a very small image. A: Suspect you emailed it and that shrunk it. Tell it to send it by the original size. Two ways to send the document are to send by email or to send by message.

Q: How to turn off the sound of the musical chime when you turn on the machine. A: There is a free little program that will do this, (can't think of the name of that APP.-- Search for "startup sound" on Google to see if you can turn it down at least, so you don't wake people up when you turn on the computer in the middle of the night.

Q: Is there a way to print directly from the iPad? A: Most printers are now Wifi friendly. If you leave the printer on, but turn the computer off, you should be able to print from the iPad if the printer is on and it uses wifi.

Q: How to cancel a print job on an iDevice once printing has started? A: Across wifi printer will show up on the dock during printing. Hit the home button twice to see the recently used icons of apps that you've used. Touch the printer icon and you should be able to cancel from there.

Q: Where to you find PRINT on an iPad. A: In an app, when you create a document, the upper angled arrow icon will take your document to mail or printer. NOTE: Some older printers, several years old, don't work with iPads.

Q: Is anybody with new computers having these problems--things aren't showing up as they should. It's shutting down emails and Safari won't close. We have two accounts: One that was transferred from the old computer, a second one that was set up for Time Machine. A: There may be files from your old account that are causing problems. Transfer your docs from the old account to the new one. But don't save preference files, etc. The old administrator account from the old computer may be too old. If this doesn't work, this may take a wizard's visit.

Q: New computer. Backup drive has 2 partitions and SuperDuper is run 5 times a week. Second partition is for Time Machine. Message keeps appearing on the Time Machine partition--Do you want to Save this TM file? A: Guess that the TM partition is too full. Check the size of that partition and see how big it is. Consider getting a bigger backup drive and move the one TM file to the larger HD. (If it's a read-only file, it might be a different problem. NOTE: It's not necessary to use Super Duper 5 days a week if you are also using Time Machine. Suggest in this case you only use Super Duper once a month.)

Q: How do you repair power cords? One used on an iPad in bed gets flexed too often and the plastic peels off! (Have bought 2 cords in 4 years. So far the solution has been to tape the cord to the case.) A: Go to Radio Shack for a new one. Another member suggested to put the cord through a straw and tape the straw down to the iPad.

Q: When migrating from OS 9 to 10, FileMakerPro no longer works. Would like to keep track of 1000s of seeds on a spread sheet. How to migrate this information to a data base? A: File Maker is still a good data base. Apple decided to drop AppleWorks. They created Pages and Numbers, but never included a data base because not too many people use data bases. One member stated that Bento is no longer available as of 2 weeks ago. (Check with the Wizard to borrow his FileMaker Pro.)

Q: Has anyone tried lynda.com? A: They provide some excellent tutorials.

Following the Q&A session, Robert announced that there would be no treasurer report because our treasurer's trip has been extended.

PRESENTATION ON iOS-7

Robert Elphick gave the presentation. It began with a Keynote slide show that will soon be available on the MAGIC website. Here is an outline of his talk. iOS has made some improvements. Most Apple APPS have changed their icons and are not as easy to recognize as they used to be.

Robert gave a list of the main improvements in iOS7 security. He then went on to describe some of the new functionality:
clock icon is now active
Text, timestamps
Might mode for apps, and a level on the compass
Siri has been improved. Now there is a male voice available.
You can now block calls on your iPhone
Apps for things "Near Me" do not work very well on this island.
Air Drop is a way to transfer things between devices if you have Lion OS on your Mac
You can now search on any screen by dragging your finger down from the center of the screen. Doing this causes the SEARCH window to appear
You get improved notifications from a top drag down
The CONTROL CENTER is accessed by dragging UP from the bottom of the screen to change certain preferences.
Now folders can hold more files.
You cannot get rid of APPS that don't show an X when you press and hold on their icon until they "wiggle". Suggestion: Move these APPs into a folder called JUNK and hide it far away from the first page. Then, when you are back at your main computer delete both of them.
Dragging DOWN from theTOP of the screen gives you a calendar page that tells you time, weather and a calendar of today's events for today.
Pushing UP from the BOTTOM of the screen, you get access to a few apps, such as the camera, alarm, interruption, bluetooth, wifi, airplane mode, brightness and volume. Also music playing controls are here, if music is active. This is called the CONTROL CENTER. you can change things from the control center. Under SETTINGS, below NOTIFICATIONS is CONTROL CENTER.
Following Robert's main presentation, he called for questions.

Q: On iPads the control center has a lock icon instead of a mute icon. A: Change that setting - go into GENERAL under SETTINGS. In GENERAL settings you can either make the side switch affect the "lock rotation" or to "muting" the sound. Which ever one you choose, the other is available in control center. This only applies to devices with the slide switch on the side.

Q: How to use AirDrop? A: This is a feature that is already on Macs. It appears this is only available on the newer devices. If you click on AirDrop, if you have it, you can make yourself "discoverable" to all or to the people on your contact list. This works through iCloud, so you need to set up an apple ID account, and then anybody else who also does this can transfer data back and forth with you. On your home computer you can do this same kind of transfer via wifi.

Q: In iOS 7 people are complaining that their device's battery drains much faster than normal. A: There is a free application called ACT Monitor. which will give you information about your device and the memory that is being used, It will indicate how much battery is left. If you double click on the home button you will see a list of the icons that are open in the order of the most recently used. (It used to be that just the icons along the bottom would scroll, but now the picture of the app screen above the icon also shows. If you scroll UP with your finger in this mode, you can slide up and make an app INACTIVE. Robert recommended deactivation all APPS and then fully powering the device down once each day. This will save battery memory.) NOTE: One member reported that on the web you can find 7 things you can do to save your battery, and it really makes a big difference - For instance, turn down the sound and the brightness, etc.

The meeting was adjourned shortly before 6 PM.
---
MAGIC Moments
Mad about Mavericks local sync
I was deeply disappointed to find that with the Mavericks operating system I can no longer synchronize my Contact and Calendar data to my iPad and iPod. One of the major incentives for getting an iPod was so that I could keep my Addresses and Calendar with me at all times. Now the only way to sync these data sets is with iCloud which now means that I can only sync in the presence of the internet and that all my data is where it can be hacked. This is not acceptable, so I am forced to type everything three times to keep my system up to date and synchronized.
Many of my Contact data is confidential (including MAGIC members) and much of my Calendar has confidential data in it. If this data got hacked my clients (and MAGIC members) would be justifiable mad at me for putting it where it could be hacked and that includes anywhere on the web.
I sincerely hope that Apple fixes this. It was a bad mistake to force everybody to use the cloud.
Fame and Fortune on the Board of Directors
At the January 2014 meeting we will be electing a new board of directors. This is a great opportunity to serve the MAGIC community by volunteering. The only requirement is to be good looking. Please contact the President at and let her know that you are interested in this remarkable chance to improve your life and world standing.
iPhones as an aid for the Blind
At the September meeting Daryl Thomas made a presentation on how iPhones can help blind people and their friends. The presentation notes can be found here on the MAGIC website.
Fall education program
During late November and early December I shall run one or two more schools. I am willing to do the most popular subjects. At the current time iMovies and iPads are near the top of the list. What would you like to see a class on? Let me know at .
SOFTWARE UPDATES
Note: This Software Update section of the newsletter lists the most relevant Apple updates. Not all updates are listed for all products. Additionally, I'll add other pertinent updates on occasion.
iTunes 11.1.3 fixes problems with EQ and large libraries
by Jonathan Seff, macworld.com
Apple upgraded iTunes to version 11.1.3, in the process fixing some problems with equalization, large libraries, and other minor bugs.
First off, the update resolves an issue where the EQ might not work as it should. Not very descriptive, I know.
Second, Apple says iTunes 11.1.3 improves performance for those with large libraries when switching views.
Lastly, it offers oft-cited-yet-unspecified "additional minor bug fixes." You can download the update now via Software Update or from Apple's Featured Downloads page.
---
Apple fixes trackpad and graphics issues on new Retina MacBook Pros
by Jonathan Seff, macworld.com
Owners of the newly release 13- and 15-inch Retina MacBook Pro models may want to fire up Software Update for something even more important than a fix for Mail in Mavericks. Firmware updates for both models also released on Thursday take care of some potentially big problems with these latest laptops.
MacBook Pro Retina EFI Update v1.3 fixes an issue with unresponsive keyboards and trackpads on the 13-inch Retina model. Apple previously acknowledged the problem and promised a fix back on Halloween.
MacBook Pro Retina EFI Update v1.2 for the 15-inch Retina MacBook Pro resolves an issue that—in rare cases, according to Apple—limited the performance of the discrete graphics processor after a system wake or boot.
And for good measure, Apple also released an iBooks Update 1.0.1 update for the desktop version of its ebook software in Mavericks. It's changes are more vague, with, "bug fixes and improvements to performance and stability."
All three updates are available now via Software Update.
---
Hallelujah! Apple issues update for Mail in Mavericks
by Roman Loyola, MacWorld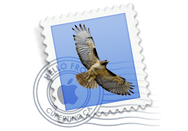 The complaints of Gmail users using Mail 7.0 in OS X Mavericks have been well documented, and it looks like Apple has finally come out with a fix. The company on Thursday released Mail Update for Mavericks 1.0.
According to the support document, the fix addresses problems with Gmail, such as issues with deleting, moving, and archiving messages for those with "custom Gmail settings" and inaccurate unread counts. Apple says the update also, "Includes additional fixes that improve the compatibility and stability of Mail."
After installing the update, Mail will still report being version 7.0 though it will have a new build number (1822 instead of 1816). Before you install the update, Apple advises you to back up your Mac. You can get the update by choosing Software Update from the Apple menu, or by launching the App Store app on your Mac, and then check for updates. The updater is also available manually from Apple's support downloads site. (Some users, who had the development Golden Master release of Mavericks installed, are reporting problems seeing the update.)
---
iWorks loses some functionality*
by Robert Elphick, MAGIC
The Applications that make up iWorks (Pages, Numbers, and Keynote) have been rewritten to make them entirely 64 bit code and remove the older 32 bit code. In the process of rewriting the applications the interface has been changed substantially and the "inspector" way of controlling the elements of documents has been replaced.
Regrettably, in the hast to get the products released, a lot of the previous functionality has not been included. These include: Pages
Customize toolbar
RTF (Rich Text Format) is not supported
Vertical ruler
object placement has been reduced in its effectiveness
cell images
Improved word counts
Keyboard shortcuts for styles
Manage pages and sections from the thumbnail view
Numbers
Customize toolbar
depreciated zoom and window placement
Multi-column and range sort
Auto-complete text in cells
Page headers and footers
Improvements to AppleScript support
Keynote
Customize toolbar
old transitions and builds
Wizard recommendation: Keep copies of the older applications in case you need them - or wait until the funtions have been included. See the article on the Apple promises below.
---
Mavericks loses local syncing*
by Robert Elphick, MAGIC
I was deeply disappointed to find that with the Mavericks operating system I can no longer synchronize my Contact and Calendar data to my iPad and iPod.
There used to be an "Info" button in the device section of iTunes that would allow the user to sync Contact, Calendar, and Mail data between the Mac and the device. It has disappeared.
One of the major incentives for getting an iPod was so that I could keep my Addresses and Calendar with me at all times. Now the only way to sync these data sets is with iCloud which now means that I can only sync in the presence of the internet and that all my data is where it can be hacked.
This is NOT acceptable, so I am forced to type everything three times to keep my system up to date and synchronized on Mac, iPod, and iPhone.
Wizard recommendation: If you need to sync your data between devices do NOT update to Mavericks until this has been fixed. Do not allow your confidential data to get in the cloud where it can be hacked. We have been seeing in the news that the Chinese and NSA are accessing data bases (including those at Google, Adobe, and Apple) - we can only guess at how many others are doing it.
News, Info and Stories
Apple plans Arizona factory that will run on renewable energy
by Stephen Lawson, macworld.com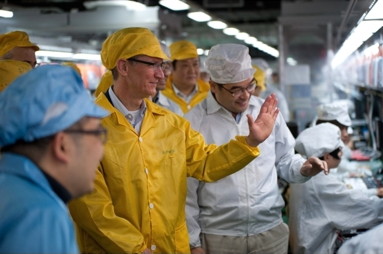 Apple plans to build a components plant in Mesa, Arizona, that will run entirely on renewable energy.
It will be Apple's latest move to build up its manufacturing in the U.S. Most of the company's products are manufactured overseas, and Apple has been under pressure to make more investments at home.
The project will create more than 2,000 jobs, Apple said in a brief statement to IDG News Service on Monday. It will work with Salt River Project, an electric utility in central Arizona, to create "green energy sources" to power the facility, Apple said.
The project will create 700 jobs in the first year, in addition to about 1,300 construction and other jobs in Arizona, according to Governor Jan Brewer. "Their investment in renewable energy will also be greening our power grid, and creating significant new solar and geothermal power sources for the state," Brewer said in a statement.
GT Advanced Technologies, a crystal materials manufacturer, said it will own and operate furnaces and related equipment at the plant, where it will employ more than 700 people. GT said it had entered into a multi-year agreement to supply Apple with sapphire material.
Apple has said it would invest $100 million this year in Macintosh production in the U.S., and that it would make one of its Mac lines exclusively in the U.S. In May, the company said it would make some Mac parts in Texas.
---
Apple promises to restore some iWork features within six months
by Dan Moren, macworld.con
If you've been disappointed in the lack of certain features in the newly released iWork '13, don't worry: Apple is not sticking its fingers in its ears and humming as loudly as possible. On Wednesday, the company posted a support document listing features that would return to the productivity suite within the next six months.
"In rewriting these applications, some features from iWork '09 were not available for the initial release," says Apple's support document. "We plan to reintroduce some of these features in the next few releases and will continue to add brand new features on an ongoing basis."
Many of the most common complaints from users of iWork '09 are addressed in the document, including improvements to AppleScript support for Numbers and Keynote, more presenter display options in Keynote, keyboard shortcuts for styles in Pages, and many more.
If you've been holding off upgrading to iWork '13, remember that the installers do not replace your current iWork '09 versions, so you can continue to rely upon those for any features that Apple hasn't yet integrated. As to whether subsequent upgrades will return all the missing features, it's too early to say, but it seems likely that Apple is looking to make sure that its productivity suite helps make its customers, well, productive.
---
Western Digital Warns Mavericks Users of Data Loss
by Adam C. Engst, tidbits.com
Hard drive manufacturer Western Digital is warning users of the company's external hard drives that there may be conflicts between OS X 10.9 Mavericks and the bundled utilities WD Drive Manager, WD Raid Manager, and WD SmartWare. These conflicts could case data loss, and until more is known, Western Digital recommends that users of these applications delay upgrading to Mavericks or delete the applications and restart. Thanks to reader Charlie Colosky for the alert!
The RoaringApps software compatibility site lists WD Drive Manager as being incompatible with Mavericks, with one commenter claiming that Mavericks identified it as incompatible during the upgrade. The other Western Digital utilities either lack Mavericks-specific information or aren't listed with RoaringApps.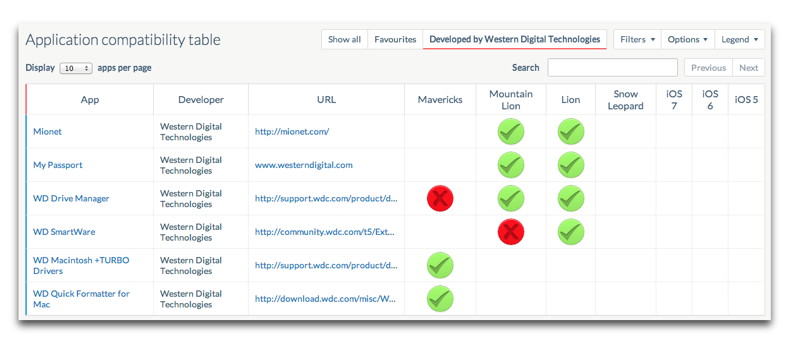 [Update: 6 November 2013: Western Digital has sent out a followup email, saying that the problem is yet to be fixed, but affects only a small number of users. Western Digital urges customers running Mavericks to uninstall the Western Digital software, reboot, and if there's any difficulty accessing the drive, to disconnect it and contact customer support. The company says that lost data can likely be recovered with a data recovery utility.]
---
For Reinstalling, 'R' is the New 'C'
by Kali Hilke, smalldog.com
Ever wondered how to reinstall your OS without a restore disc? Every new Mac OS update is available in the App Store, so new Macs haven't shipped with a restore disc in a few years. In fact, many new Macs have no optical drive whatsoever. I know we've been saying this for a while, but the time is rapidly approaching where discs will be completely obsolete.
I recently had a conversation with Chris B., our handy Waitsfield tech and phone support guru, where I told him that I thought I might need to reinstall Mavericks on my home iMac. To troubleshoot some of the issues I was having, he recommended some other things first — which I plan to try — but he reminded me that although restoring/reinstalling is a different process than I was used to, it is still easy and straightforward.
So — for those of you who have gotten used to using Command-C to boot from your OS disc, listen up: 'R' is the new 'C'.
Here's the drill: 
Hold down Command-R during startup and OS X Recovery will launch. It lets you choose from common utilities, including Disk Utility to check or repair your hard drive, erase your hard drive and reinstall a fresh copy of OS X, or restore your Mac from a Time Machine backup. Additionally, you can use Safari to get help from Apple Support online, but I imagine most users care more about the Disk Utility options that have been familiar since the dawn of the Mac OS.
Note: As always, before reinstalling your OS, make sure you have a viable backup if possible.
---
Adobe security breach worse than originally thought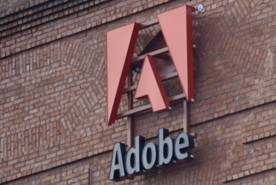 by Jared Newman, macworld.com
This month's security breach at Adobe is turning out to be much more widespread than the company first let on. At least 38 million users have been affected by the early October incident.
When Adobe announced the breach on October 3, it said that attackers stole user names and encrypted passwords for an undisclosed numbers of users, along with encrypted credit or debit card numbers and expiration dates for 2.9 million customers. Krebs on Security now reports on the full extent of the attack, confirming the 38 million figure with Adobe.
The total damage could go beyond 38 million users if a recent file dump at AnonNews.org is any indication. According to Krebs on Security, the 3.8GB file includes more than 150 million usernames and hashed passwords, all taken from Adobe. The same file also apparently turned up on a server with the other stolen Adobe data.
Adobe says that 38 million active users users were affected, whereas the other usernames and passwords could include inactive IDs, test accounts and IDs with invalid passwords. However, Adobe is still investigating, and given the tendency of users to repeat the same usernames and passwords across multiple Web services, inactive account holders could still face a security risk. Adobe is trying to notify inactive users of the breach, and has already reset passwords for active users who were affected.
To make matters worse, Krebs on Security and Hold Security both claim that the hackers stole source code for flagship products such as Photoshop, Acrobat, and Reader. Adobe acknowledged that at least some Photoshop source code was stolen; the company is trying to get the data taken down.
In a blog post, Hold Security suggested that the source code theft could have far-reaching security implications. "While we are not aware of specific use of data from the source code, we fear that disclosure of encryption algorithms, other security schemes, and software vulnerabilities can be used to bypass protections for individual and corporate data," the firm wrote. "Effectively, this breach may have opened a gateway for new generation of viruses, malware, and exploits."
Active Adobe users affected by the breach should have received a notification from the company by now, prompting them to change passwords. As always, users can employ several strategies to keep their data safe, such as setting different passwords on each site or setting up a password manager.
---
Installing Mavericks: What you need to know
Dan Frakes, macworld.com
Before Lion (OS X 10.7) debuted in 2011, installing the latest major version of Mac OS X meant buying a disc and slipping it into your Mac's optical drive. But Lion changed all that by making OS X available for direct download, and Mountain Lion (OS X 10.8) and Mavericks (OS X 10.9) have inherited this distribution method. More specifically, the latest version of OS X is available only as a download from Apple's Mac App Store—and this time around, it's free. This makes it easier and more convenient to upgrade your OS than having to buy and use a DVD or thumb drive, but it also raises a number of questions, and it presents upgrade obstacles for some users. As I've done the past few years, I've compiled this guide to getting and installing Apple's latest OS.
Wizard says" See the article Mavericks loses local syncing* on this website before installing Mavericks.
---
Flash Player now sandboxed under Safari on Mac OS X
by Lucian Constantin, IDG News Service
Adobe has worked with Apple to sandbox Flash Player under Safari in Mac OS X, restricting the ability of attackers to exploit any vulnerabilities they might find in the browser plug-in.
"With this week's release of Safari in OS X Mavericks, Flash Player will now be protected by an OS X App Sandbox," Peleus Uhley, platform security strategist at Adobe, said Wednesday in a blog post.
A sandbox is a mechanism that enforces certain restrictions on how an application interacts with the underlying operating system.
Sandboxing Flash Player under Safari on Mac OS X increases the level of protection against Web-based attacks that exploit vulnerabilities in browser plug-ins to install malware on systems.
The majority of these attacks target Windows computers, but Mac users have had their fair share of problems because of vulnerabilities in browser plug-ins like Flash Player or Java.
In April 2012 attackers exploited a Java vulnerability to infect around 670,000 Mac OS X computers with a Trojan program called Flashback.
In February, Adobe released an emergency security update to patch two critical vulnerabilities in Flash Player, one of which was being exploited in attacks against Firefox and Safari users on Mac OS X.
Because of such attacks, Apple started blacklisting outdated versions of Java and Flash Player in Safari through XProtect.
With the new Safari release in Mavericks, "Flash Player's capabilities to read and write files will be limited to only those locations it needs to function properly," Uhley explained. "The sandbox also limits Flash Player's local connections to device resources and inter-process communication (IPC) channels. Finally, the sandbox limits Flash Player's networking privileges to prevent unnecessary connection capabilities."
"The result is that customers can still view Flash Player content while benefiting from these added security protections," Uhley said.
Sandboxing Flash Player under Safari on Mac OS X is the latest step in the company's plan to secure the plug-in across different platforms and browsers. On Windows, Flash Player already has been sandboxed under Google Chrome since March 2011, under Mozilla Firefox since June 2012 and under Internet Explorer 10 since it was released on Windows 8.
---
iBooks For Mac Updated With Bug Fixes And Stability Improvements
by Alex Heath, cultofmac.com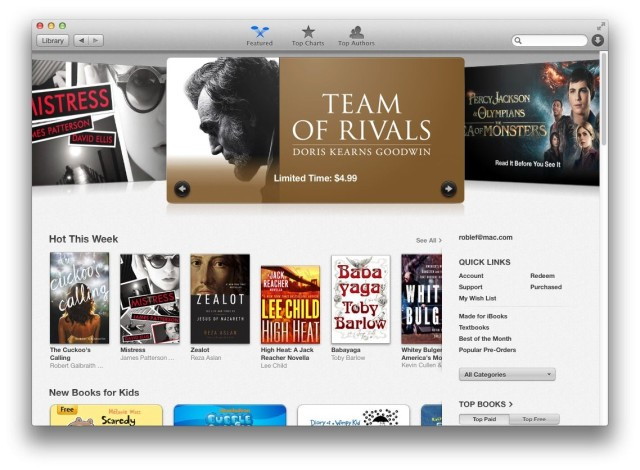 Alongside a few MacBook-related updates and a fix for Gmail in Mail, Apple has released its first update to iBooks for Mac today in Mavericks. Version 1.0.1 addresses "bug fixes and improvements to performance and stability," according to Apple. It can be downloaded now in the Mac App Store.
iBooks for Mac hasn't been particularly buggy, but this first update should fix many of the glitches with slow animations and other minor hiccups that have been affecting the app.
---
How To Fix Possible iCloud Mail Password Bug In Mavericks
by Rob LeFebvre, cultofmac.xom
According to Reuben Engel over at Tips and Tricks in Mavericks, there's a potential bug floating around in the latest Mac OS X.
Some folks have been reporting that they have to enter an iCloud password each and every time they open the Mail app. This might be only the folks who used Mail prior to the upgrade, but if one of them is you, here's a possible solution.
Launch Mail on your Mavericks-enabled Mac and click on the Mail menu. Select Preferences and let Mail open the prefs window.
Once there, click on the Accounts tab and choose the iCloud account in the list to the left. Next, click on the Advanced tab and look for Authentication. There, you'll see Apple Token.
Here's a possible to solution: open Mail, under "Mail" in the menu bar, look for Preferences -> click on the Accounts tab and select they iCloud account that is causing the problem. Then, select the Advanced tab and under Authentication, choose Apple Token from the pop-up menu there.
If that solves your problem-hooray! If not, let us know in the comments below and we'll look around for any other fixes.
Read more here.
iPhones, iPods, and iPads
iPad Air review: The best tablet gets better
by Jason Snell, macworld.com
It's right there in the name: The most important trait of the iPad Air is that it weighs only a pound. For a company that obsesses over making devices thinner and lighter, it must have been torture for Apple to spend nearly three years making a series of iPads that were better than their predecessors, but not smaller. Now it has.
Nearly every aspect of the iPad Air is thinner and lighter than the previous model (the fourth-generation iPad). That includes the battery, which is smaller—and less capacious—than before. Battery life, on the other hand, is pretty much the same, thanks to the improved power efficiency of the iPad Air's A7 processor.
At the same time that the iPad got thinner and lighter, it also got more powerful. That A7 processor allows the iPad Air to run roughly twice as fast as the previous-generation iPad, opening the door for new apps that can bring power traditionally reserved for "real computers" to the tablet.
Editor's Note: New York Times article on adjusting to iOS7 can be found here.
---
iPhoto 2.0 for iOS review: Better speed, search, and sharing
by Jackie Dove, macworld.com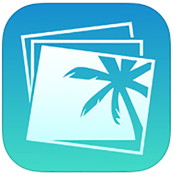 Between the radically updated look and feel of iOS 7 and the new features and emphasis of iPhoto 2.0 for iOS, it's sometimes hard to determine where one ends and the other begins. On the one hand, the new iPhoto for iOS update shares many similar features and image editing concepts with the previous version. But it looks and functions so differently that even some old features feel new. And then there are a number of genuinely new features added to the app, which is universal for both iPhone and iPad.
---
How To Use Control Center In iOS 7 To Save Battery Life
by Jason Snell, macworld.com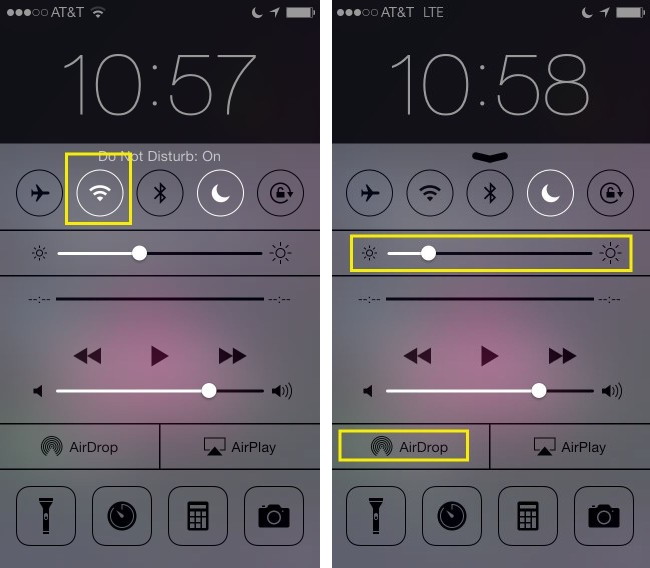 There are tons of opinions and facts out there about conserving your iPhone's battery life, some of them contradictory. The fact remains, however, that you can save your precious battery with a few toggles to your settings, and now with iOS 7 you can do so quite easily. Control Center makes it much easier to turn functions on and off, making saving your battery a no-brainer for lazy folks like myself.
First of all, dimming your iPhone screen lowers your battery usage. Swipe up from the bottom of your screen to activate Control Center and slide the brightness control to the left to darken your screen.
Leaving Bluetooth and WiFi on is said to take up some battery power, as well, which is also an easy fix from the Control Center. I simply slide the Control Center up, tap the Bluetooth and WiFi icons to off when I don't need them, and tap them on when I do. It's a perfectly valid way to save a bit of juice.
Apple does, however, say to use WiFi instead of cellular data when doing data-intensive tasks, so keep that in mind, as well. Tap WiFi on if you're downloading a big file or watching Netflix, for example.
Finally, AirDrop is accessible from the Control Center as well, so swipe up and tap that puppy off if you're not AirDropping. Apple doesn't mention it on its battery life page, but several other sites do, so it probably can't hurt.
---
Get Siri To Read Your Emails And iMessages In iOS 7
by Rob LeFebvre, cultofmac.com
One of the things I've always wanted to do in my car (as I drive to and fro taking my kids to and from school, music lessons, and soccer practice) is to read my emails and text messages. But taking your eyes off the road is bad, mmmkay?
You can always turn on VoiceOver before you get in the car to read your screen to you, but it involves a whole lot of tapping and different gestures, so it's kind of impractical to use on a non-regular basis. Luckily, in iOS 7, you can now get Siri to read your email and your iMessages to you with a simple spoken command.
To read email, click and hold the Home key to enable Apple's personal assistant, and then say, "read my email." Siri will then ask you to unlock your iPhone if it's protected with a passcode, and will then pull up the email in your Mail app and read it to you. Siri will tell you who the email is from, who it is to, and tell you the date it was received. Siri will then read the whole email, including any numbers or web addresses, which can get annoying, but hey-this is the future people.
Siri will then ask if you want to reply, and you can say "yes" or "no." If you say yes, Siri will take your dictation and allow you to send an email reply.
The same thing goes for iMessages. Say, "read iMessages," and Siri will read the latest one to you, and ask if you'd like to reply. You can do so, and then verbally get her to send it.
This is great technology, but I sure would love to see this functionality built into all the apps I use on my iPhone, like Twitter or Facebook. Being able to use the iPhone hands-free on demand is a much better interface for me than VoiceOver.
Wizard says: When you are driving your car we strongly recommend that you concentrate on your driving and leave your mail alone!
---
By The Way
Surfing the Web*
by Ron Sharp, MAGIC
I was recently asked what homepage I use with my browser. The answer was more involved than I expected and it led me to wonder if we use our browsers effectively. So here is a bit about browsers and homepages, starting with a little terminology.
The word "Web" is short for "World Wide Web," and is synonymous with "the internet." Surfing is synonymous with "browsing." The applications that open web pages and handles the online media such as audio, video, animations and popup windows is the browser. Apple's browser is Safari, but there are other popular browsers as well such as Mozilla's Firefox and Google's Chrome.
If you click on a web link on your computer, in an email for instance, Safari will open the web page unless you have your default set to another browser. When you click on your Safari application it opens to what? You can have it open to a specific homepage, a blank page or any web site you choose, or set it to open the websites you visited last. If you do quick searches often then you may want to set it to open to a search site. Major search engines are Google, Yahoo, Bing (Microsoft), DuckDuckGo, Dogpile, and others. Google is nice in that it opens to just a search box and not a lot of other stuff.
To set a homepage, navigate to a site, such as a search page, and use Safari's Preferences to set it by choosing General > Set to Current Page. You can also set a homepage and still have Safari open to a blank page. You access the homepage by bookmarking it or putting the homepage button in your toolbar, if it's not already there. Just go to View > Customize Toolbar, and drag the homepage button to the toolbar.
Now, as usual, there are more options. You can create a customized and personal homepage using a search site's tools. These sites, such as Yahoo and Google, allow you to create a homepage with news headlines from many news services, weather information, stock market information, local movie theaters, and even add your own bookmarks and set the layout the way you want. You can simply bookmark the site, add it to your Favorites Bar, or make it the page your browser opens to. It's a handy way to see all the news headlines you follow from one page. All the headlines can be opened in new tabs. (right click a link)
Below is an image of part of the MyYahoo homepage I use.
Set up your browser to be convenient for you. It's easier to do than to read about. And next month, I'll dig into a little more "web" and website information to keep you up on the wave.
---
iBooks Author*
by Ron Sharp, MAGIC
I was curious about using Apple's iBooks Author when it became available about a year ago, so I tried it. I created a book, "Check Engine Light," and got it on the Apple iTunes bookstore. It takes a little work to figure out the correct setting for images (text wrapping and how it changes the image position) and getting some image sizes right, but overall a really easy way to create a digital book with multimedia. There are templates to choose from that can help make your book look great.
Publishing the book involves a few hoops to jump through, downloading and using Apple's iTunes Producer app and creating an "iTunes Connect" account. But compared to trying to publish a print copy...well there is no comparison.
---
MAGIC, the Macintosh Appreciation Group of Island County, serves people who use Macintosh computers, software and peripherals. Our goal is to share information and get answers to questions to make us more productive with our use of technology. Our monthly meetings give us a chance to discuss computer problems and share ideas with other Mac users, feature speakers on specific topics, and to keep apprised of Apple news.