Newsletter
December 2013
Newsletter Editor:
In This Issue:
MAGIC MUG News
Software Updates
Macintosh News, Information and Stories
iPhones, iPods, and iPads
By The Way
* Indicates author is a member of MAGIC
---
Meeting information
Day:
The 3rd Wednesday of the month. 18 December 2013 this Month
Location:
Unitarian Universal Congregation of Whidbey Island (see map.)
Time:
4:00 p.m. - 6:00 p.m. with the first hour dedicated to new users and their questions.
Presentations:
• Q and A with Robert
• Annual MAGIC-al Holiday Party, Swap Meet and Gadget Discussion,Share gift ideas and offers. We'll also compose a story, each person adds a line.
• Door Prizes including an iPad Mini.
Future Meetings: (subject to change)
See the Meetings Page on this website.
Do not forget to bring your used ink cartridges.
MAGIC will dispose of them for you and make some change for the group.
---
Minutes of the October 16, 2013 Meeting
by Penny Holland, Secretary

MAGIC MONTHLY MINUTES -- November 20, 2013

The November MAGIC meeting took place at the Unitarian Congregation Meeting House in Freeland, and was called to order at 4:05 with a welcome by Prescott. Approximately 25 people were present.

The meeting continued with a Q&A session led by Robert Elphick.

Q: Mavericks is very slow. Even with a new screen saver added, the Apple 'wave' still shows up on startup. A: Sounds like there might be a corrupted preference. Try zapping the PRAM. Here's how to do that: Upon startup hold down 4 keys simultaneously-- COMMAND,OPTION, P, and R. Hold these 4 keys down until you hear at least 2 or 3 bongs. See if this helps the situation.

Q: Frustrated with new Mavericks system. Can no longer send email to a group via my gmail account. A: Gmail is not always compatible. It's okay to use Gmail through a browser, but on the computer there are a number of issues. Go to Apple Forums to see what comments others have made about gmail and Mavericks.

Q: Auto fill problems on a mac with OS 10.7.5 and Safari 6.1. About 3 weeks ago auto fill stopped working properly. (He brought a screen shot to illustrate the red bar that is now showing up.) A: It sounds like you have a corrupted preference. Deselect the preference and then go into Safari and select it again.

Q: Address book icon is on the desktop. When I try to put it into the trash it says I'll loose everything in the address book. A: That icon is probably the main program. It should not be on the desktop - It should be kept in the applications folder. Take a look in the application folder and if it's not there - then drag the icon off the desktop and drop it to the Applications folder.

Q: Upgraded to Mavericks from Lion. Tried to use Disk Utility to verify my HD and it took 5 hours and never finished. A: You don't want to use Disk Utility to verify the same disk that it resides on. Startup your computer with the Option key down and open the recovery drive to use as your startup disk. Always boot from another drive if you want to repair your internal drive. (NOTE: Later in the hour this was tried and it took only a few minutes to successfully verify the drive.)

Q: Is Onyx available for Mavericks? A: No, not as far as anyone in the group knows. [Onyx is now available for Mavericks: downloads available here.]

Q: Mac Book Pro screen goes black for 2 seconds and then comes back. A: This is a problem with MBPs from several years ago. Look on Apple Forum sites. It might be something is loose in the computer. If you can find a specific problem you might get Apple to fix it for you.

Q: I can be looking at a You Tube video, and then try to go to another YT video, but all I get is a blank page. Using Lion. A: It could be that the second YT video you went to requires a special plug-in that your computer doesn't have. You might try to download VLC, which works as an add-on to QuickTime. Download VLC here.

Q: Please explain what sandboxing is. A: It is a way of putting a protective border around an application as a kind of security measure.

Q: Why can't I install some applications, e.g. Onyx Example: A: Apple have set the Mac to only download approved software. This is to protect the average user. Sometimes you need to override this. Under Sys prefs/Security/General you will see ALLOW APPS DOWNLOADED FROM...and there are three choices:
Mac App Store
Mac App store and identified developers
Anywhere
Check #1 or #2. Don't check #3 unless you know what you are doing or are instructed to do so by a trusted Mac Wizard.

Q: Using Mtn. Lion, I've noticed a whole bunch of "rogue files." Where did they come from and what should I do about them? A: You have to look at these files one at a time and decide if you want to delete them or not. Under Finder Prefs, look at the Sidebar Tab and see whether "All my files" is selected - if you are worried you might delete everything you might want to deselect this. If you do have files that are missing or deleted, you can use Drive Genius or Data Rescue to try to find and retrieve them. Robert suggests that under the Finder Prefs/Sidebar you should turn off All my files and Air drop.

Q: Should I upgrade to the newest version of Pages? A: Pages 5.0 is a disaster. iWork has been completely rebuilt and is a big problem for many users. Tom Johnson recommends that before you download a newer version of any program, you first, add a suffix number to the end of the APPs name so that when you upgrade, the new version won't write over the old version. MAGIC has addressed the whole problem of the new iWorks in a page in the Tricks and Tips section of this website.

BUSINESS MEETING: Led by Sue Keblusec

Treasury has $8536.40

We will be giving away an iPad mini at our regular December meeting/Christmas party.

Our treasurer, Bonnie Abney, is featured in JA Jance's most recent novel, SECOND WATCH. JA Jance is coming to OH for a presentation and book signing on Tuesday, Dec. 3. This is a fund raiser for AAUW scholarship for young women. All are invited.

We have elections coming up in January. There are many Board positions that are continuing to be filled, but we need a President and Treasurer and an At Large Board Member. The job descriptions are listed on the website.

A large monitor donated by Tom Baxter with a converter box DVI. Someone said this will not work with Mavericks. A member came forward before she had to leave and said she'd like to have it.

PRESENTATION - NEW Operating System, MAVERICKS 10.9 by Robert Elphick.

(NOTE: Mavericks is a world class surfing site near San Francisco.) Robert's Keynote presentation will eventually be uploaded onto the MAGIC website. It contains the following points.

Compatible Hardware - anything later than 2007 for iMacs and intel operating systems. Various other platforms and years listed.

Philosophy - to make it an all 64-bit technology, greater compatibility with iOS 7 on iDevices, closer reliance on iCloud.

Features - Multiple displays, Finder tabs, Tags (can be multiple tags on one file, and can be in the navigation bar), Keychain Sync (iCloud!)

Linkedin - is now integrated into Mavericks

Apple Maps - Has been added and is compatible with iOS maps and are available in a number of other applications.

Calendar - has updated look, includes maps, but can only be synced to iDevices via iCloud - Yuck!

Contacts - can only be synced via iCloud, which earns another Yuck

iBooks - Compatible with iOS app, and is no longer a part of iTunes, compatible with iBooks Author, a great educational program, only runs on Mavericks. So now you sync books through iBooks, not iTunes.

Dictation - No longer needs the Internet. Previously you dictated a short sentence and then had to wait for it to go out to Apple and come back. To use local interpretation of speech, Under System Prefs -> Dictation and Speech, click the button "Use Enhanced Dictation." Now you can sit and talk or dictate to your Mac all day long. This is possibly the best feature of Mavericks.

Following the presentation there were more Q&As. Many people expressed frustration with Apple for this system's insistence on using the cloud.

One person expressed regret at having upgraded to Mavericks and asked if it's possible to revert back to Mountain Lion. Robert said it's almost impossible, unless you have bootable backup and don't care about losing the data you've generated under Mavericks. Tom Johnson explained how he partitioned an external HardDrive so that one partition contains Mavericks and another partition holds Mountain Lion. There was another question about the need for updating Airport when using Mavericks. There was no knowledge of any problems with the current version of Airport.

iWorks

Next, Robert talked about the newest iWorks upgrade.

This new iWords is only for Mavericks. It is now completely 64 bit capable, and there are major interfaces changes.

PROBLEMS

Robert has taken this new application, Pages 5.0, off his computer because it is more of a downgrade than an upgrade - Many previously existing features on Pages 4.3 have disappeared and there are many other issues. Fortunately the old version of Pages is not replaced by the new one at installation. It still on the dock and did not get replaced with the new one. The new one cannot read older pages files from 2 years ago. It writes files that cannot be read by older versions. Many features are missing. It has badly reduced image manipulation capability. A lot of the image capabilities have gone away.

Pages 2 files on iPod cannot be ready by Pages 4.3, Pages 5 on Mac cannot be read by Pages 4.3, Pages 5.0 cannot write RTF files. Clicking on a Pages file opens Pages 5, and you can't change this! Apple promises in the next 6 months they will: customize toolbar, return the vertical ruler, improve alignment guides, improve object placement, allow import of cells with images , improve word counts, allow keyboard shortcuts for styles.

In Numbers: Again, there are lots of problems that need to be corrected. For instance, the Toolbar will be fixed, multi-column and range sort, auto complete text in cells, page headers and footers, and Apple Script improvements. Another problem noticed by one of our members is it doesn't save format changes.

Conclusion: DO NOT GET THIS LATEST VERSION OF iWork YET! If you haven't already upgraded, don't. If you have upgraded, Keep Calm and Keep Your Fingers Crossed.

One member stated: "Apple has gone beyond marketing to manipulation." We were all encouraged to send feedback to Apple regarding all these latest changes. This can be done at apple.com/support/sitemap/product feedback apple.com/support/sitemap/product feedbackRobert promised to send an email to the MAGIC club members with links to this apple support product feedback site. See the article about iWorks on this website.

The meeting was adjourned at 6:00.
---
MAGIC Moments
The iWorks Debacle
Many members have run into sever problems with the latest incarnation of iWorks for Mavericks. This includes Pages, Numbers, and Keynote. I have done a lot of research on the problems with this release and also searched the internet. As a result I have prepared an article for the Tricks and Tips segment of this website to explain the problems and provide solutions. It can be found here.
Fame and Fortune on the Board of Directors
At the January 2014 meeting we will be electing a new board of directors. This is a great opportunity to serve the MAGIC community by volunteering. The only requirement is to be good looking. Please contact the President at and let her know that you are interested in this remarkable chance to improve your life and world standing.
Spring education program
In February/March I shall run one or two more schools. It will include the Mac Basics sessions. I am also willing to do the most popular subjects. At the current time iMovies and iPads are near the top of the list. What would you like to see a class on? Let me know at .
SOFTWARE UPDATES
Note: This Software Update section of the newsletter lists the most relevant Apple updates. Not all updates are listed for all products. Additionally, I'll add other pertinent updates on occasion.
Apple Updates AirPort Utility — Now With 64-Bit Support
by Luke Dormehl, cultofmac
In more welcome airport-related news than the reports that Apple's Maps app steers people the wrong way across Fairbanks Airport taxiway, Apple has released an update (version 1.3.3) of its AirPort Utility — the app which allows you to manage your Wi-Fi base stations, including AirPort Express, AirPort Extreme, and AirPort Time Capsule, from the comfort of your iOS device.
Cult of Mac previously reported on the AirPort Utility update which took place on the same day as the same day as the official launch of iOS 7: offering a new icon and UI based on the visual design of the new operating system. This time the AirPort Utility app has been updated with 64-bit support, which optimizes it to work with the A7 processor used in the new iPhone 5s, iPad Air, and yet-to-be-released iPad Mini 2.
The new version is freely available at the App Store, compatible with iPhone, iPod Touch, and iPads running iOS 6.0 or later. Apple also released the latest version of Remote, now featuring an iOS 7-inspired design and support for iTunes 11.1.
---
iOS 6.1.5
from Apple
Fixes an issue that causes FaceTime calls to fail for some users on iPod touch (4th generation).
This update contains security content originally included in previous iOS Software Updates.
For information, please visit this website: http://support.apple.com/kb/HT1222
Available via iTunes and wirelessly
For more information, see iOS: How to update your iPhone, iPad, or iPod touch.
---
iOS 7.0.4
from Apple
Bug fixes and improvements, including a fix for an issue that causes FaceTime calls to fail for some users.
For information on the security content of this update, please visit this website: http://support.apple.com/kb/HT1222
For more information, see iOS: How to update your iPhone, iPad, or iPod touch.
Available via iTunes and wirelessly.
Post Date: Nov 14, 2013
News, Info and Stories
How secure is iCloud?
by Christopher Breen, macworld.com
Reader John McKnight is concerned about iCloud's security. He writes:
My wife has an iPhone 4s and we recently purchased an iPad Air. Both are set up to use iCloud. I don't like having passwords and other kinds of personal information in the cloud and am thinking of attaching a password-protected storage device to my router so that I can create my own private 'cloud.' Just how secure is iCloud?
It would be worth your while to read Apple's iCloud: iCloud security and privacy overview document. As its name hints, it spells out how your data is encrypted—both when it's transmitted between your computer and Apple's servers and when it's stored on those servers.
The gist is that Apple uses a minimum of 128-bit AES encryption. This is the encryption standard used by banks and other financial institutions. As I write this, there is no practical way to crack AES-128 encryption—unless, of course, the NSA has found a way to introduce a weakness that allows it to get around it. But unless you're an International Man of Mystery, I seriously doubt any government is interested in your private affairs.
Given that I occasionally scrawl my social security number on forms and pass my credit card to perfect strangers with no more assurance than the faith I place in my fellow human being, I rest easy at night knowing that Apple and other online entities are at least as trustworthy with my personal information (and provide greater protection).
Your local-storage solution is certainly an option, but one that's not very convenient. After all, if you're concerned about that data touching the Internet you won't want to allow it to be accessible via any means other than your local network. And even then, you'll have to lock down that device with a very firm password should someone break into your home and steal it. And you should memorize that password rather than write it down in case an errant nephew wanders by, finds the password that you've taped to the bottom of the drive, and accesses your stuff. And then you'll need to back up its data to yet another device and keep that device in another location in case the original hard drive fails or is damaged.
Oh, and you should buy a safe and lock up your wife's purse and your wallet and put a padlock on your mailbox.
I don't mean to make light of your security concerns, but once you head down the path of 'just how safe is safe?' it doesn't take long before concern turns to obsession. I suggest, instead, that you take reasonable precautions.
For example, writing down passwords and sticking them to the side of your computer monitor is a bad idea. Using the same password for multiple accounts is little better. Creating passwords that can be easily guessed is just asking for trouble. Placing sensitive information such as a credit card number or social security number in email isn't a good idea as email is rarely encrypted. Failing to password-protect your mobile devices and computer isn't a risk you should take.
In other words, the things we commonly do for the sake of convenience are often far riskier than trusting your data to services such as iCloud.
WIZARD WORDS: During WWII the Nazis did not have to worry about security because everything was encrypted by the unbeatable Enigma system. It was not until the 1970s that anyone found out that Bletchley Park in England was decrypting Enigma throughout the war and that Churchill was getting signals as fast as Hitler. If the data is worth enough someone will crack it - iCloud has a huge amount of very valuable data.

I have visited Bletchley Park - there is now a fascinating tour on how Enigma was broken every day, and much of the wartime facilities have been restored to their original state. Worth a visit.
---
How to transfer backups from Time Machine to a new Mac
by Christopher Breen, macworld.con
Reader Mike Vogel is curious about configuring a new Mac with multiple transferred accounts. He writes:
My wife and I currently have our own MacBook Pros. As we are transitioning to iPads we are going to replace our oldest laptop with a new iMac. So for the first time I need to set up a Mac with multiple user logins. Both laptops currently run Snow Leopard. Is it possible to set up my profile by restoring from my Time Machine backup, and then my wife's profile by restoring from her Time Machine backup? Or will I have to use Migration Assistant and manually port over data?
In order, the answer to your three questions are Yes, Yes, and Yes/No. Now to lend clarity to these somewhat unclear answers.
Yes and yes you'll restore your backed up user accounts from their respective Time Machine backups. But yes, you'll also use Migration Assistant to do it and no, it's not really a manual operation. In fact, it works this way.
On the new iMac make sure that you have access to the drive where the Time Machine backup is stored and then launch Migration Assistant. It will notify you that it needs to quit all open applications. Allow it to do so.
The first Migration Assistant screen will offer three options regarding data transfer. Select the first one, which reads From a Mac, Time Machine backup, or startup disk and click Continue.
---
Changing Default Time Machine Backups
by Taylor Amon, smalldog.com
By default, Time Machine backs up your system every hour if you leave your backup drive plugged in. If you are creating a lot of new data, this is a great system as it allows you to be able to have a consistent backup of all your information.
However, If you don't need to have data backed up that frequently, or if you want to change it to back up more often, it is possible to change the default frequency for backups with this simple Terminal command.
Sudo defaults write /System/Library/Launch Daemons/ com.apple.backupd-auto StartInterval -int 900
The number at the end of the command is how many seconds it will be until the next backup occurs. In the example, I used 900, which is 15 minutes. If you want to change to a backup interval of 2 hours, you would use the same code and change the number to 7200.
---
How to work with iWork's new file formats
by Ted Landau, macworld.com
With the recently released 2013 versions of iWork for OS X and iOS, syncing documents across Macs, iOS devices and even iWork for iCloud is now a seamless transparent process: Open and edit a document in one location, and the changes are instantly reflected at every other location that has access to the file. With very few exceptions, a document's appearance remains identical on each platform. Warnings about file conversions and omitted features have all but vanished.
For anyone who has struggled with iWork file syncing over the years, this is fantastic news. It wasn't always this way.
---
Clean Install vs. Deleting Users Accounts
by R.J. Murphy, smalldog.com
Multiple customers approach our service counter weekly, requesting that their Mac be 'completely wiped.' Normally, this means they would like their hard drive erased of all its content, and the appropriate operating system re-installed. I'm glad to perform this procedure or give the customer instructions on how to do it, but in many cases, it's not necessary.
The majority of customers are requesting this service because they are planning on giving their Mac to a family member or friend, and for the most part, don't want to share their personal data with the recipient. This is perfectly understandable, but in this specific situation, a clean install of the existing operating system is not required. Creating a new user account, and deleting your old account, will serve the purpose of removing any of your personal user data and most certainly save you some time.
Creating a new user account is done in 'Accounts' located in 'System Preferences.' Make sure the new account is an Administrator if you will be deleting your old account, as there always needs to be at least one administrative account at all times. Once the new account is created, you can log into it, and delete your old user account. When deleting a user account, you will receive a confirmation window. This window asks if you are sure you would like to delete the user account, and gives you three choices for erasing the data. The last option, 'Delete the Home folder', will successfully remove all user data from the account that's being deleted.
Please note: While this does delete existing user data, it does not remove any installed applications. If the Mac was being sold to a stranger, you may not want to hand over any installed applications, and if the operating system is being problematic (e.g. slowness or certain applications not functioning properly), you could benefit from a re-install of the system software. http://blog.smalldog.com/techtails/tt892/
---
Installing Mavericks: Our complete guide
by Dan Frakes, macworld.com
Mavericks (OS X 10.9) is here! And just as with Lion (OS X 10.7) and Mountain Lion (OS X 10.8) before it, getting Mavericks is as easy as downloading an installer from the Mac App Store. A few clicks (and some patience) is all it takes to install OS X 10.9 over your existing copy of Mountain Lion, Lion, or Snow Leopard (or, if you're brave, even Leopard). But that doesn't mean you should make the jump with no preparation, or that there are no important decisions to make along the way.
As we do with every new version of OS X, we've installed Mavericks more times than we can count in order to put together a comprehensive guide to installing the latest Mac OS. In the articles below, we cover the requirements for running Mavericks; the things you should do to get your Mac ready; and the download process. We walk you through the actual installation; recommend some post-install tasks; discuss some upgrade challenges; and help you decide if a "clean install" - erasing your drive and starting from scratch is for you.
We also provide instructions for creating a bootable Mavericks installer drive, as well as for installing Mavericks over Leopard (OS X 10.5)—provided you have the appropriate license to do so. (We'll be adding Mavericks-specific articles on OS X Recovery and Internet Recovery, so stay tuned.) With this guide, you should be able to make the transition to 10.9 painlessly.
---
Rearrange, Pin Or Delete Safari Top Sites Thumbnails With Ease
by Rob LeFebvre, cultofmac.com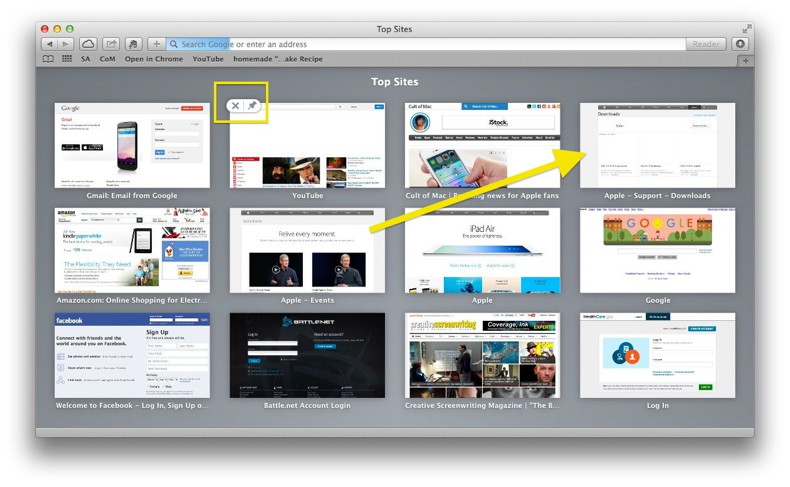 When you launch Safari these days, you'll get the Top Sites page, showing all the sites you visit most frequently in Safari. If you've disabled this default view, you can get to it with a quick Option-Command-1 in Safari.
Did you know, however, that you can rearrange these Top Sites more to your liking? You can even delete sites you don't want appearing there, as well.
When you launch Safari, or hit Option-Command-1 once there, you'll see the list of sites Apple calls Top Sites. If you find any of these thumbnails you'd like to move to the a different row, simply click and drag any of the thumbnails to a different spot in the order.
If you want to get rid of any Top Sites, simply hover your mouse over the thumbnail until the little icons appear in the upper left. Click on the X icon to delete the Top Site. Other sites will fit in to the slots near the end of the list, so you might have to delete a few before you have all the Top Sites you want on one page.
Want one of these bad boys to stay on the Top Sites page, in the slot you want it to? Simply click on the little Pin icon there, instead of the X, and the thumbnail will sit in your Top Sites list until you get rid of it.
Editors note: The cultofmac.com site has excessive content, small video ads running, etc., that slow the page down so much that it's a bit annoying to use.
iPhones, iPods, and iPads
iPad stylus buying guide: Find the perfect tablet accessory
by Serenity Caldwell, macworld.com
While the folks at Apple designed your iPad and iPhone to be used with the touch of a finger, the company's touchscreen devices beg to be used in other ways. Some people have taken up painting and drawing; others have made it their primary note-taking source. There are those few who revel in using their fingers for these activities, but let's be honest: for the rest of us, a stylus is going to be a lot easier.
We've spent months looking at styluses in all form, shape, and size, and here are our top 2013 picks for a great writing, sketching, drawing, or painting stylus.
What you need to know about styluses
If you've never used an iPad stylus before, here are a few things to look out for when picking one up this holiday season.
Editor's Note: New York Times article on adjusting to iOS7 can be found here.
---
Hard Reset Your iOS Device
by Stephanie Farrell, smalldog.com
This article originally appeared in Kibbles & Bytes Issue #820. It is still current for iOS 7 and we thought it might be helpful if you're experiencing some quirks with the new operating system. Enjoy!
This week's Mac Treat is short and sweet. It is funny how something as simple as turning an electronic device off and back on again can fix some problems. However, your device might be locked up in a way that makes turning it off seem impossible.
Most electronics have some way of forcing a shut down and your iOS devices are no different. This procedure is guaranteed to work for iPod touches, iPhones and iPads (mini or biggie). I know for a fact that it works with iOS 4 and up but for anything older, I cannot say for sure. To hard reset your iOS device:
Hold down the On/Off button (aka Sleep/Awake) and the Home button.
Wait at least 10 seconds — until the screen goes dark and the Apple logo appears.
Voila! You have just hard reset your iOS device. I would advise against using this method as your normal shutoff mode since it bypasses all the operating system's normal shut down procedures (which are necessary for smooth operating). It is basically like unplugging your computer from the wall without shutting it down, so use this sparingly and only when the normal power down function is not working.

---
Retina iPad mini review: High density
by Jason Snell, macworld.com
Sometimes it's the little things. Introduced in late 2012, the iPad mini was as slow as the iPad 2 (which was then almost two years old). It didn't have the gorgeous Retina display that Apple had added to the iPad earlier in the year. But none of that mattered because, for some people, smallness rules.
The original iPad mini might not have been on the cutting edge, but it was half the size of the full-size iPad and half the weight, and those two facts mattered more than a state-of-the-art processor or a pretty screen.
But why compromise when you can have it all? The new iPad mini with Retina display is here, and it eliminates the original mini's two biggest failings by adopting Apple's A7 processor and gaining a gorgeous high-resolution screen. The only catch is that the iPad mini is no longer half the size of the iPad: With the introduction of the iPad Air and slight increases to the thickness and weight of the mini, the latter is now roughly two-thirds of the size and weight of its larger counterpart. The lines separating large and small iPads have blurred.
But fans of the smaller iPad should still rejoice. The iPad mini with Retina display addresses every weakness of the previous model. It's the iPad mini Apple probably wished it could have made in 2012, but just couldn't.
---
Full-size iPad Air packs A7 processor into thinner design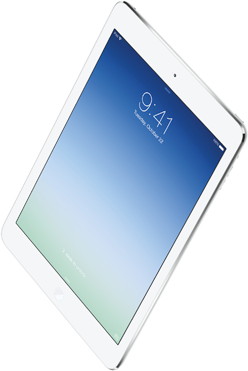 by Jonathan Seff, macworld.com
Apple introduced the fifth generation of its full-size iPad on Tuesday (Oct 22), renaming its tablet the iPad Air. The new offering bumps up the speed and performance while slimming the bezels to give the iPad a sleeker look.
The iPad Air sports the same 9.7-inch Retina display as its full-size predecessor, but it has a much smaller bezel around the screen—43 percent thinner than the previous generation, according to Apple. Overall, it's 20 percent thinner than the fourth-generation model. And at one pound (down from 1.4 pounds), it's lighter than before as well.
During Apple's special media event, senior vice president of worldwide marketing Phil Schiller called it, 'the lightest full-size tablet in the world.'
The iPad Air (introduced along with the new iPad mini with Retina display) incorporates the new 64-bit A7 chip first seen in the iPhone 5s, with the same M7 coprocessor. Apple says the new processors deliver twice the CPU and graphics performance as the iPad with Retina display that came before it—all the while retaining the tablet's 10-hour battery life. Unlike the iPhone 5s, however, the new iPad doesn't have a Touch ID fingerprint scanner.
The iPad Air also takes advantage of faster 802.11n Wi-Fi thanks to MIMO (multiple in, multiple out) support with multiple antennas. It also has expanded LTE support for more countries around the world.
Apple also touted both improved FaceTime (front) and iSight (rear) cameras, plus the addition of dual mics for better Siri and audio capture.
Both Wi-Fi and LTE models of iPad Air will start shipping November 1 in 42 countries. It will be the first iPad launch ever where China will be included in the first round of rollouts (though customers in China, Hong Kong, and Macao will only be able to order the Wi-Fi version). The Air will come in silver/white and space gray/black color choices, costing the same as the iPads it replaces. For Wi-Fi models that's $499 (16GB), $599 (32GB), $699 (64GB) and $799 (128GB). For Wi-Fi + Cellular models, that's $629 (16GB), $729 (32GB), $829 (64GB), and $929 (128GB). The iPad 2 remains in Apple's lineup at $399 for a 16GB Wi-Fi version.
Apple also announced new cases for the iPad, at $39 for polyurethane and $79 for leather, including Product Red versions of each.
---
Send Holiday Cards Right from Your iOS Device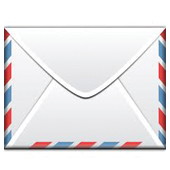 by Stephanie Farrell, smalldog.com
The holidays are a time for sending cards, right? I don't receive many cards throughout the year, but December is a different story. The cards seem to roll in and my fridge becomes covered with my friends' and family's cute cards.
These days, there are numerous online card sites for creating and ordering your own cards that makes it easier than ever. The holiday season is also insanely busy for a lot of people (especially those who work in retail!), so if you'd like to send out a card but feel as if you won't have time to stuff, address and mail numerous envelopes, consider sending them from you iOS device — saving you time and money!
Here are some great Holiday card apps that are worth taking a look at:
Martha Stewart CraftStudio - Free - Of course she has a card app…she's Martha after all! Create cards for any occasion and then share them digitally, print out or send to Snapfish to be printed.
Red Stamp - Free — This is the app I use for sending cards and it is easy-peasy! Great templates to choose from with great fonts and colors to make your card look highly professional. Again, you can send digitally or have it sent to be printed.
Vintage Christmas Cards - $1.99 — For those of you who celebrate Christmas and prefer a more traditional, vintage looking Christmas card, this is just the app for you. With over 100 different cards pulled from the Victorian Era to Post-War America, you'll have some great cards to choose from.
Lifecards - $1.99 — If you're more into the postcard style of sending a card, this is a great app. Scroll through all those photos on your phone and create a great photo collage to send to you friends and family!
---
Apple Unveils iBeacon to Assist Shoppers
from Apple
Apple has rolled out iBeacon technology at its 254 Apple Stores in the U.S., enabling shoppers to receive iPhone notifications about products and services via the Apple Store app. As the Associated Press reports, iBeacon transmitters use Bluetooth wireless technology to sense a shopper's exact location inside an Apple Store and send messages based on the aisle or product a user is near. For example, customers walking by an iPhone table could receive messages offering to help them check their upgrade availability or see if they can get money for trading in an old phone. iBeacon technology is moving into other venues as well. The AP reports that Major League Baseball plans to use it next year to offer features like coupons and videos based on a user's location in a ballpark.
---
Flashing iPhone cases are a sight to behold
by Yoni Heisler, tuaw.com
There is no shortage of clever and interesting iPhone cases out there, but VanD's line of polycarbonate light-up cases may just take the cake. The cases take advantage of a toggle in iOS that allows users to set the LED light on their device to flash upon receipt of an incoming call or text message. In iOS 7, this can be enabled by going to Settings -> General -> Accessibility and then toggling on "LED Flash for Alerts."
---
By The Way
Organizing web in your head*
by Ron Sharp, MAGIC
Last month I mentioned giving you a little more information about web stuff (and 'web stuff' is my best definition of it so far). I talked about surfing, search engines, and homepages. This other information might help in navigating the web.
Since you've set your home page now, you have a good starting place when you open your browser. Your favorite sites are bookmarked and easy to find and undoubtedly you have a favorite search engine. If you're like most people you have many accounts with banks, shopping sites, chat and social media sites, music sites, etc. If you use Facebook or watch a lot of YouTube videos you'll have accounts for those sites also. With accounts, your information is saved. Your browser keeps track of 'cookies' that websites use to identify you. For instance, when you put things into a shopping cart and return to that website your chosen items are not lost.
Web Portals
Often a confusing issue is who saves what information, how private the information is, and what is shared. The large internet corporations continually purchase other internet companies and expand or change their web services. Google, for instance, is the largest search engine, but also offers email service (gmail), has their own web browsing software (Google Chrome), sells the Nexus mobile phone, and created the Android software for phones. They also offer Google Maps and cloud services like data storage. They own YouTube (the largest video sharing site), and make most of their money with advertising (Google AdSense). So much of the information Google collects is shared between their products.
It's difficult to manage Google accounts because it's hard to know how any of the information is handled. Their website information is incredibly confusing and manipulative. You may know what I'm talking about first hand, but this article articulates it: Nonplussed, techCrunch.com
Yahoo corporation is a search engine but also a major web portal with email, Yahoo News, Yahoo Finance, Yahoo Groups, mapping, and social media and advertising. I listed major search engines last month, but some others are Bing, AltaVista, Excite, HotBot, AOL Search, and Lycos. The major map searches are Google Maps, Yahoo Maps, and MapQuest (AOL). And, of course, Apple Maps for iOS, iPhones and iPads.
Most browsers offer a preference setting for limiting how much websites track your web activity. Check the box that says 'do not track.' It's not a legal requirement for sites not to track, only a request. Another option you have is to go to the management page of the search engine you use, and (with an account) you may be able to set your preferences to delete search history and change the settings to not store search history. Again, it's often difficult to find. When a search engine stores your search history they gear search results from your history. This helps for quick searches but also limits the response. To learn how search are geared and limited (filter bubbles), check out this YouTube video with Eli Pariser.
Windows Live is Microsoft's search, mail, and messaging web based applications. 'Bing' is the search portal.
You may have seen the name Baidu, it's the leading Chinese search engine with an emphasis on multimedia content like movies and MP3s.
Social networking sites
Facebook is the largest social networking site and has had many issues with privacy of the information they collect, and continually change their policy. They make most of their money through advertising.
Other social media sites are Twitter, LinkedIn, Instagram, MeetUp, LiveJournal, and MySpace. And even more, but also considered entertainment, these sites are focused on sharing images and short videos: Flickr, Tumblr, and Pinterest. Apple does not have a web search engine. They sell computers and mobile phones and the software that run them but they also offer email, cloud storage services, and sell music, books, movies, and thousands of apps.
Popular information sites
Wikipedia.org - open source, free encyclopedia
UrbanDictionary.com - Urban Dictionary is a cornucopia of streetwise lingo, posted and defined by its readers.
Weather.gov, - National Weather Service
Shopping sites
Amazon.com is the largest shopping site
Ebay is an auction site Craigslist.org is like a classified listing of things in local areas that can be searched.
Health and Medicine
WebMD.com
MayoClinic.com
Others
TED Talks. TED Talks (Technology, Entertainment, Design) are found on YouTube and their slogan is "ideas worth spreading". Very interesting and on many subjects.
Snopes.com - Sopes is a searchable database of urban legends and myths, email hoaxes, computer virus warnings, and folklore.
TruthOrFiction.com - similar to Snopes
---
Apple's home page Dec 6, 2013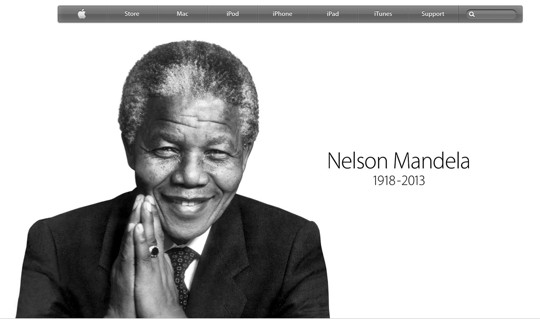 ---
MAGIC, the Macintosh Appreciation Group of Island County, serves people who use Macintosh computers, software and peripherals. Our goal is to share information and get answers to questions to make us more productive with our use of technology. Our monthly meetings give us a chance to discuss computer problems and share ideas with other Mac users, feature speakers on specific topics, and to keep apprised of Apple news.