Newsletter
May 2014
Newsletter Editor:
In This Issue:
MAGIC MUG News
Software Updates
Macintosh News, Information and Stories
iPhones, iPods, and iPads
Humor
By The Way
* Indicates author is a member of MAGIC
---
Meeting information
Day:
The 3rd Wednesday of the month. 21 May 2014 this Month
Location:
Unitarian Universal Congregation of Whidbey Island (see map.)
Time:
4:00 p.m. - 6:00 p.m. with the first hour dedicated to new users and their questions.
Presentations:
• Q and A with Robert
• Archiving
• iPhone photography and editing
• Photo editing apps review.

Robert will continue on the "spring cleaning" theme from last month, describing how to archive material that can easily be restored later to a new computer or device. This is something that should be done regularly to avoid losing data such as contacts, email messages and more. Archiving is a more secure than uploading to the cloud.
iPhone users, did you know your camera feature is a bit more than just point-and-shoot? Prescott will demonstrate how to focus your photos and other techniques.
If there is time, we'll break into small groups to give members a chance to have some one-to-one attention or explore a topic together.
We are interested to know what programs you are interested in having in the future. Please contact Prescott, Program Vice President at prscot@whidbey.net. Prescott, MAGIC Presentations
Future Meetings: (subject to change)
See the Meetings Page on this website.
Do not forget to bring your used ink cartridges.
MAGIC will dispose of them for you and make some change for the group.
---
Minutes of the April, 2014 Meeting, and Presentation Notes
by Penny Holland, Secretary
The April meeting for MAGIC was held at the Unitarian Congregation Meeting House of Freeland. Meeting was called to order by Robert Elphick at 4:10. Approximately 25 people were in attendance.
Q & A SESSION
Q: After an upgrade to Mountain Lion, how to use an APP delete program to get rid of programs that no longer work? A: Look under the Apple menu, About This Mac... Click on More Info button and click on SYSTEM REPORT button. Many choices exist here. Look down the left hand menu to the SOFTWARE section. Click on APPLICATIONS. (This may take a while to load.) Eventually you will see a list of all applications, version, from where the software came, etc. The software for Mountain Lion needs to be the INTEL kind. Get rid of anything that does not say INTEL or UNIVERSAL, such as ones that say PC. Look down toward the bottom of the window as an application is selected, and the LOCATION tells you where the software is located on your Mac. Don't touch anything that is in the System Folder, but if the program is in the APPLICATIONS folder it's okay to delete it. It's a good idea to look through this list BEFORE you upgrade your OS to Mountain Lion or Mavericks so you have time to find a replacement for the software if necessary. Now, make a list of the software on your computer that is neither INTEL or UNIVERSAL. These are the ones you want to delete because they will not work in Lion or Mountain Lion. Rather than just drag the application to the trash, it is best to use an application designed to do the job fully.
One App for deleting programs is AppCleaner. (Or you can use AppDelete. Both work the same way.) Once opened, you will get a window that says DROP APPS HERE. Drag and drop the Apps you've listed that you want to delete. This program will delete all files that are associated with the App (but NOT the data files related to that program). Repeat this for each App you want to get rid of. After deleting an App, if you still have tutorial files or example files or help files, such as Photoshop, after doing the AppCleaner, you can put all the other related folders into the trash. (Don't put your data, such as photos in the trash!)
Q: I put some photos into iPhoto and discovered that they are on PhotoStream. What's that and should I use it?
A: There is a category called PhotoStream associated with iPhoto, used to put photos from your iPhone quickly onto your computer. If you haven't done this, or don't want to use this then you can ignore it. HOW TO TURN OFF PHOTO STREAM? PhotoStream is something you turn on with your iPhone. Go to SETTINGS on your i-device. Go to iCLOUD. Touch on Photos or PhotoStream to turn off this function.
Q: What does AIRPLANE MODE do on an iDevice?
A: It turns off wireless communications such as bluetooth and wifi, etc. so it disconnects your device from the World. Now it doesn't affect the airplane's navigation functions, a good idea!
Q: I purchased a new iMac and wireless optical mouse. Sometimes it jumps from small to large text. How stop that from happening?
A: The Magic Mouse is very sensitive to your finger. If you get close enough with one of your fingers you might accidentally access the zoom function. Go to System Preferences under the Apple Menu. Go to the MOUSE selection and set it up to a less sensitive mode.
*Q: What about the heartbleed Security problem?
A: Certain servers use SSL as a result might have some sort of a leak. In theory, it's possible someone could find your password(s) on that server. This is possible but not very likely, but today people are trying to close up these holes. We really don't know exactly what is happening. There is no point in changing your passwords until we are told that this has been fixed for each of the servers - many have already been done but not all. Hopefully in the next couple of weeks this problem will be taken care of. This is only true on servers that use SSL, like amazon.com. LastPass is a company that offers ways to encrypt and store all your passwords, and it has added an additional service that tells you if a particular server still has a leak and whether now is the time to change password(s) on it.
Wizard words - most servers have now been fixed so now is the time to change all the online passwords that you have.
Q: Lately it is not possible to arrange my window listing in alphabetical order. How can I get that ability back?
A: There are different ways to arrange your window lists. Under the pull down menu View->Show View Option you can use Arrange, if you choose NONE then you will get the window they way you were used to looking at it. In Finder you can go to View->Customize Toolbar and add the arrange button to your toolbar.
Q: How can I find my Documents folder? A: Go to your HOUSE (home directory). Find the Documents there. Other ways: Do a spotlight search for a particular document file. Command-F is a quick way to do the search. Or in Finder under the GO menu one of the choices is Documents.
Q: A brand new Mac user is 2 weeks "young" and having trouble with the mouse. Can no longer send mail. Had to connect an old Dell mouse to the computer to make it work. Ideas?
A: Recommend you take the Essentials class ASAP. Or call a mentor for help. The MAGIC Website has lots of help. Also you can sign up there to become a member of MAGIC.
Q: Is there a need to have me put in my password when I go to use my computer?
A: Robert recommends that you have a password for each of the accounts because a computer is an easy thing to steal. If it is password protected that will save you and your data.
Q: How can I find where a given document is located?
A: If the file is open hold down the Command Key and click on the file name at the top of its window. You will see the path, showing where the document is located. If, however, you are in Finder and do not know where it is then Spotlight is a quick way to find out.
Q: Google maps can no longer zoom slowly. It now gets too large or too small very quickly. A: Now you have to use the zoom buttons that look like + and - and may be found on the lower right. To move a map, click and hold to move the map around.
Q: I downloaded pictures into iPhoto and noticed the dates are wrong because the camera was set incorrectly. How can I change them?
A: You can alter the metadata which includes this information with GraphicConverter, if not with iPhoto. If the camera placed the date on the photo, however, you cannot remove that later from the photo.
A brief Business Meeting
Our Treasury has $9632.36 plus a possible PayPal balance not yet transferred. We had a successful two-day iPad class a couple weeks ago that was completely full.
Prescott polled the group asking who is interested in a program at the May meeting regarding taking photos with iPad and iPhones. (The general consensus was that several people were interested.) Prescott took another quick poll: How many use Mavericks (7), How many use Mtn Lion (8), How many use Lion (2), Snow leopard (5), Leopard (0) , Tiger (0)
PROGRAM: SPRING CLEANING YOUR MAC, led by Robert Elphick
When it's time to do a spring cleaning, there are several things to take into consideration.
Think about the status of your internal hard drive.
Which apps are you not using?
Look through your System for "unused or unneeded files"
How many photos do you really want to keep?
Check out your backup disk
To check out your system and get rid of unnecessary stuff that is not needed, get the program called Onyx, for your particular OS. (Note: Onyx is not an Apple program, so you must go to Sys Prefs->Security> General and check Allow Apps downloaded from Anywhere. You do this temporarily so that Onyx can be downloaded onto your computer. Once Onyx is successfully downloaded and installed, go back to Sys Prefs/Security and click on Allow Apps from Mac App store)
Starting up Onyx, it first checks the SMART STATUS. Let it do this first. Next let Onyx verify the disk, and finally go to Automation and check all the boxes to do everything on the list, and finally click the EXECUTE button to run Onyx.
NOTE: AT THE MAGIC WEBSITE, go to Tricks and Tips where lots of this info and more is described in great detail.
There are 2 ways to empty your trash. One way is just to EMPTY the trash, but this way things do not get erased, and eventually the compute rmay write over this area. If you want to empty the trash and actually delete the file, go to finder Preferences under ADVANCED and click EMPTY TRASH SECURELY. Now when you empty the trash, the computer will write zeros over all over the file's bits. This takes time, so turn this function off unless you want to delete trash securely. For instance, if you are deleting a movie on your computer the secure delete will take LOTS of time.
Check your HD and do a get info to see how full it is. Look at capacity and availability. If the availability is down to 10% of the capacity, then you are running out of space. You need to get rid of stuff. One way is to run Onyx. Another way is to defrag the HD. You need contiguous pieces of blank disk space to be able to function quickly and smoothly.

How to Defragment: Get the program iDefrag. It used to be free, but now you need to pay for iDefrag if you want to use it. Open iDefrag and at the bottom of the window is a bar that depicts the space on the hard drive. Run this program if your computer is more than half full or if you see that you have a lot of data scattered around on the hard drive. (NOTE: this defragging is done on a DISK, a mechanical device, but not needed to perform on a solid state drive.)
Another app to use is Disk Utility. This is a program in your Applications/Utilities folder. All macs have Disk Utility. Get familiar with this great tool. Select your HD and VERIFY DISK PERMISSIONS, and then REPAIR DISK PERMISSIONS. Or ERASE the FREE SPACE. and this will put zeros over all the free space. You can do this in various degrees of security, from fastest to Most Secure.

In your UTILITIES FOLDER, located within the Applications folder, you have an app called ACTIVITIES MONITOR. This program will tell you how much of the CPU a particular program is using. If you see a program is using too much of the CPU, it is time to figure out if this app should be "Killed" by pressing the button in Activities Monitor that causes the application to quit running.
You may also perform similar maintenance on your external, backup disks. You can also run Onyx and defrag your backup disk, check the size of your backup disk, and its capacity. Use Disk Utility to verify your external (backup) drive(s).
Archiving is another important topic and must be used before getting out of the iCloud. This will be put into Tricks and Tips.
The meeting was adjourned at about 6:00.
Respectfully Submitted,
Penny Holland, Secretary
---
MAGIC Moments
Board of Directors' meeting
The board of directors held a meeting on 10th May. Here are a few highlights.
The meeting resolved the issue of needing a president (both a legal requirement and a requirement of our by-laws) by electing Robert Elphick to the post.
It was announced that the method of using our PayPal account has been upgraded so that the treasurer could more easily determine what each payment was for.
The board agreed to approach the Unitarians to see if curtains could be added to the south side of the meeting room to block the sun during our meetings. We have decided not to hold schools there until this fix has been made. We are also agreed that MAGIC would be willing to offset the cost of this action.
It was also announced that an additional measure has been added to the feedback forms (e.g. the membership application form) to force the applicant to read an image with letters and numbers and put then into a form. This will reduce (stop?) the number of computer generated junk responses that we are getting from the forms.
Two board members have agreed to take on publicity and get more coverage and advertising for MAGIC so that more of the Macintosh people on the island become aware of the clubs contributions to the Mac community.
Summer Education Program
In June we will be running more classes. The current demand is for the following:
Although a few people have asked for iMovie I have not had enough requests to make a class worth while. If you would like to see other classes please contact me at
Upgrade to Mountain Lion
It's still possible to buy Mountain Lion (OS-X 10.8) in the Apple Online Store. For those members who are reluctant to use Mavericks (OS-X 10.9) but need to move beyond earlier operating systems, Apple have a secret location where you can still get Mountain Lion. You can buy it at: this location for $19.99.
SOFTWARE UPDATES
Note: This Software Update section of the newsletter lists the most relevant Apple updates. Not all updates are listed for all products. Additionally, I'll add other pertinent updates on occasion.
iOS 7.1.1 aims for Touch ID, keyboard fixes
by Dan Moren, macworld.com
If something about iOS 7.1 just didn't sit right for you, no worries: Here comes iOS 7.1.1 to give it another shot.
The update came down the pipes on Tuesday for all devices compatible with iOS 7, but if you're expecting big sweeping changes, you're probably in for disappointment. The three issues mentioned in the release note are all fairly minor: further improvements to Touch ID on the iPhone 5s, a fix for a bug that could "impact keyboard responsiveness," and a patch for a specific issue regarding VoiceOver when using a Bluetooth keyboard. There are also security improvements though, as of this writing, Apple hadn't yet posted a list.
As always, iOS 7.1.1 is available both by plugging your iOS device into your computer and downloading the update through iTunes or over the air, by visiting Settings > General > Software Update.
With just six weeks to go until Apple's Worldwide Developers Conference—and the presumptive announcement of iOS 8 - the likelihood of another major release for iOS 7 seems pretty low. iOS 6 topped out at version 6.1.6 and iOS 5 at version 5.1.1. The last second major release we saw on iOS was version 4.2, which arrived in November 2010. So, at this point, all steam ahead for iOS 8!
---
Apple releases Heartbleed fix for AirPort Base Stations
by Jason Snell, macworld.com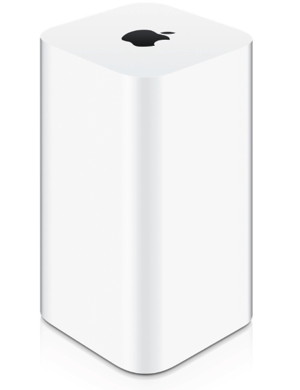 Apple on Tuesday patched a bug in its most recent AirPort Extreme and Time Capsule models related to the Heartbleed OpenSSL vulnerability discovered earlier this month.
The update, AirPort Base Station Firmware Update 7.7.3, is only for the AirPort Extreme and Time Capsule base stations with 802.11ac, introduced in June 2013, and fixes a vulnerability that existed only when the Back to My Mac feature was turned on.
Apple provided this statement to Macworld regarding the update:
The firmware update provides a fix for the recent OpenSSL vulnerability for the latest generation of 802.11ac enabled AirPort Extreme and AirPort Time Capsule base stations (June 2013). This vulnerability only impacts recent Airport devices that have the Back to My Mac feature enabled. Customers with previous generation AirPort Extreme and AirPort Time Capsules do not need to update their base stations.
The vulnerability would not leak passwords, but could allow a man-in-the-middle attacker between a user and a router to gain access to login screens for a router or a computer. However, in contrast to the vulnerabilities found when OpenSSL software was running on popular Web servers, Apple IDs and other passwords would not be leaked.
If you're using new AirPort hardware and have Back to My Mac turned on, you should run the update immediately. Older models are unaffected, as are current models with Back to My Mac disabled.
---
Safari 6.1.3 update
from Apple
The Safari 6.1.3 update is recommended for all OS X Lion users and contains improvements to compatibility, stability, and security. This update:
Fixes an issue that could cause the search and address field to load a webpage or send a search term before the return key is pressed
Adds support for webpages with generic top-level domains
Strengthens Safari sandboxing
Fixes security issues, including several identified in recent security competitions
---
Security Update 2014-002 (Lion)
from Apple

Security Update 2014-002 is recommended for all users and improves the security of OS X.
For detailed information about the security content of this update, please visit this website.
---
Security Update 2014-002 (Maverick)
from Apple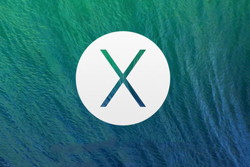 Security Update 2014-002 is recommended for all users and improves the security of OS X. This update also includes Safari 7.0.3.
For detailed information about the security content of this update, please visit this website.
---
Google Maps Releases Substantial Update to 3.0
by Dan Moren, macworld.com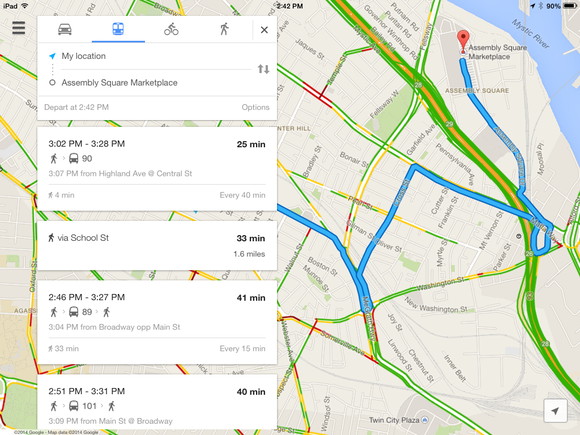 Good news for Google Maps users - an update was available in the iTunes Store on Wednesday for iPhone and iPad that includes several new features. Among them, turn-by-turn improvements, better visibility for travel time, distance and ETA, and my favorite in the list: the ability to save maps offline for travel in slow or no connection areas. Update also available for Android.
For more information see Macworld article....
News, Info and Stories
Bugs & Fixes: Slow Wi-Fi reconnect after MacBook wakes up
by Ted Landau, macworld.com
Many Mavericks users report that their MacBooks take an irritatingly long time to reconnect to their local Wi-Fi network after waking from sleep. While this symptom had been occasionally reported prior to Mavericks, there has been a resurgence of complaints following the release of OS X 10.9. Something new seems to be at fault.
I am one of the users who have this symptom. In my case (13-inch MacBook Pro with Retina display), the length of the delay varies. Sometimes it's just a few seconds longer than I would otherwise expect. At other times, it can take a few minutes before I'm back online.
When I initially check the Wi-Fi menu while waiting for a reconnect, no network names appear. After a while, my previously connected network - as well as any other nearby networks - eventually do show up. A successful reconnect typically occurs shortly thereafter.
At first, I thought the variation might be linked to how long the MacBook had been asleep, and the possible "deeper" sleep modes that might ensue. But I could not find any consistent pattern here.
After some further experimentation I found that, if I use the Wi-Fi menu commands to turn Wi-Fi off and back on, a successful connection occurs almost immediately. That's good to know but it's not an acceptable long-term solution.
My next step was to check Apple's Community Support Forums. Here I found several threads confirming the symptom. From reading through the lengthiest of the threads, I learned of a surprising alternative work-around: Turn off Bluetooth. This worked for most (although not all) people posting in the thread. Count me among those who found it helpful. Again, while good to know, it's not a practical long-term solution, especially for those who otherwise need Bluetooth to connect to such peripherals as speakers and input devices.
A few people reported that if you delete the com.apple.Bluetooth.plist file (located at /Library/Preferences/) this eradicates the symptom entirely, at least for awhile. I did not test this.
The thread offers numerous other potential work-arounds. These include resetting the System Management Controller, deleting the /Library/Preferences/System Configuration folder or adjusting the sleep settings in Energy Saver System Preferences. As none of these generated anything close to unanimous confirmation of success, I've omitted the details here.
Several people found that a reconnect delay occurred only if their local network used a non-Apple router. With an AirPort Base Station (other than perhaps the older "flying saucer" models), all worked well. In my case, although the difference is not black-and-white, delays definitely trend longer when I'm away from my home AirPort-based network.
A few postings reported the results of contacting Apple support. While helpful, Apple did not offer a definitive solution. In the end, permanently eradicating the problem will almost certainly require a bug-fix update to OS X. I've seen rumors that suggest such a fix is already in the works.
[one reader's response:]
Kamran Azadi
I was experiencing this problem, and the way that I fixed it was to delete the Wifi connection completely from the network preferences menu, and then re-adding it back in by clicking the + icon below the available connection types, and re-adding the wifi connection type.
This worked like a charm for me. Since I was experiencing the exact same laggy wake response time, but after this, I have not had the same problem come up yet.
---
Mozilla to strengthen SSL certificate verification in Firefox
by Lucian Constantin, PCWorld
Mozilla plans to more strictly enforce industry best practices for SSL certificates in future versions of Firefox with a new certificate verification system.
The new system will be implemented as a library called "mozilla::pkix" and will start being used by Firefox 31, which is expected to be released in July.
Many of the certificate verification changes in the new library are subtle and are related to technical requirements specified in the "Baseline Requirements for the Issuance and Management of Publicly-Trusted Certificates" issued by the Certification Authority/Browser (CAB) Forum. However, some of the behavior modifications also stem from changes Mozilla made to its own policy for trusting CA certificates.
For example, a document describing mozilla::pkix requirements notes that "end certificates used by servers are not allowed to have basic constraints asserting isCA=TRUE" and "certificates used as trust anchors or intermediates are now required to have the basic constraints extension and assert the isCA bit."
Fighting bad certificates
These two requirements are intended to prevent the misuse of subordinate CA (sub-CA) or intermediate certificates, which can be used to issue SSL certificates for any domain on the Internet.
In February 2012, Trustwave, one of the CAs trusted by browsers, publicly admitted that it had issued a sub-CA certificate for use by a third-party company to inspect SSL traffic passing through its corporate network. Mozilla said at the time that the use of sub-CA certificates for man-in-the-middle SSL traffic monitoring, even if performed on closed corporate networks, is unacceptable.
Another incident happened in January 2013, when a certificate with sub-CA status issued by Turktrust, a Turkish certificate authority trusted by browsers, was installed in a firewall appliance with SSL traffic monitoring capabilities by the Municipality of Ankara. Turktrust said the certificate in question was one of two that had been issued with sub-CA status by mistake in August 2011 and were actually supposed to be regular end-user certificates.
A month later Mozilla changed its CA policy to require all sub-CA certificates to be technically constrained to particular domain names using certificate extensions or to be publicly disclosed and audited as regular root CA certificates. The mozilla::pkix certificate verification library will begin enforcing that policy change inside the browser.
While the majority of Firefox users are unlikely to notice anything out of the ordinary as a result of the new certificate verification system, some HTTPS websites might encounter problems.
"While we have performed extensive compatibility testing, it is possible that your website certificate will no longer validate with Firefox 31," the Mozilla Security Engineering Team said Thursday in a blog post. "This should not be a problem if you use a certificate issued by one of the CAs in Mozilla's CA Program, because they should already be issuing certificates according to Mozilla's CA Certificate Policy and the BRs [the CAB Baseline Requirements]."
Mozilla also created a special bug bounty program that will pay out $10,000 for any critical security flaw found and reported in the new library's code until the end of June.
"As we've all been painfully reminded recently (Heartbleed, #gotofail) correct code in TLS libraries is crucial in today's Internet and we want to make sure this code is rock solid before it ships to millions of Firefox users," Mozilla's security lead Daniel Veditz said Thursday in a blog post.
"We are primarily interested in bugs that allow the construction of certificate chains that are accepted as valid when they should be rejected, and bugs in the new code that lead to exploitable memory corruption," Veditz said. "Compatibility issues that cause Firefox to be unable to verify otherwise valid certificates will generally not be considered a security bug, but a bug that caused Firefox to accept forged signed OCSP [Online Certificate Status Protocol] responses would be."
---
Google updates terms of service to reflect its scanning of users' emails
by John Ribeiro, PCWorld
Google has updated its terms of service to reflect that it analyzes user content including emails to provide users tailored advertising, customized search results and other features.
The Internet giant's scanning of users' email has been controversial with privacy groups describing it as an intrusion into user privacy.
Competitor Microsoft claims in its "Don't Get Scroogled by Gmail" campaign that its Outlook.com email service is superior to Gmail as unlike Google it does not go through email looking for keywords to target users with paid advertisements.
In a case in California over Google's interception of email, District Judge Lucy H. Koh said that Google's terms of service and privacy polices did not explicitly notify the plaintiffs "that Google would intercept users' emails for the purposes of creating user profiles or providing targeted advertising." Google's decision to change its terms of service may have been prompted by these comments.
In the consolidated multi-district litigation brought by users in the U.S. District Court for the Northern District of California, San Jose division, the users alleged that Google had violated state and federal wiretapping laws by scanning the content of messages sent through Gmail, to serve ads to users among other things.
Google contended that Gmail and all Google Apps end users had explicitly consented to its alleged interceptions, relying on various terms of service and privacy polices in effect between 2008 and 2013, according to court records.
Judge Koh, however, denied class action status to the petitioners to the consolidated lawsuit. The plaintiffs have sought permission to appeal.
The new Google terms of service that went into effect on Monday adds the provision that "Our automated systems analyze your content (including emails) to provide you personally relevant product features, such as customized search results, tailored advertising, and spam and malware detection. This analysis occurs as the content is sent, received, and when it is stored."
Google has amended its terms of service previously and its last such change was in November last year.
The company did not immediately comment on why it had changed its terms of service again.
---
Intel: Thunderbolt Macs will be able to directly connect with Thunderbolt PCs
by Roman Loyola, macworld.com
Thunderbolt is of special interest to the attendees of the National Association of Broadcasters (NAB) show, since it provides the throughput needed for video production. Intel likes to make Thunderbolt announcements at NAB, and this year, the company revealed that Thunderbolt Networking would be expanded so that Macs and PCs can be directly connected.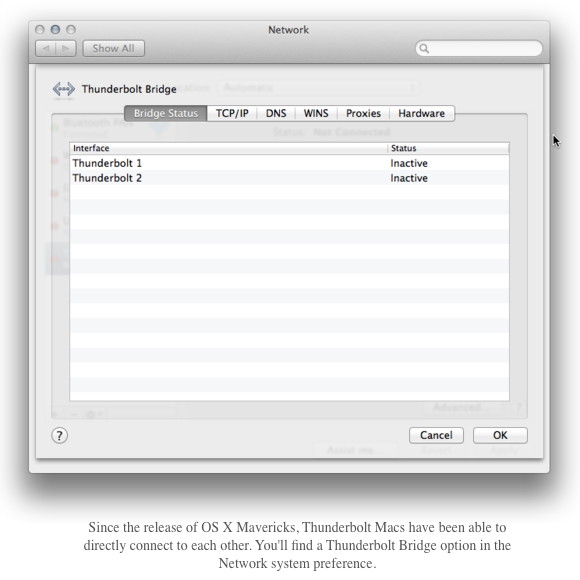 Owners of Thunderbolt-equipped Macs already had Thunderbolt Networking available to them, since Apple released OS X Mavericks. In order use Thunderbolt Networking on a Mac and PC, a PC software driver needs to be installed. Availability of the PC driver has not been announced, but Intel was performing demonstrations in its booth at NAB.
According to a post on the Technology@Intel blog technical PR manager Dan Snyder said that Thunderbolt Networking's performance is comparable to 10-gigabit ethernet. "By offering simple and fast file-sharing, Thunderbolt Networking enables backup or upgrade across two computers like never before, using existing cables and connectors," said Snyder in his post.
---
Installing Applications: What, Where and How
by Mikhael Cohen, smalldog
One of the most common issues I come across as a technician has to do with improperly installed applications on customers' machines (Skype and Firefox, I'm looking at you!). The Mac OS doesn't explicitly guide the user how to install third party software, and as such, many are left fending for themselves, often to negative results.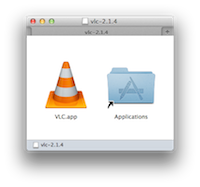 When one downloads a Mac application, it's often stored within a disk image (.dmg) which cannot be modified. This is to keep the original software intact and unmodifiable by others. Double-click on the disk image, and it will "mount" on the computer, much like any USB drive or DVD disc would.
But here's the crucial step: Do not run the application until you have copied it to your Applications folder.
Many apps will show a window that illustrates this (see article image to the left), but you'd be amazed at how many users don't copy it and run the app from the mounted disk image itself. Doing so can (and likely will) cause the app or your computer to do wonky things. The application may need to make changes to itself or store temporary files, and it's being opened from a disk that cannot be modified.
If you don't see something similar to the image pictured, just drag and drop to the Applications shortcut in the sidebar or folder in your dock. Once you've successfully copied the new app over, eject the disk image just as you would any other disk/disc. The new software can now be opened directly from the Applications folder.
Note: Copying the application to your desktop is ill-advised, as it cannot be accessed by other users, and may lead to issues when support is needed for your computer.
---
Mozilla proposes new version of net neutrality rules
by Grant Gross, pcworld.com
No news may be good news, but it also makes it a lot harder to write anything. Here are a few of the more prominent stories floating around this Monday.
The Federal Communications Commission should reclassify portions of broadband networks as regulated, common-carrier services to preserve net neutrality protections, Mozilla has said in a new petition to the agency.
After a contentious debate about U.S. net neutrality rules in recent weeks, Mozilla's proposal is an effort to define a "new path" for the FCC, Mozilla senior policy engineer Chris Riley said. The browser maker proposes that the FCC create separate rules for how broadband providers manage traffic for their customers and for websites and Web-based service providers.
---
Make Mail messages look the way you want
by Sharon Zardetto, macworld.com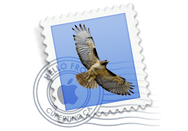 There are two extremes when it comes to email formatting: some people prefer strictly plain text, while others like fancy fonts, background graphics, and other kinds of embellishments. No matter where you fall on that spectrum, knowing how to set your personal approach as defaults—and how to override them when necessary for specific messages—means you can easily get your message across in your own inimitable style. Set text formatting (and cross your fingers)
When it comes to formatting text in a message, you have one major choice to make: plain versus rich text.
---
Solving the mysteries of the Mail Downloads folder
by Sharon Zardetto, macworld.com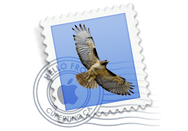 The scenario is straighforward: You receive a message with an attachment in Mail and double-click the attached file to open it in the appropriate app. But what happens next is anything but straightforward: file attachments are stored in a hard-to-find folder; they are sometimes downloaded more than once; and different apps treat these opened files in very different ways.
Where is Mail Downloads?
When you open a Mail attachment with a double-click, it opens in its parent app, just as you'd expect. But it's also automatically (and secretly) downloaded into the aptly named Mail Downloads folder.
---
Apple TV now showing A&E, History channel, Lifetime network
by Dan Moren, macworld.com
Just when you thought it was safe to turn on the ol' Apple TV, three new channels have made their debut on the company's set-top box, bringing the total number of services to roughly six quadrillion. Give or take.
The newest additions, which began springing up on home screens on Monday, include A&E, the History channel, and Lifetime. So, regardless of whether you prefer duck hunters, World War II documentaries, or tearjerkers of the week, there's a little bit of something for everybody. Unless, of course, you're a fan of costumed, arrow-shooting superheroes, in which case you're still waiting for the CW channel hinted at almost a year ago. (I assume the delay is just to spite me.)
As with most of the other content channels on the Apple TV, you'll need to prove your loyalty status as a card-carrying cable or satellite subscriber in order to access full episodes and other videos. As of this writing, there are only options for a few services, including DirecTV, Verizon FiOS, and Optimum, but more are surely on their way.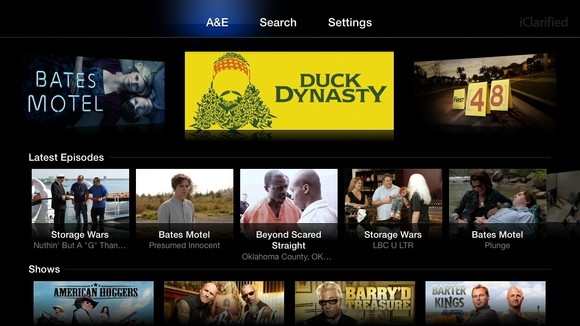 And just in case you're starting to get a bit overwhelmed by all the icons, remember that Apple has recently made it a little easier to hide certain unwanted channels from view. Highlight the channel you want to hide, then press and hold the select button on your Apple TV's remote until all the icons start to boogie. Press the Play/Pause button on the remote and choose Hide This Item.
You can also rearrange the channels to your liking, although you might find your careful system disrupted the next time Apple spontaneously drops in new content partners, which at the current rate could be any time from tomorrow to two months from now.
iPhones, iPods, and iPads
iOS: Using Passbook
from Apple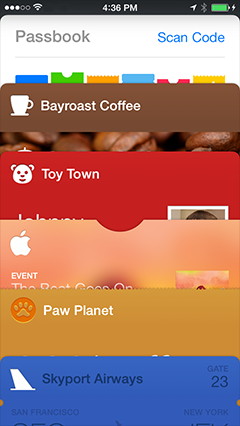 Learn more about using Passbook.
Passbook keeps things like airline boarding passes, movie tickets, and gift cards all in one place, letting you scan your iPhone or iPod touch to check in for a flight, get into a movie, redeem a coupon, and more.
System requirements:
iPhone or iPod touch using iOS 6 or later
Adding passes
You can add passes to Passbook in several ways, such as:
Passbook-enabled apps: When you buy tickets, check in for a flight, or add a card through an iOS app, the app will offer or prompt you to add a pass to Passbook. To view a list of featured Passbook-enabled apps on your device, select the Welcome pass in Passbook and tap "Apps for Passbook". You can also click or tap this link to view the list in the iTunes Store: http://itunes.com/passbookapps.
Mail or Messages: Passes can be sent as attachments or links through email or Messages, and you can add them to Passbook by tapping or clicking on them. Example: An email confirming your flight could include your boarding pass as a Passbook-enabled attachment.
Web browser: Websites or webmail can also include passes as attachments or links. You can click or tap these links to add them to Passbook.
Barcode scanner*: You can add a pass by scanning a barcode with your camera. Tap Scan Code on the Passbook pass and point your camera at the barcode. Note: Passbook can scan only 2D barcodes that contain pass information.
Share Passes*: You can share a pass using Messages, Email, and AirDrop by tapping the share icon on the pass.
Note: The merchant must create a Passbook-enabled pass, barcode, or iOS app for the card, ticket, or service to work with Passbook. If you don't see the option to add a card, ticket, or other service to Passbook, contact the merchant to verify they support Passbook passes.
---
Apple offers to replace faulty iPhone 5 on/off buttons for free
by Luke Dormehl, cultofmac.com
Does your iPhone 5 suffer from a dodgy power button? If so, Apple will repair it free of charge, according to a new announcement made by the company.
"Apple has determined that the sleep/wake button mechanism on a small percentage of iPhone 5 models may stop working or work intermittently," Apple states. "iPhone 5 models manufactured through March 2013 may be affected by this issue."
iPhone users experiencing the problem can visit Apple's website, enter their phone's serial number and — hey presto! — see if their device is one of the faulty ones Apple is referring to.
Replacing devices isn't usually Apple's style. The move isn't unprecedented, however.
Following the "Antennagate" incident of 2010, Apple gave iPhone 4 users free cases to alleviate the problem. In 2011, Apple issued a recall of MacBook MagSafe power adapters that were prone to splitting. And in October last year, the company recalled flash memory drives for certain models of MacBook Air.
North American customers can take advantage of the iPhone 5s replacement program this instant. People in other countries need to wait until May 2. Users can take their iPhones into their local Apple Store or other authorized Apple dealer, or else mail them in.
There is one extra note, though: if you have otherwise damaged your iPhone by, for example, cracking its screen, and see this as a chance for a no-questions-asked fix, Apple points out that other issues will need to be resolved (possibly at a cost) prior to the sleep/wake button replacement.
---
16 things you should know how to do with Siri
by Dan Miller, macworld.com
Siri is, of course, a marvel of modern technology. But it's also one of those things that a lot of us don't use as much as we could or should. So a couple of Macworld editors, particularly Senior Editor Dan Frakes, put together the following list of 16 things we think everybody should know how to do using Siri.
Search for stuff on the Web Siri can perform Web searches (using Google, Bing, or Yahoo), get answers to more specialized questions using Wolfram Alpha ("What's the square root of pi?"), find reviews of businesses (using Yelp), search Wikipedia, and so on. Just phrase your question in natural language, and then tap a search result to go to the source site (or app) for more information.
Control system settings: Siri's become a bit smarter across the board in iOS 7. One of its major improvements is in its ability to control your device's settings. You can ask Siri to turn Bluetooth on or off, open a specific Settings pane, and even turn on Airplane Mode (though Apple's voice assistant gets a little snarky if you ask for that last one). If you need to change a setting Siri doesn't directly support, and you can't quite remember how to get to that settings screen, you can also open many top-level settings groups, and some second-level screens, in the Settings app—for example, "Open Notification Center settings." This feature doesn't work for every section of the Settings app—especially those related to security—but it's worth trying when you need to quickly tweak the way your device works.
Teach Siri who's who If you've been saying the full name of your spouse, sibling, other family member, or boss, there's a better way: Say "your spouse's name is my spouse" and Siri will remember that designation in the future. You can then just say "Text my spouse" and Siri will know exactly whom to text. You can also add relationships by editing your own record in the Contacts apps: tap Add Related Name, then choose a relationship and a corresponding contact.
Send a text or email One of the most-convenient tasks Siri can perform is creating and sending text and email messages. Say, "Send my wife an email" or "Text my wife," and Siri will create a new message and ask you what you want the message to say. Dictate your message, Siri shows you a preview ("Read my message tells Siri to read it back to you), and then prompts you to send the message. Say, "Send," and it's sent.
---
DataMan Pro keeps tabs on your cellular data usage
by Dan Moren, macworld.com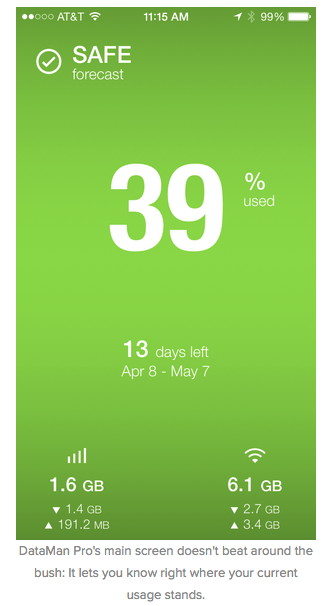 There are just too many things to keep track of these days: steps, calories, time spent on certain tasks—it's a never-ending cavalcade of data. But there are some things that are definitely worth tracking—for me, it's my smartphone's cellular data usage. Even with a 4GB data plan, I often come all too close to exceeding my monthly limit, especially when I'm traveling. Fortunately, XVision's $5 DataMan Pro is here to save my digital bacon.
Setting up DataMan Pro is pretty easy: Just enter what kind of plan you have (monthly, 30-day, weekly, daily), how much data you're allotted in that period, and what day your plan starts on. While the app runs in the background, it keeps track of what's eating up your data usage, and lets you know in a big, easy-to-read interface how close you are to exceeding your cap. For those of us who like information at-a-glance, the app's colored background clues you in: green for "safe," yellow for "caution," and red for "danger." (The theme of the interface is also customizable, with several different color schemes and fonts, and three different display options.) It's smart forecast figures out, based on your data usage patterns, how likely you are to exceed your usage limit at the rate you're going.
---
4 Office for iPad alternatives
by Michael Ansaldo, macworld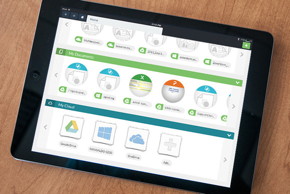 When Office for iPad arrived last month, it was a bittersweet moment. The elation over the promise of true tablet productivity muted by the realization that the apps were little more than document viewers without an Office 365 subscription.
The good news is that the lengthy wait for an official Office solution for the iPad gave rise to several capable all-in-one office apps that cost little to nothing, many of which are still available.
While no third-party suite can fully replicate the real deal, these four came closest. We tested them with an eye toward usability, cloud support, and faithfulness to Office file formats (the last of which disqualified Apple's iWorks right out of the gate). Each has stronger points, such as a more elegant interface, or better file or cloud support, but any will get the job done admirably until you can get back to your desk. :
Humor
Simple Answers
by our science correspondant, MAGIC
With thanks to xkcd.com.
By The Way
Printer setup Primer*
by Ron Sharp, MAGIC
One thing that amuses me about printers is the huge list of setting options that they offer. Here's what's funny about it: you can change your printing options for paper type like thick, thin, matte photo, glossy photo, cotton, archive paper, and other choices like standard color, enhanced color, and more, and it doesn't seem to make a bit of difference. The page that's printed looks the same. But one option set wrong on the wireless printing choices and nothing works.
The thing that is not so amusing is the printer User's Guide. Sometimes there is even the an Advanced User's Guide, Network Guide, Quick Setup Guide, (usually not any quicker) and Network Glossary Guide. I know it's not easy explaining all the options but I'm sure it can be done better for most printers.
Here's some thoughts on printer setup.
If you have to replace your computer, consider a new printer. If your computer is old enough to replace then the printer is probably in the same boat, and may not be updatable. Meaning there may not be new drivers for the new computer operating system.
With a new printer or new computer, get the newest driver/software available for it from Apple or from the printer manufacturer website. Don't bother installing the driver that came with the printer because it's probably out of date.
The easiest way to get a printer to work wirelessly with a Mac is to connect it with a USB cable to your Apple router. Then using the printer preference in System Preference, just click the plus button to add a new printer and your computer will find the printer. It's pretty simple but on occasion problems occur with multifunction printers like the scanner function reporting no connection. I've had to connect multifunction printers to routers with ethernet cables to get the scanner functions to work and that requires finding and setting IP addresses for the printers. Most printers have the option to print out a configuration list from the controls on the printer that will show an IP address to use, or you may have to set a new one.
Other problems that might occur are after computer software updates, which may require a printer reset. You can delete your printer from the printer list in Printer Preferences and then use the "Add A Printer" plus sign button again. Make sure the printer is turned on. You may also have to restart the printer and computer if any printer settings are changed.
Using Printer User Guides If you use your printer users guide to set up a printer, it's very helpful to realize that there are several ways to get a printer to connect. Decide which one you will use, then find that section in the users guide.
Wired setup. Connect the printer to a computer with a USB cable. Other computers on your network will be able to use the printer wirelessly if the connected computer is turned on and Printer Sharing is turned on in Sharing Preferences.
Wireless printing with a USB cable to network on a Mac. Connect the USB cable between the printer and the router. ( you may not even need to use the printer guide but scanner function may not work on multifunction printers. Use the ethernet connection to enable scanning functions)
Wireless setup with an ethernet cable to network. Connect ethernet cable between printer and router and follow user's guide instructions. (you'll have to use IP address numbers)
Wireless setup with the Printers Wi-Fi. If the printer is labeled a wireless printer, then it has it's own wireless function to connect to your network. Follow the User's Guide to set up the printer from the printers control panel.
---
Controlling video content on web pages for Firefox users*
by Ron Sharp, MAGIC
Here's some great tips for controlling video content on web pages if you use Firefox browser. If you use Safari, the video content is already controlled. I'm not sure when Safari was updated to use HTML5 but it plays video content via HTML 5 and labels it. You have to click on it to start the video, which is a great.
Firefox automatically starts playing Flash content. So as I browse websites for newsletter content I click on many headlines to open in new Tabs. Unfortunately, as Firefox starts playing video content immediately the browser slows to a crawl. Fortunately there is a way to control the Flash content for individual sites. When you get to a site with a video starting automatically, click on the Firefox Tools menu, then Page Info. Then select the Permissions tab and you'll see the plugin options on top. For the Flash video option, change it from Default to Always Ask. After I made this change I opened six macworld.com pages and only one started to play a video. Setting the preference again for the one page corrected it. Since then none have started videos until I click on the actual video. It's great.
If changing the Flash content preference doesn't fix your site, try changing the the options for other video plugins. The Media tab of the Tools window will show which video plugin is used for what content.
These settings will change the plugin option only for individual websites. For instance, my main concern was for a few news sites like Macworld. So any Macworld page should conform to the new settings. If you want to make changes to all websites that you visit then go to Firefox Preferences and make changes there. You can control many plugins and apps that the browser uses.
---
MAGIC, the Macintosh Appreciation Group of Island County, serves people who use Macintosh computers, software and peripherals. Our goal is to share information and get answers to questions to make us more productive with our use of technology. Our monthly meetings give us a chance to discuss computer problems and share ideas with other Mac users, feature speakers on specific topics, and to keep apprised of Apple news.