Newsletter
January 2015
Newsletter Editor:
In This Issue:
MAGIC MUG News
Software Updates
Macintosh News, Information and Stories
iPhones, iPods, iPads, and iWatch
By The Way
* Indicates author is a member of MAGIC
---
Meeting information
Day:
The 3rd Wednesday of the month. 21 January, 2015 this Month
Location:
Unitarian Universal Congregation of Whidbey Island (see map.)
Time:
4:00 p.m. - 6:00 p.m. with the first hour dedicated to new users and their questions.
Presentations:
• Q & A with Robert
• Annual report for 2014
• Elections for the incoming Board of Directors
• Project Management on a Mac or iPad

Getting Organized
Using spreadsheets and flow charts is the program topic for the January 21 MAGIC meeting. Robert Elphick will illustrate the Numbers ($11.99) application for keeping track of anything, including finances, inventory items, and more. Spreadsheets built in Numbers can also be exported as .xls or .xlsx documents. Also there are several programs in the Apple App store for creating flow charts such as InShort ($36.99), FlowChart ($29.99) and others. These charts help illustrate any process involving groups. Examples of flow chart uses range from organization hierarchy and accountability to an earth quake evacuation strategy for your family.
MAGIC meets the third Wednesday of each month from 4 to 6 p.m. at the Unitarian Universalist Congregation, north of Freeland at 20103 State Route 525. The meeting begins with a question and answer session oriented to beginners. A short business meeting follows the Q & A, before the main presentation. We welcome visitors. Membership dues are $24 a year or $2 payment at each meeting. Sign up to be a member at www.whidbey.com/magicmug/index.html.
Susan Prescott
MAGIC presentations
Future Meetings: (subject to change)
See the Meetings Page on this website.
Do not forget to bring your used ink cartridges.
MAGIC will dispose of them for you and make some change for the group.
---
Minutes of the December 17, 2014 Meeting, and Presentation Notes
by Penny Holland, Secretary
The December meeting for MAGIC was held at the Unitarian Congregation Meeting House of Freeland. Meeting was called to order by Robert Elphick at 4:10. Approximately 30 people were in attendance. This being the month for our holiday program, the first ten minutes from 4-4:10 were for socializing, picking up a plate of treats and choosing a table of interest. Tables were set up with Joel Kennedy at one table titled Device Sharing--how to use your iPhone as a hotspot and how to share files between devices and backing up your devices on your computer. Penny Holland's table housed the Great American Novel--where people were invited to add a sentence or two to the progressive story. Gary McIntyre's table was a tutorial on iTunes, a logical follow-up to his iTunes program from last September. Robert Elphick's front table was titled THE WIZARD IS IN, where people could come with their most difficult and impossible problems in an attempt to stump the Wizard. (Seldom possible!) A swap table was also set up for items to give or take. Raffle tickets for $1 each were being sold to raffle off three $50 iTunes cards and a MAGIC class of the winner's choice.
Q & A SESSION (4:10 to 5:20)
Robert first welcomed everyone and explained the table setup
Q: Bonnie explained the answer to her question from last time--how to find email addresses from people who have previously mailed you, and how to get rid of old emails that are no longer good.
A: In Mail, go to the menu Window->Previous Recipients and look up a name. You can delete any out of date addresses. Deleting the whole list is a good idea once you have transfered any that you need to keep in your Contacts.
Q: How do you find duplicates that are in your address list?
A: There is an app for that-- Scurbly. It allows you to eliminate duplicates.
Q: How do I get rid of old, unwanted applications.
A: Drag the icon for the unwanted application into an uninstall program. One such program is AppCleaner. It is free. You drop your app to its window and it will get rid of the application and all the associated files.
Q: In Apple Mail, is there any way to search the Rules folder to delete or edit particular rules?
A: In Mail, select the Mail->Preferences Menu and then chose the Rules icon at the top. Now have to find a desired rule and then you have to edit it or delete it according to your needs.
Q: When using a browser and you pull up a site, is there any way to skip the ads that pop up and you've already seen them before.
A: I don't know of a system or browser that can do that. Someone could make a lot of money if they could.
Q: In Apple mail, how can I change the font size permanently, so it is larger.
A: Go to preferences->Fonts and Colors and put in the font and font size you wish to use. That works for the message you send out. You can control the size of the text you send out in Preferences->Fonts and Colors/MESSAGE FONT. For messages that come in, font will be in the size that the sender used. However there is also a function in System Preferences where you can set up the display so that nothing smaller than a given size you choose shows up.
Q: My computer comes up with a transparent, gray screen. OS is Mavericks. This happened when I woke it up from sleep mode. So far it hasn't done it this week.
A: Take a look at all the startup items. Sys Prefs->User->Log In Items. Advice: keep that to a minimum. Sometimes people like Adobe will put something in there that opens during the wake up process. Click on any item that you don't want to run during the startup and then click on the MINUS sign at the bottom. That won't get rid of the program, but it will stop it from starting up every time the computer wakes up.
Q: Group emails sent to a group I've set up--I want to send these as BCC. What can I put in the send box so that recipients can see that this email has come from a particular organization.
A: In the TO box you can put the email address of your organization; or you can also leave the TO box empty. Recipients will see from whom the message came, depending on how you have your email set up. You can also put the name of your association in the SUBJECT line. WhidbeyTel will let you have multiple email addresses at no extra cost. One member noted that the first time you do this your email may end up in people's JUNK box, so you may want to first send a group email warning people that you will be sending from a new email address.
Q: Is there yet a new Onyx version for the Yosemite operating system?
A: Robert went online for a search and found that the latest version of Onyx is for OS X 10.10.
Comment: noteboomproductions.com was recommended by our newest members Bob Reinecke from CA, wife Janet and daughter Donna. This site has some good tutorials for the Mac, iPhones and iPads. Check it out! Note that you need to become a member to use these tutorials.
BUSINESS MEETING:
Treasurer Gary announced that dues can be paid $2 at each meeting, or if you want you can pay $24 per year and you will get a tax deductible receipt for your donation.
Treasurer Report: We currently have $6,700 in our bank account.
Annual election will be held in January for officers. One spot is still open on the Board of Directors.
Programs coming up at our monthly meetings: Spread sheets and flow charts will be the topics in January, Joel has offered to present a program about cloud applications in February.
Classes coming up in Jan/Feb. include an iPad class scheduled in January. Robert has also started to put together a class Beyond The Basics as this has been requested. This will start in February, no specific date as of yet.
Raffle tickets were sold at $1 each for 4 prizes: three $50 iTunes gift cards and a class of the winner's choice in the year 2015. Winners were: Daryl Thomas, Paul Morris and Nancy Ruff. Dick Hall won the free class series of his choice.
People were encouraged to move around to various tables of interest and have fun!
Meeting was wrapped up with the reading of our Great American Progressive Novel.
The Day I Bought My First Macintosh Computer
Once upon a time...in a land far away - well maybe not THAT far - the nice man in his blue Apple helper shirt said, "I'm sorry, there is nothing we can do. It is time to check your...."
bank account and see if you have several Thou. The bad news is that you need a new computer. We have just the model for you--take a look at this Big Mac...
The response was immediate: "My word . . . it's huge! Do you have something smaller?"
It has to be large for my sheep. They have large feet and two toes and have a hard time typing on a small Mac.
It was sooooooo scary at first. I couldn't imagine what was going to happen to me as I transmogrified into a MAC USER!!!
I had used an Apple IIE to write my doctoral dissertation so I was familiar with the Apple but a Mac? Another animal entirely -- way more expensive for my budget but I did it anyway. I couldn't eat, no new clothes, bike rather than drive but man could I create!
And there I was, with my new creation, larger than life! It was perfect and I was so proud. Little did I know what would happen next. I would have never expected that...
....the cunning wombat carefully lured the unsuspecting cat into the fatal trap.
Down, down it fell into a deep hole and guess what? It landed right next to a brand new iMac. So I...
....threw myself right down after it, landing with a bounce and a grunt. When my eyes adjusted to the light, I saw that the iMac was glowing with an eery greenish light, and it appeared to sparkle like....
..... a visitor from another universe discovered by one of the secretive research engineers at the inner sanctum at 1 Infinite Loop in Cupertino. I said...
"Who designed your outfit? I love the way it frames both of your heads."
With two heads, you can't believe what a headache feels like. And when I try to use my new computer, guess what? I see TWO of them. That makes for difficulty...
Especially with four hands. Happily I like the feature with multiple screens on my computer and with my extra keyboard I can multitask. Perhaps the wizard of Oz will arrange another brain and my heads won't hurt.
My head aching and no time to hit the sack I persevere to complete my thesis on the new MAC not familiar with Pages it takes what seems ages.
This psychosis is spinning out of control
And that's the name I decided to give to my new Mac--Psychosis!
Robert wished everyone a Happy Holiday and See you Next Year.
Everyone helped with the clean up an the meeting adjourned at 5:50.
---
MAGIC Moments
Renewal of the Website
Whidbey Telecom has generously renewed the gratis contract for a MAGIC website. As always, we are grateful that they have provided this valuable resource that enables us to comunicate effectively to lovers of Apple products in Island County.
Spring Education Program
Two Schools are being planned for the new year.
For all the members getting an iPad for the holidays, we are running a class on iPad, iPod-Touch, iPhone in January. Details can be found here.
Many students from the Mac Essentials classes have asked about an advanced class. I have decided to put one together that will include a lot of tricks and tips for using your Mac more effectively and efficiently. We shall call it Beyond the basics. It has been scheduled to begin 28 February 2015 and will run for five consecutive Saturdays. More details will appear on the website, and I will send out an email to members to announce the final details with application information.
Audit
An audit of the financial transactions for 2014 were performed on 8 January with officers Gary McIntyre (current Treasurer), Bonnie Abney (Past Treasurer) and Robert Elphick (President). Several minor suggestions were made to improve the usefulness of the book-keeping system, otherwise everything was in order.
Annual Report
The board of directors agreed at their last meeting to produce a report for 2014 to be made at the January meeting to the general membership.
Elections
At the January meeting we will hold elections for a new suit of officers. Anyone wishing to be considered as a candidate should either be available at the meeting or contact me at
Software Updates
Note: This Software Update section of the newsletter lists the most relevant Apple updates. Not all updates are listed for all products. Additionally, I'll add other pertinent updates on occasion.
Apple issues NTP security update for OS X
by Christopher Breen, macworld.com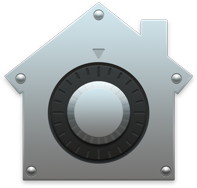 On Monday December 22, 2014 Apple issued a security update for Mac OS X Mountain Lion, Mavericks, and Yosemite that fixes a "critical security issue with the software that provides the Network Time Protocol service on OS X." Recommended for all users, Software Update suggests that you install the update as soon as possible. Details are currently unavailable, but Apple should issue them on the Apple Security Updates page shortly.
To access and install the update, choose Software Update from the Apple menu and click the Update button next to the latest Security Update entry. No restart is required.
---
Browser Add-On Updates
by Ron Sharp, MAGIC
Don't forget to update your browser Add-Ons. If you use Safari your Extensions are updated automatically unless you have turned that feature off. If you use Firefox, check for Add-On updates with the Tools >Add-Ons menu. Then you'll see the little gear icon near the top of the window. When you click it, the drop down menu shows the option to check updates. If you use Chrome, you can see how to manually update extensions from this website: http://lifehacker.com/5805239/how-to-manually-update-your-chrome-extensions.
Macintosh News, Information and Stories
Two-factor authentication gets physical with USB U2F devices
by Glenn Fleishman, macworld.com
I've written a few times about two-factor authentication (2FA), where a password (something you know) is paired with a second item, like a device-generated token or one-time code sent via SMS (something you have). A password can be stolen or sometimes extracted, so a second factor makes it substantially more difficult for someone who lacks physical access to you or your stuff to break into one of your accounts. This restricts attackers from accomplishing wholesale attacks across thousands or millions of accounts, unless 2FA is badly implemented or attackers find an exploit.
While Apple has tried to take the pain out of 2FA through its trusted device approach with iCloud accounts, many people still believe this is too complicated for average users to employ. There needs to be something powerful, simple, and ubiquitously supported, they argue—as do I. Apple's solution only works for people fully embedded in Apple's ecosystem and only for some of Apple's services.
2FA apps, like Authy and Google Authenticator, are good alternatives if you're in frequent need of a second factor. They're relatively simple to set up, but they're still not for everyone. And even though I use such apps every day, I confess that I sigh as I walk through the several straightforward steps to pull up the necessary app and then type in a confirmation factor.
A new hope
There's hope for even greater simplicity, though, from the wonkily named FIDO Alliance U2F standard. FIDO (Fast IDentity Online) comprises a group of security, hardware, and online finance companies trying to set broad standards for better authentication; U2F stands for Universal 2nd Factor. U2F is built into hardware, like a USB dongle, that contains cryptographic hardware to provide the second okey-dokey for a login or session.
---
BBC documentary highlights conditions at a Chinese iPhone factory, but is it all Apple's fault?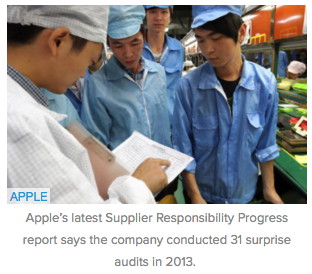 by Kirk McElhearn, macworld.com
I've worked at a lot of different jobs in my life, but there are a few I'd never like to try: picking crops on a farm, working in a chicken processing plant, and working in any kind of factory. The relentless assembly lines and the noise of the machines would be hard to deal with. Even those factories without deafening machines still seem like harsh places to work, if only because of the cadence they impose on employees.
Whatever device you're reading this article on was built in a factory, most likely in China. In this country, not known for its pleasant working conditions, all the major computer manufacturers have their devices built and assembled. Including Apple.
Apple has been publishing Supplier Responsibility Progress Reports on its website since 2007, detailing the efforts the company has made to improve the conditions of workers. (You can read this year's report right here.)
But has it made a difference?
---
Native Resolution on Retina Macs
byMatt Vesecky, smaldog.com
Regardless of where you stand on the net neutrality debate, one thing doesn't help: misleading or confusing statements. Unfortunately there are plenty of them.
The primary benefits of a Retina screen go without saying, but I'll say them anyway: incredible pixel density and beautiful colors create a sharp and vibrant image. The specific reason for the sharpness of everything is that where there used to be one pixel, there is now a group of pixels refining the image and creating the sharpness you see. This creates a much more visually appealing image but, when it comes to the potential screen real estate of the computer, is very wasteful. All those pixels could be put to work showing you more things on your screen, not just sharpening what is already there.
The easiest way to achieve this is to go into the display setting in System Preferences. By default the setting "Best for Retina display" should be checked. If you check the other option, "Scaled", then it brings up a list of different resolutions. "More Space" is the most space you can select in the Displays preferences. To give you some reference, a 15" Retina MacBook Pro's default resolution has the same amount of screen real estate as the old 15" computers, 1440 × 900, not very much room to work with. The "More Space" setting brings this up to the equivalent of a 1920 × 1200, a much better amount of screen real estate.
But what if you want to squeeze all the usable screen real estate out of these amazing displays? That's where a third party app called EasyRes comes in. Costing only $7.99, this little app lives in your top bar and easily lets you switch between all possible resolutions the display can conform to. This includes an option for "native" resolution mode. This mode utilizes all the pixels of the display with no doubling, which massively increased the highest usable resolution of the display from 1920 × 1200 to its truly massive natural resolution of 2880 × 1800. Now this does make all of your text incredibly small but if you are using it on your lap and need to improve your workflow, more screen real estate can be incredibly valuable.
---
Surf Safe
by Nathan Persing, smaldog.com
When I decided to write my first Tech Tails article I was going to do a article on retro gaming on your MacBook. Then, I got a phone call from Dave (name changed for this tail tale). Dave is a Mac user, family man, and one of our clients. On Christmas Eve, Dave received a phone call from "Apple Service" saying that his iMac and MacBook had been compromised and were "full of viruses". But what Dave was experiencing wasn't a malware infection, but another form of the dark arts: social engineering.
The Wikipedia article on social engineering defines it as, "psychological manipulation of people into performing actions or divulging confidential information. A type of a confidence trick for the purpose of information gathering, fraud, or system access, it differs from a traditional 'con' in that it is often one of many steps in a more complex fraud scheme." Basically it takes advantage of the trait of decision making known as cognitive biases (also sometimes known as "bugs in the human hardware") to confuse you and then get you to give up sensitive information.
There are different types of social engineering: pretexting, diversion theft, phishing, phone phishing, baiting, quid pro quo, tailgating, shoulder surfing and more. In Dave's case this was phone phishing. He thought it was a legitimate phone call from Apple, but towards the end it turned into attempting to convince him to buy bogus software that would likely have allowed the hacker to access his machine remotely. Also, if he had purchased this software, the attackers would have his credit card information. With this information in hand, these criminals can purchase what is called white plastic (or blank magnetic credit cards), transfer the credit card numbers onto the magnetic strip, and then have a functioning credit card to use as they wish.
Now I'm used to hearing this all the time in the PC world: "Microsoft just called me did some stuff with my computer and now my laptop doesn't work anymore." Microsoft would never call you out of the blue about your computer, and the same goes for Apple. The only way to prevent this is education, not anti-virus software. I highly recommend reading this helpful information on Avoiding Social Engineering and Phishing Attacks to learn how not to be a victim of these types of scams.
Surf safe my friends!
---
HomeKit at CES: It's all about simplicity
by Susie Ochs, macworld.com
LAS VEGAS - "How are your HomeKit appointments going? Have you seen anything cool?" I got this text (paraphrased) from two colleagues as I raced from meeting to meeting, between booths and meeting rooms and hotel suites, talking to a dozen companies about their HomeKit products and apps.
The truth is, I saw a lot of cool things, but not in the flashy, over-the-top, Rocketskates sense that so many other products shoot for at CES. HomeKit has a lot going for it, from ease of use to security to deep integration with iOS. But the products themselves are refreshingly simple—you would be forgiven if you saw one, after all these months of anticipation, and said, "That's it?"
Yeah, that's it. And quite by design. The live demos I got mostly went something like: "You plug a lamp in here, and you can turn it on and off. You stick this sensor on your door, and you'll know when it opens." To the end user, it's the furthest thing from rocket science or rocket skates—and that simplicity is the whole point.
Setup, security, Siri
Every company I talked to mentioned the same benefits of using HomeKit, and first was the easy setup. The products use Bluetooth and/or Wi-Fi (often both), since that's what's already in your iPhone and iPad, not to mention the Wi-Fi network in your house. Previously, connected home devices that worked with iPhone apps had to come up with their own methods of setting up the device with your iPhone—maybe the device would create its own Wi-Fi network, and you would connect to that in your iPhone's Settings app, then open the device's companion app, and type in the SSID and password for your home Wi-Fi network. It's a clunky dance even when it works, and when it doesn't work as planned, it's downright frustrating.
---
OS-X Spotlight Search glitch can expose private details of Apple Mail users
by Loek Essers, macworld.com
A glitch in the search software in Apple's OS X Yosemite can expose private details of Apple Mail users, revealing their IP address as well as other system details to spammers, phishers and online tracking companies.
The potential privacy risk appears when people use the Spotlight Search feature, which also indexes emails received with the Apple Mail email client. When searching a Mac, Spotlight shows previews of emails and when it does this, it automatically loads external images linked in HTML email.
The Spotlight preview loads those files even when users have switched off the "load remote content in messages" option in the Mail app, a feature often disabled to prevent email senders from knowing if an email has arrived and if it has been opened. What's more, Spotlight also loads those files when it shows previews of unopened emails that landed directly in the junk folder.
Opening external files can reveal private data to email senders. Senders often include so-called tracking pixels, usually a link to a one-pixel-square GIF file, in their email, which sends information back to the sender when an email is opened and the external image is loaded. Those pixels are often used by email marketeers to gather data.
The potential privacy issue was first reported by German tech news site Heise, and has been replicated by the IDG News Service by sending several emails with tracking pixels to a mail address linked to Apple Mail. A preview of the unopened emails was shown by Spotlight, which revealed to the operator of the server hosting the pixels the receiver's IP address, current OS version and some details about the browser used as well as the version of Quick Look, a program that let's users preview a document.
An IP address can reveal someone's location, although this is not always very accurate. Meanwhile, knowing more details about a user's system could potentially be interesting information for hackers.
At the moment, the only way to work around the issue seems to be to uncheck the "Mail & Messages" box for Spotlight in System Preferences. When this option is disabled no mails are returned in Spotlight's search results, and thus, no preview is shown.
We asked Apple why the "load remote content in messages" Mail privacy setting does not apply to mail shown in Spotlight searches, as users can reasonably expect it does, and asked if it is planning to fix this issue. Apple did not immediately respond.
---
Hide Favorites from Safari
by Kristin Penn, MAGIC
I called AppleCare to get the answer to a question I had and you wanted me to tell you what I found out. In the Safari search bar, the box of icons representing the Favorites bookmarks (which I keep in the old way as the bookmarks bar) drops down in front of the safari screen when you start to type in the search area. I don't like it because it blocks what I am looking at on a website that I want to type into the search bar for further exploration.
To get rid of that dropdown box of favorites icons:
Open Safari Preferences
Select Search
Find the Smart Search Field and uncheck Show Favorites

I am delighted to get rid of that stupid thing!
---
Make Pages 4.3 default instead of Pages 5.x
by Robert Y Elphick, MAGIC
I much prefer Pages 4.3 from the iWorks '09. The newer Pages 5.x is still very inferior. While we wait for Apple to fix Pages I find that I need to have the Pages 5.x on my computer because when I receive a Pages document produced in Pages 5 I can only open it on Pages 5. This is the sort of bad practice we normally associate with Microsoft.
So, now that I have both I wanted to be able to click on a Pages document and have it open Pages 4.3 by default. I finally found a way to do it. It is far from obvious, but it works if you fallow this sequence:
Empty the trash
Open the Applications folder
Create a new folder [Shift] [Command] N
Name the folder "Bad Pages" (or whatever you like)
Move Pages 5.x into this new folder
Move the folder into the trash but do not empty the trash
Select any Pages file and Get Info or [Command] I
Make sure that the default application is Pages 4.3 and then press the "Change All..." button
Open the Trash
Select the "Bad Pages" Folder and use the right mouse button to "Put Back" (or simply move it the the Applications folder
This worked for me and I now have Pages 4.3 as the default but can open a new Pages file using Open With.
---
Mac troubleshooting: How to handle freezes and crashes
by Joe Kissell, macworld.com
Crashes and freezes in OS X are mercifully rare, but they do occur. Fortunately, most of them can be resolved readily; and even though a crash or freeze may have any of numerous causes or symptoms, the same procedure works for troubleshooting most of them.
Crashing apps
Your first step should be to determine the scope of a problem. Is just one application having difficulties, or is the whole system affected?
Send a report, or not: If an app quits unexpectedly, you know that it's at least part of the problem. App crashes are usually accompanied by an error message. If you see one of these, click Reopen to send Apple a report with details about your system configuration and what went wrong, and then relaunch the app. Or click OK to send the report without relaunching the app.
With OS X's default settings, a dialog box like this appears after most app crashes. Click Reopen to send a report to Apple and relaunch the app. If you don't want to send Apple information about crashes automatically, go to the Security & Privacy pane of System Preferences, click the lock icon, and enter your username and password to unlock it. Then click Privacy, select Diagnostics & Usage, and uncheck Send diagnostic & usage data to Apple. After you do that, the options in the crash dialog box change to Ignore, Report, and Reopen; only if you click Report is information sent to Apple.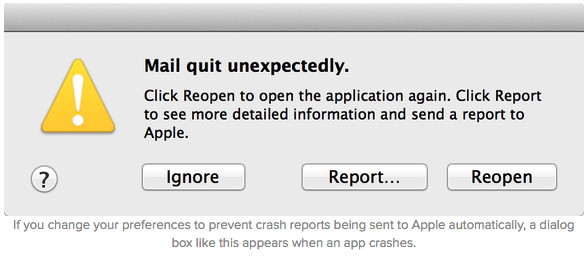 If you change your preferences to prevent crash reports being sent to Apple automatically, a dialog box like this appears when an app crashes. Skip reopening windows: If the app crashes again after you relaunch it, you'll see a message asking whether you want to reopen the windows that were open the last time. I suggest clicking Don't Reopen, on the theory that something in one of the open windows may have caused the crash. Either way, as long as the app functions correctly from then on, you can go about your business. (If it continues to crash, follow the steps below, beginning with "Restart.")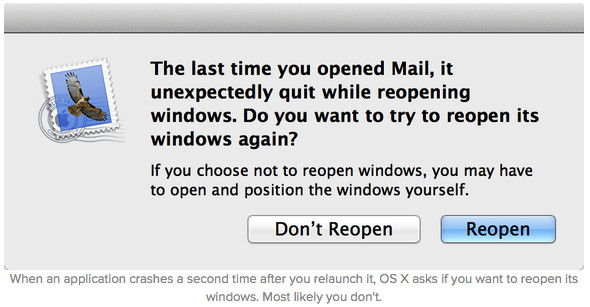 Spinning beach balls and other bad signs
Sometimes, however, an app freezes but doesn't quit. If your symptom is an unresponsive Mac—perhaps featuring the dreaded spinning wait cursor, sometimes refered to as the "spinning beach ball" or as I like to call it, the "spinning pizza of death" (SPOD)—you'll need to narrow down the cause.
Switch to another app: Try switching to another app—for example, by clicking its Dock icon or pressing Command-Tab. If other apps respond, and especially if the SPOD appears only when you hover the pointer over a window or menu belonging to the app that was in the foreground when your Mac stopped responding, try force-quitting that app. One way to do this is to press Command-Option-Esc, select the app in the list that appears, and then click Force Quit. (Sometimes you may need to repeat this once or twice to get the app to quit.) If this force-quitting succeeds, try relaunching the app. More often than not, that will be enough to bring the app back to life.
If relaunching (or force-quitting and then relaunching) an app doesn't do the trick, if none of your apps respond, or if your mouse pointer is frozen, move on to the following steps—try each one, in order, until the problem goes away.
Restart: If you can choose Restart from the Apple menu, do so. If not, press Command-Control-Eject (the Eject key looks like an upwards-pointing arrow with a line underneath it) to force an immediate restart. If even that doesn't work, press and hold the Power button until your Mac shuts down, then press the Power button again to turn your Mac back on.
Check disk space: A startup disk that's extremely low on disk space (10GB or less) can lead to slowdowns and worse. Delete some files (or move them to another disk) to make more space. For help, see Seven ways to free up drive space.
Try another document: If an app always misbehaves when a particular document is open, try closing it and opening a different document. A damaged or corrupted file could be the source of the problem.
Update your software: Make sure OS X itself, and any apps you use regularly, are up to date, because a software update may have fixed a crash-producing bug. Choose Software Update from the Apple menu to update Apple software and anything downloaded from the Mac App Store; for anything else, use the app's built-in software update feature or download the latest version.
Disconnect peripherals: If you attached any new devices recently—especially USB devices—try disconnecting them. Restart and see if the problem recurs. If not, the device may be faulty or, more likely, it may require updated software or firmware. Contact the device's manufacturer for assistance.
Disable plug-ins: If the app that's crashing includes any extensions, plug-ins, or other extras, try disabling or removing them to rule out the possibility that the add-on software is the culprit.
Try a safe boot: To disable certain software that loads at startup and to run cleanup processes that may resolve random gremlins in your system, try a safe boot - Restart your Mac, and, immediately after you hear the startup sound, press and hold the Shift key until the gray Apple logo appears on the screen. If the problem goes away, restart again normally and try again.
Repair your disk: Disk errors can lead to all sorts of problems, crashes included. Try using OS X Recovery and using Disk Utility's Repair Disk feature to look for and fix common disk errors.
Run Apple Hardware Test: Apple Hardware Test is a special utility you can run to test your Mac's logic board, RAM, graphics board, and other components for errors that could lead to crashes and worse. Apple's support site has complete instructions for using this tool.
Add RAM: If your Mac has a small amount of RAM (say, 4GB or less) and has available slots to add more, try increasing your RAM. Extra RAM can speed up many operations on your Mac and can reduce the likelihood of crashes and hangs related to running out of memory.
If you try all those things and continue to have crashes or freezes, contact the app's developer (if it's a single app) or Apple (if the problem is system-wide) for further advice and assistance.
Wizard note: Going through the above procedures and writing down the results of each step would be very useful before calling a wizard or Apple.
iPhones, iPods, and iPads
Logitech Keys-to-Go review: A great iPad keyboard that doesn't lock you into a case
by Jason Cipriani, macworld.com
As I mentioned in the first Work Beyond Mac column, my go-to iPad keyboard for the last few years has been Logitech's Ultrathin Keyboard Cover. It's lightweight, portable, has a battery that lasts forever, doubles as a screen cover when traveling, and has an adjustable viewing angle.
Despite having a preferred keyboard, I'm still eager to try new products as part of my never-ending hunt to refine and perfect the way I work on an iPad. So when Logitech announced a new Bluetooth keyboard for iOS devices, Keys-To-Go, it naturally piqued my curiosity. logitech keys to go ipad 1
The $69 keyboard is compact, covered in a spill-resistant fabric, boasts three months battery life, and most intriguingly lacks any method for connecting itself to your iPad. Up until this point, I had only ever used a keyboard that doubled as a stand, or completely enclosed my iPad in a folio-type housing, but I appreciate how Keys-To-Go lets me use any case I want—or no case at all.
---
11 of the very best apps for working from an iPad
by Leah Yamshon, macworld.com
Last week's Work Beyond Mac covered essential gear for getting work done on an iPad. But accessories are only part of the equation that makes the iPad my go-to computer. The other half of the formula, naturally, is apps. Between the new features in iOS 8 (Can I get a "Huzzah!" for extensions?), and developers leveraging the raw computing power of the iPad Air 2, we're in the middle of a downright exciting time for productivity-focussed apps on iOS.
These are some of my essential apps for getting work done on your iPad, and in many cases, your iPhone too.
---
Got an iPhone 6? Do these 10 things first
by Susie Ochs, macworld.com
It's here! Your iPhone is here! Woohoo! Thing Zero to do as you rip it out of the box is to not drop it, whatever you do. (Did you see that poor Australian kid? Ouch. Well, at least it didn't shatter on him.)
We've got a fully comprehensive setup guide if you need step-by-step assistance—think of this as the Cliffs Notes version. These are the 10 things you should do first.
1. Back up your old phone
I forgot to do this first, so once I'd turned my new iPhone on and it asked if I wanted a new phone or a restored backup, I had to sadly put the phone down and pick up my suddenly small-and-sad-seeming iPhone 5c. iTunes is the fastest way to do a backup, so tether to your Mac with the appropriate USB cable (I know, like a caveman) and fire up iTunes. Select your iPhone, and under Backups, choose This Computer. Checking Encrypt local backup is a good idea not just for privacy, but also because that way your account passwords are stored and you won't have to enter them all again. Click the button to Back up now. restore from backup photo
2. Restore from backup
Tell your phone you want to restore to an iTunes backup. Yes, you'll need a cord again. Once your phone is up and running and everything's how you like, then you can switch back to iCloud backups if you prefer, in Settings > iCloud > Backup. But it never hurts to run a backup on your own Mac every now and then.
3. Finish the setup
Even after you're done restoring, you still have a few more setup steps. You'll enter your iCloud account password, enter a second security code if you're using two-factor authentication on said iCloud account, agree to the iCloud terms and conditions, and set up how people can reach you over iMessage and Face Time. Any of this can be skipped and done later if you're in a hurry, but might as well get it out of the way now.
---
Apple Watch reportedly set to ship in the U.S. by March
by Leah Yamshon, macworld.com
When Tim Cook unveiled the Apple Watch back in September, its official launch date was set as the oh-so-vague "Spring 2015." Now, we have our first guess as to what that launch date could actually look like. 9to5Mac reports that the Apple Watch is set to ship in the U.S. by the end of March, with Apple Store retail training scheduled for mid February.

According to the report, Apple will be sending representatives from Apple Stores to Apple's offices in Cupertino or Austin, Texas to learn about the Watch, which will better prepare store employees for when the Watch arrives. In addition, the report states that Apple is finishing up work on the Apple Watch's software, battery life, and inductive charging mechanism.
No word if every version of the Watch will ship in March, and of course these dates could change, as we get closer to launch. But for now, I'm imagining the rose gold Watch Edition sitting (maybe not so) delicately on my left wrist. The basic Watch will start at $349.
---
7 useful ways to resurrect your old iPhone from the junk drawer
by Rob LeFebvre, cultofmac.com
If you're like me, you've got a junk bin full of old technology. It's just the way we're made; there's nothing better than sifting through the detritus of technology that you loved.
I've traded in my iPhone for the last five generations, from the iPhone 3G to the iPhone 5, or passed them along to my kids or significant others. The first generation iPhone, however, was something special, so I kept it.
As I was looking for ways to let my daughter listen to music at night without the temptation (or networked connection) of her more modern mobile phone, I chanced upon this lovely little rounded gadget from 2007 in the plastic bin I lovingly refer to as my Dead Technology Museum.
I figured I'd add some music to the thing, and that would be that. But the more time I spent messing around with it, I realized that I could make it into a pretty great little device; even though it pales in comparison with the iPhone 6, there's still plenty of use in this baby.
Here are seven things, then, that you can do with your own old iPhone to make it just a bit more useful, whether it's an original iPhone or an even more modern model.
Play that funky music, iPhone
The most obvious thing to do with an old iPhone is to load music onto it. If you've got iTunes set up with a bunch of MP3s already, that makes this super easy.
Simply connect your old iPhone to your Mac with a 30-pin USB cable, which you can grab for six bucks over on Amazon if you've lost yours. Your Mac, even a brand new one with OS X Yosemite on it, will sync with the iPhone. You can drag and drop any music from iTunes to the iPhone icon itself, or just click the little Sync Music checkbox in the iPod tab over on the left (which will show up when you connect the iPhone).
I've got a bunch of music my daughter likes, so this was a simple solution. Now she's got eight hours of tunes to fall asleep to. Unfortunately, the iPhone's Bluetooth wasn't able to sync to the speakers we have in the house, so we had to use an audio cable to connect the device to her little boom box. It's possible that older speakers will work; you'll have to try a few to make sure.
Time has come today
Another fairly simple way to breathe new life into that older device is to use it as an alarm clock. You can use the built-in Clock app that comes on the iPhone to set an alarm, but that's way too basic; we wanted an app with a few more features.
The alarm app that I found to work on iOS 3.1.3 is Alarm Clock Plus Free. Not only does it work on this old iPhone, but it's free, as you can tell from the title. It has two different clock faces, a bright green and more night-friendly blue, and it's simple to set and use.
Now my daughter can wake up to the various alarm clock sounds, like Birds, Clarinet, or Music Box, among many others. If you pay $1.99 you can even have the alarm play songs from the iPod app, something the built in clock in iOS can't do.
Reading is fundamental
My daughter loves to both read and listen to books. I figured grabbing a couple of apps to do just that would make this old iPhone just that much more appealing to her.
Audiobook Player - 2300 Free Audiobooks contains a ton of public-domain and royalty free audiobooks that you can download from within the app itself. It's a great way to listen to classic books like Alice's Adventures in Wonderland, or 20,000 Leagues Under the Sea.
For the written word, there's Reader Classics and Reader Lite, the former with four classic books you can check out while the latter will let you bring in your own books, and even check them out from some public library systems. If those don't satisfy your needs, consider searching google with site:itunes.apple.com/us/ "requires ios 2.0|2.1|2.2|3.0|3.1" "ebook" to find the e-book reader the works best for you.
Keep playing those iPhone games
I was really surprised when I started looking around for games to play. There were quite a few that work with iOS 3.1.3, and not just the crummy ones. Sure, there's a host of casual compilation games that still have earlier iOS support, but there are also some darn decent titles as well. You can grab Resident Evil 4 Lite, Zombie Road Rage, and even Backflip's Army of Darkness Defense game, which plays exceptionally well on this slower CPU iPhone. All of these games are free, and some still offer in-app purchases. Let's all go to the movies
You can of course sync any iTunes movies or TV shows to your older iPhone, and that's just what I did for my daughter's device. If streaming is your thing, though, you're pretty much out of luck, as Netflix requires iOS 7.0. There is a promising older app called StreamToMe that says it will stream media from your Mac, provided that you run a server app there. Give it a try if you're desperate to watch movies in that way.
Take me to the river
Stream thousands of stations.
Streaming audio is a possibility, too, though not with Pandora, Rdio, or Spotify. If you want to listen to more than 10,000 radio stations on your old iPhone, check out Radio Lite, an app that includes the Shoutcast network so you can grab a music or talk radio stream from just about anywhere.
Searching for greatness
So how do you find all these apps that work with an older operating system? You could just tap through the App Store on the iPhone and try to install ones you want, but most of them will tell you that they require a newer iOS than the one you're running. That's frustrating on the slower models; the Search screen in iOS 3.1.3 takes a while to load each time you look for a new app.
The easiest way to find apps is with a Google search. Use the following search string to find apps that require older iOS versions:
site:itunes.apple.com/us/ "requires ios 2.0|2.1|2.2|3.0|3.1"
This will search the iTunes website for the US App Store for any app that has the text within quotation marks in the description field. You can skip any of the iOS versions that you don't want to search for, too.
If you want to search for a specific category, like games, you can add that to the string, as well, like this:
site:itunes.apple.com/us/ "requires ios 2.0|2.1|2.2|3.0|3.1" "game"
Bottom line, your old iPhone — even the original 2007 model — still has a lot of life in it. Whether you're trying to get your kiddo a decent media device or just want to resurrect your own old device, I hope you have fun putting it all together. I sure had a blast getting my old iPhone together for my daughter, and ended up wondering if there were other devices I could refurb like this. Stay tuned!
---
Apple releases SIM-free unlocked versions of the iPhone 6 and iPhone 6 Plus
by Ian Paul, macworld.com
Apple, as anticipated, released SIM-free versions of the iPhone 6 and 6 Plus in the U.S. on Tuesday. The two new unsubsidized models now mean you can get Apple's latest handsets without being tied to a specific carrier. The downside, however, is that you have to pay full price for the devices. The 16GB iPhone 6 starts at $649 and the same base model of the 6 Plus is $749.
Prior to Tuesday's release, the only alternative for anyone looking for a fully unlocked phone was to buy one with a T-Mobile SIM pre-installed. T-Mobile is the only one of the four major carriers that doesn't offer a subsidized iPhone with a two-year contract.
The story behind the story: The SIM-free versions of the iPhone are a little late this time around, as we noted yesterday. Typically, fully unlocked models come out around two months after the iPhone launch, but for the iPhone 6 and 6 Plus it took nearly four months. Constrained supply is one likely explanation for why Apple took longer than usual, as 9to5 Mac speculated earlier. Another possibility is that Apple delayed the SIM-free release in the U.S. to give T-Mobile a brief window where unlocked phones were only available with the carrier's SIM pre-installed. Longer wait
If you want a SIM-free iPhone 6 or 6 Plus you can expect to wait a little longer than customers buying carrier-attached phones, but not that much longer. Apple's current shipping estimates peg the SIM-Free iPhone 6 and 6 Plus at 3-5 business days. Carrier phones, including unlocked models with T-Mobile, are shipping in just one business day.
By The Way
Virus on a Mac, is it more common?
by Ron Sharp, MAGIC*
In my experience of helping people with their Mac problems, I've occasionally ran virus checks and have never found an actual virus, only suspicious files. That is until last month when I had two customers with viruses and obvious problems caused by them. One customer had two separate viruses and other files labelled suspicious. Once they were removed, the problems were solved.
What I have found previously when a browser keeps displaying ads for software or other products and nefarious links, the culprit was an extension that was surreptitiously installed. Other times there were corrupt preference list files in the system library. But last month it was actual viruses.
What you will notice are frequent ads displayed and browser windows opening automatically with ads or messages telling you to download some software or other. One key event to indicate a virus affecting your browser is when you "Remove all Website Data" in Safari Preferences, you can see the number of websites that store data on your computer starts climbing immediately, populating itself with data. The viruses I've seen so far seem to specifically affect Safari.
The cure is to go to Apple's App store and find an antivirus program, if you don't already have one. Run the software and follow the steps to remove the bad guys. Usually the virus is "quarantined," and labelled as "Heuristic" and or "Phishing."
Then it's a good idea to "Remove all Website Data" from Safari again. And while your at it, check your extensions tab and remove any extension that you're not familiar with.
If you download internet stuff frequently you should set your antivirus software to either check automatically or set it to run on a schedule. You should also set it to check for updates automatically or whenever the application is opened. I prefer using a schedule or running it manually just so it doesn't run while I'm trying to do other things on the computer.
By the way, you haven't won anything, so don't click on those messages that say just click here. Also, when you do download anything from the internet, make sure you are on a reliable site. Check the URL to see that it is the page you thought you were on. Make sure you click on the download button for the software you intend to get and not the ad link right next to it. It is a good idea to check for software you want from Apple's App store. It will be safer than sites you are unfamiliar with.
---
MAGIC, the Macintosh Appreciation Group of Island County, serves people who use Macintosh computers, software and peripherals. Our goal is to share information and get answers to questions to make us more productive with our use of technology. Our monthly meetings give us a chance to discuss computer problems and share ideas with other Mac users, feature speakers on specific topics, and to keep apprised of Apple news.