Newsletter
September 2015
Newsletter Editor:
In This Issue:
MAGIC MUG News
Software Updates
News, Information and Stories (OS-X)
iPhones, iPods, iPads, Apple TV and AppleWatch (iOS)
Humor
By The Way
* Indicates author is a member of MAGIC
---
Meeting information
Day:
The 3rd Wednesday of the month. 19 September, 2015 this Month
Location:
Unitarian Universal Congregation of Whidbey Island (see map.)
Time:
4:00 p.m. - 6:00 p.m. with the first hour dedicated to new users and their questions.
Presentations:
• Q and A with Robert
• Photo editing applications such as Pixelmator with Robert
Suggested Donation:
$2 to offset room rental.
Future Meetings:
See the Meetings Page on this website.
Do not forget to bring your used ink cartridges.
MAGIC will dispose of them for you and make some change for the group.
---
Minutes of the August 19, 2015 Meeting, and Presentation Notes
The August 19, 2015 meeting of MAGIC was held at the Freeland Unitarian Congregation Meeting House from 4 to 6 PM. President Robert Elphick called the meeting to order at 4:00. There were about 30 people in attendance. The first hour was devoted to Q&A.
Q: How can I access photos when I am away from home?
A: You have to set your computer up ahead of time. You can use BACK TO MY MAC if it's set up on both ends. Look it up on the Apple website.
Note: Ron Sharp saw this a day later and added the following:

You can also use iCloud. This is info from apple.com: 
Access all your photos from anywhere.
iCloud Photo Library automatically keeps all your photos in the cloud, so you can access them on your iPhone, iPad, iPod touch, or Mac and on iCloud.com. And when you edit a picture using Photos, your changes are uploaded to iCloud and visible on your other devices. Just go to iCloud settings, Photos, and tap to enable.
iCloud Photo Library helps you make the most of the space available on each of your devices by automatically storing the original high-resolution photos and videos in iCloud and leaving be- hind the lightweight versions that are perfectly sized for each device - taking up only as much space as needed. You get 5GB of iCloud storage free. See iCloud Photo Sharing FAQ

Thanks, Ron
Q: Safeway has a webpage that will let you get deals on food. But when I use this on my computer it says "You have a slow script" What does that mean? (shows a screenshot)
A: I'm going to guess the problem is on Safeway's website. Probably too many people are trying to get on the site and it's being overloaded. Try using it at a different time.
Q: Any suggestions for purchasing a new mouse?(Has a Kensington mouse.)
A: Robert likes the Kensington mouse. It doesn't have a scroll bar but you slide your finger up the back of the mouse. You can set up your mouse behaviors in System Prefs.
Q: How do you block email addresses on the iPad?
A: There is a limit as to what you can do on the iPad. If you go to your server, such as Whid- beyTel, they will let you set limits as to how much you want to block. You might be able to ask them to not send you emails that come from a particular website or sender.
Q: What is Onyx; and should I get it?
A: We recommend using Onyx, which is maintenance software that will let you clean up your computer. We teach people at our classes how to use it. It's not an Apple app so to download it, first go to Apple Menu>System Preferences>Security, and at the bottom of this window (after you unlock it at the padlock) hit the third button "Anywhere" so that the software download is allowed. Next you go to the Titanium website, and click on Onyx/download. You will be given a list of Onyx programs for various Mac operating systems. Pick the OS you have, and download that version of Onyx. (NOTE: If you get the wrong version you will get a message that you are trying to use the wrong version.)
You can also get to Onyx through the MAGIC website. Look under software maintenance. When you get Onyx running, select the Automation tab, check ALL the choices, and then click on EXECUTE.
Q: I used to be able to burn DVDs, and with my latest system I can no longer figure out how to do it.
A: You can set up your windows so you get a BURN icon on your toolbar. In FINDER go to View->Customize Toolbar. Find the BURN icon and drag it to the toolbar.
Q: How do I get rid of messages in the Inbox, since I am using a computer that belonged to another person.
A: The best thing to do is to wipe out the old account. This will get rid of all the former user's stuff. If you only want to get rid of emails, select one email then hit Command-A to select all of them, then all emails will be selected. Then do a delete.
Q: Is there a utility that will identify duplicate files on the computer? I got duplicate files when I switched from a PC to my Mac. I want to get rid of duplicates in Photoshop Elements. Part of the files are on an external drive that was used on the PC.
A: You need to find the duplicates within Photoshop Elements. If that program doesn't have the capability to remove duplicates, I am sure you can search the web to see if other people have had that problem and see what they say. (Gary says there is one called Photos Duplicate Cleaner in the App store. This works for iPhoto. )
Q: I am going to be buying a new laptop this year. Is there a better time of the year to get one, such as in December.
A: I am not aware of any new technology that is scheduled to come out in the near future. (NOTE: TD Curran has a good deal going on right now, says a member.)
Q: How can you see what your server is giving you in the way of speed?
A: Going to www.speedtest.net will give you three tests: the download speed, the upload speed (usually much slower than download), and Ping (how long it takes to bounce a message our from your computer and get it back.)
NOTE: On this website and others--BE CAREFUL OF FALSE ADVERTISEMENTS on sites such as this one where you can easily get into places like Mac Keeper. Suggested that you go to the Apple app store and look for apps there first.
Q: How to change the greeting on an iPhone.
A: One member explained how to go into voice mail to do it.
Q: Is there anything special I need to know to set up Time Machine on a new computer?
A: Go to System Preferences where there is a TIME MACHINE icon. You need to select a disk that is plugged in, just this one time. Then leave it turned on and Time Machine will do its back ups.
What Time Machine does: It backs up your Mac every hour. Instead of writing one backup over another, it keeps all of them back in time. So if you change a file, you have all the previous versions as well in Time Machine.
Q: I reached the point when my 1Terabyte external drive has been used up with Time Ma- chine. If I get a new disk, can I still access Time Machine files on both disks?
A: YES, but this gets complicated. I suggest you get a 2 or 3 Terabyte drive and put every- thing on it so you work directly only on one disk.
Q: How many Terabytes of backup do you really want to keep?
A: If you think those backups are valuable, then you need to get a bigger disk. It depends on people's circumstances. If the oldest stuff is not important to you, then let Time Machine delete the oldest ones as it creates the newest ones.
BUSINESS MEETING
Program Chairman Prescott announced programs for future meetings:
September: Photo editing applications such as Pixelmator with Robert
October: Robert will review the newest OS update, El Capitan and iOS 9 (if released)
November: Gary will talk about voice commands using Siri.
December: Our typical MAGICal Holiday Party will be repeated including the Progressive Story; small group presentations, i.e. iTunes, Wizardly coaching, etc.
Finances: Treasurer Gary McIntyre announced that as of today we have $8013.54
PRESENTATIONS
Our first presentation was by Hannah Benway, a Tech-Trek recipient.
Prescott made the introduction of Hannah and also Amara Fulton. Two of the three girls that MAGIC awarded iPads to last year. Prescott reminded us that MAGIC collaborated last year with AAUW, who had given three young women a Tech-Trek grant to experience STEM (Science Technology Engineering and Math) classes. MAGIC provided these students with iPads and also an iTunes gift card for the purpose of purchasing educational apps and books for the iPad.
Amara said she studied biology within the STEM program. One of the best things she said she learned at Pacific Lutheran University last summer was meeting the group of girls with similar interests.
Hannah, age 14, is starting at Coupeville High School this year. A few years from now, when she goes to college, she says she wants to go to PLU which is where their STEM program took place. Hannah used her iPad to show us some of the favorite Apps she has put onto her iPad. She seemed pretty excited about one she uses for Spanish vocabulary, Chemistry terms, and Anne Frank vocabulary for english class. She said she made a movie using her iPad, along with a VBS computer (a virtual smart book). She uses Hopscotch for beginners, an app that explains basic coding for computers. An app called Elements allows Hannah to use elements from the periodic table to build molecules. Tickle is another beginner computer programming app she enjoys. Babbel is a fun app for learning a foreign language. Udacity offers training in HTML and My Basic is an introduction to the BASIC computer programming language. Hannah next dem- onstrated a program she wrote for calculating the area of a triangle. Her love of computer pro- gramming was obvious in all that she showed us.
Hannah then ran a slide show from her iPad to illustrate her experience at the Tech-Trek week at PLU. She explained that AAUW introduced a group of 7th grade girls to the STEM program so as to encourage girls in the direction of the sciences today. From arriving at the PLU sign-in to her introduction to a real dorm room, Hannah had some fun pictures. She explained that her core class, C.S.I. was 6 hours long. On the last day the students were also able to take some other "little classes". Hannah's class was making a lung using balloons. They also had a Career Night where they were paired with professional women. Hannah's favorite was a woman who worked at X-box where she explained how she designed a game layout. At the end of the STEM program week, parents arrived to get an introduction to what they had learned.
Hannah said, "Tech trek helped me to see what I really wanted to do. This year at Coupeville High School I will learn about Robotics and engineering. I want to also do some CSI, but that will be later." She expressed her great appreciation for getting the iPad and the gift certificate at the iTunes store, as well as the help she got from Robert. "I did not know I could learn that much," she said. "Thank you. You made my day!"
After a big applause, she brought up her co-STEM student, Amara Fulton, to help answer ques- tions from the MAGIC group.
Q: How long was the Tech-Trek at PLU?
A: It lasted a whole week at the college.
Q: Amara, what did you focus on at Tech-Trek?
A: My core class was epidemiology. I didn't really know what it meant, but I liked the word. It is like a disease detective. I actually think it is something I might be interested in. I am studying biology eventually to learn more about epidemiology.
Q: Hannah, what programming languages are you learning?
A: HTML, and I want to work up to Java C++, and BASIC
Q: If MAGIC does this again for AAUW Tech-Trek girls, what can we do better; or what did you like? A: Both girls answered, "Keep it a secret " They loved the fact that MAGIC told the parents they were going to get an iPad, but the parents were not to tell their daughters. It was a great secret
SECOND PRESENTATION - iPhoto 9.6.1 vs. Photos by Robert Elphick
If you have OS-X 10.10.4 (The latest version of Yosemite) the only version of iPhoto that will still work is 9.6.1. If you still have an earlier version of iPhoto it will not work with the latest Yosemite, but you can get it from us.
Apple will never update iPhoto again. Apple has now gone to a program called Photos, which makes some people pretty unhappy. In iPhoto we got used to having Events. You can set up Albums, and put whatever you want into them. In Photos you no longer can get new events. You can only import your old Events from iPhoto into Photos. So far you can not make any new events.
You can use an external editor in iPhoto. In iPhoto Preferences, under the Advanced tab, under Edit Photos, you can choose any application you want to use for editing, or you can select iPhoto as your default.
Robert next went through all the iPhoto editing tools: Rotate, Enhance, Fix red-eye, Straighten, Crop, and Retouch. More advanced techniques are under Effects, where you can change the brightness and warmth, or change color to B&W, sepia, matte, etc. The most sophisticated edit- ing is done under Adjust. The 3 color histogram allows you to move three sliders. Or you can move sliders below next to Exposure, Contrast and/or Saturation. You can also work with Defini- tion, Highlights, Shadows, Sharpness and De-noise. Temperature and Tint are the last two slid- ers you can work with.
In iPhoto you can arrange photos also by Place. Robert says he suspects that this ability will eventually be available in Photos, but as of now it's not allowed.
In Photos you can't choose to work with another photo editor within that program, or work on a section of your photo. Key words is a good management tool in iPhoto. People have been telling Apple what they think about the newer Photos. It is hoped in the future that Apple will take some of the users' suggestions.
Upon first opening Photos, you need to choose an existing iPhoto library for conversion to Photos Library.
Photos in this program are all listed by date.
I sometimes like to list my photos by title, but in Photos you can't do this.
You have a group called PHOTOS , but you can't order them alphabetically, for instance.
A work-around for this is to create Albums and put selected photos in the new Album.
Using the search engine in Photos you can look for photos in which you've put a keyword, or a title.
How to make a keyword: Use your right mouse button; then you can select Get Info which gives an info box where you can add a description and add a keyword for a given photo.
Editing in Photos: you will see some functions familiar to those who are familiar with iPhoto. The problem is that you cannot use an outside editor (like Photoshop, Acorn, Graphic Converter, PixelMator, etc.) although Apple says that in a next version they may allow this
Both iPhoto and Photos have the ability to recognize faces.
Moving from iPhoto to the Photos: the new program will keep the old titles and keywords.
HINT: Before moving to the new application, make a copy of your iPhoto Library, because once you change to Photos, you will be able to view photos from iPhoto but you will no longer be able to edit these photos. Warning: going backwards from Photos to iPhoto is tricky so be sure you've saved a copy of your old iPhoto library that is untouched by Photos.
All the buttons are in different places in both versions.
A new TRICK: hitting the green button in the upper left corner, the picture uses the whole screen so the dock becomes invisible and the menubar is invisible (unless you mouse-over the top or bottom where those menus are). This gives you more "real estate" to work on. This trick is true for ALL applications
The editing functions are Enhanced, Rotate, Crop and Straighten (which are now together), Color and Tone, Adjustments (in light, color, black and white); or by clicking on ADD you can get the old histo- gram back, as well as Sharpen, Definition and Dignette, Levels is another graph you can get under ADD. Click on the bandaid icon for Retouching, which Robert demonstrated by "erasing" a small white mark on the cement wall. (BTW, you get out of the big screen by hitting "esc" on the keyboard.)
MORE QUESTIONS:
Q: On Photos, if I name a picture and then import into iPhoto the file name goes with it. In Photos the file name doesn't show up.
A: There should be an option to show the file name.
Q: How do you take your pictures from Photos and burn them on a DVD?
A: Select a group of pictures. You can share these to various places such as FaceBook, or you can place them, for instance, in a folder on your desktop, just for demonstration. Go to File->Export and export them to a folder where you can do the BURN. Robert exported several photos to a folder on the desktop. His folder has a BURN icon on the top of the folder. (If you do not have the Burn icon in the tool bar of the Finder windows, you can add it by selecting the menu FINDER->View->Customize Toolbar and then dragging it up to the toolbar.) Once you have all your photos you want to burn in this folder, you hit BURN and it should do the job.
Robert gave a brief tour of the few items under Photos->Preferences.
In iPhoto you can arrange photos also by Place. He suspects that this ability will eventually be available in Photos, but as of now it's not allowed.
The meeting was adjourned around 6:00.
Respectfully submitted, Penny Holland, Secretary.
---
MAGIC Moments
Central Whidbey Nonprofit Fair
The fair will be held at Coupeville Farmers' Market, Saturday, September 19 from 10 a.m. to 2 p.m. The fair is coordinator by Molly Hughes. The board reviewed last year's activity and agreed to do similar activities this year:
A raffle for a prize of one free class of the winner's choice, a member signup list.
Sign up new members on the spot.
Answer questions from the public.
There is a strong wifi signal from the library which we will take advantage of.
All members are invited to come visit our stall.
AAUW Tech Trek
Some of the Board members have been invited to attend a Meeting of the AAUW where they will meet with students who have won a place in the Tech Trek program designed to encourage girls to study Science, Technology, Engineering, and Maths (STEM) at Collage/University. The meeting will be on September 12, and so we hope to report on it at the next MAGIC meeting.
Software Updates
Note: This Software Update section of the newsletter lists the most relevant Apple updates. Not all updates are listed for all products. Additionally, I'll add other pertinent updates on occasion.
Pro Video Formats 2.0.2
from Apple.com
This Pro Video Formats update is only for:
Final Cut Pro 7.0 or later
Compressor 3.5 or later
Motion 4.0 or later
If you do not use these then this update is nor required.

This update includes support for the following professional video codecs:
Apple Intermediate Codec
Apple ProRes
AVC-Intra
DVCPRO HD
HDV
XDCAM EX / HD / HD422
MPEG IMX
Uncompressed 4:2:2
This update also adds the following MXF support:
Native import, edit, and share of MXF files with Final Cut Pro X and Motion
MXF share presets for Compressor
MXF OP1a export
Post Date: Sep 3, 2015
File Size: 4.2 MB

---
Security Update 2015-006 Mavericks
from Apple
Security Update 2015-006 is recommended for all users and improves the security of OS X.
For detailed information about the security content of this update, please visit: http://support.apple.com/kb/HT1222.
See this article for details on how to verify the authenticity of this download.
Post Date: Aug 13, 2015
File Size: 257.2 MB
Macintosh News, Information and Stories
Time Machine Backs Up Your Mac!
by Don Mayer, smalldog.com
Time Machine has been a feature of Mac OS X for so long that I do not know how we ever did backups without it. It keeps a copy of all your files and updates it automatically. It remembers how your system looked on any given day so you can "go back in time" to see your Mac as it appeared in the past.
Setting up Time Machine
You need to select a backup destination before you can use Time Machine. You can choose one of these:
an external drive connected to a USB, FireWire or ThunderBolt port on your Mac
an AirPort Time Capsule or OS X Server on your network
an external drive connected to the USB port of an AirPort Extreme
Time Machine will keep hourly backups for the past 24 hours, daily backups for the past month and weekly backups. The oldest backups are deleted as your drive gets full.

Using Time Machine with an External Drive

This is the simplest way to use Time Machine. Plug that 1TB drive that is on sale this week into the USB port on your Mac. If you haven't already specified a backup device, Time Machine will ask you if you want to use that drive when you connect a blank drive to your Mac.
Click "Use as Backup Disk" to select that drive
You can choose to encrypt you backups if you want to prevent other users from accessing your data without a password. But a word of caution, if you do encrypt your data and forget your password you will not like it.
Using Time Machine with an AirPort Time Capsule or AirPort Extreme with attached Drive
Once you have your Time Capsule configured on your network you can set it up to select as the backup device for Time Machine. Here's the steps to get started:
Open Time Machine preferences an click Select Backup Disk
Select the AirPort Time Capsule (or the drive attached to your AirPort Extreme) from the page that comes up
You again have the option of encryption
Backing Up (beep, beep ,beep)
Backing up begins automatically when your Time Machine drive is available. Your first backup will take a while, especially if you are doing it wirelessly with a Time Capsule. It does not interfere with your use of your Mac but you'll want to give it a few hours for the first backup. If you are using the AirPort Time Capsule you will find that it goes a lot faster if your connect an Ethernet cable between your Mac and one of the Ethernet ports on the Time Capsule.
Once the first backup is complete, Time Machine automatically backs up files that have changed on your Mac since the last backup was performed. You can check the status of your backup by clicking on the Time Machine icon in the menu bar.
You can also manually start a backup by selecting "Back up Now" from the Time Machine menu bar item. If you hold down the Option key when selecting this menu you will also see additional items such as verifying the backup disk or switching to a different disk.
Restoring
With Time Machine, you can go "back in time" to restore files, versions of files or the entire system. If you accidentally deleted a photo you can enter Time Machine, imagine you are H.G. Wells, and grab it from the past and restore it to the present.
Using the timeline on the right side of the window will allow you to reach back to a certain point in time. The timeline shows all the times of your backups on the drive. If you don't know exactly when you deleted that photo you can use the back arrow to tell Time Machine to travel through time to show you when that folder last changed.
You can also search for a file using a Finder window. From the Finder, enter Time Machine and then enter a search term in the search field. Use the back arrow to have Time Machine search through your backups.
To restore a file, select the file or folder and click the "Restore" button. If you are not sure if you are restoring the right file, you can use Quick Look to preview the contents. Highlight the file and press the Space Bar to take a closer look.
You can also revert to earlier versions of a document from within apps. In those apps that support this feature, open a file that you want to revert and you can either:
Choose Enter Time Machine for the Time Machine Menu
Choose File->Revert to->Browse all Versions
Click the Time Machine icon in the Dock
Restoring your Whole Mac
If you lost your Mac or like Grace left it someplace and you want to restore your whole life to another Mac you can do that by using Migration Assistant. A new Mac will ask you how you want to transfer data or you can launch Migration Assistant. Then you will be prompted to select a Time Machine Backup and whether you want everything or just apps, etc.
As long as you keep storage attached wirelessly or by direct USB connection to your Mac, Time Machine can be a real lifesaver without any attention from you unless you need something from the past.
---
Apple Hires Senior Tesla Engineer for Top Secret Automobile Project
from idropnews.com
Rumors of an 'Apple Car' dominated the internet early this year. The Wall Street Journal reported in February that Apple CEO Tim Cook had assigned several hundred employees to develop, design, and build an Apple-branded electric car. The project, codenamed 'Titan', now employs almost 50 former Tesla employees, and former Ford engineer Steve Zadesky and former CEO of the Mercedes Benz Research and Development team Johann Jungwirth now call Apple home. Although talk of the 'Apple Car' has died down a bit, Reuters recently reported that former Tesla engineer Jamie Carlson has recently jumped ship to Apple, likely to work on the Titan project.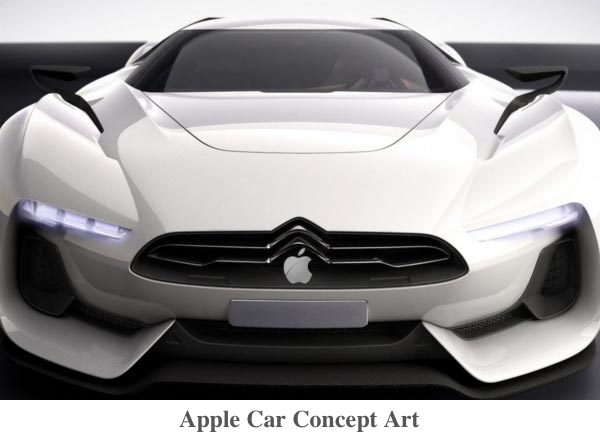 Carlson, a former senior engineer for the electric car manufacturer, worked extensively on Tesla's Autopilot self-driving car program. Reuters reported that Carlson's LinkedIn profile revealed that he recently left Tesla for an "unnamed position" in a "special projects group". The report also claims that "at least six others with experience developing self-driving technology and systems have joined Apple," as well. The seven join other notable recently hired employees, such as Paul Furgale, former deputy director of the Autonomous Systems Lab at the Swiss Federal Institute of Technology, and Sanjai Massey, "an engineer with experience in developing connected and automated vehicles at Ford."
While it's still unclear what Apple plans to do with this team of experienced auto engineers, it seems unlikely that such a prestigious group would be assembled to bolster CarPlay technology. No one is quite sure what 'Project Titan' is - whether it's an Apple developed vehicle or simply an autonomous driving platform that could be sold to other automakers - it's certain to be impressive.
---
Photos Duplicate Annihilator
from Brattoo.com
iPhoto and Aperture are out, Photos is here.
In Mac OSX 10.10.3 Apple dropped iPhoto and Aperture and introduced Photos. We were first on the ball and just five days after the first developer preview of Photos we released Duplicate Annihilator for Photos.
For a limited period of time we offer a discounted upgrade program to this new version of Duplicate Annihilator.
Duplicate Annihilator still going strong
So Apple have given up on iPhoto and Aperture in favor of Photos. But don't you worry. We will not forget about you guys still using those applications so we are still developing and improving Duplicate Annihilator for iPhoto and Duplicate Annihilator for Aperture. And in case you have missed it; we also have Duplicate Annihilator for iOS devices such as iPads and iPhones.
While Duplicate Annihilator is our best seller we also have some new photo related applications that you might like.
---
The Hidden Editing Power of Photos for OS X
by Jeff Carlson, macworld.com
Photos for OS X is designed to appeal to a broad audience, with simple editing tools that let anyone improve their photographs. But is that it? Even though it's a 1.0 product (replacing iPhoto and Aperture), a lot of editing power is actually hidden beneath that user-friendly surface.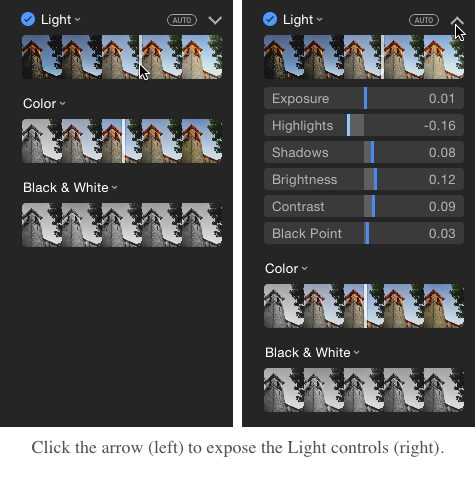 For example, when you edit a photo and click the Adjust button, you're presented with sliders for improving light and color. Dragging a slider makes the image brighter or darker (Light), or more or less saturated (Color); you can also click the Auto button that appears when the mouse pointer moves over the tool. Clicking the down-facing arrow icon, however, exposes individual controls.
That's just the beginning.
Jump into editing To access the editing view, normally you click the Edit button when viewing an image, but there's a better way: simply press the Return key. This shortcut also works in the Moments view when a photo is selected.
Shortcuts also go directly to specific tools, even if you're not yet in the editing view. Press C to open the Crop tool, F for filters, A for the Adjust tool, R for the Retouch tool, and E for the Red-eye tool. While you're editing, press the arrow keys to switch to the previous or next photo without leaving the editing view.
To compare your edits to the original version of the photo, press the M key for a quick before-and-after.
---
How to use the Retouch tool in Photos for Mac
by Lesa Snider, Macworld
There's nothing wrong with a little vanity. After all, sometimes a perfectly good portrait is marred by small yet annoying stuff like a zit, makeup smudge, or a stray hairs. Or maybe you captured an object in the frame you wish you hadn't, or you scanned the image and introduced dust specks, or perhaps your camera's sensor is a little dirty. Happily, the Retouch tool in Photos for OS X can come to your rescue (it's not available in Photos for iOS). As you're about to learn, Photos' Retouch tool is more powerful than the one in iPhoto.
How to use the Retouch tool
The Retouch tool works by copying pixels from one area of your photo to another and then blending them (blurring, really) into the pixels you click or drag atop. To use it, select an image in Photos and then press Return to enter Edit mode, or press the Edit button in the upper-right of the toolbar. Use the Zoom slider at the upper-left to zoom into the image and, if necessary, drag while holding down the spacebar to reposition the image so you can see the thing you're about to remove.
Activate the Retouch tool by clicking it or by pressing the R key on your keyboard. When you do, your cursor turns into a black circular outline rimmed with white, so you can always see the circle atop dark or light colors in your image. Adjust the brush cursor size so it's slightly larger than the item you want to remove. Use the Size slider at right or your keyboard: tap [ (the left bracket key) to make the cursor smaller, or tap ] (the right bracket key) to make it bigger. Next, choose from one of the following two methods to send the offending item packin'.
iPhones, iPods, iPads, AppleTV and AppleWatch
iPhone 6s Official Details Announced – 3D Touch, Live Photos, and More
from idrop-news.com

The guys at Apple were serious when they hinted the iPhone 6s wasn't going to be a traditional "s" upgrade. The iPhone 6s features multiple new innovative features that make the old iPhone 6 feel like it should be placed in a history book.
Just like we predicted, the iPhone 6s will be constructed out of 7000 series aluminum, which is almost three times stronger than the metal used on the iPhone 6. The glass touch screen is also getting beefier. The new dual-ion exchange manufacturing process ensures your iPhone's display will survive more severe falls. The star of the iPhone 6s show was undoubtedly the Force Touch Display, which was renamed 3D Touch for its release. The 3D Touch screen uses advanced technology to determine how hard you are pressing on the screen. A soft press will let you peek into an application to get a quick view of what's happening inside. Releasing your finger will make the peek view disappear. Pressing harder will open the application up in full view. For example within the Mail application, applying light pressure will peek into an email. Doing this won't mark the email read, saving you time if you wish to read the email later. The Taptic Engine built inside the phone will give you short feedback, or "taps", letting you know exactly how hard you're pressing on the screen. This type of feedback ultimately gives you more insight that will help avoid any accidental hard presses. Other innovative uses for 3D Touch are available directly from the home screen. For example, hard pressing on the Facebook application will bring up a quick menu allowing you to directly post a status update and more. On Instagram you can peek into users' profiles without actually opening up their profile, allowing you to instantaneously check if that profile catches your interest. Unbelievable performance upgrades are implemented into the iPhone 6s as well. The new A9 processor is guilty of pushing the smartphone to improve graphics performance over its predecessor by 90%. This new processor will create amazingly immersive gameplay visuals including more AI elements, more destructible objects, real time focus blur, and of course, more explosions. All of these intense graphical experiences run at an impressive 60 frames per second. The constantly improving virtual assistant, Siri, will now work even when your iPhone is not plugged in. A great example of this feature's usefulness is taking a shower. Imagine getting a phone call and asking Siri to answer it on speakerphone without ever getting your device wet. Just say "Hey Siri" and let her do the rest. Another useful upgrade includes an enhanced 2nd generation Touch ID sensor. The second-generation fingerprint scanner promises to be much quicker and more accurate than the previous version, saving iPhone owners occasional frustration. One of the most interesting new features available on iPhone 6s are "Live Photos". This feature is turned on automatically for all your photos. With a tap of the screen you will see your photos come to life. Live Photos are essentially a very short video, but when seen in action, they truly are immersive. Live Photos will be compatible with iPad, MacBook, and can even be set as your Apple Watch wallpaper. The last two improvements found on the iPhone 6s can be located on the front and the back of the device. The old 8MP camera has been replaced with the popularly rumored 12-megapixel iSight camera. New technology, called "deep trench isolation", separates photo diodes to maintain precise colors and ultimately better photos. The iPhone's new camera is also better at determining natural light versus artificial light for appropriate exposure settings and even more accurate color. Those accurate colors are going to come in handy while you're snapping away selfies on the new front-facing camera with True-Tone flash, capable of producing bright and vivid self-portraits. Pick up your iPhone 6s in Gold, Silver, Space Gray, or Rose Gold later this month on September 25th.

Article with images and video.
---
The iPad Pro Has Been Revealed and It's Even Cooler than We Expected
from idrop-news.com
As expected, Apple debuted several new iPad models at today's "Hey Siri" event – one of which many users weren't entirely sure if they would see at the event.
After debuting Watch OS 2 and several new looks for the Apple Watch, Apple CEO Tim Cook moved on to introduce one of the most exciting products unveiled at the event, "the biggest news for the iPad since the iPad" – the iPad Pro.

Apple's senior vice president of worldwide marketing Phil Schiller introduced the brand new 12.9-inch iPad Pro at the event. Almost as thin as the iPad air, and almost as light as the original iPad, the iPad Pro is an impressive device.
With a 2,732 x 2,048 resolution, the iPad Pro features a more incredible and detailed display than any other iOS device. The device features an A9X chip, which will run 1.8x faster than Apple's previous A8X chip, and 22x faster than the chip in the original iPad. The device features incredible graphics performance – 2x faster than before with the A8X chip, and a mind-blowing 360x faster than the original iPad.
Schiller claims that that the iPad Pro runs faster than 80% of portable computers that were shipped in the last 12 months. The iPad Pro also features an impressive 10-hour battery life, and sports a newly-designed 4-speaker audio system.
Schiller also demoed a new "smart" physical keyboard for the iPad Pro. The keyboard is covered in an "Apple-woven" fabric, and Schiller noted the great feel of the keys. The keyboard connects to the iPad Pro via a new, 3-pin magnetic "smart" connector on the side of the device, which is capable of transmitting both power and data.
Schiller then introduced Kirk Koenisgbaur of Microsoft, Eric Snowden of Adobe, and Irene Walsh of 3D4Medical to demo several new apps on the device. Koenisgbaur showed several new features in the Microsoft Office suite, and demoed how well the apps work together while multitasking. Snowden also showcased the multitasking, using several new apps to build a magazine layout in Adobe Comp.
The demo also featured an impressive new photo retouching app called Photoshop Fix, as well as a drawing and sketching app called Sketch that heavily used the new Apple Pencil tool, available for the iPad Pro. Irene Walsh of 3D4Medical rounded out the app demo, with an impressive 3D anatomy tool used to enhance communication between doctors and their patients.
The iPad Pro will be available in November in three colors – Silver, Gold, and Space Grey. The 32GB model will be available for $799, 64GB for $949, and 128GB for $1079, with cellular data included in the latter. The "smart" keyboard accessory will be available for $169, and the Apple Pencil stylus will be $99.
---
New Apple TV will boast a touchpad remote, iOS 9, Siri support, and App Store
by Oscar Raymundo macworld.com
Details about the next-gen Apple TV shed light on major hardware and software updates.
If the rumors prove true, Apple is ready to introduce the next-generation Apple TV set-top box during the iPhone event happening on September 9, and we've just got the latest details on how this new Apple TV will work.
According to 9to5Mac, Apple TV is getting very significant hardware and software updates this time around. Apple TV will run a better operating system—an optimized version of iOS 9—that will pave the way for an Apple TV SDK and App Store. The report also claims that the Apple TV interface has also been redesigned to match the iOS 9 look and feel. Originally slated to debut during WWDC in June, the new iOS 9-powered Apple TV had to be pushed back so that it wouldn't be too taxing on Apple's iOS 9 engineers, according to 9to5Mac.
In addition, the new Apple TV will have more storage, going from 8GB of flash storage to possibly 32GB, as well as a faster dual-core processor. Apple is not expected to announce a live TV service in conjunction with this next-gen Apple TV device. That service has been reportedly delayed until 2016.
Why this matters: Apple TV has been long overdue for a refresh—it hasn't been updated since 2012. Despite that, Apple TV has recently become the leading set-top box for paid TV streaming, surpassing Roku, Xbox, and PlayStation, according to data compiled by Adobe Digital Index.
This popularity means that TV app developers are prone to want to build an app for Apple devices first. Now that these apps can be built specifically for the new Apple TV and downloaded instantly via its own dedicated App Store, it expands the range of possibilities of what the Apple TV can be. Some speculate that developers might even release gaming apps on Apple TV, making the set-top box a bridge between mobile and console gaming, although that didn't work out so great for the Fire TV.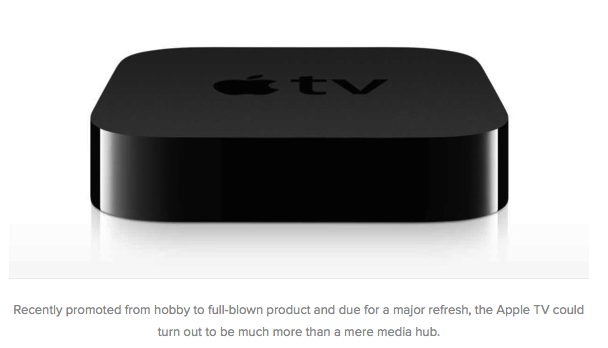 Touchpad remote control
Perhaps the most noticeable hardware update to the Apple TV will be the touchpad remote. According to 9to5Mac, the new remote will be larger, with more buttons that will likely be touch-sensitive. It's unclear whether Force Touch, the feature rumored to be coming to the iPhone 6s, will also be a part of these new Apple TV remote controls.
Files found by 9to5Mac in the El Capitan developer beta indicated that this touchpad remote control would include both Bluetooth and an infrared sensor to boost connectivity and compatibility with non-Bluetooth devices. Apple might also give developers access to the touchpad control in the Apple TV SDK and utilize it for gaming. These El Capitan files also suggested the integration of audio technology in the touchpad control. These audio capabilities could be for a small speaker built-in to the remote control, an audio jack to hook up headphones like the Roku 3 has, and/or a built-in microphone for Siri support.
Siri and search support
If the rumors prove true, you will soon have another way to control Apple TV: your voice. The next-gen device is reportedly incorporating Siri to let viewers speak and search what they want to watch or launch a certain app.
The new Apple TV will also let users search for content system-wide, according to 9to5Mac. A new feature in iOS 9, proactive search on Apple TV would surface results for a movie across different apps like Netflix, iTunes, HBO Now, etc—this is one of the best features of Amazon's Fire TV box. This proactive search feature could be delayed, however, until the Apple TV App Store boasts more apps.
---
Mozilla releases first public Firefox for iOS preview
by Zach Miners, IDG News Service
The company has begun testing a preview version in New Zealand.
Mozilla hopes to have its version of Firefox for iOS devices out by year's end as part of its push to grow its share of mobile traffic.
Mozilla already offers Firefox on Android, but the OS makes up just a sliver of total Web traffic on mobile, easily surpassed by Google's Chrome browser and Apple's Safari, according to data from StatCounter.
Overall usage of Firefox across desktop and mobile has fallen in recent years, according to Web analytics company W3Counter.
Creating a version of Firefox for iOS has required Mozilla to retool its back end because Apple's App Store only allows browsers that are built atop Apple's rendering and JavaScript engines.
But Mozilla appears to be making progress. On Thursday, the company said it was rolling out the first public preview version of the browser for iOS in New Zealand. It plans to extend availability to a few more countries soon.
Feedback from the preview release will help Mozilla build new features and launch Firefox for iOS in the rest of the world later this year, the company said in a blog post on Thursday.
For the iOS release, one of the features Mozilla is testing is Firefox Accounts. It will let users take their Firefox browser history, passwords and tabs from the desktop to iOS devices.
---
The perfect Siri 2.0 needs to be ready for Apple TV and third-party apps
by Dan Moren, Macworld
If Apple's typically cryptic invitation to its upcoming media event is any indication, come September 9 we're going to be talking about some improvements to Siri, the intelligent assistant that's been a marquis feature of the iPhone since the introduction of the iPhone 4s back in October 2011.
While Siri has, for better or worse, become part of the zeitgeist, its improvements over the last several years have been largely subtle, focused mainly on refining its existing capabilities. While each year has brought a few additional things to ask Siri about, we've yet to see a real push for what you might think of as a "Siri 2.0." So, what might Apple have in store for the intelligent agent?
Smart is as smart does
Siri got relatively little stage time during Apple's keynote at June's Worldwide Developers Conference. Mainly, it got mentioned as the intelligence powering the new Proactive features in iOS 9 (which are also, to a certain extent, used by El Capitan's souped-up Spotlight, but little was said about Siri itself).
While I still really like Siri, there's still plenty of improvement to be made. Too often it seems as though there are questions the assistant should be able to answer—questions, frankly, that a real, human assistant would certainly have at their fingertips—that Siri seems clueless about, particularly when it comes to context. For example, if I ask Siri "What's on TV tonight?"—admittedly a bit of an antiquated query in this day and age of streaming—it kicks me to a Google search. But it also can't tell me when the fourth season of Arrow premieres. (October 7, if you're anticipating it as I am.) "Can you book me a flight to San Francisco?" yields similarly unhelpful results, as does "Play this movie on my Apple TV."
Top of the list for Siri improvements, however, has long been integration with third-party apps. To date, Apple's taken a cautious approach of integrating it with only certain, handpicked partners, but starting with iOS 9, there's movement for the first time in broader support. Using an API announced at WWDC, developers will be able to let users, for example, trigger Siri to remind them about something in your app—say, for example, a restaurant you were looking at in Yelp. You still won't be able to tell Siri to check the weather in your favorite weather app, or send a message via Snapchat, though.
I enjoy Siri's quips about Apple event hints and dividing zero by zero as much as the next person, but I'll take utility over entertainment any day of the week. And with competition like Google Now, Cortana, and the Amazon Echo, Apple can't necessarily afford to let Siri lie stagnant. Hey, Apple TV
Fortunately, it seems like Apple is indeed pushing forward with the voice-based assistant—or, at least, moving laterally. Rumor has it that the new Apple TV set-top box, which is widely expected to make an appearance at the September 9 event, will feature Siri as a core component. But what's even more promising are the whispers that it will exceed the mere voice-search capabilities sported by Amazon's Fire TV. That's an exciting possibility that might for the first time take Siri beyond simply being part of your iOS device.
According to a report in 9to5Mac, Apple's new set-top box will feature "near-universal Siri control," which sounds much closer to what Microsoft's attempted with the Kinect. I'll admit it: I'm intrigued. Being able to say "Hey Siri, show me what's on my Hulu watchlist" feels a lot more seamless than navigating through levels of hierarchical menus—and about 100 percent more Star Trek-ish. BuzzFeed is also reporting that Siri will even be able to perform a universal search across video providers, which, if true, would be a huge improvement over the current Apple TV.
But my biggest question remains: Will you be able to trigger Siri with just your voice, à la the Amazon Echo, or will it require a button press, like the Fire TV? I can see that letting Siri listen away might be problematic—my Amazon Echo occasionally triggers when it overhears me watching TV—but it would certainly be handy to be able to say "Hey Siri, pause" instead of fumbling for the remote. But given the microphone set up Apple would need to build into the Apple TV to make always-on-listening work, I'm guessing a press-and-hold approach on the remote is what they'll go for.
Intelligent agent of change
Even with all the improvements to Siri that we'll see in iOS 9, the Apple TV, and beyond, we've still got a long ways to go before the level of intelligence in Siri is anywhere near the kind of computers we see in TV and the movies, much less anything approaching human intelligence.
Progress, though, is being made—it's just not necessarily at Apple. A Silicon Valley startup called Viv Labs, founded by a handful of folks who helped create Siri, is aiming to take the voice-based intelligent agent to the next level, creating a system that not only responds to your requests, but also learns without human intervention and is able to synthesize its own connections.
If Apple is truly invested in a future for Siri, it'll be keeping a close eye on what Viv is doing. These aren't the kind of improvements that will appear at next week's Apple event—or event at next year's—but they are the ones that stand to completely change exactly how we interact with technology.
Click here for article with images.
---
5 iMessage Tips You Didn't Know Exist
from iDropnews.com
If you have an iPhone, chances are that you use Apple's messaging feature called iMessage. If you want to master iMessage then you've come to the right place. Learn how to become a faster and more efficient texter by using iOS features that might not always be obvious. Here we review all of the best iMessaging tips that you didn't know about.
---
Will Apple's Ad Blocking Technology Ruin the Free Web
from iDrop-News.com
Advertisements are one of the key techniques that websites use to sustain themselves. From banner ads to pop-ups, you can't visit an informative website without seeing at least one ad.
Facebook has gone so far as to tailor ads to you based on your browsing history. Even social media services like Twitter and Instagram feature 'Sponsored' ads selectively placed in your feeds. And that's because ads make money, but they also keep those services free. This is why many people are up in arms about Apple's new mobile ad blocking feature in iOS 9.
This could be a huge blow to the advertising industry, which currently rakes in around $70 billion. But analyst Andrew Frank told International Business Times that he suspects, "we'll see the industry adjust to try to circumvent ad-blocking technology." This could happen in a number of ways. From circumventing blacklists to placing ad content on their own servers, there are different ways in which publishers and advertisers can get around Safari's ad blocking extensions.
Apple isn't the only big company in the fight against pesky advertisements, either. Google announced on September 1st that will start blocking ads that use Adobe's Flash software in their widely used Chrome internet browser. Ad blocking, though, isn't exactly a new technology. It has been readily available on most internet browsers from some time.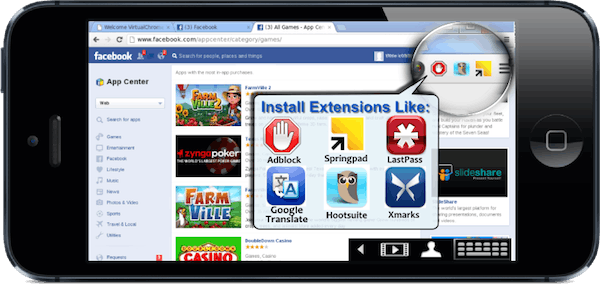 According to source Tech Times, ad blockers have a "small following of around six percent of global Internet users." Some of the more popular ad blockers you may have heard of include Adblock Plus, Adguard, NoAds, Google Ad Blocker, and more, most of which are free to download.
The good news for advertisers is that there are ways around ad-blockers. For instance, popular ad blocking software Adblock Plus added a white-list function to their 2.0 version, "whereby content providers can add their sites to a list for which the software will allow ads."
However, many sources have noted that most users don't consider the benefit of advertisements. For one, ads pay for the content they can easily view on their laptop or mobile device at no cost to them. Eric Franchi of Undertone noted that, "Consumers don't realize that advertising funds the content that they enjoy for free."
Regardless, mobile users will see a decrease in disruptive advertisements once Apple's changes are in place. But Forbes contributor Robert Hof reminds us that in-app ads will not be blocked by this new extension, especially considering that these in-app ads are where Apple makes good money.
MAGIC Humor
by Penny Holland*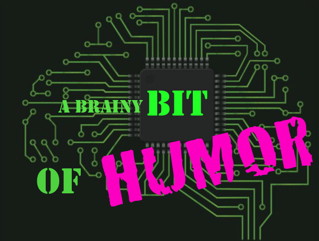 Cats and Computers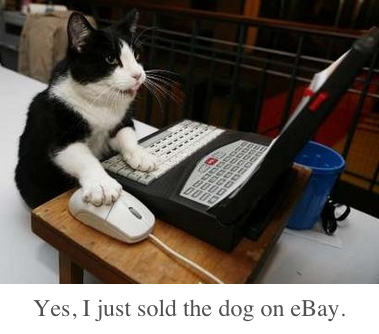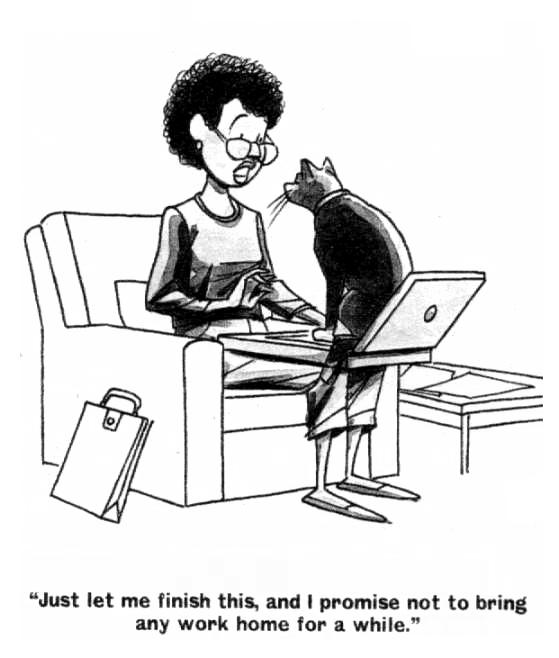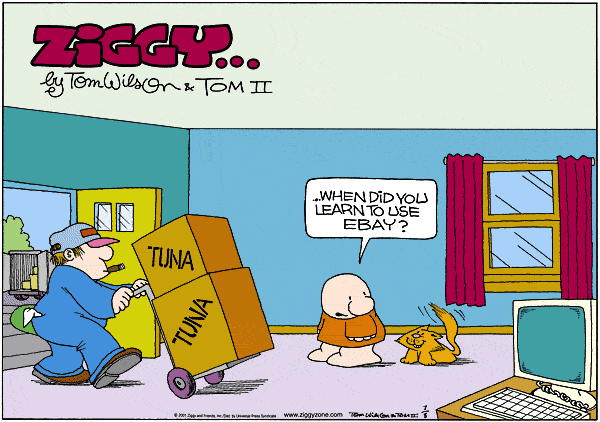 Facebook explained
For those of the older generation who do not really comprehend why Facebook exists:
Presently, I am trying to make friends outside of Facebook while applying the same principles.
Therefore, every day I stand on the street corner and tell passers-by what I have eaten, how I feel, what I have done the night before and what I will do tomorrow.
Then, I give them pictures of my family, my dog and me gardening and spending time in my pool.
I also listen to their conversations and I tell them that I love them.
And it works!
I already have 3 persons following me: 2 police officers and a psychiatrist.
---
Penny Holland has volunteered to be the newsletter's humor editor. We hope to tickle your funny bone on a regular basis. If you have any pictures, cartoons, or jokes that might be appropriate for this august publication, please send them to Penny at
By The Way
Sharing documents between your iPad and computer*
by Ron Sharp, MAGIC*
We finally have an iPad in the house and find it very convenient for certain things, particularly for use in the kitchen. So it seemed like a good idea to move the recipes from the computer, to the iPad. There are, as usual, several ways to go about this. And also as usual, the way you choose to do it turns out the most complicated.
Apple says you can share documents with Pages app. So I started by putting Pages on the iPad from the App store. However, I found that Pages 08 & 09 on the computer will not work for sharing documents with the iPad Pages. I used the newer Pages 5 (version 5.2.2) on the computer, thinking I'd convert my TextEdit recipes with the newer version so they can be shared. What?…wait,… this Pages app won't open TextEdit documents! (.rtf suffix for Rich Text Format) So here's what I had to do; convert all my TextEdit (.rtf) recipes to plain text (.txt). Then open each one with Pages 5.2.2, then save them as a Pages document. (And I have a lot of recipes)
I used the Terminal application to batch convert the .rtf recipes to .txt all at once. There is no Terminal command to convert text directly to Pages app that I know of. (If your recipes are in Pages 09, then you can eliminate that step.) I tried to use the Automator app for converting the .txt recipes to Pages format but gave up when my first three attempts failed and so I converted them one by one.
Now you could use iCloud, saving your Pages recipes to the cloud and then you could use your documents on all your devices. Or if you don't want to use iCloud, you connect your iPad to your computer, (usb port) open iTunes, select the iPad, select Apps, scroll down and select Pages app, then add your documents to the sharing window. But wait, you're still not done. While connected still, open Pages on the iPad and then you have to add each document one at a time to the iPad. What?.. you can sync all your music and photos, why can't you just sync all your documents too? But no, that obvious feature has not been implemented yet.
You may be able to achieve this goal with an app from the App store, but searching for the app is time consuming and there is no guarantee you'll find what you're looking for. Then be prepared to pay for the app if you do find one because the free ones subject you to more advertising and limitations than anyone can handle.
You may also have recipes that are images rather than text. So you could copy them to your Photos app and then create a folder in Photos for recipes. Then sync that folder to the iPad using iTunes. This may work well because they would all sync when connecting your iPad to the computer and any new recipe can just be added to the recipe folder in Photos. The only drawback with using images for recipes is that you can't easily change them or make notes on them.
I have to say though, using the iPad for recipes works well, and once it's set up it's pretty easy.
Now I realize a lot of readers won't even make it to the end of this article. Way too much complicated BS to deal with. So hopefully you have a techy nerd best friend that can do all this for you. But if you've just started collecting recipes in digital format, an easy way is to just photograph them with the iPad.
---
Difficulties with apps, or the "version" game*
by Ron Sharp, MAGIC
inspired by Penny Holland
Since I wrote the previous article about sharing documents, it occurred to me to elucidate on the difficulties of applications. I'll start by repeating some of the points I made in that article about Pages.
For me it started way back with Clarisworks, if anybody remembers that word processing application. Then Apple created Pages in 2005, later updating it to Pages 08 and all your documents had to be converted to Pages. Then came Pages 09 (which is version 4), now Pages 5 (version 5.2.2).
All these versions would open one previous version, but if you skipped a version you had problems converting. I'm sure there were logical reasons for the limitations but it seems like any new version should be able to not only convert documents from all previous versions but should have a feature to batch convert a whole group of documents.
And to complicate things, if you had more than one version of Pages on your computer, when you clicked a document to open, you wouldn't know which version opened it.
At any rate much of the updating came about because of the move towards mobile. The applications had to be rewritten to work on the mobile devices and therefore the desktop versions had to change to be compatible with the mobile versions. A similar scenario occurred for many other applications, particularly iPhoto and Photos. Many of the features we learned in the full applications of our desktop computers, which could manipulate documents in more ways than we could imagine, were left out of the new apps. The mobile devices; iPhone, iPad and iPod Touch, had to have compact applications that didn't hog digital space or processor energy. So as those apps developed and mobile devices improved, the apps for our desktop and laptop computers had to change in order to make sharing documents between devices possible.
But now that mobile devices have been around a while don't expect the rate of updates to slow. Improvements and changes in hardware and software will continue. The rate of change in technology is not linear but exponential. In fact the popular author Raymond Kurzweil says that in the next 100 years we'll experience 20,000 years of progress at the current rate. Yikes! But I'd like to think that means that our apps will update and convert whatever needs to be converted so seamlessly that we are hardly aware of it. Everything just works.
---
MAGIC, the Macintosh Appreciation Group of Island County, serves people who use Macintosh computers, software and peripherals. Our goal is to share information and get answers to questions to make us more productive with our use of technology. Our monthly meetings give us a chance to discuss computer problems and share ideas with other Mac users, feature speakers on specific topics, and to keep apprised of Apple news.