Newsletter
January 2016
Newsletter Editor:
In This Issue:
MAGIC MUG News
Software Updates
News, Information and Stories (OS-X)
iPhones, iPods, iPads, Apple TV and AppleWatch (iOS)
By The Way
* Indicates author is a member of MAGIC
---
Meeting information
Day:
The 3rd Wednesday of the month. 20 January, 2016 this Month
Location:
Unitarian Universal Congregation of Whidbey Island (see map.)
Time:
4:00 p.m. - 6:00 p.m. with the first hour dedicated to new users and their questions.
Presentations:
• Q and A with Robert
• Mission Control, Hot Buttons, and LaunchPad with Robert
Suggested Donation:
$2 to offset room rental.
Future Meetings:
See the Meetings Page on this website.
Do not forget to bring your used ink cartridges.
MAGIC will dispose of them for you and make some change for the group.
---
Minutes of the December 16, 2015 Meeting, and Presentation Notes
The December meeting of MAGIC, our annual Holiday Party, was held at the Freeland Unitarian Congregation Meeting House from 4 to 6 PM. The room was set up with 5 double tables set up for interest groups, a table of swap/share items, a table for the Great American Novel. As people entered they were able to purchase any number of $2 raffle tickets (3/$5) for an iPad mini, free class series, as well as many goodies on the swap and share table. Another table was set with holiday goodies along with coffee, tea and punch.
There were about 26 people in attendance. People picked up a plate of food from a great spread, and sat down for a bit of casual time until Presentation VP, Prescott called the meeting to order at 4:20 and explained the evening's program. Following the Q&A session people could move between four tables of interest: Gary McIntyre- dictation/Siri, Joel Kennedy-device sharing, Ron Sharp-Photos program, and Robert Elphick-the Wizard, himself, for any question. One further table, writing the Great American Novel, was hosted by Penny Holland where people were invited to come one at a time and add to the ongoing story that involved Steve Jobs and Santa who are collaborating on a magical project—the most futuristic and amazing Mac computer ever created.With help from our own Elf Robert Elphick, what kind of misadventures will occur and what will be the results of this amazing collaboration? The results of this story by committee will be read at the next meeting or be published in the next MAGIC newsletter.
Q&A SESSION
Q: Wanting to upgrade my iPad Mini to cellular capability. Any advice?
A: You need to get a contract, for about $15 per month. I am happy with it. (NOTE: I'm not sure an iPad can be converted to cellular capability. A new one is probably required.—P.H.)
Q: Just got my iPhone and am new with Macs. How do I save the text of an email message outside of Mail?
A: Select the text in the email. (select all or Command-A) and then hit COPY (command-C) Then go to Text Edit or any word processor, open a new document and hit PASTE or (command-V).
Q: Is there a way to eliminate the step where my computer asks me for my password?
A: You can turn it off, but I recommend to not do this because if your computer gets stolen anybody can get into it. You can control how long it takes for the computer to go to sleep and ask for your password. This is defined in system Preferences under EnergySaving>Security&Privacy: you can go up to 8 hours before requiring a password.
Q: I'm having a problem of not getting the correct contact name when I start to address an email.
A: One place is to look in your Contacts and be sure your address cards are all up to date. Also go to Mail>Window>Previous Recipients. This will give you a list of all the people who have sent you an email. You will see an icon next to the names that are in this list indicating that they are also in the list of contacts. But you can delete anything in this list and it will NOT delete names from your contact. Select all of these names and then click the box at the bottom: REMOVE FROM LIST.
Q: On my MacBookPro I can put an email into a mailbox category I've created in the left column. Is that categorization available on other devices?
A: Not on the devices I know. You can't do this on an iPad or an iPhone, for instance.
Q: If you delete mail from your iPad, will it get deleted from your main computer?
A: Not if you have a POP account on your computer.
Q: Time Machine question: With Yosemite and a restart, TimeMachine would appear one color and then eventually change to another color. Now that I've upgraded to a new OS, Time Machine comes up and remains orange. It appears that the backing up happens when the icon is orange. What happens when it's green?
A: It's supposed to stay green. I suspect you have some "sludge" in your computer and if you use Onyx it will clean up your computer a bit to wipe out a lot of fonts, and other things which are put into temporary buffers and use a lot of RAM. Make sure you have the right version of Onyx.( You need the new version of Onyx for El Capitan.) Running Onyx ought to do a good job of cleaning up your Mac.
Q: Is it true that Onyx is not an Apple approved application?
A: Yes, In order to download Onyx, you first have to go to System Preferences and go to Security and Privacy. (unlock your computer) Under ALLOW APPS DOWNLOADED FROM: you need to select ANYWHERE. After you download Onyx, go back to System Preferences and select a more restrictive download.
BUSINESS MEETING
TREASURER: Gary McIntyre reported that as of today we have $6744.39 in our account.
OTHER BUSINESS: Elections are coming in January: Offices that expire January 2016 are: President, Treasurer, VP of Education, VP of Presentations, and a Director-at-Large. In addition, Director-at-Large, Bonnie Abney wrote to request that she step down a year early so we need another Director. If interested get in touch with Robert or Prescott. Look at the MAGIC website on the ABOUT page, you can see the various officers and when their office expires.
RAFFLE DRAWING: Cindy was the grand winner of the iPad; Carol chose the power strip; Bill chose the projector; Cindy chose the Jobs book; Bob chose a card reader; Madelyn chose the wireless mouse; Jay Shapiro chose the free classes; Jeannie Grisewood chose the Sony monitor; Beneway chose the camera peripheral,
A good time was had by all. The meeting was adjourned at 6:00
Respectfully submitted, Penny Holland, Secretary.
---
MAGIC Moments
New Board of Directors
The board of directors will be meeting on the 16th of January. Part of the purpose is to propose a suite of candidates to fill the positions that open at the next general meeting on January 20, 2016. These include:
President
V.P. Education
V.P. Presentations
Treasurer
Director at large
Any body wishing to put their names forward should contact us at
Essentials Class
At the December Mac Essentials classes one of the classes was postponed because of poor weather and was moved to 9 January. These classes are now complete. They will be offered again in the future but no dated have been chosen yet.
Software Updates
Note: This Software Update section of the newsletter lists the most relevant Apple updates. Not all updates are listed for all products. Additionally, I'll add other pertinent updates on occasion.
iOS 9.2 and watchOS 2.1 are available for download
by Roman Loyola, Macworld
New features and bug fixes for your iOS device and Apple Watch.
While you're pondering a purchase of Apple's new Smart Battery Case and/or the updated Lightning to SD Card Reader, you can update your mobile devices. On Tuesday, ( Dec 8) Apple released an update to iOS 9 and watchOS 2.
Developers: Apple also released Xcode 7.2, which includes Swift 2.1.1 and SDKs for the OS updates that Apple released on Tuesday. iOS 9.2
The new iOS 9.2 updates is 272MB and has several fixes and enhancements, including:
Apple Music improvements
A new Top Stories section in the News app
Mail Drop in the Mail app for sending large attachments
3D Touch support in the iBooks app
Improved stability in Safari and the Podcasts app
Several fixes and keyboard improvements
Apple also provides details of the security content of iOS 9.2. ios 9.2 update
Before updating your iOS device, back it up. To install iOS 9.1 through your device, go to Settings > Software Update and install it over the air (you can also read a complete list of what's included in the update). Or connect your device to a computer and upgrade using iTunes.
watchOS 2.1
The new watchOS 2.1 is 57.1MB and includes the following:
Support for system language in Arabic, Czech, Greek, Hebrew, Malay, Portuguese (Portugal), and Vietnamese.
Support for Right-to-Left user interface.
Fixes in the Calendar complication, Power reserve mode, and third-party app launching.
Apple also has a web page with information about the security content of watchOS 2.1.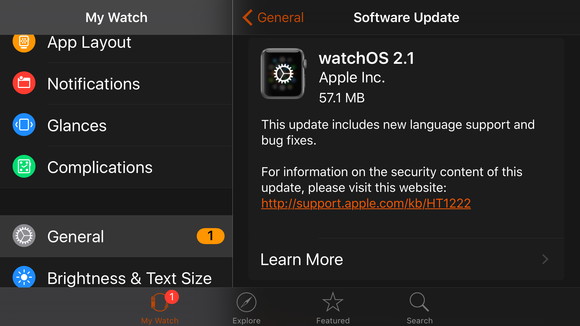 To update your Apple Watch, open the Apple Watch app on your iPhone and tap My Watch > General > Software Update. The watch must be charged to at least 50 percent, connected to its charger, and in Bluetooth range of your iPhone.
---
Apple updates OS X El Capitan to version 10.11.2
by Roman Loyola, Macworld
Improves reliability of Wi-Fi, Bluetooth, Handoff, and AirDrop, and more.
Apple on Tuesday December 8, 2015 released an update to OS X El Capitan. Version 10.11.2 of the Mac operating system includes several bug fixes and performance enhancements.
According to Apple, the update includes the following:
Improves Wi-Fi reliability
Improves the reliability of Handoff and AirDrop
Fixes an issue that may cause Bluetooth devices to disconnect
Fixes an issue that prevented Mail from deleting messages in an offline Exchange account
Fixes an issue that prevented importing photos from an iPhone to a Mac using a USB cable
Improves iCloud Photo Sharing for Live Photos
Apple also has a support page that details the security content of OS X El Capitan 10.11.2 and Security Update 2015-008.
Before installing the update, back up your Mac's data. The update is available in the App Store under Updates. You can also go to the Apple menu, select About This Mac, and click the Software Update button in the Overview window.
Developers, take note: Apple also released Xcode 7.2, which includes Swift 2.1.1 and SDKs for the OS updates that Apple released on Tuesday.
Macintosh News, Information and Stories
How to uninstall MacKeeper from your Mac
by The Staff, Macworld
Some people regret installing MacKeeper but can't figure out how to remove it. We're here for you.
Macworld Staff
How do I get rid of MacKeeper?
I won't go into why you'd want to. But we get this question multiple times a day, so it's definitely worth going into detail about how to remove it completely from your Mac.
Versions of MacKeeper made in the last couple of years are actually pretty easy to uninstall, but the process isn't entirely straightforward. If you click on the MacKeeper menu in the Mac's menu bar you won't find a Quit command, which might lead you to believe that it can't be quit. Force-quitting doesn't seem to work either.
What you have to do is launch the MacKeeper app in the Applications folder and then quit it. (If this is your first time running it, no, you don't have to activate MacKeeper or sign on for any of its services. Just choose Quit from the MacKeeper application menu.)
When you've done that, drag the MacKeeper app to the trash. You may be prompted for your administrator's password. Enter it and the MacKeeper app will move to the trash and a window will pop up and offer to uninstall the rest of its components. Click the Uninstall MacKeeper button (don't bother selecting an option about why you're doing so if you don't care to). This should remove most of the files MacKeeper placed on your hard drive.
If you have a recent version of MacKeeper, the uninstaller does a good job,
and Malwarebytes Anti-Malware for Mac can help clean up any bits left behind.
But not all of them. Although the window tells you that all MacKeeper-related processes will be deleted, one crumb might remain.
A MacKeeper Helper folder isn't removed. You can find it by visiting this location: ~/Library/Application Support. (To access this Library folder hold down the Option key and, in the Finder, choose Go > Library.) Inside this MacKeeper Helper folder is a NoticeEngine.plugin file. Go ahead and toss the MacKeeper Helper folder and this file will disappear right along with it. Empty the trash, restart your Mac, and MacKeeper will be gone. If you don't see the MacKeeper Helper folder, don't worry about it—it's only bad if it's there.
While we're making sure the uninstaller got everything, here's a few more places to check. The most recent version of MacKeeper as of this writing (3.7, build 979) did get all of these on the uninstall, but it's still smart to double-check.
~/Library/Caches/com.mackeeper.MacKeeper
~/Library/Caches/com.mackeeper.MacKeeper.Helper
~/Library/LaunchAgents/com.mackeeper.MacKeeper.Helper.plist
~/Library/Application Support/MacKeeper Helper
~/Library/LaunchDaemons/com.mackeeper.MacKeeper.plugin.AntiTheft.daemon.plist
Now just empty the Trash and vow to stay far, far away from MacKeeper forever and ever. Pop go the pop-ups
If you downloaded MacKeeper "legitimately" (as in, from MacKeeper.com), it's possible you aren't seeing a ton of pop-up and pop-under ads in your browser. But if you happened to pick up MacKeeper from downloading software through a third-party clearinghouse, your browsers may be infected by insidious ads that harass you to install MacKeeper and basically won't let you do anything else. It's the worst. But you can make it go away.
First, quit Safari. Even this might be harder than just pressing Command-Q. If a bunch of pop-ups keep appearing that don't go away when you click OK or Cancel, you'll have to force-quit Safari by pressing Command-Option-Escape, choosing Safari in the list, and clicking Force Quit. Now if you relaunch Safari the normal way, those pop-ups will come right back, so instead, launch it while holding down Shift to prevent the last session's windows from simply reloading.
If Safari is going so nuts with ads you can't even quit it,
press Command-Option-Escape, force-quit,
and then launch it again holding down the Shift key.
Now look for extensions and cookies MacKeeper has stashed on your system. In Safari, go to Safari > Preferences > Extensions, and remove anything you don't remember installing. Next, pop over the Privacy tab, and either click Remove All Website Data, or if you want to be more surgical about it, click the smaller Details button, and search for MacKeeper to remove just MacKeeper's cache and cookies.
Toss the MacKeeper cookies.
In Chrome, go to Chrome > Preferences, then click Extensions in the menu on the far left. Again, if you see extensions you didn't install, click the trash can icon to the right to get rid of it. In the Settings menu, scroll down and click Advanced Settings, then click the Clear Browsing Data under the Privacy heading. In the pop-up menu, check the box for "Cookies and other site and plugin data," and click the "Clear browsing data" button. The easy way
If that doesn't get it all, try Malwarebytes Anti-Malware for Mac, which is a new version of the trusted AdwareMedic utility that scans your Mac for known adware. Run a scan and check the boxes by anything you want to delete. It'll find the MacKeeper app and all its various parts wherever they are on your system.
This list could be longer or shorter,
depending on how many of MacKeeper's various parts you were using.
Did that fix it for you? MacKeeper can be tricky to fully eradicate if you have an older version, perhaps one that was bundled with something you did want to install, since the parent company used to have a generous affiliate program that incentivized sites to shove it at you whether you wanted it or not. If you're still having trouble, let us know in the comments and we'll do our best to help.
The alternative is to create an account at another cloud-storage photos site.
WIZARD NOTE: There have been a number of lawsuits about MacKeeper. There are a number of application download sites that tend to sneak this software onto your computer without your full approval. I strongly recommend that you remove it if you have it. If you need help please let one of our mentors help you, including Ron Sharp, A-Tech, or myself.
---
New Wi-Fi Standard Could Double the Range of Your Existing Connection
from iDropNews.com

Wi-Fi technology has evolved quite a bit over the years, beginning from the earliest stages of the 802.11 wireless standard, which ultimately branched off — evolving from 802.11a/b/g/n and a/c protocols, consecutively. And now, it appears that the Wi-Fi standard has reached yet another major turning point in its evolution — with the Wi-Fi alliance's official indoctrination of the new 802.11ah "HaLow" standard.

Theoretically speaking, according to the Wi-Fi alliance, the new HaLow standard could effectively double the range of existing 2.4 gigahertz protocols, such as the most recent iteration of Wi-Fi a/c that's built into several of Apple's current products.

According to the Wi-Fi alliance — a consortium of companies that work collaboratively to establish Wi-Fi standards — HaLow operates on a new, yet-to-be licensed 900 megahertz band.

In addition to featuring far greater wall penetration and being able to subvert various interferences, the HaLow standard draws upon less power from supporting devices. This means that it could be a major breakthrough in facilitating the implementation and day-to-day use of automated home systems — such as Apple's HomeKit, in addition to bolstering the connectivity of peripherals such as wearable devices, and even car based infotainment systems such as CarPlay.

Up until just recently, for example, the majority of existing HomeKit devices have utilized Bluetooth technology as their primary source of connectivity; however that has prevented the widespread adoption of Apple's HomeKit, as Bluetooth technology offers substantially less bandwidth and draws upon more power than Wi-Fi.

In theory, the new HaLow standard could be implemented into future iterations of Apple products, as well — most ideally among them, the Apple Watch, and personal devices such as the iPhone and iPad.

The current Apple Watch, for comparison purposes, connects to Wi-Fi networks via

the 2.4 gigahertz 802.11n standard; however it relies more so on a Bluetooth tether to an iPhone in order to function optimally.

Wi-Fi 802.11ah has been certified by the Wi-Fi alliance, however there's still no indication as to when the first HaLow enabled devices will hit the market.
---
Export your Photos Library to an External Drive
by Vince Izzo, smalldog.com
For a lot of people, pictures are the things that eat up space on their internal hard drives. Add in the more frequent use of solid state drives with relatively small capacities on the new MacBooks and this leaves people needing external or cloud storage for their photos. I personally recommend exporting your entire iPhoto or Photos library to a external hard drive. The major upside is you have more internal storage for apps, documents, and other media. The downside is you need the external hard drive to access the library.
To do this the first thing you need to do is purchase the drive you want to use. If it is not already formatted for Mac, you will need to reformat the drive as Mac OS Extended (Journaled) in Disk Utility. Then you select the current iPhoto/Photo library and drag it to the external drive. When you next open up the Photos app you hold down the option key. You will be able to choose the newly created library for the app to refer to by navigating to the external drive. I highly suggest you use the application and check to make sure all your files are there. After testing the library, and backing up via Time Machine (or other methods) to a different drive, you are free to trash the original and free up internal hard drive space.
---
Mini DisplayPort vs Thunderbolt Port
by Kevin Williams, smalldog.com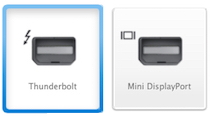 There are two different (but similar) ports that appear on different Macs that often get confused. They are the Mini DisplayPort and the Thunderbolt port. Please take a look at the picture on the right to refresh your memory as to what they look like.
As you can see the plug is exactly the same but the icon that is beside each is different. The Thunderbolt port is on the left and the Mini DisplayPort on the right. In the past, the Mini DisplayPort was used as an audio/video output port which was used to hook up your Mac to an external display or monitor. The new Thunderbolt still does this and is backwards compatible with Mini DisplayPort adapters. The main difference between the two is that Thunderbolt can also transfer data (backing up or transferring files, for example) by using adapters to USB, Ethernet, FireWire or directly to another Thunderbolt device. This means you can have a working connection when plugging in a Mini DisplayPort peripheral to a Thunderbolt port but not vice versa. See the image below for a better understanding.
---
Apple registers apple.car and apple.auto, fueling rumors about electric car
by Oscar Raymundo, Macworld
Apple has registered several car-related web domains, which could be tied to the debut of the company's electric Apple Car.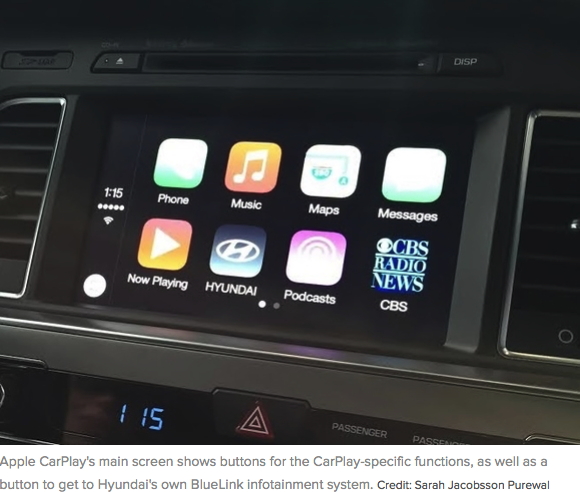 If you go to apple.car right now, you will get a blank page, but if the rumors prove true it can someday serve as the homepage of the hyped Apple Car.
According to MacRumors, Apple has registered the top-level domains for apple.car, apple.cars, and apple.auto. These domain registrations suggest Apple might use these websites to debut its much-rumored electric car.
Apple registered these domains back in December through a sponsoring registrar MarkMonitor Inc., according to MacRumors. The Whois records that tipped the website about these domain registrations was updated January 8, but they are not yet active.
It's very possible that these domains will be used by Apple to host CarPlay content, but in that case registering the still-available domain name carplay.com would seem more appropriate.
The story behind the story: Rumors about the Apple Car, codenamed Project Titan, hit full throttle in 2015. For starters, Apple filed permits to build a "auto work area" near Cupertino, leased a super-secret testing facility, and met with the California DMV.And then there's the coolest rumor of them all: that Apple will be making smart windshields.
These unconfirmed rumors, however, are coupled with news that Apple has hired a bunch of experts in electric batteries, AI, and automotive. And now that Apple has acquired top-level domains for the project, we might get to see the Apple Car on the web sooner than 2019, the year when the company's electric car is rumored to hit the road.
---
Drone vid shows Apple Campus 2's cool underground auditorium
by Evan Killham, cultofmac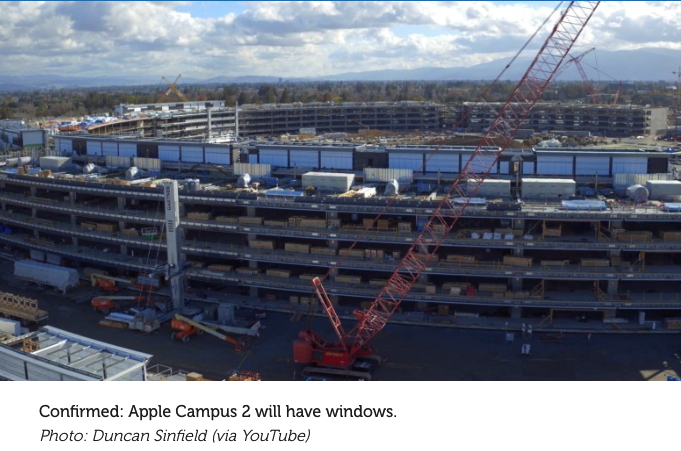 A new drone video shows that some of Apple Campus 2's most impressive features are coming along nicely.
Construction reached the point that builders can start installing windows on both the inside of the giant ring, but that's not the best thing the camera saw. You can also get a really good look down into Apple's 1,000-seat, underground auditorium.
Check it out in the video on YouTube.
YouTube user Duncan Sinfield shot the footage using DJI's Inspire 1 drone. Sinfield managed to fly the rig right over the center of the construction site to get the impressive shots of the auditorium. When that area's completed, it will sit underneath a small hill covered with trees. Those seats aren't in yet, but you can see the shape of the auditorium and the ridiculous amount of backstage area it's packing. Builders are also making progress on the round outbuilding that will serve as an entrance.
Wider shots also reveal how the research and development building is coming along (it definitely looks like a building) as well as some possible progress on Apple Campus 2's outdoor "dining terrace" and its amphitheater.
That's right: Apple Campus 2 will have both an auditorium and an amphitheater. And we could be wrong about seeing it in the video; that could just be an unrelated hole. It's hard to tell because all amphitheaters basically look like holes until they're built — after that, they look like holes with seating.
iPhones, iPods, iPads, AppleTV and AppleWatch
Apple's new Smart Battery Case extends your iPhone's life up to 25 hours
by Peter Sayer, MacWorld
Apple is now selling an external add-on battery for the iPhone 6 and 6s that doubles the phone thickness and boosts battery life by 80 percent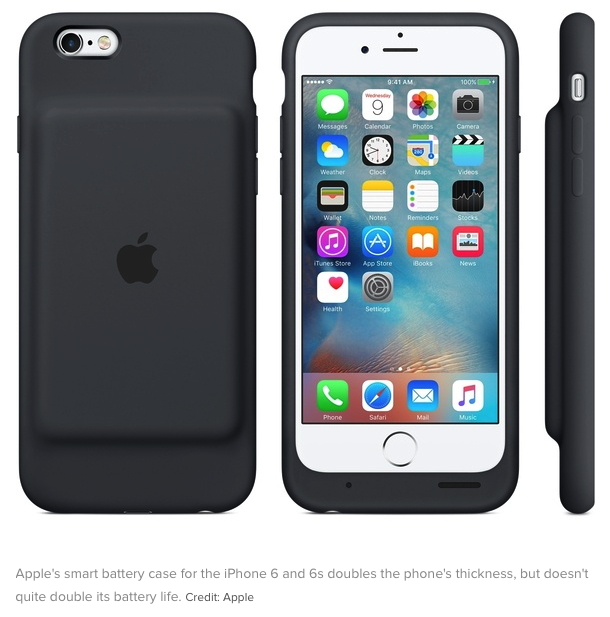 Sure, it's just an iPhone battery case, but what marks this one out from the many others is the manufacturer: Apple.
The $99 iPhone 6s Smart Battery Case is the first sign that Apple is ready to acknowledge that its phones are too thin to contain adequate batteries. The case adds 80 percent to the battery life—and about 100 percent to the thickness—of an iPhone 6 or 6s.
Unlike most third-party battery add-ons, the back of the case isn't flat, but has a bulge in the middle housing the battery.
Apple claims the iPhone 6s allows you to surf the Internet on LTE for "up to" 10 hours, a figure that could reach up to 18 hours with the external battery. The battery could also boost talk time from up to 14 hours to around 25, while video could play for up to 20 hours rather than 11.
The catch is in the words "up to"—and Apple is by no means unique in using them: Pretty much every electronic device manufacturer does the same.
If you spend your days in an office with subdued designer lighting in hyper-connected Silicon Valley, where the nearest cell tower is no more than a few hundred meters away, you're going to get something close to the maximum theoretical battery life as your screen dims and the phone whispers to the nearby network.
For the rest of us, lighting is harsher and cell towers more distant, so our phones crank up the brightness and shout to the network, draining their batteries all the faster. That "all-day" battery can often be empty long before it's time to go home.
It used to be possible to keep a spare phone battery for situations like that, but one of Apple's innovations with the first iPhone in 2007 was to make the battery non-removable, a feature it has replicated in every model since, and which other manufacturers have since adopted too.
One justification given for using non-removable batteries is that without the need for a removable protective cover and clips to hold it in place, the phone can be made thinner—or the battery can be bigger for a given thickness of phone.
Until now, Apple has chosen the former course (as have other manufacturers), making phones ever thinner, frustrating many who would like to be able to use their phones for longer and who would barely notice if their phones were a millimetre thicker.
They'll certainly notice the additional thickness of the iPhone 6s Smart Battery Case, which appears to add about 7 mm to the 7.1 mm iPhone 6s, to judge by the photos Apple has released. Had Apple chosen to make the iPhone 6s that much thicker to begin with, it may well have been able to boost the phone's battery life by 400 percent, not 80 percent.
Maybe it just wants a slice of the profit that the many other manufacturers of external battery cases are making—or maybe Apple is testing customer acceptance of a thicker, not thinner, new phone.
---
tvOS 9.1 update is here for Apple TV
by Roman Loyola, Macworld
Now you can use Siri to search Apple Music. And the iOS Apple Remote app works, too.
Apple on Tuesday (Dec.8 )released tvOS 9.1, an operating system update for the fourth-generation Apple TV.
The tvOS 9.1 update includes the ability to search Apple Music via Siri, compatibility with Apple's Remote app on iOS, bug fixes, and performance improvements.
To update the Apple TV, open the Settings app. Then select System > Software Update > Update Software > Download and Install.
Why this matters: This is a pretty huge update, and both key features were sorely needed. We complained the loudest about the lack of Remote app support, since using the software keyboard on the iPhone to enter usernames, passwords, and search terms is about a zillion times easier than hunting-and-pecking a letter at a time with the Siri Remote (or even with the old remote, to be honest). The lack of Siri support for Apple Music on the Apple TV was confusing too, since it works so well on iOS. Apple had promised to get it working in early 2016, so we're glad the company beat its own estimate. Both of these additions make the Apple TV easier to recommend as a holiday gift.
---
Video Tutorial - How to Set Up Your Brand New Apple Watch
from iDropNews.com
So you've received a brand new Apple Watch as a gift, or maybe you've caved and purchased one for yourself, either way - congratulations! You might be looking at the shiny new device wondering, okay it looks pretty, but how do I make it work?
Apple tries their best to make their products as user friendly as can be, however setting up an Apple Watch can be difficult to accomplish. As with most advanced pieces of technology, there are a few confusing steps and intricacies that can make setting up an Apple Watch seem like something only an expert could do, and that's where we step in.

Take a moment to learn how to set up your Apple Watch properly by watching our video tutorial below.
---
Ampy battery pack uses body movement to recharge iPhone
by Buster Hein, cultofmac.com
LAS VEGAS — Your body is an amazing energy creation machine but you're not even using it to its full potential. All the walking, running, biking and other movements you make throughout the day all create kinetic energy, and now you can finally harness it to charge the most important gadgets in your life with Ampy.
Ampy is a wearable battery pack that can be charged via USB, but its superpower is the ability to recharge using motion thanks to a couple of magnets that bounce up and down inside coils. One hour of moderate exercise (jogging or riding a bike) will add up to five hours of standby battery life to your iPhone, or about 1 hour of regular usage. It's not something you'll want to use everyday, but it's perfect for when you're going on a hike, or experience a power outage.
The device comes with a strap and carrying band so you can place it on your arm or leg depending on what exercises you're doing. It features a curved profile, making it a great fit for jean pockets, jackets, or anything other object that moves a lot. Priced at $100 the device comes with an accompanying iOS app so you can track how much power you're generating. A slimmer, more power efficient model is on the way later this year. To see the Ampy video go to : https://youtu.be/_eSoG8iae-g
MALWARE examples*
Collected by Robert Elphick, MAGIC
Here are two emails designed to get you to download evil"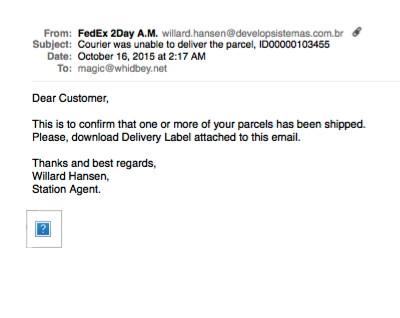 DO NOT click on the attachments in either of these or any email that you suspect. The first one is from Switzerland ordering me to appear in court! The second one is about a delivery that I never ordered and is from Brazil!
Here is an example of evil AdWare that can disable the browser. It is easily fixed using the technique described in a previous newsletter.
---
Penny Holland has volunteered to be the newsletter's humor editor. We hope to tickle your funny bone on a regular basis. If you have any pictures, cartoons, or jokes that might be appropriate for this august publication, please send them to Penny at
By The Way
Update from way back, 10.5 or 10.6*
by Ron Sharp, MAGIC*
Somehow you have managed to avoid updating your Mac. While nearly the rest of the world is up to El Capitan, or at least Yosemite Operating system, you're still at Leopard 10.5 or maybe Snow Leopard 10.6.8. And the reason for your hesitation to update is that you know some of the applications you use will not work with the new system. Or maybe you think your printer will not work after the update. This is possible. But, unfortunately, in delaying the inevitable, it's only made it a little more work when you absolutely have to update. And that time does come, because things quit working as well as they use to and web pages won't work right and videos won't play. Not to mention the lack of security.
In comes your favorite techie or Mac guru to help you along. We can help you smooth the process out a little and warn you of negative possibilities and provide you with options. And the first question is, if you are this far behind, maybe it's time to buy a new computer. First step, we'll check to see if your computer is able to be updated. Then, assuming it is, you may want to consider adding RAM memory to run the new software without being sluggish. The memory update, operating system update, and possibly some new third party software will still be less than the cost of a new computer. Although it won't guarantee a trouble free future. Hard drive failures can happen anytime.
A few preliminary checks and procedures can help avoid loosing data. I recommend exporting your Address Book archive and /or vCards to a safe place to be imported into the new Contacts app after updating. You can also export email mailboxes to import later if you haven't been using Apple's Mail app. And text documents should be saved in a different format if you've been using the Pages app or other word processor. Export documents to Plain Text, for example.
Assuming we've decide to update rather than replace, there is a big step between OSX 10.5 and 10.6.8 operating systems. Pre-Snow Leopard Operating Systems had to be purchased on DVD disk and installed from the disk drive. After Snow Leopard, operating systems from Apple were downloaded from Apple' s App store that was new at the time of Snow Leopard. The App Store is accessed with the App Store application that's included with the Snow Leopard OS, 10.6.8.
So if you have Snow Leopard 10.6.8 already, then updating the OS means using the App Store and downloading the latest version that's available for your computer. If you aren't up to Snow Leopard, then it can be a chore getting your hands on an install disk. Then complete the install process for 10.6 from the disk. Afterwards you may have to download Apple updates two separate times to get it up to 10.6.8. Once you're up to speed there, you can access the App store to download and install the latest OS for your computer. The App Store app will now be in your Applications folder. Expect about two hours for the download and install to bring you up to the current operant system.
After the final install, it's time import your data into the new applications. Mail ,Contacts, Documents, etc. Another change you'll have to deal with is the transition from iPhoto to the new Photos app. When you open the Photos app for the first time it will ask to import photos from the iPhoto Library. But with your system being more than a few iterations behind, you'll have to use an iPhoto Library updater app. You'll need to download and install this app according to the prompts. Then find the installed app in the Utilities folder and run it to complete the process. Photos app will then be able to import your pictures.
More than likely the new operating system will have the necessary printer drivers to make your printer work. If not, you'll have to go to the printer manufacturer's website, enter the model number and download and install the drivers. If your printer is really old, there is a chance you'll be out of luck and have to replace it. But in that case, if you bought a new computer you'd have the same situation.
---
MAGIC, the Macintosh Appreciation Group of Island County, serves people who use Macintosh computers, software and peripherals. Our goal is to share information and get answers to questions to make us more productive with our use of technology. Our monthly meetings give us a chance to discuss computer problems and share ideas with other Mac users, feature speakers on specific topics, and to keep apprised of Apple news.