Newsletter
November 2016
Newsletter Editor:
In This Issue:
MAGIC MUG News
Software Updates
News, Information and Stories (OS-X)
iPhones, iPods, iPads, Apple TV and AppleWatch (iOS)
By The Way
* Indicates author is a member of MAGIC
---
Meeting information
Date
16 November 2015
Time
4:00 to 6:00 p.m.
Presentations:
•Managing photo data with Gary McIntyre
• Q and A with Robert
Location:
Unitarian Universalist Congregation of Whidbey Island (see map.)
Suggested Donation:
$2 to offset room rental.
Do not forget to bring your used ink cartridges.
MAGIC will dispose of them for you and make some change for the group.
---
Minutes of the October 19, 2016 Meeting
by Penny Holland, MAGIC Secretary*
The October monthly meeting of MAGIC, held at the Freeland Unitarian Congregation Meeting House, was called to order at 4:05 by President Robert Elphick. We had a full house, with 47 people present at the meeting on the evening of the third presidential debate!
PRESENTATION
Today's presentation on iPads was presented by Bethany Kennedy. Bethany brought two iPads: a regular sized one, and an iPad mini to demonstrate. iPads come in 32, 64 and 128 GB. How you are going to use your iPad, will determine the memory size you choose. Music and movies and photos take a lot of room, so you will want to go for a larger memory if those are what you plan to use.
CASES: She emphasized that it is a good idea to buy a sturdy case for the iPad. One rugged cover with built-in screen protector that she likes is called the Beetle. Apple and other companies even make covers that contain a keyboard that links by bluetooth to the iPad. Gary suggested that if you get a new iPad it might not fit into your old iPad case. Make sure you know your iPad's model number so you can select the correct case for your iPad. You can find the model number in Settings > General > About >Model.
APPS AND FOLDERS: Displaying her iPad screen, she showed how she puts her least favorite Apps into a folder called "NOT IN USE." To move and organize Apps, press and hold an App icon until it wiggles. When they are wiggling, you can move Apps around or drag one on top of another to create a folder. More Apps can be dragged and added to that folder. You can create a name for the folder of simply use the default name that Appears. WhileApps are wiggling you can also move them to or from the dock or rearrange them on the desktop.When you are finished, tap the Home button to stop the wiggling.
CONTROL CENTER: If you swipe up from the bottom of your iPad, you get instant access to a list of popular options, such as putting it into airplane mode, turning on (or off) Wifi, Bluetooth, Do Not Disturb, and Mute. There are also sliders for volume and screen brightness. There is a timer icon that will take you to the clock where you can set timers and alarms. There is a button to use AirPlay, and a camera icon that puts you directly into photo mode.
ACCESSIBILITY and RESTRICTIONS: This section allows you to customize your iPad settings. Accessibility is especially helpful for people with certain needs or disabilities. Go into Settings>General and select Accessibility. There you have numerous choices for VISION settings, such as Zoom, Invert Colors, Grayscale, and text size.
RESTRICTIONS (Settings > General > Restrictions) are useful if you have children using your iPad and you want to restrict what they can look at. Under Restrictions, you can select which Apps are allowed, and if Apps can be installed or deleted.
Settings > Privacy is where you can turn on or off on Location services, which allows the iPad to know where you are and customize certain Apps you might use. You can look through the privacy list and decide which items you wish to turn on or off for privacy purposes.
BATTERY (in Settings) Tells what percentage of battery is left, and allows for that number to be displayed in the status bar. It also gives other information about what apps are using what percentage of the battery. SCREEN SHOTS: Hold down the power button and the home button to create a screen shot. Find your screen shot in Photos. TYPING and EDITING: Typing can be done with the onboard keyboard, or using a separate bluetooth keyboard. . For people who have trouble typing on the iPad, dictation is the way to go; however it only works on the newer OS systems. While working in any editable text, you can double tap on a word and get some editing options: such as COPY, PASTE, DELETE, and many more choices. To Copy. select the choice, "COPY" and then tap on a new place to set your cursor. Again you will get a list of choices. To Paste, for instance, tap on the choice, "Paste" and the selection you copied will be pasted at this cursor point. This takes some practice, but it is worth the effort.
MORE MISCELLANEOUS TIPS:
Double click on the home button twice and it will show you all the Apps that are open. This is a good way to clean up your iPad. Slide up to turn off Apps.. There was discussion about whether this saves on battery life, and Robert says no. But he recommends that you should do this every day, and also to turn the iPad completely off to keep the machine clean. To shut down, hold the power button for ten seconds till you see the arrow to slide to turn it off.
Display/Brightness, under Settings, has a Night Shift on some iPads. You can set that for a time of day so that in the evening the screen will change from the blue lights into the warmer lights, which are more conducive to sleeping.
Split Screen, Picture in Picture and Slide Over - Three fairly new multitasking features are available in iOS9 and later, but only on certain of the newer iPads. You can use Google to check if these work for you, and also to get directions on their use. The first two are activated by sliding your finger across the screen to see two App screens at once. Picture in Picture, the third multitasking feature, lets you watch videos or participate in FaceTime video calls while using other apps. When on a FaceTime call or when watching a movie, tapping on the Home button sends the video to a corner of the iPad's display. From there, you're able to use other apps while you watch the movie or carry on with the FaceTime conversation.
Garage Band is an App that now comes with the iPad. This is a fairly sophisticated music composing and editing program.
iBooks, another App, is a possible topic for another presentation.
When an iPad stops working you can't replace the hard drive, like you can on a computer. It's probably time to get a new iPad. If your iPad is obsolete, and you want to get rid of it, go to Settings>General and way at the bottom is RESET where you can select the choice ERASE ALL CONTENT AND SETTINGS. That way it's clean and nobody can capture your data. UPGRADING TO OS10: One caution on doing the OS10 upgrade. Any pictures will be lost unless you first backup to iTunes and then get OS10.
Bethany's presentation morphed into our question and answer session.
Q&A - led by Robert Elphick
Q.Gary gave his wife his old iPad and he has a new one. He wants to know why she is getting his notifications.
A: Unless you completely reset and erase all data from the iPad residual information will still be there for the next person. To reset the iPad, go to Settings> General> then scroll to the bottom of that list and click the "Reset iPad" button. There you will have choices to delete all your data and reset the iPad to new condition.
Q: Phil commented that editing is rather difficult on the iPad.
A: One solution is to use an external keyboard where you have arrow keys and you can move the cursor easier.
Q: If I download OS10 on my iPhone 6+ will I lose contact with my iPad 2? My iPad is OS 9.3.5.
A: IF it's an iPad 2 you can't put OS10 on it. But you can still sync either one with your Mac. And no, you won't lose contact.
Q: My iPad won't take a charge. Is there anything that can be done about that?
A: There are ways to change out the battery. You can talk to A-Tech about this, but they don't open up iPads. Another option is to take it to Apple.
COMMENT: Ron said that he finds the suggested words that are presented to you when you are typing can be very helpful. But sometimes that word suggestion line goes missing. If so, swipe up from the keyboard. Phil added that a 3 finger double tap and swipe up will perform a zoom. In the Settings under General>Multi tasking is where you can view and set these up.
Q: My iPad got very sluggish. Could it be caused by the latest OS download?
A: Gary has seen this several times. Old iPads will slow down. One solution is to buy a new one. Another possible solution is to reset the iPad, hold down the power key and the home button for ten seconds to reset it. Robert said you should plug into iTunes and make a backup on your computer first. Then you can reset the entire machine and reload it from iTunes.
Q: What does Reset do?
A: There are all sorts of files and caches on the computer. These can get clogged up, and a RESET will clean things up.
BUSINESS MEETING
Classes: Upcoming classes for beginners on HTML and CSS offered for people who want to build their own website, will be taught by Robert Elphick. Classes will be held at Au Sable/Pacific Rim Institute, beginning on November 23rd. Check out the MAGIC website for details and to apply. Participants are encouraged to bring Macs.
Gary McIntyre gave the treasurer's report: We have, as of Sept. first, $7,086.78 in our bank account
MINI PRESENTATION ON SIERRA by Robert Elphick
SIERRA is the latest operating system for the Mac. It is no longer called OS X but is just OS Sierra. It is version 10.12. There's not too much new in this OS.
With Mail, you still get attachments, but the email doesn't show an attachment symbol.This means the the menu Message > Remove Attachments does not work. Hopefully that will soon be fixed.
There is a new icon on the dock for SIRI, an assistant that works with your queries and commands. In System preferences, choose Enable Siri. You can select various Siri voices. Voice Feedback on will have your question repeated. There is also a switch to Show Siri in Menu Bar. Robert attempted to demonstrate Siri, but we were having difficulties with WiFi at the church and so most attempts failed. Some questions or commands for Siri are, for example, "Show me files called Appendix" or "Send an email to my wife." You can also give commands, such as go to sleep, turn on screen saver, turn wifi off, etc.
There is now a universal clipboard so if text is saved/copied/cut on your iPhone it will go onto the clipboard of your mac as well, and vice versa. iCloud desktop allows for easy sharing of data, which is especially good for workplaces..
Optimized storage, is again helpful for big organizations, but probably not so much for home users.
Picture in Picture: While you are running a movie, for instance, you can let the movie play in the top right hand corner of your screen while you continue using other Apps.
Safari Tabs: You can ask for a New Tab while in Safari . This has been available for some time. But now it's available in other programs, such as Maps. You can also add a second tab for another place on the map. There is a + sign to create a new tab. To get rid of a tab, put your mouse on the tab and an x appears. Click on the x to delete the tab.
Photos still has the same complaints that Robert had earlier—no external editing, and less user friendly than iPhotos.
Messages have some improvements. You can now do hand writing and invisible ink.
In conclusion, Robert says there is no good reason to not update to Sierra.
More Q&A with Robert Elphick
COMMENT: Photoshop user says Sierra will crash your program. If you try to print on the print module the program will crash. Robert guesses that this will be fixed soon.
Q: Can you jump right to Yosemite from an earlier system?
Q: Yes, just not from the pre-Lion operating systems.
Q: I have El Capitan on an early '08 iMac. What do I lose by going to Sierra?
Q: You can't go to Sierra from anything older than a mid-'09. You have to have 64 bit capacity to do it.
Q: On Mail it says I have 55 items in Junk Mail on my iPad. It's been that number for a long time. What should I do?
Q: Double click on the home button and turn the Apps off by sliding them up the screen to see if they reset.
Q: Is there a way to use a spread sheet to compare insurance quotes?
Q: Yes! Search engines will help you find some answers. Or find a spreadsheet mentor. The Apple spreadsheet is called Numbers, which you have to buy. Get it from the App store. (This is Apple application is compatible with Excel.)
Q: Will the Sierra system support the old iPhoto programs?
Q: Yes, if you have iPhoto 9.4.1. A copy of this can be obtained from MAGIC if you do not have it.
Q: A question on Pages. Is there way to get a word count?
Q: In some versions it is a menu item. Otherwise, go to the Inspector > Document > Info. Like many other application questions, this one can be answered in the Help menu.
Q: Problem with our car parked near the house. It keeps wanting to connect with our computer in the house.
Q: You can work with wifi and bluetooth at the same time. Go to bluetooth so that it is in the top menu bar and turn off the pairing or just turn off bluetooth altogether.
Q: Anytime I click on a webpage I want to go to, it takes me to a generic site that shows ALL the pages of my recent searches.
Q: It's probably a setting that defaulted to this. Go to Safari > Preferences. Click on General > New Tabs Open With. Look at all the choices in ths widow and set them to your liking.
Q: Under El Capitan and earlier upgrades. It takes forever for my mail to load.
Q: Make sure it's not the server who is slow sending you stuff. Look under Mail > Preferences. Check for new messages. You can set it to check for mail automatically, or every so many minutes.
Also, you may have too many emails. I always archive my emails every year, because you can overload a program. Think about archiving and deleting these messages you've already read. Note: Pictures and Movies are the worst - move them to a good location out side Mail and them remove them from the e-mail.
Q: I got a message that I could upgrade to Sierra, but I didn't do it at the time. Have I lost my chance?
Q: At any time you can go to the App store to get the latest operating System.
Q: I can't add photos to email because the photo browser window takes up the whole screen.
Q: The Photo browser window can be resized like other windows. Just click on the lower right corner of the window and drag it smaller.
Next month's presentation: How to put photos in the cloud or on a disk so you can easily access them.
The meeting was adjourned at 6:00
---
MAGIC Moments
Improved Website
Ron Sharp checked out the Education, Link, and Software pages on this website. As a result we have been able to update those three pages and clean out of date links and software recommendations. Check them out.
Thank you Ron!
Classes
by Bethany Kennedy, VP Education *
Here are the dates for the upcoming "Building Websites with HTML" classes.
Wednesday, November 23rd 1PM - 4PM
Wednesday, November 30th 1PM - 4PM
Wednesday, December 7th 1PM - 4PM
Limit 10 people but there are still a couple of openings.
These classes will teach students to use HTML, CCS, and Javascript to build or maintain websites. Any text editor can be used to produce the code but we recommend the free TextWrangler available from BareBones or at the App Store.
Swaps and Sales
Don't forget to check out the swap page of this website. There is a nice 27" iMac on there now.
MacMall Account
MacMall is an online source for Apple products and Apple related peripherals. They have figured out that I am a regular customer and often shop for MAGIC members and so they have granted me a business account with possible "special deals". So if any MAGIC members wish to buy any Apple related hardware, please let me know and I will see if we can get you a good deal. MacMall are generally cheaper than Apple and other suppliers.
Note: This Software Update section of the newsletter lists the most relevant Apple updates. Not all updates are listed for all products. Additionally, I'll add other pertinent updates on occasion.
Apple Officially Releases iOS 10.1.1, Fixes Disappearing Health Data Bug
by Mike Peterson, idropnews.com
Apple's iOS 10.1 update fixed a lot of subtle issues with iOS 10, but it added its own significant bug: disappearing Health app data. Some iOS 10.1 users started reporting that their Health data, including step and calories counts, would simply disappear. The afflicted users reported that restoring from backups or even factory resets wouldn't fix the issue or cause lost data to reappear. It was certainly a frustrating glitch for fitness or health-minded iPhone users — and could even snarl user attempts to use health data to manage health or illnesses with their doctors, Forbes reported.
This caused some users to wrestle with the choice whether or not to download iOS 10.1, since the update included a fix for a serious security flaw that could let hackers hijack iOS devices just by having the user view a compromised image file or PDF, which would then send the user to a malicious website. The security flaw definitely put dedicated Apple Health users in a difficult spot.
But Apple has been quick to respond. Today, they released iOS 10.1.1, which is now available for iPhone, iPad or iPod Touch devices running iOS 10.1. The small update fixes the Health data bug, restoring lost data and preventing the issue from happening in the future, Cupertino wrote in its release notes.
The update is relatively small — it's around 70 megabytes — which means that it's a quick download, and an easy fix for frustrated users. It's not likely that iOS 10.1.1 has any additional major features or fixes, as the change log only states that the update fixes the Health data bug. In any case, it's almost certainly worth a download. iOS 10.1.1 is currently available as an over-the-air update for devices running iOS 10.1.
---
Apple releases significant update to Final Cut Pro X
from Apple
Cupertino, California — Apple today introduced a significant update to its professional video editing app, Final Cut Pro X, featuring incredible new editing features for the Magnetic Timeline, support for the revolutionary Touch Bar on the new MacBook Pro and a redesigned interface with full support for wide color workflows. The Touch Bar replaces the keyboard's traditional function row with a brilliant, Retina-quality Multi-Touch display that dynamically adapts to Final Cut Pro X by putting intuitive, context-sensitive controls right at the user's fingertips. Apple also released updates to Motion and Compressor.
---
Meet Apple's complete MacBook lineup
by Leah Yamshon, Macworld
Apple unleashed three new MacBook Pros during Thursday's October event. Here's a closer look at each one, when you can get them, and how much they cost.
After September's annual iPhone-focused event, it was time for the Mac to have its turn in the spotlight. And boy, did we get some major Mac news on Thursday: Apple revealed three new MacBook Pros, two of them featuring the Touch Bar, Apple's brand-new touch control panel at the top of the keyboard. The MacBook Pro got a minimal refresh in October 2015 to introduce the Force Touch trackpad, but it's been a minute since the line has seen a major update.
As new products come in, old products must go out—so Apple's complete MacBook lineup now looks a little different. Here's a look at each MacBook in Apple's collection, including info on pricing and on-sale dates for the just-announced Pros.
The new MacBook Pro
The 2016 MacBook Pro is available in three versions: two 13-inch models, one featuring the Touch Bar and one featuring standard function keys, and a 15-inch model with the Touch Bar.
---
Here's how Photoshop will work with the new MacBook Pro Touch Bar
by Caitlin McGarry, Macworld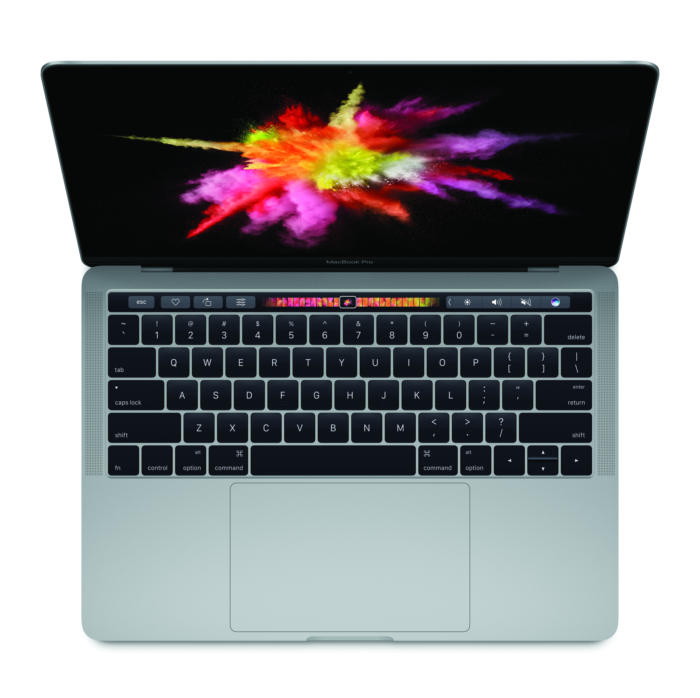 Say goodbye to all of those on-screen panels and menus.
The biggest change in the new MacBook Pro, announced at Apple's media event on Thursday, is the elimination of the keyboard's function keys. The Pro's keyboard now has a contextually relevant Touch Bar at the top. That makes the keyboard more versatile than ever, with keys that change according to the app you're using. Apple will support its own apps with the Touch Bar, of course, but will also open it up to third-party developers.
One of those developers is Adobe, a natural fit.
"This new MacBook Pro and Photoshop are made for each other," Bradee Evans, experience design manager of Adobe Photoshop, said in an on-stage demo at Apple's keynote presentation.
Evans showcased how Photoshop, software in most creative professionals' toolkits, will work with the new MacBook Pro's Touch Bar.
---
Hey Siri! Now on Your Mac
by Don Mayer, smalldog.com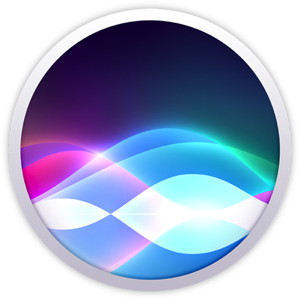 Have you upgraded to Mac OS X Sierra yet? I know that some people wait awhile to upgrade but I have been running Sierra for some time and you will want to upgrade. It is a rock-solid upgrade, it is free and it brings a lot of new features to the Mac. In the words of one big loser, "what do you have to lose?"
Okay, political commentary aside, one of the most exciting and useful features of Sierra is that Siri, finally, has come to the Mac! You know I have been playing around with Amazon's Echo and I can definitively tell you that Siri is way smarter than Alexa. I still like Alexa but she pretty much is good for telling me dog and pirate jokes.
You can access Siri by clicking on the menu bar icon in the upper right-hand corner of your Mac's screen or by clicking on the Siri icon in the dock. If you do not see those, you might not have Siri activated so go to System Preferences > Siri and check the box to "Enable Siri". There you will find the check box to "show Siri in menu bar" which you can toggle on and off as well as options to choose Siri's language and voice. You can also choose a keyboard shortcut if you would like, F7 is the default.
But, don't you want to just say "Hey Siri"? That doesn't necessarily work out of the box but you can make it work! Make sure you activate enhanced dictation in the keyboard system preference. Then, you can go to System Preferences > Accessibility > Dictation to set up the voice command that will activate Siri with a "Hey Siri".
So, what can ask Siri to do for you? Well, start out by asking her what she can do. You will get a nice long list of things. You can ask Siri to launch apps, tell you the weather, get the Cubs score, FaceTme a friend, get directions to your meeting and so much more. I have been using Siri to find particular files, launch my apps and most of all to settle trivia bets.
Remember PDAs? Not public displays of affection, the other PDA - Personal Desktop Assistant. Well, Siri finally has made that a reality on your Mac. Use Siri to manage your calendar, remind you of appointments or bills to pay, play music for you or just a huge range of tasks. Here's one huge list of Siri commands.
One of my favorites is searching mail. I can say "find me emails from Hapy" and Siri will give me those almost instantly. Better yet, I can ask Siri to email someone about that Kibbles & Bytes special or set a calendar appointment for the meeting with my service team. I think you are going to like Siri on the Mac!
---
Storage Optimization
by Emily Dolloff, smalldog.com
For years I've been fighting the battle of hard drive space on my computers. Some of my hard drive issues were accidental, some have been self inflicted. At least once a year I discover that I'm once again running out of space on my hard drive and I embark on an exhausting and drawn out process of determining what is taking up space and where. This issue has become somewhat of an office joke because it's something I am always fighting.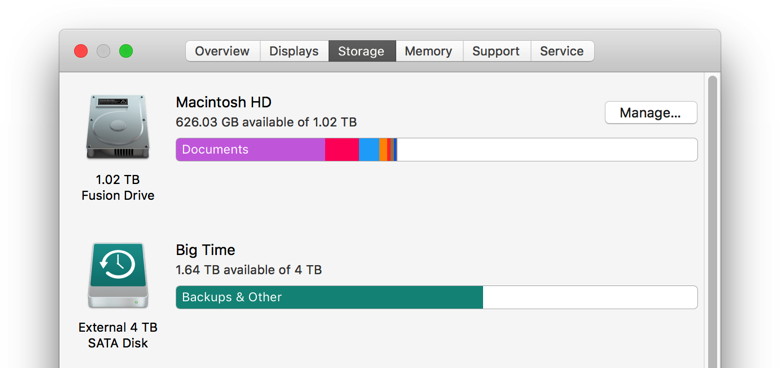 When you open up About This Mac on your computer and then select Storage, you're met with some basic information. The system will give you a very general idea of what's on your computer and give you specifics on how much space is allocated to Apps, Photos, Audio, Moves and Other. The "other" category is perhaps the biggest mystery when it comes to your drive. Just what is in that "other" category anyway? Programs like Disk Inventory X were life savers for me. This software can help to locate large files on your machine and then you can determine if it's something you want to remove.
With the release of Sierra and the introduction of storage optimization all of my headaches with space have almost magically disappeared. Before installing Sierra on my Mac I had about 25GB of free space on my hard drive and for the past 6 months or so I have had limited success in freeing up more space. Basic tricks like actually shutting down my computer and rebooting, regularly dumping my trash and trolling through my files have had short term success in creating more space on my computer. Storage optimization has made all of this go away almost instantly, including the annoying 'other' category.
When I initially installed Sierra I gained about 10GB of space as unnecessary files were removed, but I wanted more space. Upon looking at my storage I was delighted to see that the other category really is gone! Sierra breaks down what's taking up space in several categories making it much easier to identify at a glance what file categories are hogging valuable space.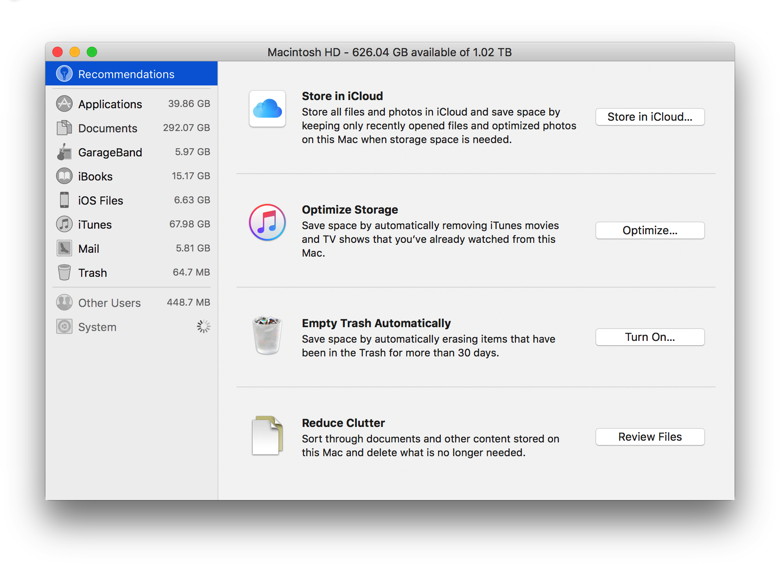 You can see at a glance how much space Mail, Photos, Documents, iOS files and more are using. Click on the manage button in the top right hand corner and it will expand to provide suggestions for storage optimization. You can easily choose to send your photos to iCloud and you can specifically select and turn on storage optimization. Storage optimization will automatically remove iTunes movies and TV shows you've already watched and keep only recent e-mail attachments and discard the aging ones. Other options are to set your computer to automatically empty trash for anything older than 30 days or choose to reduce clutter. The reduce clutter option will sort through your documents and other content and delete what is no longer needed once you review the files.
Within the storage optimization options you can click on the different storage categories and see specifics on what is in that category. If you select documents, it will show you the entire contents of your Documents folder and the file sizes. It can do the same with Mail, iOS files, applications and additional categories. No longer do you need to dig through files. You can see everything in one quick view! In going through the categories I uncovered in less than 5 minutes that the major storage issues on my machine were old iOS backups of phones, almost 40GB worth! I deleted all my old iOS backups except the most recent one and significantly increased the amount of free space on my hard drive. Going forward it's going to be much easier to manager my storage and better isolate my storage troubles.
---
Project Titan sets up shop in Canada, with employees from BlackBerry's QNX
by Susie Ochs, Macworld
Ah, Canada: a land of wide-open spaces to test automonous driving software, and people too polite to blow up your spot. Well, until Mark Gurman catches on. Gurman and Gerrit De Vynck at Bloomberg reported Wednesday that Apple has "dozens" of software engineers working out of an office outside of Ottawa, Ontario—just a five minute walk from BlackBerry's QNX division, which provides automotive software. In fact, Bloomberg reports, about two dozen of Apple's engineers came directly from QNX.
Two of those hires include Dan Dodge, former QNX CEO; and Derrick Keefe, a senior engineer with a decade of experience, according to Bloomberg's anonymous sources.
QNX doesn't currently produce automonous driving software, but it's on the roadmap. The self-driving car startup AdasWorks, for example, has a deal to integrate its software into QNX's operating system, which is currently used mostly for infotainment. QNX's platform powers the systems like BMW ConnectedDrive, Ford Sync3, Buick Intellilink, and others, in more than 60 million vehicles so far.
With Project Titan, Apple is reportedly trying to do more than infotainment. Apple wants to create a platform, a carOS if you will, that would combine features like self-driving software, a heads-up display, and of course Siri. Earlier, Apple was rumored to be creating an entire car, even reportedly seeking to test it at a facility in the Bay Area, much closer to Apple's headquarters in Cupertino. But in April, Project Titan came under the management of Bob Mansfield, an Apple executive whose last title was Senior Vice President of Technologies. Now the project may be shifting focus to just the software platform that would run on other makers' cars—or perhaps that was the idea all along.
Why this matters: BlackBerry's smartphone business isn't so hot these days, so the success of QNX is a big deal for the company. For Apple to locate part of Project Titan so close to QNX and to hire so many engineers, shows that it's serious about quickly gaining ground in the automotive space. In Tuesday's earnings call, Apple CEO Tim Cook declined to answer specific questions about Project Titan, but he did say, "In the car space, it's clear there's a lot of technologies that will be able to revolutionize the car experience," while also praising Apple's recent efforts in R&D and acquisitions. "We have the strongest [product] pipeline we've ever had," Cook said, "but as usual we're not going to talk about what's in it."
---
Sort Folders to the top of the list
by Emily Dolloff, smalldog.com
I like to think that I am organized with my computer and files. I prefer to have a clean looking desktop and every few weeks I spend some time weeding through my desktop files. My desktop is the easiest place for me to send files I downloaded, need to access on a regular basis or just don't want to loose track of. Eventually my desktop becomes cluttered and I have to organize what I want to save, what I want to trash and the inevitable assortment of files that I feel I should save but I'm not exactly sure why.
Many of my files end up in folders. I organize my files first on my desktop, then sort into neat folders and then eventually everything I think I need goes into Documents. The problem with my system is that not everything gets into a folder before I file it in Documents and even worse I can have duplicate information or like files in two different folders. My problem is that I can't always remember if I created a folder for a topic or if it was just something I admittedly dumped into documents just to get it off my desktop.
With Sierra I've been able to better organize these files. Sierra now gives you the option to change how items are sorted in Finder windows. This simple little change has quickly revealed my being organized with my files was only an illusion! I didn't exactly have the same name for folders but instead made things more complicated to find by having multiple folders that essentially stored the same information. I had folders for "Human Resources" and "HR" for example. I also found I was often frustrated having to slog through my list of independent files and those in folders making it easy to skip over a single file.
To ease frustration with this simply go to Finder> Preferences, and click on Advanced and then select 'keep folders on top when sorting by name.' Once you have selected this preference, the list, column, and cover flow views of your folders will appear above your files and your folders will remain sorted alphabetically.
---
The MacBook Pro's innovative Touch Bar will grab you
by Susie Ochs, Macworld
Apple's newest Mac packs a strip of iOS-style contextual controls into the Touch Bar. There's also a new keyboard and four Thunderbolt 3 ports.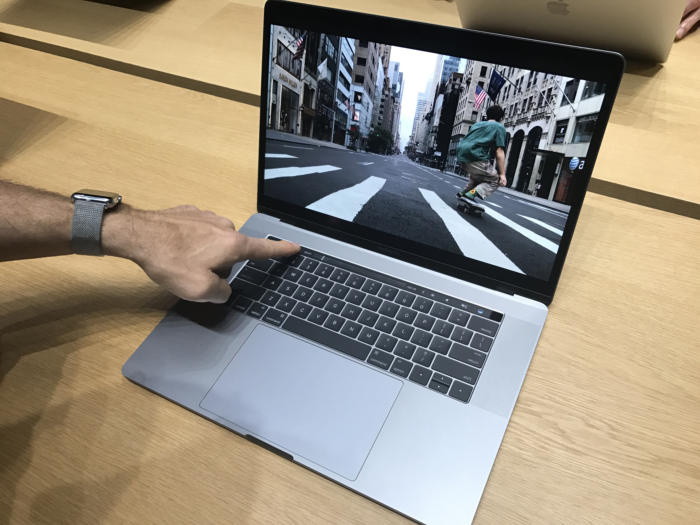 It's thinner, lighter, and smaller all around, but the new MacBook Pro makes a big impression. The trackpad on the 15-inch version is downright ridiculous—twice as large as the trackpad on the previous generation—but I didn't look down and say, "Holy cow, that is a seriously huge trackpad," until I'd been using it for a couple of minutes.
Because it's really all about that gorgeous Touch Bar.
Apple doesn't do touchscreen Macs, but the Touch Bar adds a strip of ultra-handy iOS-style contextual controls right where you need them, and the rest of the MacBook Pro got great updates too. After my limited hands-on time, I think it's got the right mix of power, portability, and ports to satisfy users of previous MacBook Pro and MacBook Air models. Let's dive right into my first impressions—we'll follow up with a full review later.
Touch Bar
The Touch Bar, which replaces the row of Fn keys on top of the MacBook Pro's keyboard, enables new functionality like Touch ID to unlock the Mac and make Apple Pay purchases in Safari without needing to authenticate with an iPhone or Apple Watch. It's made of smooth glass, so it feels great under your fingers, just like the trackpad itself.
---
Universal Clipboard Tips
by Don Mayer, smalldog.com
MacOS 10.12 Sierra on your Mac and iOS 10 on your iPhone or iPad combine with Wi-Fi, Bluetooth and your AppleID to bring you Universal Clipboard. How many times have you copied something on your Mac, like a phone number and wish you could paste it into your iPhone? I've emailed myself stuff, put it in my iCloud account and other work-arounds but now with Sierra and iOS 10 it is all automatic. But a lot of people were having difficulty getting it to work, including me when I was doing beta testing. Here's some tips to get Universal Clipboard working on your devices.
Install macOS 10.12 Sierra on your Macs and iOS 10 on your iOS devices and you'll get a cool new feature: Universal Clipboard. As you'd expect from the name, Universal Clipboard transfers anything you copy to all your devices so you can paste anywhere. Copy some text on your iMac and a few seconds later you can paste it on your MacBook Air, your iPhone, or your iPad. Or copy an incoming phone number in the Phone app and paste into an email message on your iMac. Universal Clipboard even works with graphics and videos.
Neither Sierra nor iOS 10 provides any interface for Universal Clipboard at all. You can't turn it off or configure it in any way. In other words, it should just work. But what if it doesn't?
It turns out that six things must be true for Universal Clipboard to work. Miss any of these and Universal Clipboard will fail to copy the clipboard contents from device to device without warning. The requirements are as follows:
Any Macs involved must have been introduced in 2012 or later, or, in the case of the Mac Pro, 2013 or later. Choose "About This Mac" to check your Mac's age. Since Sierra runs on most Macs introduced since late 2009, Universal Clipboard won't work on some older but otherwise Sierra-capable Macs.
All Macs must be running macOS 10.12 Sierra or later, and all iOS devices must be running iOS 10 or later.
All the devices must be on the same Wi-Fi network. This requirement can be tricky since devices might join different Wi-Fi networks if several are available. On a Mac, look in the Wi-Fi menu bar menu, and on an iOS device, check Settings > Wi-Fi.
Each device must have Bluetooth enabled and be within Bluetooth range of the other devices. That's usually about 30 feet, but it's safest to assume that both devices need to be in the same room. On a Mac, check in System Preferences > Bluetooth. On an iOS device, open Settings > Bluetooth.
All the devices must be signed in to the same iCloud account, and that account must be the primary iCloud account on each device. To see which account is signed in, on a Mac, look in System Preferences > iCloud. On an iOS device, check Settings > iCloud. This one is the one that is usually the culprit as we troubleshoot Universal Clipboard. It MUST be the same Apple ID/iCloud account.
#Handoff must be enabled. On Macs, turn it on in System Preferences > General. On iOS devices, the necessary switch is in Settings > General > Handoff.
If you still have trouble after verifying that your setup meets the six requirements above, make sure that your Wi-Fi connection is working well on each device, and that each device can connect to the Internet. If either of those isn't true, Universal Clipboard may not transfer the clipboard contents.
When it's working, Universal Clipboard takes just a few seconds to move the contents of the clipboard from device to device, and the transferred item remains available for pasting for about two minutes. It's a subtle, but welcome addition to the Apple experience.
---
Apple previews Apple File System to replace HFS+ in 2017
by Susie Ochs, macworld.com
The current file system, HFS+, is starting to show its age. At WWDC 2016, its successor was finally born.
Some changes are big for users: Siri on the Mac, fireworks in the Messages app, a new Breathe app on the watch! Others are a more seismic shift that end users may or may not notice. Apple's operating systems have used the HFS+ file system for more than 18 years, but that era is coming to an end. At the Platform State of the Union after the WWDC keynote, Apple took the wraps off the replacement for HFS+, its new Apple File System. Now, the file system is pretty well hidden from most users. It's entirely possible that you've used the Mac for 20 years and only come across a reference to HFS+ when formatting a new drive in Disk Utility—I know this because that's the kind of user I am. But Apple File System will have some benefits that should be a really big deal for developers.
According to a document on Apple's Developer site, Apple File System improves on HFS+ while supporting "nearly all" of its features. But it's optimized for flash and SSD storage, with modern touches like 64-bit support and strong encryption.
In the Platform State of the Union, Apple highlighted two big features of the Apple File System. The first is cloning. As you use any operating system, some files are duplicated, and even if the OS can clean all that up for you later, it still hogs resources and disk space while it's happening. Apple File System clones these files rather than copying them because that's faster and takes up no extra space beyond the first copy. It can clone files, directories, and hierarchies.
The second big addition is Snapshots. Those are, well, snapshots of a full volume. Snapshots can be mounted, and support reverting to an older version, to let you back up a view of the whole file system at a certain point in time. The example given onstage involved a classroom: Say you're a teacher and you set up your classroom's Macs or iPads with certain content, apps, and settings for a lesson. Then the kids come in and start monkeying around. At the end of class, instead of having to undo all those changes, the teacher can roll back the device's content and settings to the previous Snapshot, so everything is ready for the next class of students.
Apple File System, which Apple is also calling APFS, is a developer preview in macOS Sierra (aka OS X 10.12), and Apple says it won't ship until 2017. Because while SSDs and cloning files are fast, changing the file system across all of Apple's operating systems and devices—well, that's going to take a little while. APFS has a way to go until it's ready for prime time as well. As of today, APFS volumes can't be encrypted with FileVault or backed up with Time Machine, and Fusion Drives can't use APFS yet either. Baby steps.
---
Apple's new TV app puts all the shows and movies you want to watch in one spot
by Caitlin McGarry, Macworld
For years, Apple has been trying to solve the biggest problem with television today: cable providers that sell expensive bundles of channels we'll never watch. The fourth-generation Apple TV took a step toward making cord-cutting easier with an App Store and Siri remote, but at Thursday's Mac event the Cupertino company introduced another solution: an app called simply TV.
The tvOS App Store now has 8,000 apps, only 1,600 of which are from video content providers, but Apple recognized that people need a more unified interface for finding TV shows and movies to watch. The current Apple TV interface is littered with apps, and while the Siri remote is useful in finding specific things to watch, it wasn't the best solution. The TV app takes the Apple Music approach to organization, putting your most recently watched shows front and center so you can pick up where you left off in the middle of a binge-watching session or see when your favorite show adds a new episode.
Apple's editors will also curate collections of shows to watch, sort of like how Netflix does, based on incredibly specific genres like "political animals" or "edge-of-your-seat thrillers." But Netflix is one of the two essential streaming apps the TV app will be missing at launch (the other is Amazon Prime Video). According to Wired, Netflix is "evaluating the opportunity," so hopefully the company will come to its senses and make my life easier before the TV app rolls out in December.
Then there's the Library, which contains all of your purchased shows and films from iTunes. The Store tab will show you new iTunes content to buy and video-streaming apps that you can install.
The new app makes good use of Apple's single sign-on feature, announced at the company's Worldwide Developers Conference in June, because it eliminates the need to sign into each Apple TV app using your cable TV subscription account details. Instead, your credentials are stored in your Apple TV account. When you install a streaming app from the TV Store tab, you won't have to sign in again, and shows from those apps will appear in your recommendations.
The Siri remote is also getting some improvements. Now you can use Siri to find live video content, like news or sports. Instead of opening the CBS app or ESPN to start watching what's on the air, tell Siri "watch CBS news" or "watch the Louisville game" to jump right into the stream. Siri will also show you what other games are on the day's schedule and which you can watch live, based on your pay TV subscription.
watches" />
The TV app can be used across multiple devices, not just your Apple TV, though its best use case is on the big screen where you'll watch most of that content. It will be available in December with a software update for tvOS and iOS.
---
iPhone 7 Plus Camera Review
by Emily Dolloff, smalldog.com
I was fortunate enough to get my hands on and receive the new iPhone 7 Plus on release day. I skipped the iPhone 6s when it came around so when the 7 was announced I jumped at the chance to upgrade and I haven't regretted it once. Despite the suggestions from my co-workers I've yet to drop my phone into a glass of water…perhaps that review will come in a future issue. For now, I'll still be playing it a bit safe! v
Like many of you, I've read some of the reviews out there and some reviewers are less than impressed with the phone, especially the camera. Coming from an iPhone 6, and after a few blunders with my first few photos, I can say it's clear that there are significant improvements in the quality of the photos. I am not a professional photographer by any means but I enjoy taking photos and I take a lot of them. For the first few photos that I took with the phone it appeared that the phone was struggling to focus on the object I was trying to take a photo of. Once the camera focused, there hasn't been a single hiccup with my photos, but briefly, I did wondered if I'd gotten a defective phone. This past weekend I took my phone to the local fair and became truly impressed with the camera. In showing the photos to friends and co-workers we can clearly see the difference in the quality. I'm most impressed with the fact that it seems no matter the lighting, the pictures come out clear and crisp. Inside, outside, the photos are just as great. My biggest surprise has been that I've had little need to use my flash, even when taking nighttime photos.
I've noticed a significant increase in speed with with 7, especially with the fingerprint recognition. The speed is so fast when I put my thumb on my phone I actually thought I forgot to set the passcode protection. There is almost no delay when I go to unlock my phone and I'm instantly at my home screen. The larger screen of the plus now also means that I can utilize landscape mode in multiple applications. This isn't new to the 7 but is a feature of the plus that I've been missing out on! I love that I can look at my e-mail in landscape and easily toggle through my inbox. The dual speakers have also made for a much clearer listening experience. Don't get me wrong, it's not the same experience as with the iPad Pro but it's a significant improvement.
Lastly I've not missed the lack of of a headphone jack. Early rumors and reports had me wondering, but with most speakers systems and headphones running wirelessly it's far less of a obstacle than originally feared.
---
Apple Watch Users Report Significant Battery Life Improvement After Downloading watchOS 3.1
by Mike Peterson, idropnews.com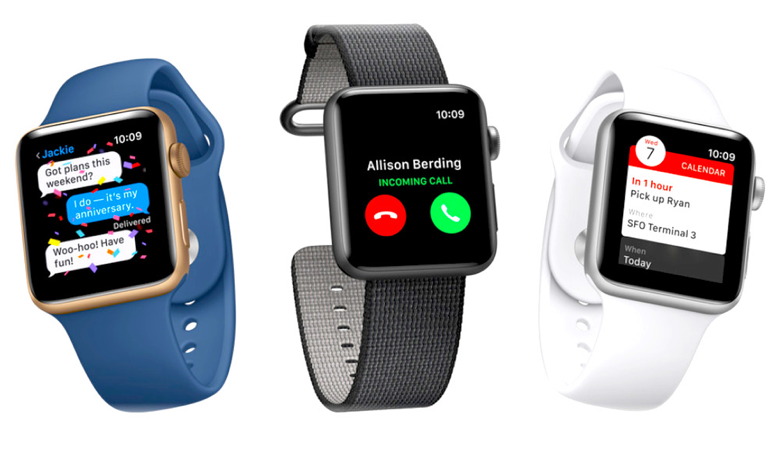 Owners of Apple Watch Series 1 and Series 2 devices have noticed a bump in their battery life upon downloading watchOS 3.1, new reports say. Cupertino released watchOS 3.1 last week, and the update brought various improvements and bug fixes. Since its release, a large number of users have reported that their Apple Watch Series 1 and Series 2 battery life has also been significantly improved — an added bonus that Apple didn't specifically announce in the watchOS 3.1 changelog.
One Reddit user reported that their Apple Watch Series 2's battery remained at 82 percent after 11 hours of standby and 1 hour of actual usage. The user also reported that they were running on maximum vibration and brightness settings, and had background app refresh turned on — all things that are normally notorious battery killers. Many Redditors shared similar sentiments in the comments, as well.
According to numerous reports from Apple Watch Series 1 and 2 owners, they can get through two days comfortably on a single charge — assuming, of course, that battery-draining apps aren't running in the background. One Apple Watch Series 2 owner even reported that they got through an entire weekend without a charge. Before watchOS 3.1, it was pretty much necessary to charge the Watch every night.
Unfortunately, this doesn't seem to be the case across the board. Some owners of the original Apple Watch — known colloquially as the Series 0 — have actually reported their battery life draining quicker since updating to watchOS 3.1. Remaining battery life for the older model Watch averages around 10 percent lower than before, according to user reports on the MacRumors forum. Of course, this is likely a hardware issue and not a bug brought on by watchOS 3.1. Apple's watchOS 3.1 is currently available to the public. So, if you haven't downloaded it yet, you might now have one more reason to.
---
Portrait mode now available on iPhone 7 Plus with iOS 10.1
apple.com
Shoot Like a Pro with New Depth-of-Field Effect (Beta)
Advanced photo feature Portrait mode is available today on iPhone 7 Plus. iOS 10.1 brings Portrait mode to iPhone 7 Plus customers starting today, adding a beautiful new photo feature to the world's most popular camera.
This new feature in the Camera app creates stunning photos and shows off the power of the dual-camera system in iPhone 7 Plus. Easily access Portrait mode from the Camera app, in between Photo and Square modes.
This feature uses a depth-of-field effect to keep your subjects sharp while creating a beautifully blurred background.
Using both 12-megapixel cameras on iPhone 7 Plus and advanced machine learning, Portrait mode applies a depth-of-field effect to make your foreground subject sharp while creating a beautifully blurred background. This effect, also known as "bokeh" and previously only capable on DSLR cameras, turns the camera you carry around with you everyday into an even more powerful photography tool.
---
Use News on your iPhone, iPad, or iPod touch
by Apple
About News
With News, you can read articles that include rich multimedia, such as galleries, videos, and animations. You can explore topics from a variety of sources and add favorites to get the news that you want. You can also save articles to read later—online or offline. News is available in the United States with iOS 9 or later, and in the United Kingdom and Australia with iOS 9.1 or later.
Discover For You
For You highlights Top Stories of the day, Trending Stories that are popular with other News readers, and Featured Stories selected by Apple editors. For You also shows you stories from the publications and topics that you add to Favorites. Tap a story to open it and read more. Or tap a topic, like Entertainment or Sports, to see more stories for that specific topic.
---
Triple-Press the Home Button in iOS 10 for the Magnifier
by Susie Ochs, macworld.com
Do you ever find that small print like serial numbers, instructions or any other smaller print on items is hard to read? iOS 10 can turn your iPhone or iPad into a magnifying glass! You'll first want to go into Settings > General > Accessibility > Magnifier and turn on Magnifier.
Press the Home Button three times quickly to bring up the Magnifier and then point the camera at what you want to see. The view is zoomed automatically, but you can change the zoom level with the slider, tap the flash icon to turn on the LED light ( if one if available on your device ), enable a filter to change the color or contrast, or lock the focus by tapping the lock icon. You can also freeze the image by tapping the big round Take Photo button. This is great for grabbing a picture of a tiny serial number!
---
by Penny Holland, MAGIC*
I put my Grandma on a speed dial - I call that Instagram!
Energizer Bunny arrested: Charged with battery!
From xkcd:
The old days.
If you have any pictures, cartoons, or jokes that might be appropriate for this fantastic publication, please send them to Penny at
---
Evil Emails
by Robert Elphick, MAGIC*
Another selection of emails that are up to no good. Never click on anything in an email that is even only slightly suspicious. Macs are only vulnerable to malware that you invite in by clicking on the links or zip files in these emails. So don't touch them!
---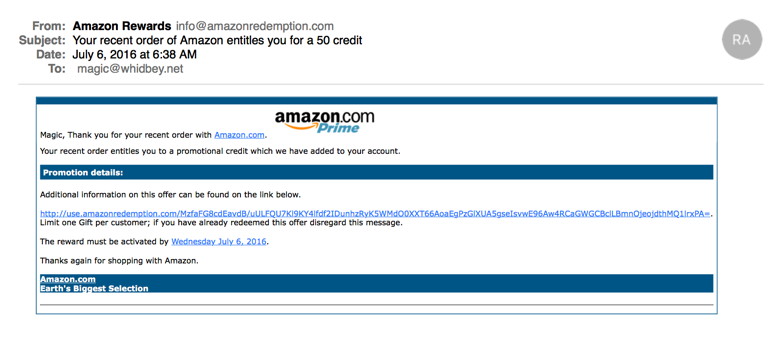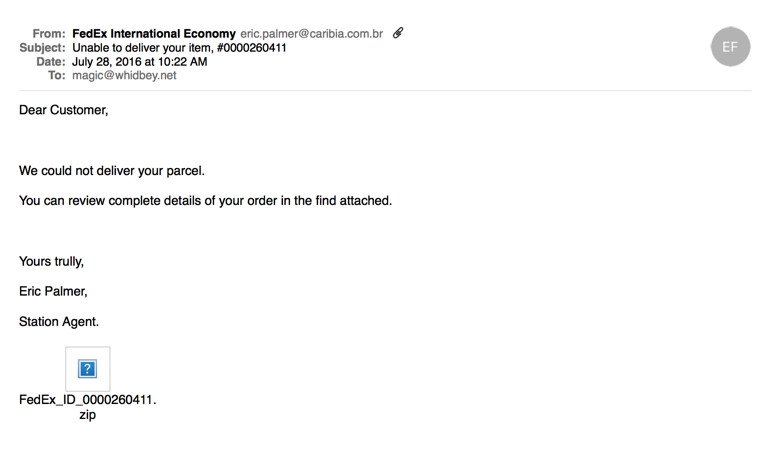 And here are a couple of Flash Player Imposters. There are a number of variants on this. The best thing to do is go to the Adobe site and get updates from there.
---
The New MacBooks, Introduced October 2016
by Ron Sharp, MAGIC*
Apple introduced New MacBooks on October 27th, 2016. The most obvious change is the addition of a function bar, or "Touch Bar' that changes with each application. It is located on the top edge of the keyboard and replaces the row of function keys. The MacBooks also have a much larger track pad. I might add that there are already updates for Pages and Numbers apps, and I'm sure more in the next week or two, that are designed to work specifically with the Touch Bar. I'm thinking these updates would not necessarily be recommended for current older laptops. Of course it won't hurt to keep up to date with software that Apple recommends for your computer.
The new MacBooks are also, much faster (130% faster graphics), brighter display (67% brighter) , lighter and thinner.
With all the changes it's obvious that it won't be long before some of us have to buy new computers, myself included. I'm still using a 2008 MacBook, albeit an aluminum model that I've updated with a solid state drive (SSD) and, believe it or not, got it updated to Mac OS Sierra even though it's one on the list of unsupported Macs for Sierra. I found a website to that offered instructions and a "patch" to make Sierra work. (mac OS Sierra patch tool for unsupported Macs) It's a bit of work to install the OS and the patch in proper steps but it's working good with no bad issues.
To see the whole October Mac Keynote presentation go to Apple's webpage: http://www.apple.com/apple-events/october-2016/
---
iCloud Photo Library, in easy terms
by Ron Sharp, MAGIC*
I read a Macworld article about deleting photos from iCloud Photo Library but I thought the article was a bit complicated. So here is what I think you need to know, because Apple doesn't make it very clear how their iCloud Photos options work.
You can set up iCloud options for the Photos app by using the Photos Preferences, or by going to System Preferences and then iCloud.
Using iCloud Photo Library
If you delete photos from the Photos app on any of your devices, they will be deleted from everywhere, from all your devices and the cloud, if you have the iCloud Photo Library option selected. This is one of the advantages of that option. It syncs all your photos so you don't have to delete photos separately from each device. So, obviously, if you add a photo it will add it to all your devices. However, you can choose to turn iCloud Photo Library on for one device and not others. To sync to all your devices, that option has to be turned on for each device.
The second advantage to the iCloud option is that it backs up your photos so if your computer crashes, you haven't lost your valuable stuff.
The third advantage is that it optimizes storage in case you have limited memory. If you have fifteen thousand photos on your phone or iPad, good luck with that. But you can have access to all those photos from iOS devices with limited memory if you use the iCloud option. The only caveat is that you'll need internet or phone service to pull up the full resolution images.
If you have photos you don't want on one device, your choices are to "Hide" those photos, or don't turn iCloud Photo Library on for that device. Then you can add or delete photos manually. ( I should abbreviate iCloud Photo Library to iPL, although that sounds like a beer)
To Hide a photo or group of photos, find the photos and choose "Select," then select you choices and click the "Share" icon. In the lower row of choices is the Hide option.
>Other iCloud options for Photos are Streaming, and Sharing. Streaming stores only the last 30 days of photos, up to 1000, and Sharing allows you to create a shared album and invite whoever you want to access that album.
With Streaming option selected, a separate Streaming album will show up in your Photos app. You'll have to move the photos to a different folder within thirty days to save them. With this option you can save particular photos from the Streaming album to your iPhone or iPad and save others to your iMac or MacBook. If you have the iCloud Photo Library option chosen then you don't need streaming, all your photos will be saved. I hope this helps a bit.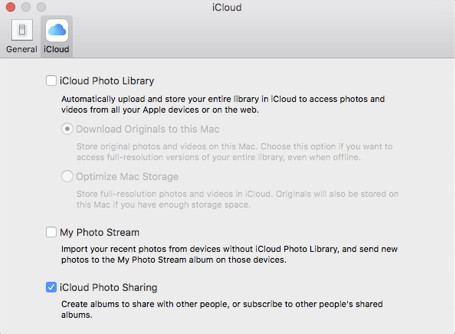 Wizard sez: Do not put sensitive photos on any cloud!
---
MAGIC, the Macintosh Appreciation Group of Island County, serves people who use Macintosh computers, software and peripherals. Our goal is to share information and get answers to questions to make us more productive with our use of technology. Our monthly meetings give us a chance to discuss computer problems and share ideas with other Mac users, feature speakers on specific topics, and to keep apprised of Apple news.