Newsletter
September 2017
Newsletter Editor:
In This Issue:
MAGIC MUG News
Software Updates
News, Information and Stories (OS-X)
iPhones, iPods, iPads
AppleWatch, Apple TV, HomePod
By The Way
* Indicates author is a member of MAGIC
---
Meeting information
Date
20, September, 2017
Time
4:00 to 6:00 p.m.
Presentations:
• "Backing up, Time Machine, and SuperDuper!" w/Robert
• Q and A with Robert
Location:
Unitarian Universalist Congregation of Whidbey Island (see map.)
Helpers are welcome to come early and help set up.
Do not forget to bring your used ink cartridges.
MAGIC will dispose of them for you and make some change for the group.
---
Minutes of the Meeting, August 16, 2017
by Penny Holland, Secretary *
The August MAGIC meeting, held at the Freeland Unitarian Congregation Meeting House, was called to order at 4:00 by President Robert Elphick. There were approximately 29 people present at the meeting.
PRESENTATION
Today's presentation on PASSWORDS was given by Robert Elphick. He told us a fascinating story about early computers and punch cards, recalling the days when there were NO passwords. Eventually people were given accounts into the computer and thus passwords were born so that their information could be confidential. When personal computers became popular, passwords were again not needed—that is, until we all got into the internet. Now everyone needs passwords in order to protect their data.
No password is perfect. If it is good, it is hard to break into a password.
Qualities of a good password:
A mix of upper case, lower case, digits and special characters.
Should be 12 digits long. (each added digit makes the break-in 100 times harder.)
NEVER use the same password for more than one account!
AVOID: familiar names, pets, child or family members names, significant dates, birthdays and anniversaries, birthplace. Do not use words related to sports teams, the word "password" or the word "incorrect" or anything you put on FaceBook or social media.
Thus, the safest passwords are ones that have nothing to do with anything. Recommended Book: The Memorability And Security Of Passwords, by Jeff Yan gives good advice on passwords.
One good way to generate a password is to think of a favorite poem or line, and create a password by choosing the first letter of each word or line.
Keychain Access:
This is an app in Mac Utilities (in the Applications folder)
In the Finder, select the GO menu and choose the Applications>Utilities folder. This is a place where the Mac stores passwords. Open Keychain Access. Under KEYCHAINS in the left column, select ALL ITEMS under CATEGORY in the left column. In the main part of the window you can see a list of login passwords. Robert showed how to create a new keychain. Clicking on the little key symbol will give you a window called Password Assistant. It will help you create a password. Select a type (random, memorable, etc.), a length (move the slider to about the length of 12 or more). The Quality line will indicate how weak or strong it is. If you want to see a password, you have to use the password for your Mac account. Now you can CUT and PASTE this password to anywhare you wish. This is one way you can create a password setup that you have control over.
One recommendation on passwords: Don't do anything predictable.
Before you die or become incapacitated, you should plan for who gets your passwords and how? Make sure you have somebody you can trust with your master password.
Some Password Management Programs:
pwSafe, 1Password, and CyphSafe (downside of this one is it's no longer supported and you can't use it on multiple devices.) Also, NEVER put passwords on the cloud.
pwSafe is Robert's favorite password manager application. You can create separate files for fifferent purposes like personal and business passwords. This master password allows pwSafe to open the data files - this is one you MUST remember. It should be long, but shouldn't include any of the words and dates listed above to avoid.
You can create a New Group, such as passwords that have to do with applications or websites. Then highlight the group and click + to add a new item. Then fill in the blanks in the window. It will generate a password for you but you can edit it. There is a section called NOTES, where you can put hints, etc.
Note: under the SAFE menu, you can lock the pwSafe application.
Under SAFE is a window called Password Policy. The options you fill in here include possible rules, such as "use lower case letters", and how many, "Use uppercase", "use symbols", "use digits." Remember to File>Save after you complete filling out this window. It's good to keep copies of PWSafe passwords on your computer, such as in backup files. Best not to print this out! (You can EXPORT this as a Text file. )
You can tell pwSafe to shut down after so many minutes. Go to PREFERENCES to perform this and other setups. This program will work on an iPhone and multiple computers. You only have to save your secret password master data base and copy it over to all other devices with iTunes (assuming you do not use iCloud).
iOS Password Security Architecture
On your iPhone, for instance, you can look at Settings>Touch ID & Passcode> turn OFF all access except Home Control. And at the bottom, under ERASE DATA: data will be erased after 10 failed passcode attempts!
Q: How often do you recommend changing passwords?
A: If you use the 12 random digits policy, I don't go about changing them very often. Only if you think someone may have hacked your password, then you should change them.
Q: Some of mine are the original 8, so should I change them?
A: No big rush, but next time you go to Amazon, ask pwSafe to give you a new password. Now you are up to date with 12 characters.
Q: Dashlane is an old program that stores passwords on the iMac. What do you know about it?
A: Go to the App store and search for "password" and you will find quite a few password keeper programs. Dateline looks like one that you have to pay for.
Q: SyphSafe could crash and I'd lose all my passwords; is that what you were saying?
A: It will get to the point where SyphSafe is no longer supported, so now is a good time to get into another program. While SyphSafe is still working, you can export your old passwords into a new program. I used to use SyphSafe and I exported all my passwords into pwSafe and it worked. I didn't have to retype any passwords. About 3-4 years ago SyphSafe announced it was no longer supported in the new operating systems.
Q: Will Keychain import the passwords from SyphSafe?
A: I'm not sure. Go to Keychain and try to IMPORT items and take a look and see what formats can be used. Read the instructions.
Robert also discussed "Old Files - How To Read Them"
In Pages application, Pages 5 can't read Pages documents earlier than Pages 4 documents. If you can get to Pages 4 you can open a document in Pages 3 but you can't save it. You can open it, COPY it, and PASTE it into the newest Pages document file. If you are still pre-Sierra, use Pages 4, transfer these files over to a newer Pages. Also old Appleworks files can no longer be read, they have the extension .cwk. Preview will read the later ones. You can get to the text of others with Text Wrangler or similar text editor, but you'll lose the formatting.
Q: I get an alert on Pages 4 that says "the index file is missing" and I can't open them. How does the Index file go missing?
A: If you try to open a Pages 5 file with Pages 4, You will get this error. Pages 4 cannot read Pages 5 files - Apple made a big BooBoo with this.
Q: If you have files of a certain kind, how can you find them?
A: Use a find function function with [Command]-F, and select "This Mac" at the top of the new window. Then under Kind type in AppleWorks, for instance. Select a file of interest and look at its path at the bottom of the window.
Q: It used to be when I got a document from somebody else I could open it by double clicking, but now I get the message "the index file is missing."
A: You are using an older version of Pages and trying to open the newest versions files - it will not work (Boo on Apple!) Use the latest Pages version or right click on the document and say "open with"…. You need to create a file and hit Command-I and under Open with: you need to set it to OTHER and go find the latest version of Pages, and below that, check the Change All box.
NOTE: There is a program called Text Wrangler that is free, and it will read most any text type file. It will interpret every byte that is in your file. You may find a bunch of gobledegook, but eventually you might find something to save. You can copy and paste this to another document.
Q: Is there a way to compare two files in different folders to see if they are the same or not?
A: No, unless you use Unix. Or I do a Command I and see if the created date, modified date and size are the same, then I can guess they are probably the same.
Q: Is there a way to print out a list of files?
A: There is an Application called A Better Finder Rename that can do this for you. This application has a lot of useful tools for doing file manipulation.
BUSINESS MEETING
TREASURY: Gary McIntyre submitted the treasurer's report: We have $7070.43 in our account.
CLASSES: Sue Keblusek is working on our next set of classes which will probably be held at Pacific Rim Institute. She is working on creating a set of 2 hour classes that can stand alone. The theme is I Just Got A New Mac; Now What Is Next? These lessons won't be much different from what we taught in the Essentials Classes we used to do. Both Robert and Sue will be in the room to answer questions and help students. Sue will put these lessons in movie form on her website. She hopes to have these available by the end of the year. We are aiming for the middle to end of September to hold the first class. Date will be announced later. Classes will be held once a week, maybe twice a week.
An iPhone class designed for newcomers has been scheduled for November. It filled within two days of posting!
The meeting was adjourned around 6:00 PM.
---
MAGIC Moments
Education
Sue Keblusek is now working on a new education program which will be built around "I Just Got My New Mac! What's Next?" Possibly multiple two hour, stand alone classes which can be taken as a group or separately. We are considering doing these classes one day a week, probably a week day. Classes are likely to be held at the Pacific Rim Institute.
Eventually these classes will also have video companions that allow students to review the classes.
An iPhone and iPad class has been scheduled for November. It was fully booked two days after the announcement was sent out to members! If enough people request - I can set up a second class of two afternoons in December. Let me know (use the link in the paragraph below.)
Website Maintenance
A request has been made to go through the website and check for material that is out of date or 'broken'. If any members would be interested in helping with this task, please contact me at For most pages it is just a matter of going through the pages and testing the links to see if they work. Also spot any errors and material that might be way out of date.
Swaps and Sales
Don't forget to check out the swap page of this website.
Note: This Software Update section of the newsletter lists the most relevant Apple updates. Not all updates are listed for all products. Additionally, I'll add other pertinent updates on occasion.
---
No updates in this issue.
---
---
Microsoft tells some Mac Office users to pass on Apple's High Sierra
by Gregg Keizer, Macworld
Microsoft has warned users of Office for Mac 2011 not to upgrade to Apple's macOS High Sierra when the new operating system launches next month.
"Word, Excel, PowerPoint, Outlook and Lync have not been tested on macOS 10.13 High Sierra, and no formal support for this configuration will be provided," Microsoft wrote in a support document.
In the same document, Microsoft told those running the newer Office 2016 for Mac that they must update its applications to version 15.35 or later, if they intend to upgrade their Macs to High Sierra. (Version 15.35 was released in June; since then, Microsoft has issued 15.36 in July and 15.37 in August.) "In some cases, you may not be able to launch the Office apps [of version 15.34 under High Sierra]," Microsoft said.
Apple is expected to release High Sierra to customers in September.
Microsoft's advice about Office for Mac 2011 wasn't unexpected, since support for the application suite is slated to end Oct. 10, a date Microsoft first stamped on the calendar two years ago, but has not widely publicized since. As of that date, the Redmond, Wash., developer will cease supplying patches for security vulnerabilities or fixes for other bugs, and halt both free and paid assisted support.
The individual applications—Excel, PowerPoint, Outlook and Word—will continue to operate after support ends, but companies will be taking a risk, however small, that malware exploiting an unpatched flaw will surface and compromise systems.
To receive security and non-security updates after Oct. 10, IT administrators must deploy Office for Mac 2016 or instruct workers covered by Office 365 to download and install the newer suite's applications from the subscription service's portal.
Office for Mac 2011's end-of-support deadline was originally slated for January 2016, approximately five years after the productivity package's release. But in the summer of 2015, when it was clear that 2011's successor would not be ready by early 2016, Microsoft extended its lifespan by 21 months. At the time, Microsoft cited the long-standing policy of supporting a to-be-retired product for "2 years after the successor product is released" when it added time to 2011.
Mac users: Steerage Class
The impending cutoff for Office for Mac 2011 is an issue only because Microsoft shortchanges Office for Mac users. Unlike the Windows version of Office, which receives 10 years of security support, those that run on macOS are allotted half that. Microsoft has repeatedly classified Office for Mac as a consumer product to justify the half-measure, even for the edition labeled "Home and Business."
Nor does Microsoft update and service Office for Mac for corporate customers as it does the far more popular Windows SKU (stock-keeping unit). The latter will be upgraded with new features, Microsoft said in April, twice each year for enterprise subscribers to Office 365 ProPlus, with each release supported for 18 months before giving way to a pair of successors.
Mac editions, however, are refreshed with new tools at irregular intervals, often long after the same feature debuts in the same Windows application. (Recently, for example, Microsoft added a delivery-and/or-read receipt option to the Mac version of Outlook; that functionality has been in Outlook on Windows since 2013.) And because there are no regular, large-scale feature upgrades to Office for Mac, support is not curtailed by the release schedule as with Windows.
The difference between Offices—the behemoth Windows on one side, the niche Mac on the other—has been put into even starker relief recently: Microsoft has adopted March and September dates for launching new upgrades to Windows 10, Office 365 ProPlus and Windows Server, but made no similar promises for Office for Mac 2016.
It's clearly the odd app out.
This story, "Microsoft tells some Mac Office users to pass on Apple's High Sierra" was originally published by Computerworld
---
iOS and macOS: What does the future hold?
by Jason Snell, Macworld
It's easy to get so focused on the details on the present that we miss the obvious questions about the future. When John Siracusa wrote about the dangers of Mac OS X getting old in 2005, that operating system had only been around for five years—but he wasn't wrong that Apple would need to address major shortcomings in the operating system in the long term.
So with iOS riding high (and serving as the basis for pretty much every major Apple platform that isn't the Mac), it's hard to imagine what comes next. And yet some tweets by Steve Troughton-Smith made my eyes pop open. After linking to a fascinating Ars Technica story about Fuschia, Google's next-generation operating system project, Troughton-Smith wrote: "We're far enough into the age of mobile that the big players are designing the OSes that'll follow it-surprised if Apple isn't doing same. It's not so crazy to think that Apple would want to replace both iOS and macOS with something new and more unified. Post-XNU [the Kernel that runs iOS and macOS], post-BSD [Unix, the underpinnings of iOS and macOS]."
Replace macOS? Okay, we've played this game before—just as the Mac has changed chip architectures every decade or so, we're now 17 years into the macOS/OS X era—and the classic Mac OS lasted about the same amount of time. iOS is comparatively young, but it's still 10 years old, and built on top of the Mac OS X base. Perhaps its time is coming, sooner than we think. Or perhaps not. Let's look at Apple's long-term OS choices:
[Further reading: Everything you meed to know about iOS 11]
Plow ahead on both fronts. In this scenario, Apple continues to maintain two separate (but related) base operating systems, macOS and iOS. iOS continues to receive a lot of attention, but macOS also gets major new features, especially ones that are synergistic with additions to iOS. It's a lot of extra work to have two totally separate operating systems (leaving aside the iOS derivatives that run the Apple Watch, Apple TV, and HomePod), but the Mac's not a business Apple wants to abandon and iOS isn't going to replace it, so we're left with a steady state.
Lean into iOS so it can replace macOS. Some people would argue that this is the current state of affairs. I'm not sure about that—macOS still gets some love and annual updates—but it's true that the difference between these first two scenarios is mostly about what Apple's ultimate goals with iOS are. Is Apple building iOS, especially on the iPad, as an operating system that's powerful enough to outright replace macOS? As someone who uses iOS to get real work done, I think Apple's still got a long way to go with iOS before it could feel comfortable making iOS desktops and laptops and shutting down production of Macs. But the company could get there—if it made a concerted effort.
Apple OS 2020. The other way for Apple to go would be to continue updating iOS and macOS annually, but pull resources off of those projects and instead begin building the foundations for an entirely new operating system, one that can run devices as small as an Apple Watch (or AirPods?) or as large as a 27-inch iMac or a Mac Pro. An operating system that takes the best of iOS, but ditches some of its features—Troughton-Smith suggests replacing the XNU kernel and BSD unix underpinnings—with something new. This new, single operating system would be the basis of all future Apple products, and the distinction between the Mac and iOS would drop away.
The OS of Theseus
My guess is that Apple has no stomach for a complicated operating-system migration, especially with iOS and the App Store doing so well. And iOS has proven remarkably adaptable. Over the last few years, Apple has shown a preference to replace the parts of its operating systems, bit by bit, rather than chucking everything out wholesale. iOS devices run a different filesystem than they ran last year; Apple's programming language of the future, Swift, coexists with the Objective-C language that Apple inherited from NeXT in 1997.
Apple seems to prefer invisible, subtle, and slow technology transitions whenever it's possible. It seems to me that Apple would rather keep making changes behind the scenes in iOS whenever possible, keeping it relevant and modern, rather than making a clean break that confuses the market, makes life hard on developers, and potentially slows the momentum of the iPhone and App Store.
If replacing iOS piece by piece is the future, where does that leave macOS? I'm a believer that iOS will come to all sorts of different devices in the future. The Mac will remain alive and kicking, probably for as long as anyone wants to use it, and for that I'm grateful.
The continued existence of the Mac gives Apple a powerful out when it comes to iOS development. If there's something iOS can't do, some market or user type that it can't serve, Apple can point at the Mac and declare it the solution.
This, then, seems to be the current state of affairs: Apple's investing in iOS, swapping out bits and pieces as it goes, allowing it to grow into something more powerful—but not embarking on a crash course to build it into a Mac replacement. macOS keeps hanging around, gaining new features but not with any urgency. It's not the most exciting scenario—and it certainly could turn out to be the wrong one—but sometimes slow and steady really does win the race.
---
Why the Mac needs iCloud Backup
by Dan Moren, Macworld
Apple's Services division has been going strong for a couple of years now, and the company likes to tout its ability to combine those services with hardware and software in order to deliver unparalleled functionality to its users. But not all of Apple's devices are created equal when it comes to its primary service, iCloud.
It might be a bit strong to say that Mac users are second-class citizens in terms of iCloud integration, so let's just say instead that there's some goodwill for Apple to earn among Mac users—both those who are new to the platform as well as the ones who have used it for decades—by broadening iCloud's options for those who still prefer laptops and desktops.
In particular, with the announcement this week that CrashPlan was discontinuing its consumer-oriented online backup plans, more than a few users found themselves wondering what steps to take to make sure their data remained safely and securely backed up.
There are, of course, plenty of options for Mac users who don't want to switch to CrashPlan's small business backup plans: Backblaze, Arq, and so on. But it also put into stark relief the fact that Mac users miss out on at least one major feature accorded to their iOS-using counterparts: iCloud Backup.
Painless backups, but iOS only
iCloud Backup has become a significant benefit for iOS users, especially those who switch out their devices on a regular basis—which, I would guess, is most of them. Thanks to iCloud Backup, restoring a phone is generally a pretty painless and surprisingly fast experience.
On the Mac side, Apple has of course offered Time Machine since Mac OS X 10.5, and though it has had its bumps, it's generally been improved to the point where it's a solid backup option. And as someone old enough to remember when you needed expensive third-party solutions to back up your entire drive—much less provide advanced features like versioning—Time Machine will always be a bit of a marvel. Simple backups that happen with minimal need for user intervention? It's hard to overstate how much of an improvement that was over the status quo: Time Machine is a wonderful technology, and while backups are far from an exciting topic when it comes to technology, they are one of those features that simply everybody needs to use.
But Time Machine only works for on-site backups. If you want to make sure that you're protected in the case of a catastrophic emergency—god forbid your house floods or burns down—then an off-site backup is still a key ingredient of a healthy backup strategy. But though Apple does offer cloud storage, it's generally not sufficient to back up an entire Mac. Not only do they generally have bigger drives than iOS devices but, with an older and more open operating system like macOS, there are more bits and pieces to account for than with a carefully controlled system like iOS.
Online options
Apple does provide the ability to back up multiple Macs to another Mac on your network using macOS Server; I recently set up the Time Machine Server option on my Mac mini and have backed up both my iMac and MacBook Air to a large external drive on my Mac mini. But, again, that only provides a safety net so long as nothing happens to that drive or the Mac mini to which it's attached. The company also offers Migration Assistant, which is close cousin to the restore function from iCloud Backup, though it requires either a Time Machine backup drive or the previous Mac, which might again be of little help in the case of a catastrophic event.
So really, what is needed is either some sort of online-enabled version of Time Machine or a solution akin to iCloud Backup. An option like this would go a long way toward maintaining peace of mind for Mac users, ensuring that their precious data is secure even should the worse happen. Online storage seems to keep getting cheaper and cheaper, and Apple certainly doesn't seem to be slowing down on building data centers. Even so, nobody would fault the company for charging a little bit extra in order to provide sufficient storage space, as other online backup companies do. (Although I do remain steadfast in maintaining that the company should up its default free 5GB of storage to something a little more proportional to today's data needs, and perhaps even allow backups of iOS devices for free with the purchase of the device.)
With the preponderance of cloud storage and our ever-increasing reliance on our digital technology, Apple shouldn't stop with a half-solution for backing up one's files on the Mac. Instead, the company should see it all the way through and provide a foolproof offering, much as it attempts to do on iOS. After all, the data on our Macs is just as valuable as those on our iPhones and iPads.
Wizard Sez: You DO know that nothing is safe on any Cloud, right? Backing up is, of course, essential. But there are other ways of backing up and keeping a copy out of harm's way in case the house burns down, etc.
---
Latest Apple Park drone video shows completed Steve Jobs Theater ahead of Sept. 12 event
by Mikey Campbell, AppleInsider
Exactly one week ahead of Apple's Sept. 12 special event, drone pilot Duncan Sinfield takes to the skies to offer one last look at Apple Park before the company is expected to hold its first ever product unveiling at the campus's Steve Jobs Theater.
Construction is steadily progressing at Apple Park in Cupertino, with landscaping changes being surprisingly noticeable considering Sinfield's latest flyover comes less than two weeks after his last highlight reel hit YouTube late last month.

This week's video shows a nearly complete main "spaceship" structure, with no sign of scaffolding or machinery on the building's exterior. Desks can be seen in some windows, as well as seating in common areas and the central cafeteria. Landscaping work is also nearly finished inside the main ring. It appears contractors have in the last week removed the protective shielding from a small pond that will sit among a grove of local fruit trees in the ring's courtyard.

Standing on a man-made hill near the circular office building is the Steve Jobs Theater, where Apple plans to hold next week's special event. As seen in the clip, construction crews have largely vacated the area, leaving employees to mill in and around the enclosed glass foyer. Inside, underneath the massive carbon fiber canopy, a wide open space is flanked by two curved staircases leading down into the 1,000-seat theater below.

Apple is slated to unveil a slew of new devices at the Steve Jobs Theater next week, including a flagship "iPhone 8," an LTE Apple Watch and fifth-generation Apple TV with 4K HDR capabilities.
---
---
iPhone X: Hands-on and first impressions with Apple's new iPhone
by Jason Snell, Macworld
The iPhone X is real, though it won't be arriving in customers' hands until November. I got to use one for a few minutes Tuesday at the Steve Jobs Theater after Apple wrapped up its latest media event.
My first impression is that, in many ways, this is the iPhone that Apple has always wanted to build—one where the front face is almost entirely covered by a screen. And what a screen—a bright, colorful OLED display that Apple claims is the best by far that it's ever put on an iPhone.
iPhone X: No Home button, no problem
Losing a physical home button will require users to adapt, but it should be an easy process. When I wanted to change apps, I reached down instinctively with my thumb to click the home button—but then, realizing I was using an iPhone X, I simply redirected my thumb to swipe up from the bottom of the screen, just as I would today to call up Control Center. One quick swipe and the current app goes away, replaced by the home screen.
It'll take some getting used to not having a Home button, but fortuantely, the new gestures are intuitive. Likewise, double-tapping on the sleep/wake button to trigger Apple Pay seemed natural, as did holding down that button for a moment to bring up Siri. I don't think iPhone X users will miss the home button for very long.
iPhone X: Face ID
I wasn't able to train the iPhone X to recognize me for Face ID, but the Apple employee assigned to the phone had been. Face ID unlock seemed to work with her just fine—and only when she looked at the screen, as intended—but there were a few quirks. Sometimes the screen would go to sleep before she unlocked the phone, and more than once she accidentally pressed the side button and triggered Siri. I'm going to chalk this up to a new product and a scenario pretty far out of the norm.
iPhone X: Animoji
Once the phone was unlocked, I got a few minutes to pose with Apple's new Animoji images, which will use anyone's face (not just a face that's connected to Face ID) to animate cute emoji icons. This feature is incredibly novel and fun and I suspect will launch a zillion memes—as well as a million homemade animated movies featuring the adventures of pig and fox.
iPhone X: Display
Though the iPhone X will probably be referred to by most people as having a screen covering the entire face of the device, that's not actually true—there's a notch at the top of the display that packs in the TrueDepth camera system as well as a speaker, microphone, and more. It's a little weird having the notch there, or perhaps it would be more accurate to say that it's a little weird to have active display around the notch. You can swipe down from the upper right corner of the screen to reveal Control Center, for instance.
The iPhone X features a 5.8-inch Super Retina HD HDR display that supports True Tone, P3 color gamut, 1,000,000:1 contrast ratio, and a 2436-by-1125-pixel resolution at 458 ppi.
I did notice that Apple has built the TV app to properly frame a video without the notch—when holding the phone in landscape orientation, the video is sized so that the side that's on the same side as the notch ends right at the notch. If you want to make the video bigger, you can double tap as usual, and it will fill the screen—which means that part of the film's image will be masked off by the sensor area. You get to choose if it bothers you.
Still, the iPhone X is familiar—when you hold it, it's undeniably still an iPhone. Even if it doesn't have the home button that was once the trademark of the iPhone line. (See more pictures from the iPhone X event at sixcolors.com.)
---
It's happening: Apple announces September 12 event
by Roman Loyola, Macworld
It's no longer a rumor: the September 12 event is officially happening. Apple sent media invites out on Thursday, inviting the press to an event at the Steve Jobs Theater, located at the new Apple Park campus in Cupertino, California. The event starts at 10 a.m. Pacific.
The invitation didn't specify what products will be revealed - the invites say, "Let's meet at our place," emphasizing the company's new facilities.
Traditionally, Apple's early fall event showcases new iPhone models. Reports have stated that Apple will release three iPhone models, two models that are upgrades to the iPhone 7, and a new "premier" iPhone that has been rumored to feature an OLED display surrounded by a thin bezel, facial recognition, new hardware interface and more.
Apple could also showcase iOS 11, which is slated to be released this fall, as well as a new Apple Watch with LTE connectivity. Apple is also rumored to be working on a 4K Apple TV.
---
iOS 11: September 19 is the release date for Apple's iPhone and iPad operating system
by Roman Loyola, Macworld
iOS 11 is the next generation of Apple's operating system for iPhones and iPads. Apple CEO Tim Cook and friends gave us a full overview of iOS 11 during Apple's Worldwide Developers Conference keynote back in June, and now we're days away from its official launch. New features include sweeping new upgrades to Siri, a redesigned Control Center and App Store, and a brand-new Apple Pay feature that lets you send or receive money to your contacts via iMessage.
In addition, developers can now create apps that tap into your iOS device's potential to create augmented reality experiences via the new ARKit. Plus, there are new productivity features for the iPad, including drag-and-drop capability and a new Mac-style Dock.
Here's everything we know so far about iOS 11, plus a bunch of the new features that we can't wait to try.
Continue reading and movie....
---
Are You Ready For iOS 11?
by Emily Dolloff, smalldog
Some of you might have already jumped on the public beta program for iOS 11. If you did, you might have discovered that some apps have stopped working for you. If you haven't installed it yet this is a good time to get ready.
I've been an iPhone user since the iPhone 3GS and I've been an iPad user since the original iPad came out. iOS 11 brings on some similar hiccups that have plagued macOS, most apps and applications ( if it's on the Mac ) will carry over and run, but eventually some apps and applications will stop working and you need to either replace or update them. Here's the run down on why and what to look for with your iOS apps.
Through the iPhone 5, fourth-generation iPad, original iPad mini, and fifth-generation iPod touch, Apple used 32-bit processors. However, in 2013, Apple instead began putting 64-bit chips in all new iOS devices. Apple encouraged developers to make their apps run on 64-bit mode but kept iOS7 compatible with older 32-bit apps. Starting in 2015, Apple required apps to run in 64-bit mode to receive App Store approval. iOS 10 initially warned that 32-bit apps might slow down your device and later said 32-bit apps would need to be updated.
First off, don't worry about what 32 and 64-bit mean, all you need to know is that 32-bit apps are old and won't run on iOS 11, and that 64-bit apps will continue to work as they always have. But how do you know which of your apps are 32-bit? For apps that you use regularly you've probably seen one of these warnings. But other apps you may open only occasionally. How can you figure out which of those are destined for the chopping block?
In iOS 10.3, Apple added a feature to call out these apps. Navigate to Settings > General > About > Applications to see a list of 32-bit apps that don't have direct updates available. Note: you do need to be running specifically iOS 10.3 for this to work. If you are on iOS 10.3 and Applications won't let you tap it, it means you do not have any 32-bit apps. When I looked up any potential issues I found 4 of my 122 apps are 32-bit. Now what? Well there are some options for handling this.
Delete the app. If it's an app you don't use much or perhaps at all anymore just get rid of it! Simply press and hold the icon until you get the familiar shaking apps and tap the X.
Look for an update that's a new app It's very possible that the developer simply released a completely new version of the app that you need to downloaded. This unfortunately might mean that you have to buy a paid app again, but if you like that app well enough it will be worth it.
Look for an alternative app. Few iOS apps are truly unique, so you may be able to find an alternative that does basically the same thing.
If you are in an unfortunate situation where it's an app you must keep using but there is no update to 64-bit then you've got some options, but they may not be ideal. Just like when OS X came out and countless users were faced with costly software upgrades from OS9 to OS X, you might consider running an older iOS device exclusively for that app. You could also consider not upgrading to iOS 11 and keep your device back. Both of these options come with drawbacks and eventually you'll need to upgrade and migrate to newer versions of the app, so this is only a bandaid. The best advice is to work to replace that older app as soon as possible.
You've still got several weeks to work out a plan and prepare for the official release of iOS 11. For myself, I'm going with the easiest option and just deleting the apps and looking for alternatives.
---
Clips now features Disney and Pixar characters and new graphic overlays
from Apple
Free App Update Makes Video Creation on iPhone and iPad Easier and More Expressive.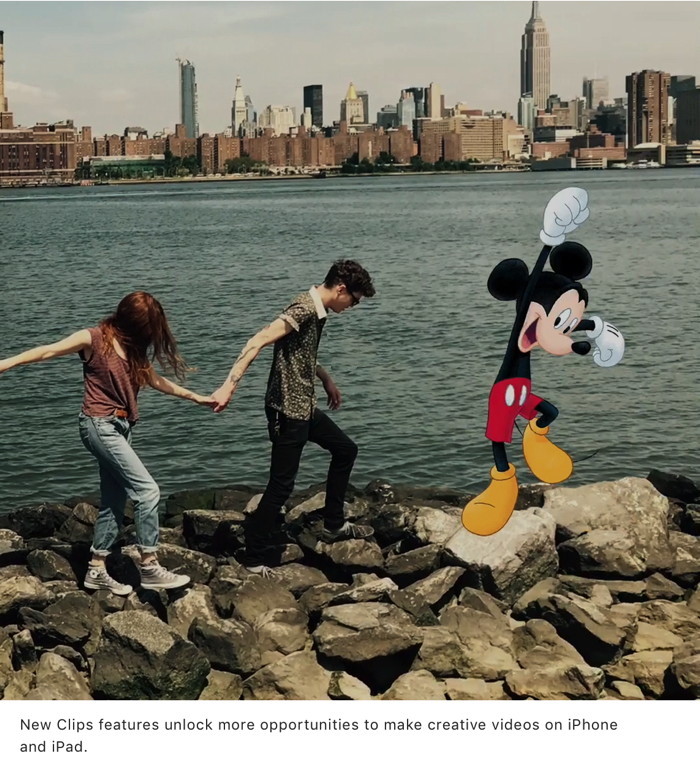 ---
It's not the destination, it's the journey: Old Man's Journey
by Sarah Jacobsson Purewal, Macworld
These days, keeping up with games can be a full-time job. So how do you separate the signal from the noise, the wheat from the chaff, the Temple Runs from the Temple Jumps? Allow us to help by regularly selecting a game You Should Play.
When it comes to mobile gaming, immersion isn't usually high on the list of priorities - it's pretty hard to lose yourself in a 4.7 inch screen, no matter how engaging the story is. And that's why games that are able to transport you to another world - or rather, multiple other worlds - are so impressive. Old Man's Journey is an incredibly atmospheric, narrative-driven adventure game that will take you through quaint French villages, past pastoral countryside, and across the sea on a surprisingly relatable journey.
Wizard Sez: I like this one. You don't have to shoot anything, and you do not need to be dexterous. Just my pace, and lots of fun!
---

---
Apple Events app for Apple TV updated ahead of September 12 keynote
by AppleInsider Staff
Apple on Tuesday issued an update to its Apple Events tvOS app with assets teasing the upcoming Sept. 12 media event, at which the company is expected to unveil a trio of new iPhones, an LTE Apple Watch and next-generation Apple TV with 4K capabilities.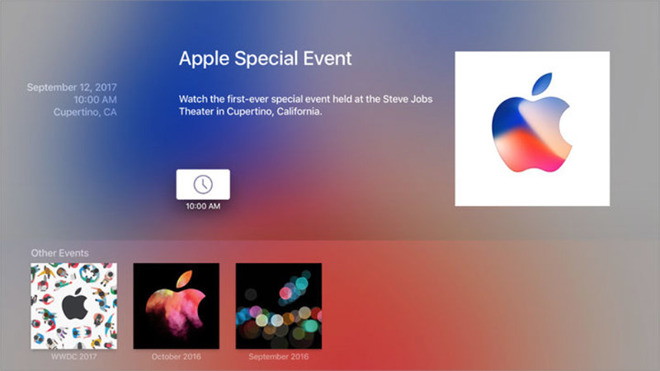 Apple Events version 2.20 slaps a fresh coat of paint on the streaming app, including a stylized Apple logo borrowed from email invitations sent out to press last week.
Set to take place at 10 a.m. Pacific in the new Steve Jobs Theater at Apple Park, the Sept. 12 event is widely expected to bring news of Apple's next-generation iPhone lineup. The company is rumored to unveil a new flagship in the "iPhone 8," or "iPhone Edition," with full-face OLED display, facial recognition features, wireless charging and more. Revamped iterations of the iPhone 7 series are also presumed to launch.
In addition, rumors have pointed to an LTE-capable Apple Watch and fifth-generation Apple TV with support for 4K HDR content.
As usual, Apple will be hosting a livestream of the keynote through its website and the Apple Events app.
---

---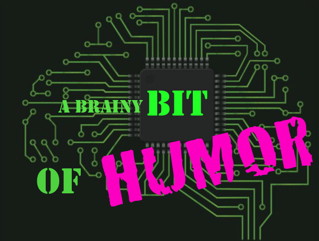 by Penny Holland, MAGIC*
Ordering Pizza in 2017
- Hello! Gordon's Pizza?
- No sir, it is Google Pizza.

- So, I have the wrong number?
- No sir, Google bought Gordon's Pizza.

- OK. Take my order please…
- Well sir, you want the usual?

- The usual? How do you know me?
- According to your caller ID, the last 12 times, you ordered pizza with cheese, sausage, thick crust…

- OK! OK! That's it.
- Sir, may I suggest to you this time ricotta cheese, arugula with sun-dried tomatoes?

- No, I hate vegetables!
- But your cholesterol is high!

- How do you know?
- Through the Lab subscriber's guide. We have the results of your blood tests for the last 7 years.

- Okay, but I want my regular pizza, I already take medicine.
- But sir, you have not taken your medicine regularly. Four months ago, you only purchased a box with 30 tablets at Drugsale Network.

- I bought more from another drugstore.
- It is not showing on your credit card.

- I paid in cash.
- But you did not withdraw that much cash according to your bank statement.

- I have other sources of cash.
- This is not showing on your last Income-Tax return, unless you got it from an undeclared source.

- WHAT THE HELL? Enough! I'm sick of Google, Facebook, Twitter, WhatsApp. I'm going to an Island without Wi-Fi or internet. Where there are no cell phones or satellites to spy on me.
- I understand sir, but you need to renew your passport, as it expired 5 weeks ago!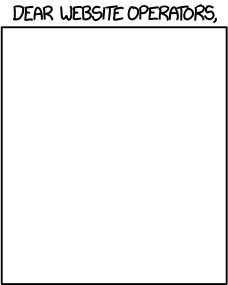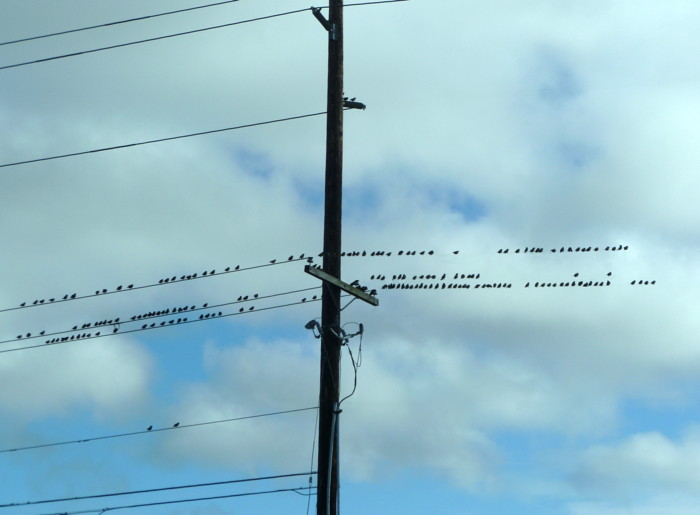 Into the wireless age… Will the birds adapt?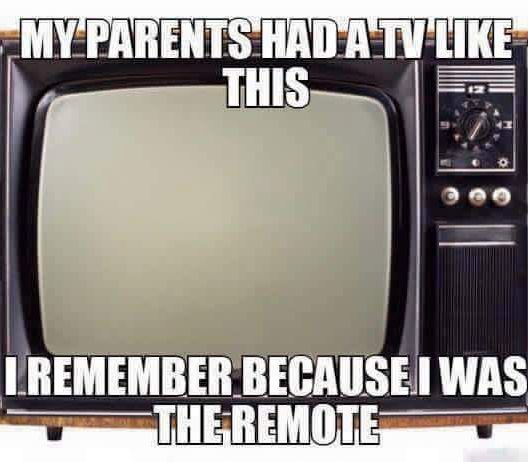 If you have any pictures, cartoons, or jokes that might be appropriate for this fantastic publication, please send them to Penny at
---
---
iCloud Lost Mode
by Jordan Hoekstra, smalldog
We've recently had quite a few run-ins with Macs that have been coming into the South Burlington location with either iCloud lost mode active, a firmware passcode active, or a combination of both. While this is usually used as a personal security measure if a device is lost or stolen, this recent surge has been the malicious kind.
In my experience working with Apple for a few years, the devices themselves are not being "hacked" but rather the user's accounts are being hijacked by thieves or money hungry "hackers" in an attempt to collect money from the account holder. The only way out of this lock is to either pay the thief and hope they give access back OR be able to provide proof of purchase for your device. If you're lucky, at least for iOS device users, you can verify your identity with AppleCare directly and regain access to your account and iOS device. But the Macs are a different story, as they often include what's called a firmware passcode. The firmware passcode cannot be bypassed without providing a proof of purchase to an Apple Store or an Authorized Apple Service Provider, such as ourselves.
The way the thieves manage to take control of the iCloud account associated with the Mac or iOS device is by gaining access to the associated email address, then resetting the password for the AppleID, then logging into the iCloud website with the newly stolen credential. They do this in such a way that most people wouldn't know that it had even happened until it was too late, and they were locked out of their Macs or iOS devices. The accounts I've seen hijacked have all been accounts that did not have either two-step authentication nor two-factor authentication active. The thief will then activate lost mode on their devices, with a message attached to the likeness of, "To regain access to your account, email me at johnnyrotten@madeupemail.com!" They will then ask to be paid in a form of currency called "BitCoin" rather than using some form of traditional payment before giving back the account.
There is no telling when or where this sort of "hack" may happen, but there is an easy way to make sure the account is secure: setting up two-factor authentication for your AppleID account. You can do this by following the instructions on Apple's very own website Two-factor authentication for Apple ID. If you do find yourself stuck in a situation like this, make sure to first change your main email password to block out access to the attacker. Make sure to change any account passwords associated with that email as well (such as banking). I've posted the links to articles below to further educate you on the uses of iCloud Lost Mode and Firmware Lock.
Stay safe out there, and keep your accounts on lockdown so this doesn't happen to you!
---
Avoid Phishing
by Patrick McCormack, smalldog.com
Unlike the band (depending on who you ask, I suppose) to get 'phished' is not as groovy, wavy, or as psychedelic as their malicious digital counterpart.
We've all no doubt heard of the blowback and headaches that notorious phishing scams can cause, but how can you stay alert and protected when you cross paths with a potential scam?
I'm sure, right now, in your Spam inbox, you may find a number of emails from a sender masquerading as Apple, Microsoft, Google, Amazon, etc… asking you to "verify" certain aspects of your personal information i.e. credit card number, address, phone number, and in some cases even your Social Security number. I've dealt with a few of these cases personally, where the victim, unfortunately, thought these requests were legitimate.
Some things you can make yourself aware of if you feel a possible phishing email has pushed its way past your spam filter:
Note the subject line of the email. How's the grammar? Does it sound fishy (forgive the pun) if you say it aloud to yourself? For example, Apple will never let even the slightest grammatical/syntax error go unnoticed, so if you receive an email from "Apple" and it reads like the first draft of a fifth grader's procedural essay, delete it.
What's the point of the email? Scammers are getting craftier by the day as cyber security measures are getting better and better at weeding out the malicious parties trying to swipe your personal info, so it's unlikely that they'll come right out the gate asking for your credit card number. Instead, they may try to get you to follow a link to their page to "verify" your personal info. Let's just say, for the sake of this example, that you follow the link. Keep in mind, if it really is an email sent from Apple, the web address won't look like this:
http://appleid.apple.com.apple.givemeyourmoneyplease.4573949034.ithinkimsoclever.apple.com
One thing to note here if you do click on their given link, Apple will never just use an 'http' address. All Apple websites are prefixed with 'https', with the 's' meaning that a security certificate is in use to encrypt the communications between your device and the Apple web server.
Above all else, use your better judgment. If you have a sneaking suspicion that the email you've received isn't genuine, call the company. If your account is really about to be deactivated, or your subscription is truly about to run out, a customer support representative of the company will certainly tell you. And please, don't use the number listed in the email.
---
Malware Examples
by Robert Y Elphick, MAGIC *
This suddenly popped up in by browser one day. It is Malware. DO NOT CALL!
Another selection of emails that are up to no good and browser messages that are crooked. Never click on anything in an email that is even only slightly suspicious. Macs are only vulnerable to malware that you invite in by clicking on the links or zip files in these emails. So don't touch them!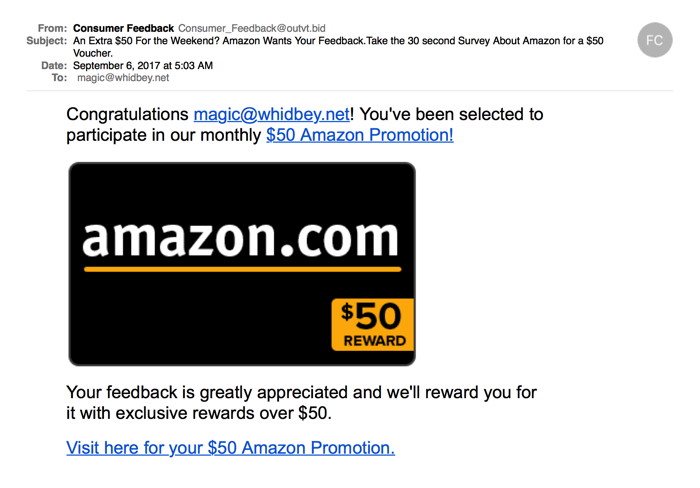 Amazon has become a popular target for spammers. Any offers of certificates (often $50 for some reason) from anyone are probably malware. NEVER click on the link!
---
---
Photos View, finding the black background
by Ron Sharp, MAGIC *
Anyone who's read my fairly recent newsletter articles on using the Photos app has heard about my biggest complaint with Photos. That is the white background. Well after all this time I have discovered more view options. And maybe some of the options are from recent updates to the operating system, or maybe they've been there all along and I just now have stumbled upon it.
When Photos first took over from iPhoto I tried to make it look like what I was used to. I always used the "Sidebar" so I set it to "Show Sidebar" with the "View" menu. When sorting and labeling photos the sidebar seems most convenient for me. You can easily see all your folders and slideshows and find and sort with ease.
Also, I rarely use the Full Screen view with any application. And when I've tried it with Photos, the white background persists. Then, for some reason I decided to use Full Screen with "Hide Sidebar" view. It gives a little less cluttered view of photos, but still a white background. Seems like I've covered all the bases. But suddenly I had a photo with a full screen view and a black background. Nice. So I find that I get the black background with full screen view and a hidden sidebar both, but you also have to be viewing a single image rather than the thumbnail window. Even then it's a bit fleeting. If you scroll up on the image a bit you get "Related" images below and with them the white comes back. Scroll back down and the black background returns. And still a white background in the any of the thumbnail views.
There is a noticeable separation between viewing and sorting. I wanted to sort with the nice dark background. So now I've switched to doing all my sorting and editing in the viewing mode, that is full screen with sidebar hidden. It's just to bad we don't have control of the background color to set it as we like.
---
Tricks for sorting photos between your Mac and iOS devices without using iCloud
by Ron Sharp, MAGIC *
If you use an Apple computer and an iPhone or iPad, here is a trick for keeping just the photos you want on your iOS device without using iCloud. As usual there is more than one way to do this. You can just be selective about which photos you delete when importing from your iPhone to your Mac. For instance, make sure to check or uncheck the "Delete items after import" for each set of photos you import to your Mac's Photos app. But here is a more interactive way to manage a specific group of photos.
Start by labeling some of the Mac's photos you want to put on your iPhone with the Keyword iPhone. (Or iPad)
Next create a new Smart Album (From Photos File menu) on your Mac's Photos app and name it something like iPhone. (Or iPad) Make the criteria for the Smart Album "Keyword," "iPhone." Then any photos on your Mac that you want to have on your iPhone you simply give a keyword of iPhone.
Then connect your iPhone to your Mac via USB cable, open the iTunes app, select your iPhone image and in the photos section check "Sync Photos" near the top. Then in the Albums box, select your iPhone smart album. Click "Sync" at the bottom of the window and your smart album will be synced to your phone.
You can keep any specific photos synced to your phone simply by giving any of the photos on the Mac the keyword iPhone, or by removing the keyword to have them removed from that album.
---
Looking forward to Mac OS High Sierra
by Ron Sharp, MAGIC *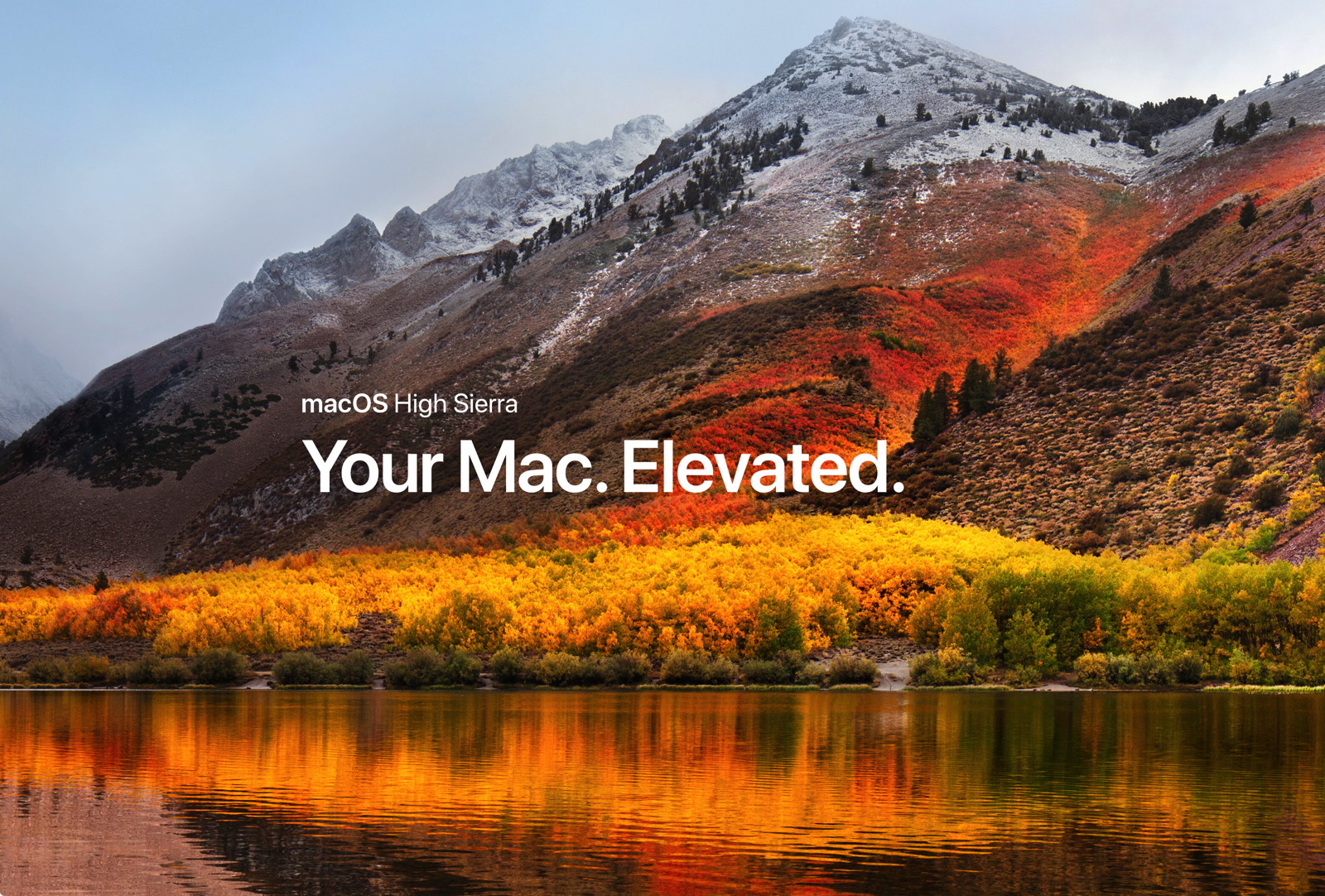 Here are a few items that will improve the new Mac operating system called High Sierra coming this fall:
A new file system, simply called Apple File System, will be 64 bit architecture which will be more responsive, particularly with flash technology of Solid State Drives. (SSD) It will also be more secure with what Apple says is built-in encryption.
It will use a new video standard, H.265 with up to 40% better compression.
It will make better use of graphics processor in the new Macs.
The Photos app will be improved with more ways to edit and organize your photos. An expanded side bar shows all your past imports in chronological order. More photo editing tools and filters to be creative and more integration with third party apps.
Safari will keep videos from playing automatically. Yeah! Safari will also remove cross-site tracking data to help eliminate advertisers from tracking you.
Siri will be more helpful and more expressive.
Spotlight searches become more expansive. For instance, enter a flight number to see departure and arrival times, terminals, gates, and delays.
In the Notes app you will be able to pin a note to the top of the list.
Learn more at Apples web site.
Wizard Sez: Don't forget to upgrade from Microsoft 2011 software before upgrading to High Sierre (OS 10.13).
---
MAGIC, the Macintosh Appreciation Group of Island County, serves people who use Macintosh computers, software and peripherals. Our goal is to share information and get answers to questions to make us more productive with our use of technology. Our monthly meetings give us a chance to discuss computer problems and share ideas with other Mac users, feature speakers on specific topics, and to keep apprised of Apple news.