Newsletter
November 2018
Newsletter Editor:
In This Issue:
MAGIC MUG News
Software Updates
News, Information and Stories (Mac OS)
iPhones, iPods, iPads
Apple Watch, Apple TV, HomePod
Humor
Malware and Mischief
By The Way
* Indicates author is a member of MAGIC
---
Meeting information
Date
21 November 2018
Time
4:00 to 6:00 p.m.
Presentations:
• "Mojave - a preview" with Robert
• "Apple TV"
• Q & A with Robert and Ron
Location:
Unitarian Universalist Congregation of Whidbey Island (see map.)
Remember to bring your used ink cartridges for recycling. Thank you to Paul Morris who collects and ships the empties. MAGIC is rewarded with a check for our efforts.
---
Minutes of the Meeting October 17, 2018
by Penny Holland, Secretary *
The October meeting of MAGIC was held at the Freeland Unitarian Congregation Meeting House from 4 to 6 PM. There were about 31 people in attendance. President Robert Elphick, called the meeting to order at 4:00.
PRESENTATION
New iPhones and their plans with Gary McIntyre.
Phones: Lots of decisions are involved in purchasing a new iPhone. There are currently 3 new iPhones available: Xs, XsMax (differing in size), and the XR, a mid-priced phone.
Capacities range between 64GB, 128 GB, 256GB and 512GB. The larger ones are best for those who take lots of photos.
They are water resistant to 2 meters, or the XR to 1 meter. All have wireless charging.
SIZE AND WEIGHT: The the iPhone 10 has a slightly larger screen than the version 9. The sizes might make a difference in what pocket or purse it will fit in, but otherwise there is not a great deal of difference. Weights do not differ significantly.
CAMERA FEATURES: The first 2 have more camera features, and the XR has a more basic camera.
BATTERY LIFE: Compare 14 hours for the iPhone 8 and 21 hours for the iPhone X. SPECS: The handout that Gary passed out contains much of the specs. This will be posted soon on the MAGIC website.
BUYING A NEW PHONE. Take your time; shop and talk to all the carriers.
PRICING FROM ONE SITE: Differs from $449 for the 7 and up to $1099 for the XMax Note: Gary said that if price is your #1 reason, don't rule out the 7, but they are giving deals for the newer ones, too.
PROTECT YOUR INVESTMENT: These new phones all have a glass face. It costs about $350 to get the face fixed if you break it. Be sure to get a good case, with protectors on the glass. These can cost from $40 to $45.
COVERAGE: The most important thing is to know what coverage your carrier provides. Ask neighbors to bring their phones to your home to see if their phone works in your home.
PROMO PLANS AND CUSTOMER CARE: Ask does this fit my needs and usage? Understand what your calling patterns are. Do you need international plans? List all of the most important things to you. Zoom in on carrier's coverage map and see how good your neighborhood is. One member said some time ago she borrowed a phone from each carrier and was able to take it home and try it to see how it works. You can also get boosters from different carriers to help with the coverage.
PRICING: Figure out what works best for you. Example from At&T: $40 per line. But beware, because for fewer lines the prices may go up. Note that you must ask about senior or veteran plans, if you want to take advantage of them. If you are already a customer sometimes you can call the company and ask for a better deal. Ask: What promos are available? What drove Gary's decision? The promotion for a second phone; discount for age 55+, Comparison pricing, and coverage. Robert suggested that most people don't need any Data plans. Whatever you don't use can usually be rolled over.
WHO HAS THE BEST CELL PHONE PLAN: For heavy data users: T mobile may have the best unlimited plan. You can get plans for about $20 per month if you don't use much data. One member said that Consumer Cellular is a good company for seniors, with a good reputation. They use AT&T and Mobile. There is no contract.
This presentation will be on the MAGIC website within a few days. (See here in the Tricks and Tips page).
BUSINESS MEETING
Robert first took a poll to decide where we should best advertise the meetings. He asked for a show of hands for:
Who is here for the first time?
How many saw the meeting notice on Drewslist?
How many saw the meeting notice in the newspaper?
ANNOUNCEMENT: Next board meeting will be in November, probably in Coupeville. We have 3 members going off the board. Will need a new VP of Education—to keep track of where and when classes can be held. Is anyone interested? (This does not mean you need to teach the classes!)
TREASURER: Gary reported that as of today we have $9,716.74 in our account.
OTHER BUSINESS: Upcoming class on Pages and Numbers will be held November. 6, 7, and 8 at Pacific Rim Institute from 2:00 5:00. More details are on our website.
Q&A

Q: I have some trouble with Pages documents coming to me, I can't open them.
A: At one point there was a compatibility issue with Pages opening in different versions. Sometimes some files need to be first compressed before emailing. Also maybe something is not set up properly. The first thing you want to do is check what version of Pages is on your computer; and then ask what Pages version the sender is using.
Q: I have gotten into Time Machine, but Sophos tells me there is something in Time Machine that needs to be cleaned. Do I need to reformat TimeMachine?
A: If you have MalwareBytes, try running that. Since the Apple technician says that is the best program out there. Be careful of taking files out of Time Machine - You can't just remove something, because Time Machine needs to index itself.
Q: Is Mojave available now, and how does it work?
A: Yes, it has a lot of new features, but most of the stuff isn't something you can't live without. It has a DARK screen feature, which I didn't like. More next month.
Q: Is there a way to safely unsubscribe from Junk Mail?
A: Most of these "unsubscribes" are honest, but some aren't. Instead, I try to teach the Mac to put emails I don't want into the Junk box. You do this by using the MAIL rules that can be found in the MAIL Preferences.
Q: How do you get the computer to Unlearn something.
A: When you go into the junk folder, click on something and say NOT JUNK and it should move out of that folder.
Q: Can you set rules for Mail?
A: Yes. It is very flexible.
Q: Are there classes for new users?
A: We've been doing Essentials classes for years. We recommend a book to go with the classes. Our Education VP has stepped down and we are looking for a new VP to help set up and schedule our next classes. Hopefully early in 2019
Q: When will the New Alderwood Mall Apple store reopen?
A: Maybe next February. OTHER POSSIBLE STORES INCLUDE: Whidbey Tronics in Freeland does good work. There is an Apple store in Pt. Townsend. City Mac is in Burlington next to Costco. Also, for people moving from PC to a Mac, go to the Apple website and look for SWITCH 101.
Q: Is there any way to take a Youtube presentation with you if you can't be online?
A: There are applications for capturing this sort of thing on screen. Mine is called VOILA and you can find it here.
Q: This is a FaceBook question. One of my former students visited and took our picture and posted it on FaceBook. I tried to comment on the people's comments about the photo. How can I do this? A. On your site you hit SHARE. Or you can post something on your site but not on another's site. You can COMMENT on that person's site, and then people on that thread will be able to see it.
The meeting was adjourned at 5:45.
---
MAGIC Moments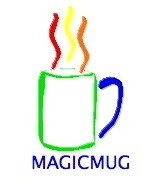 Internet Crime
Any one bothered by internet criminal activity should report it to the Federal Bureau of Investigation Internet Crime Complaint Center (IC3) at this web page. This includes phishing, malware, spoofing, any demand for money.
Board of directors meeting
At the next meeting there will be discussions on the ongoing education program, including finding a new VP Education, an application for a donation to help girls learn STEM subjects and use iPads. If any member has an item for the board meeting, please send me an email to get it onto the agenda.
Vote for a new Board for 2019
Three positions need to be filled on the MAGIC board for 2019. PLEASE volunteer to join a great group and do some good for the local Apple community. Send me an ASAP to volunteer.
Swaps and Sales
Don't forget to check out the swap page of this website. There are printers and computers available.
---
Note: This Software Update section of the newsletter lists the most relevant Apple updates. Not all updates are listed for all products. Additionally, I'll add other pertinent updates on occasion.
---
Apple Watch gets 7 new complications in watchOS 5.1.1
by Killian Bell, CultofMac
Apple rolled out a watchOS 5.1.1 update this week to address an issue that caused some Series 4 devices to enter a boot loop when upgrading to watchOS 5.1. And that's not all the update delivered; there are also seven new complications to enjoy.
But there is a catch that a lot of Apple Watch owners won't be happy with.
Apple's newest update brings everything we expected from watchOS 5.1, including over 70 new emoji, and solid color watch faces that fill the Apple Watch's screen. It also makes it safe for Series 4 users to update their devices after a serious bug was eliminated.
Sadly, the ECG app still hasn't been added — but there are some new complications.
Apple adds 7 new complications in watchOS 5.1.1
The new complications are for Home, Mail, Maps, Messages, News, Phone, and Remote. You can preview them in the Face Gallery section of the Apple Watch app after your devices have been updated to iOS 12.1.1 and watchOS 5.1.1.
Don't expect to see them if you haven't purchased an Apple Watch Series 4, however. The complications are exclusive to Apple's newest wearable, unfortunately for those with Series 3 and older devices, and only available with the Infograph and Infograph Modular faces.
What's more, even those who do have a Series 4 device can't actually use the new complications just yet. Although they are present in the Face Gallery, they don't appear properly on the Apple Watch after they have been selected. You'll see blank spaces instead.
Look out for watchOS 5.1.2
It's thought the complications are meant for watchOS 5.1.2, which should be rolled out to developers in beta sometime this week. It seems Apple may have forgotten to remove them from an update that wasn't quite ready for the public yet, but had to be released anyway.
Because the complications aren't properly active yet, we can't be sure what they will do. It's believed they are just launcher shortcuts for their respective apps.
---
Apple Releases iOS 12.1, macOS 10.14.1, watchOS 5.1.1, and tvOS 12.1
by Josh Centers, tidbits.com
Along with the Macs and iPads it unveiled at its special event in Brooklyn, Apple today released a slew of operating system updates: iOS 12.1, macOS 10.14.1 Mojave, watchOS 5.1, tvOS 12.1, and iOS 12.1 for HomePod. Collectively, they add Group FaceTime, more emojis, and other features to the Apple ecosystem.
As always, it's wise to wait a few days to see what issues might crop up from these updates before installing. Lending credence to our advice is the fact that watchOS 5.1 bricked enough devices that Apple pulled the update temporarily and has now replaced it with watchOS 5.1.1.
iOS 12.1
iOS 12.1 brings the delayed Group FaceTime feature, dual SIM support for the iPhone XS and XR, camera improvements, new emoji, and more. The update weighs in at 438.9 MB on the 10.5-inch iPad Pro and 470.1 MB on the iPhone X, and you can obtain it in Settings > General > Software Update or install it through iTunes.
---
Security Update 2018-002 (High Sierra) and Security Update 2018-005 (Sierra)
by Agen Schmitz, tidbits
Apple has released Security Update 2018-002 for macOS 10.13 High Sierra and Security Update 2017-005 for macOS 10.12 Sierra, patching a lengthy list of security vulnerabilities that the company also addressed in 10.14.1 Mojave (see "Apple Releases iOS 12.1, macOS 10.14.1, watchOS 5.1, and tvOS 12.1," 30 October 2018). Both updates address memory corruption issues with the kernel and Spotlight that could lead to execution of arbitrary code, and they provide fixes for systems with microprocessors utilizing speculative execution to prevent unauthorized disclosure of information. (Free. For 10.13.6 High Sierra, 421.1 MB; for 10.12.6 Sierra, 421.1 MB; security content release notes)
---
---
2018 Mac mini review roundup: Pricey but impressively powerful
by Killian Bell, CultofMac
The Mac mini is back! It's no longer the ultra-affordable entry to macOS it once was. But it's still the cheapest Apple computer you can buy — and there's a good reason for the price hike.
The new Mac mini is a tiny powerhouse
There's one big reason why the Mac mini now starts at $799 — $300 more than its predecessor. Apple squeezed all the power it could inside. The standard configuration comes with a quad-core Intel Core i3 processor, 8GB of RAM and a 128GB SSD.
If you want to, and you have the budget, you can take the Mac mini to the max with a six-core Intel Core i7 processor, 64GB of RAM, and a 2TB SSD. There is no option for dedicated graphics, unfortunately, but for everyday tasks, the Mac mini is a speedy machine.
"The new 2018 Mac mini is impressively powerful, even for the entry-level model," writes Andrew O'Hara for AppleInsider. "It is encouraging to see Apple deliver such a well-thought-out upgrade that was desperately needed."
"This new Mac mini is exactly what it needs to be," writes Jason Snell for Six Colors. "This update allows it to span a wide range from basic server needs all the way up to high-end applications that require a great deal of processor power, fast storage, ultra-fast networking, and even beyond."
Multiple cores for more power
There's a lot going on inside the Mac mini.
Photo: Apple
"In the Geekbench 64-bit Multi-Core test, the $799 Mac mini more than doubled the performance of the three older models," writes Roman Loyola for Macworld. "Bottom line: If you use apps that can take advantage of multiple cores, you're going to see a huge speed increase with the new Mac mini. It's well worth the cost of upgrading."
"Of course, even the lowest-speced version should be plenty fine for most tasks," adds Brian Heater for TechCrunch. "I've shifted my standard tech blogger work flow over the machine for the last couple of days and am perfectly happy with the results."
Developer Marco Arment, one of the few to receive a high-end Mac mini from Apple, was even more impressed with its performance. "This Mac mini builds my app, Overcast, much faster than my maxed-out 13-inch MacBook Pro, and about as quickly as my 10-core iMac Pro!" he writes.
Apple touted the new Mac mini as a creative machine during its recent keynote, and it's great to see that the device is living up to the company's promises. Granted, those who do "pro" work every day — video editing, etc. — might want something with a bit more kick (and discrete graphics). But for the vast majority, the new Mac mini will tackle everything with ease.
The Mac mini has all the ports you need
If you take away its space gray finish, the new Mac mini looks just like its predecessors. Apple didn't make any changes to its aluminum shell. That might disappoint some, but it has an upside: There's still plenty of room for all the ports you need.
Those ports have been updated, however. You get four USB-C ports, two USB-A ports, HDMI and an audio jack. There's also a Gigabit Ethernet connection. (If you need it, you can pay a little more to upgrade to the latest 10Gb Ethernet standard.)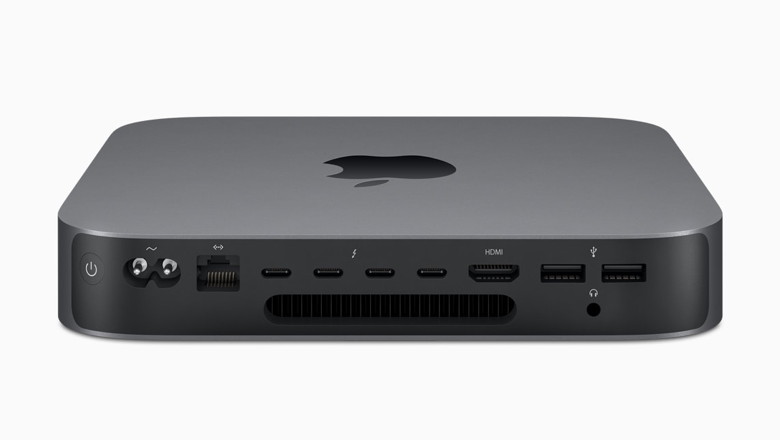 Mac mini has all the ports you expect from a desktop.
Photo: Apple
"Also notable here are the crazy number of ports available on the rear of the device," notes Heater. "The biggest turn on the I/O side of things, however, is the inclusion of an impressive four Thunderbolt 3 ports. That's the same number found on the iMac Pro and twice as many as you get on the 2017 standard iMac." "The ports are different, and versatile," says Snell. "Like the iMac Pro, the Mac mini recognizes that it's useful to offer both USB-C/Thunderbolt 3 and USB-A ports."
The Mac mini is user-upgradeable! Under the hood, there are some nice surprises, too. Apple apparently accepted the fact that nobody likes having their RAM soldered to the logic board. So, unlike the 2014 model, the 2018 Mac mini can be user-upgraded. (Sadly, you can't upgrade the storage.)
"The 2018 model offers more traditional SO-DIMM slots, so you can swap out RAM, allowing you to upgrade the unit after purchase," says Tom's Guide. "It also means you'll be better able to keep the Mac mini up to date if Apple takes another four-year break before introducing the next model."
"Considering Apple's costs on memory upgrades, the fact that the chips are slotted and not soldered into the board is giant," adds AppleInsider. "It's a fairly simple procedure, though not as easy as some of the previous minis from 2012 and earlier, necessitating a spudger, and a set of security Torx drivers."
Upgrading your Mac mini's RAM won't void your Apple warranty. However, you won't be covered if you inadvertently break something while you're doing it. If you don't know what you're doing or you feel uncomfortable, have a professional technician do it for you.
2018 Mac mini: The verdict
There's a lot you don't get with the Mac mini, like a dedicated graphics chip (as we've mentioned). And, more obviously, you need to supply your own display, keyboard and mouse. So, even with the improvements Apple made, is the 2018 Mac mini worth $799?
Absolutely!
"The Mac mini is undoubtedly a powerful upgrade over its predecessor and an interesting glimpse into the future of the Mac ecosystem," concludes TechCrunch. "The mini is still the best-priced gateway into a desktop Mac ecosystem, but the definition of entry-level has clearly shifted for Apple since the last 'go round."
"This is either the first in a series of regular updates with which Apple proves that they care about the Mac mini again, or it's the last Mac mini that will ever exist and we'll all be hoarding them in a few years. We can't know yet," writes Arment. "But today, this is a great update, a wonderful all-arounder for lots of potential needs, and just a fantastic little computer."
"One major benefit of Apple's four-year gap between updates is that there's no confusion about the new Mac mini — it's better than any of its predecessors. And if you've been looking for a chance to upgrade from an older model, there's no reason to wait," adds Tom's Guide. "It's also much more versatile, with a wide range of configurations that should appeal to home-theater users and media pros alike."
---
MacBook Air 2018 Review: Apple's most popular Mac gets an impactful upgrade
by Andrew O'Hara, appleinsider.com
Apple has repeatedly described the MacBook Air as the most popular Mac in its lineup, with years of neglect leaving some intimidatingly large shoes for the new 2018 upgrade to fill. After spending the last several days using it as our daily driver, we're here with our review of Apple's latest portable Mac.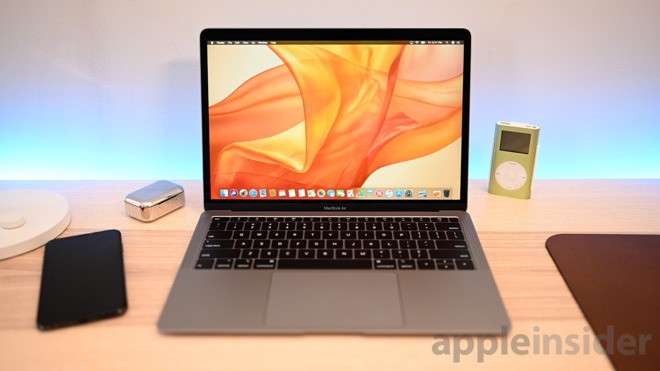 MacBook Air 2018
---
Apple to Start Repairing Some "Vintage" Products Start Repairing Some "Vintage" Products
by Josh Centers, tidbits
9to5Mac reports that Apple is launching a pilot program to repair "vintage" devices that the company had previously stopped supporting because they haven't been manufactured for 5 to 7 years. The program will start with the iPhone 5, 2012 MacBook Air, and 2011 iMac, and will soon include the iPhone 4s and 2012 MacBook Pro, followed by even more Mac and iPhone models. However, repairs are contingent on part availability, so Apple isn't guaranteeing that it will be able to repair your ailing 11-inch MacBook Air. Apple's recent focus on supporting older devices bolsters its environmental efforts, but this pilot repair program also coincides with a brewing fight over Right to Repair legislation in many US states. Apple may be hoping that expanding its repair options will reduce the likelihood that such legislation will force it to design its notoriously closed products for easier repair.
---
How to Turn Off the 'Hold Command-Q to Quit' Warning in Chrome for macOS
by Jim Tanous, tekrevue.com
In macOS, users can quit an app using the keyboard shortcut Command-Q. But recently Google Chrome users have found that instead of quitting right away, they see a message instructing them to Hold Command-Q to Quit.
A recent update to Chrome for macOS introduced a new feature that requires users to hold the Command and Q keys for a few seconds before the browser will quit. The goal is to prevent users from accidentally quitting the browser and losing their open tabs. Considering the increasingly important role of web apps that rely on the Chrome process, this can also prevent quitting apps that you may not initially realize are dependent on Chrome remaining open.
While some users may prefer this extra safety measure and get used to the extra key press over time, the good news is that it can be turned off for those who prefer to have the app quit immediately. You'll find the relevant option in the primary Chrome menu in the menu bar. Just launch Chrome and make sure it's the active application and then select Chrome > Warn Before Quitting from the menu bar at the top of the screen.
chrome warn before quitting
Turning off Warn Before Quitting will restore the default behavior of the Command-Q shortcut, and your Chrome browser will quit immediately after using it. You can always restore the feature by returning to the Chrome menu in the menu bar and selecting Warn Before Quitting again. When the feature is enabled, it will display a checkmark next to its entry in the drop-down menu.
Chrome Is Actually Pretty Good About Restoring Tabs
If you don't like the Hold Command-Q to Quit option but also are afraid of accidentally quitting the browser and losing your tabs, it should be noted that Chrome is relatively good at restoring previously open tabs, even after the browser has been closed. Normally, you can re-open a closed tab by using the keyboard shortcut Shift-Command-T.
However, this also works even after the app has been closed. For example, if you had five tabs open and accidentally quit the browser, if you reopen Chrome and use the Shift-Command-T shortcut, a new window should appear containing those same five tabs.
This doesn't always work, however, and it also may not preserve unsaved data you were in the process of entering into a website, such as a web comments or signup forms. So it's best not to rely on this functionality as a guaranteed backup, but it will be there to save you some time and frustration more often than not.
Thanks to Tom Johnson for pointing out this article to us.
---
A Closer Look at Dark Mode
by Emily Dolloff, Kibbles & Bytes
Since upgrading to Mojave I have been using Dark mode. Honestly, I can't say that I had a reason to do it other than it seemed like a cool feature. Like many new features, sometimes the only reason to try it is simply because it is new. I have been pleasantly surprised by how much I enjoy using Dark mode. Why use Dark mode? The quick answer is that it's easier on the eyes, a huge advantage to those us us spending extended periods of time looking at our screens day after day. With limited exceptions, it's an easy transition. I have found two areas where using Dark mode feels awkward or even uncomfortable, though none of them are reasons enough for me to stop using Dark mode. I do not like how my Calendar is black and I have found that some e-mails come through looking funky, specifically PDFs of invoices. Invoices from our database seem to come through with partially blacked out sections and then the rest of the image is white. A simple adjustment in viewing opitons, however, resolves this. I'll explain that later in the article. With Dark mode, almost all of your screens are a black background, that is the point. For some, this could be an immediate deal breaker.
Let's look at what Apple has done with Dark mode with a more in-depth view. Perhaps if you have not tried Dark mode yet you will want to give it a try.
Enable Dark Mode
First, to turn Dark mode on, go to System Preferences > General and click the Dark thumbnail to the right of Appearance. Mojave immediately switches to Dark mode, turning light backgrounds dark and swapping the text color from dark to light.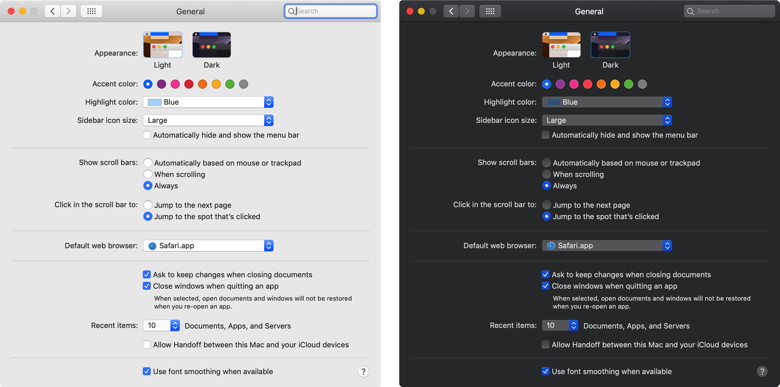 Light and Dark Modes in System Preferences
While you're in System Preferences, click over to the Desktop & Screen Saver preference pane. If you scroll down in the Desktop Pictures, list, you'll discover a bunch of new wallpapers that blend well with Dark mode.
Dark Mode Support and Controls
You'll notice that the color change takes place instantly not just in the Finder, but also in any apps that support Dark mode. Most of Apple's apps support Dark mode and third-party developers are rapidly adding support to their apps as well. However, Dark mode requires explicit support from apps, so older apps that aren't being updated will maintain their standard dark-on-light color schemes.
Some apps, such as Maps and Mail, give you additional options that change just dark they get. In Maps, choose View > Use Dark Map to toggle between a dark map style and the familiar map style that mimics a paper map. Similarly, in Mail, go to Mail > Viewing and deselect " Use dark backgrounds for messages" to return to a white background.
If you generally like Dark mode but have trouble reading light text on a dark background due to the reduced contrast, you may be able to choose a different font or style in the app's preferences that make the text more readable. Apps like mail give you a fair amount of that sort of control. For even more control over contrast, open System Preferences > Accessibility > Display. There you'll find a Display Contrast slider that lets you make text lighter and backgrounds darker. You can also select Reduce Transparency to make it so items like the Dock and menu bar are solid colors, rather than allowing the background to bleed through. To separate dark and light further, select Increase Contrast, which increases the brightness of divider lines as well.
The Dark Side of Dark Mode
Contrast is necessary for pulling out fine details, but too much contrast can be uncomfortable or even painful - think about how you feel when someone turns on a bright light in a previously dark room. For visual comfort, it's usually best to match your screen with the lighting of your surroundings. That's why people who often work at night or with the window blinds down like dark modes - a bright screen seems brighter in a dimly lit room. That's the theory behind the transitional dark text on a light background too since the room will be quiet light during the day.
So Dark mode can run into two problems. First is that using it during the day or in a brightly lit room may crease an uncomfortable contrast between the screen and its surroundings. Controlling your room lighting can eliminate this as an issue. Second and more trouble, even apps that support Dark mode may have large content areas that are bright white, creating a strong contrast between the content area and the rest of the app. Many Web sites in Safari have this effect, as do documents in apps like Pages and Numbers. There's no way around this scenario.
Even if Dark mode isn't perfect, it's worth a try if you have trouble looking at bright screens. Regardless, if it goes to far for you, one of the new dark wallpapers may be easier on your eyes. While most people aren't overly light sensitive, non-trivial percentage of the population is, particularly those who suffer from migraines or who have endured concussions, and those with a variety of ocular conditions. For some, Dark mode does simply look dirty and hard to read. It did take me a few days to get used to it I will admit. It helped me to make sure both my laptop and desktop were set to Dark mode.
Wizard Sez: I tried Dark Mode for a couple of weeks but then turned it off. It is harder to see.
---
---
How to pick the best iPad Pro storage option for you
by Charlie Sorrel, CultofMac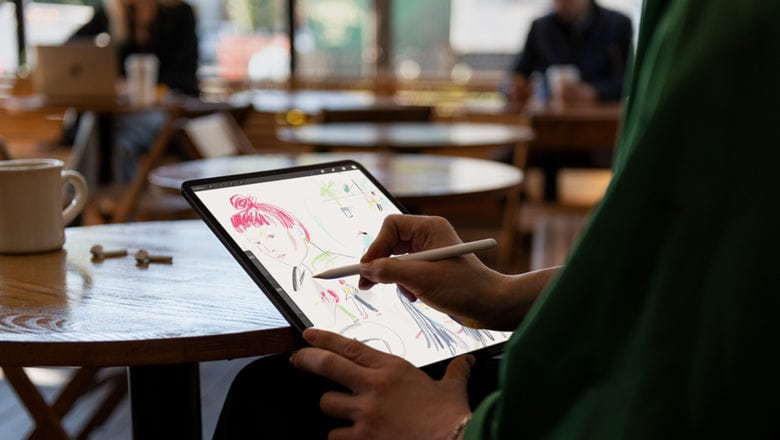 I'm a pretty seasoned iPad buyer. I've been using them since the very first iPad back in 2010, and I've always known exactly how much storage to buy. Back in the early days it was easy — never buy the lowest storage tier, and if in doubt, always buy more than you think you'll need. But today, the issue is a lot less clear. With cheap iCloud storage, and a pretty-decent entry level of 64GB, how do you decide how much space you need? Let's see.
More iPad Pro storage is almost always better
My general rule of device storage still stands: If in doubt, always buy more than you think you'll need. The reasoning behind this is that, if you find yourself short of space a year from now, you'll have to buy a whole new machine. Better to pony up the extra $150-$200 now, and save in the long term. Also, when you eventually sell that iPad, you'll make some of that money back.
With a MacBook, if you mess up the storage equation, you can always just add an external SSD drive. But because we can't yet use external storage for our iOS devices, getting it right from day one is essential.
---
Use iOS 12's smart albums to clean up your photo library
by Charlie Sorrel, CultofMac
Here's the full list of available photo types:
Videos
Selfies
Live Photos
Portrait
Long Exposure
Panoramas
Slo-mo
Bursts
Screenshots
Animated
Imports
Hidden
Recently Deleted
Many of these have been available in previous versions of iOS, but in iOS 12, they're all in a handy list. That makes it easy to find them — previously many of these categories showed up as regular albums, mixed in with your own albums.

One of the most useful for me is Screenshots. Tap it and see all the screenshots you've taken, not only on your current device, but on any iPads and iPhones you own now, or have previously used. There are apps in the App Store which are designed to the exact same thing. Now it's built into the Photos app.
So many smart albums that they won't all fit on one screen.
Animated
Animated is another handy category. It shows not only the Live Photos that you've chosen to loop, but also any GIFs that you have saved on your Camera Roll. Tap any of the pictures in this album to see them move.
Recently Deleted
Whenever you delete a photo or video, it ends up here. Then, a 30-day countdown begins, after which those photos and videos are finally obliterated. This means that you have 30 days to rescue any accidentally-deleted pics. And if you really want an embarrassing photo gone right this minute, you can tap it and choose Delete from the on-screen options. Recovery works the same way, and will put a photo back to wherever it was before you deleted it.
Everything else
The rest of these smart albums are pretty self explanatory. I like the Portrait album, which gathers together all photos taken in Portrait Mode, making it easy to pick out the ones I want to edit.
I find myself using these smart albums more and more, as I get into the habit. Take a look at the available options. You might find them useful.
---
How to use the Measure app in iOS 12
by Luke Filipowicz, imore.com
Moving into a new space and wondering if your old desk will fit? Most people would suggest you measure the desk with a measuring tape, but if you're running iOS 12 you don't need even need that!
The new Measure app allows you to use augmented reality (AR) to measure lines using only the back camera of your iPhone. The Measure app works pretty well in a pinch if you find yourself without a tape measure near you.
This article includes:
Which iPhone models can get the Measure app
How to download the Measure app
How to measure an object in the Measure app
How to use the level in the Measure app on iPhone
Which iPhone models can get the Measure app
While lots of devices can upgrade to iOS 12, not all iPhone models compatible with Apple's newest iOS can use the Measure app.
The Measure app only works on iPhone models that support ARKit. In short, you need an iPhone SE or an iPhone 6S or iPhone 6S Plus and newer to take advantage of the new software.
---
Using the iPhone Camera's Zoom Button
by Josh Centers, tidbits
In all iPhones, when you're taking a photo with the Camera app, you can zoom by putting two fingers on the viewfinder and moving them apart—the traditional pinch-to-zoom. However, the zoom level can be hard to control precisely, which becomes an issue on the "big" iPhones—the iPhone 7 Plus, iPhone 8 Plus, iPhone X, iPhone XS, and the iPhone XS Max. That's because those models sport dual cameras that support 2x optical zoom— at any level other than 1.0 or 2.0 you're using digital zoom that trades zoom level for picture quality (though it might still use digital zoom anyway, depending on the conditions).
To address that, Apple enhanced the Camera app on those models with an additional way of zooming, a visible zoom button in the viewfinder, above the shutter button.
The Zoom button in Camera.We've recently learned that not everyone realizes what this zoom button can do. It has three functions:
1x/2x zoom toggle: Tap the button to switch between 1x and 2x. If you're on an oddball zoom level, like 7.4x, a quick tap takes you back to 1x.
Incremental zoom control: Place a finger on the button and drag to move the circular slider between 1x and 10x zoom, in increments of 0.1. The button doesn't move when you switch orientations, so in landscape orientation, dragging it down increases the zoom and dragging it up reduces it. In portrait orientation, dragging it to the left increases zoom and dragging it to the right reduces it.
Zoom level indicator: When you use the traditional pinch-to-zoom approach, the zoom button shows the zoom level.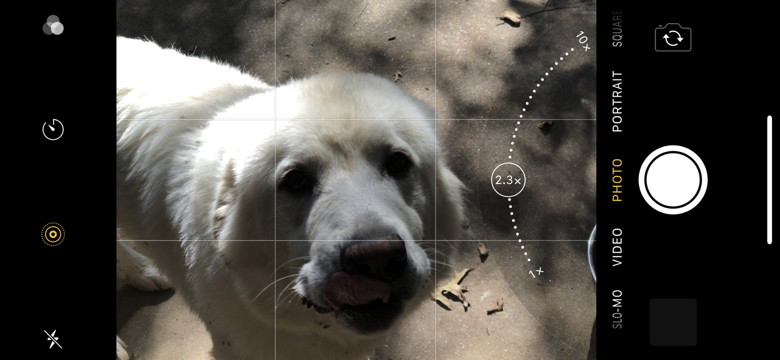 The zoom level in the zoom button.
If you want to see the zoom button in action, here's a quick video showing how to use it.
---

---
Apple TV tips you may not know about
by Ron Sharp, MAGIC *
I just read tips for the 4K Apple TV that came out last year. So here they are:
You can forward or reverse by 5 seconds by tapping the upper right or left corner of the remote.
Siri can also do a quick rewind by saying "what did he just say?"
You can program a regular tv remote to use on the Apple TV.
You can pair bluetooth headphones or a bluetooth remote speaker to the Apple TV.
You can hold the remote "Home" button to make the Apple TV sleep. (It will automatically sleep after a certain amount of time)
To get more options like subtitles or speaker settings while watching a video, swipe down on the remote touch surface/trackpad.
To switch between apps, you can double click the Home button.
To quit an app, double click the Home button then swipe up on the trackpad.
You can change password settings in the Settings, and Accounts > iTunes Store > Password settings.
Double clicking the Menu button brings up the Screensaver.
To restart the Apple TV, hold down the Home button and the Menu button at the same time.
---
Set up cellular on your Apple Watch
from Apple
With a cellular connection on Apple Watch Series 4 (GPS + Cellular) or Apple Watch Series 3 (GPS + Cellular), you can make calls, reply to messages, receive notifications, and more, even while you're away from your iPhone.
Here's what you need
Apple Watch Series 4 (GPS + Cellular) or Apple Watch Series 3 (GPS + Cellular) with the latest version of watchOS
iPhone 6 or later with the latest version of iOS
An eligible cellular service plan with a supported carrier
Your iPhone and Apple Watch must use the same carrier
You must be within your carrier's network.
Before you set up cellular, check for updates to your carrier settings.
If you have an enterprise or corporate cellular service plan, check with your company or carrier to see if they support this feature. Pre-paid accounts and some older accounts aren't currently supported. To make sure that your account is eligible, contact your carrier.
---

---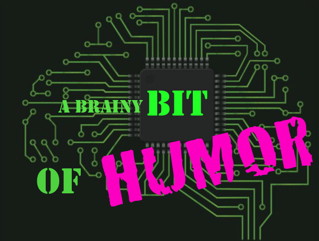 by Penny Holland, MAGIC*
---
When young people tell me their problems, I like to tell them about the time that I survived without the internet for fifty years.
Being effective at social media, whether for business or personal use, means capturing people who have short attention spans. They're only a click away from a picture of a funny cat, so you have to make your thing more compelling than that cat. And that can be a hign bar. - Alexis Ohanian
I'll call it a smartphone when I yell "Where is my phone?!" and it yells "Down here in the cushions!"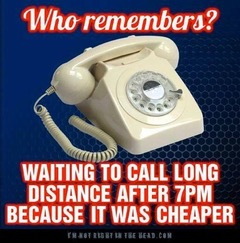 The internet went down and I had to spend time with my family - they seem like good people.
WHAT ARTIFICIAL INTELLIGENCE MEANS
A father buys an Artificial Intelligence Robot that slaps people when they lie. He decides to test it out at dinner one night. The father asks his son what he did that afternoon The son says, "I did some schoolwork." The robot slaps the son. The son says, "OK, OK. I was at a friend's house watching movies." Dad asks, "What movie did you watch?" Son says, "Toy Story." The robot slaps the son. Son says, "OK, OK. We were watching porn." Dad says, "What? At your age I didn't even know what porn was." The robot slaps the father. Mom laughs and says, "Well, he certainly is your son." The robot slaps the mother.
"Robot Is For Sale ! "
If you have any pictures, cartoons, or jokes that might be appropriate for this fantastic publication, please send them to Penny at
---
---
What Businessweek got wrong about Apple
from Apple
The October 8, 2018 issue of Bloomberg Businessweek incorrectly reports that Apple found "malicious chips" in servers on its network in 2015. As Apple has repeatedly explained to Bloomberg reporters and editors over the past 12 months, there is no truth to these claims.
Apple provided Bloomberg Businessweek with the following statement before their story was published:
Over the course of the past year, Bloomberg has contacted us multiple times with claims, sometimes vague and sometimes elaborate, of an alleged security incident at Apple. Each time, we have conducted rigorous internal investigations based on their inquiries and each time we have found absolutely no evidence to support any of them. We have repeatedly and consistently offered factual responses, on the record, refuting virtually every aspect of Bloomberg's story relating to Apple.

On this we can be very clear: Apple has never found malicious chips, "hardware manipulations" or vulnerabilities purposely planted in any server. Apple never had any contact with the FBI or any other agency about such an incident. We are not aware of any investigation by the FBI, nor are our contacts in law enforcement.

In response to Bloomberg's latest version of the narrative, we present the following facts: Siri and Topsy never shared servers; Siri has never been deployed on servers sold to us by Super Micro; and Topsy data was limited to approximately 2,000 Super Micro servers, not 7,000. None of those servers have ever been found to hold malicious chips.

As a matter of practice, before servers are put into production at Apple they are inspected for security vulnerabilities and we update all firmware and software with the latest protections. We did not uncover any unusual vulnerabilities in the servers we purchased from Super Micro when we updated the firmware and software according to our standard procedures.

We are deeply disappointed that in their dealings with us, Bloomberg's reporters have not been open to the possibility that they or their sources might be wrong or misinformed. Our best guess is that they are confusing their story with a previously-reported 2016 incident in which we discovered an infected driver on a single Super Micro server in one of our labs. That one-time event was determined to be accidental and not a targeted attack against Apple.

While there has been no claim that customer data was involved, we take these allegations seriously and we want users to know that we do everything possible to safeguard the personal information they entrust to us. We also want them to know that what Bloomberg is reporting about Apple is inaccurate.

Apple has always believed in being transparent about the ways we handle and protect data. If there were ever such an event as Bloomberg News has claimed, we would be forthcoming about it and we would work closely with law enforcement. Apple engineers conduct regular and rigorous security screenings to ensure that our systems are safe. We know that security is an endless race and that's why we constantly fortify our systems against increasingly sophisticated hackers and cybercriminals who want to steal our data.
---
The published Businessweek story also claims that Apple "reported the incident to the FBI but kept details about what it had detected tightly held, even internally." In November 2017, after we had first been presented with this allegation, we provided the following information to Bloomberg as part of a lengthy and detailed, on-the-record response. It first addresses their reporters' unsubstantiated claims about a supposed internal investigation:

Despite numerous discussions across multiple teams and organizations, no one at Apple has ever heard of this investigation. Businessweek has refused to provide us with any information to track down the supposed proceedings or findings. Nor have they demonstrated any understanding of the standard procedures which were supposedly circumvented.

No one from Apple ever reached out to the FBI about anything like this, and we have never heard from the FBI about an investigation of this kind — much less tried to restrict it.

In an appearance this morning on Bloomberg Television, reporter Jordan Robertson made further claims about the supposed discovery of malicious chips, saying, "In Apple's case, our understanding is it was a random spot check of some problematic servers that led to this detection."

As we have previously informed Bloomberg, this is completely untrue. Apple has never found malicious chips in our servers.

Finally, in response to questions we have received from other news organizations since Businessweek published its story, we are not under any kind of gag order or other confidentiality obligations.
---
Malware Examples
by Robert Y Elphick, MAGIC *
Another selection of emails and browser popups that are up to no good. Never click on anything in an email that is even only slightly suspicious. Macs are only vulnerable to malware that you invite in by clicking on the links or zip files in these emails. So don't touch them!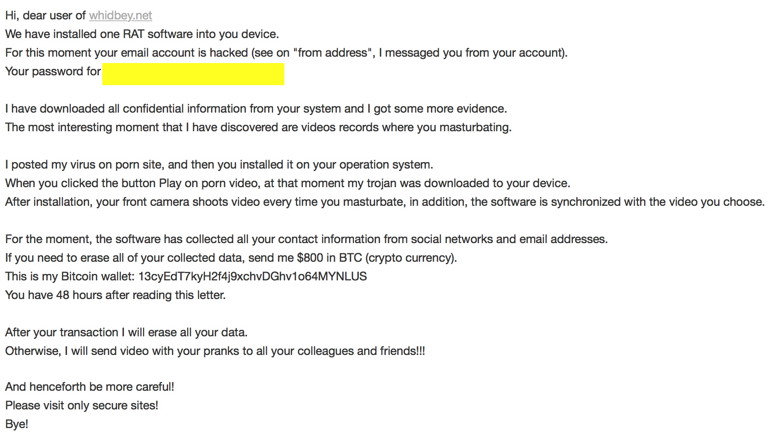 Here is an example of an evil phishing email pretending trying to get money. The perpetrator has apparently found some old passwords and is using them to blackmail people, even though they are innocent!
Here is a copycat version by someone who has problems with the English language.
DO NOT RESPOND to these disgusting emails. They are evil but can do you no harm. They have not taken anything from your computer. The password they quote is probably an old one that you no longer use.
DO NOT CLICK!
Looks good but it is evil. I was able to check where the link went without clicking it and found that it had nothing to do with Apple. I also checked my Apple ID and it was not locked.
This one was sent to me by a MAGIC member. It is a SCAM. If you do not know what an email is, assume it is evil.
Internet Crime
Any one bothered by internet criminal activity should report it to the Federal Bureau of Investigation Internet Crime Complaint Center (IC3) at this web page. This includes phishing, malware, spoofing, any demand for money.
---
---
Phones of the Future
by Ron Sharp, MAGIC *
Isn't the pace of technology unbelievable? For mobile phone technology, Apple has been at the forefront in my opinion. They are the first ones producing a useable face recognition in the iPhone. What will we see next? I've read rumors of a foldable phone. Not like the small screen of the early days of mobile phones but ones where the screen itself will fold to enable large screens with smaller devices. But that's barley a start. Wait until you see what's coming.
Will we be ready for the future changes? The future phones will be implanted just below your ear. When you hear your phone "ring" a voice command or a lite tap on that spot will answer the call. You'll also be able to use voice commands like with Siri now. Your map searches will speak the direction to you. And don't worry about charging, the batteries will last a month. Then you just hold a charger device up to it for a few minutes and it's fully charged.
You will be able to pay for everything by simply telling the cashier your phone number. They'll enter it into their machine with the amount of purchase. Maybe for large amounts your bank will instantly contact you and you'll hear a message asking if you authorize this transaction and a "yes" completes the purchase.
Complete most any function your current phone will do now, via a voice message. Text messages will be voice messages and when you hear your chosen sound for recorded voice message you say "check messages" or simply ignore it until it's a more convenient time.
If you wear glasses a micro sized camera on your glass frames can take photos. Simply say capture image and whatever you're looking at will be saved to your implanted phone and uploaded to your cloud account.
No more having to always carry a phone around with you. Speak the word "time" and the phone tells you. Or have it displayed in the corner of your glasses lens. The communication from the phone will be like a bluetooth earbud but without the inconvenience.
It isn't so unbelievable. A recent NPR article tells how thousands of Swedes have had microchips implanted under their skin. In their hand near the base of their thumb, a chip allows them to unlock doors and store medical information as well as event and travel ticket information. Just wave your hand in front of a lock to open your door. You won't have to carry keys around with you.
Okay, I could give it a few more years. But look at the recent progress of technology. Back only 25 years ago we were still using dial phones. Then in the 2000s, we had smart phones that can do everything computers do. Now the phones are scanning your face for recognition and connecting you and your data everywhere on the planet.
In fact my suggestions aren't even very imaginative. It could be that much more medical data is available from your phone. It could warn you of blood pressure or heart rate problems. Wait! That's already available with the Apple Watch.
I wonder what the year 2118 will be like? Will we have the option to live another 50 or 100 years in a semi electronic existence? Or will we be too apprehensive to progress past a certain point?
I don't want to spoil a good read, but one of Dan Brown's novels suggests that technology takes over human existence, …in a good way. We already use technology to enhance our hearing, our sight, replace our worn out joints. How far can we go?
---
MAGIC, the Macintosh Appreciation Group of Island County, serves people who use Macintosh computers, software and peripherals. Our goal is to share information and get answers to questions to make us more productive with our use of technology. Our monthly meetings give us a chance to discuss computer problems and share ideas with other Mac users, feature speakers on specific topics, and to keep apprised of Apple news.