Newsletter
December 2018
Newsletter Editor:
In This Issue:
MAGIC MUG News
Software Updates
News, Information and Stories (Mac OS)
iPhones, iPods, iPads
Apple Watch, Apple TV, HomePod
Humor
Malware and Mischief
My Favorite App
By The Way
* Indicates author is a member of MAGIC
---
Meeting information
Date
19 December 2018
Time
4:00 to 6:00 p.m.
Presentations:
• Eatin' and drinkin' while catching up with friends old and new
• Door Prizes (including an iPad)
• Fun Slide Show
• Q & A with Wizards
Location:
Unitarian Universalist Congregation of Whidbey Island (see map.)
Remember to bring your used ink cartridges for recycling. Thank you to Paul Morris who collects and ships the empties. MAGIC is rewarded with a check for our efforts.
---
Minutes of the Meeting November 20, 2018
by Penny Holland, Secretary *
The November MAGIC meeting was held at the Freeland Unitarian Congregation Meeting House from 4 to 6 PM. There were about 23 people in attendance. President Robert Elphick, called the meeting to order at 4:00.
PRESENTATION
The first part was led by Robert Elphick on the topic of Apple TV
Apple TV is a digital media player which receives digital data, music or video, and is then streamed to an HDMI-capable TV.
Robert recommended the book, APPLE TV USER GUIDE, which is free and can be obtained from the App store.
There are two models, Apple TV ($149) and Apple TV 4K ($179 and up) with higher resolution. It comes with a "Siri Remote" with a touch pad. It includes a button to push to use verbal commands and questions. You can either hook it up with wifi or an ethernet cable. Instead of using he remote, you can turn your iPhone into an Apple TV remote. By using SCREEN MIRRORING you can show everything that is visible on your computer onto your TV.
Apple TV provides you with many 'applications' that allow you to choose different programming, such as TV shows, Music (from the internet). A Settings button allows you to set up the TV's behavior to suit you. Also included are Netflix, Hulu, Podcasts, YouTube and many others. Some of these applications that Robert showed are ones you have to pay for and download on your own.
The Apple TV App may also be used on your iPhone and iPad. Robert showed us an example of choosing "Movies/iTunes" and above this icon you start to see a list of movies that are available.
Once you have chosen a movie, you can view by "chapters", turn on and off subtitles in various languages.
There is a Windows mode, where you can jump back and forth between different screens.
Following are some of the features with further explanation:
Siri. To use this you need to hold the button to speak, The graphics are similar to the siri app on your phone. You can ask questions such as, "What should I watch?", "Find documentaries about cars", or "Find weather Apps". The list is almost endless. You can even ask Siri, "What is the weather outside?"
Movies: there is a Preview button, a Purchase button or a Rent button. if you select a TV series, you can buy and watch a single episode, or you can buy the entire series.
Note that you can move the app icons around the screen in the order you desire. You can put your most commonly used apps up front, easy to find.
Sports: In some case you can watch a game live, and there are also lots of games you can watch later.
You have your own Library, in which you can s tore your choices; TV shows, Movies, rentals, etc. These are stored on your device.
Searching: You can search in two ways. The first is to spell your choice one letter at a time, rather tedious. Or you can use Siri and search verbally - much easier!
Games: Many games can be purchased at the App store, and then scan be played through the Apple TV.
There us also a For You page that learns what you like. Kids enjoy this because they can see what their friends like.
Photos, Memories, Shared and Albums give you access to your photos from your computer.
Podcasts gives you access to podcasts, and you can put your favorites in your library. You can even start listening to a podcast on one device and use Now Playing to pick up where you left off and listen to your podcast on the Apple TV.
Second part, also by Robert: MacOS 10.14 MOJAVE
There is now a new way to do automatic updates. Go to System Preferences and select the Software Update. Robert recommends you set this to Automatically download the update.
The DARK MODE gives you dark rather than white windows. Apparently this is popular with people who program at night. Most people try it for a short time and turn it off eventually. (In Dark Mode, the text is white on black.)
Desktop and Stacks; this is somewhat new, and is for people who put stuff on their desktop. Go to the VIEW menu and go to Stacks, and you can order things by name, label, etc.
Finder - Gallery View. There are now 4 buttons under View. The first three are the same as before, but the fourth button now gives you a view of files, arranged horizontally. You can sort by Name, kind, date, size, etc.
New Screen Shot: SHIFT-COMMAND-5 Gives you a bar showing different kinds of screen shot choices, or even allow you to take a movie or to capture a clip of a recording of your mouse movements, etc.
Continuity Camera: While working on your computer, you can insert a photo from your iPhone and it will put it right into your document.
News, Stocks, Voice Memos and Home: These ere several new programs that we are more familiar with on our iPhone. Voice recordings give you an audio file that can be exported in various formats. Watch out for these because they are automatically added to iCloud - you may want to turn them of with the System Preferences -> iCloud.
They have changed the way the App store looks in this OS. There are different Categories of stuff. Categories are different kinds of things you are looking for., if you click on Updates, it will show recently updated apps, and ones that need to be updated.
Other Changes: Security and Privacy are always updated in each new OS. Accessibility has some enhancements, with ways to make things more visible, ways to Zoom things. Emojis now have their own button, and there are now millions of them.
Mojave is free and, as Robert says, Worth Every Penny. He recommends we get it. Note the download is about 2 gigabytes so be prepared if your computer connection is slow that it will take some time to download.
BUSINESS MEETING
TREASURY; We currently have $9615.66 in our account, according to Gary McIntyre.
MAGIC Board will meet at Robert's house this coming Sunday, Nov. 25, with discussion about Tech Trek. WE will sponsor 1 or 2 girls at $1000 apiece, and with a new iPad. These are kids interested in STEM subjects, and attend special summer school classes for one week. AAUW is sponsoring this program.
We may get some new equipment for our own MAGIC teaching.
Three board positions are opening in January, 2019. This relatively simple job requires attending quarterly board meetings, and is a good way to get your feet wet as a MAGIC volunteer.
We need a VP of Education, to help organize the classes, decide when to have classes, and where to hold the classes.
December Meeting: NEXT month is our Holiday Party. Members can bring potluck snacks. Tables will be set up for expert help, etc. WE usually have a raffle and people often bring unwanted computer items for others to take.
Q&A

Q: I've always created documents in Word. Do I need to worry about these becoming unreadable.
A: At least for a while you should be okay. But after a certain date (2010?) they won't work. However the new Word will be able to read the old word documents.
Q: What is Chromium and how do you get rid of it?
A: Chromium is an app that Google owns, and Gary says it is part of Chrome and it is a "pain in the neck." Robert says he doesn't like Chrome because he doesn't like Google.
NOTE: There is an application called APP CLEANER. If you have an application you want to get rid of, drop its icon into the AppCleaner App and it will find not only the application, but also the attached files. WARNING: Make sure if you go for AppCleaner. Accept no substitutes.
Q: Apple Photos is no longer doing calendars and books. They stopped allowing us to do this in September. They tell you now to go to Vimeo But I am having trouble with this. Do you have any idea of what is happening now?
A: Robert is not aware of this being discontinued, as he still prefers to use the older iPhoto.
Q: I wanted to find a phone number and tried to ask Siri. How do you get telephone numbers that are not in our contacts. How do I get telephone numbers I do not have?
A: You can Google a name and possibly find it that way. Try doing it online using a Search Engine. When you ask Siri to find a phone number it will look in your Contacts for that number, unless you figure out how to ask a different question.
Q: When I open an app that doesn't normally sit in my dock in Mojave, the application now stays in my dock now. Why?
A: In Mojave, there are a few spaces on the dock that hold the last three apps you've used. This is true for apps are not already on the dock.
Q: How do I get audio memos from my iPhone to my Mac?
A: Turn on iTunes. Click on the device so that the Mac is connected to the phone. Now you can move the memos over to the Mac from the phone.
The meeting was adjourned at 5:40
---
MAGIC Moments
Internet Crime
Any one bothered by internet criminal activity should report it to the Federal Bureau of Investigation Internet Crime Complaint Center (IC3) at this web page. This includes phishing, malware, spoofing, any demand for money.
MAGIC Classes for 2019
In January a new schedule for classes will be set up for the year. One class will probably be the ever popular "Mac Essentials" class. Any member wishing to see us provide other classes should contact us at
Board of directors meeting
On the 25th of November the board met. An application from AAUW to sponsor two girls for the Tech Trek program in 2019 was considered and approved. Also approved was a gift of two iPads for AAUW to be auctioned to raise funds for further education programs.
Shirley Bennett volunteered to administer the MAGIC Education program in 2019. A meeting in January will establish the program for the year and get Shirley trained to take over the administration of the program.
The board authorised the purchase of two iPads. One for a door prize in December, and the other for use in Classes.
Vote for a new Board for 2019
Three positions need to be filled on the MAGIC board for 2019. Two are directors-at-large and require very little work or technical know-how. PLEASE volunteer to join a great group and do some good for the local Apple community. Send me an ASAP to volunteer.
Swaps and Sales
Don't forget to check out the swap page of this website. There are printers and computers available.
---
Note: This Software Update section of the newsletter lists the most relevant Apple updates. Not all updates are listed for all products. Additionally, I'll add other pertinent updates on occasion.
---
macOS Mojave 10.14.2 Update
from Apple
This update:
Adds RTT (real-time text) support for Wi-Fi calling.
Adds a menu item to News for opening a story in Safari.
Resolves an issue that may prevent iTunes from playing media to third-party AirPlay speakers.
Enterprise content:
Allows administrators to enable FileVault via MDM for mobile accounts and users created by MDM.
Allows users to reset their login password at the login window when that password has expired via a password policy.
Resolves an issue that prevents displays from working when connected to MacBook Pro models introduced in 2018, if certain third-party USB graphics devices are also connected.
---
iOS 12.1.1 is out with improvements for FaceTime and Face ID
by Buster Hein, cultofmac
Apple has come out with a big new update for iOS 12 today that brings a host of new features and bug fixes to the iPhone and iPad.
iOS 12.1.1 is available now as an over-the-air update, adding expanded eSIM support on the iPhone XR, XS and XS Max as well as some changes to FaceTime and fixes for Face ID.
To grab the new iOS 12.1.1 update, go the General section in the Settings app, tap Software Update and then download the new software. iOS 12.1.1 is a minor update compared to the other updates Apple has come out with since iOS 12 launched publicly this fall.
Other new changes include the ability to change between front and rear facing cameras on FaceTime calls. You can also capture Live Photos on FaceTime calls. Notification previews with haptic touch are now available on iPhone XR
Here are the release notes:
iOS 12.1.1 adds features and fixes bugs for your iPhone and iPad. Features and improvements include:
Notification preview using haptic touch on iPhone XR
Dual SIM with eSIM for additional carriers on iPhone XR, iPhone XS, and iPhone XS Max
One tap to flip between the rear and front-facing camera during a FaceTime call
Live Photo capture during one-to-one FaceTime calls
The option to hide the sidebar in News on iPad in landscape orientation
Real-time text (RTT) when using Wi-Fi calling on iPad and iPod touch
Stability improvements for dictation along with VoiceOver
Bug fixes include:
Fixes an issue where Face ID may temporarily become unavailable
Addresses an issue that prevented visual voicemail from downloading for some customers
Fixes an issue in Messages that could prevent predictive text suggestions when typing on the Chinese or Japanese keyboards
Addresses an issue that could prevent Voice Memos recordings from uploading to iCloud
Fixes an issue where time zones may not have updated automatically This release also adds features and fixes bugs for HomePod including: - Support in Mainland China and Hong Kong
HomePod LEDs illuminate during Group FaceTime calls.
---
How to install tvOS 12.1.1 using Software Update on your Apple TV
by Rene Ritchie, imore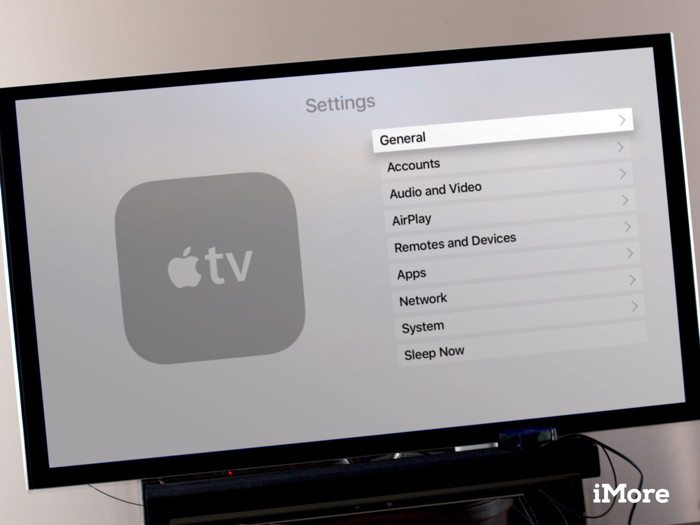 Apple has released tvOS 12.1.1, a minor update for the Apple TV 4K and fourth-generation Apple TV that fixes some bugs and improves performance.
Your Apple TV should prompt you to let you know when an update is available, and you can simply click through and do it. It may not prompt you immediately, however, or you may choose to do the update later when the timing suits you better. Either way, you can instigate an Apple TV update manually whenever you want to, and with just a few clicks.
Click on the Settings app from your Apple TV Home screen.
Click on System.
Click on Software Update.

Click on Update Software.
Click on Download and Install

Click on Update Now.
Wait for your Apple TV to finish the update.

Once the update is done, and the Apple TV has rebooted, you'll be back up and running the new version of tvOS.
---
---
USB-C for iPad Pro: Everything you need to know
by Charlie Sorrel, cultofmac
Despite its drawbacks, USB-C is the future of the iPad. But just what is USB-C? Well, it's a connector, but not all USB-C connectors are the same. And in fact, not even everything that looks like a USB-C connector is a USB-C connector.
Confused? I was. Today we'll find out what USB-C is, why it looks just like Thunderbolt, and what hubs you might want to buy.
The USB-C connector
USB-C brings some interesting accessories to iPad, like this MagSafe-style adapter.
Photo: ElecJet
The USB-C connector will probably be more or less familiar to most tech fans. It's around the size of a Lightning connector, only it has a hole in the middle. It's also wobbly when plugged in. I hate it, but it brings some advantages, as we'll see.
Unlike other USB cables — Lightning, microUSB and so on — the USB-C cable is symmetrical. You can plug either end into either device. And the plug itself is also symmetrical, so you never try to shove it in upside-down.
The USB-C connector also looks just like the Thunderbolt 3 connector. That's because the USB-C spec calls for it to support additional functionality on top of its regular USB duties — Thunderbolt or DisplayPort, for example.
This means that you can plug a Thunderbolt peripheral into a USB-C port, and it won't work. Or it might work a bit, but you might not get all the functions available if it were hooked up to a Thunderbolt 3 port. Oh, and you probably won't be able to tell the different between a USB-C and a Thunderbolt 3 cable.
USB-C power
In the case of the iPad Pro, though, USB-C means a few things. USB-C supports a lot more power than a Lightning cable — up to 100 watts. That's why it can replace a 60-watt-plus MacBook charger.
It also appears that Apple is allowing the new iPad Pros to deliver more power outward, letting them power and charge connected peripherals like iPhones. Previously, the iPad could power connected accessories via Lightning, but more likely than not you'd get a warning that the accessory was drawing too much power.
No longer. In theory anyway. If you hook up a high-draw accessory, the iPad's battery will possibly drain even faster than before. To fix that, you'll need a powered hub.
Anker's 7-in-1 USB-C hub even connects an HDMI screen.br />
Photo: Anker
What can you connect to iPad Pro via USB-C?
When it comes to connecting peripherals to iPad Pro via USB-C, the list of compatible devices is pretty much the same as it was with Lightning and the Lightning to USB 3.0 adapter. You can connect keyboards, audio interfaces, USB MIDI devices, Ethernet adapters, cameras and external storage (USB sticks and hard drives, but only for accessing photos and videos).
The new USB-C iPad Pro port doesn't add anything in terms of compatibility with other USB devices — it just changes the way you connect them.
What you can't connect are old Lightning accessories. Anything that has a cable or plug that slips into the Lightning port is now dead to you, although perhaps you can find a new cable for it.
USB 3.1 gen 2
While the new iPad Pro connector is called USB-C, the stuff going through the wire has its own spec. Just like USB 2.0 and USB 3.0 shared a connector, USB-C specs can differ for the same plug. The iPad Pro uses the latest USB 3.1 gen 2, which can transfer data at up to 10 Gbps. Compare that to the USB 3.0 used in Lightning, with a maximum of 5 Gbps. While this makes little difference for most things (USB 2.0 is more than fast enough for music, for example), it is important for driving external 4K displays, and for hooking up many accessories to the iPad at once.
USB-C hubs
The iPad Pro's new USB-C port lets you connect USB-C device, obviously, but what does that mean exactly? Some current gadgets support USB-C, but often they ship with a USB-C to USB-A cable for connecting to PCs and older Macs. You can also only connect one accessory at a time, because the iPad Pro only has one USB-C port.
What you need is a USB-C hub. These are readily available thanks to the lack of ports on the MacBook. A hub will let you connect any number of accessories to your iPad. And thanks to that fast USB 3.1 gen 2 connection, there will be plenty of bandwidth for all.
Check out our guide to USB-C docks and dongles here. Or take a look at our other, even bigger guide to the best USB-C accessories for Macs and iOS devices.
USB-C hub essentials for iPad Pro
The important feature when it comes to USB-C hubs is pass-through power. Any old USB-C hub will let you connect accessories. But in order to power the iPad Pro at the same time, the hub should allow pass-through power. This lets you connect a charger to the hub. The hub will then pass that power on to the iPad, as well as (possibly) powering all those accessories.
Until we get an iPad Pro in our hands, we can't test how this works, or if all MacBook-compatible pass-through hubs will also work with the iPad. Theoretically this should be the case, but with Apple and iPad, you never know until you try.
The beauty of a USB-C hub is that you can have a permanent workstation on your desk and dock the iPad to it. A hub could be connected to power, an audio interface and speakers, musical instruments, an external display, a USB keyboard and also provide an SD card reader. That's pretty handy.
Note: We originally published this article on Oct. 31, 2018. It has been updated.
---
How to set up and manage Apple Pay on the Mac
by Lori Gil, imore
Apple Pay is an easy and secure way to pay when buying merchandise online with your Mac. Here's how to set it up!
Apple Pay
The iPhone, Apple Watch, and Mac all support Apple Pay. Whether you have a new MacBook Air, MacBook Pro with Touch Bar, or are still rocking an older Mac, here's how you can set up Apple Pay and manage your Wallet.
---
New to Mac: A user guide to your new MacBook or MacBook Pro
by Lori Gil, imore
Learn the basic anatomy of your Mac.
So, you've purchased your new Mac and you've got it all set up. Now, you're sitting in front of your screen, wondering what to do next. Lucky for you, we've got this useful guide to understanding the basic anatomy of your desktop or laptop. So, if you're new to Mac, welcome to the family. Now it's time to learn where everything is and what it does.
Touch ID and Apple Pay
Auto Unlock
The Touch Bar on MacBook Pro
The Dock
The Menu bar
Finder
Desktop background images and the screensaver
The Mac App Store
Right-clicking
The Trackpad & Magic Mouse
Full screen mode
Taking Screenshots
Spotlight
Siri
Launchpad
iTunes
Safari
The Mail app
Messages
iCloud and Continuity
Troubleshooting the Mac
Wizard Sez: This is a good article for beginners to help you get started.
---
How to manage privacy and security settings in Safari on Mac
by Mike Matthews, imore
If you're using Safari, you probably already know that it's the fastest web browser for the Mac. Even with all that speed, it's worthwhile to slow down a bit and make your web surfing experience safer.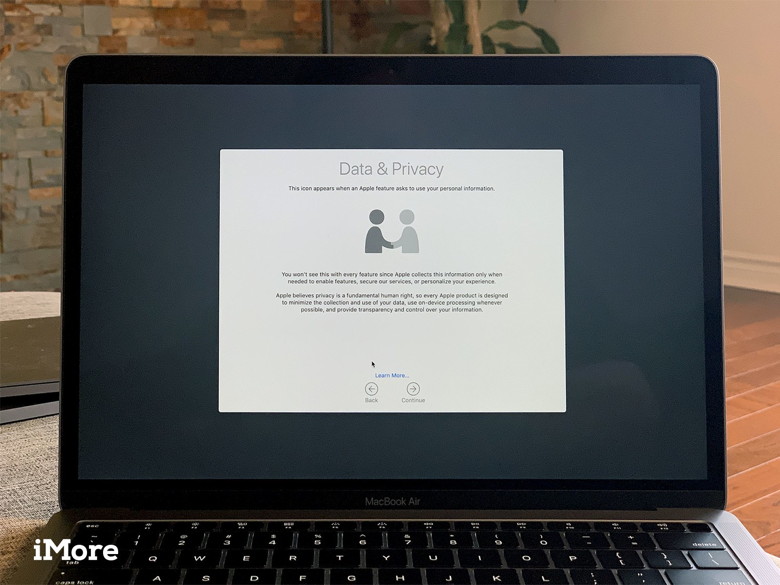 Apple continues to add new features to Safari on a regular basis to try to make our web browsing experience faster, easier, and—above all—more secure.
You can open up a private browser window anytime you want in Safari's file menu and Safari won't save your browsing history and will ask websites you visit not to track you. But there are a few more steps you might want to consider taking.
The place to go for most of these things is in Safari's preferences window, accessed from the Safari menu.
How to guard against unsafe files
How to identify fraudulent websites
How to disable JavaScript
How to prevent cross-site tracking
How to block all cookies in Safari
How to remove website data
How to clear your browsing history
How to check for Apple Pay on websites
How to allow or deny camera, microphone, and location access
How to block pop-up windows
---
How to Password Protect a Pages Document
by Melissa Holt, tekrevue
Documents created in a word processor like Pages can contain highly sensitive and confidential information. It's therefore important not to simply leave Pages documents stored in easily accessible places.
You can protect your Pages documents (along with other sensitive files) via a number of different means, such as storing them on an encrypted drive or within an encrypted disk image, but Apple offers the ability to password protect Pages documents themselves, in addition to any other form of protection you may use.
So if you're storing sensitive information like social security numbers, financial statements, or trade secrets in your documents, here's how to password protect Pages files in the Pages app for macOS.
Add a Password to a Pages Document
Launch Pages and create or open a document. With the document open, choose File > Set Password from the menus at the top of the screen.

In the "Require a password to open this document" dialog box that appears, type in the password you want to use twice, then add a hint if you want to. If you check the "Remember this password in my keychain" box shown below, you won't have to enter the password every time you open the file—but neither will anyone else who uses your Mac! So be careful if your purpose is to prevent people using your Mac from seeing the contents of that document.

Click "Set Password" on the box, and you're all done! Assuming you didn't save the password to your keychain, you'll be required to type it in afterwards when you want to access your file.
Once you have your file password protected, you'll be able to distinguish it from your other Pages documents as its icon will change to a picture of a closed padlock.
Opening Password Protected Documents with Touch ID
If you have a Touch ID-enabled Mac, then you can use your fingerprint to unlock your file instead of having to type in the password. If that's the case, you'll get a special box to check when you're adding a password to your document.
Change Your Pages Document Password
Changing the password (or removing it) in your locked Pages documents easy, too. Just open and unlock the document, then go to File > Change Password.
When the dialog box drops down, either type in your old and new passwords to make the change, or type in your old password and press "Remove Password" to do just that.
Of course, this won't protect your confidential information if someone, say, takes your fingers off and uses them with Touch ID…but I suppose if that happens, you'll have bigger problems than whatever is in your Pages documents. Probably, anyway!
---
How to Copy and Paste Styles to Easily Format Text in macOS
by Melissa Holt, tekrevue
All around the Mac (in programs like Mail, Pages, and even Microsoft Word), there's a neat feature to copy and paste styles. This means you can copy the formatting you've applied to text in one place and paste just the formatting on other text.
So if you've gone to the trouble of creating a header that's 24pt Helvetica in a red color with a bold font weight, for example, you can format your other headers the same way with just a couple of clicks. So here's how to copy and paste text styles in macOS!
Copy and Paste Styles to Format Text
Locate some text in an existing document that has the formatting you'd like to copy. Click and drag to select that text.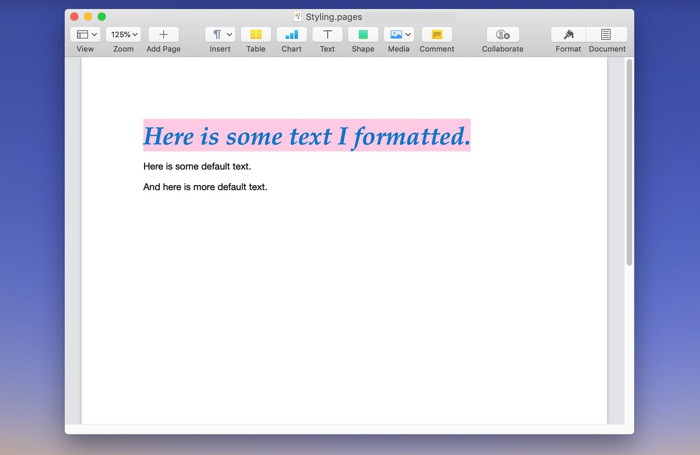 With the text selected, use the menus at the top to pick Format > Copy Style (or press Option-Command-C).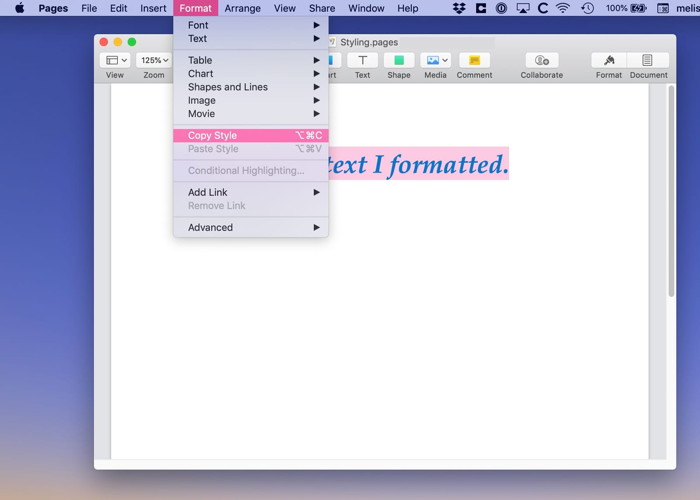 Find the destination text onto which you want to paste your style and click and drag to select it.
Use the menus at the top to pick Format > Paste Style (or press Option-Command-V).
And there you go! The destination text will take on the formatting of your copied style while leaving the actual text intact.
Copy & Paste Styles in Other macOS Apps
In other programs on your Mac, this feature is also available; however, you may find the commands are located in a different place. In Mail, for example, they're still under the "Format" menu, but then you have to go under the "Style" submenu to find those options.
In Word, there's actually a little paintbrush under the "Home" tab on the ribbon that works for copying and pasting styles.
There, you'd select the source text, click the paintbrush, then select the destination text to apply the formatting immediately.
Of course, if you're writing a long document with lots of headers and different fonts, you might consider using actual styles as opposed to copying and pasting. To do that in Pages, check out Apple's instructions; for Word, Microsoft's got you covered!
---
---
Five iPhone Accessibility Tips That Everyone Can Use
by Don Mayer, smaldog.com
Apple has built-in accessibility features in all of their products which make it possible for nearly everyone to enjoy and use Apple products. Whether you are disabled or not some of these features can be extremely useful in everyday life. Following are some great tips when using the iPhone. (Note: I made up these titles.)
Flash Gordon
Okay, you millennials won't know who Flash Gordon was but he was a 1950s sci-fi character and TV show that was simply awesome! Which doesn't really have much to do with this tip but I couldn't resist conjuring up Flash. When I was in Tampa Bay one of the Apple folks who makes a lot of presentations was saying that she set her accessibility to LED Flash for Alerts so that her iPhone wasn't constantly beeping and vibrating. This setting is in General->Accessibility->Hearing. There you can toggle the LED to flash for alerts and set to flash even if your mute switch is set to off.
Sherlock Holmes
Elementary… Need to take a closer look? Need reading glasses but you are too vain? Well, under Vision accessibility you can toggle Magnifier. Go to General ->Accessibility->Vision and you can toggle Magnifier. It will also automatically adjust the brightness so it is easier to see. I use this when I have to read really small labels to get the serial number or other information. If you press on the image you are seeing you will be presented with toggles for zooming in and flash. This accessibility feature is easily accessed by triple-clicking the side button on your iPhone.
Maxwell Smart
Well, it is not quite the cone of silence, but if you are talking on your iPhone in a crowded location or on a busy street, the ambient noise can be distracting. Toggling Phone Noise Cancellation will reduce ambient noise when you are holding your iPhone up to your ear. You toggle this at General->Accessibility->Hearing. Please note that you cannot have MFI hearing active and Noise Cancellation at the same time so I can't use this because I wear MFI hearing aids.
Mr Magoo
Zoom can be a handy feature even if you are not Mr Magoo. Basically, Zoom will magnify the entire screen and it also has a number of features you can toggle. You can activate it at any time by double-tapping with three fingers and then you navigate by moving those same three fingers around the screen. You can activate Smart Typing so that the Window is zoomed with the text but the keyboard is not. You can activate the Zoom Controller which gives you quick zoom features. There is also a slider that will allow you to control the amount of zooming you do.
Ernestine
Lily Tomlin made Ernestine the phone operator (millennials are asking, what is a phone operator?) famous. I'm old enough to remember party lines where you shared a line with a few neighbors. Well, your iPhone can also route your calls if you activate Call Audio Routing. If you are always sporting Apple AirPods you might want to set this to BlueTooth headset or automatic. You can set it to the speaker, too. There is also a toggle to Auto-Answer your calls. Ernestine would be jealous.
James Bond
This is not an accessibility tip but your bonus tip today is about security. Let's just say you are in a foreign land (or the USA) and are being chased. You don't want your pursuers to gain access to the plans for that rocket ship but if they catch you all they have to do is hold up your iPhone X to your face and boom! Your iPhone is unlocked. So, when you think the gig is up, quickly hold the side button and one of the volume keys to get to the Emergency SOS screen which will block Face ID and require that your passcode is entered before your iPhone is unlocked.
Hope these little tips amused you and can also help you out,
---
2018 iPad Pro review: A fantastic tablet, if not a fantastic laptop
by Leif Johnson, macworld
Apple really wants us to believe a tablet can take the place of a MacBook, and it's spared few resources in its quest to proselytize us with the 2018 iPad Pro. The iPad Pro is a beast, one that can hold its own alongside powerful laptops. It's a stunner, especially with a redesigned Apple Pencil and Smart Folio Keyboard that feel more like essentials than peripherals. It's versatile, thanks to the new support for USB-C, and it achieves all this while looking both familiar and futuristic.
Oh, how I've waited for it. I'm one of the loons who willingly used an iPad Pro as my primary writing machine for almost two years, and I loved its portability and the ease of switching between typing and longhand writing. Yet for all that, switching back to a MacBook felt like getting new glasses after months of living with a faulty prescription. Little frustrations vanished. Formerly complex tasks became simple. My productivity skyrocketed. Never again, I figured, would I ever reach for the iPad Pro for work.
But the 2018 iPad Pro makes a compelling case with all that power, all that potential. I've been using it as my main work device, and at times I'm in awe of what it can do. At other times, though, I find myself wondering why Apple hasn't taken better advantage of all that fancy hardware. Too often, I found myself thwarted with the same complications that led me away from the iPad Pro in the first place.
There's never been a better tablet. Regardless of what Apple wants you to believe, though, there are still plenty of better laptops.
---
What method should you use to make sure your iOS photos are backed up?
by Glenn Fleishman, macworld
With iOS backups, it's still a little confusing about what happens to photos taken on an iOS device. When you perform a backup (automatic or otherwise), do your photos and videos get copied too? It varies!
Do you have iCloud Photos enabled?
Do you back up via iCloud or via iTunes to a computer?
From answers to those questions, you can figure out whether your backup contains your images and movies, and if not, how to make settings changes to fix that.
iCloud Photos enabled: If your iOS device has this turned on, then neither iTunes nor iCloud makes backups of images or video. The photo/video backup is instead entirely handled as part of the iCloud sync. (Also note that Apple recently changed the name from iCloud Photo Library, if you're used to seeing that anem.) iCloud Photos retains the full, high-resolution versions of all your photo and videos.
iCloud Photos disabled: In this case, iTunes will copy all photos and videos locally. You can also use the Photos (or iPhoto) app to import images into a library, and delete and manage what's stored on your phone or tablet through those apps or Image Capture.
iCloud backup: An iCloud backup is a different matter. Apple notes on its support page only, "iCloud Backup may include photos and videos in your Photos or Camera Roll."
That's hardly reassuring, and I've never been able to get a more definitive answer from Apple nor in testing! (I don't think it's a plot to push people to iCloud Photos, but it could explain the circumstances better.)
If you're using iCloud backup and not iCloud Photos, you should consider routinely downloading images to ensure you don't lose any.
MAGIC Editors note: The paragraph that start with "iCloud Photos enabled:" is very confusing. The difference that they don't really explain is that iCloud Backup and iCloud Photos are too different settings on your iOS device. iCloud Photos does backup your photos, but there is also a cloud setting to have your whole iOS device backed up to iCloud. However, if you have iCloud Photos enabled then iCloud Backup for the iPhone or iPad won't backup the photos because they will already be backed up by iCloud Photos. Also, if you backup your iOS device with your iTunes app to your computer, then the iCloud backup is not available.
---
Create professional-grade graphics on your iPad and iPhone
by Staff Writer, cultofmac
The latest version of Vectornator makes it a more powerful and intuitive app for mobile graphic design.
Image: Linearity
Graphic design, one of today's busiest creative industries, can seem inaccessible if you don't have expensive software and education. Vectornator, a free app that brings professional-grade tools to iOS devices, aims to make graphic design easy for everyone.
The app offers advanced design tools in a fast, intuitive interface. It makes full use of iPad and iPhone graphics acceleration and processing, so it's an intriguing alternative to expensive — and often intimidating — desktop graphic design apps.
Vectornator's stated goal is to make graphic design available to everybody, whether amateur or professional. One of the main things that separates the two is the gear factor. So the logical thing is to make the most of a more common, less expensive tool: iPads and iPhones.
Upon opening Linearity's free iOS app, it becomes clear that this is a completely new take on graphic design for mobile.
The Vectornator user interface stays separated from the sides of the display, floating atop the canvas so you can move and access it without losing sight of your workspace.
The upgraded interface focuses on simplicity, keeping the workspace front and center. The extensive redesign adds a slick toolbar, an action bar and a contextual inspector that surfaces the tools users need, when they need them.
The Vectornator design tools prove diverse and powerful. You get everything you'd expect from a top-shelf graphic design app. You get basics like node select, scissors, pen, text box, eyedropper and so on. Plus, Vectornator packs powerful processing tools like live gradients, masks, groups and layer blending.
The result is an ability to create high-quality illustrations and designs on the go. Integrating with Adobe Creative Cloud, Apple Pencil, and other tools, you can import your existing workflow, moving projects between devices and platforms.
It all looks and feels great, even on an iPhone's smaller screen. That's thanks largely to Vectornator's unified design language based on translucency and floating elements.
Vectornator: A powerful, free iOS design app
Vectornator makes interesting use of the latest iOS features, too. CoreML comes into play to automatically name image layers, for example. And live rendering uses the Metal accelerated rendering engine to smoothly update changes in real time.
The high-performance rendering takes advantage of Apple's latest 64-bit architecture, creating a massive 8K canvas with millions of elements — and zero lag.
Graphic design shouldn't be inaccessible to those who can't afford a powerful computer or pricey software. Even if you're just learning about graphic design, this a great way to start.
Price: Free
Download: Vectornator 2.0 from the App Store
---
How to Create Your Own Shortcuts in iOS 12 to Get Things Done Faster with Siri
by Brian Lang, gadgethacks
Apple is putting their Workflow acquisition to use with the new Shortcuts feature, integrated right into Siri. It allows you to connect commonly-used actions to a phrase that you activate with Siri. In addition to some of the other speed improvements in iOS 12, Shortcuts helps streamline your mobile experience.
Shortcuts will allow any app to use Siri to create shortcuts to commonly-used actions. For example, the Tile app will let you make a shortcut to locate your keys that you can add to Siri. You can even customize what phrase will trigger the action. However, Apple is taking it one step further by letting you create your own custom Shortcuts to do whatever you want.
Apple unveiled Shortcuts at WWDC 2018, and it's available to use right now in all its forms with the latest version of iOS.
Method 1 - Create a Shortcut from a Suggestion
In iOS 12, most supported devices (minus the iPhone 5S, 6, or 6 Plus), Siri will recommend shortcuts to you bad on your most recent activity. You don't even have to make them — Siri does all the work for you. For instance, if someone just called you and you failed to pick up, the next time you view your lock screen, Siri might suggest that you call them back. These notifications can be swiped away if you don't want to use them, but you can also just tap them to start the action.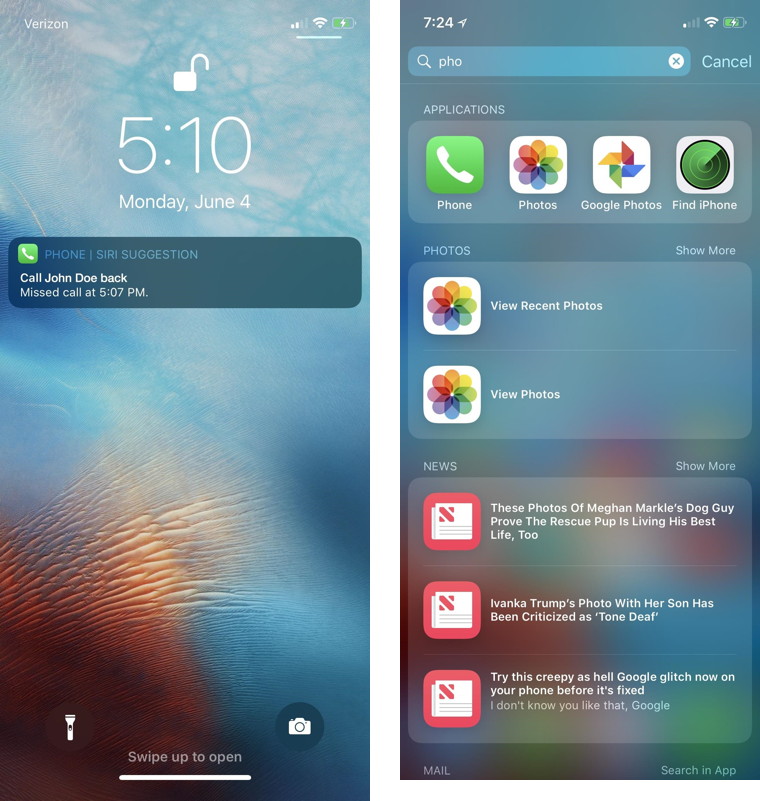 ---

---
Why HomePod's 'Hey Siri' will blow you away
by Buster Hein, cultofmac
The HomePod's ability to hear at full volume is one of the most impressive feats.
Photo: Ste Smith/Cult of Mac.
Apple pulled back the curtain on some of the most complicated features of its HomePod smart speaker this morning with a new blog post that details the machine learning tech that goes into its 'Hey Siri' detection.
One of the biggest challenges with making a smart speaker is not only figuring out what to listen for but also what sounds to discard in the process. Apple's engineers have come up with a number of interesting methods to make Siri work even when you're blasting tunes our of the HomePod's speakers.
In its new machine learning blog post, Apple's team explains that bringing Siri to HomePod is much more challenging than on iPhone because the user is giving commands to the microphone from a much farther distance. Echo, reverberation, and noise are the biggest hurdles for Siri in a far-field setting because users want to trigger Siri from the couch or kitchen and don't care where HomePod is located.
Apple uses a multichannel signal processing system to ensure Siri recognizes and responds to all commands. The company says it uses two approaches to make this happen: 1) Mask-based multichannel filtering using deep learning to remove echo and background noise, 2) Unsupervised learning to separate simultaneous sound sources and trigger-phrase based stream selection to eliminate interfering speech.
Powered by Apple's A8 chip and six microphones, HomePod is able to continuously listen for commands even in its lowest power state. The filtering algorithms constantly adapt to noise conditions, the state of the physical state of the room, and moving talkers.
The amount of detail that has to go into multichannel echo cancellation, mask-based echo suppression, reverberation removal and mask-based noise reduction is truly astounding for a feature most users don't even think twice about. Often times when in use, the HomePod's speakers are so loud they drown out voice commands from across the room. With its multichannel signal processing system, Apple's been able to increase Siri's accuracy with fewer errors, leading to an overall improved experience.
If you're interested in all the details on how Apple makes Siri work like magic on HomePod, check out the full blog post on its site. The company included graphs and equations on some of the smallest details.
---
Apple Watch Hermes Series 4 Review
by Rene Ritchie, imore
State of the art Apple industrial design and material science in stainless steel, black ceramics, and sapphire crystal, strapped in classic, hand-crafted, old word Hermes leather.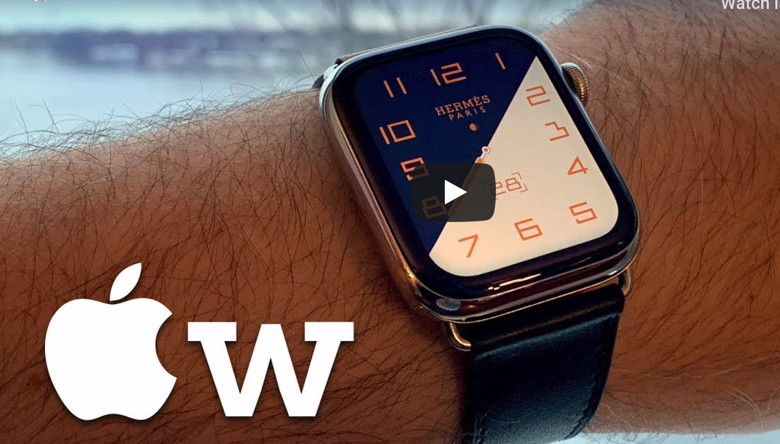 The original Apple Watch Hermès was announced in September of 2015, roughly six months after the sport, steel, and gold editions shipped. An historic partnership, it brought together and perfectly balanced the best of Apple's advanced mobile technologies and Hermès' classic leatherwork. For me, it was an even better representation of high-end silicon-meets-fashion than the yellow and rose golds.
It was Apple's first partnership for the Watch and, to this day, one of only two it's ever made. The other being Nike+ on the fitness rather than fashion end of the price range. That the two of them, and only the two of them, persist to this day show just how selective Apple is when it comes to partnering on the watch. And how committed.
Now, three years later, the partnership continues to grow, and in some surprising new directions.
Apple Watch Hermes Series 4 The Watch
From a hardware perspective, Apple Watch Hermes Series 4 is, not surprisingly, and Apple Watch Series 4. Specifically, a polished steel Apple Watch Series 4 in almost every way. The only difference is the inclusion of the Hermes brand on the back, around the black ceramic plate.
Historically, the polished stainless steel hasn't been as scratch resistant as the diamond-like carbon coated space black — which seems damn near impervious at times — and likely not even as resistant as the physical vapor deposition coating on the new gold colored steel watch.
In the weeks that I've been wearing mine I've accumulated a very few, almost unnoticeable scratches on the outer side near the buttons. They don't bother me. As I've said before, I like the Millennium Falcon style used materials look. But, if you don't, it's always something to keep in mind.
---
How to take an ECG (electrocardiogram) on Apple Watch [Gallery]
by Michael Potuck, 9to5mac
After announcing Apple Watch Series 4 would be the first over-the-counter device to offer ECG readings, Apple has made the health feature available to all users today with watchOS 5.1.2. Read on for how to use Apple Watch to take an ECG (electrocardiogram).
For now, Apple has made taking an ECG (electrocardiogram) on Apple Watch Series 4 available to users in the US. It appears Apple isn't allowing the feature to be used outside the US by adjusting region settings.
Before getting started, Apple notes that for accurate readings, you'll need to be wearing your Apple Watch on the wrist that is selected in settings.
---

---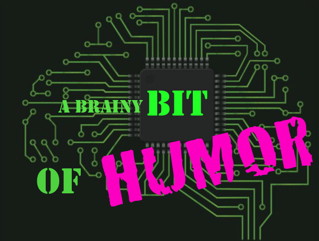 by Penny Holland, MAGIC*
---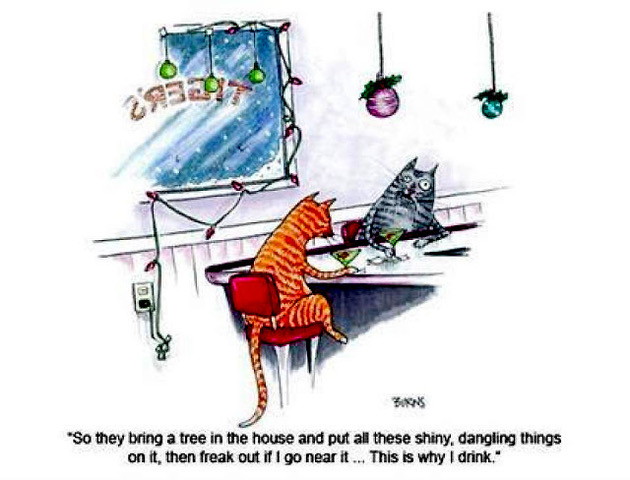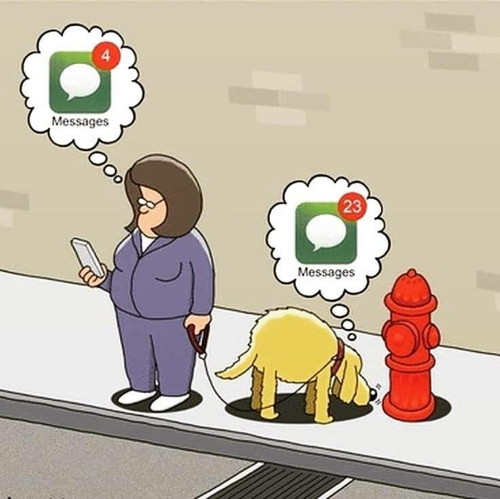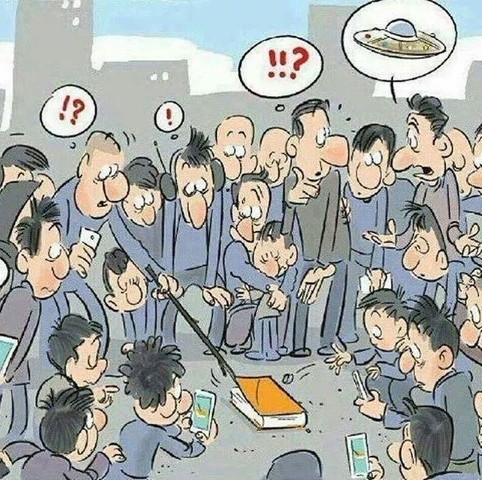 There are 10 kinds of people - those who understand binary and those that don't
Well, another day went by and I did not use calculus once.
Daddy, how was I Born?
A little boy Goes to his father and asks 'Daddy, how was I born?' The father Answers, Well, son, I guess one day you will need to find out anyway! Your Mom and I first got together in a chat room on Yahoo. Then I Set up a date via e-mail with your Mom and we met at a cyber-cafe. We Sneaked into a secluded room, and googled each other. There your mother Agreed to a download from my hard drive. As soon as I was ready to upload, we discovered that neither one of us had used a firewall, and since it was too Late to hit the delete button, nine months later a little Pop-Up appeared that said:
'You got Male!'
---
---
If you see 'itunes.com/bill' or an unfamiliar charge on your statement
from Apple
If you see 'itunes.com/bill' or an unfamiliar charge on your statement View your purchase history to investigate charges that you see on your bank, credit card, debit card, or mobile billing statements.
Before you contact Apple to request a refund for a charge you don't recognize, check your purchase history and follow the steps below.
If you don't recognize the amount on your statement, multiple purchases might be grouped into a single transaction. You might not receive a separate email receipt for each purchase. Sometimes the charges appear on your statement a few days after the purchases were made.
In addition to music, movies, TV shows, stickers, and apps purchases (from the iTunes Store and App Store) that are billed at the time of purchase, your statement might also include in-app purchases, pre-ordered music or movies, and automatically renewing subscriptions.
---
What happened when sextortion scammers targeted a BBC Trending reporter?
by Jo Whalley, BBC News
Thousands of people all over the world have been receiving sextortion emails from scammers. They're different from garden-variety scam emails because they often include a hacked password as part of the message.
BBC Trending reporter Jo Whalley received one of the scam emails. Despite having no worries about her browsing history, she was alarmed when she found out the scammers had one of her current passwords.
She's been finding out how cyber criminals have got hold of people's personal information and how you can protect yourself from hackers.
You can follow BBC Trending on Twitter @BBCtrending, and find us on Facebook.
All our stories are at bbc.com/trending.
You can find out if your information has been included in a known data breach by visiting Have I Been Pwned.
29 Nov 2018
---
Malware Examples
by Robert Y Elphick, MAGIC *
Another selection of emails and browser popups that are up to no good. Never click on anything in an email that is even only slightly suspicious. Macs are only vulnerable to malware that you invite in by clicking on the links or zip files in these emails. So don't touch them!
Here is an example of an evil phishing email pretending to be from UPS.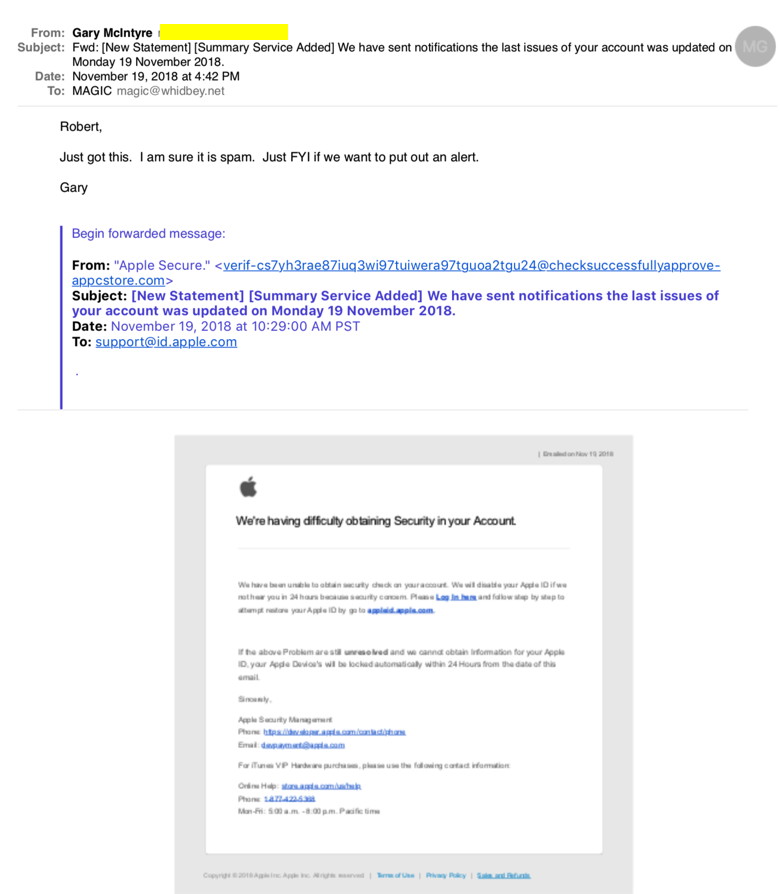 Yes Gary, It is Malware!
This appeared to come from a neighbor, but it is spam. If you did not order something then DO NOT CLICK on anything.
Internet Crime
Any one bothered by internet criminal activity should report it to the Federal Bureau of Investigation Internet Crime Complaint Center (IC3) at this web page. This includes phishing, malware, spoofing, any demand for money.
---
---
Word Abacus
by Penny Holland, MAGIC *
My Favorite App I use on my iPhone and iPad is a game called WORD ABACUS. It is available at the App store under games and there is a FREE version, which is all I've ever used. It says it's compatible with iOS version 8.0 and up. When you get it and start playing you are asked if you want to upgrade to a $1.99 pay version, which I've never done.
You start with what looks like a wooden abacus with seven rods, each of which has 6 or 7 sliding beads, each with a letter of the alphabet on it.

To play you try to make words of 3 letters and longer. Certain letters have extra points. Words are created when you touch and link up adjacent letter beads in any direction: up, down, right or left. You can slide the letters left to right to link them up to make a word. The game goes through various levels. The higher you go the harder it gets because some letters come out with a red ring around them and when the ring lights up fully you lose. Oh, if you can't possibly make a word with the dangerous red letters, there is a MIX button you can hit and it will randomly put the red ring around another letter. There are also green ringed letters, which you can use for extra points. After several levels you are given a warning that you can only use ONE three letter word per level. And eventually NO three letter words are permitted. There is no time limit to this game, except when the red ringed letters appear, as they eventually burn out and the game is over. And there is never any penalty for "guessing" or trying a word. If it's not accepted, you merely continue playing with no loss of points. For this reason I think it would be a good game for kids learning to spell.
I love this game because I feel like it helps me exercise my brain. I usually play it while I'm in a waiting room for a doctor's appointment, or in an airport waiting for a plane. You don't need wifi or internet. Each time you play it remembers your highest score, so you can compete with yourself to try to do better. I also like that I can close the game and everything freezes as is until I open it again and resume playing.
I recommend WORD ABACUS as a user-friendly word game that never gets boring.
---
---
Security and the T2 Chip, what it changes
by Ron Sharp, MAGIC *
These Mac computers have the Apple T2 Security Chip:
iMac Pro
Mac mini models from 2018
MacBook Air models from 2018
MacBook Pro models from 2018
You can also use System Information to learn whether your Mac has this chip:
Press and hold the Option key while choosing Apple () menu > System Information.
In the sidebar, select either Controller or iBridge, depending on the version of macOS in use.
If you see "Apple T2 chip" on the right, your Mac has the Apple T2 Security Chip.
Secure Boot
Available only on Mac computers that have the Apple T2 Security Chip, Secure Boot offers three settings to make sure that your Mac always starts up from a legitimate, trusted Mac operating system or Microsoft Windows operating system: Full Security, Medium Security, and No Security.
We can assume more security is better. The operating systems are always improving security. Now with the T2 chip the hardware is adding security. That sounds good, but wait a minute. First, let's make this information obvious to customers because this changes some basic functionality.
For one thing, to change the settings for the Secure Boot feature you have to start up your Mac in Recovery mode. This is the service mode for repairing serious problems. Why wouldn't these settings just be put in the System Preferences with all the other settings?
Secondly, you really have to be aware of these setting because if you use backup software that creates a bootable backup, like many of them do, it will be useless unless you know how to change this setting. And I'm wondering if the internal storage drive fails, would you even be able to make the change? You'd be stuck with backup files that are not useable until repairs are made. That means the bootable drive could not be used for testing either. But if you change the security settings to allow for booting from an external drive then everything will be fine. And fortunately for us, Apple wisely gave us the options for these settings, albeit from the recovery partition.
Having to set a password to boot up from an external drive, which is another setting option, may be a good idea for extra security but another password to remember, and one that is used so infrequently that it would be completely easy to forget. But again, we have that option.
We all like Mac computers for their ability to avoid virus problems, but I'd like to be able correct problems and recover files without having to contact security professionals. I don't know how many people would even be aware of these settings. It reminds me of the Indonesian Lion Air Boeing 737 that crashed, caused by a failing safety feature that the pilots didn't know how to respond to because they weren't aware it even existed.
Other functions of the T2 chip.
The T2 chip integrates the System Management Controller, Image Signal Processor, Audio Controller, and SSD Controller. These were all previously separate components.
Another function of the T2 chip is to mechanically disconnect the microphone when the laptop lid is closed.
By the way, there is a supplemental update for High Sierra to improve reliability of the T2 chip. It also corrects "excessive thermal throttling" that was an issue with some of the newer MacBook Pros. I am guessing that those improvements are already added to macOS Mojave.
To find out more about the T2 chip and Apple security: Regarding T2 security chips 'blocking' independent Mac repairs...
---
MAGIC, the Macintosh Appreciation Group of Island County, serves people who use Macintosh computers, software and peripherals. Our goal is to share information and get answers to questions to make us more productive with our use of technology. Our monthly meetings give us a chance to discuss computer problems and share ideas with other Mac users, feature speakers on specific topics, and to keep apprised of Apple news.