---
Macintosh Pages Training
November 2018
In these sessions, the student will explore Pages. Sessions will include a set of exercises from which the student can practice and learn more of each application. This class is designed for those who have a working knowledge of the operating system and want to better understand and work with the many capabilities of the Pages desktop publishing application.
CONTENTS
Class Schedule
Getting There
Teachers
Books
Costs
Application Form

Class Schedule
Here is a list of the three sessions. Each of them will occur from 2:00 p.m. to 5:00 p.m. Generally there will be mostly formal presentations with time open for discussions and Q & A.
The sessions will all be based on Pages version 7. Students are strongly encouraged to attend all three sessions, bring their own Macs with power chord, and to ask questions.
The schedule is subject to minor changes.
Session Date
Class subjects
November 6
Introduction


User interface elements
Working with images, shapes, and text boxes
The inspector

Pages

Starting a document
Templates

November 7
Pages and Numbers

Manipulating objects

Document
Layout
Wrap
Text
Graphic
Metrics
Tables
Charts
Links and hyperlinks
Quicktime Multimedia

Styles
Worked examples

November 8

Student option

Keynote?
Worked student examples
Q & A
Anything else
Getting There
The class will be held in Au Sable (Pacific Rim Institute)
180 Parker Road
Coupeville WA 98239

Teacher
Robert Y Elphick - MAGIC President. Robert lives in Coupeville, Whidbey Island. He was educated in Britain with degrees in Applied Physics and Geophysics & Planetary Physics. He has worked in the oil & gas industry and the space industry. He is retired and spends much of his time volunteering with MAGIC, 4-H and other organizations. He has taught many schools on the use of Macintoshes. He often chairs the Q&A sessions at MAGIC as well as making presentations.
Books
The following books can be found in the iBooks store and are free: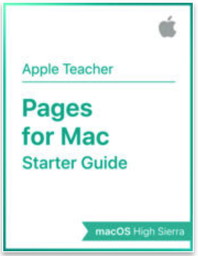 Costs
The cost for taking the classes are as follows:
| Item | Cost |
| --- | --- |
| Single session | $15 |
| All three sessions | $40 |
Payment will be needed to secure a place (remember there are limited spaces.) Payment can be made to out to MAGIC's PayPal account using the donate button on the donation page of this website. You may use your PayPal account or a credit card. If this presents a problem please note it in the comments section of the application form below.
Application Form
If you are interested in taking the iWork Training classes, please fill out the following form and submit it. We are accepting up to 20 people on a first come, first served basis.
---
This page last updated 5 October 2018