Newsletter
March 2012
Newsletter Editor:
In This Issue:
MAGIC MUG News
Software Updates
Macintosh News, Information and Stories
iPhones, iPods, and iPads
By The Way
* Indicates author is a member of MAGIC
---
Meeting information
Day:
The 3rd Wednesday of the month. 21 March 2012 this Month
Place:
Oak Harbor Senior School(see map.)
Time:
4:00 p.m. - 6:00 p.m. with the first hour dedicated to new users and their questions.
Presentations:
•Apple Q & A
•The monthly meeting on Wednesday, March 21 is a field trip to Oak Harbor High School's video classroom. This facility is more like an iMax theater with other rooms for interviews, editing, and more — truly a mind-expanding experience. Instructor Chris Douthitt has generously offered a tour and will explain the use of chromakey (blue screen or green screen) and how MAGIC members could use it; show some student work; and talk about resources (music and/or sound effects) available for production. If there is time Chris will illustrate and explain how movie and TV scenes were created; demonstrate "Live Sets," a new process for creating environments that wrap around live performers in the studio; and play last summer's "Film Camp" production for Whidbey Children's Theater and discuss how it was made.
Getting there:
Board Vice President of Presentations Susan Prescott is organizing carpools to the high school. Please contact her at 360-544-2278 or for more information, to drive a car or to claim a ride.
At this time we have four cars with room for 14 passengers leaving from the Trinity Lutheran Church parking lot at 3:05 p.m., stopping at the Coupeville Park & Ride at 3:30 p.m., 201 S Main Street at 3:30 p.m. for more passengers.
We'll continue to Oak Harbor, turn left onto SW Swantown Road; right onto SW Heller; right onto NW Second; then take the first left onto 115 Street NW and Jib Street. At the Oak Harbor High School, go to the bus parking lot. To get there, drive down the driveway between the tennis courts and the stadium entrance. There's a big sign saying DO NOT ENTER and BUSES ONLY, but ignore it. People can park anywhere along the curbs or diagonally in the lot next to the C (CAT) Building. (see map.)
Thank you to drivers Harrison Goodall, Jerry Holm, Ed Severinghaus, Daryl Thomas and Prescott.
Future Meetings: (subject to change)
18 April 2012
Location to be Determined
•Apple Q & A
•Taking advantage of iCloud and DropBox by Robert Elphick

Do not forget to bring your used ink cartridges.
MAGIC will dispose of them for you and make some change for the group.
---
Minutes of the February 2012 Meeting
By Penny Holland, MAGIC Secretary
Robert Elphick called the meeting to order at 4:00 in the conference room of the new Freeland WhidbeyTel Building. Approximately 36 people were in attendance.
Due to the snow cancellation of the January meeting, the annual business meeting and election was postponed until today.
MARCH MEETING: Susan Prescott announced the details of next month's March meeting which will be held at Chris Douthitt's OHHS videography classroom. She passed around a signup sheet for those interested in carpooling to that meeting. There was also a place to indicate which topics were of most interest. Since the sheet didn't get around the entire room, Sue K later said that she would send out an email so that others could express their interest in topics and requests for carpooling.
PRINTER CARTRIDGE RECYCLING: Penny Holland asked for a new volunteer to take over the ink jet cartridge recycling program, and Joann Peterson (360-331-3638) kindly volunteered to do it.
CLASSES: Robert announced that the five-week Macintosh Essentials classes that took place in January-February netted $565. The next set of classes begins on March 10th for 5 consecutive Saturdays, at the same venue of Maple Ridge in Freeland. The topic will be PAGES for the first 3 weeks, then NUMBERS on week four, and KEYNOTE on week five. People can sign up for any number of classes at $15 per class, or for the entire five classes for $50. Members are encouraged to offer their assistance at these classes. There will also be a one day class in March (date to be determined) on the iPad2.
EQUIPMENT RENTALS: Robert announced that the iPad2 that MAGIC has recently purchased will be available for rental following the iPad class for the class attendees. After that the iPad will be available for rent by any MAGIC member. In fact, several board members have been working on rental prices and policies for a number of MAGIC's items, including the laptop computer, projector, screen, etc. The information regarding rentals will be made available on the MAGIC website.
WEBSITE: Robert announced that MAGIC has been granted another year of gratis website usage by WhidbeyTel.
MENTORING PROGRAM: Ed Severinghaus, our Membership VP, has recently surveyed some 330 people who are listed as MAGIC members and received good feedback. The biggest thing he discovered is that many people are struggling with their Macs and need some help. Today he introduced our mentoring program, designed to help new learners with their macintosh computers by pairing them up with volunteer mentors from MAGIC on a 1:1 basis geographically. People who are willing to help others get started with their Macs are encouraged to list themselves as "mentors." Sue K told us that she has already met with one "learner" and had a very positive experience. The geographical areas are: 1. Langley and Clinton, 2. Freeland and Greenbank 3. Coupeville, and 4. Oak Harbor. MAGIC members will be able to find out more about this program on the MAGIC website, where they can sign up to either be a mentor, or to request assistance from a mentor. Ed suggested that the "learners" ought to be able to directly contact their area's mentor through the website. Robert Elphick and Tom Johnson talked about how to list mentors' names with an encrypted email address that cannot be picked up by spammers. The assistance provided will be free, with contributions accepted for MAGIC, or in the case of Tom Johnson's assistance in the Oak Harbor area, the $35 per hour he charges will be donated to the OHHS Wildcat TV and Videography program.
FINANCIAL REPORT: Overall last year we started with a balance of $4,295.45 and ended with a balance of $2,435.01. Some of the Debits last year included purchase of a new projector for $1,293, and some of the revenue included $735 in donations.
FUTURE MEETING PLACE: We still do not have a permanent meeting place, and members are considering three possibilities. One is WhidbeyTel, the site of today's meeting, but their fee schedule and details have not been completely determined. If we do not obtain some sort of special consideration from them their costs (approximately$200) will be more than we can afford. Two other places in Freeland, one a church, are also under consideration.
ELECTIONS, NEW BOARD: Elections were held for the following offices and positions:
PRESIDENT
Sue Keblusek
VICE PRESIDENT
VP OF EDUCATION
Robert Elphick
VP OF PRESENTATIONS
Susan Prescott
VP OF MEMBERSHIP
Ed Severinghaus
TREASURER
Bonnie Abney
NEWSLETTER EDITOR
Ron Sharp
SECRETARY
Penny Holland
DIRECTOR AT LARGE
Viola Frederick
Ron Norman moved that we approve for election all the above names and positions. Tom Johnson seconded this motion. The vote was unanimous. (Note: There are two other continuing board members whose terms had not expired this year: Nancy Ruff and Daryl Thomas.)
Robert passed out Certificates of Appreciation to all the former Board members who served on the previous board.
BANK ACCOUNT/CHECK SIGNING: Tom Johnson moved (and Gretchen Schlomann seconded the motion) that MAGIC's President, the VP of Education, and the Treasurer have check signing privileges on our MAGIC bank account. The motion was unanimously carried. Thus, our approved bank check signers will be: Sue Keblusek, Robert Elphick, and Bonnie Abney.
Following the business meeting there was a brief Q and A session led by Robert. The last hour was a presentation by Ron Norman on the topic of creating Newsletters using PAGES either from templates or from scratch.
The meeting was adjourned at 6:00.
Respectfully submitted, Penny Holland, Secretary
---
MAGIC Moments
by RYE
Mentor Program
Ed Severinghaus, VP - Membership has put together a new mentoring program to help members to answer questions and solve problems with Macs and other Apple devices. The progam now has mentors listed in the following areas:
Oak Harbor
Coupeville
Greenbank & Freeland
Langley & Clinton
We currently have 17 volunteers to do the mentoring. Details can be found
on the MAGIC website
.
Future Meeting Places
We are still figuring out where our meetings will take place from April into the future. Several possibilities have been found in the Freeland area so we hope to have the meetings in this central location. More soon.
MAGIC Schools
Another iWork school concentrating on Pages began March 10 2012. Details can be found on the Education page of the MAGIC website as they are forthcoming.
iPad Classes are scheduled for 20 March. MAGIC has acquired an iPad to be used for training and also to be made available to members who wish to try it out for a few days for a modest donation. Details are on the iPad class page of the MAGIC website. At the time of this writing the class is almost full.
Moments from the recent Mac Essentials class
PayPal account
MAGIC now has a PayPal account. This is now on the website to allow people to make donations to MAGIC directly. Also it provides a mechanism for deposits on MAGIC schools (see above). It can be found at the Donation Page.
Inkjet Cartridge Recycling Project
As many MAGIC members know, we collect empty inkjet cartridges from members (and members' friends) and send them in once or twice a year, earning a little over $50 per year for our club. Penny Holland set this program up and has now passed in to Joann Peterson. Our thanks to Penny for running this in the past.
---
SOFTWARE UPDATES
Note: This Software Update section of the newsletter lists the most relevant Apple updates. Not all updates are listed for all products. Additionally, I'll add other pertinent updates on occasion.
iTunes 10.6 adds 1080p support, iTunes Match improvements
by Jonathan Seff, Macworld.com Mar 7, 2012
On Wednesday, Apple released an updated version of iTunes to add support for 1080p video and address several issues with iTunes Match. iTunes 10.6 adds the ability to play 1080p HD movies and TV shows from the iTunes Store, a new offering from Apple that goes along with the new Apple TV unveiled on Wednesday. iTunes could play 1080p content in the past, however, such as movies shot using an iPhone 4S.
iTunes's preferences now includes options for choosing which HD format—720p or 1080p—you want for downloads as well as the preferred video version—SD, 720p HD, or 1080p HD—for playback.
More exciting to many iTunes Match subscribers are improvements to the music matching and storage service. Apple says iTunes 10.6 provides for improved song matching; improved album artwork handling, downloading, and display; and fixes an issue where songs may skip when playing from iCloud.
Previously, iTunes had an option to convert higher bit rate songs to 128-kbps AAC files when syncing them to iOS devices and certain iPods to save space. iTunes 10.6 now lets you choose between 128-, 192-, and 256-kbps on-the-fly conversion—useful, say, if you've ripped your CDs as Apple Lossless files but don't want you music to take up too much room on your devices.
The update is currently available via Software Update, or via Apple's iTunes download page.
Click here for complete article.
---
iOS 5.1 Software Update Released
by Kali Hilke, Small Dog
Apple has released OS 5.1, which contains improvements and bug fixes.
An overview from Apple:
Japanese language support for Siri (availability may be limited during initial rollout)
Photos can now be deleted from Photo Stream
Camera shortcut now always visible on Lock Screen for iPhone 4S, iPhone 4, iPhone * 3GS and iPod touch (4th generation)
Camera face detection now highlights all detected faces
Redesigned Camera app for iPad
Genius Mixes and Genius playlists for iTunes Match subscribers
Audio for TV shows and movies on iPad optimized to sound louder and clearer
Podcast controls for playback speed and a 30 second rewind for iPad
Updated AT&T network indicator
Addresses bugs affecting battery life
Fixes an issue that occasionally caused audio to drop for outgoing calls
More information on the security content of this update can be found here.
To read about how to update your iPhone, iPad, or iPod touch, click here.
MAGIC Editors note: for more info in this update, read this MacWorld article.
---
iPhoto 9.2.2
from Apple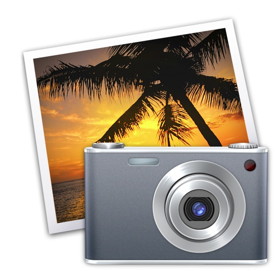 About iPhoto 9.2.2
Photos can now be deleted from Photo Stream Included in Version 9.2
Addresses compatibility with iCloud and iOS 5
Left and right swipe gestures can now be used to navigate between photos in Magnify (1-up) view
Previously imported photos are now displayed in a separate section of the Import window
Book/calendar themes and card categories can now be selected using a pop-up menu in the carousel view
Resolves an issue that could cause some pages of books to print incorrectly
Rebuilding a library now correctly preserves saved slideshows and books
This update is recommended for all users of iPhoto '11.
Click here for complete article..
---
News, Info and Stories
---
Mountain Lion's new features
by Macworld Staff, Macworld.com
The latest version of OS X is looking at lot more like iOS. Mountain Lion is expected to be available this summer.
Apple's summer blockbuster The integration of features found in Apple's iOS (the operating system for the iPhone, iPad, and iPod touch) into OS X for the Mac continues with Mountain Lion, which was announced on Thursday. This slideshow gives an overview of the new features, including Messages, Share Sheets, Notifications, and Game Center.
iChat turns into Messages
With Mountain Lion, Apple replaces the iChat instant messaging application with Messages, which supports Apple's iMessage chat system. You can use iMessage from your Mac to chat with friends and family on an iPhone or iPad, and since it uses the Internet and not cellular service, iOS device user won't incur any per-message charges.
Messages UI
Messages has a revamped user interface, with a list of conversations on the left, and the main chat window on the right. Messages still has support for AIM, Yahoo, and Jabber protocols, so you can still IM with folks who aren't on a Mac or iOS device. Apple is offering a public beta of Messages, which requires OS X 10.7.3 or later.
Notes
The new Notes app in Mountain Lion features the familiar yellow pad that iOS users recognize. Notes uses iCloud to sync between your Mac, iPhone, iPad, and iPod touch. Double-click on a note, and it appears in its own window, a la Stickies.
Notification Center - Move over, Spotlight
Taking over the far right corner of the menu bar is the Notification Center icon (Spotlight moves over to the left one spot). Click on it, and a list of recent notifications appears on the right side of the screen. If you have a trackpad, you can this get list by performing a two-finger swipe starting at the trackpad's right edge.
Notifications support
A new Notifications system preference will allow you to adjust how alerts appear. Currently, only Apple apps are supported, but third-party developers will be able to take advantage of this feature.
Reminders
Like Notes, Reminders uses iCloud to sync between the Mac and iOS devices. Mountain Lion Reminders is missing features that are found in iOS Reminders, such as location-based reminders.
Share Sheets
When you want to send a Web article to someone, share photos, send notes, or post a link to Twitter, you can do so using Share Sheets. The Share Sheets icon looks just like the one in iOS. This picture shows the Share Sheets button in Safari.
iCloud
iCloud is key to Apple's products, and Mountain Lion has more integration with the online data sync service. You'll be asked to enter an Apple ID during the OS installation, so your settings and data can be synced. Mountain Lion also has a new Documents in the Cloud view to go along with the Open and Save dialog boxes.
Gatekeeper
This new feature allows you to control the kind of apps your Mac can run. You can choose to run only software bought through the Mac App Store, or run both Mac App Store software and programs from identified developers (third-party apps that weren't bought through the Mac App Store but are registered with Apple). Or you can allow any app to run, regardless of its origin.
AirPlay Mirroring
AirPlay Mirroring was introduced with iOS 5. It allows an iPhone 4S or iPad 2 to connect to a second-generation Apple TV in order to display what is on the iOS device's screen. With Mountain Lion AirPlay mirroring, a 720p video stream of your Mac's screen is sent to the Apple TV, which then displays the video on an HDTV.
Safari
In addition to the Share Sheet button, Safari now has a unified search and address bar. URLs are also displayed differently; the domain name is displayed in black, while the rest of a URL is in gray.
Game Center
Got a game that's available on both iOS and the Mac? Mountain Lion's Game Center allows you to play against other people, regardless of the platform. Game Center features also include in- game chat, opponent matching, and more.
China
Mountain Lion has better support for the growing Chinese market. The Baidu search engine is an option in Safari, and the Twitter- like service called Sina Weibo is an option in Share Sheets. Other Chinese services are available throughout Mountain Lion's settings. Apple has also expanded its support for Chinese text input.
---
Prepare Your Mac For Mountain Lion
by Kali Hilke, smalldog.com
References to the Mac OS have been popping up everywhere for me lately, from the announcement of OS 10.8's (Mountain Lion) summer release to Dawn's memories of 10.2 Jaguar (below) to the recent end of the Lion Up-To- Date program. With all this talk about upgrades, it made me think about the top things that one can do before upgrading his or her Mac's OS.
Since Lion is only available from the App Store (and more than likely, so will Mountain Lion upon its release, as retail packaging for software is becoming obsolete), the game has changed somewhat—having a solid, fast internet connection is paramount when deciding to upgrade. These tips, however, are a bit more universal:
Check the system requirements: Knowing that you may need a RAM or hard drive upgrade before installing (or worst case, a new computer) is key before you begin
Take stock of your important software and peripherals, and don't be afraid to wait to upgrade if any don't have a compatible version for the new OS: You don't want to learn the hard way that the most important app you need for work hasn't come out with a compatible update yet
Clean up those files: Get rid of what you don't need—delete any duplicate files or unused apps so that you can start with a (semi) clean slate
Back up all of your data: Back up everything that's important at least to an external drive, or more importantly, a bootable disk (try SuprDuper! or Carbon Copy Cloner.)
Click here for complete article.
---
Intego finds new, insidious strain of Mac Flashback Trojan horse
by Lex Friedman, Macworld.com Feb 23, 2012
Intego announced on Thursday (Feb 23) that it has discovered more strains of the Flashback Trojan horse. The company says that "many Mac users have been infected by this malware," especially the latest variant, Flashback.G.
Intego describes three unique methods that the Trojan horse uses to infect Macs: It attempts to exploit a pair of Java vulnerabilities in sequence, which the company says allows infection with no further user intervention. Failing those two approaches, resorts to social engineering. In that last case, the applet presents a self-signed digital certificate, falsely claiming that the certificate is "signed by Apple Inc"; if you click Continue, the malware installs itself.
To fall victim to the Flashback Trojan horse, you first need to run software. By definition, Trojan horses disguise themselves as other kinds of software, tricking the user into, say, double-clicking an icon to launch a new download—thereby infecting themselves. Note, however, that if you're still running Snow Leopard and your Java installation isn't current, a maliciously-coded webpage could cause the malware to install without further intervention on your part, depending on your browser's security settings.
According to Intego, the latest Flashback.G variant can inject code into Web browsers and other applications that connect to the Internet, often causing them to crash. It attempts to sniff out usernames and passwords that you enter into many popular sites (like banking sites, Google, PayPal, and others), presumably so that the malfeasants behind the software can exploit that information in other nefarious ways.
As part of its installation process, the malware puts an invisible file in the /Users/Shared/ folder; that file's name is variable, but it uses a .so extension. Other files the malware creates include /Users/ Shared/.svcdmp, ~/.MACOSX/environment.plist, and ~/Library/Logs/vmLog. It also places a Java applet in ~/Library/Caches.
You won't be surprised to learn that Intego's own VirusBarrier X6 software can detect Flashback if it's installed, and even prevent it from installing in the first place.
If you suspect you've already been infected, you can check by launching Terminal (in /Applications/ Utilities/) and pasting in the code below, and pressing Return:
ls /Users/Shared/.*.so
If the response you see in Terminal includes "No such file or directory," you're in the clear. If you instead see a list of one or more files with a .so extension and no "no such file" declaration, you may well have fallen victim to the malware.
If you do find that you're infected, removing the files referenced above or installing antivirus software like Intego's should remove any traces of Flashback.
Updated 8:32 a.m. PT to clarify how the malware can install itself.
Click here for complete article.
---
What you need to know about Do Not Track
by Gregg Keizer, Computerworld February 24, 2012
Note: This story is excerpted from Computerworld. For more Mac coverage, visit Computerworld's Macintosh Knowledge Center.
As the White House pushed a privacy bill of rights this week and readied new online privacy legislation for Congress to consider, Google decided on Thursday to get behind Do Not Track, technology that lets users opt out of online tracking done by websites and Internet advertisers.
Some proponents of Do Not Track called yesterday V-DNT Day, in a hat tip to the likes
of VE-Day in May 1945 as World War II ended in Europe. Others were more cautious, saying that the job was only half finished. So where does Do Not Track stand now?
We've put together some answers for you.
What is Do Not Track? It's technology that relies on information in the HTTP header, part of the requests and responses sent and received by a browser as it communicates with a website, to signal that the user does not want to be tracked by online advertisers and sites.
In the browsers that support the Do Not Track header, a user selects a single option to tell websites that he or she does not want to be tracked. In Mozilla's Firefox, for instance, that's done through the Preferences (Mac) or Options (Windows) pane by checking a box marked, "Tell websites I do not want to be tracked."
So what exactly did Google just agree to do? It will add support for Do Not Track to its Chrome browser.
So, Chrome supporting Do Not Track is a good thing? Very much so, according to Jonathan Mayer, one of the two Stanford University researchers who came up with the header standard. "This is a great step forward. For some time, Google has been the last holdout among the major browsers," he said in an interview Thursday.
What does Mayer mean by "last holdout?" What other browsers support Do Not Track? Apple's Safari, Microsoft's Windows-only Internet Explorer 9 (IE9) and Mozilla's Firefox. Mozilla's browser was the first browser to adopt Do Not Track with Firefox 4 in March 2011, and IE9 followed suit almost immediately. Safari has supported Do Not Track since version 5.1, which debuted in OS X Lion last July.
Currently, Safari hides the setting: To switch it on, select "Send Do Not Track HTTP Header" from the "Developer" menu. If you don't see the Developer menu, activate it from the Advanced section of Preferences by checking the box "Show Developer menu in menu bar." Apple will expose this setting in the Privacy section of the Preferences pane when it releases OS X Mountain Lion this summer.
Additionally, Opera Software has added Do Not Track to the alpha build of v. 12, which will work its way toward a production edition in the coming months.
I thought Chrome already used Do Not Track... What gives? You were wrong. Rather than support Do Not Track, Chrome relied on a plug-in, dubbed Keep My Opt-Outs, that blocks targeted ads produced by more than 80 ad networks and companies—including Google, Microsoft and Yahoo.
When will Chrome add Do Not Track, and how will users turn it on? Google hasn't said, exactly. A company spokeswoman said that Chrome will support the technology "by the end of the year," but declined to get more specific. She also declined to spell out the user experience, saying "We will have more to say as development proceeds."
Presumably, Chrome will add a check box to the user settings panel—as Firefox and Safari have— most likely in the "Under the Hood" section where other privacy options are now available.
What about mobile browsers? Do they support Do Not Track? Firefox for Android does. Safari on iOS and Chrome for Android do not, although Apple and Google will presumably add support in future versions to match their desktop browsers. As for IE9 on Windows Phone 7, we haven't been able to confirm whether it does or doesn't support Do Not Track. We've asked Microsoft for an answer, but haven't heard back.
So, when I tell my browser to send the Do Not Track request, no one will monitor my movements? Hold on there, pardner. Thursday's commitment by Google to support Do Not Track in Chrome may have been a clear win for the specific way that request is communicated, but there's no such clarity on what websites do—or don't do—when they receive that signal.
"On the technology side, this is an unambiguous win, but on the policy side there is still a lot of work to be done," Mayer said yesterday.
The Electronic Frontier Foundation (EFF), an online privacy advocacy organization, said much the same. "While today was a great advancement on the Do Not Track technology, it did not meaningfully move the ball forward on the Do Not Track policy," said Rainey Reitman, the EFF's activism director, in a blog on Thursday .
What have sites agreed to do with Do Not Track? They'll stop using cookies to craft targeted ads, the kind pointed at you based on your past surfing and other online behavior.
But the companies that lined up Thursday to support Do Not Track—the ad networks, websites and corporations who belong to the latest online ad industry trade group, the Digital Advertising Association (DAA)—haven't promised to actually stop tracking users' Web movements. Instead, they've pledged to not use tracking data to serve targeted ads—which the DAA calls "behavioral advertising—or use that tracking information "for the purpose of any adverse determination concerning employment, credit, health treatment or insurance eligibility, as well as specific protections for sensitive data concerning children."
(IDG, the parent company of Macworld, is a member of DAA, according to the association's list of participating companies and ad networks. Other media firms that will hew to the DAA's behavioral ad guidelines around Do No Track include Conde Nast, ESPN, Forbes and Time.)
What? So Do Not Track doesn't mean just that? Right, which is why privacy groups are pushing for a stricter interpretation. The EFF, for one, is leery of the advertising industry's sincerity.
"Historically, the DAA has eschewed providing users with powerful mechanisms for choices when it comes to online tracking," said EFF's Reitman. "The self-regulatory standards for behavioral advertising have offered consumers a way to opt out of viewing behaviorally targeted ads without actually stopping the online tracking, which is the root of the privacy concern."
Reitman worried that the DAA would mess with the simplicity of Do Not Track, and try to turn it into "slippery legalese that doesn't promise to do much of anything about tracking."
Anything else about the Do Not Track promises made by the advertising industry I should know? One interesting aspect: The DAA said it would not honor the setting if "any entity or software or technology provider other than the user exercises such a choice."
EFF's Reitman interpreted that as a pre-emptive strike against browser makers that may want to turn on Do Not Track by default. (None do at this point. It's off in Firefox, IE9, and Safari until the user manually changes the setting.)
How will Do Not Track be enforced? Because Do Not Track remains voluntary, only those companies and organizations that commit to supporting it—but then renege on the promise—will face the music.
The Federal Trade Commission (FTC) will enforce Do Not Track. The 52-page proposal published Thursday by the White House (download PDF) spelled it out: "The Administration expects that a company's public commitment to adhere to a code of conduct will become enforceable under Section 5 of the FTC Act (15 U.S.C. S 45), just as a company is bound today to follow its privacy statements."
The link above was to the White House website that has been mostly dismantled by the administration. A replacement link has been substituted. March 2019.
What's next for Do Not Track? Work, work, work. The W3C (World Wide Web Consortium), one of the Internet's primary standards-setting bodies, has been hammering out a specification for Do Not Track's policy—what websites should be obligated to do/not do if they support the standard—since February 2011.
W3C is shooting to wrap up the spec some time this year. Apple, Google, Microsoft, Mozilla and Opera all have representatives on the W3C's "Tracking Protection Working Group," the committee that's working on a Do Not Track policy standard as well as considering Microsoft's own Tracking Protection idea , which IE9 also uses (and which, until Microsoft jumped on the Do Not Track bandwagon, was the way IE9 stopped cookie and other tracking technologies).
Mayer, Reitman and others—including the FTC—stressed the importance of the W3C's work, and called on the DAA and its members to collaborate with the group to come up with a Do Not Track policy standard rather than circumvent the standards body.
"The [advertising] industry deserves credit for this commitment, though the details of exactly what ʻDo Not Track' means still need to be worked out," Justin Brookman, the director of consumer privacy at the Center of Democracy & Technology (CDT), a Washington, D.C.-based Internet policy group, said in a statement yesterday. "CDT will continue to work through the W3C standards setting process to develop strong and workable ʻDo Not Track' guidelines."
Click here for complete article.
---
Google circumvented privacy settings for Safari on iOS, Mac
by Joab Jackson, IDG News Service
Google ran afoul of yet another privacy problem on Friday, after a Stanford researcher contended that the company has been using cloaked code to bypass users' cookies settings on their Web browsers —including Apple's Safari—according to a report from the Wall Street Journal.
The issue was discovered by Stanford University researcher Jonathan Mayer, and confirmed by a technical advisor to the Wall Street Journal. Duplicating Mayer's effort, the advisor documented that the Google tracking code was used by 23 of the top 100 websites, including in ads from sites such as Fandango.com, Match.com, AOL.com, TMZ.com and UrbanDictionary.com. Once installed, Google then could track user movement across a wide number of websites.
Google has denied that its embedded code—a type of Web cookie—tracks users, and said that it is only activated when users opt-in to one of Google's services, such as Gmail. "The Journal mischaracterizes what happened and why," according to a statement from Rachel Whetstone, Google senior vice president for communications and public policy. "We used known Safari functionality to provide features that signed-in Google users had enabled. It's important to stress that these advertising cookies do not collect personal information."
But the company also admitted that the code inadvertently allowed additional Google Web advertising cookies to be installed on users' devices against their wishes; by default, Safari's settings allow for no tracking behavior.
Google argues that these cookies were necessary to provide users with personalized services, such as the ability to approve of content through Google's "+1" rating system. "To enable these features, we created a temporary communication link between Safari browsers and Google's servers, so that we could ascertain whether Safari users were also signed into Google, and had opted for this type of personalization," Whetstone stated. "But we designed this so that the information passing between the user's Safari browser and Google's servers was anonymous—effectively creating a barrier between their personal information and the Web content they browse."
"However, the Safari browser contained functionality that then enabled other Google advertising cookies to be set on the browser," Whetstone added. "We didn't anticipate that this would happen, and we have now started removing these advertising cookies from Safari browsers."
In addition to Google, the Journal discovered at least three other online advertising companies also circumnavigated Safari's privacy settings using similar techniques: Vibrant Media, WPP PLC's Media Innovation Group and Gannett Company's PointRoll.
The news comes at a sensitive time for Google. Last year, the company reached a legal settlement with the U.S. Federal Trade Commission about its privacy practices, and agreed not to misrepresent its privacy practices. Last month, Google consolidated polices for all its sites into one privacy setting.
In a blog item posted Friday, Microsoft criticized Google for purposefully evading the Safari privacy settings, and offered its own browser as an alternative.
Click here for complete article.
---
Archiving uncluttered web pages
by Christopher Breen, Macworld.com
A reader who wishes to remain anonymous would like to print some of our work. The anonymous reader writes:
I value Macworld's instructional and troubleshooting articles highly, and often copy and paste them to a Word document to save in my "Troubleshooting" folder. However, this method also carries over unwanted icons and non-relevant article links. Is there an easy way to get a clean version suitable for placing in a Word or TextEdit document?
I appreciate that you appreciate our work enough to want to file it away. Fortunately, I can offer a solution to you that doesn't require that we rejigger our website to add a Print button to every page. Like so:
While using Safari to view an article that you'd like to archive, click on the Reader button that appears in the Address field. The article, complete with its links, will appear in a pane all its own—free of elements unrelated to the article.
At this point you could select all the text in this pane, copy it, and then paste it into a Word document. But why bother when there's Automator? Just launch Automator and from the sheet that appears, choose Service and click Choose.
Now assemble a workflow that contains these actions: Copy to Clipboard and Create New Word Document (filed under Documents). The top of the workflow will read Service Receives Selected Text in Any Application. Leave that as it is. Now save and give the workflow an intuitive name such as Archive in Word.
When you next want to archive an article, click the Reader button, press Command-A to select all the text in the pane that appears, click on the Safari menu and from the Services command choose your Archive in Word workflow. In a short time Word will launch (if it's not already running) and a new Word document will appear that contains the contents of the Reader document.
Note that not all web pages will allow Reader to do its work. For example, if the page has text within frames the Reader button won't appear. Instead you'll see an RSS button. Also note that this method won't archive the article's images. If you'd like the accompanying images you'd be better off opening the page in Reader and then choosing File -> Print and then selecting Save as PDF from the PDF pop-up menu.
Click here for complete article.
---
Create a bootable Lion install drive for newer Macs
by Dan Frakes, Macworld.com Feb 13, 2012
[Editor's note: This article is part of our series of articles on installing and upgrading to Lion.]
One of the premier troubleshooting features of Lion (Mac OS X 10.7) is Lion Recovery. If you ever have system or drive issues, Lion Recovery lets you boot your Mac into a special recovery mode to check or repair your hard drive, browse the Web for troubleshooting help, restore your drive from a backup, or even reinstall Lion itself. (See our hands-on with Lion Recovery for all the details.)
It's a convenient feature that, in theory, means you no longer have to carry a Mac OS X Install disc or a bootable external hard drive. But as I explained when Lion debuted, there are still good reasons to have a bootable installer disc or drive. For example, if you want to install Lion on multiple Macs, a bootable installer drive can be more convenient than downloading or copying the entire Lion installer to each computer.
But even for troubleshooting, a bootable installer drive has advantages over Lion Recovery. For starters, Lion Recovery doesn't include the full Lion installer—it requires you to download nearly 4GB of data before you can reinstall Lion—whereas a bootable installer drive contains the entire Lion installer, making installation much, much faster. And if you've got a Mac that doesn't support Lion Internet Recovery—a version of Lion Recovery based on special firmware—recovery mode may not even be available if your Mac's drive itself is having problems, whereas a bootable install drive will always be there for you. (Lion Internet Recovery is available on mid-2011-or-later Macs, as well as some older Macs that have received recent firmware updates.)
The problem for newer Macs
When Lion debuted, I explained how to create a bootable Lion-installer drive from the Mac App Store version of Lion. But if you have a Mac that debuted after Lion (any Mac from July 2011 or later), your Mac shipped with Lion pre-installed. In other words, you don't have a downloadable version of the installer unless you happened to purchase Lion for another, older Mac. Apple does offer a utility for creating an emergency Lion Recovery drive but, like the standard Lion Recovery feature, this drive requires you to download the full 4GB of Lion each time you want to install—it's better to have the full installer on a bootable drive. (In our testing, the official OS X Lion USB Thumb Drive doesn't work with Macs that shipped with Lion—it's designed for installing the OS on pre-Lion Macs.)
The solution
Fortunately, it's possible to create a bootable Lion installer even if your only Mac is a newer model, although doing so requires a bit more work.
Note: If you purchased Lion for another Mac, so you have a version of the Lion installer from the Mac App Store, you can use our original instructions for creating a bootable Lion-installer drive. As long as your downloaded installer is version 1.0.13 or later—select the installer in the Finder and use the Get Info command to check—there's no need to perform the procedure below. Those simpler instructions will create a drive that works with all current Lion-compatible Macs. (You can also copy the Mac App Store version of the installer to your newer Mac, or download it—all 4GB of it—from the Mac App Store directly to that newer Mac, and then run the installer. But because these may not be options if your Mac is having problems, it's still good to have a bootable installer drive.)
When you use Lion Internet Recovery to reinstall Lion, your Mac contacts Apple's servers, identifies itself, and requests the appropriate Lion-install data. Apple's servers verify the Mac model and then, assuming it's a Mac compatible with Lion Internet Recovery, provide the roughly 4GB of data for download. Once that data has been downloaded, Lion Recovery restarts your Mac, immediately installs the OS, and then deletes the installer data. The trick is to interrupt that process—safely—so you can grab the installer data and keep it. Here are the steps to take:
Boot into recovery mode by holding down Command+R at startup; you'll eventually see a Mac OS X Utilities window. (If this doesn't work, restart and hold down Command+Option+R, which should force your Mac into Lion Internet Recovery.)

Connect a drive—a hard drive, a thumb drive, or the like—with at least 12GB of free space. The drive must be formatted as Mac OS Extended (Journaled), and must have a GUID Partition Table. Follow Steps 1 through 4 in this slideshow to properly format the drive.

In the Mac OS X Utilities window, click Reinstall Mac OS X and click Continue.

On the Mac OS X Lion screen, click Continue. You'll see the message, "To download and restore Mac OS X, your computer's eligibility will be verified with Apple." Click Continue, then click Agree (twice) on the next screen to agree to the Lion license agreement.

Select the drive onto which you want to install Lion. The important thing here is to select your external drive.

Click Install to begin the download. Depending on your Internet connection, the download can take anywhere from under an hour to several hours (or even, if you're unfortunate enough to be on a very slow connection, considerably longer).

IMPORTANT: Monitor the download's progress. As the progress bar gets near the end, get ready, because once the status reads About 0 seconds remaining, the progress bar will disappear, the installer will spend a minute or two cleaning up, and then your Mac will restart. As soon as the screen goes dark, unplug your external drive. If you wait too long, your Mac will boot into the Mac OS X installer on that drive, starting the installation process. Interrupting that process can leave your Mac unable to install OS X unless you restart it and—I'm not joking—zap PRAM.

Once your Mac has booted from its normal startup volume, reconnect the external drive. Alternatively, you can connect the drive to another Mac and proceed with the following steps using that Mac.

Open the external drive, and you'll find a folder called Mac OS X Install Data. The important file is the one called InstallESD.dmg, just under 4GB in size, which is a bootable disk image containing the Lion installer. (If the Mac OS X Install Data folder has a "no access" icon, select the external drive in the Finder, choose File -> Get Info, and expand the Sharing & Permissions folder in the Info window. Click the padlock icon at the bottom of the window, provide an admin-level username and password, and then uncheck the box next to Ignore Ownership On This Volume.)

If you plan to use the same hard drive for your bootable installer drive that you used to download the installer, you'll need to copy the InstallESD.dmg disk image to your Mac's internal drive, or another drive, before proceeding. Use that copy in Step 12, below.

Launch Disk Utility (in /Applications/Utilities).

Drag the InstallESD.dmg disk image into Disk Utility's left-hand sidebar.
Now you've got the latest Lion-installer disk image, and you're ready to use that image to create a bootable installer drive or disc. As a bonus, the resulting Lion-installer drive should boot and support any current Lion-capable Mac. However, be aware that when Apple releases new Mac models, those models will come pre-installed with a newer version of Lion, so your installer drive won't work with them. (At some point, Apple will update the Lion installer on the Mac App Store to support those newer Macs, so you can then download the updated installer and make an updated installer drive that supports even those Macs. And so on…)
The next steps depend on whether you want to create a bootable hard drive or flash drive, or a bootable DVD. I recommend a hard drive or flash drive; a DVD will work, but it will take a long time to boot and install. And, of course, depending on your particular Mac model—I'm looking at you, MacBook Air and recent Mac mini—you may not have an optical drive.
To create a bootable hard drive or flash drive
In Disk Utility, select InstallESD.dmg in the sidebar, then click the Restore button in the main part of the window.
Drag the InstallESD.dmg icon into the Source field on the right.
Connect to your Mac the hard drive or flash drive you want to use for your bootable Lion installer. As with the drive used to download the installer, this drive must be at least 5GB in size (an 8GB flash drive works well) and it must be formatted with a GUID Partition Table.
In Disk Utility, find this destination drive in the sidebar and then drag it into the Destination field on the right; if the destination drive has multiple partitions, just drag the partition you want to use as your bootable installer volume. Warning: The next step will erase the destination drive or partition, so make sure it doesn't contain any valuable data.
Click Restore and, if prompted, enter an admin-level username and password.
To create a bootable DVD
In Disk Utility, select InstallESD.dmg in the sidebar

Click the Burn button in the toolbar.

When prompted, insert a blank DVD (a single-layer disc should work, although you can use a dual-layer disc instead), choose your burn options, and click Burn.
You can now boot any Lion-compatible Mac from this drive or DVD and install Lion. You can also use any of the Lion installer's special recovery and restore features—in fact, when you boot from this drive or DVD, you'll see the same Mac OS X Utilities screen you get when you boot into Lion Recovery.
(Thanks to reader Jameel Morrison for confirming this procedure and for prodding me to finally write this article.)
UPDATED 2/13/2012, 9:29am, to make it even more clear that this article is aimed at owners of Macs that shipped after Lion.
UPDATED 2/14/2012, 9:40an, to correct the size of the drive onto which you want to download the Lion installer.
Click here for complete article.
---
Apple TV (third generation): What you need to know
by Macworld Staff, Macworld.com Mar 7, 2012
While Apple executives have continued to call the Apple TV a hobby, over the past couple years, the company has dedicated a fair amount of resources to it. The Apple TV 2 was a major upgrade, and Apple has added a good number of features to that media player through software updates.
The third-generation Apple TV unveiled Wednesday shows Apple is taking its hobby
just a little bit more seriously, thanks to improved video support and an overhauled interface. But there are still plenty of questions about the latest edition. Here's what weknow so far.
What's new about it? Does it finally do 1080p?
The new Apple TV looks exactly like its predecessor, and is housed in the same tiny, black enclosure. The big hardware change for the new the Apple TV is inside: Instead of the Apple A4 chip found in the previous Apple TV, the new model hosts a single-core A5 chip. The improved horsepower finally allows the Apple TV to support 1080p video output.
On the software side, there's a new user interface with large, iOS-like buttons instead of textual menus for the major content categories. There's also a new Genius feature that suggests movies based on movies you've already watched, and Photo Stream images are pushed to your Apple TV without any manual intervention.
1080p sounds very cool, but I don't have a very fast Internet connection. It's going to take me forever to download a 1080p video!
Fear not, for with the latest Apple TV software update, the Apple TV's Settings screen lets you choose the resolution of your video downloads: 1080p, 720p, or standard definition. Apple recommends a broadband connection of at least 8 Mbps to comfortably download 1080p content. If you have a slower connection, you'll want to choose 720p or standard definition.
iTunes 10.6, released Wednesday, has a similar Prefered Video Version option that lets you choose from High Definition (1080p), High Definition (720p), and Standard Definition.
Given that the Apple TV is running a version of iOS, can I finally run apps on it?
Unfortunately, no. The new Apple TV provides largely the same features and content options as its predecessor, just with a new interface.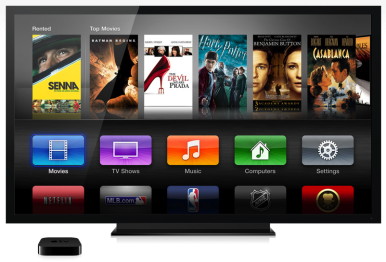 Has Apple added any more "channels" or media options? Can I finally stream video from Hulu or Amazon Video, or audio from Pandora?
Another "unfortunately, no" here. The Apple TV's non-Apple content providers remain (in the U.S.) Netflix, Vimeo, YouTube, Flickr, and the Wall Street Journal Live, along with sports content from MLB, NBA, and NHL. (One minor change is that you can now sign up for Netflix directly from the Apple TV.)
However, a new feature automatically pushes new iCloud photos to your Apple TV for immediate viewing.
Can you buy TV shows or movies from the Apple TV?
Provided you have an iCloud account, you can purchase TV shows and movies directly from the Apple TV—and later download and watch them on your other iCloud-enabled devices, as well.
Has anything changed in terms of movie rentals? Do you still get only 24 hours to watch a rented video? How much does it cost to rent TV shows and movies?
Apple hasn't announced any changes to rental terms.
Can you still buy movies and TV shows in iTunes and then play them on the Apple TV? What about ripping your own movies and playing them from iTunes on your computer?
As before, you can buy movies and TV shows on the Apple TV itself, or you can buy on your Mac or other iOS device and later watch on your Apple TV. And thanks to iCloud, you can re-download (or, in the case of Apple TV, stream) purchased TV-show episodes and movies onto any device without having to go through iTunes on your computer. (You previously couldn't re-download movies.)
However, there's a catch here: You still can't re-download movies from Fox and Universal, thanks to pre-existing deals those studios have with Time Warner.
As for ripped movies, the answer is the same as with the second-generation Apple TV: If you can get a movie into iTunes, and it's in a supported format, the new Apple TV can stream it over your local network for playback.
What if I live outside the U.S.? As with the previous Apple TV, content availability and terms vary depending on the country. Similarly, depending where you live, your iCloud and iTunes Match features may differ from those in the U.S.
Will the 2010 Apple TV support the new features via a software update?
The 2010 Apple TV (which Apple calls the second-generation model) will get the new user interface via a free software update. However, the older model won't gain support for 1080p video, as it doesn't have the necessary hardware.
So what are the supported video and audio formats?
The new Apple TV supports H.264 video at up to 1080p resolution at 30 frames per second; MPEG-4 video up to 2.5 Mbps, 640 by 480 pixels at 30 frames per second; and Motion JPEG (M-JPEG) up to 35 Mbps, 1280 by 720 pixels, at 30 frames per second. (Apple's tech specs page has more details about supported video profiles and audio tracks.)
In terms of audio support, you can play HE-AAC, AAC, protected AAC, MP3, MP3 variable bit rate, Audible, Apple Lossless, AIFF, and WAV files; the Apple TV also supports Dolby Digital 5.1 pass- through.
What kinds of connections does the new model have?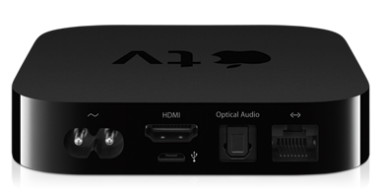 As with the previous model, the new Apple TV sports an HDMI output for digital audio and video, a Toslink-optical output for digital audio, a 10/100Base-T ethernet port—sorry, no Gigabit ethernet yet—a Micro-USB port for service use, an infrared receiver for the included remote, and 802.11a/b/g/n for wireless networking.
Can I connect an external hard drive to the Apple TV?
As with the previous two Apple TV models, the USB port on the back is designed for only "service and support." Products such as ATVFlash have been able to use the Apple TV's USB port to allow for things like external hard drive storage and more media features, but these are unsupported additions. Given the similarities between the new Apple TV and the second- generation model, we suspect the current version of ATVFlash either works with the new Apple TV or will quickly be updated for it.
Has AirPlay changed at all?
AirPlay functionality appears to be the same as with the previous Apple TV: You can stream music, photos, and videos to the Apple TV from AirPlay-enabled apps on your computers or iOS devices. If you have an iPhone 4S or iPad 2, you can also use AirPlay to mirror that device's display to the Apple TV.
Has the Apple TV's remote been improved?
Despite rumors of a new remote design, the new Apple TV comes with the same basic, infrared Apple Remote as before—a remote that feels more and more limiting as Apple adds functionality to the Apple TV. Thankfully, if you've got an iOS device, you can use Apple's Remote app instead.
When will the new Apple TV be available, and how much will it cost?
The updated Apple TV will keep the same $99 price as the previous version. Apple says the new model will be available on March 16, with pre-orders starting today.
Click here for complete article.
---
Firefox add-on Collusion shows who's tracking you online
by Ian Paul, PCWorld Feb 29, 2012
If you're concerned about advertisers tracking you across the Web, Mozilla can now help you see exactly who's following you online with a new experimental Firefox add-on called Collusion. The browser extension creates a real-time graph of all the tracking cookies being deposited on your browser as you move around the Web.
The add-on can differentiate between behavioral tracking (cookies that record links you click on, what content you view, searches you make on a site, etc.) and other potential tracking cookies. Collusion's graph also makes it easy to see which sites are using the same behavioral tracking advertisers. Collusion was originally developed as an independent project by Mozilla engineer Atul Varma. Mozilla is now developing the add-on with the support of the Ford Foundation.
Getting started
After you've installed Collusion from Mozilla's Firefox add-ons gallery, you have to enable it by clicking on Tools -> Add-ons -> Extensions and then click "Enable" next to Collusion. After that you should see a small red circle on the bottom right of your browser. Now, just start browsing the Web as you normally would. To see the tracking graph build up, click on the Collusion icon in the bottom right of your screen. This will open a separate browser tab with your Collusion graph.
The glowing circles represent sites you have visited and each line growing out of that circle is attached to a cookie the site or its advertisers have placed on your browser. Red circles are behavioral tracking cookies, and gray circles represent non-behavorial tracking cookies. But, Mozilla says, those gray sites may still be tracking you across the Web. In my tests, the gray circles tended to be cookies from social networking sites such as Facebook, MSN, Twitter, LinkedIn, and Twitter. A visit to IMDb, however, deposited a non-behavorial tracking cookie from Amazon on my browser.
After you've visited about four or five sites, the graph tends to get really confusing and it's hard to tell which advertisers are connected with which sites. To cut down on the confusion just hover over any of the sites you've visited and Collusion will highlight only the cookies connected with that site.
You can also do the same for advertisers. If you wanted to see how many of the sites you visit rely on Google's DoubleClick for advertising, you could just hover over the DoubleClick circle. In my case, this shows me that almost all of the sites I previously visited during my short test relied on DoubleClick's cookie. This is helpful information to know since, as Mozilla points out, when the same sites rely on the same tracking cookies, advertisers are able to effectively track you across the sites you visit building up valuable data for market research.
Mozilla says that all tracking data Collusion collects is stored locally on your computer and never leaves your possession. You can reset the graph at any time to delete Collusion's database. The add- on also features an export function, but in my tests this feature wasn't functioning properly.
Collusion can only show you who's tracking you right now, but future plans for the add-on include the ability to turn off tracking cookies when you don't want to be followed as you browse the Web.
Click here for complete article.
---
Text to EPUB File
from Apple
The ability to easily create and share information is an essential requirement for busi- nesses and classrooms alike. Since many computers and mobile media devices now sup- port digital reader applications, the use of digital books as a means of content delivery has dramatically increased. On the iPad and the iPhone, the Apple-provided reader ap- plication is iBooks, and it supports the viewing of both commercial and non-commercial digital publications, including those created in the free and open Electronic Publication (EPUB) format.
Mac OS X Lion includes an Auttomator action, named Text to EPUB File, that is de- signed to make it very easy to convert selected text or text documents into EPUB books, ideal for transferring to iPads and iPhones. Additionally, the created EPUB books can include images, MPEG audio, or MPEG video files.
NOTE: If the source documents for the action are in Rich Text Format (RTF), any for- matting they possess will be preserved, and display correctly in the EPUB document. HOWEVER, files in RTFD format (Rich Text with embedded images and/or media) are not supported as input.
Also, the action includes full Unicode support, so Asian and Arabic characters are pre- served as well.
The Action Interface
The action's interface is divided into two sections: on the left are the input fields for de- termining the created file name and location,; and on the right are the controls for adding related images, audio files, or movies. Here's an overview of the action interface controls.
Document Parameters and Metadata: (NOTE: all of these controls accept Automator workflow variables as input)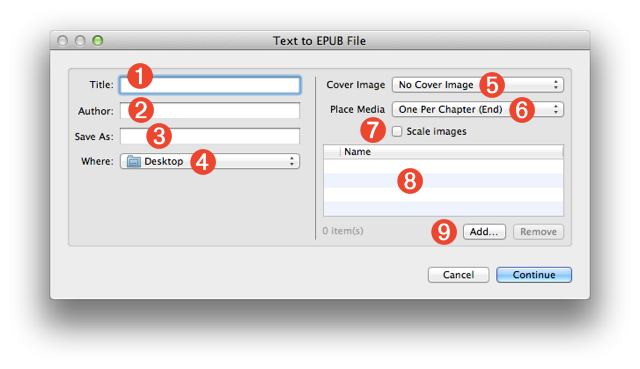 Title - Enter the title of the book in this text field (1).
Author - Enter the author of the book in this text field (2). By default, the name of the current user will be used.
File Name - Enter the name for the created EPUB document in this text field (3). EPUB file names must end with a name extension of "epub" like: My Story.epub
File Destination - Choose the folder that will contain the created EPUB document from this popup menu (4).
Optional Media:
Cover Image - Optionally, the EPUB book can have a custom cover image. Select the image file to be used as the cover image from this popup menu (5).
Media Placement - Images, audio (.m4a), or video (.m4v) files added to the book are placed one per chapter at either the beginning or end of each chapter. Select the insertion location from this popup menu (6).
NOTE: additional media files (those unassigned to chapters) will be placed as a group at the end of the book in a chapter titled "Illustrations." For example, if seven images are added to a book containing three chapters, the first three images in the list will be placed one-per-chapter and the remainning four images will be placed in an illustrations chapter at the end of the book.
Scale Images - Select this checkbox (7) if you want to reduce the file size of the EPUB document by scaling the images added to the book to fit within 1024 pixels.
Media List - A list of the added media files (8). Files can be added or removed us- ing the controls beneath the list view (9).
EPUB Services
By default, Mac OS X Lion does not include any services that use the Text to EPUB File action. However, the Text to EPUB Services collection available on this website contains four Automator services for converting text into digital books: 1. Create EPUB Book with Selected Files 2. Create EPUB Book with Selected Text 3. Create Formatted EPUB Book with Selected Text 4. Create EPUB Book with Contents of Clipboard
Media Preparation
Audio and video files should be encoded prior to using them with the Text to EPUB File action. Video files added to EPUB documents must be in MPEG (.m4v) format, and audio files must be in MPEG (.m4a) format. Fortunately, Mac OS X Lion includes two built-in services for converting video and audio files to the proper formats for inclusion in digital books. These services appear in the Finder's contextual menu when appropri- ate audio/video source files are selected:
Encode Selected Movie Files - This service will encode movie files (.mov) selected in the Finder, to MPEG files (.m4v) for use with AppleTV, iPod, iPhone, or the iPad. (learn more)
Encode Selected Audio Files - This service will encode selected audio files of WAV, AIF, CAF, or SDII formats, to MPEG (.m4a) files for use with the iPod, iPhone, or the iPad. (learn more)
DOWNLOADS AND TUTORIALS
You can download the installer for the EPUB services here.
In addition to the service installers, this website contains two hands-on tutorials with ex- ample materials.
Simple Formatted Book - create a single-flow formatted book from the text select- ed in a document.
Multi-Chapter Book - create a multiple chapter book from selected text files, and add audio and image files as well.
Click here for complete article.
---
7toX for Final Cut Pro*
from Chris Douthitt
7toX for Final Cut Pro brings your Final Cut Pro 7 projects forward to Final Cut Pro X so you can use Apple's powerful new professional editing tools to update or finish your older projects. The lightweight application is simple to use, with drag-and-drop support and progress information. 7toX translates important metadata from your Final Cut Pro 7 Project - including bins, clips and sequences — to a new Event in Final Cut Pro X (version 10.0.3) with the highest fidelity of any translation application for Final Cut Pro. In addition, the application provides clear, detailed reporting after every transfer.
Click here learn more and download 7toX.
---
iPhones, iPods, and iPads
The New iPad
by Ron Sharp*
Apple presented the new iPad on March 7th. Presented with the term "Post PC," iPad is outselling all other PCs. Here are some of the features:
Retina Display
Four times more pixels than the iPad 2. 3.1 million pixels and 44% better color saturation.
A5X Chip
New A5X chip has quad core graphics driver. 10 hour battery life even with the extra power.
Camera
Five megapixel iSight camera with better optics and auto focus. Takes 1080p HD videos with automatic video stabilization.
4G-LTE fast data network
Available from ATT and Verizon. Also works with 3G networks.
Dictation
Send an email by speaking. Your spoken words become written words.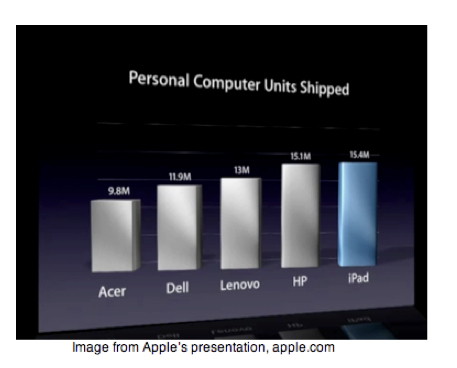 ---
Apple updates iMovie, GarageBand, iWork for iOS
by Serenity Caldwell, Macworld.com March 7, 2012
An Apple event wouldn't be much fun without some software updates, and the company had them in spades on Wednesday(March 7th): Apple showed off new features for GarageBand, iMovie, and the iWork productivity suite, all of which complement the newly announced iPad. GarageBand received several new features, including Smart Strings (your own automatic string orchestra), a Note Editor for fine-tuning your recordings, support for iCloud song syncing, and expanded sharing options (SoundCloud). Additionally, users can now jam wirelessly with their iOS-using friends using Jam Session. Connect up to four iOS devices over Wi-Fi or Bluetooth and play; Jam Session will synchronize the tempo, key, and chords automatically.
iMovie for iOS now sports Movie Trailers, a new feature carried over from iMovie '11 on the Mac. Users can choose from nine templates (including genres like Fairy Tale, Superhero, and Romance), fill out a quick intro, and arrange clips within a storyboard. You can also sample soundtracks created especially for the app by Academy Award-winning composers (Hans Zimmer is highlighted in Apple's own press release) and played by the London Symphony Orchestra. Films can be saved in 1080p and streamed via AirPlay to an Apple TV or shared to YouTube, Vimeo, and Facebook.
On the productivity front, Apple's iWork suite now features Retina-quality graphics and new 3D bar, line, area, and pie charts. On the iPhone, users can now edit a Pages file in landscape mode, while users of Keynote can take advantage of new transitions (Iris, Shimmer, Wipe, Flame, Swing, and Fade Through Color).
All updates should be available Wednesday for free from the App Store. If you don't already own these apps, they can be purchaed separately. GarageBand is $5 and available for the iPad, iPhone 3GS or later, and third- generation iPod touch or later. iMovie is also $5 and available for the iPad 2 or later, the fourth-generation iPod touch or later, and the iPhone 4 or later. Each iWork app is $10 and available for the iPad, iPhone 3GS or later, and third-generation iPod touch or later.
Click here for complete article.
---
iPhoto for iOS arrives on the App Store
by Philip Michaels, Macworld.com Mar 7, 2012
Apple's mobile suite of iLife apps is now complete. On Wednesday, the company rolled out iPhoto for iOS, which joins mobile versions of GarageBand and iMovie in the App Store.
The $5 app arrives on the App Store Wednesday. While Apple executives demonstrated the mobile image editor to show off the improved display on the latest iPad, iPhoto is a universal iOS app—like GarageBand and iMovie, it will run on the iPhone as well as Apple's tablet.
During Wednesday's press event, Apple senior vice president of worldwide product marketing Phil Schiller pitched iPhoto as the next step after the Camera and Photos apps that come included with the iPad. While those offerings let you capture and view photos, respectively, the mobile version of iPhoto offers more browsing and editing capabilities.
Gesture-based controls
In iPhoto for iOS, all the photos stored on your device show up on shelves. Images are sorted by Albums, Photos, Events, and a mobile-specific featured called Journals. (More on that below.) The image editor relies heavily on gestures: You've got a scrollable thumbnail grid in both portrait and landscape views for sorting through pictures. Tapping on a photo brings up the editing interface, and pressing and holding can summon up photos for side-by-side comparisons. Double-tapping thumbnails finds similar photos. You can swipe down to make an image disappear from the side-by- side comparison.
"With iPhoto for iOS, we had the opportunity to reinvent it and take advantage of multitouch and take it to a whole new level," said Randy Ubillos, Apple's chief architect, photo & video applications, during the iPhoto demo at Wednesday's press event.
Editing tool
Multi-touch controls also drive the app's editing capabilities. The crop tool, for example, lets you pinch to zoom or rotate an image with your finger; you grab the corner to change the cropping or tap on a gear to bring up a list of common image sizes.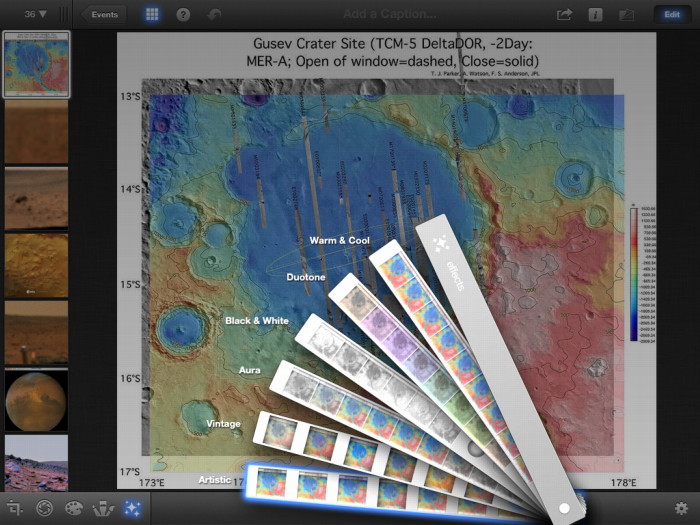 An exposure tool lets you adjust shadow, highlights, brightness, and contrast of images—once again, by touch. Tapping a specific area brings up a control panel, allowing you to adjust levels with a slider. iPhoto for iOS also sports dozens of effects to give images a specific look. Effects include black-and-white, vintage, aura, gradient, tilt shift, and water color. The app uses a swatch book that fans out to show you the effects, with variations appearing as you slide your finger along a specific effect's strip in the swatch book.
Brush tools apply finishing touches to images in iPhoto. You can take care of blemishes with a Repair brush or remove red eye from photos of your friends and family members with a dedicated brush for that action. Other brushes let you saturate or desaturate, lighten or darken, and sharpen or soften photos.
Sharing photos
On the sharing front, iPhoto is able to post images to Facebook, Flickr, and Twitter. But Apple also introduces its own methods for sharing images with others. A Photo Beaming feature will allow iPhoto users to send high-resolution photos between devices; the app also supports AirPlay mirroring to allow supported devices to stream photos and slideshows to an Apple TV. A Photo Journals feature takes a selected group of photos and automatically creates a journal out of them. Users can make adjustments to how photos are sized and placed. You'll be able to share journals on your iOS device or publish them to a Web page via iCloud.
Other updates
The App Store page for iPhoto says the app will run on the iPhone 4 and 4S as well as the iPad 2; it will also work with the latest iPad when that tablet ships March 16. Older iPhones and the original iPad aren't compatible with iPhoto for iOS; neither is any version iPod touch, including those equipped with cameras.
In addition to releasing iPhoto for iPad, Apple also updated GarageBand and iMovie for iOS on Wednesday.
The desktop version of iPhoto got its own update on Wednesday. iPhoto 9.2.2 simply allows you to delete photos from the Photo Stream. The update was appearing in OS X's Software Update feature, though it wasn't available from Apple's downloads page as this article was published.
Click here for complete article.
---
Photoshop Touch app arrives for the iPad
by Jackie Dove, Macworld.com
The centerpiece of Adobe's mobile apps is now in the iTunes store
Adobe has announced that Photoshop Touch—the centerpiece of its suite of mobile Touch apps—is now available for the iPad from the iTunes store. Priced at $10, it runs on the iPad 2, and is compatible with iOS 5.
With Photoshop Touch, you can use your Apple tablet to produce and edit images, combine images, apply effects, work in layers, extract parts of an image, and refine work created on the tablet with your desktop Photoshop program. Photoshop Touch also has a social networking component that lets you share your work with Facebook friends and view their comments.
Introduced last fall as part of the company's mobile app initiative, and thus far available only for the Android OS, Photoshop Touch is the second of six Touch apps to be made available for iOS devices. Of the other apps—Proto, Ideas, Debut, Collage, and Kuler—only Adobe Ideas, a vector drawing and sketchbook app, has thus far been available for iOS.
Advanced image editing and compositing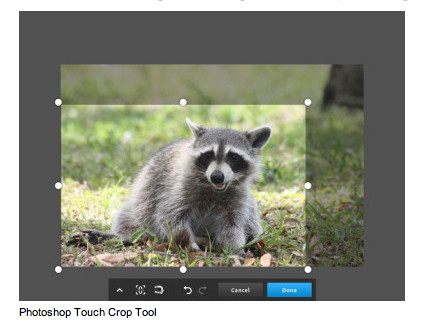 Targeted to creative folk and Photoshop users of all levels, Adobe Photoshop Touch lets you create or work with images on-the-go. Just tap the screen with your finger or a stylus, and a host of familiar, Photoshop tools—such as Paint, Clone, and Eraser—become available. The app works with images of up to 1600 by 1600 pixels in dimension. It offers sophisticated functionality such as working with layers and live-camera fill layers, blend modes, fades, and Photoshop-style methods of selecting, integrating, and separating images.
Selection can be tricky no matter how or where you do it, but Photoshop Touch's Scribble function, alongside more familiar selection choices such as the Marquee and Lasso tools, lets you select with a fingertip the parts of an image you want to keep or discard. Refine Edge, another Photoshop-derived selection feature, also makes an appearance on Photoshop Touch to assist with difficult selections like hair, grass, and fur.
Photoshop would not be Photoshop—even in Touch form—if it did not include a library of special effects and filters, which you can apply to parts of an image, layer, or selection. Using a finger tap, you can move between different sets of effects and easily apply them. The Filter Brush feature lets you paint effects onto your image with your fingertip. Either by layer or selection, you can also apply tone and color curve adjustments to your artwork. Edge-aware painting, another option, automatically detects where paint should stop on an image. The app also features text functionality, complete with strokes, drop shadows, and fades.
Gathering and sharing images
The application makes it easy to obtain raw material. You can choose images from various sources such as your camera roll, shooting your own image from the iPad, and from online sources such as Facebook and Google. With the Google search, you can even search by color. For the design crowd, the app makes it possible to search for images that are properly licensed for reuse and modification.
Firing up Photoshop Touch does not leave you wondering what to do next. Within the app, there are a number of tutorials that walk you step-by-step through getting started with major features. If you're a Photoshop user, you'll get the picture pretty quickly. While the main menu is icon driven, a tap will reveal what and where everything is.
Eventually, Photoshop Touch will operate in conjunction with Creative Cloud when that service gets up and running this summer. Meantime, you can still use the app as you would any other app on the iPad and email, post, or sync your creation with your Mac for further tweaking.
Other Touch apps
Regarding the rest of the Touch apps—Adobe Collage for moodboards; Adobe Debut for presenting and reviewing creative work; Adobe Kuler for colors; and Adobe Proto for website and mobile app prototyping—the company has not given exact release dates for their debut on the iPad, but says only that they will be available in the coming months.
Adobe Photoshop Touch is available now in the iTunes Store in English in 123 countries. Adobe's website has more information on Photoshop Touch and its other Touch apps. More information is also available on Adobe's Facebook and Twitter pages, from the Photoshop Blog, and on the company's instructional TV channel.
Click here for complete article.
---
By The Way
Protecting your Internet Privacy*
by Ron Sharp, MAGIC
Security and privacy topics are discussed often lately. Some of the topics are network security, email security, search privacy, and social media / networking privacy. Here are some options for browsers and browsing security tips.
There are three content items a browser stores. It saves the website location (URL), it stores site content to the cache folder, and it stores website cookies. Websites actually initiate the cookies, but it's the browser that keeps track of them. All browsers have preference settings for security and privacy, but some give you more choices than others.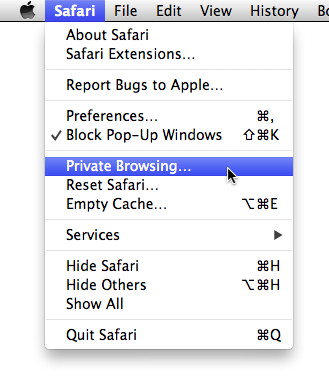 Private Browsing is an option offered with Safari and Firefox, and in Chrome it's labeled as "Incognito Window". With this option enabled your browser will not store history or cookies, and will not cache the site. Browser caches are storage folders the browsers create and use to save website content for quick displaying when you return to a site.
With Private Browsing enabled, however, sites that require you to login will not recognize you and some login procedures may not work. If you have information saved with a site, a shopping cart for example, that information will not be available. The cookies are the key that lets websites know who you are and save your info.
For most of your browsing, when you want your history saved and logins to work, there are still plenty of options. You can set preferences so cookies are only stored for sties you visit and not third party sites. You can also set some browsers to clear the history when the application is closed without affecting cookies or cache. Many browsers let you remember search and form history, or disable that feature.
Most browsers allow you to check the list of cookies that have been set and allow you to delete any or all of them. Safari's cookies list is found under the Privacy tab, but says "Details" rather than cookies. The list shows cookies with sites that have been saved to the cache folder also but may not have set cookies and makes it more difficult to clear only cookies.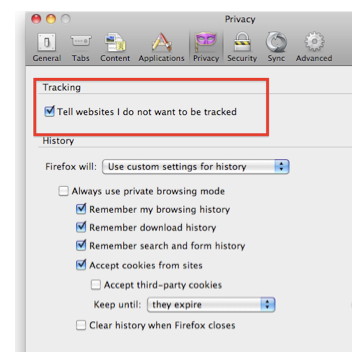 Some browsers have, rather recently, offered the option to tell websites not to track you. With this setting, however, it's up to the website owner or advertiser whether they will comply. There is no regulation as of yet. This setting is mainly so advertisers don't keep track of your browsing which can be use for targeting ads. To Find how to turn it on with Safari, see the " Currently, Safari hides the setting" paragraph in the article "What you need to know about do not track" in this newsletter. Google's Chrome does not yet have the Do Not Track option.
Search engines are a privacy issue that your browser cannot control. When you type a few keywords into a search engine, Google for example, that web site tracks and stores data about your searches. It may speed up your next search but the data that the search engines save is valuable info for advertisers. There is a way to help control this issue also. Some search engines allow you to set a preference not to be tracked but you have to create an account on their site and then find the appropriate web page to make the changes. Sometimes that's not easy. Then, of course, it's only good for that particular search engine. Here is a link for instructions for removing your Google history: .../how-to-remove-your-google-web-history/
Privacy issues can be a convenience for you for saving shopping preferences, login passwords, filling out forms and finding a website you visited last week. But there are times you want privacy, just like in your home or a community. So know your options. If you get bombarded with ads for a particular product that's annoying, locating and removing some appropriate cookies and changing preferences may reduce the problem. There is no absolute privacy with using the internet. That's its purpose, to connect everyone.
Many of these issues are similar with social media sites. If you are concerned, take the time to locate all the preferences for the particular site you use. Again, locating all the info can be challenging.
One other thing. Many of you may have Adobe Flash Player installed on your computers. It too can be checked for privacy preference settings. Open your System Preferences and you'll see the familiar icon in the bottom row if you have it. Check those preferences to see if they are set they you want.
The iPad and iPhone will not have Flash Player on them. Soon, all browsers and most content will be HTML 5 compatible and Flash won't be needed.
---
Unresponsive Scroll ball
by Ron Sharp, MAGIC
Sometimes the scroll ball on Apple's Mighty Mouse becomes unresponsive. The problem is usually dirt on the internal parts. One way to clean it is to disconnect it from your computer and turn it upside down and roll the ball around on a clean piece of paper with a reasonable amount of force. Another is to use a damp cloth as in this short video, Cleaning the scroll ball.
---
MacMall Coupons*
by Ron Sharp, MAGIC
MacMall is an online retailer for Apple and Apple-related products. They are currently the number one direct reseller, selling more Mac products than even Amazon.com. MacMall caters to individual consumers and businesses, with an impressive selection of products. They carry Mac computers, Mac software, Mac Accessories, iPods and iPod accessories, and general consumer electronics. Mac Mall is your perfect one-stop shopping destination for everything Macintosh, including the hard to find items missing from your local retail shop. MacMall also carries business software and Mac products for the creative professional. MacMall specializes in bringing the consumer exclusive prices, rebate savings and bundles that you can't find anywhere else.
Find MacMall coupons here: http://couponbuzz.com/macmall-coupons.html
---
Funnies for the Month*
Submitted by Vi Frederick, MAGIC
---
MAGIC, the Macintosh Appreciation Group of Island County, serves people who use Macintosh computers, software and peripherals. Our goal is to share information and get answers to questions to make us more productive with our use of technology. Our monthly meetings give us a chance to discuss computer problems and share ideas with other Mac users, feature speakers on specific topics, and to keep apprised of Apple news.