Newsletter
October 2013
Newsletter Editor:
In This Issue:
MAGIC MUG News
Software Updates
Macintosh News, Information and Stories
iPhones, iPods, and iPads
By The Way
* Indicates author is a member of MAGIC
---
Meeting information
Day:
The 3rd Wednesday of the month. 16 October 2013 this Month
Location:
Unitarian Universal Congregation of Whidbey Island (see map.)
Time:
4:00 p.m. - 6:00 p.m. with the first hour dedicated to new users and their questions.
Presentations:
•Apple Q & A with Robert
•iOS-7 with Robert
Future Meetings: (subject to change)
See the Meetings Page on this website.
Do not forget to bring your used ink cartridges.
MAGIC will dispose of them for you and make some change for the group.
---
Minutes of the September 18, 2013 Meeting
by Penny Holland, Secretary
Our meeting was held at the Universal Unitarian Congregation Meeting House in Freeland. Approximately thirteen people were in attendance. President Sue Keblusek opened the meeting at 4:00, and invited Penny Holland to tell her recent "storm story."
A FRIED RAM LEADS US TO A NEW APPLE STORE EXPERIENCE: It seems that Penny's computer was affected last Sunday night during a close encounter with a thunder and lightning storm that caused a very brief power outage of less than a minute. After the storm, the computer began making a strange BEEP-BEEP-BEEP that sounded like a truck backing up. After doing a Google search, talking to an Apple tech person, and talking to Tom Johnson, Penny was pretty sure her problem was with either a RAM chip or the logic board. Upon the advice of Tom Johnson, she took the iMac over to Burlington, next door to Costco, to a privately owned Apple authorized shop called TD Curran (1771 S. Burlington Bvd., 800-645-2533). Robert Chapman of TD Curran's tech/service department opened the iMac and inserted two new RAM chips, saying if these didn't help then it meant that a new computer was going to be the best option. Luckily, he discovered a bad RAM chip, replaced it with a new one, and Penny was happily on her way in less than an hour with a recovered iMac for well under $100. During his servicing of the computer, in which he graciously explained every step, he also answered a couple of other questions Penny had about her iMac. Realizing that this man was a valuable asset, Penny asked him if he would consider sometime giving a presentation to our MAGIC group, and he consented. He also explained that this store, which is more accessible to many Whidbey residents than the Alderwood Mall store (another great Apple venue, but requiring a ferry trip) has policies similar to all Apple stores. For $99 and a new Mac under warranty, you can get hour-long support classes there once a week. And for out-of-warranty Macs, anyone interested can have the weekly hour long classes for $199 per year. This would amount to about a mere $4 per class if one took advantage of the weekly offer!
LESSONS LEARNED FROM THE LIGHTNING STORM: Penny did have her computer plugged into an older model surge-protection power strip, but it obviously didn't help. In her conversation with Tom Johnson, she got this information: Be sure to use an APC type surge suppressor. One place to go is http://www.apcguard.com Look at the $34 model - #P8VT3. Needless to say, two of these are now on order to arrive at the Holland residence by early next week.
Daryl added his own thunder story to Penny's. Years ago, before computers, he lived in the midwest in a house with lightning rods. Once, during a big storm, the lights went off and the lightning fried the controls in the home's sprinkler system electronics. The family also found their tape recorder had smoke coming out of it. So it's not just our computers that have problems in a storm. And even with lightning rods and surge suppressors we are not always protected!
Q&A SESSION:
Sue asked the group if they had any questions and with a little bit of help from Prescott and others the following questions were addressed:
Q: Problems after getting a new computer and transferring the data from old Mac to new one. Pictures didn't transfer.
A: Sue thinks the problem is due to having more than one administrator of the computer. Nancy Ruff commented that a similar problem had happened with her. She thought she had lost some of her data. Her solution was to take advantage of the 90 days of free phone support after purchasing a new Apple product. Nancy reported that after an hour on the phone with Apple she got help she needed and the problem was solved. Sue also suggested that the photos could be transferred via a thumb drive to the other computer (or user). Another MAGIC member also suggested going to the Genius bar at the Apple store.
Q: How to move what is on Time Machine to a new computer. Got some warning messages about turning off the firewall, and another question about "Do you want to allow access to xxxxxx(some letters that didn't mean anything to our group), and another about disabling stealth mode and location services.
A: No to location, Yes to Stealth Mode. Since nobody knew the meaning of the letters, Sue suggested going to Google and type in the group of letters to find out what they stand for.
Q: In iPhoto can movies be shown?
A: Lots of suggestions from various members. Turned out the questioner wanted to do some editing on the movie/video. We suggested dragging the video clip from iPhoto to iMovie, but she had already tried that and it didn't work. Sue suggested dropping the file onto the desktop and then putting it into iMovie. Penny suggested going to the Apple website and looking at tutorials for iMovie, as it is rather overwhelming at first, since it doesn't really behave like any other program.
Q: Mail messages are being received but apparently not being sent using NetZero.
A: Prescott explained you need to set up the correct outgoing addresses. She recommended going to NetZero's web page to get the addresses needed to send and receive mail. She demonstrated how to go to Mail/Preferences/Accounts where the setup wizard will take you through the needed steps. It was then suggested that the person send a test email to herself to see if the sent email is actually going out.
At the end of about 35 minutes, there were no further questions. Our wizard Robert was really missed, but the group pulled together and did their best to help the questioners.
MINI PRESENTATIONS:
Sue gave a mini presentation on her new favorite program, PREVIEW, which comes with every Mac machine. In Preview, she showed how to crop a picture so the background is invisible. The image has to be a PNG. (If it's a JPG do a SAVE AS and select PNG as the format.) From the tool bar, select INSTANT ALPHA (magic wand icon) and click on the image. Then INVERT the selection and do a CROP. This will delete the background that has been selected by Instant Alpha. Now the cropped image can be placed over a colored area and it won't have that annoying white rectangular outlining it. Note: You can also use the Instant Alpha technique in Pages, Keynote and other programs.
Sue also showed how to do SCREEN SHOTS. Typing simultaneously 3 keys: COMMAND SHIFT 4 will turn your cursor into a crosshair, which you can drag over the area you want a picture of and then let go. You'll hear a click like a camera lens and the screen shot will appear on your desktop. To do a full screen shot, type the three keys: COMMAND SHIFT 3. This will take a shot of the entire computer screen. (Questions asked about making Sue's little screen shot larger, so that it covers the entire screen. Sue showed how doing this results in a pixelated image. These small screen shots are fairly low resolution and are best used at or near the original size, and they will work well on a web page, but probably not printed out enlarged.)
Lastly, Sue showed how you can change the size of the dock by clicking and holding your mouse at the dock's midline (between the Applications and the Folders).
She also demonstrated using the Finder's GO menu to jump quickly to different folders such as Applications or Documents on the Mac.
Prescott demonstrated Google's search for Images. In Safari, go to Google, and click on the camera icon to get a new search window where you are allowed to upload an image. Choose an image file that you wish to upload, and if Google has a similar image, they will find it for you.
Sue added to the Google Images demo by entering "Whidbey Island" in the search field. Many photos/images appeared. Then she showed how you can go to SEARCH TOOLS and make various specifications, such as "clip art," "colors," or "black and white". This will narrow down the search to a more manageable group you are interested in. Finally, she showed how you can drag any picture off the web page to your desktop. Be careful, however, how you use these images as many are copyrighted. Daryl added his favorite technique of using the colon in a Google search, such as typing "mac:" to search for things related to Macs.
BUSINESS MEETING:
We now have $8585.60 in the MAGIC treasury, reports Sue for our treasurer, Bonnie Abney, who is presently on a book tour with mystery book author, JA Jance. It seems that Bonnie is featured in JA Jance's current book!
Program VP Prescott announced that our November 20 meeting will be a presentation by a local artist/writer team Craig and Joy Johnson. The Johnsons work on an Apple platform, using Adobe applications primarily. Their masterful video, "Birds, Habitat and Beyond" includes a variety of sound, video and camera techniques.
Our October 16 meeting is still in need of a speaker (This is no longer true!), and Prescott encouraged us to put ideas on the questionnaire form we were all given.
PRESENTATION:
DARYL THOMAS, after a humorous disclosure indicating that he is not at all qualified to give this program, presented the topic of How the iPhone can be Used to Assist Blind People as well as those with serious vision impairments. (The Presentation Notes can be found on the MAGIC website.)
Daryl is a member of a local Lions Club, part of Lions International, a service organization that has as one of its core missions the prevention of blindness and also aid to the blind.
Last year the Lions Magazine published an article on the many ways that iPhones can be used to assist the blind. The purpose of Daryl's presentation is to spread this news.
Prior to the iPhone, the few mobile devices available to blind were either too expensive to too large to be considered truly mobile. Since the advent of the iPhone, many blind people have said their lives have wonderfully been changed. Today, as improvements have been made, other smart phones have become equally helpful.
Some of the capabilities and APPs on the iPhone include:
VOIP (text-to-speech, allowing verbal interaction with the phone);
The camera on the iPhone, which can be used to take pictures of currency and then using an APP that will speak out the currency denomination;
SIRI, the voice recognition assistant on the iPhone that allows a person to ask for locations, give commands etc.
" Braille capability. An App on the phone can, through a photo, read braille in more than 25 languages;
Dictation on the phone lets you talk instead of type, so a blind person can send an email, or perform a function with a verbal command.
Large text can be resized up to 56 points for easier visibility.
Colors can be "inverted' for greater contrast.
GPS function on the iPhone could certainly help a blind person find his or her way around.
Daryl talked about places where blind people can get assistance using the iPhone. There are instruction books, government and private agencies that do training. The VA rehab center in Tacoma, WA gives a six-week resident instruction program, which was used and is highly regarded by a MAGIC member whose husband appreciated this service. Daryl expressed his surprise that Apple hasn't publicized this aspect of the iPhone more strongly, however he said that some Apple stores offer evening courses on the subject.
Daryl's topic created a discussion among our members about using SIRI to verbally ask questions and quickly do searches, have a block of highlighted text read back to you, or even have a newspaper article read to you in the morning while you drink your coffee. Language translation was another area that our members appreciated getting help with from their iPhones, iPads and Macs. This topic is a good one for each of us to have an awareness of, because who knows when we might know someone who will be in need of it.
Our meeting was adjourned at 5:30.
---
MAGIC Moments
Fame and Fortune on the Board of Directors
At the January 2014 meeting we will be electing a new board of directors. This is a great opportunity to serve the MAGIC community by volunteering. The only requirement is to be good looking. Please contact the President at and let her know that you are interested in this remarkable chance to improve your life and world standing.
iPhones as an aid for the Blind
At the September meeting Daryl Thomas made a presentation on how iPhones can help blind people and their friends. The presentation notes can be found here on the MAGIC website.
Fall education program
During late November and early December I shall run one or two more schools. I am wiling to do the most popular subjects. At the current time iMovies and iPads are near the top of the list. What would you like to see a class on? Let me know at .
SOFTWARE UPDATES
Note: This Software Update section of the newsletter lists the most relevant Apple updates. Not all updates are listed for all products. Additionally, I'll add other pertinent updates on occasion.
iOS 7.0.2 fixes passcode bypass bugs
by Dan Moren, macworld.com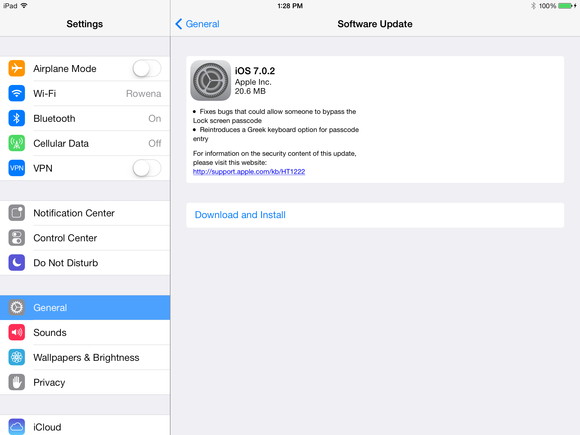 Another week, another iOS update: Apple's pushed out iOS 7.0.2, which it recommends for all users. The update fixes a few security vulnerabilities and a bug. (iOS 7.0.1 came out last week, but it specifically fixed issues with the iPhone 5c and 5s.)
Among the security flaws in question is one reported on last week, where a little bit of manual dexterity lets you bypass the lock code on the homescreen. Version 7.0.2 also patches another bug, which allowed a user to make phone calls to any number from the Emergency call screen. In addition, the update brings back a Greek keyboard option for passcode entry.
iOS 7.0.2 is a free download and is available by going to Settings > General > Software Update on your iOS device, or—if you prefer the old-school method—connecting your device to iTunes and clicking Check for Updates.
---
iMac (late 2013) EFI Update 2.1
from Apple
This update is recommended for iMac (late 2013) models. This update addresses an issue which may cause a black screen to appear when installing Windows 7 or Windows 8 using Boot Camp Assistant if both an external optical drive and USB thumb drive are connected to the system. This update also ensures that the system will boot by default into OS X after installation of Windows 8.
Post Date: Sep 24, 2013
File Size: 8.7 MB
System Requirements: OS X Mountain Lion v10.8.4 or later
---
iTunes 11.1
from Apple
This version of iTunes comes with several major new features, including:
iTunes Radio. iTunes Radio is a great new way to discover music. Choose from over 250 stations or start a new one from your favorite artist or song. Enjoy iTunes Radio ad-free once you subscribe to iTunes Match.
Genius Shuffle. Introducing a magical new way to experience your music library. Choose Genius Shuffle and iTunes instantly plays songs that go great together. Click it again to hear something new—enjoying your music has never been this easy.
Podcast Stations. You can now create custom stations of your favorite podcasts that update automatically with new episodes. Your stations, subscriptions, and current play position sync over iCloud to the Podcasts app.
Sync with iOS 7. You can now use iTunes to sync your favorite music, movies, and more to devices with iOS 7. In addition, iTunes now makes it even easier to quickly organize and sync apps to your iPhone, iPad, and iPod touch. Note: If you are using OS X Mavericks, your book library can now be found in iBooks for Mac.
iTunes 11.1.1
from Apple
This update resolves an issue that may cause iTunes Extras to display incorrectly, fixes a problem with deleted podcasts, and improves stability.
---
Apple Releases Supplemental Update To OS X Mountain Lion 10.8.5 With Bug Fixes
by Alex Heath, CultofMac.com
Today Apple released a supplemental update to OS X Mountain Lion version 10.8.5. The update is available now in the Mac App Store and addresses a number of issues, including a bug that keeps the FaceTime HD camera on the 2013 MacBook Airs from working.
Here's the full list of changes:
Resolves an issue that may prevent certain applications from using the FaceTime HD camera on mid-2013 MacBook Air systems
Fixes an issue that may cause external drives to be ejected after the computer goes to sleep
Addresses an issue that may prevent HDMI audio from working after waking from sleep
Fixes an issue that may prevent certain USB Bluetooth adapters from working
OS X Mavericks is right around the corner, with a release pegged for later this month. This could very well be the last update to Mountain Lion.
---
MacBook Pro SMC Firmware Update 1.8
from Apple
This update is recommended for MacBook Pro (mid 2012) models. This update addresses rare issues where the battery unexpectedly stops functioning or the system hangs when the battery charge reaches less than one percent.
Post Date: Oct 1, 2013
File Size: 703 MB
News, Info and Stories
Hands-on with the Apple TV 6.0 update
by Christopher Breen, macworld.com
Update: Apple pulled this update after reports that the installation process caused problems for some people. It has since reissued it. We've updated a second-generation Apple TV with the reissued update with no issues.
While you were out standing in line for an elusive gold iPhone 5s, Apple quietly rolled out the latest Apple TV update. Unlike previous updates that added new channels, version 6 of the Apple TV firmware goes under the hood, adding support for Apple's iTunes Radio streaming service, allowing purchases from the iTunes music store, supporting podcast syncing, and providing access to shared iCloud Photo Streams. Additionally you can stream purchased iTunes content via iCloud to any Apple TV, even when it isn't currently using your iTunes credentials.
---
How to use iPhoto's Faces and Places features
by Christopher Breen, macworld.com
You may recall that when we started this iPhoto series I mentioned that Apple has done its best to automatically filter and file photos for you. Two additional ways that it's done so is through the use of face recognition and location, better known as the Faces and Places features.
iPhoto '09 introduced both of these features, and they've been updated over the years. The Faces feature attempts to identify the human face within your images and queries you for the identities of the people they contain. Once you tell iPhoto that the guy with his tongue touching his nose is indeed Cousin Jo-Jo, it will then search your photo library for other images that might contain the black sheep of the family. You then confirm which faces are the aforementioned dark ungulate, and iPhoto then offers up another collection of possibilities. Keep confirming until iPhoto runs out of suggestions. During this process, the identified images are tagged with Jo-Jo's name, allowing you to select the Faces entry in iPhoto's Library pane and view just those images that contain his baleful mug.
Places depends on location data that's embedded automatically by your camera (or mobile device that adds location information to your images' metadata) or that you assign after the image has been taken. This can be very helpful if you've shot a load of pictures with your iPhone during your many sojourns to Manteca, California, and later wish to view that collection of images in a single album. Now that you have the basics, let's dive in.
---
MacBook Air the Ultimate Laptop
from Apple
Technology writer Nilay Patel of The Verge takes a close look at Apple's 13-inch MacBook Air, which he calls "the best overall laptop on the market." He notes that "the backlit keyboard is solid-feeling and comfortable, and Apple's multitouch glass trackpad remains leaps and bounds ahead of the Windows competition." But it's the long-lasting battery that he appreciates most. Patel describes getting over 12 hours of battery life during his tests, "the record for a laptop running our test without an external battery." Patel concludes, "The new Air is the first of a dramatic new breed of computer — it lets you set up a mobile office for a full day without concern for power."
---
New Mid-2013 iMac Lineup Overview
by Zach Shields, smalldog.com
While most Apple fans are busy gawking over the new iPhone 5s and iPhone 5c, Apple quietly updated the specs on their iMac lineup this week. A brief press release and an email blast to Apple Resellers and Specialists details the new features of the next-gen iMac.
They start with fourth generation Intel Core i5 processors, add brand new Intel Iris Pro graphics, PCIe flash storage options, and last, but certainly not least, 802.11ac Wi-Fi that is crushing previous Wi-Fi technology speeds.
The processor speeds got bumped up to start at 2.7GHz on the 21.5in base model iMac and all the way up to 3.4GHz on the beefed-up 27in model iMac. We also find the new Intel Iris Pro graphics chipset in the 21.5in base model iMac. This is a huge leap in graphics processing and speed.
According to Intel, this marks a 75x increase in graphics performance since 2006 and almost double the performance of the HD 3000 from last year. Both the 21.5in and 27in iMac come standard with a 1TB 5400rpm or 7200rpm HDD, which is certainly nothing to scoff at. It's the PCIe 1TB Flash storage drive that is really mind-blowing!
One of the latest and greatest technologies being taken advantage of with this new lineup is the new 802.11ac Wi-Fi. We saw Apple launch the new AirPort Extreme and Time Capsules earlier this year, and after a software update, these new networking tools did not disappoint. Just imagine up to 1.3GBps transfer speeds over Wi-Fi and up to 800MBps read-and-write via the newly added PCIe bus for flash storage.
Needless to say, we're really excited here at Small Dog to get our hands on these new machines and really see what they can do. We'll have more info for you shortly about when they'll be in stock. Learn more about the new specs over at Engadget and MacWorld.
---
SMTP, POP3 and IMAP Mail Settings
by Sherrie Fuqua smalldog.com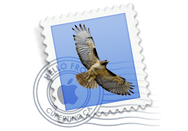 Other common questions we get from customers at the Service Counter involve email on their portable Apple devices. The most common one is: "I changed my email password this morning, and I can receive new mail, but I can't send mail anymore. I get an error that my password is incorrect, but I've re-entered it and know it's right."
SMTP, POP3 and IMAP are all protocols for communicating with mail servers. A protocol is simply a set of rules for how an email client (Outlook, OS X's Mail, your iPhone, etc) communicate with your mail provider's servers (Gmail, Hotmail, FAHC, GMAVT, UVM, etc.).
Clients use either POP3 or IMAP to receive mail from mail servers, and SMTP to send mail to servers. For receiving mail, IMAP is newer, and today, more implemented than POP3. IMAP is a two way highway between your device (called the "client") and your provider. It can completely sync all of your different configured devices, phone, computers at work and home, tablet, etc., with the provider's server. So if you read, write, delete or move mail around in folders on one device, it is synced with the server and then with all of your other devices.
POP3 is less flexible. It was used heavily when server space was less available for providers to allow long term storage for all of customer's email. Mail clients configured to use POP3 instead of IMAP as their receiving email protocol can download their email, which they can then keep on their computer/device while at the same time deleting it from the server. Then all mail is kept locally. This was popular when email storage space was limited AND one's only access to email was from a single computer at home or work.
SMTP is the protocol for sending mail from a client to a mail server. Mail goes from your client to the mail server differently than it is received. Why this is so doesn't really matter here, but when you change your email password, the important thing to remember is that on many devices, including iPhones, you must change your password for both incoming and outgoing email.
If after a password change for your email, you find you can receive mail on your iOS device but can't send it, there is just one more step to take care of it:
From the "Home" screen, tap the "Settings" icon
Tap "Mail, Contacts, Calendars"
Select the account you wish to modify
Tap "SMTP" under "Outgoing Mail Server"
Tap the primary server
Enter your new password in the "Password" field
After that, you should have no problems sending mail.
WIZARD WORDS: Although IMAP gives more flexibility in managing e-mails across multiple devices it is dependent on the server to be the master data set. This is equivalent to trusting a cloud with your data - it is vulnerable to attack or other damage. I only use POP and delete emails from the server, usually after a week.
---
Mac Insomnia
by R.J. Murphy, smalldog.com
From time to time, customers come in with a general issue that their laptop or desktop doesn't 'sleep' when they tell it to. Occasionally, I've seen this on my own computers since I switched to a Mac. Sometimes, it can be an actual hardware malfunction, but most of the time, there is something within the software that prevents the computer from sleeping.
I did some Apple forum research a while back about it, and found various suggested solutions - none of which worked for me. I finally came across a user who combined a nice little GUI to a helpful Terminal command with an application called "Sleep Check."
Sleep Check essentially makes use of the Terminal command "pmset -g assertions". The command itself lists certain power assertions in the Mac OS that, when active, will prevent the system from sleeping. One example of these power assertions is Internet Sharing, which allows you to share the internet connection on one computer with another computer or device.
While the coding in Terminal can be incomprehensible to the average user, "Sleep Check" adds a very simple, but pleasant interface to the power assertions command, informing you exactly what is preventing your system from sleeping, and how to disable it. When these conditions have been disabled, Sleep Check will finally put your Mac to sleep.
Sleep Check is a very small, unobtrusive application that takes up about 98KB of hard drive space.
---
Audio Volume in YouTube
by Ron Sharp, MAGIC
About YouTube, I've noticed that recently when I've started a YouTube video there was no sound, but you just have to increase the volume on the webpage/video. I don't know why they started doing this but it seems that the volume is now automatically set to Mute. (Lower left corner of video window, image below)
iPhones, iPods, and iPads
10 tips, tricks, and timesavers to get more out of iOS 7
by Nick Mediati, macworld.com
iOS 7 is here, and it's the most radical update that Apple's mobile OS has ever seen. But while the overhauled interface and bold new look is getting all the attention, iOS 7 comes with a bucketload of new features and enhancements that make it easier to use and more secure.
The new features are easy to use, but Apple's radical overhaul of the iOS interface has made some of them a little tricky to find. We'll show you how to locate and get the most out of ten handy new features in iOS 7—some of which you might not have even known existed.
Editor's Note: New York Times article on adjusting to iOS7 can be found here.
---
iOS 7 lock-screen bypass allows access to photos, contacts, social networking
by Dan Moren, macworld.com
Settle into your seats for the Return of the Lock-Screen Bypass, Part XVII: The iOS 7-ing. Once again, someon's figured out a way to access data from your iPhone or iPad without entering your lock code. (You do have a lock code, don't you?) As for what makes this time different from all other times, it's the first instance of a bug of this type in Apple's newest OS.
The trick was discovered by Jose Rodriguez, who also discovered similar bugs in iOS 6. In this case, it requires using the new Control Center feature to get into the Clock app, and then uses a bit of fleet-fingered dexterity to bring up the multitasking interface. From there, you'll see images of the other apps you recently had open, though most will have blank screens (pictured above). The only ones that can actually be brought to the foreground are those that Control Center can open, including the Calculator, Clock, and Camera.
Of them, the Camera app is the most worrying: Despite not having entered the PIN, somebody using this method can access all the pictures you've taken; they can also send such pictures to themselves via the Share pane, as well as see your contacts by trying to Message or email pictures. And as I confirmed myself, they can also post images to Twitter or Facebook.
Apple, for its part, has told multiple news outlets that it's aware of the bug, which it says will be fixed in a future release. Until then, if you're concerned about the bug, it's best to disable access to Control Center from your lock screen in Settings > Control Center.
Stay tuned for the next thrilling installment in the Lock-Screen Bypass series, sure to hit a tech news site near you soon.
---
Hands-on: First impressions of the iPhone 5c
by Jason Snell, macworld.com
The iPhone 5c is here! Last week I got my hands on one briefly during a press event at Apple's campus, but now I've had a bit more time to study the colorful new iPhone models. A full review will need to wait for a whole lot more quality time with the product, but here are some of my first impressions.
It's an iPhone 5, all right
I ran a bunch of speed tests on the iPhone 5c, and as you might expect, they all showed pretty much the same performance as last year's iPhone 5. That's because the internals of the iPhone 5c are essentially the same as those on the iPhone 5.
But here's the thing. The iPhone 5 is fast. It was a huge leap in performance over the 2011 model, the iPhone 4s. Someone upgrading from an out-of-contract iPhone 4 or 4s is going to be blown away by the longer screen and speed boost, even if the iPhone 5s is now the reigning speed champ. The most noticeable update to the hardware specs of the iPhone 5c is a new front-facing FaceTime camera. I doubt there are very many people thinking, "You know, I wish other people could see a little bit more detail of my face during video chats." But I did take pictures with my trusty old iPhone 5 and the new iPhone 5c, and it's true—the 5c's front-facing camera does indeed generate clearer and more detailed pictures.
Continue Reading and see video....
---
Get to know iOS 7: Music and iTunes Radio
by Christopher Breen, macworld.com
Some detractors criticized iOS 6's Music app for its reliance on album art. Cover art dominated its Playlists, Artists, Albums, Composers, and Genres screens, while its Songs screen eschewed any sort of art. The iOS 7 version takes a different approach. These screens now show album art on the left side of the screen and information on the right. For example, on the Artists screen you'll see representative art delivered from Apple, culled from an album, or—as a last resort—a text box that includes the associated album's title and artist. To the right you'll see how many albums and tracks are available for each artist.
Continue Reading and video....
---
Get to know iOS 7: Control Center
from the Mac App Store
For years, one of the biggest complaints that we've heard from readers—and that we've voiced ourselves—has been the way iOS buried frequently accessed settings one or two (or more!) screens deep in the Settings app. As Android gained nifty home-screen widgets for tweaking Wi-Fi, Bluetooth, and more, complaints about iOS's settings hassle became even more common.
In iOS 7, Apple has at last made the most commonly used settings accessible right from the Home screen. But instead of crowding the home screen itself with widgets, à la Android, iOS takes an Apple-style approach: Swipe up from the bottom of the screen, and a translucent overlay slides up, providing quick access to a slew of settings and functions. Apple calls this overlay Control Center, and you can access it on any screen—even from the lock screen or within apps, if you enable those options in Settings.
Continue Reading and video....
---
Secrets of the iOS 7 keyboard
by Kirk McElhearn, macworld.com
iOS 7 packs a lot of changes: new icons, new app interfaces, and new features, such as Control Center. But you may not have looked closely at one part of iOS 7 that you'll use a lot: its keyboard. Uncover hidden characters and handy shortcuts with this guide to the new keyboard on your iPhone and iPad. (Note that you'll still see the older iOS 6-style keyboard in apps that haven't been updated for version 7.)
What you see depends on what you need
The iOS 7 keyboard displays different keys depending on an app's function. Messages' keyboard is simple and spare. When you use Mail, on the other hand, you'll see the @ button prominently displayed in the bottom row of the keyboard, so you can easily type email addresses. Before, you had to press the 123 key to get to it.
---
iOS 7 and the Myths of Upgrading
by Christopher Barosky, smalldog.com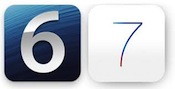 I'm sure iOS 7 is not going to be easy for a lot of people and I'll even admit, when I downloaded the beta several months ago, there were some aspects that had me disappointed at first glance. There is sort of a feeling that you have no choice about whether or not to upgrade, but I want to clear that up a little bit.
Some concerns people have with iOS 7 speaks to a macroscopic issue with technology, i.e. that invariably all hardware/software evolves over time and the aesthetic manifestation of such change is arbitrary by nature. Somebody (or some company) has to make an executive decision about how a system will look and function. There is no way to please everybody, so it works by the law of averages - what's going to work best for the most people.
Consumer technology that succeeds is always utilitarian. You can see evidence of this with companies like Alienware, a company that designs machines specifically for gamers since that's their only market. They know that they will never be a household name like Apple because their scope is too focused.
One of my largest gripes with the 21st century is that we are not doing an honest job teaching consumers — particularly elder consumers — how to properly transition into large-scale computer implementation in daily life. It used to be, as recently as 20 years ago, that to get the most out of a computer, you would need to know how to program and have memorized a litany of line-item keyboard commands.
Consumers were given the Kool-Aid when graphical user interfaces became mainstream on Windows and Mac, making it easier for "anyone" to use a computer. Unfortunately, the technology was not — and still is not! — foolproof, and in order to get the most out of our devices, there is a certain level of tech literacy one needs to possess. It's like having a car; the more you understand about how it works and how to maintain it, the less likely you are to have an expensive repair.
With computers and mobile devices, they don't do just one thing [vis-a-vis drive you from point A to point B as a car would], but rather they facilitate (or try to facilitate) multiple aspects of our lives.
Technology can be a little bit misleading in that everybody expects it "just to work," because that's how companies like Apple sell their products. In a majority of cases, the device does "just work" and you can go on your merry way cluttering your desktop, not keeping your files organized, etc. and expecting that over the years the computer will continue to "just work." These are the sorts of people who don't do a lot of research or, if they do, they find the wrong sources, and feel they have to, for instance, upgrade to the latest operating system immediately.
In the case of iOS 7 you did not have to upgrade right away. It is very unfortunate that Apple, or the tech industry in general, makes customers feel that you are forced to upgrade. In a lot of cases, you are forced to upgrade because in order to run the latest version of something, it requires the latest incarnation. (See: New printer, older computer) But in key cases (like this one), it isn't always necessary.
Eventually though, no matter what, we all have to move forward. In order to continue using technology and to rely on it, we have to agree to the "terms and conditions" of technology consumers. One of those conditions is that, by nature of scientific achievement, the world of computing grows and shifts quicker than just about any other industry. The "good ole days" of computers could refer to as little as four years ago and that gap is continually closing.
These topics are of great interest to me as I reconcile my frustrations with people who aren't educated about technology with the reality that my generation/the industry just doesn't do an honest job to get that education out there. We're so thrilled to show you all the things that the devices can do — and there are MANY cool things you can do! — that we lose sight of the disclaimer that "this is not a self-repairing, self-sustaining system and you should learn a little bit about what can/will go wrong over time."
---
By The Way
iTunes Radio*
by Ron Sharp, MAGIC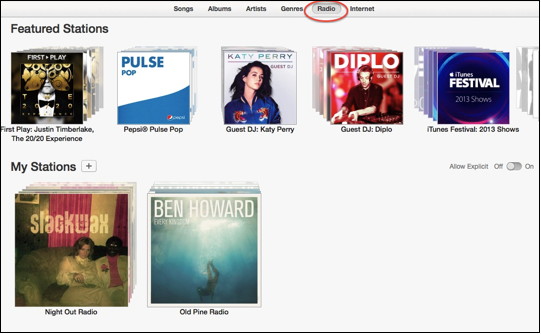 Last month I included an article in the newsletter about the iTunes Music Festival. The bigger news is that iTunes Radio debuted. The music festival was the groundwork for one of the iTunes radio stations. When you go to iTunes you now have the choice to listen to pre-formatted iTunes radio stations or create your own station. When you choose songs for your own station, iTunes radio recommends more music on your choices. You need OS 10.7 or newer on your computer and update iTunes app to 11.1.
Unfortunately, when I tried to stream the Music Festival I got nothing. I can only assume it was so popular that the site was overloaded. I did have fun trying iTunes radio, but again unfortunately, it wasn't impressive. The pre-set stations dropped out occasionally and the songs repeated after a while. I had hoped they would be more dynamic and be continually changing. The real advantage is being able to create your station which I haven't done yet. So there's more to try. I'm also hoping some of the bugs will get worked out. It's unfortunate that Apple didn't have it better tested and more dynamic at the start.
---
Getting set with iPhone and iOS7*
by Bill Ferry, Whidbey Visitor & Mac User
Ahhhhh! Apple did it again. They delivered a new iPhone 5S in my hands and it left me smiling. It also left me with an Arrgghh as I realized that an old problem that began with my old iPhone was going to keep me from efficient operation of the 5S.
Apple support was only able to offer partial solutions and I'm a long way from a store or home. What to do. Go online, google Mac User Groups and Whidbey Island and maybe I'll find some help. Voila! Help is not only there, but available to meet in person.
One of your gurus, Ron Sharp, made time over the weekend to meet with me and go through a series of issues that kept me from realizing the full potential of the new 5S. Thanks to Ron & MAGIC the honeymoon with Apple's new phone now continues.
As a quick observation, the new phone is fast, much faster than I expected and the new IOS has worked flawlessly. I do believe that Apple could have done a better job designing the look of the new App native icons but it is a small gripe. Despite reading about some complaints about the new IOS's drain on battery life, it doesn't appear to be an issue with the new phone for me yet and I'm a fairly heavy user of GPS for walking and hiking.
So be thankful Apple MAGIC members, not only do you live in God's Country but you also have a responsive group and knowledgable members.
---
Low disk space warning message*
by Ron Sharp, MAGIC
A MAGIC member has been getting a warning message on his computer for low start-up disk space even though it shows plenty of disk space. Different message boards list such problems and some people have found HP printer software to cause problems. HP support forums. Others have found Repairing Disk Permissions using Disk Utility solved the problem.
Robert found information that the helper app Flash Player was causing problems, enabling browsers to store endless amounts of data on the hard drive. To correct this problem, go to System Preferences and select Flash Player. Then in the Flash Player preferences select "Storage" and "block all sites from storing information on this computer." Then go to the Advanced window and click the "delete all" local storage button.
---
Security Tips*
Daryl Thomas supplied a link for ultimate tips on setting the security of your computer. These tips were compiled by the NSA for 10.6 Snow Leopard operating system.
http://www.nsa.gov/ia/_files/factsheets/macosx_10_6_hardeningtips.pdf
This second link is for a 270 page PDF by Apple for 10.6 Snow Leopard security settings. This Apple note is included in the preface:
Important:
This document is intended for use by security professionals in sensitive environments. Implementing the techniques and settings found in this document impacts system functionality and may not be appropriate for every user or environment.
https://ssl.apple.com/support/security/guides/docs/SnowLeopard_Security_Config_v10.6.pdf
---
MAGIC, the Macintosh Appreciation Group of Island County, serves people who use Macintosh computers, software and peripherals. Our goal is to share information and get answers to questions to make us more productive with our use of technology. Our monthly meetings give us a chance to discuss computer problems and share ideas with other Mac users, feature speakers on specific topics, and to keep apprised of Apple news.