Newsletter
March 2015
Newsletter Editor:
In This Issue:
MAGIC MUG News
Software Updates
Macintosh News, Information and Stories
iPhones, iPods, iPads, and iWatch
Humor
By The Way
* Indicates author is a member of MAGIC
---
Meeting information
Day:
The 3rd Wednesday of the month. 18 March, 2015 this Month
Location:
Unitarian Universal Congregation of Whidbey Island (see map.)
Time:
4:00 p.m. - 6:00 p.m. with the first hour dedicated to new users and their questions.
Presentations:
• Q & A with Robert
• "Notifications Center and Mac Protection" with Robert.
Join us for the Wednesday, March 18 monthly meeting to learn how the Notifications Center works in Mavericks and Yosemite and how to recognize and destroy malicious emails. Robert Elphick, "the wizard", fields questions during the first hour. After a short business meeting he will show how Notifications is a handy swipe away and doesn't clutter your desktop. It's features keep you in touch, but not distracted. He will also show you some of the suspicious emails that have been circulating and show how to recognize them before getting into trouble. Visitors and new members are welcome. Annual dues are $24 or pay $2 at every meeting you attend.!
Future Meetings: (subject to change)
See the Meetings Page on this website.
Do not forget to bring your used ink cartridges.
MAGIC will dispose of them for you and make some change for the group.
---
Minutes of the February 18, 2015 Meeting, and Presentation Notes
Minutes provided by Madelyn Van der Hoog and Gary McIntyre, edited by Penny Holland
President Robert Elphick called the meeting to order at 4:00. (Meeting was held in Freeland's Unitarian Congregation Meeting House.)
Question and answer period
Q. I had to buy a new printer (HP) to use for printing and scanning. I can't get the scanner to Save to the computer.
Robert demonstrated how to run the scanner from the computer: Go to Printers and Scanners in Settings to see your devices in the Printer window (delete old ones by clicking on the minus (-) sign. If you don't see your new printer, hit the plus (+) sign and add the new printer. You can Scan from this window. Select the scanner and click on Open Scanner. Click on Overview and you can select/crop the portion of the document you want to scan (the window gives other options including selecting the folder where the image will go). The questioner has done that, but still can't find the file. Robert said hold down the Option and Command keys and a search window will open for searching her entire computer. She has done that, too, but to no avail. Robert or Gary will work with her on that.
Q: Documents in Text Edit always print out in a very small font size.
Robert demonstrated changing the text size in a Text Edit document. Select all, and then change font size in the Top Menu Bar. This, however, changes the size on the screen, but not in the printed form. The printed font format depends on how the document wraps. He needs to select under Format, Wrap to Page..
Q: Can you show us how to put the computer Stealth Mode?
Stealth Mode protects your computer from being seen by other computers near you, as they might be in Starbuck's, for example. Go to System Preferences and select Security & Privacy. First click on Unlock in the bottom left corner so you can make changes. Go to Firewall, Firewall Options, temporarily turn off Block all Incoming Connections, and turn on Enable Stealth Mode. Then recheck Block all Incoming Connections and reLock.
Q: I received a message that my printer head was bad and that I needed to call for help. In doing so, my computer was hacked.
Robert recommended running ClamXav. He also reinforced the importance of never clicking on a link or folder or calling a number that you are not completely sure is legitimate - Some numbers and locations that search engines find are fraudulent.
If you've been hacked, you need to download anti-virus software ClamXav and run it. It was pointed out that you need the most recent version, which is 2.7.4. Always keep this application and its data up to date.
Q: I use ClamXav, which told me I had two infected files. What should I do about that?
When you start ClamXav, you select what you want ClamXav to do under General. There is a button called Quarantine - there you can make a folder called something like Bad Stuff. When you click on Quarantine, select that folder and ClamXav will put the bad files there so you can delete them. ClamXav's default is just to tell you they are there. Often ClamXav will find attachments to emails. It is a good idea to empty the Trash after deleting the files.
Q: If you delete bad files, should you empty your trash?
Yes. Malware on a Macintosh is something you have invited in and you need to delete it. Most malware gets there because you have clicked on something.
Q: I don't seem to be able to find my Contacts without opening Contacts when I'm using Mail.
Robert pointed out that there used to be an icon in the Menu Bar of Mail that let you open your contacts. That icon disappeared with Yosemite so you do have to open Contacts to select a group or recipient. You have to hit a button twice, which is, Robert points out, one time too many!
Q: I have Mavericks and am using iWork 9. Whenever I open Pages or Numbers, it tells me updates are available. Is the update the new version of Pages that we know we should not get?
Yes. You can always check the Apple App Store or the website of programs such as Adobe to see what the latest version is. For Pages, if you have version 4.3, that is as high as you should go; you don't want version 5.
Q: How do you Enable Stealth on an iPad?
You don't need to do that; iPads are already Stealthy.
Q: What are the downsides of Yosemite.
In Robert's view, Yosemite doesn't look quite as nice as Mavericks. Positions and colors of some icons and menu topics are different - Icons should represent something on a permanent basis whether they are religious icons, safety icons, or computer icons. Everything in iTunes now is in a different place - very annoying and with no apparent reason. But there's no new or missing technology in Yosemite. It does have all 64-bit technology, which is good. Yosemite makes some things more compatible with the iPad and in general provides more consistency among devices (more like iOS 7 or iOS 8). Sooner or later, most applications will require 64-bit technology, so sooner or later, you'll have to upgrade.
Q: When I am using Airprint on the iPhone or iPad, everything is usually fine, but sometimes I need to cancel printing because more pages are printing than I'd like. How do I Cancel Print?
While you are printing from the iPhone or iPad, there is actually an extra screen. Scroll the home screen to the right, there will be a a special print screen with an option to cancel printing.
Q: Is it a good idea to Empty Trash often?
Yes.
Q: Can you get malware with Adobe updates?
Check with Adobe to see if you have the latest update and download if you need to. Do Not click on Update requests in case they are fraudulent.
Robert then showed three recent virus e-mails to watch for
An email that purports to be from American Express regarding your account. In it, it says "if you have any questions or need help, Please Click Here". Never do it. No credit card company or bank will ask you to click for security. It is a good idea to let American Express know about this with any information you have about who may have sent it. Most of these come from China or from behind what used to be the Iron Curtain.
A notice from FBI/NSA (with very official looking seals) saying "Attention: This Browser has been locked for violating the law." The notice accuses you of viewing pornography and asks for $300 to secure your browser. The browser is not usable when this happens, so it is upsetting (this notice came from nnI.in, or India).

To get your browser back: Turn Wifi off. Start Safari holding down the Option key, and Safari will start up in a special mode that gives you a blank page. In Safari's Top Menu Bar, select Clear History and Website Data (it will probably also clear cookies). This selection will be grayed out if you don't start with the Option key. (This may not work this way if you have older versions of Safari--7.1.3 and earlier.)!
New York City Service
This is confirmation of your payment of ... for parking fees in New York City. Then if you have any questions, you are asked to click on a link and open a zipped file. Don't Do it!
Business Meeting
Robert announced that the new class Beyond Basics will start on Feb 28. In it, you'll learn to use your devices more efficiently, as well as some scripting language. The class will run five continuous Saturdays, led by the usual suspects, Robert, Gary, and Penny.
Gary gave the financial report with the treasury total of $7,432.35.
Robert announced that at next month's meeting we are exploring notification features in Yosemite.
He pointed out that we gave a contribution to the church for the curtains, which will go up next month, enabling us to hold classes in this space.
Prescott announced that there is a lot of free black ink for a Cannon printer on the back table for the taking and also an iPad case.
Gary announced that we have planned a one-hour session on Mail for the April meeting and would like some suggestions for things to cover. The following questions were asked:
How do you get Mail so that when you delete one item it's deleted on all your devices.
How do you deal with more than one e-mail account?
How do you track threads?
What are the most efficient ways to manage your files?
Robert then introduced Joel Kennedy, whose company is The A-TECH Technology Support, for a program on the Cloud.
Joel connected his iPad to the computer for the demo.
(Synopsis) The Cloud is a giant hard drive located out there somewhere that is connected to the Internet. He showed a slide of Amazon storage areas, with huge, huge buildings. The locations are kept secret so they can't be accessed. High-speed sophisticated fiber optics carry hundreds of thousands of terabytes of storage. Its origins are really in the old main frames of the 1950s. Only with broadband internet did it become possible for you and me to use the Cloud. The storage locations are all over the world to the point that where they are doesn't really matter. The Cloud offers the convenience of connecting all of our devices. We went from the main frame to the desktop and personal computer and now we're going backward in a way to storing our stuff out on the cloud.
One of the main services the Cloud provides is storage. Dropbox is an early pioneer in Cloud storage. If you have gmail, you have 15 free gigabytes with Google. Microsoft has OneDrive, and there are lots of others. Box is another one, and it and some of the others can be used on a lot of different devices. Most of them are becoming cross-platform. Box is a bit more popular with businesses. Dropbox advertises the advantage that with Dropbox, your files are all secure if your computer goes up in smoke. You could say the same thing about an external drive, of course, though you have to maintain it in a separate location in the event of a house fire.
One of the main concerns with using the Cloud is Cloud security. It's called public storage but that doesn't mean it's really public. It's really more like a storage unit. Each has its security (degree of locks). Some are higher security than others. You may not want to put something super sensitive in a Cloud storage. Breaches are rare because files are encrypted, but they do happen. You can also encrypt your own files yourself, especially if they are very sensitive.
Q: My e-mail is on the cloud. People may send me things that are sensitive, which I cannot control.
Pop 3 accounts download everything from the server. With gmail, everything stays on the server. For most of us, there isn't anything we have in our accounts that would be worth hacking into, unlike celebrities who have more to lose, so hacking would be rare. It all comes down to locks, how strong your lock is. Your passwords are your locks. A long password is much harder to break than a shorter password. 10, 12, and even 20 digit passwords become almost impossible to break, even if they are a sentence.
Q: Why would you have multiple vaults for passwords? (Vaults in 1Password are the same as files in pwSafe).
Joel keeps his work passwords separate from his personal passwords in separate Vaults.
With these programs, you don't have to type in your password when you need to use it. The app has the ability to store or buffer the password so it automatically populates the password in the URL you have open.
Q Can you use it on other devices?
1Password synchronizes passwords to your devices. 1Password works with more devices than pwSafe, and you can download a trial version.
Robert demonstrated how to use pwSafe (he prefers it; it is similar, cheaper, but just as effective). Once you have it set up, with pwSafe you can create as many groups or files as you want. One plus to having Groups or Files is that you can have separate ones on each device.
Q: What's the relationship between iCloud and iCloud Drive?
iCloud Drive is Apple's new attempt to offer storage to a bigger arena; it's only compatible with Yosemite or new versions of IOS.
Joel is offering an in-depth workshop on using the Cloud. Tuesday, Feb 24th, at 5-7 at their Freeland location.
Meeting was adjourned at 6:00
---
MAGIC Moments
Beyond Basics classes
The new class for people who have grasped the basics (or attended our Mac Essentials classes) began at the end of February and will continue until 28 March. Much of the sessions are being occupied by questions from the students in addition to the prepared material. It looks like this class will be run again sometime!
Summer Classes
In the May and June timeframe we are planning on a three day iMovie class and repeat the ever popular 5 session Macintosh Essential Training classes. One will be at the Pacific Rim Institute and the other at the Unitarian Universalist Congregation of Whidbey Island if the room is ready in time.
MAGIC made a donation to the Unitarian Universalist Congregation of Whidbey Island to offset the costs of updating the curtain system to reduce the sunlight during classes and meetings.
WIMUG website
The Whidbey Island Macintosh User Group website has been provided by Whidbey Telecom for many years. It has been recently updated for new links and now has two very valuable forms that everyone should download and print out to help them when their Mac have problems. Fill out the forms and keep them in a safe place (like a fireproof safe) 'just in case. The website thanks to the efforts of Ton Johnson and myself. Please try it out and let me have feedback on the update. Click here to see it.
Inkjet cartridges etc.
There are FREE Canon print cartridges and other goodies to be found on the Sale/Swap page of our website.
Binary Programmers
Did you know that there are 10 kinds of computer programmer?
Those who speak binary,
Those who don't.
Software Updates
Note: This Software Update section of the newsletter lists the most relevant Apple updates. Not all updates are listed for all products. Additionally, I'll add other pertinent updates on occasion.
Digital Camera RAW Compatibility 6.03
from Apple
This update adds RAW image compatibility for the following cameras to Aperture 3 and iPhoto '11:
Leica D-Lux (Typ 109)
Leica V-Lux (Typ 114)
Leica X (Typ 113)
Leica X Vario (Typ 107)
Nikon D5500
Panasonic LUMIX DMC-FZ70 / DMC-FZ72!
Panasonic LUMIX DMC-ZS40 / DMC-TZ60 / DMC-TZ61
Panasonic LUMIX DMC-ZS50 / DMC-TZ70 / DMC-TZ71
Pentax 645Z
Pentax K-S1
Sony Alpha ILCE-7M2
For more information on supported RAW formats, see http://support.apple.com/kb/HT6476.
Macintosh News, Information and Stories
White House: Apple Pay will support debit cards for Social Security and veterans benefits
by Susie Ochs, macworld.com
Tim Cook was one of the only Silicon Valley execs to speak at the White House Summit on Cybersecurity and Consumer Protection, held on Friday in Palo Alto. Mark Zuckerberg, Marissa Mayer, Larry Page, and Eric Schmidt were invited, but all declined to attend.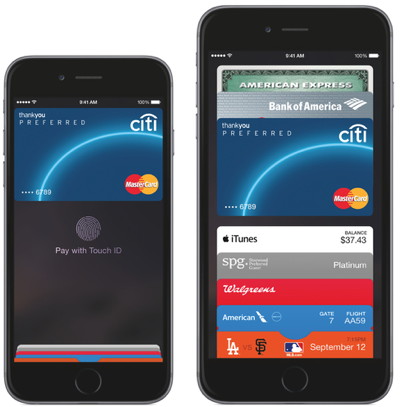 And President Barack Obama did Apple a solid in return: The White House announced that Apple Pay will soon support federal-payment cards, such as debit cards issued for Social Security and veterans benefits.
Why this matters: This is a big deal for Apple. Its rollout of Apple Pay has been a success, and this is tacit to an endorsement from the federal government, which is a mighty big customer. The two payment networks involved in the deal, Direct Express and GSA SmartPay, handle upwards of 87.4 million transactions per year, worth $26.4 billion, according to the General Services Administration, as reported by Bloomberg.
Security is one of Apple Pay's selling points. Cook remarked at the Goldman Sachs Internet Conference earlier this week that his own debit card has been breached three times already. Apple Pay lets users make secure transactions with a single-use token, without exposing the user's real account number or other personally identifying details. That way, if a store's database is breached, the hackers won't get any information they can use to open new accounts or make new transactions.
That privacy even extends to Apple. The company doesn't store records of where Apple Pay users shop, what they buy, or how much they spend. "It's none of my business," Cook told the Goldman Sachs conference.
In Cook's remarks at the White House cybersecurity summit on Friday, he also mentioned that starting in September, Apple Pay would support many transactions with the federal government, such as reserving campsites at national parks.
---
First look: Photos for OS X brings easier navigation and more powerful editing
by Christopher Breen, macworld.com
Last June, Apple announced that it would stop development of its Aperture and iPhoto apps and offer a single photo app in their place—Photos for OS X. Today, developers are getting their first glimpse of Photos, as it's bundled with the beta version of OS X 10.10.3.
Providing many of the features found in its mobile sibling, the Yosemite-only Photos for OS X offers an interface less cluttered than iPhoto, improved navigation, simpler yet more powerful editing tools, the ability to sync all your images to iCloud (though it doesn't require you to), and new options for creating books, cards, slideshows, calendars, and prints. I've had the opportunity to take an early look at Photos, and this is what I've found.
---
4 things iPhoto can do that Photos can't (yet)
by Lesa Snider, macworld.com
While it's true that Apple is phasing out iPhoto in favor of its new Photos app, iPhoto is still an incredibly powerful program and includes many features you likely know nothing about. If you don't plan on moving to Yosemite 10.10.3, or if you elect to keep using iPhoto when you do—yep, it'll still work!—here are four useful things that iPhoto can do that even the new Photos app currently cannot.
Add captions to slideshows
If you don't relish the idea of narrating your slideshows, try adding captions instead. Select a photo in an album, or in Photos or Events view, and then click the Info button in iPhoto's toolbar. In the panel that appears, enter a title and/or a description for your photo (titles appear in a slightly larger point size than descriptions).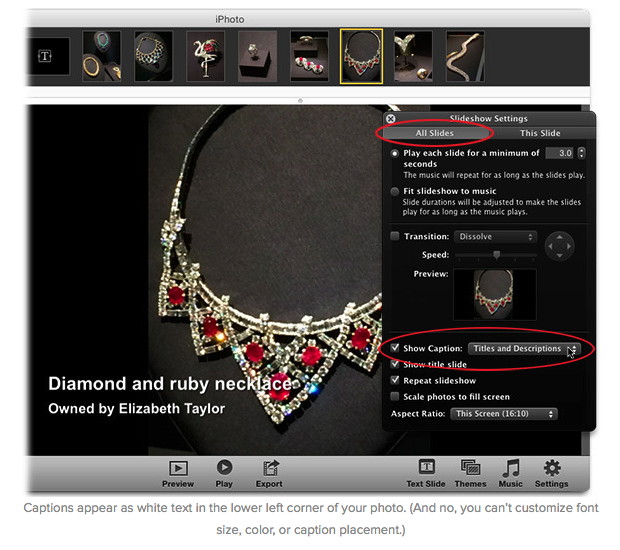 ---
Apple is said to recruit engineers for car development project
by Fred O'Connor & James Niccolai, macworld.com
Rumors that Apple is developing a car have been met with a world of skepticism, but two news reports Friday suggest there's something to the idea after all.
Several hundred Apple employees are working in secret to develop an electric vehicle, The Wall Street Journal reports. The project is code-named "Titan," and Apple's initial design resembles a minivan, the report says -- not exactly a sexy choice for the iPhone maker.
Earlier Friday, the Financial Times said experienced managers from Apple's iPhone division have been assigned to an automotive project at a secret Silicon Valley location. Apple has hired away the head of Mercedes-Benz's Silicon Valley R&D lab, the FT says.
Both reports cite unnamed sources familiar with the plans, and Apple has declined to comment.
If Apple is building a car, it would take the company in a whole new direction and mark a bold gambit by CEO Tim Cook. Apple would also quickly run into one of its biggest rivals, Google, which is far along in its development of an autonomous vehicle.
Even if things go smoothly and Apple decides to continue with its project, it will be several years, at best, before an iCar comes to market, the Journal says.
And it's possible Apple is only exploring the area and has no firm plans to enter the market. Just toying with the idea could help Apple to develop new technologies that could be useful to its existing products, such as better batteries.
But the size of the team and the people assigned to it indicate that Apple is serious, sources told the Journal. Cook approved the project a year ago and put some top designers on it, the report says.
Traditional automakers are also getting smarter about incorporating technology into their vehicles. Chevrolet's cars can come with built-in LTE connections, and in January Audi ferried journalists from Silicon Valley to Las Vegas in a self-driving car.
The idea of Apple as an automaker has met with skepticism. The Financial Times quoted a senior industry figure who doubted Apple would manufacture a car when it doesn't even make its tech products. That work is outsourced to manufacturing companies such as Foxconn.
Still, given the engineering and design background of recent Apple hires, another FT source allowed that a car could be in the works.
Thus far, Apple's interest in the auto industry has been limited to CarPlay. That software allows components of iOS, including Siri and iTunes, to be controlled through a car dashboard. Volvo and Volkswagen have offered it in vehicles.
Apple could also team up with an automaker to bring a car to market. Google might pursue that course, too, as its vehicles get closer to release. Google has talked to Ford, General Motors and Toyota, among others, to decided whether to build the car itself or provide its software and technology to others.
---
Electronic Signing Made Easy
by Don Mayer, smaslldog.com
I was at a customer's office the other day helping to set up their new Mac system. It was a busy construction company and they needed help getting wireless scanning operational. I noticed that they were using Adobe Reader for their PDF files, so I introduced them to Preview. Once I set the Finder to open PDF files with Preview instead of Reader, I showed them how to access the scanner to scan documents right from Preview.
As I had them practice this, I noticed that much of their scanning needs were for documents that they would print out, sign, scan and then email to clients. When I showed them how to use the "signature" function in Preview they immediately saw the value and time saved. So, I know many of you already know how to use this tool, but I thought I would go over it so you too can use your electronic signature.
Preview is used to view and edit PDFs and images, import images from a camera, import documents and images from a scanner, add pages to a PDF and also to take screen shots. When you have a PDF that needs your signature, the old way of doing this would be to print out the PDF, sign it, scan it and send it back. With Preview you can skip some of that work. You can capture your signature using your trackpad or better yet, using your camera on your Mac.
To create your signature you can simply click on the Sign button on the Markup Toolbar, select Manage Signatures to create a new signature. Or you can go to Tools -> Annotate -> Signature -> Manage Signatures. When you select Create Signature you have a choice of trackpad or camera. While signing on your trackpad is okay, I prefer the camera method. Here you take a white piece of paper and sign it. Then click on Camera as the means of capturing your signature and hold up that piece of paper to the camera on your Mac. Once you align the signature on the blue line you can hit Done and your signature is stored. If you don't like the first try, click Clear and do over.
To add your signature to a PDF document click on the Sign button or use the path Tools -> Annotate -> Signature to select the signature. Once it has been placed on the document you can drag it to where you want it, then use the handles to adjust its size. Save the document and you can include it in an email with your signature. Remember that the Save As command is sort of hidden now but to get to it simply hold down the Option key when you select File.
---
Fraud comes to headlines about Apple Pay
by Glenn Fleishman macworld.com
I am a cynical, grizzled veteran of the technology wars. I implemented my first payment system in 1995, and just a few weeks ago was programming in PHP to handle refunds through the online payment processor Stripe's excellent interface.
But when I saw the variants on the headline, "Fraud Comes to Apple Pay," I figured what was stated wasn't true. Apple retains so very little information about credit cards registered to a phone, and tucks it away so securely, that this scenario seemed exceedingly unlikely.
And that's turned out to be the case—including in the further explanation in the body of articles that led with that banner. In truth, the problem has little to do with Apple, and you have additional tools by which you can can protect yourself should you experience what I describe below.
Charge ahead
A blog written by a consultant in the financial industry, Cherian Abraham, noted two weeks ago that Apple Pay was facing a high level of fraud based on his ongoing conversations with clients and others in his field. Fraud rates as high as 6 percent have been seen. It's impossible to verify or contradict his claims, but his track record is excellent, and let's take it as accurate.
The fraud, however, isn't in Apple Pay: it's in the verification process by which banks allow a card added to an iPhone to be enrolled in Apple Pay. That process is entirely controlled by the banks. Along with your credit card number, expiration date, and other details, Apple sends several signals to banks that are used to determine whether a valid user of the card is trying to enroll it.
As noted in Apple's iOS Security Guide:
Additionally, as part of the Link and Provision process, Apple shares information from the device with the issuing bank or network, like the last four digits of the phone number, the device name, and the latitude and longitude of the device at the time of provisioning, rounded to whole numbers.
Apple declined to offer more insight, such as whether taking a picture of a card, which is then analyzed on the phone to enter the credit card number and expiration date, was a signal sent as well, or any unique attributes of the phone, like its cellular network IMEI number. As for latitude and longitude, while it's possible to fake out a GPS receiver, the kind of criminal involved in fraud is unlikely to have the equipment and interest in that kind of fiddly work; they engage in bulk fraud.

An Apple spokesperson provided a statement about its stance:
During setup Apple Pay requires banks to verify each and every card and the bank then determines and approves whether a card can be added to Apple Pay. Banks are always reviewing and improving their approval process, which varies by bank.
Abraham, in his blog, provided additional details about the process from his insider knowledge: Apple has two paths of approval, "Green Path" and "Yellow Path." If one of several signs on Apple's side are off, such as a recent change to one's Apple ID or no activity on the account for a year, Apple requires banks to use the Yellow Path approach, which is a higher standard of validation. Abraham writes that Green Path enrollments, about 60 percent of the total, have an exceedingly low fraud rate.

With Yellow Path, banks are required to use a higher standard to ensure that the card is being legitimately added to Apple Pay, up to requiring a phone call to a service center, which obtains additional information—and is subject to social engineering. (In activating six cards across four banks, the most I've experienced is a delay of under a day. In some cases, I was surprised to not be asked for more validation.)

This is a similar or identical process that banks go through whether you receive a physical card in the mail, use another mobile payment system, or enroll with Apple Pay. Abraham throws Apple under the bus, which is his prerogative, as he says banks weren't given enough time to ramp up their customer service staff and training, and thus it's clear that representatives are being fooled. As with most things involving Apple, partners (like cellular carriers) plan for low volume, even when the prediction is high. Remember multiple waves of failure with activation servers for iPhones?

So let's be clear. This "Apple Pay fraud":
Does not put your iPhone at risk.
Does not affect Apple Pay transactions.
Does not let your credit cards be siphoned from an iPhone and used elsewhere.
What the fraud truly is? Identity theft involving a hole in bank security procedures that will rapidly close as training and other processes improve.

If you find that one of your credit cards is used fraudulently with Apple Pay, it's because the card number was stolen from a merchant, large (like Target) or small, and then added to an iPhone through identity theft or social engineering. People who never used Apple Pay may find their cards misused, as a result.

Monitor fraud with Apple Pay

We can't control whether our cards are misused with Apple Pay or any mobile or other payment system. That's a problem right now in terms of retailers—brick and mortar as well as online—properly adhering to existing standards set by the major credit-card issuers, like Visa and American Express. But we can add more vigilance without driving ourselves crazy.

All major banks and credit unions have iOS apps, and many have increasingly useful websites. You don't need an iPhone 6 or 6 Plus to use these apps, but it's a neat dance between Passbook, Apple Pay, and the apps when everything is aligned.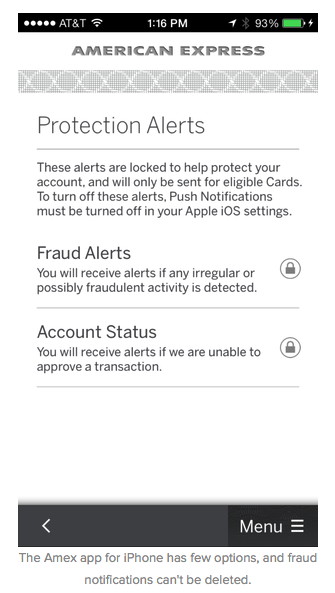 I recently got an American Express card for hotel points. After adding the card to Apple Pay, which resulted in an email confirming enrollment, I also installed the Amex app. The app works with Touch ID as a nice added benefit. On Amex's website, I added the option for the company to notify me whenever a charge exceeded $200.
Whenever I make a charge, a push notification appears. It's rather reassuring to click Submit on a website, and seconds later see a confirmation on my iPhone lock screen. With my fraud setting thresholds on the website, I also receive an email alert for "card not present," which includes all online orders.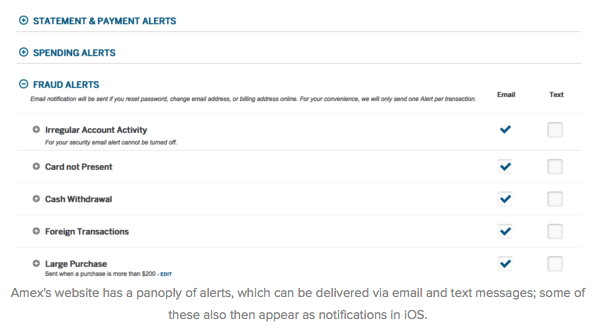 Every bank and credit union's options are different. If yours doesn't offer mobile, push, or email alerts about odd behavior, you should pester them, and explain how competitor X has such a notification.
Financial institutions should—and I expect some will soon—expose one of their fraud markers that they currently don't: location. I'd be happy to geofence my card-present spending, and say if the card is truly present or used via Apple Pay (a form of physical presence) outside of that area, it should require additional approval. Likewise, I want to approve my first transaction with any online site. Those two measures alone would vastly reduce fraud (a cost to banks and consumers) and hassle (mostly born by consumers).
Apple Pay fraud isn't in your hands, and it's not fraud with Apple Pay. You can stay alert with iOS and email, and head off card theft, whatever its origin.
---
Apple makes a free repair
from Harrison Goodall, MAGIC
Robert,
When I saw you Monday night at Lynn's talk I mentioned my MacBook Pro - early 2011 froze and that I took it to Alderwood Apple who indicated the video card failed. It was sent to Tennessee for AppleCare repair.
Yesterday, Wednesday, it returned but I was unable to cross over to America until today. I received the computer and said that the Logic Board 2.0 GHz, Hard Drive 2.5 500 GB 5400 SATA, and MagSafe Board were all replaced........ at NO cost. Except for the case, screen and keyboard it is a new computer. Amazing! What service!
I share this with you because Apple Genius Bar guy said this was happening frequently and they making the repairs even to out of warranty computers at no cost. Of course I didn't believe the "free" or the "3 to 5 day turnaround". I can eat crow like anyone else..... and how sweet it is.
Am now backing up from TimeMachine.... a reminder to all to have TimeMachine active at all times.
Harrison
From iPad
---
Another scam
by Robert Y Elphick*, MAGIC
I got a scam email recently that I have not seen before. NEVER click on the attachment of a suspicious email. Nor any link. In this one the big clue is that I have not been to New York for decades. I wander what a PVO or a DOF is.
iPhones, iPods, and iPads
9 typing tips every iPhone and iPad user should know
by Ben Patterson, macworld.com
Wish it were a little easier to type in ALL CAPS on your iPhone, or ever get stumped while looking for the em dash? What about typing letters with accent marks, or dealing with cumbersome URLs? Or maybe you're just hankering for an alternative to tapping on a slippery glass screen.
These 9 tips can make typing on your iPhone or iPad a little easier. Even if you've been tap-tap-tapping away on the iOS keyboard for years, it's possible you missed one of these time-saving shortcuts. Or just point your new-to-iOS friends here if they ever complain that the iPhone's keyboard isn't as good as Android's. (As if.)
The .com shortcut
Want to type a URL directly into the address bar in Mobile Safari? Don't bother with laboriously tapping in ".com" or ".net".
Instead, just tap and hold the "." key; when you do, a pop-up balloon will reveal a series of shortcuts, from .com to .us.
---
6 time-saving Safari gestures for iPhone and iPad
by Ben Patterson, macworld.com
Safari is likely one of the most-used apps on your iPhone or iPad. But even if you are an experienced Safari surfer, it's possible you aren't aware of some of these time-saving gestures that can help you do things a little more easily or with fewer tabs. You don't have to poke at a tiny X to close a tab, or dig into the Bookmarks menu to access your browser history. Try these gestures instead.
Swipe to close a tab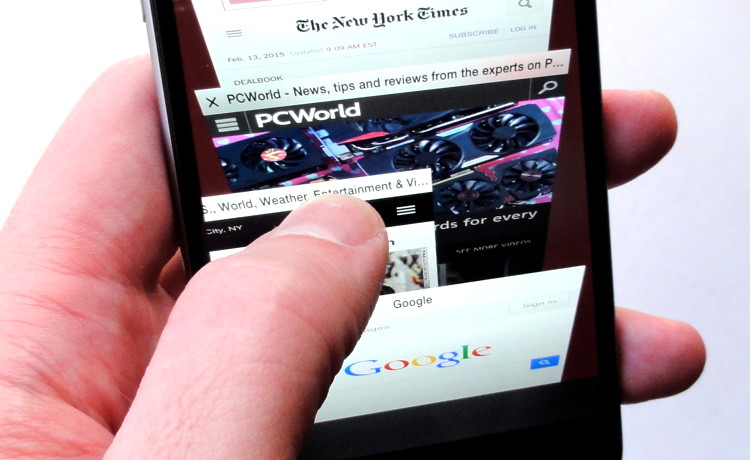 IMAGE: BEN PATTERSON
Swiping a tab to the left is so much easier than trying to hit that little bitty X with your giant fingertip.
The new Safari in iOS 8 boasts an eye-popping view of all your open tabs. Just tap the Tabs button to see your tabs stacked in a scrollable 3D stack.
But to close a tab, you'll need to tap the tiny X in the upper-left corner of the tab you want to zap. Sure, it's doable, but it can be trickier than it sounds, especially if you're trying to use your iPhone with one hand.
Instead, try this: just swipe the tab you want to close from right to left. (Nope, left to right won't work.) When you do, it'll slide off the screen, closing itself in the process.
---
Google overhauls Gmail app with key iOS 8 features
by Ian Paul, macworld.com
Google recently flipped over the counter on Gmail's iOS app to version 4.0, an update that includes a number of helpful new features designed to take advantage of iOS 8.
The biggest productivity booster is the addition of quick actions on notifications. Now, when you get a new message, you can choose to reply to it or archive it directly from your device's notifications at the top of the screen or from the lock screen.
Gmail is also joining the iOS 8 share sheet, allowing you to quickly add documents and images from other apps to a Gmail message. Finally, Google added a new "attachment viewer" that lets you open file attachments in Gmail and then send them to any other app on your device.
The impact on you at home: The new Gmail features will be a welcome addition for iOS 8 users. It's about time that Google added these features to Gmail—especially quick actions—as many other mail apps jumped on the advantages of iOS 8 long ago.
Trying out the app
Using the new features in Gmail is very straightforward. Swipe from right-to-left to reveal the new reply and archive options. Swipe the other way from the lock screen to open the message directly.
To see the attachment viewer, just tap on any attachment in your message and then you'll have the option to open the file in another app via a share sheet. Similarly, Gmail appears in the share sheet on other apps.
The new Gmail for iOS is available now from the App Store for both iPhone and iPad.
---
How developers are making apps for an Apple Watch they haven't seen yet!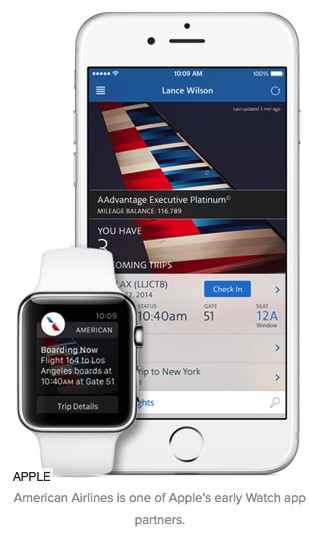 by Caitlin McGarry, macworld.com
The Apple Watch is designed to make you healthier and help you communicate more easily, but those lofty goals can't be attained without apps to back them up. Apple has its own apps in the works, like Workout and Activity for fitness-tracking, but the company needs popular iOS app developers to extend their services to Apple Watch. The company rolled out the WatchKit SDK in November to guide programmers and designers through the process, but I was curious: How do you make an elegant app without ever having seen the watch in person?
We already knew a few of the major apps that will be on board when Apple Watch ships: Instagram, American Airlines, ESPN, and Starwood Hotels & Resorts among them. Apple reportedly invited dozens of app developers to Cupertino in February to finish up their apps. But some have gone it alone in the hopes that following the WatchKit guidelines closely and sticking with simple features will win Apple's stamp of approval and a spot in the Watch app store.
Developers faced a similar dilemma when building apps for the iPad. Apple waited for more than a year after releasing the first iPhone to launch the App Store, giving developers time to see the phone in action. But iPad apps were expected to appear in the App Store when the tablet launched, like we're expecting Apple Watch apps to be available from day one.
So app makers have spent the last few months working around two major restrictions: They can't access the Watch's sensors and they can't make native apps. Every Watch app must begin with an existing iOS app. Then there's the fact that you can't test a Watch app on the actual device—at least not yet. So the developers I talked to decided to keep it simple.
---
Emoji Icons to Reflect Diversity
by Rachel Narkewicz, smalldog.com
As of now, your iPhone's emoji keyboard only lets you select a wide range of pale pink hands as well as white boys and girls. A new beta release of iOS 8.3, currently available only to software developers, has six "skin tone modifiers". Once released (rumors indicate maybe mid-March) you'll be able to click and hold on any emoji to change the skin tone. Along with this change comes a few new emoticons, including a ton of new family emojis to cover all different family compositions. There will also be a bunch of new country flags, as well as an update to the old style watch which is now an Apple Watch (of course!). The new emoji were make possible thanks to a change in the Unicode standard called the "skin tone modifier" which allows users to select the tone of compatible emoji.
---
Pesky Text Suggestions, Be Gone
by Rachel Narkewicz, smalldog.com
iOS 8 came with a few new keyboard features including support for predictive text suggestions when you are using the built-in iOS keyboard. This is pretty neat if you're into it, but if you're like me, it's more annoying than useful. This features takes up valuable screen space on my tiny iPhone 5 (tiny when compared to the new 6 Plus), and I'd rather it not be there. If you too find this more irritating than helpful, than here's a simple way to disable this feature:
Temporarily:
When you have the iOS keyboard up, tap and hold on one of the text suggestions and drag downward, toward the top row of the keyboard. This will leave you with a little gray line, but you won't see the predictive suggestions any more.
Permanently:
To permanently diable QuickType suggestions, you can simply long press on the keyboard selector icon and slide the "Predictive" toggle off.
Alternatively, you can make a trip into your iPhone or iPad's Settings app. Navigate to Settings -> General -> Keyboard and turn off the "Predictive" switch.
How does it work? Based on your past conversations and writing style you'll see words and phrases iOS thinks you'd probably type next. These predictions may change over time to better fit how you do your typing. It will adjust to a more casual style in Messages, and suggest more formal options when you're writing email, if that's how you usually roll. It may even adjust to whomever you're communicating with. Yes a bit creepy, but don't worry the data your iPhone uses to perform these feats of prediction is kept on your iPhone. And you thought some employee at Apple was hired to suggest your next word in a sentence?
---
Apple Watch battery life will be better than expected
by Buster Hein, cultofmac.com!
Apple has been very quiet about the Apple Watch's battery life since the device's unveiling in September. Reports that the wearable might run out of juice after just 2.5 hours of heavy use have worried many Apple fans, but according to TechCrunch, battery life will be better than expected.
Tim Cook has said Apple Watch owners will need to recharge their devices every night. That doesn't mean the battery will run dry midway through the workday, though. People who have used the Apple Watch say you should still have around 25 percent of your battery left after a long day.
"Battery life is also much better than some previous reports, so Apple has been working on it," writes TechCrunch's Matthew Panzarino. "In a normal day of on-and-off use, the battery usually ends up at around 25 percent, which means that you should be able to make it through a full day. It only takes around two hours to charge fully."
The report also claims that the biggest Apple Watch feature will be how much time it saves you from looking at your iPhone. "One user told me that they nearly 'stopped' using their phone during the day; they used to have it out and now they don't, period," according to Panzarino.
We expect Apple will address concerns over battery life during its "Spring Forward" event Monday [9 March, 2015], in addition to giving us details on pricing and running through secret Apple Watch launch apps that have been in development. For full details on what to expect, check out our roundup here.
---
Apple announces iWatch prices
from Apple
| | | |
| --- | --- | --- |
| Watch | 20 models | $549 - $1,099 |
| Watch Sport | 10 models | $349 - $399 |
| Watch Edition | 8 models | $10,000 - $17,000 |
MAGIC humor
Tech Support for Seniors
by penny Holland, MAGIC*

Tech support: What kind of computer do you have?
Customer: A white one.
Tech support: Click on the 'my computer' icon on the left of the screen.
Customer: Your left or my left?

Customer: Hi, good afternoon, this is Martha, I can't print. Every time I try, it says 'Can't find printer'. I've even lifted the printer and placed it in front of the monitor, but the computer still says he can't find it.

Tech support: What's on your monitor now, ma'am?
Customer: A teddy bear my boyfriend bought for me at the 7-11.
Customer: My keyboard is not working anymore.
Tech support: Are you sure it's plugged into the computer?
Customer: No. I can't get behind the computer.
Tech support: Pick up your keyboard and walk 10 paces back.
Customer: OK.
Tech support: Did the keyboard come with you?
Customer: Yes
Tech support: That means the keyboard is not plugged in.
Customer: I can't get on the Internet.
Tech support: Are you sure you used the right password?
Customer: Yes, I'm sure. I saw my colleague do it.
Tech support: Can you tell me what the password was?
Customer: Five dots.
Tech support: What antivirus program do you use?
Customer: Netscape.
Tech support: That's not an antivirus program.
Customer: Oh, sorry... Internet Explorer.
Customer: I have a huge problem. A friend has placed a screen saver on my computer, but every time I move the mouse, it disappears.
Tech support: How may I help you?
Customer: I'm wri6ng my first email.
Tech support: OK, and what seems to be the problem?
Customer: Well, I have the letter 'a' in the address, but how do I get the little circle around it?
A woman customer called the Canon help desk with a problem with her printer.
Tech support: Are you running it under windows?
Customer: No, my desk is next to the door, but that is a good point. The man sitting in the cubicle next to me is under a window, and his printer is working fine.
Tech support: 'Okay Bob, let's press the control and escape keys at the same time. That brings up a task list in the middle of the screen. Now type the letter 'P' to bring up the Program Manager.'
Customer: I don't have a P.
Tech support: On your keyboard, Bob.
Customer: What do you mean?
Tech support: 'P'.....on your keyboard, Bob.
Customer: I'M NOT GOING TO DO THAT!
WIZARD note: Penny Holland has volunteered to be the newsletter's humor editor. We hope to tickle your funny bone on a regular basis. If you have any pictures, cartoons, or jokes that might be appropriate for this august publication, please send them to Penny at
By The Way
Quick update reminder
by Ron Sharp, MAGIC*
I hope you're keeping up to date on software. Just a quick reminder that the further you get behind on software updates the harder and more time consuming they become. That actually applies to hardware too, although not as much.
Software is always changing and if your data is created with old software it becomes a chore to convert all your files to the newer software. Keeping in step with the updates usually keeps your data in sync with the new applications.
---
MAGIC, the Macintosh Appreciation Group of Island County, serves people who use Macintosh computers, software and peripherals. Our goal is to share information and get answers to questions to make us more productive with our use of technology. Our monthly meetings give us a chance to discuss computer problems and share ideas with other Mac users, feature speakers on specific topics, and to keep apprised of Apple news.