Newsletter
July 2016
Newsletter Editor:
In This Issue:
MAGIC MUG News
Software Updates
News, Information and Stories (OS-X)
iPhones, iPods, iPads, Apple TV and AppleWatch (iOS)
By The Way
* Indicates author is a member of MAGIC
---
Meeting information
Day:
The 3rd Wednesday of the month. July 20, 2016 this Month
Location:
Unitarian Universal Congregation of Whidbey Island (see map.)
Time:
4:00 p.m. - 6:00 p.m.
Presentations:
• "Security" with Bethany and Joel Kennedy
• Q and A with Ron Sharp
Suggested Donation:
$2 to offset room rental.
Do not forget to bring your used ink cartridges.
MAGIC will dispose of them for you and make some change for the group.
---
Minutes of the June 15, 2016 Meeting
by Penny Holland, MAGIC Secretary*
The June monthly meeting, held at the Freeland Unitarian Congregation Meeting House, was called to order at 4:00 by Sue Keblusek. About 20 people were present at the meeting.
PRESENTATION
Today's presentation by Robert Elphick was a demo of iMovie both on Macs and iPhones. If more people are interested, let Robert know, as he has offered to teach a 4 afternoon class on iMovie for MAGIC members. (No date has been set until interest is shown.)
There are 3 versions of i Movie: on the Mac, on the iPad, and an even smaller one on the iPhone.
Various elements of a Movie: Start with a title. Next you need a set of videos/movies that tell some sort of story. This requires a bit of planning to make your story work; such as a story board plan. You can rearrange your story elements, if needed.
As an example, Robert showed us an iBook titled: LEARN iMOVIE WITH LESSONS BY A BROADCAST TV VIDEO EDITOR (Extended Video Tutorials for iPhone and iPad) This ibook is an interactive book. It is free through iTunes at the Apple bookstore.
Each chapter of this book gives an overview and then shows a little movie/video demonstrating the concept. Video, Projects and Theater are the top headings on iMovie. ( iCloud is used to share video files.) One chapter is a crash course on Editing. Another chapter on Themes that are pre-developed may be used throughout a project. The Transitions chapter explains how to get from one clip to the next. Precision Edits shows you how to tweak your edits. Another chapter, how to animate still photos, shows such techniques as using the Ken Burns effect. How to add audio narration tells you how to do voice-overs. How to alter sound levels, titles, splits and freeze frames, and specialty edits are some of the more advanced techniques. Working with the timeline and how to create trailers are also included. Slow motion, and exporting your movie (such as into YouTube), are topics of the final chapters in the iBook
Next, Robert switched over to his iPhone, and opened the iMovie APP. The top three options are Video, Projects and Theater. First he showed a two-minute movie he made called Keystone, including some videos he shot at the Coupeville ferry dock. This little movie consisted of 2 videos and a panorama photo, which can be shot on the iPhone. He demonstrated how to get the panorama shot.
HOW HE MADE THIS MOVIE: Open iMovie on the iPhone and press the EDIT button. You can slide across the timeline with your finger and stop where you want to examine or edit. The Microphone icon allows you to do a voice-over on your movie. The lower icon that looks like a filmstrip and musical note will take you to a menu of further options. for adding video clips and music. Your choices for importing videos are: All, Favorites, iMovieMedia and iCloud Drive.
Clicking on PHOTOS gives you access to your library of photos and allows you to drop in a photo on the timeline.
Audio gives you access to music, sound effects, theme music, and all the music you have in your iTunes library.
On the timeline, Robert demonstrated how work on a single clip. Double click on it, then you can splice the clip, or duplicate it or delete it. The clock icon allows you to change the speed of the frame. The "T" icon allows you to insert text onto he video frame, with choices for in various positions on the screen.
Transitions are effects you can insert between video clips. There are various choices, such as Dissolve, Slide, Wipe and Fade, or using the Theme that is chosen.
Robert went to the APP store and searched for iMovie-related apps. There are many available.
BUSINESS MEETING:
Robert played a brief iMovie made by A-Tech. On it, Bethany Kennedy explained how A-Tech has not closed the business, just closed the doors temporarily. She explained that Sue Keblusek also continues to be in business there with her Gentle Mac Coaching. The movie had several humorous out-takes that we all enjoyed.
Our MAGIC website lists the Mac Essentials classes to be held in July on Tuesdays and Thursdays, July 12, 14, 19 and 21. These will be held at the A-Tech office in Freeland.
There is also a one day Essentials CRASH course from 10-4 at A-Tech on Saturday July 23.
The website lists details for the classes, books to buy, etc.
The Beyond Basics classes will take place in August from 1:00 to 4:00 on the 16, 18, 23 and 25th of August, and will be held at the Pacific Rim Institute in Coupeville.
Gary McIntyre gave the treasurer's report: We have $7,220.23 in our account as of today.
Prescott and Penny both announced free items: Canon and Epson ink, an Epson 785EPx printer and several old missing manuals and books.
Sue Keblusek asked for ideas for program ideas. One idea is Firefox, which is a browser that can be used instead of Safari. This invited quite a conversation on browsers, such as using Chrome vs. Safari vs. Firefox. Robert talked about search engines, and described DuckDuckGo, which claims it does not collect information from you. People often get confused between the differences between browsers and search engines. We decided these will be a good topic for a future presentation.
Question and Answer
Question & Answer hour was led by Robert Elphick.
Q. Do all phones have iMovie on them?
A. Some do. If not, you can get it at the APP store. It costs $4.99.
Q. I want to put DuckDuckGo (DDG) as my home page. How do I do it?
A. If you click on DDG in your Browser's preferences, it will show you a list of possible search engines, and you can select DDG.
Q. I tried streaming a movie from my iPad to my TV and it won't go full screen. Is this normal?
A. Usually the TV has a way to select FULL SCREEN. Or go to Apple menu System Preferences under Displays and tell it the size of your TV screen. If necessary, Robert can make a house call or maybe the A-Tech guys can help. The guess is that the problem is in the TV and there should be a way to change it.
Q. I use Roxio Toast for CD burning, but the last several CDs I've tried to burn have created error messages at the end. Is that a software problem, or is my computer going bad?
A. I'd guess it's a hardware problem. When you are burning, I recommend you are plugged in to power. Don't use it remotely. Have you tried to burn at a slower speed, or tried to use the Apple software rather than the Roxio software?
Q. I used to be able to fill out anything on my browser and all my details would show up. Now it no longer works.
A. Go to your contacts and be sure you have your own personal card filled out. Your card needs to have your little personal icon turned on. Then look at your browser preferences and select Auto Fill.
Q. A Java message comes up from time to time. What should I do?
A. Stay away from Java, as some "evil stuff" can happen if you have Java.
Q. I've been trying to send an email on a secure server and it just sits there.
A. That's not a Safari problem; I think it's WhidbeyTel that you need to talk to.
Q. Are there any downsides to DuckDuckGo?
A. It may not find as many things as Google, though it will find most common things.
Q. On the top of my Google screen is a G . What is it?
A. It's probably just a tab.
The meeting was adjourned at 5:55.
Respectfully Submitted by Penny Holland, Secretary
---
MAGIC Moments
Summer Classes
by Bethany Kennedy *
Here are the dates and prices for the Summer "Mac Essentials" classes.
The dates for the Summer Mac Essentials Class are:
Tuesday, July 12th 1PM - 4PM
Thursday, July 14th 1PM - 4PM
Tuesday, July 19th 1PM - 4PM
Thursday, July 21st 1PM - 4PM
The cost is $100 for the four sessions.
Limit 20 people
There will also be a Mac Essentials Crash Course: Saturday, July 23rd 10AM - 4PM
The cost is $50 for the Crash Course
Limit 20 people
All Mac Essential classes will be held at A-TECH Computers, 5595 Harbor Avenue in Freeland. Call (360) 331-5070 for directions if needed.
Details and application form can be found at this location.
Here are the dates for the Summer "Mac Beyond Basics" classes.
Tuesday, August 16th 1PM - 4PM
Thursday, August 18th 1PM - 4PM
Tuesday, August 23rd 1PM - 4PM
Thursday, August 25th 1PM - 4PM
The cost is $75 for the four sessions.
Limit 20 people
Details and application form can be found at this location.
Feedback
We now have a
feedback page
on our website. This week a feedback came flying in so I know it works. If you want to send MAGIC feedback, suggestions, stories, experiences, or articles that you think are of interest, please go ahead and use this new form.
Volunteers Please
I am still looking for a few good people to help with some easy tasks that will also increase your knowledge substantially. Tasks include:
Check out all the links on the Links page of the Website
Check out the Tricks/Tips page for obsolete material
Check the Software page for updates and obsolete references
Check the Hardware page for updates and obsolete references
Check the mentoring page and contact the mentors to find out what expertise they would like added to their listing so that members will be able look up mentors by expertise and experience.
Pick any one (or more) and help your club and learn some new stuff!
Note: This Software Update section of the newsletter lists the most relevant Apple updates. Not all updates are listed for all products. Additionally, I'll add other pertinent updates on occasion.
iTunes 12.4.1
from Apple
This update addresses a number of problems where iTunes doesn't work as expected with VoiceOver. It also restores the option to Reset Plays and fixes the following issues:
Up Next may have unexpectedly played songs added together in the incorrect order.
iTunes was prevented from crossfading between songs.
Click for article and download.
---
More than 32 million Twitter credentials reportedly hacked
by Ian Paul, macworld.com
The company trying to be the Google of hacked user credentials says it just obtained another huge leak, this time affecting Twitter users. LeakedSource recently reported it obtained a database of more than 32 million Twitter login credentials from a user going by the alias Tessa88@exploit.im.
LeakedSource uses a freemium model where anyone can search for their own credentials for free; however, to see the majority of the leaked credentials users must subscribe to the service. Twenty-four passes are available for $2-$4 depending on whether you pay by Bitcoin or PayPal—annual subscriptions run upwards of $200.
Although pretty much anyone can claim they have a leaked database of credentials, LeakedSource believes this collection is legitimate. "These credentials...are real and valid," LeakedSource said in its blog post. "Out of 15 users we asked, all 15 verified their passwords."
LeakedSource says there's no evidence to suggest these passwords were lifted directly from Twitter. Instead, the company believes users were infected by malware, which grabbed username and plaintext passwords from users' browsers. LeakedSource says the initial malware targets were mostly Russian users.
The impact on you: If you want to check out whether your credentials are in the leaked database you can do so from LeakedSource's homepage. The Twitter database includes email and password credentials so don't search by your username. Your search may also turn up other potentially hacked accounts. The good news is you don't have to subscribe to LeakedSource to get at the important information. Each result will say which site the credentials are for. That's all you need to know to reset the passwords for any affected accounts.
Stay safer
It's inevitable that at least some of your online account credentials will be stolen during your lifetime—you have no control over how a site secures login data, for example. Nevertheless, there are a lot of things you can do to mitigate the risk.
Make sure you are using a modern browser to protect against the more common online risks and known risky sites. As far as passwords go, try to use a password manager to save your online account credentials such as 1Password, Dashlane, or LastPass.
Never use the same password on two different sites—especially mission critical sites like banking, email, and social networking. Also make sure every password is hard to guess by using random letters (upper and lowercase), numbers, and symbols (when possible). Most password managers can generate random passwords for you.
Perhaps most importantly, use two-factor authentication whenever possible. This is when an online account requires a second, short code—typically generated by a smartphone app or sent to your phone via SMS—before getting access to your account. In the event your password is stolen, the two-factor authentication step has a better chance of stopping hackers in their tracks until you can reset your password.
---
Are You Being Throttled?
by Michael Duplessis, smalldog.com
Whether you watch Netflix on your iPhone, iPad, Mac, Apple TV, or gasp a Windows PC, the quality of the video, how long it takes to load, and whether it stutters or skips is primarily determined by the bandwidth of your Internet connection. Netflix recommends 25 megabits per second (Mbps) of download speed for Ultra HD quality, 5 Mbps for HD, and 3 Mbps for SD. Netflix says that 1.5 Mbps is the lowest recommendation for a broadband connection, and notes that 0.5 Mbps is the minimum required, though I have generally found that it doesn't really work on anything less than 1 Mbps.
So how do you tell what your real-world download speed is? Up to now, I would have recommended speedtest.net and for general testing of your speed, this is still a good option. It does require Flash, so please make sure that your player is up-to-date by checking System Preferences > Flash Player > Updates > Check Now or by going to adobe.com for a first time install on your Mac. If you are checking from a mobile device, you can get the SpeedTest.net app here.
The problem is that allegedly certain ISPs, despite the supposed protections of net neutrality, throttle Netflix traffic because it is the number one user of the internet in the US. In 2015, Netflix accounted for 37% of all internet traffic. If you want to find out if your ISP is throttling, check Netflix's new fast.com Web site, which is a quick and easy way to determine how much bandwidth you get. This test uses Netflix servers as it source, so if your ISP is throttling Netflix, it will show up here. And if what you see doesn't match with what you think you're paying your Internet service provider for, call the ISP and make sure your connection is working properly. In my test, I got 8.1 Mbps at fast.com and 13.99 Mbps at speedtest.net, so there is a possibility that my Netflix is being throttled. I will be running additional tests and contacting my ISP if the speeds continue to diverge this much.
---
Apple's new Photos app will recognize 7 different facial expressions
by Oscar Raymundo, Macworld
A developer has uncovered how Photos will employ facial and object recognition to generate Moments and yield search results in iOS 10 and macOS Sierra.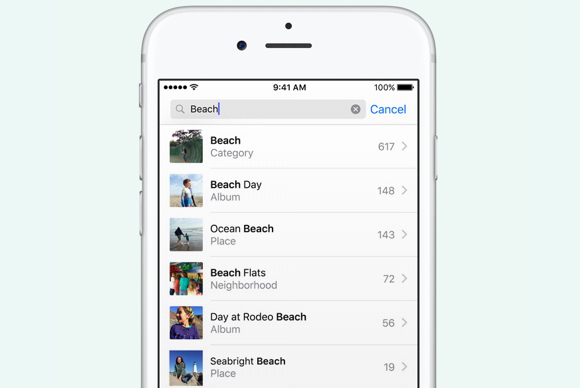 Apple's new update to Photos is one of the reasons we're most excited about iOS 10, and now we're learning more about how the app will integrate "Advanced Computer Vision."
After Apple released iOS 10 and macOS to developers at WWDC, a developer discovered the list of hardcoded objects, scenes, and facial expressions that the Photos app will be able to recognize. According to developer Kay Yin, Photos will be able to recognize seven types of facial expressions: greedy, disgusted, neutral, screaming, smiling, surprised, and suspicious.
More impressively, the Photos app will also be able to detect 4,432 objects and scenes, from "alleyways" to "zucchinis." This object and scene recognition is used by Photos to yield accurate search results in all languages.
"We do 11 billion computations per photo to be able to detect things like, there's a horse, there's water, there's a mountain, and with this you can do really powerful searching on your device," Craig Federighi, Apple's senior vp of software engineering, said during the WWDC keynote.
Additionally, object and scene recognition is used to generate "Moments," the new video montage feature in Photos that automatically stitches together media based on theme, date, and location metadata. According to Yin, Moments will be generated according to 33 different categories, like "day in history" and "last weekend."
Why this matters: Apple's improved Photos app in iOS 10 is now a lot like Google Photos: using face, object, and scene recognition so you can search your camera roll by person, location, or topic. Unlike Google Photos, however, Apple has made sure that Photos uses only machine learning to analyze the photos that are stored locally on your iPhone. Apple believes there doesn't necessarily have to be a trade-off between machine learning and privacy. At WWDC, the iPhone-maker introduced the concept of "differential privacy," which employs crowdsourcing to make a more useful product, without exposing any one individual's data. And Apple seems to be relying on this concept in the new Photos app, the place where we store our most personal information.
---
Changes in iTunes 12.4
by Kirk McElhearn (The iTunes Guy), Macworld
"iTunes keeps changing things..." I hear this a lot from readers who write in with questions about why a specific feature is missing, or why suddenly much of their iTunes library looks different. I discuss three such questions in this week's column. One about finding the iTunes Store Wish List in iTunes 12.4, another about a change in the way you rate albums, and the third about the way playlists display. I also suggest a way to shuffle music on iOS by artist or genre.
Make a wish
Q: With iTunes making changes in how things are viewed, is there a faster way to view my Wish List, or is going to the iTunes Store front page the only way to do it now?
The recently released iTunes 12.4 made a number of changes in the way you view the content of your iTunes library, but also changed the way you access the iTunes Store. Previously, there was an icon in the iTunes toolbar that you could click to sign into your account, access your Wish List, view your Purchased list, and more.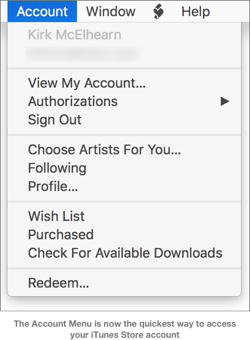 The Account menu is now the quickest way to access your iTunes Store account. Now, most account controls are available from the Account menu. You can view your account, check authorizations, choose artists for Apple Music's For You, and go to your Wish List and Purchased list. Just choose Account > Wish List, and sign in to the iTunes Store if necessary.
There are still other ways to view the Wish List, if you prefer. In the iTunes Store, there's a sidebar at the right on main pages (such as the front pages for Music, Movies, TV Shows, etc.) with links to your Purchased list, Wish List and more. There's also a link to the Wish List in the footer of every iTunes Store page, under the Manage header.
My favorite albums
Q: I like to rate songs and albums, but I can't find how to rate albums in iTunes 12.4. Can you tell me how to do this?
Several people have asked this question, and many of them pointed out that they were used to choosing Album Rating from the contextual menu when right-clicking on an album. That option is no longer available in iTunes 12.4. The only way to rate an album is to be in Artists, Albums, Genres, or Composers view, and hover your cursor over the area just to the left of the ♡ icon.
You can rate an album if you know where to click.
When you do this, a number of very small, easy to miss dots display. Click one of them to set a rating for the album. When you do this, iTunes also considers that the songs have the same rating unless you rate the songs individually (as you can see above, the stars are gray for each song).
Note that iTunes 12.2 and later has caused a bit of havoc for some people, turning song ratings into album ratings.
What's happened to my playlist?
Q: I recently created a new playlist, but the format was unlike my other playlists, which are all in simple list view. Suddenly, this list had thumbnails of album covers and a black background. I noticed that many, but not all, of my other playlists were in this same new format including a variety of background colors. How do I get my playlists back to plain list view?
This playlist view has been available for a while; it's surprising you haven't encountered it yet. To return to a simple song list, select a playlist, press Command-J to bring up the View Options window, and choose View As Songs.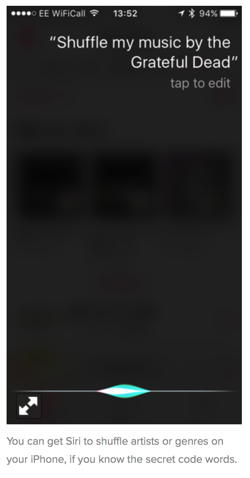 Shuffle blues
Q: With the iPod, Apple trained us to enjoy shuffle. You could shuffle in any way you wanted. With iOS 9, that functionality seems limited. I can shuffle my entire Music library, but what I really want to be able to do is select a genre, and then shuffle within that genre. Or, select an Artist, and shuffle all that artist's songs. I hope you can tell me how to do this!
I agree, it's a shame this isn't possible in iOS. As you say, you can shuffle all your music. You do this by pulling down on the screen of an iOS device and tapping Shuffle All.
One way to shuffle music is to use Siri: say "Shuffle all my rock music." That's fine; Siri can understand this, and plays rock music. However, if I try telling Siri to shuffle music by an artist, I get music from Apple Music (I'm a subscriber), rather than local music. And this is on my iPhone, where Apple Music isn't even turned on. I'm signed into the iTunes Store with the same account, but I expressly didn't turn Apple Music on, yet Siri still streams music.
What does work is to say "Shuffle my music by the Grateful Dead," or some other artist. The "my music" seems to be the key.
I find Siri incredibly frustrating because of this sort of thing: if you don't know the exact words to use to request a task, it fails. If Siri really were intelligent, it would know that there are different ways of asking to do something.
---
Apple previews Apple File System to replace HFS+ in 2017
by Susie Ochs, Macworld
Some changes are big for users: Siri on the Mac, fireworks in the Messages app, a new Breathe app on the watch! Others are a more seismic shift that end users may or may not notice. Apple's operating systems have used the HFS+ file system for more than 18 years, but that era is coming to an end. At the Platform State of the Union after the WWDC keynote, Apple took the wraps off the replacement for HFS+, its new Apple File System.
Now, the file system is pretty well hidden from most users. It's entirely possible that you've used the Mac for 20 years and only come across a reference to HFS+ when formatting a new drive in Disk Utility—I know this because that's the kind of user I am. But Apple File System will have some benefits that should be a really big deal for developers.
According to a document on Apple's Developer site, Apple File System improves on HFS+ while supporting "nearly all" of its features. But it's optimized for flash and SSD storage, with modern touches like 64-bit support and strong encryption.
In the Platform State of the Union, Apple highlighted two big features of the Apple File System. The first is cloning. As you use any operating system, some files are duplicated, and even if the OS can clean all that up for you later, it still hogs resources and disk space while it's happening. Apple File System clones these files rather than copying them because that's faster and takes up no extra space beyond the first copy. It can clone files, directories, and hierarchies.
The second big addition is Snapshots. Those are, well, snapshots of a full volume. Snapshots can be mounted, and support reverting to an older version, to let you back up a view of the whole file system at a certain point in time. The example given onstage involved a classroom: Say you're a teacher and you set up your classroom's Macs or iPads with certain content, apps, and settings for a lesson. Then the kids come in and start monkeying around. At the end of class, instead of having to undo all those changes, the teacher can roll back the device's content and settings to the previous Snapshot, so everything is ready for the next class of students.
Apple File System, which Apple is also calling APFS, is a developer preview in macOS Sierra (aka OS X 10.12), and Apple says it won't ship until 2017. Because while SSDs and cloning files are fast, changing the file system across all of Apple's operating systems and devices—well, that's going to take a little while. APFS has a way to go until it's ready for prime time as well. As of today, APFS volumes can't be encrypted with FileVault or backed up with Time Machine, and Fusion Drives can't use APFS yet either. Baby steps.
---
Google Launches a New Feature That Lets You See the Data It's Collecting About You
by Mike Peterson, idropnews.com
If you've ever doubted how much Google really knows about your online presence, you might want to check out their newest feature.
Google announced the launch of its My Activity feature today. In short, it's a searchable history of almost all of your online activity associated with your Google account, according to CNET.
This includes things you've searched for, the websites you've visited, the Netflix shows you've been watching, the YouTube videos you've viewed, and news articles you've read.
The results on My Activity are extremely detailed. They show exact search terms, as well as when and how many times you've visited certain websites. These results can be sifted through with a variety of filter options, according to Lifehacker.
And for those a little freaked out about the amount of information Google has on them, My Activity also lets you edit and delete items from your history — as well as offering a feature that suspends certain tracking activities.
Although there have been ways to see your Google history in the past, My Activity is probably the most comprehensive timeline yet. In fact, it's a bit creepy how in-depth the information goes. Thankfully, Google says the information is secure, and only viewable by you. Google users will be asked to "opt in" to My Activity in the coming weeks, if you haven't already, according to AndroidPolice.
Google's massive data collection effort has been the source of controversy. On the one hand, Google says that its data collection helps them improve user experience with their products.
On the other hand, there are very real privacy concerns when it comes to a data collection effort as gigantic as the Google has been conducting.
---
---
tvOS 10 FAQ: Everything you need to know about the next Apple TV update
by Michael Simon, Macworld
What are the biggest new features? What didn't Apple announce at the WWDC 2016 keynote? And how did it get to version 10 already? We've got answers.
Apple TV hasn't been a hobby for a while now, but this year's WWDC keynote marked a major milestone in its maturity. For the first time since Apple's streaming box was introduced back at Macworld Expo in 2007, Apple carved out some stage time for the next version of its big-screen operating system, and tvOS made the most of the opportunity.
While it might not be the major leap forward that iOS 10 is, the new tvOS is an important step in Apple TV's evolution that pushes Apple's media streamer even closer to the future Apple is promising.
---
Is Your iPhone or iPad Compatible with iOS 10?
by Troy Thompson, idropnews.com
At Apple's Worldwide Developers Conference (WWDC) 2016 keynote Monday morning, the Cupertino-company officially took the wraps off what it's calling "the next evolution" in mobile software and app development — an unveiling which included, among other things, the next installments of iOS, macOS (formerly OS X), tvOS, and watchOS.
Arguably one of the biggest announcements of the day, however, was the unveiling of the 10th installment of iOS — iOS 10, which, slated to touch down for the general public later on this fall, boasts a plethora of new and exciting features that are bound to excite Apple's die-hard, loyal fan base.
Among the new enhancements include a vastly upgraded iMessage platform, an official HomeKit app for controlling your iOS-connected home peripherals, a new, albeit long-overdue 'dark mode' interface, and much, much more. Simply put, iOS 10 is shaping up to be Apple's biggest overhaul of its mobile operating system since iOS 7's major renovation back in 2013.
There is a bit of bad news, however. Even despite the hype and mounting user anticipation, iOS 10, unfortunately, will only be compatible with select iOS Devices — namely, those running on Apple's A5 SoC or newer.
To find out if you'll be eligible to download iOS 10 when it touches down this fall, or perhaps even participate in Apple's Public Beta Testing Program that begins later this July, you can refer to the following list of compatible iOS Devices:
IPHONE
iPhone 6s & 6s Plus
iPhone 6 & 6 Plus
iPhone SE
iPhone 5s
iPhone 5c
iPhone 5
IPAD
iPad Pro 12.9-inch
iPad Pro 9.7-inch
iPad Air 2
iPad Air
iPad 4th generation
iPad 3rd generation
iPad 2
iPad mini 4
iPad mini 3
iPad mini 2
iPad mini
IPOD
iPod touch 6th generation
iPod touch 5th generation
While this move might seem like somewhat of a departure from Apple's rich history of releasing new iOS versions that are inherently compatible with the company's legacy devices, in order to maximize performance and ensure that users are able to experience the vast depth of features that iOS 10 will be bringing to the table, Apple has determined that its A5 SoC is the last chip in its A series silicon family capable of handling the job.
---
FAQ: Glances are going away as Watch apps speed up and move to a Dock
by Caitlin McGarry, Macworld
The Apple Watch is getting faster and easier to use, with fun new messaging and fitness features, too.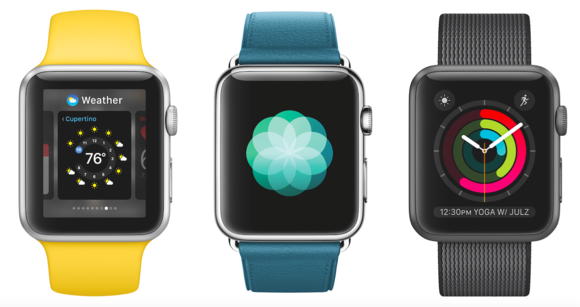 Credit Apple
The Apple Watch started shipping last April, and despite selling an estimated 11 million watches last year, Apple's "most personal device ever" has taken a lot of heat over its imperfections. The biggest criticism: Its super slow speed, which at launch was due to relaying all information from your iPhone. Apple released watchOS 2 last fall, which allowed apps to run natively on the device instead of from your phone, but that didn't make a huge difference.
At the Worldwide Developers Conference keynote, the Cupertino company showed off another major upgrade to the Apple Watch in the form of watchOS 3. The next-generation operating system promises to solve all those issues with slow apps and a complicated user interface, and will make the watch even more personalized. Here's everything you need to know about watchOS 3, which rolls out to the public this fall.
---
Save your life, add a medical ID to your iPhone
by by Don Mayer, smalldog.com
You only think you are invulnerable and won't get into an accident, but if you do, and if you end up being unable to speak with the emergency responders, wouldn't you like your iPhone to help you out? Once you enter your medical data and emergency contact info into Apple's Health app to create a Medical ID, anyone can use your iPhone to learn about your medication allergies and other conditions, plus contact your family. And it works even if your iPhone is locked. Even if you are too shaken up to share your details clearly, you may be able to point at your phone sufficiently to show your Medical ID.
This data could also help a Good Samaritan return a lost iPhone, too. To enter this essential information, follow these steps:
Open the Health app, and tap Medical ID in the button bar at the bottom.
Tap Create Medical ID on the first screen that appears.
In the Medical ID screen, make sure Show When Locked is enabled.
Enter all the relevant details about your medical conditions, medications, allergies, and so on.
Specify one or more emergency contacts. These must be people in the Contacts app with phone numbers; if the right people aren't there, add them first. You can't select your own card in Contacts, so consider making one for a fake person called "If Lost, Please Call" and listing a different phone number at which you can be reached.
Tap Done once you've finished entering all relevant information.
Create-Medical-ID
Hopefully, you'll never have to use someone else's Medical ID information, but you should know how to do so. You should also teach family, friends, and co-workers how to find and use this information. Should you come across a biker who has had a bad crash or a similar situation, follow these steps: With a locked iPhone, slide right on the Lock screen to display the Passcode screen.
On the Passcode screen, tap Emergency in the bottom left corner to move to the Emergency screen. If necessary, call 911 from this screen.
Again at the bottom left, tap Medical ID to display the Medical ID screen, complete with all the details that person entered into the Health app.
From that screen, you can share the information with EMTs or other first responders so they're aware of any serious conditions or allergies that would affect treatment. You can also call any emergency contacts listed.
Please, enter your medical and emergency contact details into the Health app right now, and spread the word to everyone you know. It could save your life, or help you save someone else's!
---
Apple Pay arrives on Bank of America ATMs to make cash withdrawals painless
by Caitlin McGarry, Macworld
Apple Pay isn't accepted everywhere (yet), but the day I've been waiting for has finally arrived: Bank of America is now letting you withdraw cash from its ATMs using Apple Pay. No more digging for your debit card and glancing behind you to see if anyone is hovering too closely. Now you really can leave your wallet at home.
Finding a B of A branch with NFC-compatible ATMs will be the biggest challenge. The machines at the branch near my office in midtown Manhattan were not, so my attempt to test out Apple Pay was a bust. But if your ATMs support NFC, which you can see by the contactless symbol beneath the card reader, then all you have to do is pull out your iPhone, open the Wallet app where your cards are stored, and tap on your B of A debit card. Then hold your phone over the NFC symbol and enter your PIN number on the machine's keypad. From there, you can select the cash withdrawal option and have cold hard cash in your hand almost immediately.
You won't be able to deposit cash or checks using this method, only withdraw money, check your balance, or transfer funds to another account.
Cash is still king
Apple Pay's usefulness is hit or miss. When the stars are aligned—the service supports your credit card issuer or bank and you've found a retailer that has embraced the 21st century and accepts it—then paying with your iPhone is the easiest way to pay. It's much faster than using a chip card, which is not only slower than a swipe card, but also requires a PIN, signature, and the promise of your first-born child, and even then my cards have been skimmed. (So much for being more secure.)
I live in New York, a metropolis too sophisticated for cash, or so I had hoped when I moved here. The reality is that a good chunk of shops and restaurants are cash only or have high card minimums. I doubt Apple Pay will penetrate the city anytime soon, but now that getting cash is easier, my days of paying ATM fees at shady establishments may soon be drawing to a close.
Bank of America plans to expand contactless transaction support to 5,000 ATMs nationwide by the end of this year, the company announced at Google I/O this year. Those ATMs are currently concentrated in the San Francisco Bay area and Silicon Valley, but other major cities like New York, Boston, and Charlotte are already seeing NFC-supported ATMs pop up. Both Chase and Wells Fargo have also announced plans to support Apple Pay transactions at ATMs.
Have you been able to use Apple Pay to withdraw cash at your local bank branch? Was it easier than using a card? Let us know in the comments.
---
Watch out, WebMD: Google's teamed with leading doctors to provide vetted online medical advice
by Florence Ion, Greenbot / MacWorld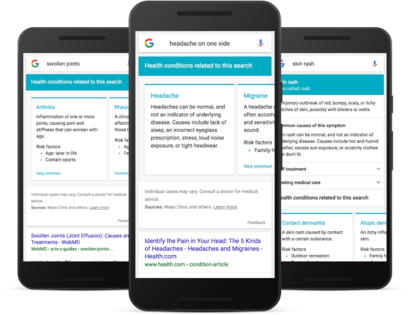 Feeling nauseous? Perhaps a bit feverish? Google's launching a new feature on mobile and its Google search app that promises to provide answers without forcing you to dig through dozens of overwhelming (and possibly misleading) medical forums, let alone consult established sites like WebMD.
In the coming days, when you ask Google about your symptoms, the search engine will return a list of related conditions. For instance, if you search for "headache on one side," Google will offer up a list of informational cards with possible answers for what's ailing you. Tap a card, and it'll provide further information on the condition and treatment.
Google takes pains to emphasize that it's trying to make it easier for you to find good medical information on the web, but it's also making sure you don't use the web as a substitute for professional advice. In its blog post, Google said it worked with a team of medical doctors at Harvard Medical School and the Mayo Clinic to review individual symptom information. That data was also cross-referenced with the medical information that Google had collected from doctors for its robust Knowledge Graph.
The new search ability is rolling out over the next few days on a limited basis: Android, iOS, and the Google Search app, but only in English in the United States. Google says it's hoping to cover more symptoms extend the service to other languages in the future.
Why this matters: Sometimes "Googling" what's wrong with you can cause more harm than good. I can't tell you how many times I've searched for what's wrong with me, only to end up rocking back in the forth in the corner about my impending mortality. But while these quick snippets of information can help prevent you from tumbling down a rabbit hole of worry, they shouldn't replace an actual visit to the doctor.
---
It's the ecosystem, stupid: Why Apple's latest OS's complete each other
by Dan Moren, Macworld
Apple often credits its unique combination of hardware, software, and services as the secret sauce that makes its products so good. It's hard to argue that control over the whole widget hasn't played into Apple's history of creating incredibly well-designed products like the Mac, the iPod, the iPhone, and the Apple Watch.
But as our technological lives get even more and more complex, it's become apparent that Apple's play is ever more about the ecosystem. I came to this realization in the aftermath of the company's WWDC announcements of the past month, when I found myself itching at the prospect of upgrading my Apple Watch to the watchOS 3 beta. Much as I would like to come before you with that task as a fait accompli, it turns out that the situation's just a little more complicated than it used to be.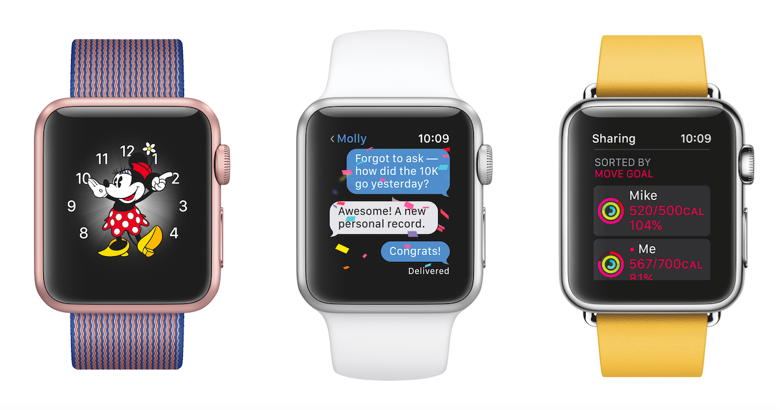 The beta cascade
I'm no stranger to the beta game. In my former capacity as a Macworld editor it was part of the routine: Apple announces new software in the summer, we install the betas so that we can get a jump on familiarizing ourselves and preparing our pieces on those features. (Because if we waited to write about them all until the day they were officially released, we would die, thanks to Apple's penchant for releasing all of its major updates and hardware within the space of about a single week in September.)
In the past, that's often meant installing beta software on a spare device, but sooner or later, there's no substitute for committing it to the iOS device or Mac that you use every day. The key question is at what point you make that jump: Usually you give Apple a few beta releases to work out the kinks and fully implement many of the features.
Nowadays I have fewer spare devices available to install betas on—but to heck with it, I thought to myself: My Apple Watch, much as I like it, is hardly an indispensable part of my everyday life. And ready I was to go ahead and install the watchOS 3 beta when I ran up against a bit of a brick wall—because in order to install the watchOS 3 beta, I also needed to install the iOS 10 beta on my iPhone.
The ecosystem
It doesn't stop there, either. Want to try out Apple's new Auto Unlock feature? You'll need to have the watchOS 3 beta installed and the macOS Sierra beta. Meanwhile, the automation features of HomeKit in iOS 10 take advantage of the fact that an Apple TV (or, optionally, an iPad) is always on and connected to your network to run routines as specific times. And the Universal Clipboard? Well, yeah, I think you can figure that out.
You see what I'm getting at: it's all connected.
It's no longer simply about Apple controlling the hardware and software but about your whole ecosystem working on Apple (or Apple-compatible) devices. The seeds of this have, of course, been long sown, but over the past few years in particular, it's become a more and more prevalent theme of Apple's yearly releases.
We've gone beyond the stage of Apple products simply working better with other Apple products, and more into them actively working together. Features like Handoff, for example, and all of the other technologies closely linked to it—AirDrop, the new Auto Unlock and Universal Clipboard features—add extra functionality that's only available on Apple's platforms. And, more to the point, those features that exist in the space between our devices have become among the most attractive new features that Apple is rolling out.
The next generation
All of that is a smart move that provides a strong reason for people to invest heavily in a single ecosystem where things work seamlessly together. And it's not as though Apple doesn't traffic in standards where such things are available: the web, email, Wi-Fi, USB, and so on. (There are also plenty of places where things are currently a murky mess of competing standards and technologies, such as home automation.)
But to my mind Apple hasn't yet gone far enough when it comes to expanding the capabilities that this inter-device operation could offer. I could, for example, use Hey Siri on my phone and tell it to skip to a certain point in the video I'm watching on my Apple TV. Or have my Apple Watch notify me when I get up and start to leave some place without remembering to take my phone. Or tell Siri on my iPhone to display something—a webpage, a document—on my iMac or Apple TV, and have it understand what I mean.
None of these features are especially farfetched when you consider the state of Apple's ecosystem today, but as our technology becomes more and more embedded—and, hopefully, more transparent—in our lives, these coordinated abilities among them is going to become ever more important.
---
4 Tricks to Maximize the Usefulness of Touch ID on Your iPhone or iPad
by Troy Thompson, idropnews.com
With its foray debut on Apple's iPhone 5s back in 2012, Touch ID was inherently limited at launch. Apple wanted to revolutionize the way we interact with and access our iPhones — maximizing security, while at the same time, expediting certain processes that we'd typically carry out on a frequent basis.
Touch ID has stumbled upon its fair share of legal drama over the years and was fairly limited in terms of what it could do right out of the gate. However, Apple continues to develop, expand, and solidify its biometric fingerprint-reading platform, which was the byproduct of the Apple's 2012 acquisition of AuthenTec for a cool $356 million.
So, what can you actually do with Touch ID? Has the technology really evolved so substantially over the years? Well, yes, Touch ID has evolved quite a bit — it's now blazingly fast, and particularly useful as 3rd party app developers have increasingly implemented the feature.
Check out our list of 4 cool things you can do — and likely didn't know you could do — using Touch ID in its current capacity.
1. USE MULTIPLE FINGERPRINTS
Often times we are cooking, or gardening, and one particular finger just isn't exactly clean enough to embrace your brand new iPhone 6s' Touch ID button. Well, that phone must be unlocked, and you've got other fingers that could do the job just fine.
This may seem a bit counterintuitive to some, sure, but to others — like those who'd prefer using other fingers to trigger Touch ID, isn't it good to know you can do that if you need to? By going to Settings > Touch ID & Passcode > (**Enter your passcode**) > Fingerprints > and then Add a Fingerprint. You can register as many fingers as you have, or as few as you want — and they'll all perform the same way!
2. CREATE PASSWORD PROTECTED NOTES
Our original write-up on this cool new feature in iOS 9 is considerably more comprehensive. But, in essence, you can create Notes via Apple's Notes app, and then save them under Touch ID protection. Simply start a new Note, enter information, and then (ensuring your Touch ID-capable iPhone or iPad is upgraded to iOS 9.0 or later), just tap once on the open lock icon in the upper-right-hand corner of the screen to lock your Note.
3. SCAN SOMEONE ELSE'S FINGERPRINT (IN CASE OF EMERGENCY)
Perhaps this one is another seemingly counterintuitive trick.. But did you ever stop to think what would happen to your iPhone (and, not to mention, all its content) in the event of an Emergency? Certainly, we're not wishing bad fortune on anyone, but wouldn't it be nice to have a backup — someone you know and trust so intimately, that you wouldn't mind giving them total access and control in the event you couldn't do it yourself?
Well, sure it would — better safe than sorry, right? To scan someone else's fingerprint as a backup, simply navigate to Settings > TouchID & Passcode > (**Enter your Passcode**) > Fingerprints > and again, Add a Fingerprint — ensuring that your trusted companion runs their finger through the standard scanning process.
4. FASTER ACCESS TO YOUR MONEY
While this isn't in any way a "universal" feature, most of the big-name banking institutions — including Chase, PayPal, Wells Fargo, Bank of America, and many others — have recently begun implementing Touch ID instant sign-on to access your financial accounts via the institution's mobile banking app. You'll have to independently verify that your bank (or other password-protected, 3rd party app) is Touch ID compatible. Not all are, unfortunately, but you'd be surprised by the sheer number that have warmed-up to the technology over the years. Switch the Touch ID feature on within your banking app's settings and voila! Banking has never been quicker!
---
by Penny Holland, MAGIC*
---
---
If you have any pictures, cartoons, or jokes that might be appropriate for this fantastic publication, please send them to Penny at
---
---
iOS Pop-Ups
by by Emily Dolloff, SmallDog
Earlier this week while waiting for a video to load on Facebook I had my phone taken over by a ransomware popup. Rather than an adorable puppy video, youtube locked up because a popup was telling me that I could be a big winner! The message promised that if I just hit OK I would be entered to win a free iPhone 6s.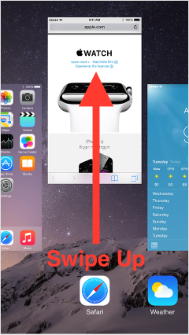 I did a little research on the message that displayed on my phone. This is just another scam to get what ends up being large amounts of money out of the user. If I had selected OK I could have experienced anything from unknown charges on my cell phone bill to having my information sold to third party companies, potentially leaving me inundated with phone calls trying to sell me something. Thankfully I immediately closed out of the app I was using and when the message still appeared when I re-launched I simply powered down my phone. Upon restart of my phone and re-launch of the app my phone was back to normal.
While I do wish I could really just win a new Phone, it's important to always remember that your computer or iOS device will not tell you your a big winner, nor will it tell you that there is suddenly something wrong that requires you call a phone number right away. These are just different forms of ransomware designed to trick you into spending money in some form. Probably the most common is a message to indicate your device has some sort of a virus on it. In some cases just disabling pop-up ads will result in these going away, but not always. The design by nature of this kind of pop-up is that it gives the illusion that your device is locked up and completely unusable until you call a phone number. However, in the majority of cases simply force quitting the browser or application will cause the threat to go away and you have little worry that anything happened to your device provided you did not call the phone number or tap on the message to acknowledge that you saw it.
The proper way to handle these should you find yourself in the situation of seeing one of these message on your iOS device first try to force quit the app by simply double tapping on the home button and then swiping up to shut the app down. If the force quit does not work then you can go to settings and then Safari. From here you can easily clear your browser history and website data and that should take care of things. I did mention earlier in my article that I just shut my phone down. This is also an option but is not the preferred method as there is always a slight chance you could lose data.
Your best defense if you see a pop-up or even get an e-mail from someone you know that seems out of character, whether you're using an iOS device or a Mac, is do not click on any links that might be within the message. Nine times out of ten if you just force quit the application or delete the e-mail with the suspicious link or instructions you will be just fine and have nothing to worry about. Your best defense is to contact Apple directly or a trusted local repair shop and talk to them directly about helping to solve the problem you may or may not be happening.
Wizard Asks: If you find any of these, please let us know about it. Include a screen shot if you feel comfortable doing that.
Evil Emails
by Robert Elphick, MAGIC*
Another selection of emails that are up to no good. Never click on anything in an email that is even only slightly suspicious. Macs are only vulnerable to malware that you invite in by clicking on the links or zip files in these emails.
---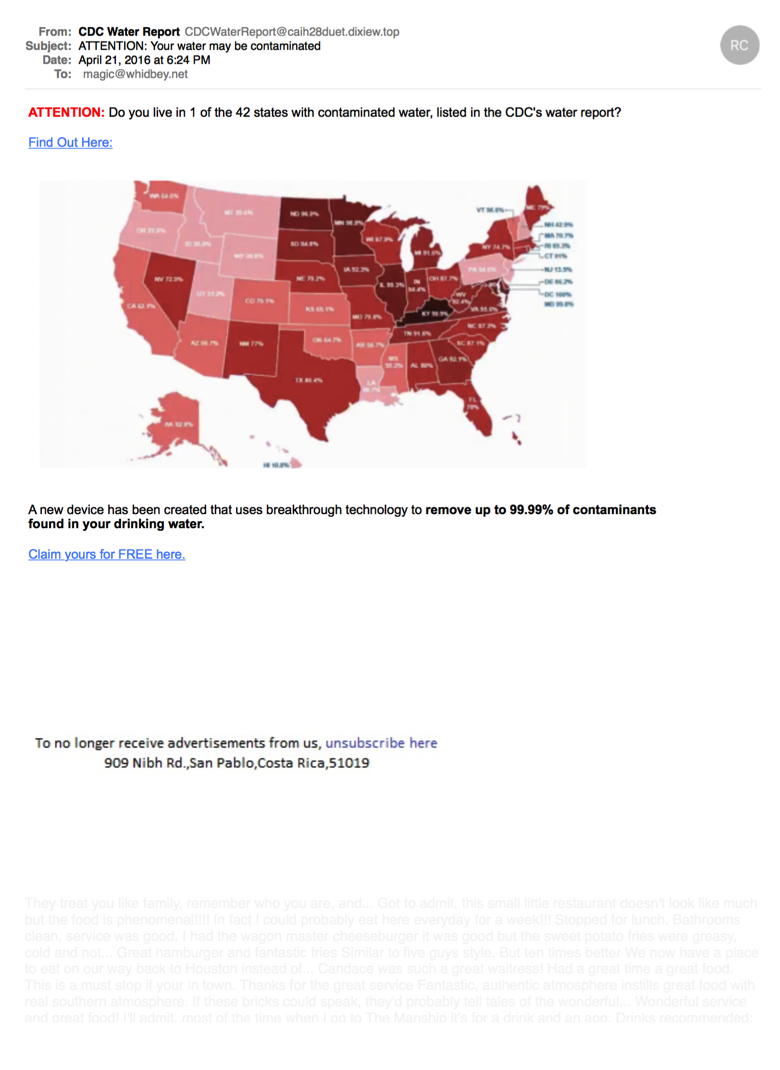 Notice the greyed out text at the bottom - designed to fool filters into thinking there is real content. DO NOT CLICK ON THE LINKS!
Notice the greyed out text at the bottom - designed to fool filters into thinking there is real content. DO NOT CLICK ON THE LINKS!
Evil internet traffic
Here is an example of an uninvited window from the internet. This one tries to get you to download MacKeeper. THIS SOFTWARE IS EVIL. There are a number of lawsuits concerning this software. It was produced on the 'wrong' side of the iron curtain. If you have it, delete it immediately.
---
Passwords and Procedures
by Ron Sharp, MAGIC*
Here's the understatement of the day, "passwords are annoying." But even more annoying would be to have your identity stolen, credit ruined and devices hacked. So you know where I'm headed. Security is obvious, strong passwords are essential.
I was trying to log into an account the other day and got the message that it couldn't connect. "Damn password." I was sure I was using the correct password, so I typed it again. Second and third attempt still didn't work. Then I realized the problem wasn't the password, but I had misspelled my user name- email address.
Another time I was helping someone else with an iCloud login and got the message "couldn't connect." "Damn password." This person wasn't sure if their password started with a capitol letter or not. Didn't work. We tried different passwords. Didn't work. Then I realized the wi-fi had dropped out. The password wasn't the problem, but the iPad kept loosing the wi-fi connection.
It helps to read the pop-up message, take note of the specific wording. Although I think those "can't connect" messages could be more informative than they are. They could have a wi-fi icon on the message when it's a connectivity issue.
As for keeping track of your passwords you really have no excuse. You know you have to, so plan a procedure for storing passwords and stick to it. It's not only the best thing to do, but you'll be glad you did when it saves you a login hassle or a hacked account.
On my recent visit to the App Store, (online) I counted about 40 password apps. These apps will keep track of your passwords for you. Or go ahead and write them down, or do both. And since passwords should be, and do, get changed, it might help to date your password. You don't need to create meaningful or memorable passwords if you have an app remember them for you.
I've written about this before, but creating a good password is essential. Don't use the same passwords over. You can also find apps to create passwords for you. If you're pleased with creating one for yourself that's easy to remember, then it's probably not a good password.
Most internet browsers will keep track of your passwords too. When you login to a website for the first time the browser will ask if you want to save the login information. I don't allow them to remember passwords for some accounts, like for financial accounts, but that's my choice. One thing to remember is that if you get adware and unwanted popups while using your browser, you may want to reset the browser and "delete all stored website data" (Safari Preferences). This may remove all your saved passwords, so I wouldn't use a browser as your only place to save passwords.
If you use Apple's Safari browser, you can find and manage stored passwords with Safari Preferences> Passwords.
Here's another annoyance of passwords. I'm sure you've experienced this. When an application asks for your password, it's sometimes difficult to know whether it wants your User Account password, (the one you log onto your computer with), or your Apple ID password, or your email password, or some other password. And if you're trying to connect to another Mac, which Mac is it asking for the password for? I don't have a great tip for this situation. You just have to be aware of what app you're using and what you're trying to do to figure it out.
It's interesting when I see a message come up that there is a problem, whether it's a connection issue or some app needs an update, or whatever, seconds after continuing I'm like, "Wait, what did that say?" "Which application was saying there was a problem? What do I have to do?"
Then you may also have to decide whether it was a legitimate message or some malware trying to get your information. Don't bother examining the message before clicking on it, that is if you want to invite disaster.
So passwords are annoying but necessary, that's a given. Set up a procedure to mange them now. One bit of information you may be happy to hear is that the password issues may be partially resolved in the near future by improved finger print login.
Here is a video from MacWorld: Why Your Password Policy Still Sucks.
---
Apple News at WWDC 2016
by Ron Sharp, MAGIC*
I watched the World Wide Developers Conference, WWDC, Apple Event, as I usually do, Monday June 13th. This is specifically for developers, but they introduce all the news of Apple software and hardware coming out in the fall. Apple live streams the event, but I was busy with other things so I only caught the last half of it. Fortunately, soon after the event, Apple made it available as a video to view anytime.
You're probably too busy to watch the whole video, so lucky for you I have encapsulated the event for you. Not there aren't other reviews of this event, but to have my unique condensed version is an option I'm sure you'll appreciate!
So the whole event theme was software improvements and OS updates. The Apple WatchOS, Apple tvOS, iOS and MacOS will all be updated this fall. And OS X is now called MacOS.
WatchOS has made huge speed improvements. There is also a view of favorite apps that can be quickly scrolled through, kind of like the "Dock" on Macs. It saves time from searching through all the apps you may have. There are new watch faces that you can just swipe across to change quickly and match your style for the day. And now you can also swipe up the watch face for control center, like on iPhone and iPad.
Apple Watch also has improved health apps. It has an app called "Breathe," and the activity monitor can be adjusted to be used with wheel chairs. You can also compare your activity monitor with others for a competitive nature to give you incentive. And developers will now be able create apps for the Watch.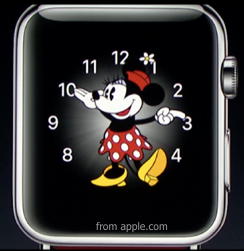 And Mickey has competition with the important addition of a "Minnie" Mouse watch face.
tvOS is open to developers for apps and has 1300 video channels. Apple TV uses a Siri enabled remote but will also have an iOS app to use your iPhone for TV control. So searching movies is much easier, thank you. Just ask Siri to find what you want. "Single Sign On" is a new feature that allows you to sign in once and will enable all the services that require login.
MacOS will be named Sierra for the fall update. Auto Unlock will enable your Mac to automatically log in for you when you go to use it, if you're wearing an Apple Watch. Optimized Storage will help you keep your Mac clean, deleting things you don't want or need and storing others in iCloud. You'll also be able to sync your Desktops, so everything on your Desktop will show up on all your Mac computers.
The Tab feature that Safari and Finder use will be made default for all windows. You will also be able to use Siri on your Mac now. Use it to search for files on your computer or even for web searches. A cool function called Universal Clipboard will enable you to copy something on one computer and paste it on another, or even onto your iOS device. Get on your iMac, select text or an image and copy, then go to your iPad and open a document like in the Notes app, and paste, and there's your copied text or image. Nice.
You will also be able to use Apple Pay online from your computer, rather than other pay services.
iOS 10 will have some great usability features. For instance, just picking up your phone will show your lock screen messages without having to swipe. Swiping from the right on the lock screen conveniently pulls up the camera. There are new features for the Messages app. You will be able to pull up calendar or contacts with Siri without having to leave the Messages app, and use different bubble effects and the Messages app is open to developers. Siri will also be open for developers. So expect much more productivity from Siri.
The Photos app for iOS will have new features and be able to search your library accurately. The new Memories feature will pull up a summary of photos from a large group of photos. That sounds like an interesting option.
Maps for iOS 10 will be all new, enhanced with dynamic features, and will also be open to developers. You will be able to call up ride sharing services and book a ride and pay for it without leaving the Maps app.
Apple Music and Apple News for iOS will be completely redesigned also, easier to navigate. With news, you can have it include magazine subscriptions.
Home Kit is improved and can be used with Siri also. Lock your doors, adjust your thermostat, dim your lights, all from your iPhone or Apple Watch.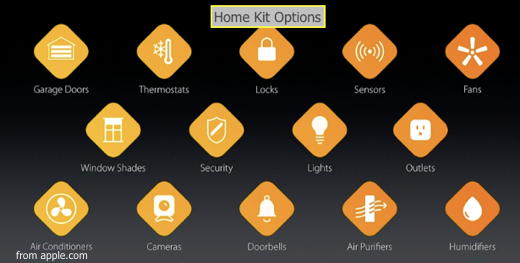 You can look for these updates in the fall. If you can't wait until then, you can get the Beta version in July. I suggest you wait unless you're open to testing software.
You can also check out MacWorlds slides of WWDC 2016 here.
---
Keeping track of your personal info
by Ron Sharp, MAGIC*
I use the iCloud Photo Sharing option with my Photos application to share photos with family members. I was curious how that worked if I just logged into iCloud to access photos rather than from the Photos app. Turns out you can only access the shared album from the Photos app and not through the iCloud login page. I don't use the iCloud Photos Library option but it might be possible to access the shared album if you also use the Library option.
But here is the interesting thing. While I was checking out the other iCloud pages, I clicked on the Contacts page and to my surprise, nearly all my contacts were there. I don't have the contacts options turned on for iCloud for any of my devices! How did they get there? The only thing I can think is that I have an iCloud email address and possibly when an iCloud email account is created it automatically collects all your contacts. I think the contacts options is a very convenient thing when you use an iPhone or iPad, or even more than one computer. But for various reasons I have chosen not to use it. So I selected all my contacts in iCloud and deleted them. Since I don't have that option turned on for any of my devices it didn't ask if I wanted to save them on my devices and it didn't affect the contacts on any device.
So it might be a good idea to check your iCloud account periodically. Also, check into your settings pages for others like Google and Facebook that they aren't collecting more personal information than you want.
---
MAGIC, the Macintosh Appreciation Group of Island County, serves people who use Macintosh computers, software and peripherals. Our goal is to share information and get answers to questions to make us more productive with our use of technology. Our monthly meetings give us a chance to discuss computer problems and share ideas with other Mac users, feature speakers on specific topics, and to keep apprised of Apple news.