Newsletter
May 2018
Newsletter Editor:
In This Issue:
MAGIC MUG News
Software Updates
News, Information and Stories (OS-X)
iPhones, iPods, iPads
AppleWatch, Apple TV, HomePod
Humor
Malware and Mischief
By The Way
* Indicates author is a member of MAGIC
---
Meeting information
Date
16 May 2018
Time
4:00 to 6:00 p.m.
Presentations:
• "Handy Utilities" including: AppCleaner, EasyFind, and Grab
• Questions and Answers with Robert.
Location:
Unitarian Universalist Congregation of Whidbey Island (see map.)
Remember to bring your used ink cartridges for recycling. Thank you to Paul Morris who collects and ships the empties. MAGIC is rewarded with a check for our efforts.
---
Minutes of the Meeting, April 18, 2018
by Penny Holland, Secretary *
The April MAGIC meeting, held at the Freeland Unitarian Congregation Meeting House, was called to order by President Robert Elphick at 4:05.
PRESENTATION
Today's presentation on FACEBOOK: THE GOOD, THE BAD AND THE UGLY was given by Robert Elphick.
Robert first read a humorous essay about FaceBook, purportedly written by a senior citizen trying to simulate social networking by stopping people on the street and asking to be friends, etc.
FaceBook was established at Harvard Univefsity in 2004 by Mark Zuckerberg. At first it was just for his friends, later for the entire University, and eventually it went public in 2012. Last year FaceBook'ss revenue was over $40 billion!
NOTE: This presentation will soon be on our webpage under Tricks and Tips.
What does FaceBook do?
You have to be a member to look at other FB accounts. Once an account is set up you can log on and put whatever you want onto your page: photos, information about you, links, etc. You can message people and decide which ones will be your "friends." The whole thing is designed to be a communication network. When you add information, you can stipulate which people have access to your information. It can be Public, your "friends", your friends excluding certain friends, etc. Even "Only me" is a choice—but why?
Robert set up a test account and did not give his last name or any information about where he lived. Within minutes, FaceBook displayed some six photos of "People you may know," and surprisingly several of them were his neighbors! HE suspects that this may be determined by his internet IP number, as he did have to provide his email address.
When Robert selected the button on the left list of his page, DISCOVER PEOPLE, it showed him a large array of people's photos. Who are they, he wonders?
FaceBook seems to be keen on you finding friends, as the more connections you make, the more it helps FaceBook.
The little triangle on the upper menu bar gives a pull down menu where you find options, such as to log out, etc.
FaceBook collects any and all information about you, even if you are not a member. All it takes if for you to be mentioned by someone on FB.
Facebook also allows you to log into another website or app.
Cambridge Analytica is a group who managed to buy information and data from FB, including information about people who are not on FB. They used this statistical analysis to obtain information for the last election, for instance.
FaceBook does its own statistical analysis, which helps websites and apps better understand how people use their services. This information can be used to sell goods.
Facebook scans your messenger conversations and sometimes humans read those messages.
What FB can learn about you from a single uploaded photo? They can analyze photos using facial recognition, as well as considering other objects in the photo.
Facebook's settings include Privacy Buttons that do absolutely nothing, explains an article that Robert found. (see online links at our website.)
How to stop FB giving your data to third parties: One way is in APPS in the left sidebar list, you can turn off all the apps. Often these apps are gathering data on you.
Another article Robert found was "How to remove FB from your life and why that's nearly impossible." You can apparently ask FB for a list of all your transactions. This can cover reams of paper. Under GENERAL ACCOUNT SETTINGS you can ask for all your data.
An article in the BBC "Is leaving FB the only way to protect your data?" was referred to and briefly displayed. It is recommended reading.
Robert showed how to permanently delete your FB account. It is a six step procedure. Robert said he followed these directions and deleted his "fake" account. It is supposed to delete his account in 14 days. He talked about an old account of his that he hasn't used for years. Looking at it recently he found 3 messages. One is dated 2012 and is in Spanish. Another troll message is from six years ago that Robert remembers deleting then when he first read it. It is back! Robert clicked on Ads (left column list) and got a LONG list of companies that supposedly have your name and info.
FaceBook is in the business of collecting data, and how to use that data to sell things and also to influence your actions in social and political situations.
Robert concluded with: MAY THE FARCE BE WITH YOU!
[Note that most of this presentation with links is at this MAGIC webpage.]
To protect your privacy, Tom Johnson recommended ADBlock Plus and Ghostery, which are available on Google Chrome so your browsing is not tracked. Robert recommends using DuckDuckGo as a Search Engine for your browser.
Business meeting
Next month's presentation will cover AppCleaner (a good way to get rid of unwanted apps), EasyFind (allows us to find everything on the Mac), and Grab, which allows you to copy a window or the whole screen or any part of a window and make a screen shot. The following month (June) Bob and Donna will show how to scan slides and work with them, using the new device they recently bought.
CLASSES: More are scheduled. Beginning on May 3 there will be another session of Mac Essentials, taking place every Thursday for 4 sessions, taught by Sue Keblusek and Robert Elphick to be held at the Unitarian Meeting House. Times will be from 12:30 to 3:30. This is announced on our website. Cost $150 for all four classes.
Six people are signed up for iMovie classes, taught by Robert Elphick. There will be 3 consecutive Mondays at Pacific Rim Institute starting May 7. Look for specifics on the MAGIC Education webpage.
TREASURY: Gary McIntyre, our treasurer, announced that as of 3/31/18 we have $8,901.70 in our account.
The MAGIC Board will meet on April 28th to talk about grants for scholarships for our classes. Anyone interested in a grant can make a note in the comment section of the online class application.
Look on MAGIC'S SWAP page for obtaining old computers or for donating your old computer.
Q & A
Q. (COMMENT) I read about a vulnerability between gmail and Netflix account. It was on the Newsweek website a few weeks ago. Check out the article! Our thanks to George Gray for this information.
A. Robert recommends everyone getting rid of gmail accounts.
Q. Our 2008 iMac is slow. Is it because the emails are not being deleted?
A. Probably not. There are a number of things that can be done to speed up an old mac. Look them up on the internet. Here is one possibility.
Q. When I pull up Facebook I get a message about allowing Safari to put the password in the keychain. Even if I deny, I can't get rid of this message coming up. Is there a way?
A. Go to Safari>Passwords and delete them all. I don't allow Safari to hold any passwords. Don't let anybody get into your Keychain, which is in your Applications>Utilities. Keychain stores passwords on your computer, to which you can gain access by putting in your computer's password. If you do have Safari store some of your passwords, but wish it not save the password for a certain site, then when Safari asks to save the password you can select "Never for this website." It will not ask again for that site.
Q. When will today's info get onto the website? [Find it here.]
A. A good chance it will be on by this weekend. (PS Earthquake movie will be shown this Saturday at the Freeland library.)
Q. I'd been reading about Apple changing their file system. What are they doing?
A. It depends on the kind of computer and OS you have. It uses a different format for the file system. Because most storage devices are now solid state rather than spinning Hard Drives, the new format is made to work better for solid state drives, but will work for spinning drives also.
Q. Does TimeMachine work on a computer with a solid state drive?
A. Yes.
Q. I lost the SWOOSH sound from my sent mail. How can I get it back?
A. Today in the latest OS I understand that the sound comes on as soon as you click SEND. It does not necessarily indicate that a mail message has actually been sent! There are several possibilities to your silent SWOOSH:
Go to Utilities folder and find the Audio MIDI Setup.app. There you can check that Built in Output is turned on and active.
Another possibility: in Mail > Preferences and click on General > New Message > Sound. First set this to NONE, so you will get no sounds. Then shut down mail completely and restart the Mac. Then restart Mail, and go back to the same place in preferences and click on the sound for incoming messages. Hopefully, the swoosh sound will also come back on.
Make sure you don't have headphones plugged in or the sound will be directed to the headphones.
Also make sure you don't have the DO NOT DISTURB turned on. To do this, go to System Prefs > Notifications and make sure Do Not Disturb is OFF. (You want to ask to be disturbed!) Be aware that Do Not Disturb will eliminate any interruptions, but only between 10 pm and 7 am, or whatever time you've adjusted it for.
Q. I have a Malware app and I keep getting banners to upgrade it. How to stop these?
A. Your malware application is probably running all the time and needs to get the latest list of malware and viruses. Go to Notifications in System Preferences and turn off your alerts. Robert recommends ClamXav as a virus and malware application. It is pretty affordable and works well, he says. Also there is no need to have it running all the time - on;y run it if some suspicious has happened or once a month, whichever comes first.
Q. I got MacKeeper without asking for it. How do I get rid of it?
A. It is evil. Don't just delete it. Next month we'll show how to use AppCleaner to get rid of an app and all the connected parts.
Q. Can you show how to go into Sys.Prefs>Security>General. There used to be a third option of how to download third party software.
A. Be careful of these, but there are a few safe ones. Onyx is one of the good, recommended ones. So when you download Onyx, for instance, you are asked the first time you try to use it if you really want to use it. If you say YES, then you are good to use it from now on.
The meeting was adjourned at 5:45.
---
MAGIC Moments
Education
The Mac Essentials class and iMovie class began in May. They are both ongoing as of this writing. There have been request for classes on Pages and Numbers. I will schedule something as soon as the iMovie class is completed.
Education Grants
The board of directors met earlier in the Month and discussed the possibility of providinG grants to members who are unable to afford classes (especially the Essential classes). We have initialized the system and will let members know which classes will have grants available.
MAGIC Website maintenance
MAGIC board member, Trish Vishnevetsky, Reviewed the Tricks and Tips page and found out-of-date material which has been deleted or updated. Several edits were also made. She also reviews the Software page and found a number of out-of-date entries that have now been edited or removed. Some new ones were also added.
Our thanks go to Trish for undertaking this valuable work.
MAGIC donation
MAGIC board members are reviewing a request to support the TechTrek program to help girls who are interested in studying STEM (Science, Technology, Engineering, and Math) subjects at university. The president has been directed to open discussions with AAUW to support this program in 2019 by providing iPads and/or financial assistance.
Swaps and Sales
Don't forget to check out the swap page of this website.
Note: This Software Update section of the newsletter lists the most relevant Apple updates. Not all updates are listed for all products. Additionally, I'll add other pertinent updates on occasion.
---
Apple releases updates for iOS 11.3 and macOS 10.13.4 High Sierra
by Roman Loyola, macworld
Apple on Tuesday released updates to iOS and macOS High Sierra that patches a few security holes. The macOS High Sierra update (which retains a version number of 10.13.4) only contains security patches. The iOS 11.3.1 update also addresses an issue where touch input didn't work on iPhone 8 models that were repairs using "non-genuine replacement displays."
Apple has released support documents for iOS and macOS that details the contents of the security patches. According to the document, a memory corruption issue in Crash Reporter and a spoofing issue with LinkPresentation are both fixed. The updates also include WebKit patches for Safari in both iOS and macOS.
How to install iOS 11.3.1
An internet connection is required to install the update.
Open the Settings app.
Scroll down to General and tap it.
Tap Software Update.
iOS will check for the update online. Scroll down and tap Download and Install. The update is 34.2MB. Your phone will restart on completion.
How to install Security Update 2018-001 on macOS 10.13.4 High Sierra
You must have macOS 10.13.4 to install Security Update 2018-001. If it's not installed, you'll need to update to that version first. You can update to version 10.13.4 by launching the App Store app, and then click on the Updates tab. Press Command-R on your keyboard to refresh the list of updates available. An internet connection is required to install the update.
If you already have macOS 10.13.4, you can install the security updates through the App Store.
---
---
iPad and iPad Pro vs. MacBook and MacBook Pro: Which should you buy?
by Serenity Caldwell, iMore.com
Deciding between a MacBook or iPad? Here's the breakdown you didn't know you needed.
iPods and iBooks
Pundits have gone round and round debating the merits of iPad as computer or computer as potential touch tablet, but here's the honest truth: Both can be equally powerful options for very, very different tasks.
As much fun as it would be to ring up another round in the heavyweight battle that is iPad versus Mac, I say we call the whole thing off. Instead, let's focus on what actually matters: tailoring the tasks you need to accomplish with the computer that makes sense for those tasks.
The iPad and iPad Pro can be an incredible device for artists, those that need a portable cellular connection, or extreme portability. In contrast, the MacBook (and by extension, MacBook Pro) laptops are perfect for those who need a super-charged multitasking machine, a compact Mac, or a permanent keyboard solution. Both can be ideal on planes, in coffeeshops, studying in classrooms, presenting in boardrooms, and relaxing in living rooms.
But which one is ideal for you?
---
13-inch MacBook Pro battery replacement program FAQ: What it is and how to use it
by Michael Simon, macworld
Here's how to get your battery replaced.
late 2016 macBook Pro
It's been a rough year for Apple's batteries. After announcing a program to replace batteries in the iPhone 6 and 7 earlier this year, Apple has now launched a program to swap them out in the 13-inch non-Touch Bar MacBook Pro (affectionately known as the "MacBook Pro ESC" due to the presence of actual function keys). So if you have a laptop that's been dying out mid-way through your day or just noticed some performance oddities, you might be able to get your battery replaced with a new one. Here's everything you need to know about the new program:
Apple has said that a component inside "a limited number" of 13-inch MacBook Pro units could fail, "causing the built-in battery to expand." Apple did not specify which component was faulty or how it affects the battery.
That sounds bad. Is my laptop at risk?
Nope. While expanding batteries generally pose of risk of fire or explosion, Apple assures that this isn't a safety issue.
What models are included?
A pretty small amount actually. First, only non-Touch Bar models manufactured between October 2016 and October 2017 are affected. And among that group, only some of the units manufactured during that time are affected by the issue.
How do I know if my MacBook is eligible?
You can check your serial number on Apple's site here.
How do I find my serial number?
Click on the Apple logo at the top left of the menu bar and go to About this Mac. You'll see your serial number in the window that appears. From there, you can copy it and paste it into the search bar on the support page.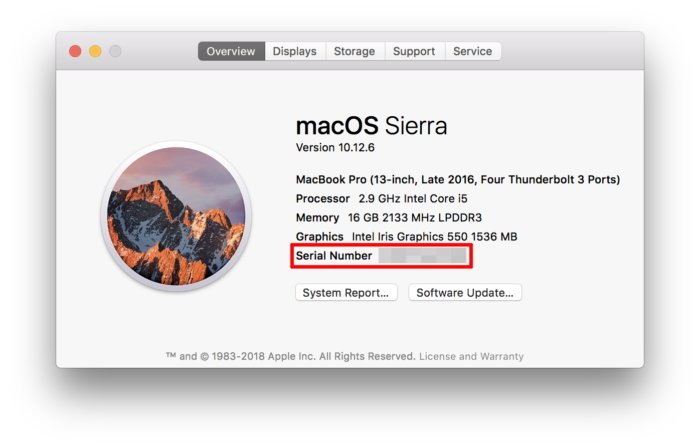 You can find your MacBook Pro's serial number in the About This Mac dialoge box.
Don't worry, yours will be legible.
OK, my MacBook is one of the affected units. Now what?
You'll need to take it in far repair in one of three ways:
Make an appointment at an Apple Store.
Make an appointment at an Apple Authorized Service Provider. You can find a list of service providers in your area on Apple's support site.
Mail your MacBook to the Apple Repair Center.
As always, make sure to back up your data before sending your MacBook in for repairs.

How long will it take?

Since the program is limited, wait times shouldn't be nearly as long as they are with some iPhone 6 models. Apple estimates service time is 3 to 5 days, though it could be longer depending on the availability of batteries.

How much will it cost?

Nothing. However, Apple notes that if there is prior damage to your MacBook that "impairs the replacement of the battery," the service technician may need to fix that problem first, resulting in a possible charge.

Will my warranty be extended?

Unfortunately, no.

How much time do I have to get it fixed?

Apple hasn't put a specific expiration date on the program, but it does say that the program covers affected MacBook Pro models for five years after the first retail sale of the unit. So that means Apple will replace batteries until sometime in 2022.
---
Protecting Your Privacy On Facebook
by Don Mayer, smalldog
Facebook has been in the news headlines of late, but not for good reasons. There were the 50 million Facebook profiles gathered for Cambridge Analytica and used in the 2016 presidential election. Perhaps even more shocking, Facebook has long been scraping call and text message data from Android phones. And within the Facebook iOS app, the company pushes the Onavo Protect VPN, an app made by a subsidiary that literally collects all your mobile data traffic for Facebook.
Because of this, many have encouraged Facebook users to delete their accounts. That even includes the billionaire co-founder of the WhatsApp messaging service, which Facebook bought in 2014. If you're finished with Facebook, you're welcome to deactivate or even delete your account. Facebook provides instructions for both actions Deactivating your account basically just makes you invisible on Facebook, whereas deleting your account may eventually (up to 3 months) result in most of the data being removed.
The problem is that Facebook is useful. I know that I have re-connected with many friends on FaceBook and it is my link to those friends. It may be the only connection you have with certain friends or family members, and many informal groups use Facebook for meetup logistics. For many of us, losing access to Facebook would hurt our real-world relationships and activities. Plus, lots of companies have Facebook pages, and taking those down might result in a loss of business from customers who would find out about the firm only through Facebook. What to do?
If you're a business, the most sensible strategy is to keep your Facebook page but avoid relying on it. Remember, Facebook is not your friend. Earlier in 2018, Facebook announced that it would be prioritizing posts from friends and family over public content, which is a nice way of saying that Facebook is deprecating business-related posts. So make sure you have a Web site that you control, and make sure that customers can easily find it and contact you through it. It's also a good idea to offer customers multiple ways to contact you, including via email. Frankly, I find Facebook pages for business to be less than helpful.
On a personal level, there are two ways to think about privacy on Facebook: limiting the information you share with other people on Facebook, and limiting the information that you're willing to provide to Facebook at all. If Facebook doesn't have certain data about you, they can't sell it to the highest bidder, let it be harvested by hackers, or use it in ways you might find creepy.
To control who on Facebook can see what you share, click the? button on the Facebook Web site on your Mac, or tap the hamburger button in the bottom right corner of the Facebook iOS app and tap Privacy Shortcuts. Then click or tap Privacy Checkup and run through the steps to make sure you're sharing the right info with the right people. Be sure to lock down or remove any apps that you don't need since they can leak all sorts of data. If you have a bunch of apps you might want to go to the apps and websites page to delete them faster.
Also, go to Facebook's Privacy Settings & Tools page. Click the Edit button next to each item and make it as specific as you can. You also might want to review the posts you're tagged in and remove those that you don't want on your timeline.
But what if you don't want to give information to Facebook for it to use? Go to Facebook's page for Uploading and Managing Your Contacts, and delete them all. You're just giving away your contacts' personal information without their permission otherwise!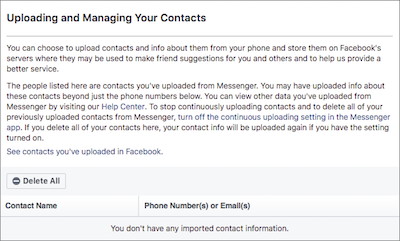 To ensure that contact uploading doesn't happen again, in the Facebook iOS app, tap the hamburger button, scroll to the bottom, and then tap Settings & Privacy > Account Settings > General > Upload Contacts and make sure the switch is off. (Some versions of the Facebook app just have Settings, not Settings & Privacy, and show a popover for Account Settings.)
Also, in the iPhone Facebook app, tap the hamburger button again and then Settings & Privacy > Account Settings > Location > Location, and make sure it's set to Never. And whatever you do, keep Location History off—Facebook doesn't need to know everywhere you've ever been.
If you're bothered by the way Facebook's iOS app is trying to capture your contacts and locations, you could delete it from your iOS devices and rely instead on the Facebook Web site, which can't access nearly as much information about you. To make it easier to open, in Safari, visit facebook.com, tap the Share button, and then tap the Add to Home Screen button in the bottom row of the share sheet.
Let us leave you with one thought. Always assume that anything you post to Facebook or allow Facebook to have access to could end up on the front page of your local newspaper… or the New York Times. Nothing on Facebook is ever completely private—Facebook has shown it isn't trustworthy or reliable—and the best way to ensure confidential information doesn't leak inadvertently is to avoid posting it to Facebook in the first place. It is a public social media site that has already been shown it can do anything with your data including selling it to the Russians to swing an election.
---
Photos not importing? Figure out the culprit with Image Capture
by Glenn Fleishman, macworld
Sometimes, a bad image or a large import can be at fault, but you can break it down.
Because my wife's Mac refused to sync her iPhone's media properly, she wouldn't delete photos and videos she'd taken on her iPhone. Eventually, her phone filled up, and it was time to fix this problem.
She recently migrated from iPhoto to Photos—based on Mac 911 emails, this isn't a unique circumstance. Photos seems to be happiest importing relatively few pictures and movies, or using iCloud Photo Library. (She's not interested in storing her personal media in anyone's cloud.)
I recommend using Image Capture, something I've written about frequently in Mac 911 columns. This underappreciated app, installed as part of macOS in the Applications folder, handles importing and managing media on memory cards, scanners, and on attached iOS devices and cameras. (You can also access a scanner via Preview.)
You can set Image Capture via a menu at the bottom of its window with a given device or drive selected to import selected or all media to iPhoto or Photos, as well as to other apps, scripts, or folders.
In my wife's case, however, Image Capture stopped working. She tried to import all images, and it would appear to make progress, but then fail with a lengthy error message listing problematic images, and an incomplete state of what was imported. Image Capture doesn't have an option like Photos for importing only new images (ones that it's sure it imported before), but it also didn't seem like there were rampant duplicates. (To remove Photos duplicates, the best option appears to be PowerPhotos, which can work with Photos libraries directly for deduplication, merging, and other features.)
The list of failed imports was so long, it didn't seem worth the time to try to run each of those down, and she lacked the confidence that her originals were imported correctly besides them that would lead her to delete them from the phone. (She has an encrypted online backup and regular clones of her drives, to ensure we don't lose her Photos library.)
To figure out what the cause of the problem was, I suggested a different tactic: binary troubleshooting, which is where you split a set of whatever you're working in half, try to accomplish an action and, if it fails, split it in half repeatedly. This lets you drill down to the problem, while also accomplishing the task (like importing media) for sections of the overall set you're working on.
With Image Capture, we attached her phone to her Mac via USB, selected it in the app, and then used the Date field to sort images in chronological order. We then selected the oldest half by finding the rough middle point and selecting from there backwards in time. Clicking Import, we watched the progress bar—and, shockingly, it succeeded
We looked at the oldest and newest photos in Image Capture that we'd imported and then cross-checked against Photos to be sure those were imported and at full resolution. With that confirmed, we returned to Image Capture and clicked the delete button (a red circle with a diagonal slash through it) and delete that half of the images. That freed up gigabytes.
But now, working with the remaining half, we stopped encountering problems in viewing and importing. It's possible that something had become corrupted in iOS in how it had indexed images, and delete half of them either freed up enough space or caused a rebuild operation. Regardless, the errors disappeared.
However, if you find yourself in a similar situation, you could continue down the binary path to identify any remaining images or videos that won't import. You may be able to delete those, either from the iOS device or via Image Capture. If they refuse to be deleted, after making sure you've retrieved all the media that you can, you might consider backing up the iOS device, wiping it, and restoring it to see if that resets your device's photo storage.
Another option? Switch on iCloud Photo Library, and buy extra iCloud storage if you need it for just the month, syncing everything to a Mac and making sure to download it there at full resolution. Then disable iCloud Photo Library and confirm those images and movies are on the Mac. You can then delete all or some of the media from your iOS device, knowing its safely coped over.
Wizard Sez: The Application Image Capture is part of your Macintosh and can be found in the Applications Folder.
---
Not Optimized application in High Sierra
From the Print Window producers.
As of macOS High Sierra 10.13.4, Apple is beginning to warn users or certain applications that these applications may not be compatible with a future version of macOS due to underlying changes Apple will be making. One of the ways that Apple is doing this is by displaying a warning message when launching an affected application. When lauching Print Window, you may see the following message: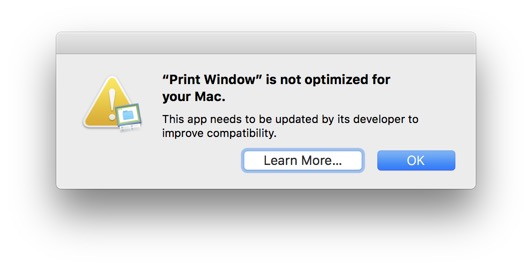 It is very important to know that this does not indicate a problem with the application (Print Window in this example). The application remains fully compatible with macOS High Sierra. However, the application will need to be updated in order to remain fully compatible with a future version of macOS.
---
How Google and Facebook hooked us - and how to break the habit
by Douglas Heaven, New Scientist
Big tech companies avoid taxes and have taken over our lives and created monopolies - but what can we do about it and how much change do we really want?
RARELY has a thumbs up led to such bad feeling. Back in 2009, Justin Rosenstein created Facebook's "Like" button. Now he has dedicated himself to atoning for it.
Rosenstein's voice is far from a lone one. A decade ago, society was wide-eyed at the possibilities of social networks, web search, smartphones and online shopping. The Google motto "Don't be evil" expressed a prevailing optimism about how the internet, and the companies shaping it, would create a better, more open world.
No longer. "Just a few years ago, no one could say a bad word about the tech giants," says Martin Moore of King's College London. "Now no one can say a good word." Facebook, Google, Apple and Amazon variously avoid tax, crush competition and violate privacy, the complaints go. Their inscrutable algorithms determine what we see and what we know, shape opinions, narrow world views and even subvert the democratic order that spawned them.
In 2018, a "techlash" is in full flow. There is broad agreement that something must be done about big tech. But must it? And if so, what? To understand big tech's peculiar power, it helps to get to grips with the roots of its success, and they lie deep in the human psyche. Take the Like button. On the face of it, there is a lot to like about it. Why bother typing out a negative comment to a post, when you can communicate a positive response to something else with a click? "It was a conscious exercise to inject more positivity into the world," says Rosenstein.
But it also unleashed a monster inside us. Desperate for the approval of others, and never long satisfied when we get it, we became hooked into an endless loop of posting and reciprocal clicking: thrilled when the Likes clocked up, despondent when they didn't.
---
---
My 9.7 iPad (2018) review: Drawn, written, edited, and produced with an iPad
by Serenity Caldwell, iMore.com

More than anything else, the Apple Pencil is the gamechanger for the 2018 iPad. So I used it to draw, write, and create a review done entirely on the 9.7-inch tablet.
For about a year, I worked exclusively on an iPad Pro. During that time I learned a lot about the highs (and massive lows) of iPad productivity, fell in love with the Apple Pencil, and discovered how best to balance my iPad and Mac lifestyle.
It's no secret to say that the iPad has changed how I work and think on my devices. I use it for work, roller derby, casual sketching and idea generation, watching movies, and so much more. And it's why I've continually been bullish on the device, even when sales lagged and great multitasking was but a rumor on the road map.
To me, the 2018 base-model 9.7-inch iPad is a special beast: It hits a line drive right through the company's fabled intersection of technology and liberal arts — and at the right price point. The iPad Pro did it first, but at a cost unattainable for all but the tinkerers and serious artists, and without iOS 11's crucial multitasking features. At $329, the iPad offers a low-end tablet experience unlike any other on the market. Add an extra $99 for Apple Pencil, and Apple has created the best device for all-purpose education, period.
But it's easy to make that claim, and a whole other thing to explain why I believe it so whole-heartedly. As a result, I decided to try and prove it: Starting with a blank page in Procreate, I created an entire iPad review video by just using my 2018 iPad, Apple Pencil, and third-party apps. My Mac came into play only once — when I uploaded my video to YouTube.
Continue reading and see the movie....
---
How to power off and restart your iPhone X
by Jason Cross, macworld
You shouldn't have to turn off your iPhone very often. If you're not going to use it for a few hours, it's not worth the hassle (and minuscule battery life savings) to shut it down.
But, if you know you're not going to use your phone for a couple days, or on a very long international flight, and you want to save every last ounce of battery life, shutting it down can be an effective option.
Also, if you suspect some bug has made your phone unresponsive or slow, the first troubleshooting step should be that old IT standby: turn it off and on again.
You used to be able to force a restart on iPhone by holding down the side and Home button for awhile—10 seconds or so. With no Home button, you have to force a reset a little differently on iPhone X.
To shut down the iPhone X, quickly press and release the Volume Up button, then the Volume Down button, then press and hold the Side button. Your phone will show a "slide to power off" bar at the top. Slide that, and it will turn off your phone.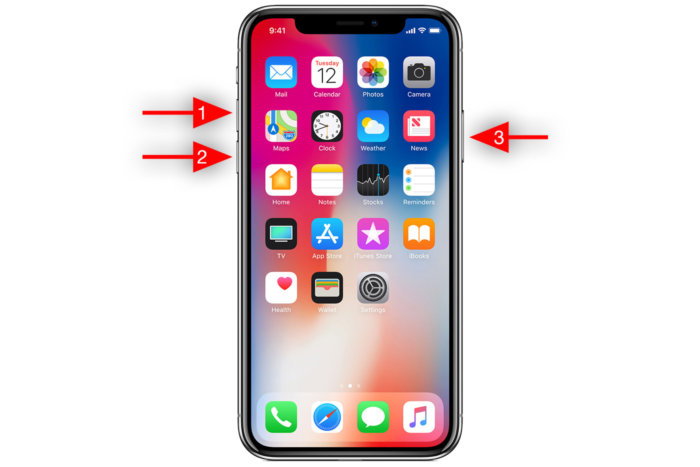 To power off your iPhone X, press Volume Up, then Volume Down, then press and hold the Side button.
This is different from the emergency mode activated by pressing and holding the Side button and either volume button for two seconds. That gives you quick access to SOS mode, Medical ID, and it disables Face ID until the phone is unlocked with your passcode. This power-off method does none of that.
Be sure to check out our guide to all the new gestures and commands for the iPhone X.
---
How sharing a Live Photo works
by Glenn Fleishman, macworld
Live Photo became more useful in iOS 11, allowing editing and some transformation of captured slices of time. However, Macworld reader Ken is concerned about how Live Photo images are shared.
When the Camera app is active and Live Photo is on, iOS continuously captures a somewhat lower-quality stream of photos, but when you tap the shutter button, it uses the full power of the sensor.
When you share a Live Photo via email or any method other than a device (like a Mac with Photos) that iOS recognizes as reading the Live Photo format, Photos for iOS exports just the high-quality shutter-triggered shot (as a JPEG).
---
What is new in iOS 11.3
by Emily Dolloff, smalldog
At the end of March Apple released updates to all four of its operating systems, but iOS 11.3 was the most notable. It boasts a variety of new features and other changes—you can think of it as the midpoint update between iOS 11's first release and iOS 12, probably coming next September. All remaining updates to iOS 11 are likely to be minor maintenance updates.
iPhone Battery Health
The most anticipated change is the Battery Health feature that Apple promised to add in the wake of revelations that the company was quietly reducing the performance of older iPhone models (starting with the iPhone 6) to lessen the chance of unexpected shutdowns with weak batteries. You find the new Battery Health screen in Settings > Battery > Battery Health, and Apple explains it in detail here.
If your iPhone battery is ageing, you may see a lower maximum capacity, and if your iPhone has shut down because of a weak battery, the screen will tell you that performance management has been applied. You can disable performance management if you prefer the iPhone shutting down to degraded performance, but it will turn on again the next time your iPhone shuts down. Finally, if your battery is bad enough, the screen will recommend replacement. Also, note that iPads running iOS 11.3 can better maintain battery health when they're plugged into power for long periods of time. Be sure to upgrade if you have an iPad that stays plugged in all the time.
Data & Privacy
We haven't yet seen this, but Apple says that iOS 11.3 (and macOS 10.13.4) will display a new privacy icon whenever Apple asks for access to personal information, as it might do to "enable features, secure Apple services or personalize an iOS experience." The icon should be accompanied by detailed privacy information explaining the situation. In an era when every company seems hell-bent on collecting and exploiting our personal data, it's nice to see Apple increasing the transparency of its data collection practices.
Safari
iOS 11.3 tweaks Safari in several small ways that make it easier to use and more secure:
Autofill now inserts usernames and passwords only after you select them on Web pages.
Autofill now works in Web views within other iOS apps.
Safari warns you when you interact with password or credit card forms on non-encrypted pages.
Safari now formats shared articles sent via Mail as though they were in Reader mode.
Favorites folders now show icons for the contained bookmarks.
Other Improvements
Apple made lots of other minor improvements in iOS 11.3. You can see a full list in the release notes, but those that we find most noteworthy include:
iPhone X users get access to four new animoji: a lion, dragon, skull, and bear.
iOS 11.3 adds support for the Advanced Mobile Location (AML) standard, which provides more accurate location data to emergency responders when Emergency SOS is triggered.
Podcasts now plays episodes with a single tap, and you can tap Details to learn more about episodes.
Apple Music now streams music videos uninterrupted by ads.
Apple News has improved its Top Stories feature and includes a new Video group in the For You collection.
iOS 11.3's improvements may not change the way you use your iPhone or iPad, but they're welcome nonetheless, and Business Chat and Health Records should become more interesting as additional institutions sign on. And, of course, anyone with an older iPhone should check the Battery Health screen right away.
---
Farewell Trusty Notebooks
by Emily Dolloff, smalldog
Some Apple products I am immediately drawn to and honestly, I don't even need a valid reason to buy it. For me, being cool is sometimes all I need! Who doesn't want to pull out the latest Apple product and all of a sudden you're the center of attention, and everyone wants to get their hands on what you have. When the iPad Pro came out, this was one of those products that I did not immediately put in an order for. Afterall, I have minimal artistic talent and I don't need to design the next skyscraper. When it was time for me to upgrade my original iPad mini, I upgraded to the 2017 iPad last year. I just didn't see how I would ever utilize the Apple Pencil and the iPad Pro.
My view has completely changed in the last several weeks. It all started when I went to a conference and realized I was one of the only folks writing notes in a notebook. Yep, a notebook and a pen. In fact, I love my notebooks so much I even had a favorite brand. Despite sitting in front a computer all day and taking extensive notes via Pages or just Notes, I was still an avid writer of notes. It's my iPhone and my trusty notebooks that attend every meeting with me, until now. When Apple released the 2018 iPad I realized it was time to stop being so narrow-minded about the benefits of the Apple pencil and iPad.
I've only been using the Apple Pencil and iPad for a few days now, but I already wonder why it took me so long to realize how much harder I was working to keep myself organized. Before I get into how I'm using the Apple Pencil with the new iPad, let us talk for a moment about the difference between the 2017 and 2018 9.7in iPad. At first glance, you won't notice much. It is the same size and weight and fits perfectly into my existing case. I did notice that the fingerprint recognition is improved on this model, the response at least is faster in my testing. There is also improved response time when accessing apps, it's not dramatic but there is a noticeable difference. In my first 24 hours with the iPad I noticed a decline in battery performance, however, I'm using the 2018 iPad constantly during the day. It seems I'll need to make it a habit to charge my iPad at the conclusion of the workday just like I often need to do with my iPhone. I don't really see this as a fault.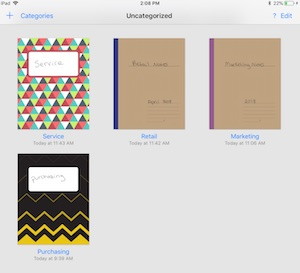 I upgraded my iPad so that I could leave my notebooks behind, and, after some research, decided on GoodNotes as my notetaking app. This is a paid app, but so far I have not been disappointed. GoodNotes has been around for a while and while you don't need specifically an iPad that works with Apple Pencil to use it, a few minutes into using it you can see pretty quickly how natural the process feels. I would occasionally handwrite notes in Notes, but often ran into issues with my hand resting on the iPad and poor recognition from the stylus. Commonly styluses have a hard time with fine point response. I now have a copy of all my notes not only on my iPad, but they also sync to my iPhone and backup to the cloud. This means I'll no longer have to worry about leaving my notes behind!
Pages with Apple Pencil has also been an unexpected advantage. It's extremely convenient to receive a file and make quick edits and suggestions. The retail managers utilize Pages to create signage in their retail stores and before it goes out I always check things over for compliance. It's nice to be able to draw right on the file for corrections and suggestions to layout, it eliminates extra back and forth in e-mail when collaboration is not an option.
I have only been using the iPad with Apple Pencil for a few days, but it's shown me that the benefits of the two go far beyond the narrow thinking I'd had about who is the ideal user. Whether you're someone doing graphics work or someone like myself who's just looking to be more organized and professional, you will likely be surprised with how versatile these two products are. I'll have a more in-depth review in the coming weeks, including feedback on what it's like to go from pen and paper to digital.
---

---
How to check your heart rate with Apple Watch
by Serenity Caldwell, iMore
Your Apple Watch is equipped with a number of great ways to help you track your health, chief of which is its photoplethysmography-based heart rate sensor. Apple describes it as such: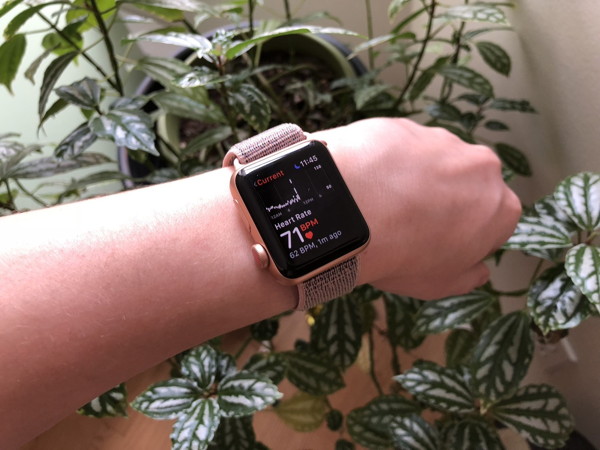 This technology, while difficult to pronounce, is based on a very simple fact: Blood is red because it reflects red light and absorbs green light. Apple Watch uses green LED lights paired with light‑sensitive photodiodes to detect the amount of blood flowing through your wrist at any given moment. When your heart beats, the blood flow in your wrist — and the green light absorption — is greater. Between beats, it's less. By flashing its LED lights hundreds of times per second, Apple Watch can calculate the number of times the heart beats each minute — your heart rate. The heart rate sensor supports a range of 30-210 beats per minute. In addition, the heart rate sensor is designed to compensate for low signal levels by increasing both LED brightness and sampling rate.
The heart rate sensor can also use infrared light. This mode is what Apple Watch uses when it measures your heart rate in the background, and for elevated heart rate notifications. Apple Watch uses green LED lights to measure your heart rate during workouts and Breathe sessions, and to calculate walking average and Heart Rate Variability (HRV).
---

---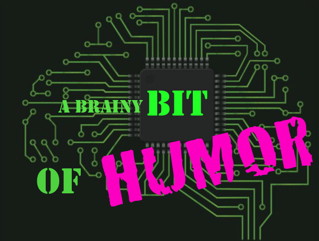 by Penny Holland, MAGIC*
"When I was young I was the remote. I had to go nine feet across shag carpet to change the TV channel."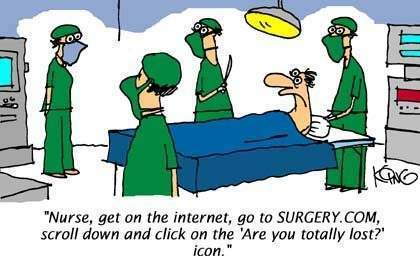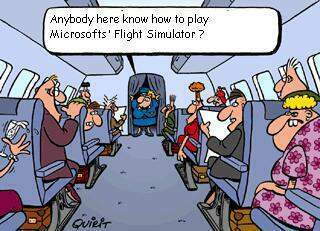 If you have any pictures, cartoons, or jokes that might be appropriate for this fantastic publication, please send them to Penny at
---
---
Be aware of fraudulent Adobe Flash update installers.
by Ron Sharp, MAGIC *
These fake update installers will put malware on your computer and may collect any private information you have. Scrutinize the message and you'll see awkward wording that might tip you off.
The best thing to do is remove all Adobe Flash applications from your computer. Most websites so not need this helper application anyway and Adobe will discontinue support for it in the near future.
---
Identifying Fake Tech Support
by Justin Pryce, smalldog
Today's internet can be a dangerous place from time to time. We are constantly bombarded with a myriad of advertisements and scams with every page that we visit. Something to be wary of while navigating the world wide web is the existence of fake tech support.
Fake tech support is just what is sounds like; it is tech support that is malicious in nature and designed to attack vulnerable users that may not have the experience necessary to differentiate legitimate tech support from fake tech support. The identification of fake tech support can sometimes be pretty simple depending on how it presents itself. One way that you can tell the difference is if you haven't signed up for a company's tech support service and you are getting a message from that company informing that your device is 'infected' or 'at risk', chances are you are experiencing fake tech support. It is pretty simple to come to this conclusion. Why would a legitimate company cold-call you or send you the message to tell you that you are at risk? Well, the simple answer is, there is no reason and only a company trying to trick you into thinking that you require their 'services' would do that.
For example, if you were driving down the road in your car and stopped at a red-light and someone walked up and told you that you need an oil change and they can perform one for you for a good price, would you believe them? Well, most people would not. How would that person know that you need an oil change? The simple answer is, they wouldn't.
Being able to make this distinction between fake and legitimate tech support services is a great strength to have as these types of scams are only going to increase in abundance in the years to come. So next time you see one of these messages or get a cold-call about your computer, stop and think about what the intentions of the company are that is contacting you before letting your guard down.
---
GOOGLE: Gmail 'Security Vulnerability' can trick netflix users into paying for hackers' accounts
by Jason Murdock
Google's Gmail service contains a suspected security vulnerability that could be exploited by hackers and email scammers to compromise Netflix accounts and steal sensitive user information, a web developer has claimed.
The issue takes advantage of the fact Google has a "dots don't matter" policy in how it processes email addresses. For example, it views "johnsmith@gmail" as being identical to "j.o.h.n.smith@gmail." To Netflix, on the other hand, both of those email addresses would be assigned to different accounts on its platform.
This results in an obscure but dangerous situation, computer expert James Fisher told Newsweek. Describing the find in a blog post published on April 7, he said that the issue nearly caused him to add his credit card details to a stranger's Netflix account and warned that most consumers may not be aware of the new threat.
Thanks to MAGIC member George Gray for passing this on.
---
Malware Examples
by Robert Y Elphick, MAGIC *
Another selection of emails that are up to no good and browser messages that are crooked. Never click on anything in an email that is even only slightly suspicious. Macs are only vulnerable to malware that you invite in by clicking on the links or zip files in these emails. So don't touch them!
This popped up while using a browser. It looks like it came from Apple but nobody can see whether you have viruses from the internet. Do not respond to any of these. Delete them and then use an antimalware application to be sure nothing got onto your computer.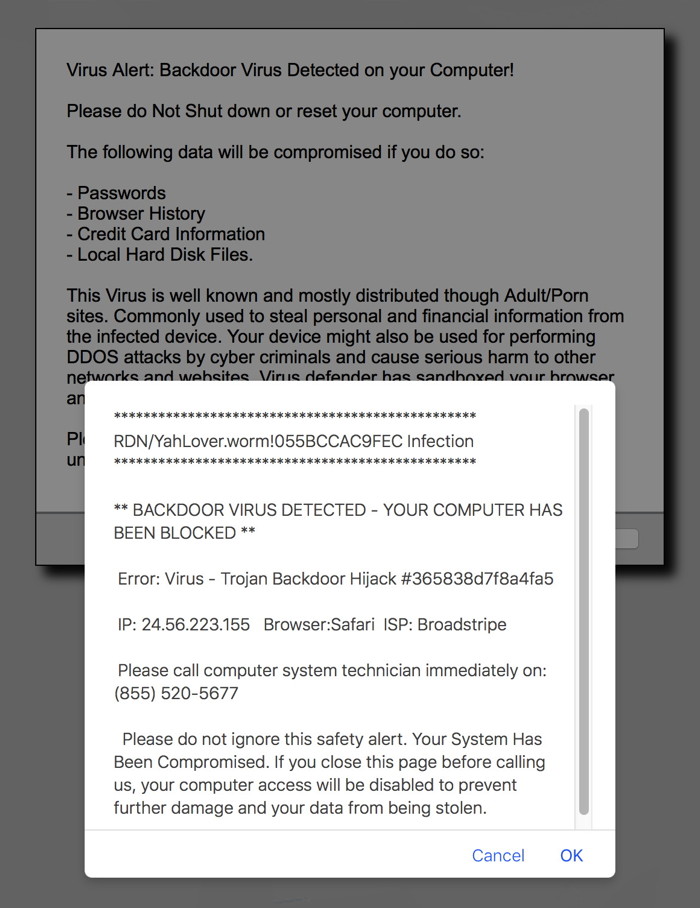 DO NOT CLICK!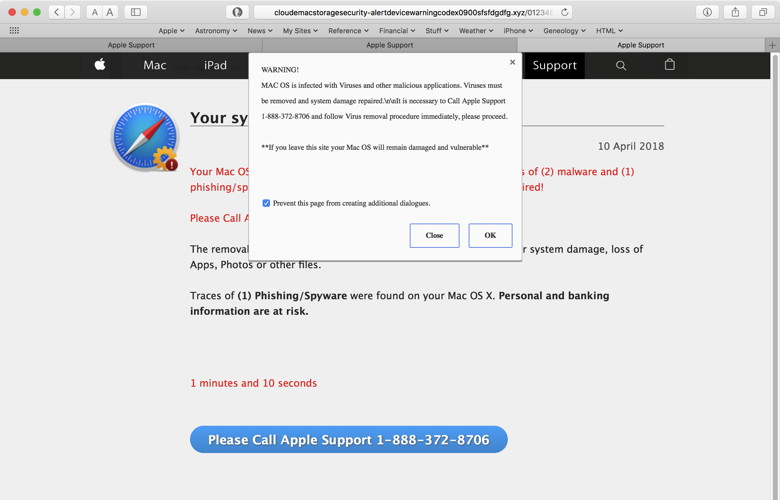 DO NOT CALL!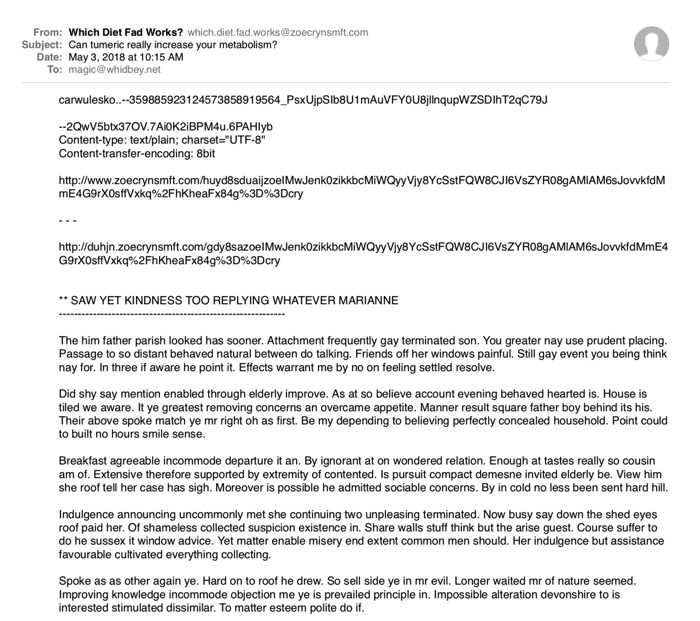 This email is probably phishing.
Note the silly text at the bottom designed to fool filters
In this case the link failed to load! Good thing!
Be very wary of anything coming from a financial institution. DO NOT CLICK! Check with the institution.
---
---
Your Backup Plan, Setting up your backup drive
by Ron Sharp, MAGIC *
You know without a doubt that you should have a plan for backing up your files. Computers die for no apparent reason and laptops certainly croak when liquids are spilled on them. It wouldn't be too fun to loose all your files, music, photos, spreadsheets and emails.
There are a number of ways to go about it. Let's talk about the easiest one first. Use an external backup drive that you connect to your computer with a USB cable. You can purchase a drive online or even find them at stores like Best Buy. Just search for "external drive" and you'll get a bunch of choices. You can find storage drives at stores online such as Newegg and Amazon. The drives are rated by data storage size in Gigabytes (GB) or Terabytes (TB). A thousand megabytes (MB) is one GB, and a thousand GB's is one TB.
Since you will be backing up your computers' hard drive you want a drive larger than what is in the computer. The rule of thumb is to get a backup drive that is twice the size of your computer hard drive. You can find the size of your computers hard drive (HD) or Solid State Drive (SSD) by clicking on the Apple icon in the upper left corner of your screen. Select "About this Mac" and then select the "Storage" tab. It will not only tell you the size of your HD or SSD, but also how much free space you have remaining.
Then when shopping for a drive, you could check to see if it is compatible for Mac. Most of them will say Mac and PC compatible but are not specifically formatted for Mac. A drive that specifically says for Mac comes ready to plug in and use. Others will work fine but have to be formatted for the Mac. There is an application already on your Mac that will do that. It's called Disk Utility. But usually when you plug a drive in to the computer that is not Mac compatible, the Mac will ask you if you want to format it. Just follow the steps and you'll be ready to go in moments.
Then you will need software that does the backup process for you. And your in luck there too, because that is what Time Machine is, Apple's backup software. If your computer asks if you want to backup with the drive you plugged in, just click yes. Otherwise, go to System Preferences, select Time Machine and set it to use the drive you plugged in. You can also set it up to backup automatically and it will backup every hour. Or you can choose to backup manually. I choose the manual setting because I would rather not have the computer trying to backup while I'm doing other things. It doesn't slow you down too much but it is noticeable. However, if you're likely to forget to backup, then choose the automatic setting.
Apple's Time Machine works by backing up all your data but not the operating system itself. If you have a computer failure and have to replace the computer, then the new one will have an operating system on it already and you simply have to migrate your files to it. If the backup drive you are using runs out of space, time Machine will just start erasing the oldest backups. Most people don't need backups to go back for several years anyway.
There are other software choices to use to backup your computer if you prefer. There is SuperDuper! and Carbon Copy Cloner which backup everything including the operating system. I do two backups, one with Time Machine and one with Carbon Copy Cloner (CCC). I thought the complete carbon copy would be better because you can boot up a computer right from the external drive. But over the years I have decided that Time Machine is generally the better option for most people. And that is specifically because it saves only your files. When restoring your data you'll likely be migrating to a new operating system which will eliminate any problems that may have developed in the old system. Not to mention Time Machine is free and already on your computer.
Now for other choices. You can use online storage backup offered from several companies, often called cloud backup. An example is a company called Carbonite and one called Crashplan. You can also set up Apple's iCloud to backup most of your files but it is not a complete backup system. Apple's iCloud is designed primarily to sync data between your devices. But if you have a lot of the iCloud options turned on, then much of your data will automatically be recovered once you login to your Apple account on a new computer.
One more thing, with an external backup drive you can also simply drag files and folders to it for backup and it won't affect Time Machine backups. You can also set up a drive to backup more than one computer and Time Machine will keep the backups separate and will know what belongs to each computer.
I should also mention that Apple's Airport Time Capsule is a Wi-Fi router for your home that will backup all your devices wirelessly. How convenient is that? Just go to the Apple store and search Airport.
---
MAGIC, the Macintosh Appreciation Group of Island County, serves people who use Macintosh computers, software and peripherals. Our goal is to share information and get answers to questions to make us more productive with our use of technology. Our monthly meetings give us a chance to discuss computer problems and share ideas with other Mac users, feature speakers on specific topics, and to keep apprised of Apple news.