TRICKS AND TIPS
This page is building up a set of "Tricks and Tips" especially from our meetings, presentations and newsletters. Suggestions for this page should be directed to the Webmaster (see the officers section of the About page).
Do not forget that you can search this (or any other) webpage by selecting [COMMAND]-F on the keyboard and this using the search box in the top right corner of the window (see red box below).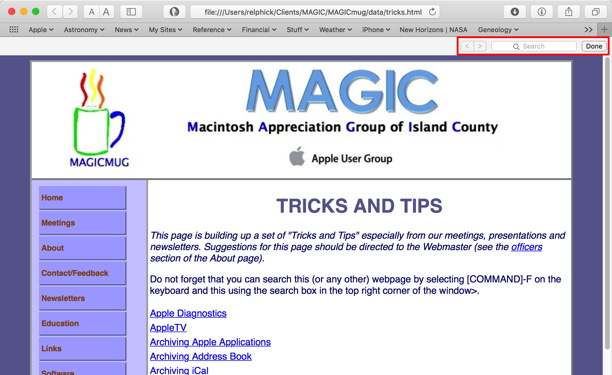 Apple Diagnostics
AppleTV
Apps for Fun - 3Mb keynote presentation
Archiving Apple Applications
Archiving Address Book
Archiving iCal
Archiving Mail
Audacity
Audio Workshop
Automator Application
Backing up
Beach Ball, Rotating
Bitmap vs Vector graphics
Blind, iPhones as an aid for the
Capturing screens and windows into graphic files (OS-9 and OS-X)
Changing the times that the periodic mainenance files run
Colors, Lost
Compress PDF files with ColorSync and Preview
Dashboard and Widgets
Digital Photography - Advice and Recommendations
Diagnostics of a Macintosh
Disconnecting iCloud
Drivers
Emergency preparation
Ergonomics
Extensions for filenames
FaceBook
Fonts
FTP with Tiger
Fun Apps - 3Mb keynote presentation
G5 iMac memory
Genealogy
Graphic Printing
Google tricks
Google Mac-Only Sites
HTML programing
iChat Audio Video
Internet Search
iMovie plug-ins
iCloud - removing data from
iPhones and Cellular Plans 12 October 2018 a 6.4 Mbyte keynote file
iPhones as an aid for the Blind
Is Your Mac Secure?
Keyboard Shortcuts
Keynote Presentations
LPs to CDs
Lost Colors
Maintenance of Operating System
Mac Diagnostics
Mac Security
Making Safari pretend to be an other browser
Making Movies on Macs
Markup Toolbar in Preview
Movement & Ergonomics
Movie Making on Macs
Operating System Maintenance
Partitioning a Hard Drive
Passwords
Photography Digital - Advice and Recommendations
Photoshop
Practical Ergonomics
Preparation for an Emergency
Presentations with Keynote
Preview
Printing Graphics
Processes in OS-X, What are they?
Producing web pages with HTML
Quickly Erase CD-RW
Raster vs. Vector graphics
Removing data from iCloud
Reunion Ten
Revive a dead Mac
Rotating Beach Ball
Safari pretend to be an other browser
Save As... in Mountain Lion OS-X 10.8
Scrolling Long Menus
Search Engines for the Internet
Security
Services
Shortcuts by Keyboard
Snow Leopard
Software Installers
Switching between OS-9 and OS-X
System Maintenance
Sue's Essential class notes
TextEdit Lesson 1
Vector vs Rastor graphics
Web page production with HTML
What can you delete?
What is a Driver
Widgets, Dashboard and Yahoo!