Newsletter
March 2019
Newsletter Editor:
In This Issue:
MAGIC MUG News
Software Updates
News, Information and Stories (Mac OS)
iPhones, iPods, iPads
Apple Watch, Apple TV, HomePod
Humor
Malware and Mischief
By The Way
* Indicates author is a member of MAGIC
---
Meeting information
Date
20 March 2019
Time
4:00 to 6:00 p.m.
Presentations:
• Full Moon
• "Movie making on Macs" with Chris Douthitt
• Q&A with Chris and Robert

Location:
Unitarian Universalist Congregation of Whidbey Island (see map.)
Remember to bring your used ink cartridges for recycling. Thank you to Paul Morris who collects and ships the empties. MAGIC is rewarded with a check for our efforts.
---
Minutes of the Meeting February, 2019
by Penny Holland, Secretary *
The February meeting of MAGIC was held at the Freeland Unitarian Congregation Meeting House from 4 to 6 PM. There were about 31 people in attendance. President Robert Elphick , called the meeting to order at 4:00.
PRESENTATION #1
By Robert Elphick, 'What do you know about ICE?' ICE = In Case of Emergency
This is information you can put into your iPhone so that emergency helpers can gain access to your medical information and contact information. By default this should show up when somebody turns on your phone. You can also print up an emergency card that you can carry in your wallet.
There are two ways to go about this. There is an App that you can download, but there is also an emergency app that by default comes with your iPhone
THE FIRST METHOD: ICE Standard is a free APP you can get from the AppStore. Go to the store and search for ICE. Scroll down through the ice games, etc. and find Ice Standard at the bottom.
There are 4 tabs or icons: ICE, Auto, Wallpaper and About. In ICE you can EDIT.
The WALLPAPER icon gives you the option to create the emergency card and can show a first image when the Emergency helpers open your phone. The option called GENERATE IMAGE is how you can create your ID card and wallpaper. Then go to the SETTINGS ICON of your phone and choose the ICE wallpaper which will show up for ETs, the second wallpaper is the one you can use for anything else. The camera roll is where you can find your ICE image. Use the SET function to set this as the Lock screen.
THE SECOND METHOD: There is an icon that comes with the iPhone called HEALTH which works similarly to the ICE app. Its icon has a white background with a large red heart on it. To use this one, click on it to open and fill out the appropriate blanks. When your phone is OFF the first thing that come up is to enter the password, but there is also an EMERGENCY button that the EMTs know about. IF you want to print out an emergency ID card you can make a screen shot of your health page and follow the steps above.
NOTE: If you click the power button quickly 5 times your phone will automatically call emergency (911) or whatever number you have set up as an emergency.
PRESENTATION #2
By Robert Elphick, 'Programming your iPhone; Shortcuts (a new application)'
NOTE: IF you had WORKFLOW in an earlier iPhone model you can go to the App store and search for SHORTCUTS (it's a black icon with a red and blue overlapping squares).
A shortcut is a quick way to get one or more tasks done with your apps. The Shortcuts app lets you create your own shortcuts with multiple steps.
In the Library there is a Gallery with various choices, such as shortcuts for sharing, for music, for other apps, etc. You can set these up to look like icons that you can work with, or that you can make Siri do something.
Robert gave an example of creating an app to help you find your way home which he named DIRECTIONS HOME. THIS is a shortcut that you can get and use. Show Actions will let you know how it works. This one starts out needing your home address. Get Shortcut will ask questions that you need to fill out answers for. Now, when you tap on DIRECTIONS HOME it will help you get home.
CALCULATE TIP is another shortcut for figuring out what tip you should pay. It starts out asking various questions, as the % of the tip and the bill total. This gives you your tip and your total bill owed.
Another shortcut is BROWSE TOP NEWS. You can enter the news stories and companies you want to browse. When you get a list of news stories you can check the ones you are interested in and then click DONE and you will now get to your stories you've selected.
FAMILY CONTACTS is a quick way for getting a list of all your relatives, even when they've married and their last name has changed.
SAY CHEESE is an app that takes a photo of you after it says "Say Cheese" and then it tells you where the photo has been stored.
Now if you want to turn any of these into applications, you can do so and then you can ask Siri to run that app. Here's how: Instead of tapping on the icon to run it, click on the 3 dots. Now you can see the share icon (the arrow coming out of a rectangle) and also a blue and white icon with on/off dots. There are hundreds of possible icons you can choose for your app. Clicking on 'ADD TO SIRI" you will see a red button you can click on to record the command for Siri. If you tap on "add to Home Screen", it will appear on your phone window with your chosen app icon.
Robert will put an article on our webpage about how to write a program for one of these shortcuts, so go check it out if you have any questions.
BUSINESS MEETING
TREASURER: Gary reported that as of 1/31/2019 we have $6,654.27 in our account.
OTHER BUSINESS:
Our iPad/iPhone class begins tomorrow at 1:15. It runs for two consecutive days at the Pacific Rim Institute in Coupeville.
WhidbeyTel has approved another year of our free website.
Q&A
Q: I lost a file. I know the title is Chapter 16. I don't know which year I wrote it. I don't know how far my Time Machine goes back because I got a new computer and don't know if I carried Time Machine over or just restarted.
A: We will have to see if your lost chapter is in TM. It sounds like you didn't carry over your old TimeMachine files. Possibly you have a backup disk from the old computer that we could look through.
Q: I started a gmail account. How do I get out of that and move it over to the Apple mail program?
A: This can be rather confusing. Gary McIntyre or Ron Sharp are not far from your house, and perhaps one of them could help you.
Q: I have Pages on my laptop. I find it frustrating because my friends can't open files I create.
A: PCs cannot read Pages files, however in Pages there is an EXPORT button and you can save our file as an rtf (rich text) file which is universal. Or you can save as WORD file. OR you can Export as PDF. Note: rtf won't work well for something with a lot of picture images. Also some fonts don't transfer exactly, but it will find something comparable.
Q: I had some unauthorized apps on my Mac, and I talked to the Apple help. They said I don't really need any anti-malware software. But if I do, they recommend Malwarebytes.
A: MalwareBytes used to be free but it might now cost about $40. There are other malware software programs we like. We can also make a house call and help you.
Q: When I got Mojave, I had a backup. My old files won't open. They said something a bout 32 vs. 64 bit. I may have to use a new version of Word.
A: Now with Mojave, everything will be at 64 bits. Member Elise noted that this has happened to her. She had to upgrade MS Word. After that she reports she was able to open all her documents.
NOTE: Gary made a comment about going back in Time Machine with a new computer. Many people think Time Machine is running, but you have to have a backup drive connected or set up wirelessly in order to run Time Machine.
Robert added that if you have your lost chapter on a floppy drive, he has a device that can read floppy drives. Also he has the capability to do optical character recognition (OCR). There is a program called Prizmo that can do OCR. You need to scan the pages as JPG files or take photos with your camera 300 dpi. Use Prizmo to enter a new document. Drag your text to be recognized. Now your text is turned into an editable document.
Gary McIntyre also showed us the "Island County WA" app produced by the Department of Emergency Management (DEM) if Island County. Go to the app store to get it. Or look for DEM (Dept. Emergency Management) at Island County.
Robert has an entire folder in his iPhone of emergency apps, including this Island County app, in addition to many Red Cross and FEMA apps. The meeting was adjourned at 5:30
The meeting was adjourned at 5:50 p.m.
---
MAGIC Moments
MAGIC Classes for 2019
MAGIC Mac Essentials classes will be held in May at the Pacific Rim Institute. Details and an application can be found here.
A continuing schedule of classes is being set up for the year. Any member wishing to see us provide these or any other classes should contact us at
MAGIC website update
Whidbey Telecom has approved another year of Small Office Web for MAGIC! We are grateful to them for providing this valuable resource for communicating to our nearly 500 members.
Swaps and Sales
Don't forget to check out the swap page of this website.
---
Note: This Software Update section of the newsletter lists the most relevant Apple updates. Not all updates are listed for all products. Additionally, I'll add other pertinent updates on occasion.
---
No Software Updates this month.
---
---
How to Uninstall Flash in macOS
by Melissa Holt, tekrevue
Adobe Flash Player, a piece of software that enables websites to display media through your browser, has a troubled history. It's been buggy, versions have had critical security vulnerabilities, and fake pop-ups claiming to install updates for it have caused many a Mac user to install malware accidentally.
In fact, Adobe announced that it will end support for Flash entirely in 2020, which will definitely help to encourage websites to adopt more modern standards. So now would be a great time to go ahead and uninstall Flash Player on your Mac if you've still got it! Adobe has made the process pretty simple, too, even if it does take an age.
Uninstall Flash in macOS
First, check to see if you have Flash Player installed in the first place. An easy way to tell is to click on the Apple Menu at the upper-left corner of your screen, choose System Preferences, and then look for the red Flash Player option at the bottom. If you see that, proceed to the next step. adobe flash mac system preferences
Next, visit the Uninstall Flash Player site that Adobe has kindly provided for us. You'll want to click on the blue link on that page that corresponds to the version of macOS you're running. For most of you, that'll be the one labeled "Mac OS X, version 10.6 and later." uninstall flash mac site
When the file finishes downloading, locate it in your default Downloads folder and double-click to open the disk image. Inside, find and double-click on Adobe Flash Player Uninstaller.app to launch the Flash uninstaller. Depending on your Mac's Gatekeeper settings, you may need to confirm the action; do so when prompted. adobe flash uninstaller mac
Once the uninstaller is running, click the Uninstall button. Enter your admin password when prompted. uninstall flash mac
The utility will then attempt to uninstall Flash on your Mac. If you have multiple versions of the Flash Player installed, the uninstaller will run multiple times to get them all. Note that you can't have any apps open that are currently using Flash, so be sure to quit those apps if you receive a warning. Also note that the process can take quite a while depending on your system configuration and speed. Once it's complete, click Done.
Seriously, the process to uninstall Flash takes a surprising amount of time. My computer is a pretty fast 2018 MacBook Pro, and I waited several minutes with a spinning beach ball before the uninstaller was all done. You can check to be sure everything was cleaned up by visiting System Preferences again; the red icon at the bottom should be gone.
Life Without Flash
When uninstalling Flash, it's important to remember that you likely installed Flash on your Mac in the first place for a reason. You may have wanted to stream video from a site that only supports Flash, or accessed some Flash-based functionality on a website, or even wanted to play one of those old Flash games. When you uninstall Flash, of course, these sites or features will no longer work.
You'll know that you encountered a situation like this if you see a Missing Plug-in error in your Web browser. It's up to you to decide if access to this Flash-based content is worth the potential security risks and hit to your battery life, but if you find that you underestimated the importance of Flash on your favorite websites, you can always reinstall it. Just make sure to download the official installer from Adobe's website and not one of the many virus and adware-laced fakes.
---
How to backup iPhone to iTunes on Mac or PC
by Michael Potuck, 9to5mac
Whether you prefer to solely backup your iPhone to your computer, or want to do it in addition to using iCloud Backups, follow along for how to backup iPhone to iTunes.
iPhone is a great way supplement your automatic iCloud backups, or it also can be used as your primary method if you'd like.
How to backup iPhone to iTunes on a Mac or PC
Open iTunes on your Mac or PC
Plug your iPhone into your computer
Click the phone icon in the top left corner
Click Back Up Now
When complete, select the eject button in the top left corner before unplugging your iPhone
Here's how the process looks:
After selecting the iPhone icon, you'll see the summary screen. Click Back Up Now to start a fresh backup.
You can also change the default backup method from iCloud to This Computer for your iPhone as shown above on the left.
You'll see a status bar for the backup process in the top center of iTunes as shown below:

WIZARD SEZ - Although this author suggests backing up to iCloud, know the risks before taking this option. I always choose the option to backup to my computer and then ensure the computer is fully backed up.
---
How to AirDrop from iPhone to Mac
by Michael Potuck, 9to5mac
Want to quickly transfer photos, videos, documents, notes, and more to your Mac? Read on for how to AirDrop from iPhone to Mac.
AirDrop is a handy feature built-in to iOS and macOS that allows users to directly transfer files, photos, videos, and more without need to send a text message, email, or use another service or app.
You can double-check AirDrop is enabled on your iPhone by heading to Settings → General → AirDrop (you can also firm press the WiFi/Bluetooth tile in Control Center). On Mac head to Finder → Go → AirDrop and you can adjust setting at the bottom.
How to AirDrop from iPhone to Mac
Find the file, photo, video, or other item you'd like to send
Locate and tap the share button (square with up arrow Share icon)
Tap the Mac you'd like to share the file with
You'll see "Sent" when complete
Look in your Downloads folder on your Mac to find the file
Here's how the process looks:
For a more in-depth look at using AirDrop with iPhone, iPad, and Mac, take a look at our tutorial and Apple's official support document.
---
How to access iCloud on iPhone, iPad, Mac, and the web
by Michael Potuck, 9to5mac
iCloud is Apple's cloud platform to save and synchronize data like photos, videos, contacts, notes, documents, and also store backups. If you're not quite sure where to go to see and manage your saved data, follow along for how to access iCloud on iPhone, iPad, Mac, and the web.
Apple gives users 5GB worth of free iCloud storage space, after that you'll need to pay for more starting at $0.99 a month.
Something to keep in mind to help you understand how iCloud works is that it's woven in throughout Apple's software on iPhone, iPad, and Mac. Another way to think of this is your data in various apps like Photos, Notes, Contacts, and more are viewable on each of your devices, but are saved and synchronized with Apple's servers via iCloud (depending on your settings).
As separate portion of iCloud is iCloud Backups. They aren't designed so that you can open them like a folder and see everything that's inside. Rather, they are like a sealed package that is used when you restore an iPhone or iPad from the iCloud backup.
Another way to think about it is iCloud Backups are just a clone of your iPhone or iPad, and you won't use that clone unless you get a new device, or need to erase or restore your entire device for some reason.
How to access iCloud on iPhone, iPad, Mac, and the web
iPhone and iPad
Open Settings and tap your name
Choose iCloud
You'll now see all the apps and data you can sync and use with iCloud
Tap a toggle on the right hand side to turn on iCloud for a specific app
Toward the bottom, tap iCloud Backup to automatically make cloud backups of your iPhone or iPad
Further down, you can also see and manage all of the third-part apps that are using iCloud
how to access iCloud iPhone iPad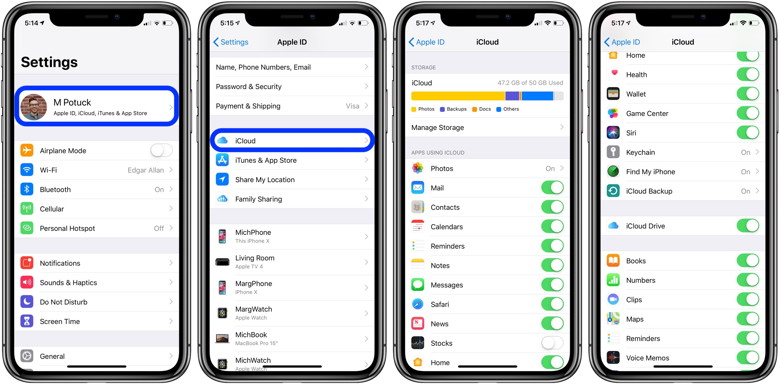 Mac
Open System Preferences
Click iCloud
You'll see the various apps and services you can use with iCloud
Click the check boxes on the left to turn them on/off
There isn't an option to back up your entire Mac to iCloud, but you can do it with an external drives or third-party cloud services, read more about Mac backups here
how to access iCloud on Mac
The web
If you're away from your Apple devices, you can access your iCloud account a lot of your saved data at icloud.com
Login with your Apple ID
Use the iCloud web apps to access your data, documents, photos, videos, and more
how to access iCloud on the web
Click for article and access to other tutorials on iCloud.
WIZARD WARNING - You know that you should not use any cloud until you understand the risks, right?
---
How to Disable Auto-Brightness on Your Mac
by Melissa Holt, tekrevue
Adobe Premiere CC
Owners of Macs with built-in displays likely know that the screen brightness can be changed via the function keys on the keyboard or in the macOS user interface via System Preferences or a third party utility. But you may have also noticed that, by default, your Mac's screen adjusts its brightness levels automatically.
Your Mac uses a built-in ambient light sensor to detect the brightness of the room and can then automatically raise or lower your Mac's screen brightness accordingly. In a room with low light? Your screen will dim itself so it doesn't blast you off your couch with its insane light levels. And if you're on a sunny beach with your laptop, it'll automatically brighten its display to improve visibility. (If you're on a beach with your iMac instead, well…kudos to you).
But some users prefer to have complete control over their Mac's screen brightness and don't want the system changing it for them. Thankfully, it's easy to disable auto-brightness on your Mac. Here's how.
Click on the Apple Menu at the upper-left corner of your screen and choose System Preferences.
Choose the Displays pane.

Under the Display tab there, deselect the Automatically adjust brightness option.
Once you deselect that option, your screen will no longer brighten or dim without your say-so! Of course, you can manually adjust that setting either from this same System Preferences > Displays > Display pane using the "Brightness" slider shown above, or you can use the appropriate function keys (or the Touch Bar) on your keyboard. Those function keys are usually F1 and F2, but you'll note they're the ones with the sun icons on them.
---
How to free up storage by deleting iTunes backups of iOS devices
by Glenn Fleishman, macworld
If you use iTunes to backup your iPhone, the actual backed-up data starts to pile up. Backups often run from gigabytes to tens of gigabytes, retaining anything unique on an iOS device that isn't synced via iCloud or available from the App Store. For example, if you have iCloud Photo Library enabled, the iTunes backup doesn't include the Camera Roll.
Apple oddly doesn't have an automatic "garbage cleaning" routine, or prompt to delete, or ask you if you want to delete these backups.
You can easily fill up your drive with iOS backups, and it will feel mysterious as you won't even know why you're running out of storage. However, you can find these backups and delete older ones, as well as archive them on an external drive if you have a need or desire to retain them.
How to manage iOS backup files though iTunes
Open iTunes and choose iTunes > Preference > Devices. In the Device Backups list, you'll see a list of all the backups that are stored on your Mac. If you're like most people, you will be amazed by how many. (In the image below, you see just one: I switched long ago to iCloud backups, and had mostly deleted older archives.)
iOS backups in iTunes pile up in the Devices tab of Tunes preferences.
To delete older backups, I recommend using the iTunes interface, as it handles everything correctly and updates the list in the process:
Right-click the backup name.
Select Delete.
Confirm the deletion.
Repeat steps 1 to 3 for as many backups as you want to delete.
Click the OK button.
Only when you click OK are the backups removed, and it's immediate and irreversible: iTunes doesn't throw the files in the trash, but removes them from the drive.
You can instead select Archive, and iTunes prompts you for a location to move the backup.
If you want to delete the backups manually, or find them to archive them to an external drive, in the Finder either choose Show in Finder from the above menu or:
Choose Go > Go To Folder.
Enter ~/Library/Application Support/MobileSync/Backup
Click Go.
The backups are labeled by device UDID (Unique Device Identifier), which is the unique identifier for each iOS device. If you have multiple iOS devices you back up, this can help differentiate among them. You can find this UUID in iTunes by plugging your device in via USB, clicking its icon in the iTunes toolbar, and then click the Serial Number field until UDID appears.

For multiple backups, the most recent has just the UDID label, while older ones have the date (year/month/day) and time (24 hour-clock plus seconds) as suffixes, as in -20181101-130144. You can move these folders elsewhere and can then drag them back if you need to restore from one of them as a backup. This may require quitting iTunes and relaunching it to get the backup recognized in the Devices tab in Preferences.
WIZARD SEZ: When I do this I only get one backup file per device. I am not sure why the author gets multiple backups. If you find multiples then deleting the old ones makes a lot of sense.

Know the risks before using any cloud
---
---
How to tweak 3D Touch, the beloved feature Apple looks set to kill
by Charlie Sorrel, cultofmac
Apple may or may not be ready to euthanize 3D Touch. My view is that it sticks around, neglected and unloved, forever more. Like Dashboard on macOS. (Yes, Dashboard still exists.)
That would be a shame, as 3D Touch really is an excellent augmentation to a touchscreen device. It's also quite tweakable. Here's how to adjust how it works, and — if you really hate it — how to turn 3-D Touch off altogether.
3D Touch has settings, too
Head to General > Accessibility > 3-D Touch, and take a look at your options: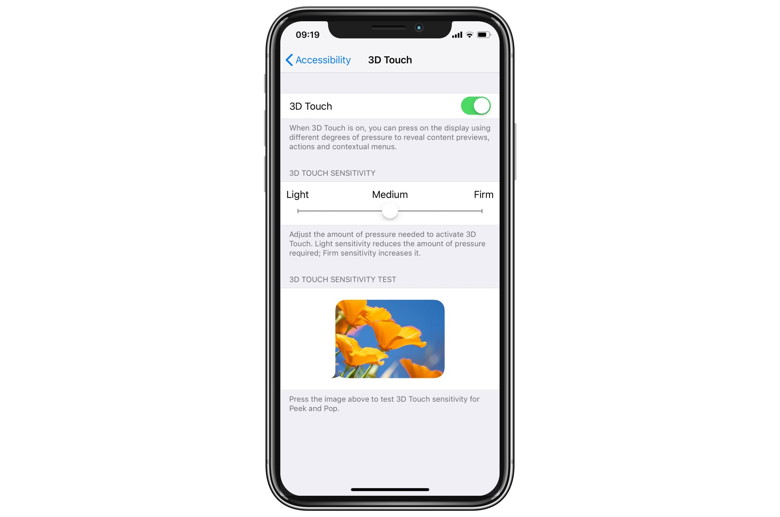 At the top is the main switch. Toggle this and you will no longer be able to enjoy/have to suffer 3D Touch. But even if you occasionally get annoyed at having various options pop up "at random," you might consider leaving it on.
If 3-D Touch activates when you don't want it too, there are three things you can do. 1. Switch it off entirely, like a sulky teen. 2. Stop pressing so damn hard on your iPhone. It's not a TV remote with the batteries running out. Or 3. Adjust the sensitivity of 3D Touch.
How to adjust 3D-Touch's sensitivity
As you can see in the screenshot, 3D Touch has three levels of sensitivity. Light, Medium, and Firm. Try them out right there on the preferences screen. Just move the switch, and then press on the photo to invoke peek and pop.
I now have mine set to Firm. I love 3D Touch, but I also find I accidentally peek a link in Safari when what I want is for the contextual menu to appear so I can share the link. I'd be happier if you could assign a 3-D Touch press to open the share sheet, but this is a decent workaround for me.
I think that Apple will keep 3-D touch around. Some people point to the iPhone XR as proof of its future demise — the XR uses long-presses and clever software interpretation to mimic 3-D touch with a screen that's not pressure sensitive. It's called Haptic Touch.
But if Apple wants to kill off 3-D Touch, why bother implementing it in this new way? And why bring it to the iPad at all? Maybe the pressure-sensitive screens will disappear, and 3-D Touch will be implemented as Haptic Touch, but that doesn't really matter. As long as the core functionality is still there, I'll be happy.
---
How to listen to the radio on your iPhone
by Charlie Sorrel, cultofmac

Yes, the radio.

Some phones, and some old iPods — the clip-on Nano, for example — have real radio receivers built in. They can pick up over-the-air AM and FM waves, and play them, just like you were in a car from the olden days. The iPhone and iPad, though, have never had working radio tuners. But thanks to internet streaming, it doesn't matter. You can listen to live radio anywhere, using an app.

Today we'll see one super-simple app that works a lot like an old radio, and another app that I don't really like, but that does pretty much anything you could want in a radio-streaming app.

Why radio?

The radio still has a few advantages over Spotify or Apple Music. First off, you don't have to think. Just turn it on and listen. If you avoid the commercial FM stations that all play the same 50 songs from the 1970s and 1980s, then you can actually find new music this way. Try something like Dandelion Radio for some really out-there new music, for example.

Radio is also great for listening to live sports events, and for free. Radio used to be the main way to follow sports, and it's still great. It's especially good if you're on the move, or if you are doing something else. Video streams and TV are fine if you can watch them, but radio describes the action, so you don;t need to see it. In the olden days, I used to mute the TV and listen to the radio commentary of the same football match, because it was usually better.

Tune in
TuneIn Radio is probably the best radio app for iOS. It has a search feature to find any station, and it lets you pause and resume playback, save favorites, and — my favorite feature — you can use 3-D Touch to open a radio station right from the app's icon. The apps also lets you stream podcasts, which is a handy feature.
So why don't I like it? It's ugly, for one. And the UI is confusing. On a regular radio — or in a well-designed app of any kind — you quickly learn your way around, and form then on, navigation is easy. And yet whenever I use TuneIn, I have to stop and take stock of the interface before tapping anything.
It's just not intuitive in any way. And I use it most days, so it's not that I'm forgetting how it all works.
Despite this, I paid for the pro version to lose the ads, and whatever else it was that $10 bought me a the time — I've had the app for years now.
TuneIn also has a free version.
TuneIn Pro - Radio & Sports
Price: $9.99
Download: TuneIn Pro - Radio & Sports from the App Store (iOS)
Ström
Ström is a minimalist radio app for the iPhone and iPad. It's the very opposite of TuneIn. It comes with three preset stations that you can switch, and these are switched using up and down buttons on the radio. Yes, the radio. Ström's interface is a single picture of a radio. Not a photo. Just a cool monochrome graphic.
You add stations by tapping the tuner band between the buttons, and pasting in the link to the radio stream.
The best thing about Ström, apart from its looks, and its simplicity, is that radio stream open instantly. Perhaps TuneIn is preparing a long buffer before it begins playing, but it takes a good few seconds. Ström just goes.
And here's a Ström pro tip: You can pause the audio from the usual lock-screen/Control Center shortcuts, and you can switch stations using the skip forward/back buttons. In order to restart a paused stream, you have to change channels.
Ström
Price: Free
Download: Ström from the App Store (iOS)
Radio might be on its way out in favor of personalized streaming, but there's something easy about the radio, and still very appealing. As long as you skip all those awful stations that play soft rock or smooth jazz and all that other inoffensive wallpaper.
---
How to sign PDFs on your iPhone or iPad
by Charlie Sorrel, cultofmac
Scenario: Your divorce papers finally came through, and you can't wait to sign the things. The trouble is, your spouse already took your office and your home, and you have no way to print or fax the documents. Or perhaps you need to stick your autograph on some other document, but all you have is your iPhone or iPad.
No worries. With recent versions of iOS, it's easier than ever to sign a PDF form and return it to the sender. In fact, you don't even need to leave the Mail app to do it.
How to sign and return a PDF in iOS Mail
Step one is to look at the PDF. Whenever you receive a PDF or other attachment in Mail on your iPhone or iPad, just tap it to view it in full-screen Quick Look view. Like this:
Tap the Instant Markup button to sign the form.
Photo: Cult of Mac
Then, tap the Instant Markup button at the top right of the screen. This works exactly the same way on iPad and iPhone, but I'm using iPad screenshots here for clarity. (And because I'm writing this on my iPad, so it's just easier.) The only difference is that on the iPad you can use the Apple Pencil to sign, whereas on the iPhone you must use a finger (or one of those dumb styluses).
Instant Markup
Sign here.
Photo: Cult of Mac
Once the attachment opens in Instant Markup, just sign on the dotted line using your finger or the Apple Pencil. Instant Markup opens with the black pen tool already active, so you can sign immediately. If the dotted line isn't in view, then use two fingers to scroll the page down.
And you're not just limited to PDFs. If the form was sent as a JPG, you can sign that, too, in the exact same way.
Return to sender
Next, you want to return the form to the sender. This is equally easy. You may be tempted to tap the share arrow, but don't. Instead, just tap the Done button, and you'll see this pop-up menu: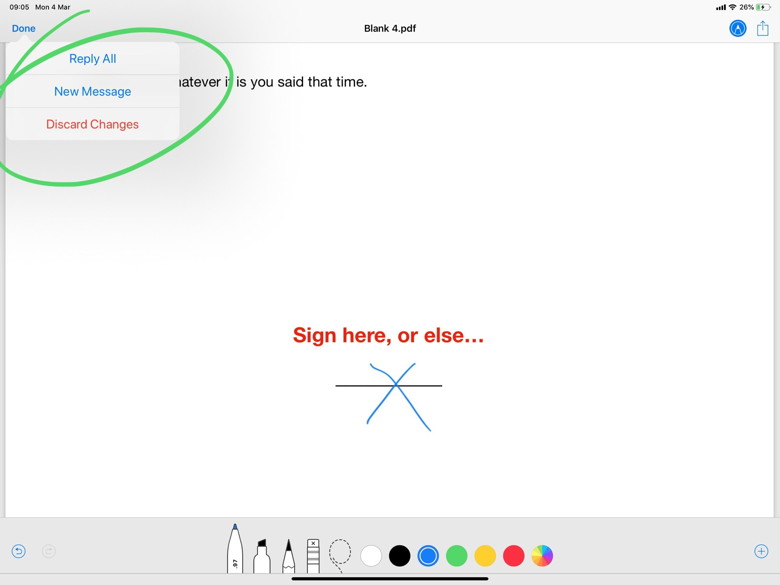 Sign here.
Photo: Cult of Mac
You can choose to Reply All, in which case the freshly signed PDF will be added to a new reply-all email. Or you can tap New Message to start from scratch. A standard email-compose panel opens, and you can proceed as usual.
If this seems simple, that's because it is. It's one of the few cases in iOS where Apple doesn't make you tap a million times to get to the simplest thing. That annoying design strategy keeps the iOS interface looking nice, sleek and simple. But it sometimes makes actually using an iPhone or iPad a pain.
Signing and returning PDF forms is way more streamlined. Just tap to open, tap the Instant Markup button, sign, then tap to compose a new email. It's almost as if someone high up in Apple had to do this kind of thing every day….
Cake
As I mentioned, this works equally well on the iPhone. That means you can finalize your divorce from the beach, in between checking out volleyball players' pecs and buying some "space cake" from a roving beach vendor.
---
This cheap Lightning-to-USB-C cable is better than Apple's [Review]
by Ed Hardy. cultofmac
Anker is taking pre-orders for a Lightning-to-USB-C cable that costs much less than Apple's version. We tested this new accessory to see how quickly it can charge an iPhone to be sure it's a reasonable copy and not just a cheap knockoff.
Read on to see how well the Anker Powerline II USB-C cable stood up to our tests.
Anker PowerLine II USB-C-to-Lightning cable review
The USB-A charger Apple ships with its phones offers a measly 5 watts, while the USB-A iPad charger offers 12 watts. But recent iOS devices can receive up to 18 watts of power if you use a USB-C charger.
Naturally, that requires a Lightning-to-USB-C cable. Apple used to be the only source for MFi Certified versions of this cable, but the company recently opened up the market. Anker is among the first to offer a truly reliable competitor to Apple's accessory.
As a baseline for comparison, we charged an iPhone XS Max with the 5-watt charger and Lightning-to-USB-A cable that it came with. It took 22 minutes for the battery level to rise 10 percent.
Next, we connected the XS Max with the 18-watt USB-C charger that comes with the 2018 iPad Pro using Apple's 1-meter Lightning-to-USB-C cable. This time, 22 minutes of charging raised the battery level 30 percent.
Then we used Anker's PowerLine II Lightning-to-USB-C cable and the 18-watt iPad charger with the XS Max. In 22 minutes, the battery level went up 30 percent, the same as Apple's cable.
Data connections worked equally well. Anker's cable transferred images between a computer and the iPhone without issue. Anker PowerLine II hardware
Anker's PowerLine II USB-C Cable with Lightning Connector looks similar to Apple's. The main difference is that Anker's feels much more robust. It's protected by a thermoplastic elastomer (TPE) coating that the manufacturer says will endure 12,000 bends. (Anker offers a lifetime warranty to back up that claim.)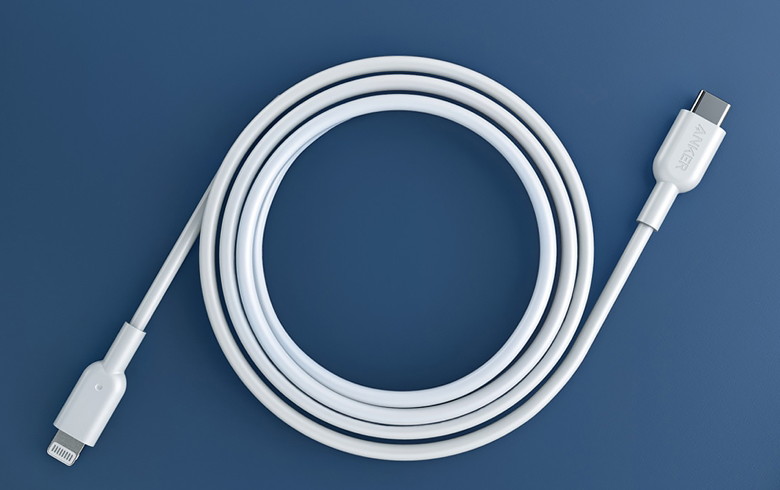 Anker's Lightning-to-USB-C cable feels more rugged than Apple's. Photo: Anker
This cable measures 5 feet 11 inches (1.8 meters). Apple offers 1-meter and 2-meter versions of its Lightning-to-USB-C cable, so Anker's splits the difference.
The Lightning connector on the PowerLine II is actually made by Apple, which is one of the reasons it earned MFi certification.
Anker PowerLine II USB-C Cable with Lightning Connector final thoughts
Powering up your iPhone with a USB-C charger is much faster than using the wimpy 5-watt charger that comes with the device. And you can save some money on the necessary cable by getting the Anker PowerLine II, with no downside. Our tests show the Anker USB-C-to-Lightning cable performs at least as well as ones offered by Apple.
You'll also want a Lightning-to-USB-C to connect your iPhone to a recent MacBook that uses this standard, either for charging or to exchange data.
Anker is taking pre-orders for its 1.8-meter PowerLine II cable now at $15.99. Apple's 1-meter version costs $19, while its 2-meter cable runs $35.
Sure, you can get cheap knockoff cables for around $5, but they aren't MFi-certified. The best that can be said about them is that they probably won't damage your very expensive phone. Probably.
The PowerLine II USB-C Cable with Lightning Connector is scheduled to begin shipping on February 20. To sweeten the deal, Anker is offering 20 percent off its USB-C wall and car chargers for the rest of this month to anyone who orders this cable.
Buy from: Anker
---

---
Report: Apple working on sleep tracking feature for future Apple Watch
by Jason Cross, macworld
According to a new report from Mark Gurman at Bloomberg, Apple is testing a sleep tracking capability for the Apple Watch.
Gurman's sources say that the company has been testing the feature for several months at sites around Cupertino, and if the testing goes well, it hopes to add the feature to "a future version of its smartwatch" in 2020.
It may be disappointing to have to wait that long when competitors like Fitbit have sleep tracking in wrist-based products today, but we can hope that Apple's take on the feature is either markedly more accurate or more full-featured than current offerings.
It's also annoying that the report claims it's for a future version of the watch, not merely a future watchOS software update. Certainly, if there are third-party apps like AutoSleep or Pillow that do sleep tracking today, Apple could get it to work on current hardware (the Apple Watch Series 4, notably, has more accurate sensors than prior generations, if that's the issue). And if Apple is testing today, it's certainly not using the 2020 Apple Watch, it's using current hardware.
However, the hold-up might be around battery life. The Apple Watch lasts all day in normal use, but not much more—users who do a lot of outdoor activity tracking and music playback may not be able to last all day and all night on a charge. If multi-day battery life is coming in next year's Apple Watch, it could be the critical feature that makes sleep tracking possible, in Apple's view.
---
VO2 max: The Apple Watch metric that reveals your aerobic fitness
by Graham Bower. cultofmac
Want to know how fit you really are? Apple Watch provides loads of insightful metrics you could check. So many, in fact, that there is not enough space for them all in the Workout app. Instead, you'll find much of this crucial data buried away in the Health app on your iPhone.
One of the most interesting is VO2 max, which is basically the ultimate test of your aerobic fitness. If you're into endurance sports, VO2 max is a metric you'll want to check out.
Here's a quick guide to everything you need to know about VO2 max on Apple Watch: What it is, how to use it, and how to improve yours.
What is VO2 max?
VO2 max is a measurement of the amount of oxygen from the air you breath into your lungs that is then transported by your bloodstream to your muscles, where it is converted into energy during a workout.
The "V" in VO2 max stands for volume. It is measured in liters per minute (L/min): the volume of oxygen you breath in a minute. But Apple uses a slightly more complicated metric: mL/(kg·min). That means milliliters of oxygen per kilogram of body mass per minute. By taking your body weight into account in this way, it makes the stat more comparable between different people, since a larger person is likely to consume more oxygen than a smaller person.
The "max" in VO2 max means the measurement has to be taken when you are working out at your maximum level of exertion — literally when you are giving it everything you've got.
Why is VO2 max interesting?
The key to being good at endurance sports is the ability to maintain a high intensity of effort for a long period of time. Running fast for a few yards is all very well, but that is not going to be much use if you are training for a marathon.
The reason you can't maintain your fastest pace for very long is because your body uses different energy systems to fuel different levels of workout intensity. Low-intensity workouts, like walking or slow jogging, are easy to sustain for a long time because they rely on your aerobic energy system. This means they are fueled mostly by the oxygen you breath as you are doing the exercise.
But as you increase the intensity of your workout (for example, by running faster), you can't breath in sufficient oxygen fast enough to fuel your muscles. This is when your anaerobic energy systems kick in. These are like backup systems that use fuel stored within your muscles to supplement the energy you get from your aerobic energy system, enabling you to keep going.
The trouble is that your anaerobic energy systems are only good for short bursts before they become depleted. Then, your system gets overloaded with waste products that make your muscles feel like they are burning. At this point, you are forced to slow down or stop your workout.
With training, you can improve your aerobic energy system to become more efficient. This improvement is what VO2 max measures. An increase in VO2 max indicates an improvement in your aerobic fitness. Meaning you can train harder for longer, without falling back on your anaerobic energy systems.
Why does Apple Watch use 'predicted VO2 max'?
To accurately measure your VO2 max, you must wear a face mask. This is the only way to know for sure how much oxygen is going in and out of your lungs.
Since Apple Watch is worn on your wrist, not your face, this is out of the question. So instead, Apple Watch provides a "predicted VO2 max" metric. This is an estimate based on changes in your heart rate during exercise.
Are VO2 max predictions accurate?
The relationship between heart rate and VO2 max is not precise, and it varies from one individual to another. So Apple's predicted VO2 max may not be very accurate. The estimate is also dependent upon your Apple Watch's heart rate sensor. And while that's pretty good, it is not infallible.
Once way to improve its accuracy is to connect your watch to a Bluetooth chest heart rate sensor, like the Polar H10.
Checking your VO2 max in the Health app
You will find your predicted VO2 max in the Health app on your iPhone.
Photo: Graham Bower/Cult of Mac
Apple Watch may log your VO2 max, but you can't currently check it on the watch itself. To see your stats, you must use the Health app on your iPhone. Go to Health Data > Activity and scroll down to find it. If you have readings for the current month, they will be highlighted in a big orange box. If you have no VO2 max data, it will be languishing at the bottom of the list, under No Recorded Data.
Why is there no VO2 max data in the Health app?
If you can't find any VO2 max readings in the Health app, that is probably because you have not yet logged the right kind of workouts with your watch. Only two workout types can produce an estimated VO2 max on Apple Watch: Outdoor Walk and Outdoor Run.
VO2 max relates to maximal exertion. So you'll need to log a pretty intensive workout to generate a reading. And you'll need to sustain it for at least 20 minutes.
How to improve your VO2 max
VO2 max is determined by a combination of genetics and fitness level. Elite endurance athletes are blessed with good genetics that the rest of us can probably never compete with. But with training, it is possible to increase your VO2 max.
If you want to know how you compare to typical VO2 max levels, check out this chart. But what is normal varies from one person to another, so it's better to focus on your own stats to see your progress, rather than comparing with other people.
To train your VO2 max, you need to do a workout at sufficient intensity to reach your anaerobic threshold. This is the point at which you can no longer sustain your workout with just your aerobic energy system. You will know when you approach the threshold. You start to feel out of breath and you get a burning sensation in your muscles.
Logging a 20-minute, high-intensity outdoor run workout once a week will help to increase your VO2 max. It will also ensure you regularly log your predicted VO2 max.
Alternatively, you could try a HIIT workout. High Intensity Interval Training combines short busts of intense exercise with rest intervals in between, like my hill repeat workout.
Are you sure you want to take your fitness to the max?
Take care when doing workouts at high intensity like this. Especially if you are not used to it. Making sudden changes to the level of exertion you subject your body to can cause an injury. If in doubt, check with your doctor first.
Predicted VO2 max is a very interesting and welcome addition to Apple Watch's growing arsenal of fitness metrics. If you're training for a marathon or triathlon, you should definitely check it out.
---

---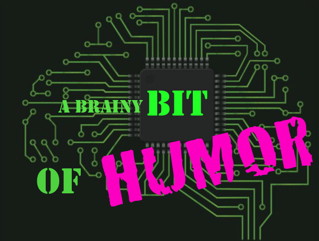 by Penny Holland, MAGIC*

Has the Large Hadron Collider destroyed the world yet.
---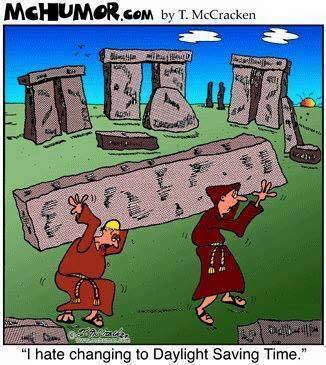 ---
Daddy, how was I born?
from our reproduction correspondent
A little boy goes to his father and asks 'Daddy, how was I born?'
The father answers, 'Well, son, I guess one day you will need to find out anyway! Your Mom and I first got together in a chat room on Yahoo. Then I set up a date via e-mail with your Mom and we met at a cyber-cafe. We sneaked into a secluded room, and google each other. There your mother agreed to a download from my hard drive. As soon as I was ready to upload, we discovered that neither one of us had used a firewall, and since it was too late to hit the delete button, nine months later a little Pop-Up appeared that said: You got Male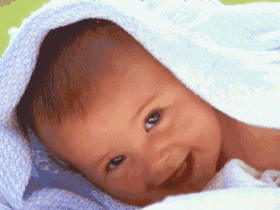 ---
---
Gone Phishing: Five Signs That Identify Scam Email Messages
from smalldog.com
A significant danger to businesses today is phishing—the act of forging email to fool someone into revealing login credentials, credit card numbers, or other sensitive information. Of course, phishing is a problem for individuals too, but attackers more frequently target businesses for the same reason as bank robber Willie Sutton's apocryphal quote about why he robbed banks: "Because that's where the money is."
The other reason that businesses are hit more often is that they have multiple points of entry—an attacker doesn't need to go after a technically savvy CEO when they can get in by fooling a low-level employee in accounting. So company-wide training in identifying phishing attempts is absolutely essential.
Here are some tips you can share about how to identify fraudulent email messages. If you'd like us to put together a comprehensive training plan for your company's employees, get in touch.
Beware of email asking you to reveal information, click a link, or sign a document
The number one thing to watch out for is any email that asks you to do something that could reveal personal information, expose your login credentials, get you to sign a document online, or open an attachment that could install malware. Anytime you receive such a message out of the blue, get suspicious.
If you think the message might be legitimate, confirm the request "out of band," which means using another form of communication. For instance, if an email message asks you to log in to your bank account "for verification," call the bank using a phone number you get from its Web site, not one that's in the email message, and ask to speak to an account manager or someone in security.
Beware of email from a sender you've never heard of before.
This is the email equivalent of "stranger danger." If you don't know the sender of an email that's asking you do something out of the ordinary, treat it with suspicion (and don't do whatever it's asking!). Of course, that doesn't mean you should be entirely paranoid—business involves contact with unknown people who might become customers or partners, after all—but people who are new to you shouldn't be asking for anything unusual.
Beware of email from large companies for whom you're an anonymous customer.
Attackers often forge email so it appears to come from a big company like Apple, Google, or PayPal. These companies are fully aware of the problem, and they never send email asking you to log in to your account, update your credit card information, or the like. (If a company did need you to do something along these lines, it would provide manual instructions so you could be sure you weren't working on a forged Web site designed to steal your password.)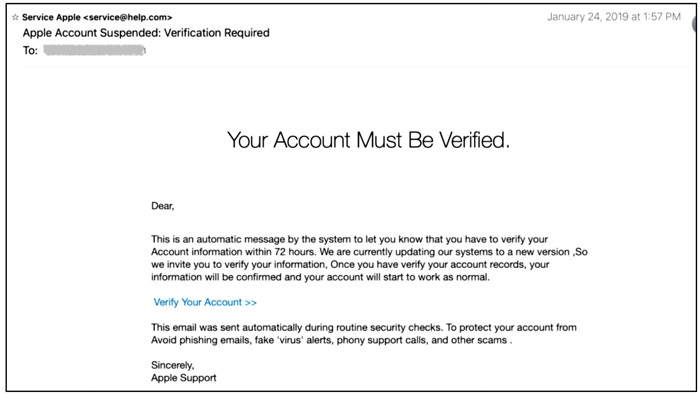 Since sample email from large companies is easy to come by, these phishing attacks can look a lot like legitimate email. Aside from the unusual call to action, though, they often aren't quite right. If something seems off in an email from a big company, it probably is.
Beware of email from a trusted source that asks for sensitive information
The most dangerous form of this sort of attack is spear phishing, where an attacker targets you personally. A spear phishing attack involves email forged to look like it's from a trusted source—your boss, a co-worker, your bank, or a big customer. (The attacker might even have taken over the sender's account.) The email then requests that you do something that reveals sensitive information or worse. In one famous spear-phishing incident, employees of networking firm Ubiquiti Networks were fooled into wiring $46.7 million to accounts controlled by the attackers.
---
Ignore Unsolicited Calls and Texts from Apple and Other Tech Companies
from smalldog.com
We don't want to belabor the point, but multinational tech companies like Apple, Facebook, and Google will never call or text you personally out of the blue. So if you get a call or text purporting to be from such a company, it's 99.9% likely to be a scam, and you should ignore it regardless of whether the caller ID seems legitimate. If you're still worried, look up the company's tech support phone number separately—never respond directly to such a call or tap a link in a text—and discuss the situation with the support reps. Or contact us, and we'll talk it through with you.
---
Vulnerability in computer chips can't be fixed
by Donna Lu, New Scientist
A CRITICAL security flaw affecting computers the world over is here to Stay, and there Isn't any software that can properly guard against It.
That is the conclusion of Google engineers trying to fix a vulnerability called Spectre In chips Known as processors. It was first discovered a year ago, and affects chips built Dy Intel, AMD and ARM, which are used in most computers and smartphones. It leaves devices vulnerable to software that is designed to steal information, including passwords and emails.
Following Spectre's discovery, firms including Apple and Microsoft scrambled to release security patches for some variants of the flaw.
However, there were problems. These fixes were reported to slow down some computer functions by between 5 and 30 per cent. And the patches mitigate the risk for only some Spectre variants found so far, and don't solve the underlying issue.
For one Spectre variant, Known as Speculative Store Bypass, Ben Titzer and his colleagues at Google nave now concluded that there is no software Tix that works - leaving all computers with affected hardware vulnerable (arxiv.org/abs/1902.05178).
This all stems from a problem in how processors were designed, Says Titzer. "The entire field of computing missed this." Spectre exploits this flaw, which involves something called speculative execution, a feature of chips that was intended to speed up devices. It involves guessing at future calculations, and then discarding incorrect guesses.
We still don't Know exactly what can and can't be stolen from machines with flawed chips, so while patches seem to work for some variants, we don't know whether they are truly effective, says cybersecurity expert Paul Kocher, who helped find Spectre.
"We will be living with the consequences of it for along time," says lan Batten at the University of Birmingham, UK.
---
Malware Examples
by Robert Y Elphick, MAGIC *
Since the three excellent articles above are in this issue, I will not add to the Malware in this issue and overburden MAGIC members. The Malware Examples will be back next month.
Internet Crime
Any one bothered by internet criminal activity should report it to the Federal Bureau of Investigation Internet Crime Complaint Center (IC3) at this web page. This includes phishing, malware, spoofing, any demand for money.
---
---
Security, How to deal with virus warnings
by Ron Sharp, MAGIC *
Your computer has been infected with a virus. To remove the virus call tech support now at this number…
In case you receive a similar message about virus infections or blocked computers, here are some helpful tips. First of all, neither Apple nor Microsoft will contact you about a virus. The only way they might contact you is if you contact them first. They are not monitoring your computer for any performance or malware issue.
Second, scrutinize any message. If the warning you received is an email, click on the the senders name to see the full email address. If it is not the address it should be, or if anything looks suspicious about it then delete it. Also, check wording and spelling. Some warnings are worded so poorly it's a giveaway that it's a scam.
Third, if you do get a message of any sort that looks authentic, including from businesses like bank messages that want you to log on for further information, then instead of clicking the link in the email, close the email and go to the website from your own bookmark or from a search page. That way you won't be misdirected to a fraudulent site if the email was not authentic.
Fourth. Whether you use Safari, Firefox, or Chrome, for suspicious messages coming up on your browser window, it may help to clear your browsing history of everything. Malware comes from the internet. It could be from a website you visited or from an email you opened. If it was from a website it probably stored cookies on your computer or even installed an extension to your browser to change your homepage or search engine preference. So clearing your history and checking your browser extensions via the browser preferences is a good idea. Clearing all your browsers history and cookies will cause some websites that log you in automatically to ask for your password the next time you go to that web page. But it'll only be this slight inconvenience for one time.
Finally, run any antivirus application you have to scan for malware. Some malware apps will do a quick scan. For a thorough scan of your entire hard drive, it may take an hour or two depending on the size of your hard drive and how full it is.
Be aware of apps that say they'll clean your Mac. There are many of them and most are not good. Unless you know what specific application you want, avoid Mac cleaning apps. Your Mac automatically does a daily, weekly and monthly cleaning without you having to do anything. It won't delete any of the files you put on the computer, and neither will other Mac cleaner apps. If you want to clean out old files you created, you have to do that manually. Check your downloads folder occasionally for files you've downloaded and no longer need. The downloads folder is where anything you download goes by default and it's the folder that can get filled with old files.
And one last word that could be the topic of another article, passwords. Create strong passwords, don't reuse passwords, and change important passwords occasionally. If you use a password manager then you don't have to remember passwords yourself. You'll only have to remember one password. Well, plus your User password and your Apple password! 😆
---
It's crazy, iPhone apps, and a tip
by Ron Sharp, MAGIC *
I read articles that say "Here are ten iPhone apps you need to get." Or "These are the iPhone apps everyone should have." I look at them and not one of them interests me. Maybe I'm not using my iPhone for everything I could but it seems like I'm using it enough. Why else would Apple include an app to track your use? It's crazy. …"Use it for this but wait, you're using it too much!"
There really are endless things you can do with your iPhone. In fact, the consensus of the computing industry is that desktop computers are on their way out and everything will be done on mobile phones. Ahh…we'll see. I still prefer doing almost anything on my MacBook Pro rather than my iPhone. But it is amazing how many third party apps there are for iOS. As of March 2018, there were 2.1 million! That's a bunch. That includes apps for the iPhone, iPad and Apple Watch.
I have 12 third party App Store apps on my phone, but I use most of them fairly frequently. Sometimes it takes so long to find a good app that does what I want that I just give up. Either that or the rating is poor and they don't work well. And there are so many that you really have to commit some time to finding what you want.
Then there are apps that people tell you are so great you should get it, but there is an Apple app on your phone already that does that. It's crazy. Then you end up with so many apps that you've used up all your storage and have to start deleting apps.
Well anyway, here is an iPhone tip for the day. You may know that there is a Flashlight app on your iPhone. I think it's great to have, and use it all the time. I put it in the control panel so it's easy to access with just a swipe up from the lock screen. But here's the tip you might not know, if you tap and hold on the Flashlight icon you will get a brightness control. It's a pretty bright flashlight and if you use it in a completely dark area then it's really too bright. Or if you use it a lot and just want to conserve battery you can adjust it down a bit.where you can. Happy computing.
---
MAGIC, the Macintosh Appreciation Group of Island County, serves people who use Macintosh computers, software and peripherals. Our goal is to share information and get answers to questions to make us more productive with our use of technology. Our monthly meetings give us a chance to discuss computer problems and share ideas with other Mac users, feature speakers on specific topics, and to keep apprised of Apple news.