Newsletter
April 2019
Newsletter Editor:
In This Issue:
MAGIC MUG News
Software Updates
News, Information and Stories (Mac OS)
iPhones, iPods, iPads, AirPods
Apple Watch, Apple TV, HomePod
Humor
Malware and Mischief
By The Way
* Indicates author is a member of MAGIC
---
Meeting information
Date
17 April 2019
Time
4:00 to 6:00 p.m.
Presentations:
• "Fantastic Apps" with Gary
• Q&A with Chris and Robert

Location:
Unitarian Universalist Congregation of Whidbey Island (see map.)
Remember to bring your used ink cartridges for recycling. Thank you to Paul Morris who collects and ships the empties. MAGIC is rewarded with a check for our efforts.
---
Minutes of the Meeting - March, 2019
by Penny Holland, Secretary *

The March monthly meeting of MAGIC was held at the Freeland Unitarian Congregation Meeting House from 4 to 6 PM. Approximately 25 people were in attendance. President Robert Elphick, called the meeting to order at 4:00.

PRESENTATION

Chris Douthitt, recently retired Oak Harbor High School video teacher talked to us about Digital Filmmaking. Chris described his introduction to the Mac community on Whidbey. He met Tom Johnson, a Mac expert, who visited the high school to help with the Mac lab. He eventually provided the school with a classroom full of Macs, which he kept up to date and in good working order. Chris says he has always preferred the Mac for video work.

He came with a large array of equipment to show us. The first thing you need, he said, is a good camera. Even an iPhone will work. Although many people upload their videos to Facebook, this, however, is not cinema. The average commercial film takes 2 years to produce or for Pixar, 6 years. Home videos are usually about family, with no story, not edited, bad sound, poor lighting, poor camera work, no embellishments, copyright laws broken, and made for a small audience. Chris says that all of these poorer home movie attributes can be overcome by anyone without much cost. He emphasized: Mostly, you need to care about it.

Ed Wood was a filmmaker, who was heard to comment, Nobody will ever notice that; filmmaking is not about the little details, but about the big picture. Chris says his students could pick out lots of details that Wood got wrong.

A real movie has many bits and pieces put together. Notice all the credits at the end of the movie, maybe up to 18 minutes worth. When someone watches the movie with all it's bits and pieces, it seems like a unified whole. Chris showed us a wonderful example or a piece his class did based upon the movie SUNDAY IN THE PARK WITH GEORGE. This musical had a song about the joys as well as torture of making art. The song, Putting it Together borrowed Stephen Sondheim's music with Chris Douthitt's lyrics and assisted by a group of High School musicians. Chris played for us his students' fantastic 5 minute video.

After he retired and no longer had access to the school's video equipment, Christ explained how he had to get his own equipment. He remembers how he used to tell his students that they didn't need to spend a lot of money for video equipment. He said he was able to get a camera which was remaindered from the school, that had earlier purchased a classroom set of Canon T3s, DSLRs, The problem on many video cameras is the poor built-in microphone. To compensate for this, he showed how you could get a clip-on mic to attach to your iPhone for about $15. OR you can get a wireless mic for about twice that much that works with your phone. He also showed us a directional microphone that attaches to his camera. Also attached to his camera is a digital/audio recorder. No need to worry, the audio will match up with the video. You can spend $200-300 for a Sony zoom, but Chris got his for $30. The entire camera set-up (minus the camera) cost him about $60.

One problem people make with an iPhone is that they film vertically. This doesn't work on the wide screen TVs. For $150 Robert said he got a light set for filming. Tripods are a great way to avoid shaking cameras. You can also use a selfie stick or a monopod to help hold the camera steady, and costs less than $20. You can also use this to hold the camera above eye level for a varied viewpoint. The Goodwill Outlet store in Everett sells stuff by the pound. Chris got 4 metal tripods there for $6. Another device is a gimbal system (steady cam) to take out the movement of the camera person walking. An Osmo pocket is a tiny gimbal system with a camera (made by a company called DJI that also makes drones) , all about 4 inches long, costing about $300. The tiny screen of this device can be overcome by attaching an iPhone and using it's screen. Chis says he is impressed by the quality of the audio included.

Chris says Don't limit yourself. Shoot for the biggest production you can imagine. Learning is making errors. Something he did at OHHS was called a lip dub. It requires a piece of music that you are going to lip sync to. The rule for the lip dub is to use one piece of video tape with no editing; one single shot. The camera has to be in motion at all times and with as many people as possible involved. The final shot is a large crowd all doing the lip sync. He showed us the film he made at Oak Harbor High School. Instead of a song, they picked a theme: Hooray for Hollywood, with all sorts of music from various Hollywood movies. During one 55 minute period they had to shoot the entire video, which required extreme planning and getting permission from the school administration. In one school period, they did three takes and chose the best one. All in 55 minutes. There was no editing and cuts, but some special Hollywood effects were overlaid.

In closing, Chris talked about pitching a movie. The log line is a one or two sentence description of the film. Eg. When his caretakers are murdered a young knight joins the rebels and struggles against an EmpireThis was Star Wars.

Near the end, Chris showed an example of a cinemagraph, a combo of still and video. Look it up online. He showed a picture of a girl that looked like a still picture, except that her eye blinks. It is done with a looped video. He emphasized that there is no such thing as writer's block, or filmmaker's block. Use brainstorming: pick up any 2 objects and make up a story that connects them. Also, if you are going to be a filmmaker in the pacific NW, you need to be flexible and prepared for changes in weather. Chris showed us one last short video his students created: WE'RE FILMING IN THE RAIN.

Chris gave us info on a class he will be doing for Skagit Valley College Wednesdays from 3-5:00, beginning April 10. Cost is about $90 for 8 weeks of lessons. It is to be aimed at teens and adults. This is an introductory class using Final Cut Pro by Apple. Chris also promised to give Robert a story board outline, as well as information, such as where to get sound effects, special effects, music, and other links. Robert promised that he will post all of this information on our website.

BUSINESS MEETING

TREASURER: Gary was not present at the meeting but reports that we had a balance of $7315.52 at the end og March.

OTHER BUSINESS:

Robert asked the members to let us know what classes you want to attend and what presentations would you like to see? You can contact Trish Vishnevetsky, our program chairman, with your ideas.

We are holding a beginning Mac Essentials class for 3 consecutive days beginning May 20 from 1:30-4:30. Check the website for details and to register.

Q&A

Q: I've been helping a friend with her website, which will include some video. What do you recommend for quality and file size, knowing that it's going to be on the internet? A: The internet images used to be cheap and low-definition. That's not so true today, which means big file size. (Chris put together an 8 min video and it's file size was 180 GB. So he recommends when you are doing this be sure to put your material on an external video and not on your computer, because of the size.) Robert says he's seen people often overdo very high resolution, where it is not really needed, so be aware of this. Q: I used to have Virtual PC, which is no longer available. What do you use now? A: Apple has one now called Bootcamp. It will run like windows and will take on all the PC viruses. Ron Sharp says look up an app called Audacity to use instead of the trouble of installing Windows operating system. Q: I made a presentation that is on the cloud using Keynote. Now I can't find a way to get in onto my computer. A: Go into iTunes. There is a way to put date onto your computer using that program. Click on Keynote and you should be able to do it. You can also use iCloud to share the presentation with your other devices. Q: I have one CD that I want to put onto my computer and my iPad. Is that possible? A: Put it into a Playlist in iTunes, and then you can transfer it or share it to other devices.

The meeting was adjourned at 5:50 p.m.
---
MAGIC Moments
MAGIC Classes for 2019
MAGIC Mac Essentials classes will be held in May at the Pacific Rim Institute. Details and an application can be found here.
A continuing schedule of classes is being set up for the year. Any member wishing to see us provide these or any other classes should contact us at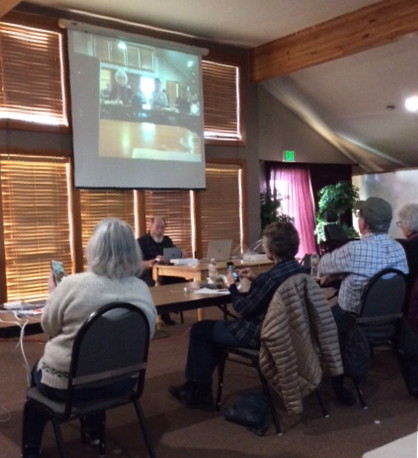 iPad / iPhone Class at Pacific Rim Institute
Future Presentations
We are working on a schedule for Meeting Presentations for the rest of the year. What would you like to see? Send me an email and we will try and include it.
Swaps and Sales
Don't forget to check out the swap page of this website.
---
Note: This Software Update section of the newsletter lists the most relevant Apple updates. Not all updates are listed for all products. Additionally, I'll add other pertinent updates on occasion.
---
Apple issues updates for Final Cut Pro and iMovie
by Roman Loyola, macworld
Final Cut Pro 10.4.6 and iMovie 10.1.11 both feature the ability to detect media files that could be incompatible with future versions of macOS, and converts those files to a compatible format. The update also improves reliability when sharing video to YouTube. Apple also issued updates for Motion and Compressor that address the same issues.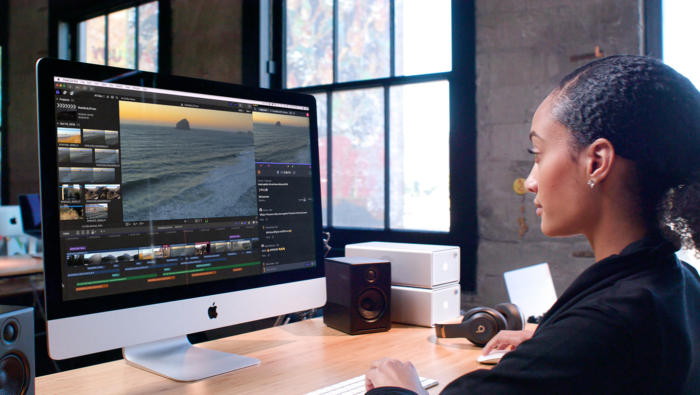 "Final Cut Pro
Why this matters: 32-bit support is being phased out after macOS Mojave, so this update will make sure that functionality is maintained in the future. Most professionals doing video work are working in 64-bit anyway, but this a nice safeguard.
Final Cut Pro also includes a number of fixes (from the release notes):
Fixes an issue that could cause share destinations to disappear from the share menu after quitting Final Cut Pro
Fixes an issue that could cause the workflow extension button to disappear when resizing the interface
Fixes an issue in which the Select Clip command could incorrectly select the clip beneath the playhead
Fixes an issue in which a successful share notification appears after the share operation was cancelled
Fixes an issue in which frames saved to the frame browser in the Comparison Viewer may appear differently than they do in the viewer
Fixes an issue in which frequency information for Hum Removal may not be visible in the audio inspector
Fixes an issue in which relinked media may appear with black thumbnails in the browser and timeline
Fixes an issue in which the share menu may be obscured behind the viewer when using Final Cut Pro in fullscreen mode
---
iOS 12.2 Update
from Apple
iOS 12.2 provides support for Apple News+, adds the ability for Siri to play videos from your iOS device to Apple TV, and includes four new Animoji. This update also includes bug fixes and improvements.
For information on the security content of Apple software updates, please visit https://support.apple.com/kb/HT201222.
---
Here's what's new in today's iOS, macOS, tvOS and watchOS updates
by Charlie Sorrel, cultofmac
iOS 12.2
The new iOS 12.2 is available now.
There are a bunch of new additions to iOS 12.2, including adding Logitech Crayon support to the 2018 iPad Pro, which is petty wild. But in terms of today's news and TV announcements, here are the highlights:
AirPlay 2 and HomeKit support for third-party TVs.
Support for Hey Siri with AirPods 2.
New Apple News+ app.
Apple Pay for transit in some U.S. cities.
Apple Card support, and new Apple Pay Cash interface.
Air Quality display in the Maps app.
Way better-sounding audio messages.
Four new Animoji.
macOS 10.14.4
Safari Autofill using Touch ID
Automatic dark mode activation in Safari (for websites that have dark themes available).
tvOS
Ask Siri to play specific media from an iPhone or iPad.
watchOS 5.2
---
---
Pro or no? How the high-end 2019 iMac measures up
by Jason Snell, macworld
It all depends on the software you use the most.
High-end iMac or iMac Pro? Ever since the iMac Pro was released in 2017, thats been a key question for pro-level Mac users who arent sure if taking the perilous leap from the summit of the iMac product line across to the $4,999 (and up) iMac Pro was worth the financial risk. With the 2019 updates to the iMac line, the gap between the two products has narrowed even more, making the question that much harder to answer.
I've been using a base-model iMac Pro as my primary computer since it shipped, and last week Apple sent me a high-end 2019 iMac, so as I write this I am literally sitting in that iMac Pro gap. (It's comfy here, thanks for asking.) The 5K iMac is equipped with the 3.6GHz 8-core ninth-generation Core i9 processor, 16GB of RAM, a Radeon Pro Vega 48 GPU, and 512GB of SSD storagea configuration you can buy today on Apple's website for $3,449a savings of $1,550 from the price of the base-model iMac Pro.
If you're in a market for a new, powerful desktop Mac, should you buy the top-tier iMac or leap across the gap and into the warm embrace of the iMac Pro? Reader, you will be shocked to learn that it all depends on your priorities.
---
Apple Launches Apple News +
by smalldog.com
The one announcement this week that you can take immediate advantage of is Apple News+. Apple will continue to support Apple News, the free service that brings you top news sources, curated current events coverage, and a feed with storiestailored for you, and all in one place.
And now, Apple News+ extends the experience with unlimited access to a selection of your favorite magazines, top newspapers, and popular digital publications. The vivid photography, richly designed layouts, and bold typography that make magazines so engaging have been reimagined for Apple News+ and designed for an amazing mobile reading experience. It is available for $9.99 a month, with Family Sharing for up to six people. New subscribers get one month free and can cancel at any time.
With Apple News+ you get unlimited access to hundreds of magazines, newspapers, and digital publicationsfor a single monthly price. Apple News editors handpick the best magazine articles to make sure you never miss a great story or an important issue.
Advanced machine learning on your device helps you discover great articles about topics you like from magazines that reflect your interest. You can download full magazine issues to read offline later and get a notification when new issues are available.
With Family Sharing up to six people can access your Apple News+ subscriptionso everyone in the family can stay up to date on the news of the day and discover even more about the topics that matter to them.
---
iCloud: Add an email attachment in iCloud Mail (Or how to email attachments that are too large with Mail Drop)
from Apple
You can attach one or more files to a message when you use Mail on iCloud.com.
If you want to attach files that are too large to send in email, you can use Mail Drop. It lets you upload attachments up to 5 GB and send a link or preview to your recipients. You can send these attachments from iCloud.com or from the Mail app on your iOS device (iOS 9.2 or later) or Mac (OS X 10.11 or later).
Recipients can download Mail Drop attachments for 30 days after theyre sent.
Add an attachment
While writing a new message, click the Attach button at the top of the message window.
Select the files you want to attach, then click the Choose or Open button to begin uploading the files.

If your attachments are too large to send in email, you're asked if you want to deliver the attachments using Mail Drop. If you agree and Mail Drop is turned on, the attachments are uploaded to iCloud.

It may take some time for the upload to complete, depending on the size of the files.
To attach more files, repeat steps 1 and 2.
You can also simply drag files into your message. If you use Internet Explorer 9, drag and drop requires an add-on and Mail Drop isnt supported. See the Apple Support article About iCloud add-ons, extensions, and plug-ins for Windows browsers.
Remove an attachment
In the Mail Message window, click the Remove icon next to the attachments filename.

You can only remove an attachment before you send the message.
Turn on Mail Drop for large attachments
If you want to use Mail Drop to deliver large attachments, make sure it's selected in iCloud Mail preferences.
Click the Action pop-up menu in the sidebar, then choose Preferences.
Click Composing, then select Use Mail Drop when sending large attachments.
Click Done.
For information about including original attachments in a reply, see Reply to or forward email in iCloud Mail.
You cant remove files already sent with Mail Drop. They expire after 30 days.
Note: If you send an email with large attachments, it might be returned by the recipients email service because your email exceeds the size limit set by that email service. You can try sending the contents of your message in multiple messages, or using compression software, such as the Compress feature on a Mac, to make your attachments as small as possible.
---
How Apple's TV service can stand out in a crowded market
by Ed Hardy, cultofmac
Apple is undoubtedly going to throw it's hat into the streaming TV markets during a big press event on Monday, where it's service will have to compete against dozens of rivals, some household names.
Although the announcement is still a few days away, we already know quite a bit about how Apple will try to make it's offering stand out.
Lots of original content
Apple began commissioning original TV shows more than a year ago. The company has about 30 in development. Thats roughly the same number as Netflix, expected to be one of Apple's toughest rivals in the space. But another top competitor, Amazon Prime, has a lot more original shows.
Of course, quality matters at least as much as quantity. People have to want to watch Apple's offerings for it's streaming service to pull in subscription fees.
There was no way the company could keep it's TV shows under wraps so basic details about all of them are publicly available. In drama, theres a reboot of Amazing Stories and a version of Isaac Asimovs Foundation series. Animation fans can look forward to a series based on the Peanuts comic strip and a musical comedy from the guy who brought us Bobs Burgers. Speaking of comedies, expect one about about the life of poet Emily Dickinson, and another one starring Reese Witherspoon. And these are just a small sampling of whatyou'res coming.
Dont expect Apple to make shows loaded with sex and extreme violence. It's reportedly prepping more family-friendly fare. That will set it apart from Netflix, who draws criticism for focusing on violence against woman. Disneys upcoming streaming video service will also be squeaky clean, of course.
Previews of Apple's original shows and all the others are likely to take up much of the time during the compasnys press event on March 25. How many will be available when the Apple TV streaming service launches is unknown.
---
Apple apologizes for continuing problems with MacBook keyboard
by Ed Hardy, cultofmac
MacBooks made over several years were prone to keyboard issues. Apple tweaked the design of this critical component last year, and there was great optimism that the problem had been fixed in the latest macOS computers.
Nope.
After months of use, owners of the 2018 MacBook Pro or MacBook Air are reporting keys that stick, either so they become unresponsive or repeat letters.
This was highlighted today by Joanna Stern in a Wall Street Journal editorial written on a MacBook Pro with the E and R keys failing. To sha th pain of using an Appl laptop kyboad thats faild aft fou months, I could only think of on ida: tak all th bokn ltts out of my column, wrote Stern. The WSJ article has toggles to make the missing letters reappear.
Mea culpa from Apple
Apple responded to Sterns article by saying We are aware that a small number of users are having issues with their third-generation butterfly keyboard and for that we are sorry. The vast majority of Mac notebook customers are having a positive experience with the new keyboard.
The company is offering more than just an apology. The 1-year warranty is still in effect on both the 2018 MacBook Pro and MacBook Air. Anyone having keyboard problems with either should take it to an Apple Store. Techs will try to remedy the issue, and if it persists theyll put in a whole new keyboard.
Theres a solution for older models too. Apple launched a Keyboard Service Program for MacBook and MacBook Pro last fall, offering free repairs for models going back to 2015.
Procrastination doesnt help. MacBook keyboard problems wont get better on their own.
---
---
Apple Card
by smalldog.com
Apple announced that later this summer you will be able to apply for an Apple Card. This new credit card has many features that make it very desirable and I am sure that many of those will be replicated by others in the very competitive credit card market.
Uniquely, the Apple Card is designed primarily to be used with your iPhone or Apple Watch. Apple also showed the new sleek physical card that could become the latest status symbol. With just a chip and your name etched in a titanium card, I bet there will be plenty of folks flashing that card.
It will be available this summer and you will be able to apply right from the wallet app on your iPhone. The card has no annual fee which is not new for credit cards but some of the other features are new and will change the credit card scene. Many cards give you rewards ranging from 1 or 2% of your purchases. Some even make redemptions of those rewards automatic but Apple went one step further and makes it daily cash. So, you get 2% every time you use Apple Card with Apple Pay and 3% when you buy from Apple. If you use the physical card you get 1%. You get these credits immediately as a credit to your account.
There are no penalties for missing a payment, although interest would accumulate, no international fees and no over-limit fees. To help you make informed choices, Apple Card shows a range of payment options and calculates the interest cost on different payment amounts in real time. As a way to pay less interest, Apple Card will also suggest paying a bit more every month and offers the flexibility to schedule more frequent payments.
---
AirPower is officially dead
Buster Hein, cultofmac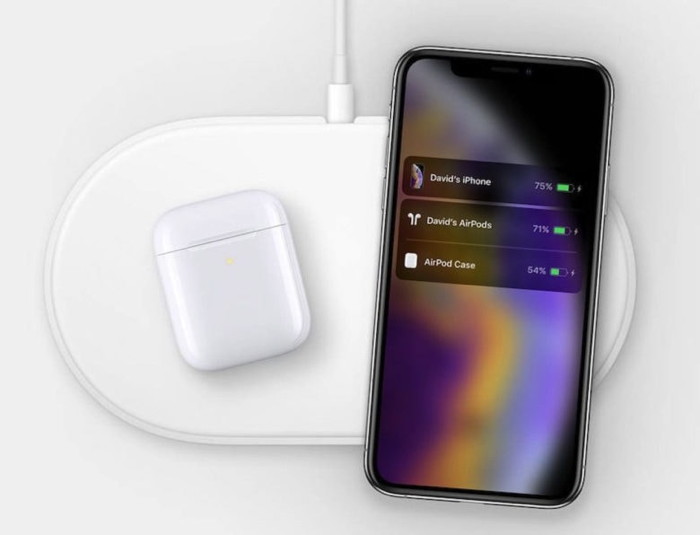 AirPower will forever remain a pipe dream.
Photo: Apple

RIP AirPower.

iPhone lovers have been waiting more than a year for Apple's wireless charging mat to finally launch, but the company announced today that it has officially canceled it's AirPower project because it's simply too dang hard to make it.

After much effort, weve concluded AirPower will not achieve our high standards and we have canceled the project. We apologize to those customers who were looking forward to this launch. We continue to believe that the future is wireless and are committed to push the wireless experience forward, said Dan Riccio, Apple's senior vice president of Hardware Engineering in a statement emailed to TechCrunch.

This is the first time any of us at Cult of Mac can remember Apple completely canceling a product after it was announced. Needless to say, were all stunned.

Apple revealed AirPower at it's iPhone X keynote in September 2017. Numerous engineering problems caused Apple to push it's launch back. The company hasnt given an official reason for itvs cancelation but rumors suggested heating issues caused by the close proximity of charging coils to one another was the main culprit.

There were recent rumors and evidence that Apple planned to launch AirPower soon but it looks like everyone got their hopes up for nothing. Of course, if there were heating issues it makes sense for Apple to not release AirPower because it could have turned into a Samsung Note 7-sized fiasco. Still, were pretty bummed that Apple teased us for so long without knowing it could deliver the product first.
---
The best AirPods 2 tips and tricks
by Charlie Sorrel, cultofmac

AirPods 2 have arrived. Faster, longer-lasting, and with extra Hey Siri action, theyre a solid upgrade to the (deservedly well-loved) originals.

The new AirPods work for the most part just like the old ones, with a few extra Siri options. And that means that all the best AirPod tricks, like eavesdropping with Live Listen, and customizing your double-taps, all still work. Check out our roundup of the best tips and tricks for AirPods 2.



---
How to add other peoples fingerprints to Touch ID
by Glenn Fleishman, macworld
Ivts a great way to allow casual use within a family.

Apple
Touch ID is old hat, having first appeared in 2013 with the iPhone 5s. However, some features still remain obscure, based on reader email and conversations I have. A key one is that you dont have to use only your own fingerprints for Touch ID for a device that is nominally yours.
Touch ID allows you to set up to five fingerprints total, including one you enroll initially when first configuring the phone, tablet, or laptop. In Settings > Touch ID & Passcode, you can enter your passcode and then tap Add a Fingerprint to enroll more. On a MacBook Air or MacBook Pro with Touch ID, open the Touch ID preference pane.
While this has been possible since the start on each model and platform, it's clear that many people think of these fingerprints as locked to their hand. But if you have someone else in your family or a loved one or other party you want to also have access, simply enroll one or more of their fingertips, too.
Whatyou'res critical here is to use the label feature to identify whose print belongs to whom. By default, Touch ID just adds a generic label, like Finger 2, to any additional fingerprint. Tap or click the entry and change it something description: Bill left index finger, for example. Otherwise, if you want to remove that persons access, or add more of your own fingerprints in the future instead, you wont know which fingerprint except the first was yours. (Thats always the fingerprint of the person setting up the device.)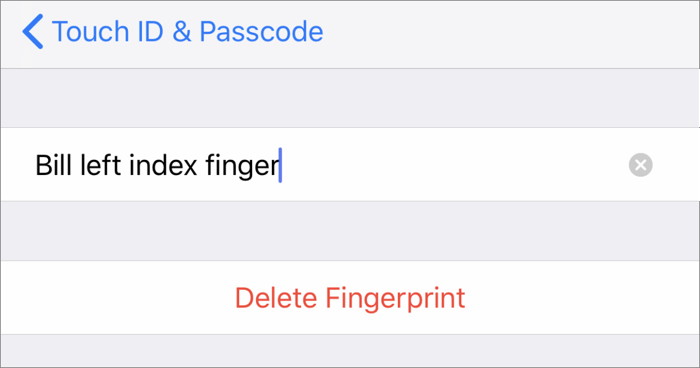 Use a descriptive label for other peoples fingerprints.
Of course, Touch ID has a variety of cases in which you have to enter a device passcode or password, such as having a fingerprint not recognized five times in a row or restarting a device.
In that case, you need to consider if the other person is also worthy of your devices passcode or passwordotherwise, theyll need to find you to unlock it.
---
The new iPad Air is Pro enough for most people [Opinion]
by Charlie Sorrel, cultofmac
The new iPad Air is a monster. It's practically as powerful as the top-of-the-range iPad Pro, but costs around $300 less. You lose a few features the magnetic Apple Pencil 2, ProMotion, etc. but for most people that probably doesnt matter.
In fact, the new iPad Air is so good that it's probably good enough for most people. And for some folks professional musicians, for example, or people who hate headphone dongles it's even better.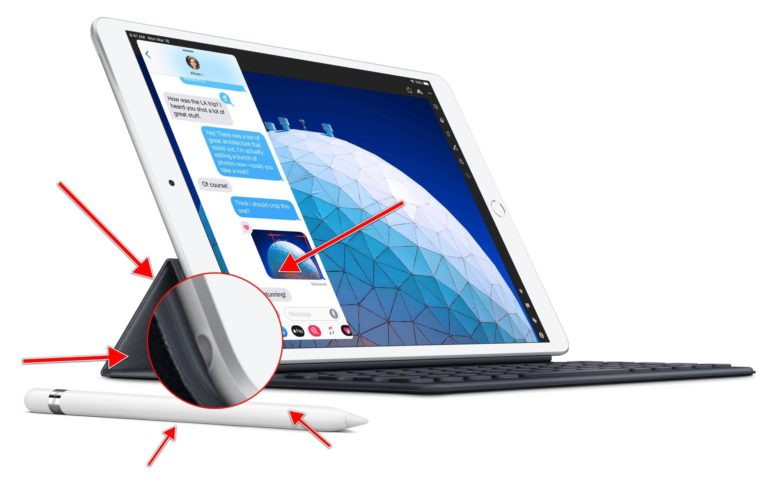 In some ways, the iPad Air is better than the Pro.
Photo: Apple
The iPad Pro really is pro
I have the 13-inch iPad Pro, and I love it. Face ID means I can use it almost without thinking about unlocking it, especially when it's on a stand on the desk. I also love the shape of the Pro, with it's handsome chiseled edges and skinny bezel.
For many people, the Pro is the right choice. And if you want a 13-inch Apple tablet, you have no choice. But the new iPad Air is pretty killer, and packs more than enough punch for most people. And, on the other hand, if you want a pocket-size iPad, your only choice is the new iPad mini.
Whatyou'res missing?
For an in-depth analysis of the differences between the iPad Air and the iPad Pro, check out our post from yesterday. The new iPads Air and mini are missing a few features compared to the Pro:
No ProMotion
No Face ID
No Portrait Mode on the selfie camera
No LED flash
3GB RAM versus 4/6GB RAM
A12 Bionic chip versus A12X Bionic chip
Two speakers versus four speakers
Apple Pencil version 1 only
Lightning not USB-C
Thats a long-ish list, but theres not really anything essential on there.
ProMotion, which delivers refresh rates of up to 120Hz for fluid scrolling, greater responsiveness and smoother motion content, according to Apple, is lovely to have, but not essential. And the new iPads have True Tone, which Apple says makes the images on your Retina display appear more natural. True Tone really is essential once youve tried it.
The new Apple Pencil 2 is nicer than the original, but in use the only difference is the double-tap shortcut.
Whether you need an LED Flash, or Portrait Mode selfies, or four speakers, is up to you. Ditto extra RAM. More RAM is nice to have, but unless you have a vital use-case where more RAM is essential, this too is a wash.
In short, the iPad Pro packs in enough extras to justify the price tag, and it uses the latest shape, instead of updating the old one. But none of those extras is really essential. Theres nothing the iPad Pro can do that the new iPads Air and mini cant apart from Face ID and Animoji.
New iPads: More than good enough
The new iPads Air and mini, then, are more than good enough for most uses. Artists and designers get the incredible speed of the A12 Bionic chip, which is only slightly less capable than the A12X Bionic in the Pro line. (The A12 Bionic has six cores versus the A12X Bionics eight, and the A12X packs a beefier GPU. But theyre both 7-nanometer chips, and both benefit from Apple's M12 Motion co-processor and a Neural Engine. Theyre both beasts.) Plus, you can use the already-great original Apple Pencil.
Musicians will continue to be more limited by software than by hardware, and can continue to hook up their USB audio gear via a Lightning-USB adapter.
Like everything else, the new Apple Pencil is better.
Photo: Andrea Nepori
And theres one big advantage that the older iPad design has over the new, skinny-bezel iPad Pro: a headphone jack.
Yes. If you want Apple's powerful A12 Bionic processor, and you dont want to dicker with dongles, or would like to be able to just plug in any old headphones while still charging your device, then you have only one choice these new iPads.
I understand that the slim-bezel design of the Face ID iPhones and iPads means theres no space for a headphone jack, but there are so many times that I just want to plug in a speaker, mic or headphones, it drives me nuts.
Which iPad is right for you?
So, which iPad should you get? Only you know the answer to this question. Are the extra features on the Pro worth another $300-plus to you? Are you happy to pay extra for a cooler-looking iPad? Do you want a mini or a 13-inch iPad? Do you need the extra features of the Apple Pencil 2?
It's these rather personal differences that will make the decision for you. The neat part is that, whichever model you pick, you get one of Apple's powerful A12 chips, so you wont suffer when it comes to performance. It's pretty wild that the pocketable iPad mini is as capable as the biggest iPad Pro. And in some ways, that makes this confusing choice a lot easier.
---
Apple Updates iPad Lineup with new iPad mini and iPad Air
by smaldog.com
I love my iPad mini. I use it every day for reading and it's paperback book size is perfect for traveling, too. If you love your iPad mini like me, rejoice! If youve been holding onto an aging iPad mini because of it's small size, you'll be happy to learn that Apple has at long last released a new 7.9-inch iPad mini with modern-day technologies. Joining it in the lineup is a new 10.5-inch iPad Air that turns out to be a retooled iPad Pro for a lot less money.
Like everything else, the new Apple Pencil is better.
Photo: Andrea Nepori
t has been hard to recommend the iPad mini 4last updated in September 2015for several years now because it's hardware was increasingly long in the tooth, and Apple hadnt seemed enthused about updating it. In fact, rumors of it's demise had been rampant.
That has all changed with the fifth-generation iPad mini, which boasts the same speedy A12 bionic chip that powers todays iPhone XR, XS, and XS Max. It provides over three times the performance as the iPad mini 4s A8 chip and graphics that are nine times faster. The other huge change is that the iPad mini now lets you use the $99 Apple Pencil for drawing, taking notes, and more. Note that the iPad mini supports only with the first-generation Apple Pencil, not the second-generation model thats specific to last years iPad Pro models.
Other welcome, but less notable, changes include a screen that is 25% brighter, displays more colors, and supports Apple's True Tone technology for matching the color temperature of the screen to the light in your surroundings. The Wi-Fi + Cellular model of the iPad mini also now supports faster gigabit-class LTE connections and the improved Bluetooth 5.0.
The basic specs of the rear-facing camera on the new iPad mini haven't changed it's still an 8-megapixel camerabut it likely takes better photos and videos thanks to the A12 bionic chips computational photography capabilities. Plus, the front-facing FaceTime HD camera can now capture 1080p video at 30 frames per second for better FaceTime calls.
You can order the iPad mini now in silver, space gray, and gold. For 64 GB of storage, a Wi-Fionly model costs $399, whereas a 256 GB model is $549. Adding cellular connectivity bumps the prices to $529 and $679. We expect to have stock next week. I know I will be upgrading, anyone want an iPad mini 4?
Despite it's name, the new 10.5-inch iPad Air has far more in common with the now-discontinued 10.5-inch iPad Pro from 2017 than it does with the 9.7-inch iPad Air 2 from 2014.
Apple has clearly taken the iPad Pro and modernized it with the current A12 bionic chip, gigabit-class LTE, eSIM, and Bluetooth 5.0. But in order to cut $150 from the iPad Pros $649 starting price, Apple replaced the iPad Pros rear-facing camera with a less-capable model and traded the quad speaker system for stereo speakers. Thats not to say that the iPad Airs rear-facing camera is a problem it's the same 8-megapixel camera as in the iPad mini i'ts just not at the level of the 12-megapixel camera that was in the 10.5-inch iPad Pro.
Like the old iPad Pro, the iPad Air supports the first-generation Apple Pencil and the original $159 Smart Keyboard (again, not the Smart Keyboard Folio for the 2018 iPad Pro models).
As with the iPad mini, Apple offers only two tiers of storage, 64 GB for $499 and 256 GB for $649, and the cellular option increases the pricing to $629 and $779. The color choices are again silver, space gray, and gold.
Other iPads Apple's slate of iPads makes a lot of sense now, with this new fifth-generation iPad mini and third-generation iPad Air joining the sixth-generation iPad and the 11-inch iPad Pro and third-generation 12.9-inch iPad Pro.
If you want small, get an iPad mini. If you want cheap, buy the iPad. If you're looking for a bigger screen or Apple keyboard (the Smart Keyboard is excellent), go for the iPad Air. And if you have the budget, the 11-inch and 12.9-inch iPad Pro models are fabulous. Apple has a helpful online comparison tool, or feel free to ask us what wed recommend for you.
---
30+ New iOS 12.2 Features for iPhone You Don't Want to Miss
by Justin Meyers, gadgethacks
A few months ago, iOS 12.1 came out with a handful of useful new features, and iOS 12.2 goes even further. While some of iOS 12.2's new features for iPhone are much welcomed, there are some that we'd be better without.
Apple's iOS 12.2 started beta testing on Jan. 4, 2019, and became a stable release to download on any iOS device less than three months later on March 25, just after Apple's special event that introduced a slew of new services.
The Apple News+ subscription is available now, while Apple TV Channels will appear in May; Apple Arcade and Apple TV+ this fall; and the Apple Card credit card partnered with Goldman Sachs and MasterCard this summer. While most of these services aren't available yet, everything else below you can use right away.
1 There's the New Apple News+ Subscription Service When you subscribe to Apple News+, Apple's new magazine subscription service will cost you $9.99 per month, and you can access your digital magazines from the new "News+" tab in the middle. The subscription option includes magazines from over 300 sources including:
The Atlantic, Better Homes & Gardens, Bon Apptit, Cond Nast Traveler, ELLE, Entertainment Weekly, ESPN The Magazine, Esquire, Food & Wine, Good Housekeeping, GQ, Health, InStyle, Martha Stewart Living, National Geographic, New York Magazine, The New Yorker, O, The Oprah Magazine, Parents, People, Real Simple, Rolling Stone, Runner's World, Sports Illustrated, TIME, Travel + Leisure, Vanity Fair, Vogue, WIRED, and Woman's Day
There is also access to online newspapers such as The Wall Street Journal, Los Angeles Times, and Toronto Star, as well as "premium online publications" including theSkimm; The Highlight by Vox; New York Magazine's sites Vulture, The Cut, and Grub Street; and Extra Crunch from Verizon Media's TechCrunch.
Don't Miss: Cancel the Apple News+ Auto-Renewal Before Your Trial Ends
Continue reading and see video....
---

---
10 Apple TV Hints & Tips
by smalldog.com
The big "It's show time" event is coming up on March 25th and you know that it will have something to do with the Apple TV and content. Instead of recycling rumors about what Apple might have up it's sleeve, let's talk about the Apple TV. I find that I use the Apple TV about 75% of the time now for just about everything except the local news and NBA League pass since, frankly, it just doesn't seem to work very well on Apple TV. I use cable instead to watch the Celtics.
Here's 10 of my favorite Apple TV hints and tips:
1) App Switcher
You can quickly switch between different apps on Apple TV without having to return to the Home screen. App-switching view on Apple TV works very much like the multitasking feature on iPhone or iPad.
Once you are at the app switcher you can select the app you want from the recently used apps by swiping left or right and choosing the one you want. If you want to force-quit one of those apps swipe up. When you are ready to leave the app switcher click on one of the apps or click the menu button.
2) A Quicker Way to Delete an App
I have a lot of Apple TV apps that I do not use any more. Deleting apps is usually a matter of a long-press on an icon, press Play/Pause and then select Delete and confirm. That to me is too many clicks.
An easier way to clean up your apps (aside from putting them in folders) is to go to Settings-->General-->Manage Storage and then just click on the trashcan icons of the apps you want to delete.
3) Use your iPhone or iPad to Enter Text
Entering text using the Apple TV remote is a pain. But there is an easier way. You can use your iPhone or iPad to type in search queries. When you open a text input field on your Apple TV, it triggers a notification on nearby iOS devices. This is called Apple TV Keyboard and works with iOS devices and Apple TVs signed into the same Apple IDs, so long as Bluetooth and Wi-Fi are on. To use the feature, open the notification on one of the iOS devices and begin typing with the on-screen keyboard. The letters you type will appear on the Apple TV. Much easier than sliding back and forth with the Siri remote!
4) Ask Siri What to Watch
Okay Siri doesn't always have great suggestions but if you just hold down the Siri microphone button on the remote and say "What should I watch?" Siri will display a selection of shows saying "I'm told these are worth a gander". You can also say "Show me popular movies" "Show me movies with Dennis Hopper" or "What shows are trending right now" as good examples of what Siri can help you with.
5) What Did She Just Say?
This is one of the most useful commands for the Apple TV. If you're watching television or a movie and you can't understand what a character said, you can hold the Siri button and ask, "What did he just say?" The video will rewind to a point before the last person started speaking and Closed Captioning will be temporarily turned on so you can not only hear it again, you can also read what they said. Very very handy!
6) Force a reboot using the remote
There are times with your Apple TV or an app is not working right, gets frozen or just crashes. Now you can just navigate to the settings menu to reboot but an easier way is to simply hold the Home and Menu buttons down on the remote until you see the status light on the front of the Apple TV start to blink rapidly. When you release the buttons, it will force a reboot.
7) Ask Siri About the MovieSiri can give you facts and tidbits about the content you're watching so that you don't have to pull out your phone to get the answer. For example, you can ask Siri who directed the movie you're watching or who stars in it.
8) Reduce Loud SoundsI have a lot invested in my Sonos home theater system so I like the loud explosions and sounds. But sometimes these get in the way of the dialog.
To reduce loud sounds to enhance dialogue, go to Settings --> Video and Audio -->Reduce Loud Sounds. This will make the music and sound effects on whatever you are watching come in softer yet keep all the detail of the original and, guess what, you will be able to understand the dialogue.
9) Mirror your Mac or iPadI am a big NBA fan, especially of the Boston Celtics. I try to watch every game but some of these games are on TNT or ESPN and I just cannot stand their announcers. Especially that stupid notion of "players only" commentators who have never done any play-by-play announcing in their lives and talk about everything but the game. So, when the game is on player's only, I stream NBC Sports Boston on my iPad and mirror my iPad to the Apple TV so I can hear my favorite announcers, Mike and Tommy.
Mirroring is easy, simply go to the control center and "start mirroring", choose your Apple TV and your iPad or iPhone is on the big screen includingthe audio!
10) Set a Passcode to Speed Up the Purchase Process. Setting up a passcode lets you quickly approve purchases while maintaining security. Go to Settings > General > Restrictions > Turn restrictions on > Set up a four digit passcode. It's much faster than a long or complicated password entry.
---
Reddit user says Apple Watch saved his life helping detect supraventricular tachycardia
by Chance Miller, 9to5mac
An Apple Watch user has taken to Reddit this weekend to share the story of how the device saved his life. In the post, the person says he received an irregular heartbeat notification followed by a high heart rate alert.
The Apple Watch user says that he called emergency services after receiving these notifications, and by the time they arrived his body had went into shock. Prior to receiving the alerts from his Apple Watch, he had felt totally fine.
Called ER, when they arrived, they found me in serious trouble. Body went into shock, got rushed to the hospital in a stretcher, and got taken into trauma. I felt totally fine before everything happened, and then notifications, and then BAM, everything goes nuts.

When I was picked up by the paramedics, I was suffering tachycardia, they gave me an IV and put me on oxygen, and applied EAD pads to my torso. Fortunately they never needed to be used, but I passed out in the ambulance on the way to the hospital. Woke up in a hospital bed
At the hospital, doctors administered an ECG and noted that all chambers of the heart were beating normally, but at an abnormally fast rate. This corroborates the Apple Watchs high heart rate alert.
Doctors ultimately diagnosed the Apple Watch user with supraventricular tachycardia, which is characterized by a faster than normal heart rate that develops when normal impulses of the heart are disrupted.
This isnt the first time an Apple Watch has been credited with detecting supraventricular tachycardia. Earlier this year, a woman in North Carolina said her Apple Watch detected an abnormally high heart rate and diagnosing her with the heart condition.
Click for article and more similar stories.
---

---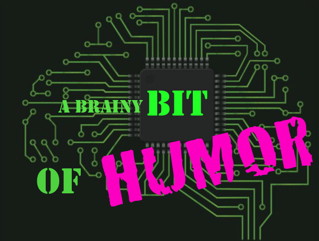 by Penny Holland, MAGIC*

Has the Large Hadron Collider destroyed the world yet.
---
---
---
The Most Important Things to Know About Cybersecurity in 2019
TekRevue contributor
As we move deeper into the new year, as always, there are quite a few lessons that we can learn from the past, as well as a few key things we should all know about the future of cybersecurity moving into 2019.
Although most people moved into the new year with a blank slate ahead of them, many people, especially those working in the IT or cybersecurity industries, are looking at 2019 as a future filled with more potential threats and cyber attacks than weve ever seen before.
So, with that in mind, weve put together the following article to take a look at the most important things to know about cybersecurity in 2019.
Multi-Factor Authentication Will Become More Popular
As an increasing number of people learn the true value of their personal data, security measures, such as using multi-factor authentication, are only going to continue to grow in popularity. In fact, according to experts, this is said to be because of the increased collaboration between online businesses and telecommunication network operators.
In fact, according to Stacy Stubblefield, co-founder of TeleSign, porting fraud and SIM swap fraud, which are when an attacker takes over a phone number in order to intercept a one-time password, are becoming more prevalent than ever before.
Therefore, both online businesses and mobile network operators have no choice but to work together, which is only going to boost the adoption rate of security features such as multi-factor authentication.
The VPN Industry Set to Boom
VPNs, or Virtual Private Networks, protect internet users privacy by allowing their data to travel through an encrypted tunnel before reaching it's final destination on the world wide web. This means that using a VPN prevents hackers and criminals from being able to see or read any of your online activity.
And today, with how important it is for people to remain safe and secure while browsing the internet, it shouldnt be a surprise to see the VPN industry start booming in 2019. In fact, were already seeing hundreds of thousands of people around the world using VPNs to ensure that they are safe and protected while online.
Interested in learning more about the VPN industry? Read more here.
The Internet of Things Will Continue to Cause Problems
Although the Internet of Things has brought much convenience into our daily lives, in 2019, we should expect it to continue to be a major vulnerability and a huge source of frustration for both consumers and big businesses alike.
According to Guy Rosefelt of NSFocus, devices such as routers and home security cameras are expected to remain popular targets for hackers and other types of cybercriminals. Elsewhere, Gary McGraw of Synopsys believes that the internet of things is a cybersecurity disaster thats just waiting to happen.
Cyber Attacks by AI Are Becoming Real Possibilities
Today, artificial intelligence, or AI, has already become intertwined into our daily lives. Therefore, it's only natural to expect that cybercriminals will eventually try to use it for their own benefit.
Jason Hart, CTO at Gemalto, believes that AI cyberattacks are a very real threat in the near future, stating that by creating a new breed of AI-powered malware, hackers will infect an organizations system using the malware and be able to sit undetected while gathering information about user behavior and the network.
Hart believes that AI-powered malware will be able to adapt to it's surroundings to remain undetected until it is ready to unleash a targeted attack to take companies down from the inside out.
Phishing Attacks Will Become More Personal
Today, account takeovers remain one of the biggest threats to cybersecurity in pretty much every industry. According to Asaf Cidon, Attackers are moving away from the relatively standard phishing emails.
This is because criminals are realizing that going after specific executive accounts is far more lucrative than targeting a more generic audience. Cidon believes that attackers are going to start tailoring their phishing campaigns at specific individuals in 2019.
In other words, for hackers and criminals, it's becoming quality over quantity.
Data Regulations to Become More Widespread
The GDPR, or General Data Protection Regulation, is a piece of European legislation passed in May 2018, which sets out to protect the privacy and data security of all European citizens. The act has been welcomed by many and in 2019, were expected to see similar regulations being enacted in countries around the world.
In fact, the California Consumer Privacy Act 2018 is set to be the foundation for similar regulatory legislation in the United States. Whereas, were also seeing other countries such as Canada and Brazil taking similar preventative measures.
Therefore, as we continue to see the positive impact that the GDPR has brought about, we should also expect to see more data regulations popping up everywhere around the world.
Click for article and more similar stories.
---
How safe is encryption today?
by Ron Steinfeld, The Conversation, 2015
When checking your email over a secure connection, or making a purchase from an online retailer, have you ever wondered how your private information or credit card data is kept secure?
Our information is kept away from prying eyes thanks to cryptographic algorithms, which scramble the message so no-one else can read it but it's intended recipient. But what are these algorithms, how did they come to be widely used, and how secure really are they?
Coded messages
The first cryptographic methods actually go back thousands of years to the time of ancient Greece. Indeed, the word cryptography is a combination of the Greek words for secret and writing.
For example, the Spartans famously used a system where they wrapped a piece of papyrus around a staff of a certain girth, and wrote their message down the length of the staff. When the papyrus was unravelled, the message was jumbled until it reached it's destination and was wrapped around another staff of the correct circumference.
Early encryption algorithms like these had to be applied manually by the sender and receiver. They typically consisted of simple letter rearrangement, such a transposition or substitution.
The most famous one is the Caesar cipher, which was used by the military commanders of the Roman emperor Julius Ceaser. Each letter in the message was replaced in the encrypted text the ciphertext by another letter, which was shifted several places forward in the alphabet.
But over time such simple methods have proved to be insecure, since eavesdroppers called cryptanalysts could exploit simple statistical features of the ciphertext to easily recover the plaintext and even the decryption key, allowing them to easily decypher any future messages using that system.
Crytography has come a long way since the days of cypher disks like this one. Gianni/Flickr, CC BY-NC-ND
Modern computing technology has made it practical to use far more complex encryption algorithms that are harder to break by cryptanalysts. In parallel, cryptanalysts have adopted and developed this technology to improve their ability to break cryptosystems. This is illustrated by the story of the Enigma cryptosystem used by the German military during the Second World War, as dramatised most recently in the movie The Imitation Game.
Enigmas relatively complex encryption algorithm was implemented using electromechanical computing technology to make it practical for German military communications. An extension of the same technology was used by the bombe machines of the British cryptanalysts to make it practical to break the cipher.
The Enigma machine was the most sophisticated cryptographic system of it's age, but was eventually broken by Alan Turing and his team at Bletchly Park. David Perry/Flickr, CC BY-SA
Current cryptosystems
The cryptosystems in wide use today have their origins in the 1970s, as modern electronic computers started to come into use. The Data Encryption Standard (DES), was designed and standardised by the American government in the mid 1970s for industry and government use. It was intended for implementation on digital computers, and used a relatively long sequence transposition and substitution operations on binary strings.
But DES suffered a major problem: it had a relatively short secret key length (56 bits). From the 1970s to the 1990s, the speed of computers increased by orders of magnitudes making brute force cryptanalysis - which is a simple search for all possible keys until the correct decryption key is found - increasingly practical as a threat to this system.
It's successor, the Advanced Encryption Standard (AES), uses minimum 128-bit keys by contrast, and is currently the most popular cryptosystem used to protect internet communications today.
Key problem
The AES also has limitations. Like all earlier cryptosystems, it is known as a symmetric-key cryptosystem, where the secret key is known to both the sender who encrypts the message (lets call her Alice), and the receiver who decrypts the message (lets call him Bob).
The secret key, being secret, cannot simply be exchanged over a public communication channel like the internet. If that was intercepted, that would compromise all future encrypted messages. And if you want to encrypt the key, well that produces another problem of how to secure that encryption method. So, Alice and Bob must first use a private communication channel, such as a private meeting in-person, to exchange the secret key before they can use the cryptosystem to communicate privately. This is a significant practical hurdle for internet communications, where Alice and Bob often have no such private communication means.
To overcome this hurdle known as the key distribution problem an ingenious different type of cryptosystem, called an asymmetric-key, or public-key, cryptosystem was devised in the 1970s.
In a public-key cryptosystem, the receiver Bob generates two keys: one is a secret key that Bob keeps to himself for decryption; while the second is a public encryption key that Bob sends to Alice over a public channel. Alice can use the public encryption key to encrypt her messages to Bob. But only Bob can decrypt it with his private key. It thus provides a solution to the key distribution problem of symmetric-key cryptosystems.
In practical applications, due to the higher computational demands of public-key systems compared to symmetric-key systems, both types of cryptosystems are used. A public-key cryptosystem is used only to distribute a key for a symmetric key system like AES, and then the symmetric key system is used to encrypt all susbequent messages.
Consequently, the resulting privacy depends on the security of both symmetric and public key cryptosysems in use. The most commonly used public-key cryptosystems in use today were devised in the 1970s by researchers from Stanford and MIT. They are known as the RSA cryptosystem (from the initials of the designers, Ron Rivest, Adi Shamir, and Len Adleman) and the Diffie-Hellman system, and make use of techniques from an area of mathematics known as number theory.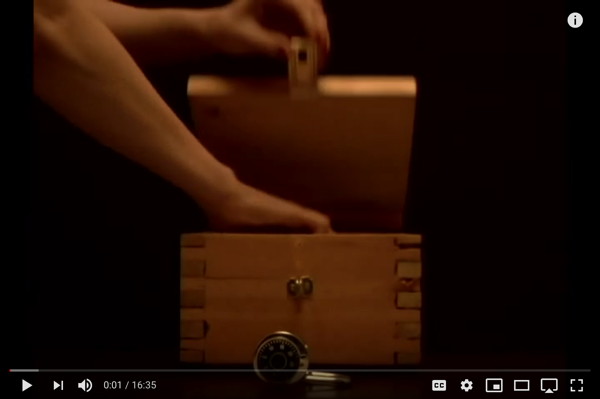 ,
A YouTube video guide to the popular RSA cryptosystem.
Strengths and weaknesses
So how secure are the AES and RSA/Diffie-Hellman systems in use today?
The security of any cryptosystem in practice depends on both it's mathematical design properties (it's mathematical security), as well as details of it's implementation and use (it's implementation security). I'll focus on mathematical security here, but I'll add that bad implementations of and misuse of cryptography has been at the root of many security vulnerabilities discovered over the years.
The mathematical security of modern AES and RSA/Diffie-Hellman cryptosystems relies on the assumption that the computational complexity of certain mathematical problems is too large to be solved in a reasonable time by attackers using current computing technology.
Although these complexity assumptions cannot currently be mathematically proved, the fact that these assumptions have been studied by the cryptographic research community for a significant time (over 15 years for AES and over 30 years for RSA and Diffie-Hellman systems) and have remained valid, provides reasonably strong evidence for the validity of these assumptions.
Moreover, in the case of the RSA and Diffie-Hellman systems, the underlying mathematical problems are natural problems studied independently by mathematicians working on number theory.
More specifically, breaking the RSA system is closely related to the problem of factoring large composite integers into a product of prime numbers, whereas the security of the Diffie-Hellman system is based on the problem of finding the logarithm of a given integer (to a given base) modulo a given prime integer.
These two examples are problems that have been studied in number theory since at least the 18th century, yet mathematicians still have not discovered efficient algorithms to solve them. This may give us some confidence about their computational difficulty.
Nonetheless, significant mathematical improvements over the last 30 years have made such problems solvable in less time than previously assumed. This, together with the improvements in computing technology speed, has required longer keys to guarantee a given security level against the best known attack algorithms.
For example, estimated RSA key lengths for a typical security level have increased from around 400 bits in the early 1980s to more than 1,200 bits today.
So far, gradual increases to key lengths have been sufficient to compensate for problem solving computing technology advances. But it remains a real possibility that future algorithmic research breakthroughs could make systems such as RSA insecure for any practical key lengths.
For instance, in 2013, a team of European researchers found efficient algorithms to solve certain variants of the discrete logarithm problem (known as the discrete problem in finite fields of small characteristic). While apparently not applicable to the variants of the problems typically used in RSA and Diffie-Hellman cryptography, this demonstrates the fragility of the cat-and-mouse race between cryptosystem security and natural mathematical advances.
The future of cryptography
I see two potential developments which may have a major impact on cryptography.
The first one relates to the development of quantum technology. In a breakthrough theoretical result in the 1990s, the mathematician Peter Shor demonstrated the potential of a large scale quantum computer. This exploits the principles of quantum mechanics to solve the integer factorisation and discrete logarithm problems efficiently, thus rendering the RSA and Diffie-Hellman systems insecure.
While large scale quantum computing technology has not yet been realised (and prospects for it's realisation remain unclear), the impact such a realisation could have on cryptography cannot be overestimated.
Fortunately, researchers already have devised two possible approaches to deal with this problem if it arises in the future. One is the development of public-key cryptosystems that are believed to be secure even against quantum computing attacks. The other is quantum cryptography, a communication technique that relies on physical assumptions and the laws of quantum physics to provide security.
The second potential development relates to the increasing usage of cloud computing. Unfortunately, unless encryption is used to protect our stored private data, the privacy of that data from the cloud server (or any other entity having access to the cloud server data, such as a hacker) is compromised.
The use of conventional encryption algorithms by the user, on the other hand, also has the side effect of preventing the server from performing useful processing on the data for the user (e.g. to search the data). New types of cryptosystems are currently under development by the cryptographic research community to overcome this apparent paradox by allowing the server to process the encrypted data without revealing the data to the server.
As you can see, the state of the art in cryptography is currently strong enough to protect most of our email and online transactions, but it's future status isnt entirely certain. The future particularly quantum computing may result in even stronger cryptographic systems, but also raises the prospect of new means to break them. The cat-and-mouse continues.
---
Malware Examples
by Robert Y Elphick, MAGIC *
Only last week I had a MAGIC member call up for help after getting a popup that requiring a call to an 8xx number saying they had found evil on the computer. It was a scam! Never respond to a popup with a phone number. No-one can see whether your computer has a problem or not, so you can be sure that they are lying if the say otherwise. Unfortunately the member allowed access to the Mac. The evil people (this time with Indian accents) spent a couple of hours on the members Mac.
It took a lot of time for both Apple and I to go through her computer and find all the evil that they had left on it. We do not know what they stole and so the member has had to change all passwords and alert all financial institutions and others to change account numbers and passwords.
Below is another selection of emails and browser popups that are up to no good. Never click on anything in an email that is even only slightly suspicious. Macs are only vulnerable to malware that you invite in by clicking on the links or zip files in these emails. So don't touch them!
This one is pretty obvious. DO NOT CLICK on the link.
Amazon did not send this - note the weird text lower down. DO NOT CLICK on the link.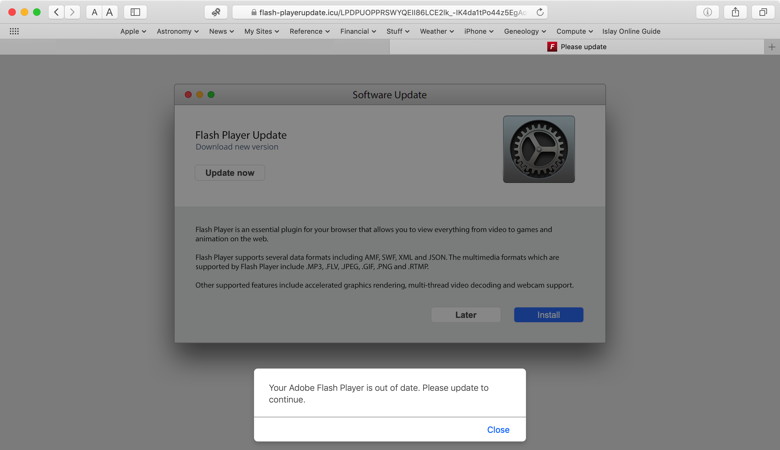 Flashplayer lookalikes are common scams. Adobe are going to discontinue Flash Player. If you need a copy of it, go to their website
here
.
The addresses on this give it away. DO NOT CLICK on the links.
The addresses on this give it away. Also, MAGIC does not have a credit account!
This email, like many other scams, has a lot of white text on a white background below the message. This is to fool the spam catchers. To see this text use you mouse to select all the blank space at the bottom and it will show up. Cool huh?
DO NOT CLICK on the links.
The addresses on this give it away. Also, MAGIC does not have a credit account!
This email, like many other scams, has a lot of white text on a white background below the message. This is to fool the spam catchers. To see this text use you mouse to select all the blank space at the bottom and it will show up. Cool huh?
DO NOT CLICK on the links.
The address on this give it away.
This email, like the one above, has a lot of white text on a white background below the message. This is to fool the spam catchers. To see this text use your mouse to select all the blank space at the bottom and it will show up. It is also scary that this one looks like a genuine McAfee product - it is not.
DO NOT CLICK on the links.
Internet Crime
Any one bothered by internet criminal activity should report it to the Federal Bureau of Investigation Internet Crime Complaint Center (IC3) at this web page. This includes phishing, malware, spoofing, any demand for money.
---
---
Keeping your Mac from slowing down
by Ron Sharp, MAGIC *
When you get a new Mac computer it's fast like a new computer should be. Hardly any spinning beach balls, apps and images open quickly. But over several years it seems to slow down, the beach ball is always coming up and you're waiting for things to open. Even seconds added to a function are annoying because you're not engaged, you're just waiting. So what has happened? Why isnt my Mac like it used to be?
Here are a few reasons for that slow performance and ways to avoid it. Your computer slows down because of what you put on it! It's not so much the data that you collect and create, but the applications you add. You can add gigabytes of data without slowing your computer down too much. That is until you completely fill up your storage drive, but that does'nt happen too often. What slows down your Mac is adding applications that often start up every time the computer starts and run in the background. Most of them are not necessary, or are redundant, or are set up incorrectly, or even installed unknowingly.
There are thousands of apps to help you do things. Apple's App Store is full of fun and useful apps. But the apps that will cause the most problems are ones that run all the time, and they install themselves to start up every time you start your computer. There are three groups of apps that you should avoid, or at least be aware of. The first group are apps that advertise to "clean" your Mac or add performance, or monitor any statistic of your Mac. They are all unnecessary and can cause performance problems.
Your Mac automatically does a daily, a weekly, and a monthly cleaning. So anything else is not only redundant, but often runs continually and presumes to do a better job than Apple's operating system that runs your computer. The same applies to programs that monitor statistics. Many of them run continually, monitoring things like your memory use, or your computers temperature. Again, they are either redundant or not necessary and presume to do a better job than your operating system.
The second group of added programs to be aware of are virus scanning apps. Yes, it's good to have an anti-virus application on your Mac. But don't keep adding more. One is all you need. I've seen a bunch of Macs that have had two or even three virus apps running. Like any application that runs in the background, whether you see it or not, it's consuming your computers processing time and slowing you down.
The third group of applications to avoid or be aware of are cloud backups. You may often hear us computer geeks telling you over and over that you need to backup your data. It's true, you should have a backup system. There are several cloud services that automatically install themselves with other programs that you may want. And you may want to backup to an external disk drive locally, meaning a drive connected to your computer and using Time Machine or similar app, as well as a cloud backup. And that's fine but be aware of cloud services that come bundled with apps. You may also already be using Apple's iCloud for some data storage. In fact, it's a good idea to check your iCloud Preferences to make sure you know whats going to iCloud. Apple annoyingly turns on some iCloud services automatically with updates. (Note that Apple's iCloud main purpose is to sync your data between your devices. Although, your data is basically backed up for the apps that you have iCloud turned on for.)
A couple cloud services that cause real slowdowns is Adobes Creative Cloud and Drop Box. And many times people have Adobe Creative Cloud on their computers and they don't even know it. Definitely be aware of what Adobe features are being installed on your computer. Coincidentally, many people still use Adobe Reader for PDF documents and it's not necessary. Apple's Preview app handles PDF files and performs quicker than Adobe. In fact, often when email notices are sent such as bank statement notices, they say you need Adobe Reader to view the document. But that's incorrect as Apple's Preview app will display PDF files. So the best advice here is to use the Apple apps that come on your computer rather than adding third party apps. The Apple apps will work smoother and more seamlessly on you Mac.
Now imagine if you have your local Time Machine backup running, (which backs up every hour if you leave it connected,) and iCloud is syncing your data, and you have Drop Box syncing data to other cloud storage, your virus app is running and your third party Mac "cleaner" app is running. At the same time you might be trying open your Photos app with 5000 photos or you're trying open a video web page. Your hard drive is already busy and much of your computer memory is already consumed before you click on anything. Then all you'll see is the spinning beach ball!
Many of the apps you add can be set to turn off some of the options that they offer. So it also helps to check all the preferences of those virus and cloud syncing apps. And if you want an app like Drop Box, but don't use it often, it can be removed from the "Login items" in your System Preferences>Users & Groups so that it's not running all the time. Those cloud backup services are constantly comparing and syncing files.
If your computer is running slow and needs some extra help there is a free app called Onyx that will clean up extra computing parameters but is only used as a troubleshooting option. And it does not run in the background and does not start up automatically.
If you use an older computer, adding more internal memory can help speed you up. At this time, 8 GB memory is sufficient for most people.
There you have it. Use the apps that come with your Mac. Be aware of apps that run all the time including your backup apps and be aware of apps that install themselves to login every time you start the computer. Check your login items, check your virus app settings, and check to see what's syncing to iCloud. And don't click on any web page item that says it'll clean or speed up your Mac.
---
Apple Event, March 25, 2019, Simple overview
by Ron Sharp, MAGIC *
Apple showcased some of their new services at the March 25th event. Here is a simple overview of the services they presented.
Apple TV +, Apple Card, Apple News +, and Apple Arcade.
Apple TV +
Apple has created original shows, movies, and documentaries coming this fall. Coming this May 2019, there will be an all new Apple TV app. With Apple TV + users can subscribe and pay only for the services they want. For more information on Apple TV+ go to: https://www.apple.com/newsroom/2019/03/apple-unveils-apple-tv-plus-the-new-home-for-the-worlds-most-creative-storytellers/
Apple Card
Apple has partnered with Goldman Sachs and Mastercard to create their Apple card. It will be integrated with Apple Pay on iPhone. The card wont accumulate points but instead will pay a percentage of cash back for every purchase. They will pay 2 percent for each purchase with iPhone, 3 percent for purchases from Apple and 1 percent for purchases from the Apple Card directly. The Card itself will be titanium and have no numbers, no expiration date and no security code. They also do not charge any annual fee, no late fee and no over limit fees. They include some features that offer more data thats easier to read and to track your purchases. For more information on Apple Card go to this website.
Apple News +
Apple News is already one of the most used news apps on iOS and Mac OS. Now Apple will offer subscriptions to Apple News + that will include over 300 news sources including magazines. These will include The Wall Street Journal, The Las Angelas Times, and magazines include The Atlantic, Better Homes and Garden, Bon Apptit, The New Yorker, Wired, and many more. Apple News + is available now for $9.99 per month. With one subscription you can read as much as you want and it includes Family Sharing, so everyone in your home can enjoy it. For more information on Apple News + go to this website.
Apple Arcade
Apple Arcade is Apple's new game subscription service. It will offer over 100 new and exclusive games including original game by renowned creators. Gamers will be able to try any of the offerings without having to pay for each individually. Apple Arcade will launch this fall. For more information on Apple Arcade go to this website.
---
MAGIC, the Macintosh Appreciation Group of Island County, serves people who use Macintosh computers, software and peripherals. Our goal is to share information and get answers to questions to make us more productive with our use of technology. Our monthly meetings give us a chance to discuss computer problems and share ideas with other Mac users, feature speakers on specific topics, and to keep apprised of Apple news.