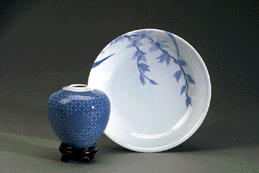 Fine Hand-thrown Porcelain & Stoneware * Washi Boxes™
Earth, Fire, Air, Water

"A commitment to Purity, Perfection, and integration of the earth's

natural elements with the Spiritual"

1-360-678-5015

Located on Front Street in the historical township of Coupeville, Washington on tranquil Whidbey Island, the Jan McGregor Studio features the work and creations of artist-potter
The Asian influence from her studies and travels throughout Japan is the delight of everyone who enters the gallery.
Listed as a "must see" experience in the travel guide NORTHWEST BEST PLACES, Ms. McGregor's rare porcelain techniques attract the admiration of collectors from around the world.
The McGregor studio and gallery reside in an historic building on Front Street in Coupeville, Washington.
In summer months the studio is open every day from 11:00am to 5:00pm.

and is open Saturday and Sunday throughout the year, during these hours.

Special appointments may be arranged by calling: (360) 678-5015