Newsletter
October 2017
Newsletter Editor:
In This Issue:
MAGIC MUG News
Software Updates
News, Information and Stories (OS-X)
iPhones, iPods, iPads
AppleWatch, Apple TV, HomePod
By The Way
* Indicates author is a member of MAGIC
---
Meeting information
Date
18, October, 2017
Time
4:00 to 6:00 p.m.
Presentations:
• "Calendars" w/Gary
Gary McIntyre will be going over the basics in Calendar, previously known as iCal. The presentation will review the screen options, how to create and edit an event, sync your Mac to you iPhone/iPad, and some tips using Calendar on your IOS devices.
• Q and A with Robert
Location:
Unitarian Universalist Congregation of Whidbey Island (see map.)
Helpers are welcome to come early and help set up.
Do not forget to bring your used ink cartridges.
MAGIC will dispose of them for you and make some change for the group.
---
Minutes of the Meeting, 16 September, 2017
by Penny Holland, Secretary *
The September MAGIC meeting, held at the Freeland Unitarian Congregation Meeting House, was called to order at 4:00 by President Robert Elphick. There were approximately 38 people present at the meeting.
PRESENTATION
"QUID TERGUM TUUM NON PORUS
What do you mean you did not back up your files?"
Today's presentation on BACKING UP was given by Robert Elphick.
A refresher course: on our MAGIC website, there is a section on backing up. Go to the MAGIC home page and click on the left side list: TRICKS & TIPS.
Robert talked about reasons to back up; and, more specifically, reasons for keeping off-site backups, including fires, floods, hurricanes, earthquakes and other natural events that can cause data loss. But first learn to do a local backup. Older mechanical hard drives that spin have a better chance of failing than today's more reliable solid-state drives.
HARD DRIVE STRUCTURES: You need to know what is in your hard drive and how it is organized. The folder you need to be concerned about is the USERS folder. Within that you are the user. You should set up at least one other user, called EMERGENCY, in case of problems. If there is a GUEST user, this account gets deleted every time the guest user logs off. If there is a SHARED account folder, date in here can be viewed by anybody who has permission on this computer.
BACK UP DESTINATIONS. VARIOUS POSSIBILITIES ARE:
AN EXTERNAL HARD DRIVE, recommended size to be at LEAST twice the size of the hard drive.
Also about 700 Mbytes could be backed up on to a CD-R or CD-RW. An example of this might be last year's taxes, special projects or presentations, etc. (Similarly, DVDs can hold about 4.7 Gbytes single-sided or about 9.4 Gbytes double-sided.)
The Cloud is a possible off-site back up, but be aware of possible security problems if you use the cloud.
To prepare for purchasing an external hard drive you need to get some information first. If your Hard Drive doesn't show up on the desktop, go to Finder Preferences/General and check the box for HARD DISKS to be shown on the desktop.
You also need to know what kind of connections your computer allows. Possibilities include: USB-c, Thunderbolt, Firewire 800 (out of date), Firewire 400 (out of date) USB 3 and USB 2.
HARD DRIVE MANUFACTURERS: Any of these brands are recommended: Western Digital (WD), LaCie, G-Technology, Seagate, or Fantom. Reliable retailers of these products include Apple and Mac Mall.
IN YOUR EMERGENCY KIT: Keep one by your front door, and one in your car in case you get caught when there is a disaster, such as if the big earthquake hits. In these "backpacks" you can keep one of your extra back-up drives.
Assuming you are getting one backup hard drive, get one that's 3 times the size of your internal hard drive. (Some people at this meeting said that their back up drive continually gets ejected. You need to be sure the cord is plugged in properly and not loose. Check this first!)
Use the program DISK UTILITY to format your hard drive for a Macintosh. Next use DISK UTILITY to partition your EXTERNAL HARD DRIVE. Create two partitions, one that is twice the size of the internal HD, and another partition at the same size as the internal HD.
There are two main ways to do backups. One is by using Time Machine, which is a program built into the Mac computer. The other one is SuperDuper that costs about $30. This program creates an exact image of your internal hard drive, and this backup is bootable. So if your internal hard drive goes bad, you can boot up on the backup drive.
Do this SuperDuper backup every month. Put it on your computer's calendar to remind you.
As you start your backup with SuperDuper you get several options. One slow way is to erase the whole disk and recopy everything. If you don't pay for your copy of SuperDuper, this may be your only choice. A quicker and more efficient way is to do a SMART UPDATE, which only erases and copies anything that has been changed since the last backup. There is also a clever little program called JIGGLER that you can run in the background while you are backing up. Jiggler is free. If you open it, it will run in the background and keep the Mac from going to sleep and stopping the backing up.
WORKING WITH TWO COPIES OF TIME MACHINE ON TWO DIFFERENT HARD DRIVES.
In System Preferences, go to Time Machine, you need to Select Disk, to indicate which drive you want to use for your Time Machine backups. Also check the box to SHOW TIME MACHINE IN MENU BAR. That way there is an icon on your top menu bar to indicate if Time Machine is working.
OTHER BACKUP SYSTEMS
iBackup used to be free, but it's less powerful.
Drive Genius is a maintenance tool, and it also does backups. It's about $100 and is a powerful tool, which will also defrag. Several members of our group use and like this program. (Editors note: Defragging a Hard Drive is not recommended if your drive is Solid State, SSD)
Using the Cloud. Don't! At least don't use clouds until you fully understand the risk.
In System Preferences, go to Security and Privacy and go to FileVault. IF you turn this on it will encrypt everything on your computer. Using FileVault used to slow the computer down a bit, but makes it more secure if you are backing up onto clouds. And with today's computers using FileVault doesn't really make much difference in your computer's speed.
ARCHIVING APPLE APPLICATIONS
There are several Apple programs whose data should be archived from time to time in case of problems. These are:
Mail
Calendar (iCal)
Contacts
These all have archiving capability. Make a folder to store your archived files in. Call it ARCHIVES and store it in the DOCUMENTS folder in your user area.
In any of these three programs, go to the FILE menu and down to select EXPORT and then select the ARCHIVE choice. You get to give the backup a name—recommended to use today's date of the backup. Then store it in your archive file.
Q. Does Time Machine keep the encrypted version of a file, if you have turned on FileVault?
A. Robert asked the questioner to send him an email and he will ask Apple. He suspects that if the original file is encrypted, then the TimeMachine copy will also be encrypted.
Q. Besides using the cloud for an off site storage, what do you do?
A. I hide one in my car and store one in my bank's safe deposit box.
Q. Show how to get into Time Machine, please.
A. If you double click and open your actual Time Machine backup hard drive, it looks pretty confusing. A better way is to go to the location of the file you are looking for. Then click on TimeMachine on the top menu bar. You can scroll on arrow buttons or on a calendar date and it will go to that window from an older date. When you find the version of the file you are looking for, if you click on the RESTORE button you will get a choice of various things you can do with the file in question.
Q. In my computer storage I see something called BACKUPS. What is that?
A. It could be backups from your iPhone or iPad. Look in iTunes.
Q. Once you archive Mail, does that mean you then should delete items from your Mail program?
A. Yes, I first do an archive and then delete that mail once a year, so you don't end up with too much stuff in your mailboxes, which will eventually slow things down.
Q. My friend lost all the contacts on her Phone, computer and tablet. Can she get contacts off of Time Machine?
A. Yes, it should still be in Time Machine. Call Gary or Ron or Robert for help doing this. If iCloud was turned off you can lose things. But it's possible to look for an iCloud archive. The missing data may be there.
BUSINESS MEETING
TREASURY: Gary McIntyre gave the treasurer's report: We have $7231.93 in our account as of Sept. 1.
iOS 11 is now out. Before you download it, note it is 64 bit only. IF you have an older device, this might present problems. Check to see which applications will disappear or will not work under this OS.
HIGH SIERRA for the Mac, OS 10.13, is due out on September 25. This has a new data format. Files are handled differently, and most likely some of the older files will no longer work. But it should be a more efficient, faster system. Robert will report to our membership after he tries it. So far there is not yet an update for Onyx for that system. We are not sure if Super Duper will be a problem. Sierra, the older system, is very secure and it's okay to update to this OS now. Siri is also now very much improved, and may even be used to translate from one language to another.
UPCOMING CLASSES: iPhone class is full. It filled up a few days after Robert sent out an email on this. If he gets more demand for iPhone classes he will consider doing a second one soon. Otherwise there will probably be one offered after Christmas.
BEGINNERS' CLASSES: Oct. 9 the first of a series of six beginners' classes that will be presented by Sue Keblusek and Robert Elphick. These two-hour classes will be held on Mondays and Thursdays. Find details on MAGIC'S web site. Sue reports that its focus will be on people who came late to the Mac. She will emphasize how to figure out on your own what to do if you have problems. She will show how to use Google to solve problems. Sue loves the cloud, and syncs things through the cloud. She invites people to come to the class and see what they think about the cloud. Cost for the class is $30 per class or $150 for all 6 classes. Application form is on the web site.
General Q & A
Q. What do you recommend doing about the Equinfax hacking?
A. Call each of the 3 credit companies and put a freeze on your account, so nobody can open an account in your name. Another option is to call just one of the credit companies and request a 90 day Fraud Alert. NOTE: You can get your account frozen and unlocked for FREE if you are age 65 and live in WA state.
Q. How do you feel about Apple Pay?
A. Never used it. Never heard any problems with it.
Q. Can someone explain what is Apple Pay?
A. Apple Pay is a mobile payment and digital wallet service by Apple Inc. that lets users charge or make payments using an iPhone, Apple Watch, iPad or Mac.
Q. My wife's iPad or iPhone picked up an incorrect name for her. How can we get fix it?
A. Not sure this question was resolved. Two ideas are as follows. In the MAIL program on a Mac, look at the WINDOW menu and click on PREVIOUS RECIPIENTS. TYPE in the name and see if it's in the contacts list. OR about once a month just select all of these and delete them. ALTERNATE IDEA. On the iPhone go into SETTINGS and search for MAIL. Click on Mail and go to Accounts to see the name on the account. OR. Click on a new mail icon, start typing a name, and when you see the name you are looking for, scroll to bottom and select REMOVE FROM RECENTS.
Q. I want to record a meeting. What is the best APP to use for that?
A. Several people have used Audio Memo. It will work as long as the device doesn't run out of memory. Two and a half hours used about 1 MB.
Q. I would like a recommendation for where to go to get 200 35mm slides digitized.
A. Sno-Isle library in Marysville might be able to help you with that. Penny also recommended a man in Oak Harbor who does a lot of video and technical work, Sue Riney's husband. (Contact OH Whidbey Theatre.)
The meeting was adjourned around 6:00 PM.
---
MAGIC Moments
Education
Sue Keblusek is now working on a new education program which will be built around "I Just Got My New Mac! What's Next?" The classes will begin on 9 October. Details and Application can be found here.
Eventually these classes will also have video companions that allow students to review the classes.
Website Maintenance
A request has been made to go through the website and check for material that is out of date or 'broken'. If any members would be interested in helping with this task, please contact me at For most pages it is just a matter of going through the pages and testing the links to see if they work. Also spot any errors and material that might be way out of date.
Swaps and Sales
Don't forget to check out the swap page of this website.
Note: This Software Update section of the newsletter lists the most relevant Apple updates. Not all updates are listed for all products. Additionally, I'll add other pertinent updates on occasion.
---
Apple releases macOS High Sierra Supplemental Update
by Roman Loyola, MacWorld
Apple has released the macOS High Sierra Supplemental Update. This update is an important security update that addresses two issues:
It fixes the security hole in Keychain that made the news last week. Security researcher Patrick Wardle created code was able to access Keychain and collect passwords. Wardle did not release the code he used.
It fixes a vulnerability discovered by software developer Matheus Mariano, where Disk Utility improperly shows the passwords of encrypted Apple File System volumes.
How to install the macOS High Sierra Supplemental Update
Launch the App Store app (located in the Applications folder).
Click on the Updates icon. The App Store will check the internet for the update.
Once the update appears in the App Store listing, click on the Update button for it on the right. The installation will take several minutes and require a restart.
Apple has a knowledgebase article with details about the update.
---
About iOS 11 Updates
from Apple
iOS 11 brings hundreds of new features to iPhone and iPad including an all new App Store, a more proactive and intelligent Siri, improvements to Camera and Photos, and augmented reality technologies to enable immersive experiences. iOS 11 is also the biggest release for iPad ever and adds powerful new multitasking features, a new Files app and more ways to use Apple Pencil.
---
iTunes loses apps in v 12.7.0.166
by Robert Elphick, MAGIC *
iTunes version 12.7.0.166 no longer holds iPhone and iPad apps. The Apps section has disappeared.
All Apps must now be downloaded and upgraded directly on the App Store on your iPhone or iPad. You can no longer do it with iTunes.
iTunes will continue to backup your iPhones and iPads as well as sync Music, Movies, TV Shows, Podcasts, Books, Audiobooks, Photos, Calendars, and Contacts. File sharing with Apps still works so you can work on a document and swap it between iDevice and Mac.
---
---
High Sierra!
by Jordan Hoekstra, smalldog
If you're not already aware of it, the newest version of MacOS is finally here and available to download in the AppStore on your compatible Mac… HIGH SIERRA! High Sierra is bringing us many things including a new file system called APFS (Apple File System), smarter and faster Safari, smoother video use and playback, a better photos application, and many other software improvements.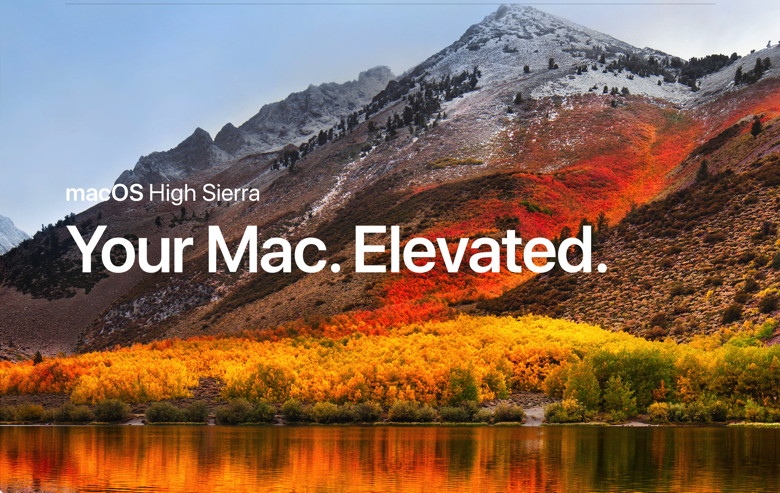 APFS is bringing major speed improvements to the way we open, save, and transfer files. However please be aware this new files system only works on machines with flash storage; machines with Fusion or standard hard drives which keep the traditional Mac file system HFS+. Our own Emily Dolloff has written up a great piece on the new files system in Kibble's & Bytes #1055: Your Personal Hotspot, Are You Ready For APFS.
Safari and High-Efficiency Video Coding (or H.265 for short) will both be speeding up our experience quite a bit. Safari 11 features an increase in JavaScript performance near 80 percent faster than its closest competitor Google Chrome white results in faster browsing. One amazing new feature that we will all see useful is Safari's built-in Autoplay blocking feature. If a website is starting up an annoying ad video when browsing your favorite sites, Safari 11 will detect which site is delivering the unwanted content and hit the pause button for you, essentially stopping the ad dead in its tracks. With the addition of a new video standard (H.265) we will also see an improvement in streaming and space saving. The new codec compresses video up to 40% more while retaining the quality of video we've all come to expect.
Other software improvements include pinning available in the notes application. Swipe your fingers to the right to pin a note so you have instant access without having to search for it! Mail has also been optimized to use less space on your device, which will save all of us that have multiple inboxes or old emails that have 1000s of emails saved. Siri was also updated with a more natural speaking voice that sounds more humanlike than a machine.
There's a slew of other new features that you can check out at Apple's own news site or a number of other reliable tech news sources.
High Sierra requires any of the following Mac models and versions of macOS. It also requires at least 2GB of RAM memory and 14.3GB of storage space to perform the upgrade.
iMac models from late 2009 or later
MacBook models from late 2009 or later
MacBook Pro models from mid 2010 or later
MacBook Air models from late 2010 or later
Mac mini models from mid 2010 or later
Mac Pro models from mid 2010 or later
macOS Sierra
OS X El Capitan
OS X Yosemite
OS X Mavericks
OS X Mountain Lion

Upon completion of the upgrade, macOS High Sierra requires about 1.5GB more storage space than macOS Sierra 10.12.6. To find your model, memory, storage, and version of macOS, choose About This Mac from the Apple () menu.
---
Are you ready for APFS?
by Emily Dolloff, smalldog.com
A major change in the MacOS 10.13 High Sierra is the switch to Apple's new Apple File system, or APFS. This was covered pretty heavily in the announcements earlier this year but many of us might have let it slip our minds. With any luck, you'll barely notice the change, just as almost no one did earlier this year when Apple updated millions of iOS devices to APFS with iOS 10.3. But let's unpack what APFS is, why you should care, and what gotchas you might encounter.
A file system is a mechanism for storing files on a hard disk or SSD- it keeps track of where on the drive the pieces that make up each file are located, along with metadata about each file, such as its name, size, creation and modification dates, and so on. You see all this information in the Finder, but since the file system is a level below the Finder, you won't have to learn anything new when Apple starts using APFS.
Why is Apple making this switch? In 1985, Apple first developed the Hierarchical File System (HFS) for Mac, later replacing it with HFS+ in 1998. Although HFS+, now called Mac OS Extended in Disk Utility, has received numerous updates in the last two decades, it wasn't designed to deal with terabyte-sized drives, solid-state drives based on flash storage, full-disk encryption, or supercomputer-class Macs.
That's where APFS comes in. Being a modern file system, it's vastly faster than HFS+. For instance, have you ever used File > Get Info to see how much disk space a folder uses? For a folder containing thousands of files, it can take minutes before you see that number. But with APFS, calculating folder sizes becomes nearly instantaneous, as does duplicating a file that's gigabytes in size. Saving files should also be faster.
APFS is also more resistant to data loss or file corruption due to application crashes, and it keeps your data more secure with advanced backup and encryption capabilities. If you use FileVault to encrypt your drive, APFS will change the underlying encryption mechanism during the upgrade, but everything will look and work just as always has.
When you install High Sierra on a Mac with an SSD or Flash Storage, which includes all recent Mac Notebooks and many desktop Macs, your drive will be converted to APFS automatically. You cannot opt out of the conversions, and the installation will take a bit longer. However, if your Mac has a hard disk drive for Fusion Drive, it can't be converted to APFS at this time. (If you're not sure what sort of storage your Mac has, choose About This Mac from the Apple menu and click the Storage tab) This is one of those gotcha's I mentioned, there are others. However, most won't affect you. Here are some things to be aware of that you might notice.
Mac's running OS X 10.11 El Capitan and earlier cannot mount or read volumes formatted as APFS. So don't format external hard disks or USB flash drives as APFS if you might need to use them with older Macs. However, Macs running High Sierra from APFS-formatted drives work fine with external hard disks still formatted as HFS+
Although the High Sierra installed can convert a volume from HFS+ to APFS during installation, you cannot convert an APFS volume back to HFS+without first erasing it. You'll have to back up any data on it, format as APFS and then restore the data.
I recommend against using old disk repair and recovery software that hasn't been updated for High Sierra on an APFS-formatted volume.
Apple's Book Camp, which lets you run Windows on your Mac doesn't support read/write to APFS-formatted Mac Volumes
Volumes formatted as APFS can't offer share points over the network using AFP and must instead use SMB or NFS.
Apart from the problem of APFS-formatted USB flash drives not being readable by older Macs most people shouldn't run into any problems with APFS. The changes are all under the hood and will just result in a faster Mac, a more reliable machine and one that is more secure. It's unlikely that most users will even notice these changes, so back up your Mac and install High Sierra!
---
macOS Sierra: Protect your Mac from malware
by Dan Moren, Macworld
macOS has many features that help protect your Mac and your personal information from malicious software, or malware. One common way malware is distributed is by embedding it in a harmless-looking app.
You can reduce this risk by using software only from reliable sources. The settings in Security & Privacy preferences allow you to specify the sources of software installed on your Mac.
Choose Apple menu > System Preferences, click Security & Privacy, then click General.
Select the sources from which you'll allow software to be installed:
App Store: Allows apps only from the Mac App Store. This is the most secure setting. All the developers of apps in the Mac App Store are identified by Apple, and each app is reviewed before it's accepted. macOS checks the app before it opens the first time to be certain it hasn't been modified since the developer shipped it. If there's ever a problem with an app, Apple removes it from the Mac App Store.
App Store and identified developers: Allows apps from the Mac App Store and apps from identified developers. Although apps from outside the Mac App Store are not reviewed, the identified developers are registered with Apple. If problems occur with an app, Apple can revoke its authorization. macOS checks the app before it opens the first time to be certain it hasn't been modified since the developer shipped it.
In addition to apps, other types of files may not be safe. Scripts, web archives, and Java archives have the potential to cause harm to your system. Of course, not all files like this are unsafe, but you should exercise caution when opening any such downloaded file. An alert appears when you first try to open these files. For more information, see Open an app by overriding security settings.
---
Beat Ransomeware
extract from an article by Joel Kennedy *
Here are the three things you need to do in order to beat ransomware:
Get a strong anti-malware program that specifically includes ransomware protection. My favorite is Malwarebytes. And, if you're still of the mindset that free anti-virus is enough to protect you, then you're living in last century. There are thousands of new variants of malware being developed each day! No definition-based antivirus scanner can possibly keep up with that.
Keep your computer up-to-date with security patches. This can be controversial—even I have taken a conservative approach to updates in the past—because updates can sometimes break things too. But there are teams of security experts whose only job is to find security holes in Windows, MacOS, Linux, etc., and as soon as those vulnerabilities become public, it's open season. The only way companies like Microsoft and Apple can respond is to push updates to people as soon as they possibly can.
Use a redundant backup system. Most IT professionals will say to keep 3 different backups, and at least one of those should be off-site. That's where cloud backup really shines. But you need to make sure you trust the cloud backup company, and that they use above-standard security measures. The one I trust is CrashPlan. And remember that cloud = accessible. That means anyone with internet access and your password could access your data. So make it a good one!
As an extra precaution, especially for small businesses, I strongly recommend a next-generation network firewall / intrusion protection system. Ransomware needs an active internet connection, because it has to "call home" to get the security key, or it won't work. Any security gateway worth its salt will block this communication and alert you if something like this happens.
---
---
iPhone 8 Plus vs. iPhone X: Spec showdown
by Susie Ochs, Macworld
The iPhone X is real, though it won't be arriving in customers' hands until November. I got to use one for a few minutes Tuesday at the Steve Jobs Theater after Apple wrapped up its latest media event.
For the first time, Apple has not just two sizes of its newest iPhone, but two distinctly different iPhones. There's the iPhone 8 and the iPhone 8 Plus, which keep the same form-factor we know and love, Retina display, Home button, and all. And then there's the new hotness, the bleeding-edge iPhone X, with an OLED display and a TrueDepth camera that unlocks the phone when you look at it.
You'll notice that Apple didn't call the iPhone X the "iPhone Pro," to match the naming scheme of the iPad and MacBook lines. That may be because inside, the iPhone X and the iPhone 8 Plus are really pretty similar. They do have some key differences, however. So without further adieu, here's a complete spec comparison between the iPhone X and the iPhone 8 Plus.
---
iOS 11: How drag and drop works
by Jason Snell, Macworld
Drag and drop in IOS 11 will make you more productive, as long as you use your iPad. On the iPhone, it's another story.
It took two years for the iPhone to get one of the most basic functions of modern productivity: copy and paste. The logical next step was drag and drop, but that's taken considerably longer to implement. Still, the day is finally here: With iOS 11, Apple has added systemwide support for dragging and dropping data all around the system—with a few major caveats.
(If you missed it, here's our full review of iOS 11.)
This is a feature focused on the iPad. In fact, when Apple was first building iOS drag-and-drop, it was originally destined to only be available on iPads. At some point, Apple decided that iPhone users could take advantage of drag-and-drop too, and so added support for it—but only within individual applications. So on the iPhone in iOS 11, you can drag text from out of one note in Notes, switch to a different note, and drop it in. But if you want to drag and drop across apps, you'll need to use an iPad.
That's the bad news. Now here's the good: dragging on dropping on the iPad is pretty great. It takes some getting used to, but once you realize how powerful and flexible drag-and-drop is on the iPad, you'll never want to use iOS 10 again. (More good news: Nobody is going to make you go back to iOS 10.)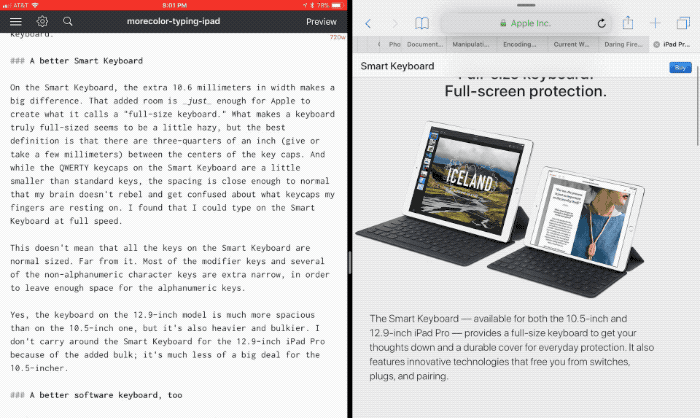 With Split View, you can perform a task like dragging and dropping a URL from Safari into a document you are creating with a text editor.
Here's how it works: With images and other items, you simply tap and hold your finger on an item. If it's draggable, you'll see it "lift up", as if being peeled off of a lower layer. If you're selecting text, you'll first need to select the text you want, then tap and hold on the selection to "lift up" that text.
Once you've picked up an item, you can drag it anywhere. If you're running in Split View, you can simply drag from the app on one side of the screen and drop it on the other side. It's simple and pretty functional, and is probably just how most of us envisioned using drag-and-drop on iOS.
But Apple's implementation goes way beyond that simple Split View drag. iOS 11 really embraces multitouch in a way that previous versions didn't. While you're holding that selection with one finger, you can perform other operations with your other fingers. This means you could tap on an app and switch to another view, and then drop the content there. You could even swipe up and into the multitasking view, then swipe to a different app, and tap on that app to bring it forward, and then drop the data.
Even better, the multitasking view is spring-loaded. When you drag a selection over an app and wait a moment, that app will zoom forward. This also works if you swipe up to reveal the Dock, then hold your selection over a particular app's icon. That app will zoom forward, ready for your data.
In some apps, such as Photos, you can make multiple drag-and-drop selections by "lifting up" one item and then tapping with another finger on other items to add them to the stack. You can even hand off items from one hand to another, by placing a second finger on the screen, dragging the selection over to your second finger, and then letting go with the first finger. It all feels logical and natural.
Apple has done a remarkable job in implementing drag-and-drop and making it feel natural—at least, after I trained myself to unlearn many of my iOS habits and assumptions built up over 10 years of using a less capable version of the operating system. But a few areas still feel a bit strange. When I drag a selection into another app, sometimes the feedback I receive from the second app about where I'm dropping my data feels inconsistent. For example, in Notes I would often drag a block of text and expect the insertion point to be right under my finger, but it would instead appear a paragraph too high or too low. It's a disconnect that really breaks the illusion.
Your favorite apps won't support drag-and-drop automatically—they'll all need to be updated for iOS 11. One of the things I like about Apple's implementation of drag-and-drop is that apps can decide for themselves what to do with different kinds of data, which allows them to do the right thing when receiving that data. An app that supports rich text can import that rich text, but one that only supports plain text will bring in the plain text instead.
Drag and drop on the iPhone is limited to within the app you are using.
When I dragged an image out of Photos and into a Markdown text editor I use to write stories for the web, I fully expected the app to reject the photo or import something useless like its filename. Instead, the app took the photo, copied it to the same Dropbox folder that my text file was saved in, and inserted the proper Markdown image-referencing code into my file. That's some intelligent app design, but the end result is "it just works" simplicity that all app developers should aspire to.
Given how flexible drag-and-drop is on the iPad, I'm disappointed that Apple didn't embrace cross-app drag-and-drop on the iPhone. Sure, holding a selection while moving across full-screen apps is a bit of a handful—but it's not much more complicated than switching between items in Notes or Mail or Safari or Photos, nor is it more complicated than dragging across a visit to the Dock or the multitasking view on the iPad. Apple should enable this powerful feature for the iPhone, too.
So it took ten years, but at least it's finally here, and it's very good. If you're an iPad user, you may need to take some time to unlearn your old habits and expand your mind to new possibilities. Before you know it, you'll forget the rules of the last decade and begin dragging and dropping with abandon.
---
How to Auto-Reply to Texts while You're Driving with iOS 11 on iPhone
by By Conner Carey, iphonelife.com
With iOS 11 on iPhone, you can turn on a new feature called Do Not Disturb while Driving. With this feature turned on, your iPhone won't receive notifications while you're driving so you don't get distracted. But you can also turn on and customize an Auto-Reply message that's sent to whoever is texting you when you're driving. Here's how to auto reply to texts while you're driving with iOS 11 on iPhone.
We covered how to turn on Do Not Disturb while Driving in this tip. Here, we'll show you how to customize an auto reply that'll automatically be sent to the person texting you while you're driving. You can also customize who in your contacts will receive the auto reply. Here's how.
Open Settings.
Select Do Not Disturb.
Under Do Not Disturb While Driving, tap Auto-Reply To.

Here, you can choose to send auto replies to No One, Recent contacts, Favorite contacts, or All Contacts. Select the one you prefer. Then go back.

Now select Auto-Reply. Here you can customize what your auto-reply message will say.

That's it! When Do Not Disturb While Driving is turned on, the contacts you selected will automatically receive the message you customized if they try to reach you via text.
---
iPhone Tips
from Apple
Apple have been providing tips on your iPhones and iPads for a while now. The same tips are on a website.
Click the picture to take you there.
---

---
Apple Watch Series 3 review: The wearable leader runs out to an insurmountable lead
by Michael Simon, Macworld
Apple Watch Series 3 has relieved my Forgotten Phone Anxiety. You know the feeling: You reach your destination and paw at the outside of your pocket to feel the phone-sized lump and it isn't there. And you panic.
Mind you, my stomach still drops when I realize my phone isn't with me (even times when I had purposefully left it at home), but now my fears quickly subside. With an LTE-equipped Apple Watch Series 3 on my wrist, I don't need to turn around and head back to my house. I know that if someone is trying to get in touch with me, they can, and if an urgent email comes in, I can answer it.
Apple Watch Series 3 is the gold standard of smartwatches, even in silver aluminum.
That being said, I didn't need more than a couple days with my LTE-equipped Apple Watch Series 3 to see that it's not meant to be away from an iPhone for very long. Its main selling point might be independence, but it's still a generation or two away from being a full replacement for your iPhone.
---
Apple watch - The Wearable Revolution
by Justin Price, smalldog
Since the introduction of Apple Watch in 2015, the wearable technology industry has exploded in popularity and been transformed from a niche market into the mainstream. From fitness tracking to ease of access, Apple watch provides a constant connection to our Apple devices and services. This constant connection has changed the ways that we interact with technology making it easier and faster to use technology to improve different facets of our lives.
Apple watch is seen by many as a fad that will soon end; however recent sales figures say the opposite with Apple watch being the top selling watch of 2016. Apple watch enables new types of experiences that have not yet been fully realized by the expanding user developer communities. These new experiences, ranging from entertainment to utility, are only now possible because of the growing popularity in the wearable tech market that was sparked back in 2015 with the initial release of the original Apple watch. Three series later, and Apple has now introduced cellular capabilities into their latest Apple watch, which has greatly improved the general appeal of Apple watch to users that might not have looked once in the past.
With rumors already circulating around the features of the next Apple watch such as blood oxygen and glucose monitoring, there is a health-centric trend that is developing around wearable tech. This developing trend is a great thing for the user community as it is making tech users more health-focused and active. The wearable tech market is changing the way we use technology to better our lives and has enabled us to spend less time on our phones or sitting in front of our computers by providing constant access right on the wrist.
---
Apple TV 4K brings home the magic of cinema with 4K and HDR
from Apple
Apple TV 4K delivers a stunning cinematic experience at home, along with an incredible selection of 4K HDR content on iTunes, Netflix and more.
Cupertino, California — Apple today introduced the new Apple TV 4K designed to deliver a stunning cinematic experience at home. With support for both 4K and High Dynamic Range (HDR), Apple TV 4K features unbelievably sharp, crisp images, richer, more true-to-life colors, and far greater detail in both dark and bright scenes. With Apple TV 4K, viewers can enjoy a growing selection of 4K HDR movies on iTunes. iTunes users will get automatic upgrades of HD titles in their existing iTunes library to 4K HDR versions when they become available. Apple TV 4K will also offer 4K HDR content from popular video services, including Netflix and Amazon Prime Video, coming soon.
---

---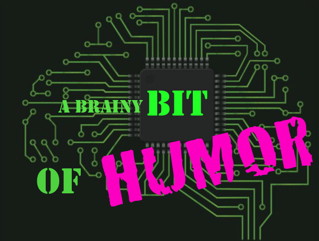 by Penny Holland, MAGIC*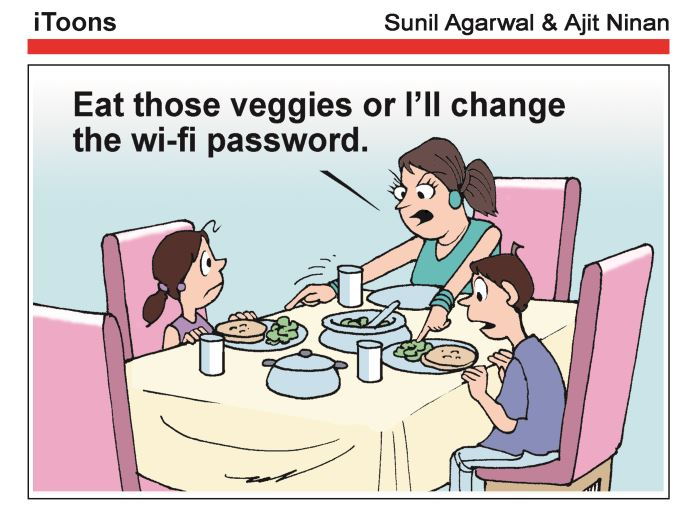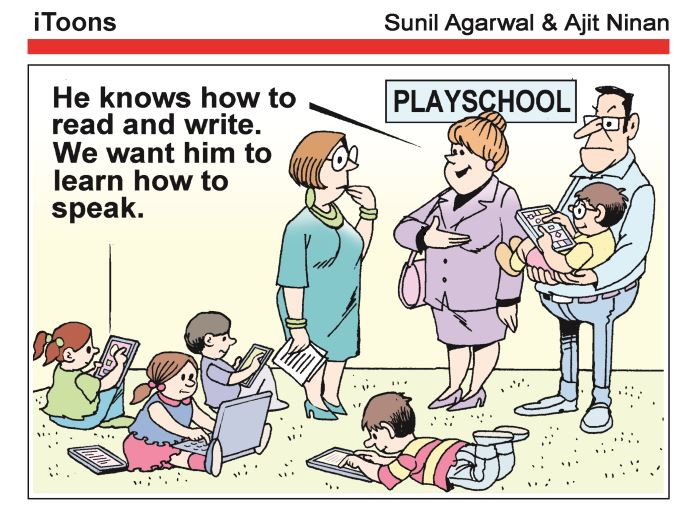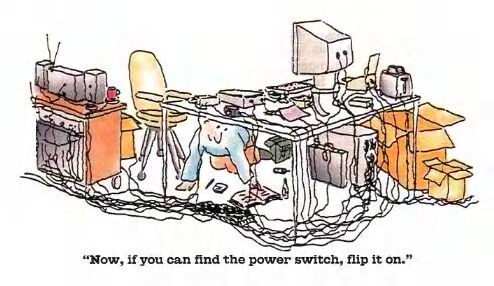 And from xkcd:

If you have any pictures, cartoons, or jokes that might be appropriate for this fantastic publication, please send them to Penny at
---
---
Malware Examples
by Robert Y Elphick, MAGIC *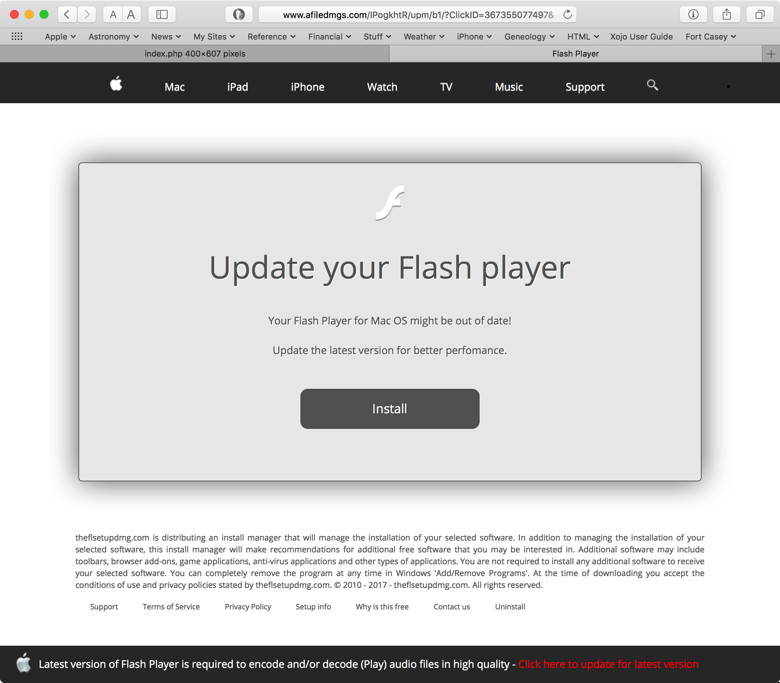 This suddenly popped up in by browser one day. It is Malware. DO NOT CALL!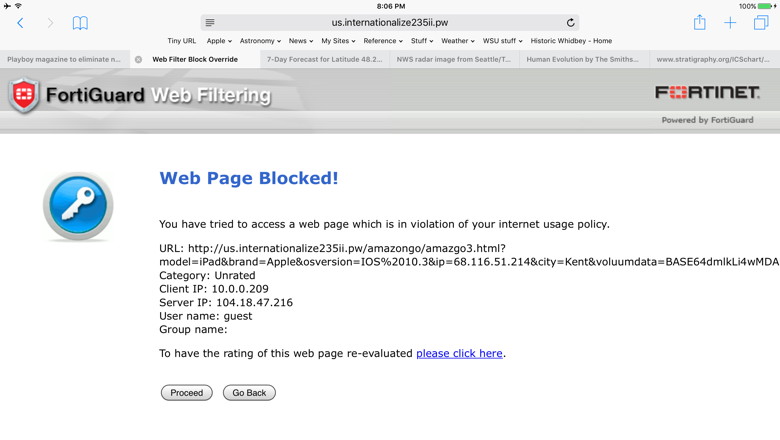 This one too!
Another selection of emails that are up to no good and browser messages that are crooked. Never click on anything in an email that is even only slightly suspicious. Macs are only vulnerable to malware that you invite in by clicking on the links or zip files in these emails. So don't touch them!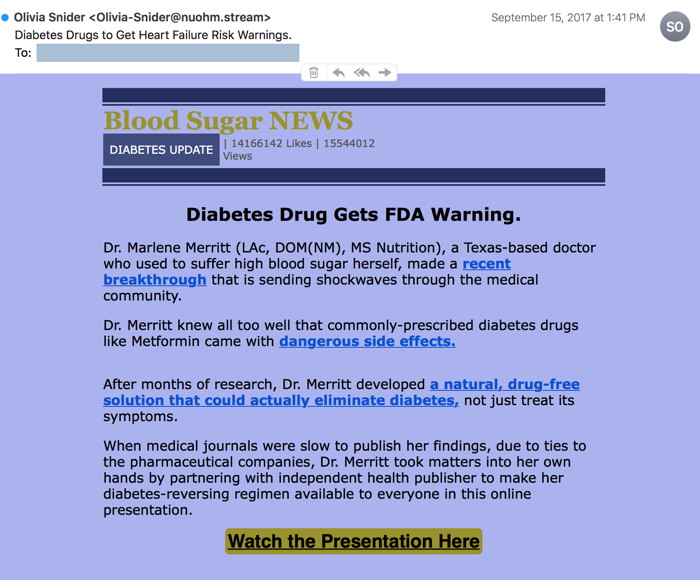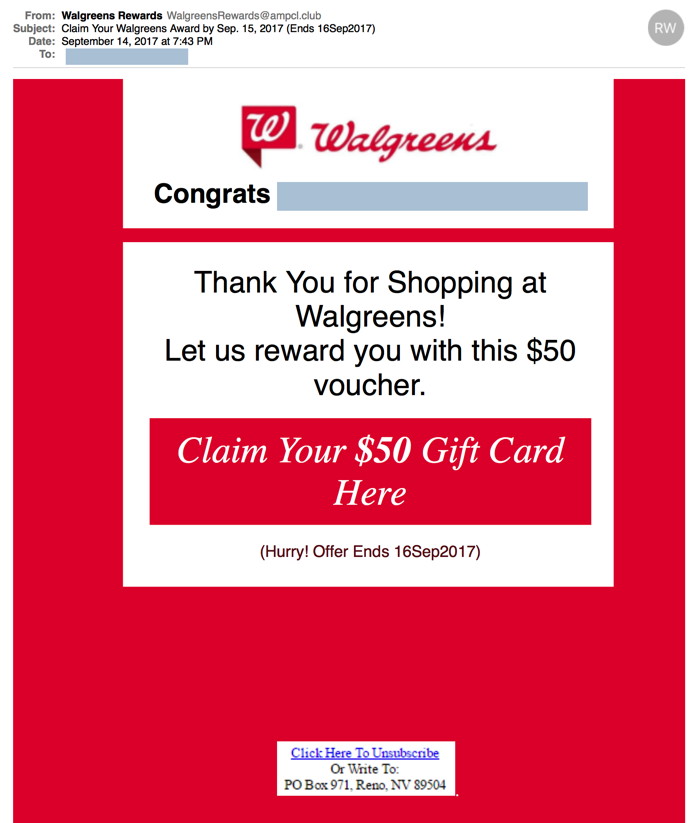 ---
---
The iOS 11 Update
by Ron Sharp, MAGIC *
iOS 11 is a big update with many changes. It's still very recognizable but you'll see obvious changes. One of the most obvious is with Control Center. It's a pleasing improvement. It's all on one screen now instead of the annoying two screens to have to swipe back and forth from. You can also customize it via the Settings to add items that you use more frequently. One funny thing I noticed on my phone is when I turn Bluetooth on and off the icon color didn't change much so it wasn't so obvious whether it was on or off. But it turns out that that was caused by a background app color that was blue. Because the Control Center buttons are a little transparent, the color of the background items affect the look. After moving my apps around on the home screen it solved the issue.
Another real noticeable change is the app headings are much larger, so it's more obvious which app you're using.
The app store is all redesigned and with more information, but a cleaner look with larger images. And, by the way, you will more than likely have a bunch of apps to update as you'll see on the App Store update tab.
When driving now, you get the "Do Not Disturb" mode which will halt phone calls, text messages and notifications. However, you can make some adjustments to it and set auto reply messages.
The keyboard has some changes, particularly for the iPad. The iPad letter keys have numbers on them also. So instead of having to switch to the numeric keyboard, you can just swipe downward on a key to get the number instead of letter. For the iPad there is an option to shift the keyboard to one side or the other for easier one hand use.
Photos and videos are stored in a more compact format, but only on iPhone 7 or newer. The formats are HEVC for videos and HEIF for photos. (HEVC - High Efficiency Video Codec and HEIF - High Efficiency Image File)
It should be easier to move documents between apps with iOS 11 via functional drag and drop. And iCloud Drive is now labeled "Files" and the icon looks like a file folder, which is really more accurate because it works like a file folder.
So these are a few of the changes in iOS 11. With the new Mac OS out now too, there is more sharing with apps between devices. I recommend you check your iCloud settings to be sure they are what you want because more iCloud options are being turned on automatically with the updates. Even the notes app uses iCloud in iOS 11. You can save notes on your phone or in iCloud but it will automatically go to iCloud unless you select "On My iPhone" when you create a new note.
There are a couple issues with iOS 11 that will most likely be corrected in the near future. One is with Microsoft Outlook mail. The other issue that has been reported is battery life. One article I read suggested there are a lot of background adjustments being made after the update. When apps are adjusted and the search index is updated the battery life issue should return to normal. My iPhone 5S battery seemed to drain slightly faster, but after a week and adjusting settings, ie, turning background app refresh off, I'd say it's back to normal. I've also read another change is that the Bluetooth button in the control panel doesn't turn off bluetooth but only disconnects it from devices. To actually turn it off you have to go to Settings and turn it off there.
And, faster than I can finish this article, Apple has released update 11.0.1 ready to install one week after iOS 11 became available.
---
Do You have a list?
by Ron Sharp, MAGIC *
Do you have a list on your computer that you want to have on your iPhone? It could be a list of anything, but lets say it's a list of landscape plants. If it were a list of people, like addresses or phone numbers, then more than likely you have iCloud turned on for Contacts and they sync automatically to your iPhone. If it's a list of songs then they are probably in iTunes and if not you can import into the iTunes app. Then they will transfer to your phone when you connect it to your Mac and sync with iTunes.
I should also mention that if you have images or screenshots you can sync them to your phone with Photos iCloud Library or Photos Streaming as long as the images are in the Photos app. Screenshots can easily be dragged to the Photos app icon to add to your library of photos. You could also Air Drop an image to your iPhone if your computer is a 2012 or newer. Just open the image and click the share button and then click the Air Drop option.
So with a list of plants we're talking about a text document. Here are options; You can email the list to yourself. Two ways to do that are to copy the list and paste it into the body of the email or start the email and attach the text document by clicking the attachment/paperclip button. Then open the email on your iPhone, copy and paste your list into whatever text app you want to use it with, such as Notes or Pages, etc. You could also Air Drop a document by selecting it without opening it, then click the Share button in the Finder Toolbar. Again, though, you'll need a 2012 Mac or newer. If your list is a Pages document then you can share it also when connecting your phone to your Mac via USB cable and iTunes. Select the iPhone image, then click the "File Sharing" option. It will show what apps will share and if you have the Pages app on your phone.
Even more options are available if you have the iCloud Drive option turned on. This iCloud feature gives you a file folder that is in the cloud so that any document you put into it is available from any of your devices that you have iCloud Drive turned on. So then you can just drag your plant list to the iCloud Drive folder and you will be able to access it on your iPhone in that folder that is now labeled "Files" since iOS 11. One precaution is that when enabling iCloud Drive it may automatically turn iCloud options on such as Desktops and Documents so all those files will be in the cloud too. So be sure to select just what you want from the "Options" button when turning on iCloud Drive.
Any more options? Well yes. You could print out a copy of your plant list and then photograph it with your iPhone. This isn't a particularly good option because the text size may not be suitable and you won't be able to change it or add to it.
You can also copy the document to a USB flash drive then transfer it to the iPhone, although I have not actually seen a flash drive with the lightning connecter for the iPhone yet they are available. They have connectors with both USB 3.0 connector and lightning connector on one drive
---
Computer Deliveryman
by Ron Sharp, MAGIC *
Remember when you heard the adjective intuitive when someone referred to a computer? It seems like you don't hear it much anymore. Probably because they're so complicated you have to be a programmer before they feel intuitive. You have to know things, and even then figure more things out. Then it changes and you have to figure it out again.
I know I want computers to be able to do everything and connect to all other devices but they should just do what I want without being complicated. I guess that's why the computer manufacturers are working on voice commands and machine learning. It would be pretty cool to just say, "Hey Mac, I want the text size to be 14 on this document and I want the two pictures on my desktop added to it and then send it to everyone in my gardening group." "After that, download the video "Gardeners World 2017 episode 22." And by the way, check my download speed and adjust it to perfection. And run a comprehensive evaluation of my computer every month and let me know when it's time to get a new one." ..Done. Okay, great. You just saved me two days worth of work, and that's if everything went well.
But we're not there yet. Things are moving too fast to keep up with and yet how long before we're out of the dark ages in computer terms? Will we ever really get there? Will it ever really be that easy without catastrophic glitches? Isn't the more complicated things get the more problems they cause?
Well, I'll make one comparison. Cars. Remember when you were little and the family would get into the car and it wouldn't start. Your dad had to get under the hood and fiddle with stuff and get his hands dirty and swear a little, after which it would finally start up and belch a little black smoke. Those days are gone. First, cars rarely fail to start anymore, by comparison. Second, if it does fail, there is nothing you can fiddle with under the hood. It's so sophisticated, computerized and precise that if it does happen to fail then you have to take it to a specialist.
Where we seem to be in the personal computer world is, our computers are belching black smoke too often and we are still having to fiddle with them to keep them maintained and do the things we want. Until we get to the point that they are less hassle, maybe we should have new ones just delivered to our door and the old ones picked up and taken away. It'd be the new milkman, only for your computer. There could be just a small disk to swap out, like a phone sim card, and all our data would instantly be on the new computer. ..Voila! the answer to frustrating computers - A computer deliveryman!
---
MAGIC, the Macintosh Appreciation Group of Island County, serves people who use Macintosh computers, software and peripherals. Our goal is to share information and get answers to questions to make us more productive with our use of technology. Our monthly meetings give us a chance to discuss computer problems and share ideas with other Mac users, feature speakers on specific topics, and to keep apprised of Apple news.