Newsletter
February 2018
Newsletter Editor:
In This Issue:
MAGIC MUG News
Software Updates
News, Information and Stories (OS-X)
iPhones, iPods, iPads
AppleWatch, Apple TV, HomePod
Humor
Malware and Mischief
By The Way
* Indicates author is a member of MAGIC
---
Meeting information
Date
21 February 2018
Time
4:00 to 6:00 p.m.
Presentations:
• "Making your Mac safe"
• Questions and Answers with Robert.
Location:
Unitarian Universalist Congregation of Whidbey Island (see map.)
Remember to bring your used ink cartridges for recycling. Thank you to Paul Morris who collects and ships the empties. MAGIC is rewarded with a check for our efforts.
---
Minutes of the Meeting, 17 January, 2018
by Penny Holland, Secretary *
The January meeting of MAGIC, held at the Freeland Unitarian Congregation Meeting House, was called to order at 4:00 by President, Robert Elphick. About 22 people were present.
Presentation
Today's presentation was a compilation of various MAGIC volunteers, sharing their favorite Tips and Tricks. Madelyn van der Hoogt showed how she takes screen shots from her desktop and sends them to others. Command+Shift+3 takes a picture of the whole screen. A good tip from Madelyn: always name the screen shot or you'll end up with a list of numerous items named "screenshot." To take a screenshot of a smaller portion of the screen, use Command+Shift+4 and drag the cross-shapee icon from the upper left corner of what you want to capture down to the lower right corner. Or use Command+Shift+4+spacebar to get a photo of the window that is open. (A little camera icon shows up in this window screen shot.) Robert showed how to drag one of these screen shots to the Mail APP ICON, and it will open a new mail message if you want to send the picture to a Wizard to answer a question. Another idea is to use the APP called GRAB that all Macs have. It is located in Utilities. Once open, use the Capture Menu, which has a timer allowing you to go to a menu item, open it and hold until the timer shoots the screen shot. One further way to get a screen shot is using program Preview and under the File menu is a choice called Take Screen Shot.
Penny Holland presented her favorite keyboard shortcuts. She showed this page that is available on the Magic website. She went to the Magic website to show the page. (To get there, she Googles "Magic Whidbey," and it presents this group first so she can get there fast.) At the site, go to Tricks and Tips. She then does Command F for Find and in the search window she types keyboard shortcuts to find it. There are many shortcuts there; most start with Command, then P for print, F for Find, etc. To get rid of a window she doesn't want, she hits Command Q (for quit).
If she wants to copy, she selects what she wants to copy and then hits Command C. Then she opens Text Edit (or Stickies) and puts the items there with Command V for Paste. The letters are right at the bottom of the keyboard: Z (undo), X (cut), C (copy), and V (paste). Whatever you copy will stay on the clipboard until you copy something else. Apple comes with Clipboard, though you can get other programs that do more functions e.g. CopyClip (free) available on the app store.
Instead of dragging things to the trash, Penny selects the item and used Command Delete; this will put it in the trash. To select more than one thing at a time, drag a rectangle over all the items. This can operate anywhere, not just on the desktop. Even works on a spreadsheet; Robert says.
Also for a list of items, select the top item and then the bottom one with the shift key pressed to select all the items.
To get information about a item, use Command I (folder, App, document, anything, what application will open it; gives good information). You can also choose which program (Preview, Photos, Photoshop) should be used to open the file.
Command P is print; Command W close window without quitting the whole application.
When Penny is done at the end of the day and has left a bunch of applications open (dots to the side of them shown in the Dock); Command Tab will show a list of apps that are open. Pressing the tab key will take you from application to application and you can quit by keeping the Command key down and pressing Q. Force Quit (not needed as much as it used to be) you can useCommand Option Escape to open Force Quit. When a button is blue and active you can just hit the Return key, you don't have to go up to the button to select.
Command Z is Undo; whatever the last thing you did will be undone. If you throw something in the trash and then do Command Z, it will come back out of trash. If you right click on something from the trash (hit the control key and click) it will put the item in the trash back where it was.
Trish Vishnevetsky gave us a lesson about archiving the data in Contacts, Calendar and Mail. Each of these Apple APPS has an EXPORT function located under the FILE menu. First Trish created a new folder titled ARCHIVE and put the folder into the Documents folder. Within this Archives folder she created three new folders titled: CALENDAR, CONTACTS and MAIL. (This is where she plans to keep the archived files,) Next open Contacts App and under File choose Export. You will get a window asking to SaveAs, give the Title of Contacts and todays date, and then there is a line to tell where to save this archive, select the Archive>Contacts folder. To archive a mailbox from the Mail program, select a particular mailbox. Then under File, select Export and fill in the blanks to tell the name you want to give the file and where the file is located. Similar instructions will allow for the archiving of the Calendar. (Due to lots of good questions and interchange of information, we ran out of time for the complete demonstration.) All this information on archiving can be found in MAGIC's Tips and Tricks.
Business meeting
Robert gave a recap of 2017: His keynote presentation is here.
MAGIC ran 2 iPhone classes and 2 Mac Essentials classes, one Beyond Basics class and an HTML class.
NEW BUSINESS: List of positions indicated that we no longer have a VP of Education. Robert would like help with this job, which includes finding venues for the class, getting a class list and keeping track of spread sheets of students. Trish Vishnevetsky said she would step up to the position of VP of Presentations. Gary McIntyre will run again for Treasurer, 2 Directors at Large have been nominated: Shirley Bennett and Joan Nelson will run again.
Steve White moved that we accept this slate of officers and Alisa Miller seconded the motion. The majority approved the slate.
CLASSES: Shown on the website's Home Page is an upcoming class MAC ESSENTIALS which will run Feb. 12, 13, 14, and 15, 2018 at the Freeland Unitarian Congregation Meeting House. It will be led by Sue Keblusek.
TREASURY: Gary McIntyre announced our current balance is $8245.43
OTHER ANNOUNCEMENTS: WhidbeyTelecom has once again agreed to allow us a free website once again. We have around 490 members in MAGIC that are served by this website. If anyone wishes to thank WhidbeyTel for their generous offer, there is a "Contact Us" page on their website or talk to their General Manager, George Henny.
Q&A
Q: How do you get the dock on the right side of your desktop?
A: It is a preference in System Preferences under Dock.
Q: I would like to share a manuscript between my Desktop and my laptop computers. How do I do that?
A: Turn on Airdrop in Finder Preferences on both devices. Then you can put documents into this airdrop window and it should pop up on the other computer. ( Dropbox can also be used for sending files from a distance.) Airdrop only works when the 2 devices are in fairly close proximity, such as 100 feet or closer. Back to My Mac will work if the computer at home is left on, and you are away. Note: it only works if the home Mac is turned on. You can also do screen sharing from a remote location. (This is used sometimes by Apple techs, who can manipulate your screen from a distance.)
Q: I don't get how to sync my Contacts between my iPhone and Computer.
A: You have to go into iTunes, hit the box that brings up your iPhone, select "Info", and make sure you have turned on Contacts and Calendars. Then when you sync, the contacts and calendars will be the same on the Mac and the iPhone. The sync happens both ways so you can do updates on both and they will be reconciled during the synchronization.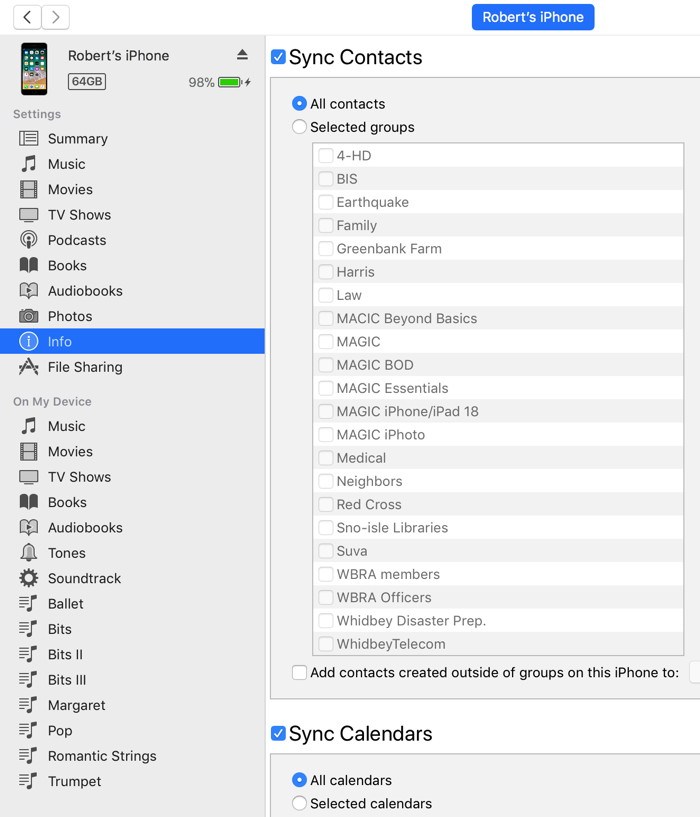 Q: Contemplating buying new phones and computer. The Apple Store says they will help you get info from your old computer to the new Mac, but they want to use iCloud Drive.
A: Robert says that using iCloud is not necessary. Simply get a HardDrive of at least 3x the size of the new computer. Plug this drive into the old computer and tell it to do a TimeMachine backup on the old computer, then plug this into the new computer and set up your Time Machine there. You can backup your new iPhone into the new machine. Robert says you don't need to use iCloud for any reason.
Q: How do you back up the phone onto your computer?
A: Use iTunes. Every time you tell it to sync, it does a backup.
Q: I used to eject my external drive by putting it into the trash. Sometimes it says I didn't eject it correctly. Why?
A: Wait a little longer, till the lights go off. (Other members have agreed that sometimes they get this message when they are sure they have not quit things too soon. Perhaps there is a glitch somewhere?)
Q: My external HD is powered by my computer and it stays in the computer. A lot times I get a message that it was powered off incorrectly. This message happens intermittently.
A: The computer believed you disconnected the disk without ejecting it first. You could have a bad cable.
Q: You said iTunes backs up the phone completely. A couple of years ago my phone was backed up and then my phone went bad, and I lost some of my ring tones.
A: Something weird happened!
The meeting was adjourned at 6:00
Respectfully Submitted by Penny Holland, Secretary
---
MAGIC Moments
Education
A "Mac Essentials" class will held February 12 - 15, 2018. Details can be found on the class page. There are still places.
Swaps and Sales
Don't forget to check out the swap page of this website.
Note: This Software Update section of the newsletter lists the most relevant Apple updates. Not all updates are listed for all products. Additionally, I'll add other pertinent updates on occasion.
---
No updates this issue.
---
---
30 free macOS apps every Mac user should have
by Michael Simon, macword.com
Powerful Mac apps that won't break the bank
There's something of a misconception when it comes to the Mac. While powerful tools like Photoshop or Final Cut Pro certainly have price tags commensurate with their robust feature sets, many of the greatest Mac apps won't cost you anything more than the time they take to download them.
A quick note before we begin. Apple has changed its security settings in macOS, so you'll need to allow your system to open a couple of these apps. A dialogue box may pop up telling you a certain app "is an application downloaded from the Internet. Are you sure you want to open it?" Click Open to proceed with the installation.
---
Why does a Safari cookie reappear after you delete it?
by Glenn Fleishman, Macworld
Safari for macOS lets you view the kind of data cached locally by websites in your browser. Select Safari > Preferences > Privacy, and then click Manage Website Data, and you can see the kind of data stored by every site. It can include Cache, Local Storage, Databases, Cookies, and much more. You can select items to remove them, or even go nuclear and click Remove All.
Those are different categories of local storage, but they're all managed by the Web site with the permission and mediation of the browser. Cookies is the most likely one to see, as cookies typically contain a login token used to keep a session going as you navigate among pages, or tracking data used by advertisers.
Macworld reader David is having a problem with this, however. When he selects an item and then clicks Remove, he sometimes sees the entry disappear and then instantly reappear. He's checked that any Web pages associated with the site in question are closed.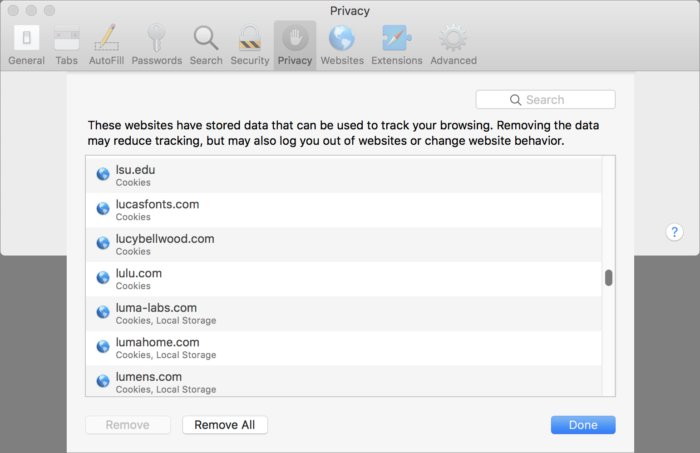 The Manage Website Data list shows which Web sites have asked your browser to cache data for them.
I tested this with the same site he did: The Guardian newspaper, guardian.co.uk, which I know to be a reliable editorial outlet and have never heard of any jiggery-pokery going on with its site. And I experienced the same action: the entry disappeared and reappeared. I waited a moment, clicked Remove again, and this time the deletion "stuck"—the entry didn't reappear.
While I might be concerned about maliciously respawning evercookies if this were a site I didn't know and trust, especially one that had a whiff of the off-brand or unreliable about it, that's exceedingly unlikely with the Guardian or any mainstream editorial outlet. Evercookies hide user tracking information using loopholes in how a browser communicates with a server, and after normal cookies and caches are deleted, re-creates the cookie and places it back.
More likely this is a user-interface glitch: the click that should delete the entry is registering as accepted and the interace duly deletes the entry in question. But the underlying data isn't properly updated, so the list refreshes showing the entry again.
I have a relatively fast newer iMac, and my Manage Website Data list takes about 10 to 15 seconds to fill in any entries. On a slower Mac on which Safari has visited any reasonable number of sites, I expect it may take a lot longer to fill in the list and to update when Remove is clicked.
---
---
Best iPhone: How to pick the perfect iPhone for you
by Jason Cross and Macworld Staff
This guide was most recently updated on December 13, 2017.
iPhones galore
Picking out an iPhone used to be easier—just get the newest one with all the storage you can afford. We still recommend plenty of storage, but the choice of which iPhone to get it on isn't quite so cut-and-dry. Do you want the phone with the best camera, the one with the lowest starting price, or maybe just one with a headphone jack?
There's another major factor that will influence what iPhone you should buy: Apple's latest iPhone release included three (!!!) new models to choose from: The iPhone 8 and 8 Plus (which went on sale on September 22, 2017), and the iPhone X (which landed in stores six weeks later).
If you're ready to buy an iPhone, we're here to help. Presented here is a guide of every iPhone currently sold by Apple, and how to decide which is the best for you.
---

---
No articles this issue
---

---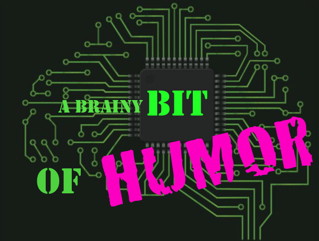 by Penny Holland, MAGIC*
There are 10 kinds of people: those who understand binary and those who don't.
Another day has passed and I did not do any algebra.
Why did the computer show up at work late? It had a hard drive.
List of the latest computer related best-sellers:
A Tale of Two CD's
Gates of Wrath
Gone with the Windows
War and PC
Moby Disk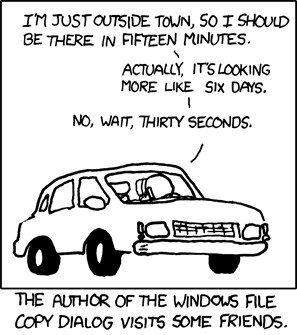 from xkcd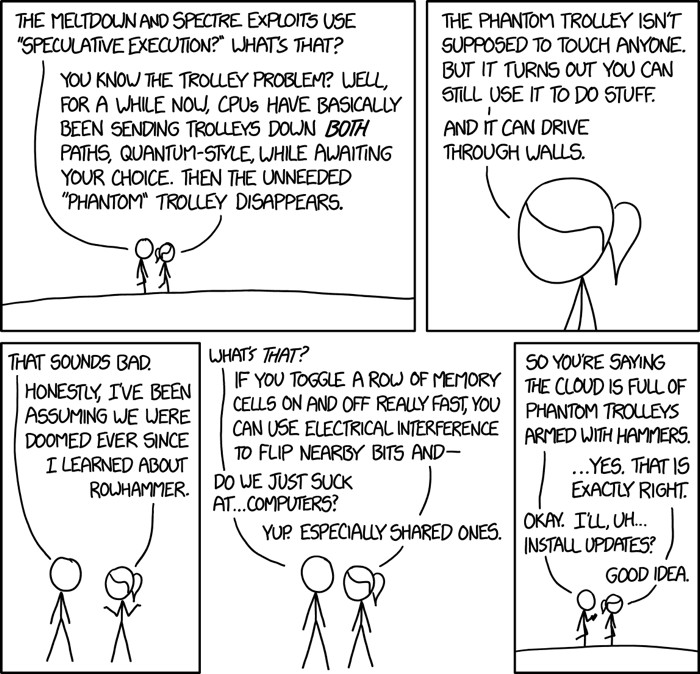 from xkcd
If you have any pictures, cartoons, or jokes that might be appropriate for this fantastic publication, please send them to Penny at
---
---
Meltdown and Spectre FAQ: How the critical CPU flaws affect PCs and Macs
by Brad Chacos and Michael Simon, PCWorld
Massive security vulnerabilities in modern CPUs are forcing a redesign of the kernel software at the heart of all major operating systems. Since the issues — dubbed Meltdown and Spectre — exist in the CPU hardware itself, Windows, Linux, Android, macOS, iOS, Chromebooks, and other operating systems all need to protect against the first exploits that have begun circulating. And worse, plugging the hole can negatively affect your PC's performance.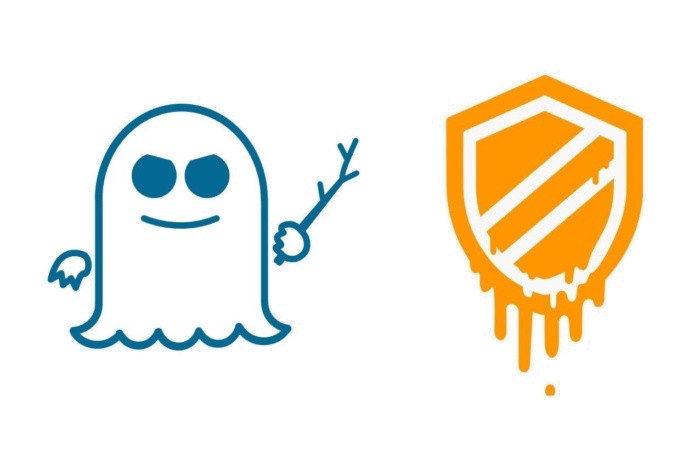 Everyday home users shouldn't panic too much, though some proof-of-concept exploits are being circulated in the field. Just apply all—well, most—available updates and keep your antivirus software vigilant, as ever. If you want to dive right into the action without all the background information, we've also created a focused guide on how to protect your PC against Meltdown and Spectre.
Here's a high-level look at what you need to know about Meltdown and Spectre, in plain language. Be sure to read Google's post on the CPU vulnerabilities if you like diving deep into technical details.
---
Malware Examples
by Robert Y Elphick, MAGIC *
Another selection of emails that are up to no good and browser messages that are crooked. Never click on anything in an email that is even only slightly suspicious. Macs are only vulnerable to malware that you invite in by clicking on the links or zip files in these emails. So don't touch them!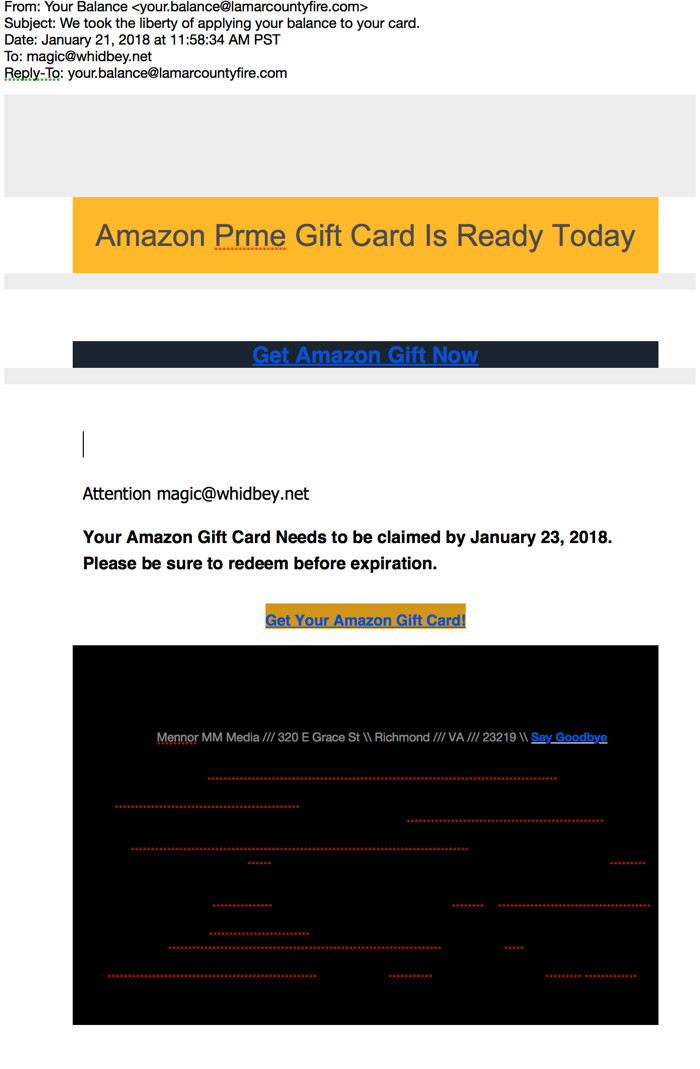 They are guessing that you use Amazon and hoping you will click on something. DO NOT CLICK!
The text at the bottom is designed to confuse filters. It worked, but it is a bit of a giveaway! DO NOT CLICK!
Fake news! DO NOT CLICK! This one also had a whole lot of nonsense if you scroll down - used to defeat blockers.
---
---
Nothing this issue.
---
MAGIC, the Macintosh Appreciation Group of Island County, serves people who use Macintosh computers, software and peripherals. Our goal is to share information and get answers to questions to make us more productive with our use of technology. Our monthly meetings give us a chance to discuss computer problems and share ideas with other Mac users, feature speakers on specific topics, and to keep apprised of Apple news.