Newsletter
May 2019
Newsletter Editor:
In This Issue:
MAGIC MUG News
Software Updates
News, Information and Stories (Mac OS)
iPhones, iPods, iPads, AirPods
Apple Watch, Apple TV, HomePod
Humor
Malware and Mischief
By The Way
* Indicates author is a member of MAGIC
---
Meeting information
Date
15 April 2019
Time
4:00 to 6:00 p.m.
Presentations:
• "Protection from online evil"
• "iPhone Camera - tricks and tips."
• Q&A

Location:
Unitarian Universalist Congregation of Whidbey Island (see map.)
Remember to bring your used ink cartridges for recycling. Thank you to Paul Morris who collects and ships the empties. MAGIC is rewarded with a check for our efforts.
---
Minutes of the Meeting - April, 2019
by Penny Holland, Secretary *
The April meeting of MAGIC was held at the Freeland Unitarian Congregation Meeting House from 4 to 6 PM. There were about 14 people in attendance. President Robert Elphick called the meeting to order at 4:00.
PRESENTATION
Gary McIntyre Made a presentation on his favorite iDevice Apps. This presentation in Keynote has been posted on the MAGIC website.
If you go to the App store and you find an app you want and it says "GET" then it's free. Or you can pay for some which eliminates ads. Besides going to the App store, you can go to the internet and search with Google. Via to Transit is an app you can get outside the App store. Just type into Google something you are interested in and see if there is an app available.
Some apps are so old and out of date that no updates are available. If you have too many apps and you want to get rid of them, touch one app lightly and all the apps will jiggle. When you see an X at the top left corner of the app you can touch the x to delete it. Apps from the Apple store can be deleted. Apps that come with the operating system already on your device cannot always be deleted. You can carefully move an app from one page on your screen to another; that takes some finesse! While they are jiggling, you can group similar apps into a folder. Simply move two jiggling apps together and a folder will be created and named appropriately.
Gary showed one of his favorite NAVIGATION APPS. He demonstrated how to search for places to eat, gas stations, Once you select where you want to go you can find the phone number of the business, the address, times open, etc.
AROUNDME is an app that works well in a city location. it does a good job for finding local places.
MARINE TRAFFIC is an app that shows all the shIps (except possibly military ones) that are in the water at the current time. If you click on a ship in the water the name of it will come up and you can get information on it. This would be a fun app if you are on a boat or sitting on the waterfront watching the boats float by.
TideGraph is a good app to show the local tides. You can find out the lows, highs and times. You can also find currents in an area.
Waze is an app that you can talk to rather than having to type addresses, etc., making it an easy one to use.
A great boating app has all the charts is Navionics.
Peakfinder has a compass in it. You can move your iPad or phone and point toward the horizon and it will tell you the name of the mountain peak in that direction.
WEATHER APPS—there are man of them!
WeatherBug will know your location and give your temp and condition for the current moment, or you can scroll down to another day.
MyRadar shows the wind direction and the intensity of the wind, weather systems, etc.
NOAA will also give weather alerts.
CARROT 5 comes with humorous comments and is also a weather app.
EMERGENCY APPS
ICE Standard (In Case of Emergency) with your own personal medical information which you input comes up on the phone and can be accessed by EMTs, for instance, in case of an accident, if you are unconscious or disabled.
ISLAND COUNTY gives information on emergencies in our area of Island County. It tells about different emergency scenarios and aids in getting you prepared. Local residents are encouraged to use this app. Where are my Hazards tells you where problems are more likely to exist. Flood, tsunami, volcano hazard zones, etc. are listed.
PHONE CALLS AND VIDEO CALLING
Apple has FaceTime, which allows you to make a video or audio call from one Apple product to another.
Skype is a really inexpensive way to make a long distance call around the world. You prepay and maintain a deposit in Skype for future calls.
SKY AND PLANETS APPS.
SkyViewLite allows you to view and identify constellations by pointing your iPad or phone to the sky. This is a free app.
MUSIC APPS
Pandora is a streaming app. It is free, but you get occasional ads. You can pick a category for the type of music you want to hear. You can ask for a specific album. If you click on thumbs down, it means you don't like it and it will go look for something else. Getting the free app, you can have a trial to see if you like it.
MUSIC app that comes with the apple product. Called MUSIC
SCHAZAM. IF you hear a song you don't know the name of, you can tap Schazam and it will go to the internet and find the name of the song, the artist, and even the words which can be used for karaoke. (Apple's Siri will also listen to songs and then tell you the name.)
UTILITIES APPS
Remote takes the place of the little remote control for Apple TV.
Dictionary with its Thesaurus, obviously a way to look up words.
CONVERT will convert between different units of measure.
My Currency Converter will convert US to another country's money.
iTranslate will translate between foreign languages.
WashingtonStateFerries app will give schedules and even show how crowded a specific ferry trip is.
NOTES can be transferred from your phone when you are away to your computer via the iCloud.
BUSINESS MEETING
TREASURER: Gary McIntyre reported that as of March 31 we have $7,315.52 in our account.
OTHER BUSINESS:
One upcoming beginners class, "Mac Essentials", will be presented in May. Robert will send an email to the group after Easter. Details and an application have been posted on our website.
If we have 5 or more people interested in a specific subject, we can do more classes, such as Pages, Movies, etc. Another class might be how to use iPhone and iPad and which ones have what capabilities. Please contact Robert with requests at
Q&A
The second hour was devoted to Q&A, led by Robert and Gary.
Q: Carol Parks described a situation where she observed used book sellers looking up books, and getting prices on them. She wondered if they were using an app, or how they were getting the prices.
A: Gary and Robert said they'd research that. Perhaps they were scanning the book's barcode, or looking up the ISBN, or Googling the value in some other way.
Q: Have you familiarized yourself with Apple's News + subscription service?
A: No, but this is something we should look into. WE SHOULD DO A NEW PROGRAM ON THIS. (There is an article in the April Newsletter about Apple News +)
Q: SNO-Isle has a good service for finding and checking out books.
A: Overdrive is an app that allows one a way to obtain eBooks
Q: Any chance of requesting a class on talking about buying a tablet?
A: We did a program six months ago on iPhones. We could do a similar one on tablets. Ron, our editor, goes through the magazines and he puts some of these into our newsletter. A lot depends upon what a person's interests are, and what they want, need, etc.
Q: I have a 2012 MacBookAir. My battery was down to 2 hours. Took it to Lynwood Genius bar. Several hours later they returned the computer and said the battery couldn't be replaced. When I got it home, it now only works when plugged in. What do you think of that situation?
A: I don't think they did the right thing. They shouldn't have given it back to you in worse condition than when you dropped it off. Go back and complain. (Added post meeting: Newsletter Editor recommends doing the System Management Controller reset procedure, Reset SMC)
Q: What is the easiest way to get music that you've loaded on to your computer from a CD and how to get it onto your phone?
A: Open iTunes and you should see all your music and by genre, albums and songs. Connect your device to your computer, and when it is turned on it should show up as a little icon at the top of the iTunes screen. Look at the bar at the bottom of the screen which will show how much free space your device has. Now click MUSIC on the left column and then find Sync Music sub window. Check the playlists, artists, etc. that you want to sync. (It was noted after several questions back and forth that Wendy must have an old account from the last computer, because it looks like there is a problem. Time with a wizard is now a must.)
Q: Could you show how to use AirDrop?
A: Go to Settings>General>Airdrop. You can turn it on or off. There you must decide if you just want to use it for a specific person, or all people on your contact list. Select a photo for instance, and press the Share button (the box with an arrow pointing up). Next select AirDrop. Then you will see a list of people's devices that will accept an AirDrop image. Click on the one you want to share with.
Q: When you get an exclamation mark on a photo. You can see the photo but you can only see the thumbnail. What can you do?
A: You have to go find the original photo. It sounds like the transfer process from your old computer to your new one didn't go through properly.
Q: I have photos on iCloud, which is getting too full. If I have a backup of the photos, can I take it off of iCloud, or will it also remove them from my computer?
A: (Added post meeting: If you delete the photos from iCloud they will also be removed from your computer and any device you have iCloud for Photos turned on. But you can turn iCloud Photo Library off for that device and keep the photos on the computer.)
It depends on how you have things set up on iCloud. If the photos are also on an external HD, it's probably okay to turn iCloud Photo Library off. Be careful. If you are not sure of what you are doing, ask a wizard.
The meeting was adjourned at 5:45 p.m.
---
MAGIC Moments
Secure MAGIC website
The MAGIC website is and has always been secure with a security certificate thanks to Whidbey Telecom. This means that you can reach the website by using:
https://www.whidbey.com/magicmug/
NOTE the letter s after the "http" at the beginning of the URL.
The old URL will still work so you do not have to change it if you do not know how to edit your Favorites.
MAGIC Classes for 2019
MAGIC Mac Essentials classes will be held 20, 21, and 22 May at the Pacific Rim Institute. Details and an application can be found here.
A continuing schedule of classes is being set up for the year. Any member wishing to see us provide these or any other classes should contact us at
Future Presentations
We are working on a schedule for Meeting Presentations for the rest of the year. What would you like to see? Send me an email and we will try and include it.
Swaps and Sales
Don't forget to check out the swap page of this website.
---
Note: This Software Update section of the newsletter lists the most relevant Apple updates. Not all updates are listed for all products. Additionally, I'll add other pertinent updates on occasion.
---
tvOS 12.2.1 with bug fixes and improvements for Apple TV now available
by Chance Miller, 9to5mac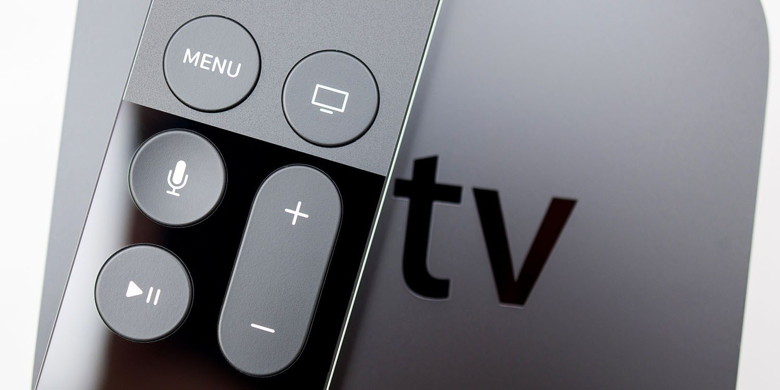 Apple has released tvOS 12.2.1 to all users of the fourth-gen Apple TV and Apple TV 4K. The update focuses on bug fixes and comes following the public release of tvOS 12.2 last month.
tvOS 12.2.1 is now rolling out to all users with a fourth-gen Apple TV or Apple TV 4K. You can check for the update via the Settings app on your Apple TV. Don't expect any major changes in this update, though, as Apple simply says it focuses on bug fixes and performance improvements.
Apple is currently beta testing tvOS 12.3, which includes the all-new TV app, as well as the Apple TV Channels feature. Through Apple TV Channels, users can now subscribe to Showtime, Starz, The Smithsonian Channel, and Tastemade directly in the TV app. Additional partners are coming, but these are the four supported in the initial beta.
---
---
How to record Apple Music from your iPhone to your Mac
by smalldog.com
Did you know that you can record the music playing on your iPhone, to your Mac, straight up the USB cable? Just hook your Mac up to your iPhone (or iPad), using the Lighting cable that came in the box, and you can record anything. You could record songs from Beats One radio in Apple Music, for example.
Record any iPhone and iPad audio with QuickTime Player. This trick is super-duper easy, and was shown to me by Aud_iOS, on the Audiobus forum. It requires no special gear or software whatsoever. If you have a Mac and iPhone, then you already have everything you need:
iPhone
Mac
Lightning USB cable
QuickTime Player app
If you have a modern MacBook, you may need to buy the correct USB-C cable. Just make sure to get one that transmits data.
---
Look before You Leap with Safari's Link Preview
from Kibbles & Bytes, smalldog
When you follow a link in Safari, you generally don't know where you're going to end up. That's fine most of the time, but what if you're concerned that a site might be trying to trick you into going somewhere malicious? Safari provides an easy way to look at the URL under a link. On the Mac, choose View > Show Status Bar, hover your pointer over the link, and look at the bottom of the window. In iOS, touch and hold a link (don't press for 3D Touch) until a popover appears, showing the link and giving you options for opening it. The most important thing to look at is the domain—us.norton.com in the screenshots. It should match where you think you're going, or at least look reasonable. If the URL is dubious, don't follow the link.
---
How to Merge iCloud Calendars on the Mac
by Melissa Holt, tekrevue
When it comes to iCloud calendars, I can't tell you how many times I've seen people with about a million calendar categories. Sure, "Home" and "Work" make sense to divide out. Maybe it would be good to make a "Kids" one, too, for example. But it starts getting a little crazy when you've color-coded every part of your life, from different clients to your daughter's soccer league and your dog's obedience classes.
If you've already created too many calendar categories and now want to simplifying things, the good news is you can merge iCloud calendars in just a few steps. This could make your schedule easier to parse.
What this process will do is move all of the events from one calendar to another and then get rid of the original calendar. So, of course, I'd strongly suggest you back up before you start this! For the calendars you're going to be working with, back them up using the exporting process outlined on Apple's support pages (under the "Export a calendar's events" section). If you save out those exported calendars on your desktop or wherever, you have a point to restore to if necessary.
And just so you know, you can restore from an iCloud backup, too, if something goes wrong while you're doing this. However, I wouldn't depend on that, and besides, it will revert all of your calendars and reminders back to an earlier version. Which isn't ideal. At all!
After you're satisfied that everything is backed up—or if you're flying by the seat of your pants with no backups—here's how to merge iCloud calendars and get everything all cleaned up and neat!
---
---
How to create and delete alarms and timers with Siri
by Charlie Sorrel, cultofmac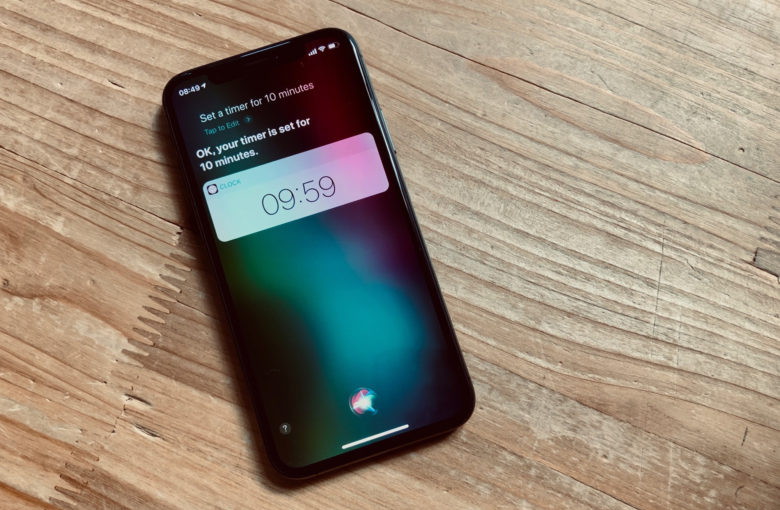 Even Siri can manage to set alarms and timers without screwing it up.
Siri may still be hopeless, but one thing it's always been good at is setting alarms. In fact, I don't use Siri much at all any more1, but for alarms and timers, I use it exclusively. Even with iOS 12's great 3-D Touch timer widget, Siri is quicker.
Today we'll see how to tell Siri to create an alarm, set a timer, how to edit an alarm, and how to delete one.
---
Apple Music Can Be Your Personal DJ
by Kibbles & Bytes, smalldog
If you're an Apple Music subscriber, you probably know that it can play music that's related to a particular artist or track—just tell Siri, "Play a radio station based on the Beatles" to get a bunch of songs from the likes of the Rolling Stones, Simon & Garfunkel, and Elton John. That radio station will show up in the Radio screen in the iOS Music app and in iTunes on the Mac. But you may not have realized that Apple Music can create a special radio station just for you, based on tracks you've played before, added to your library, or "loved." To create it, just tell Siri, "Play my radio station." Once made, it shows up with all the other radio stations, with your name underneath—it may not appear immediately. This can be a great way to get a selection of songs you're almost certain to like, and the more you use Apple Music, the more it should adjust to your listening habits.
---
How to make your iPhone read to you by using Speak Screen in iOS
by Roman Loyola, macworld
With all the content available to you on the iPhone, you may have come upon a time when you wished the iPhone could read to you. Well, it can! Speak Screen is a feature in iOS that you can use to have the iPhone read a web article, an email, and more. It's handy if you want to "read" but you need your eyes to pay attention to something else.
Speak Screen is part of the Accessibility section of the iOS settings. To use Speak Screen, first it needs to be enabled. Once that's done, you can then use a gesture to activate the feature.
How to turn on Speak Screen in iOS
1. Open the Settings app.
2. Tap General > Accessibility.
3. Tap Speech.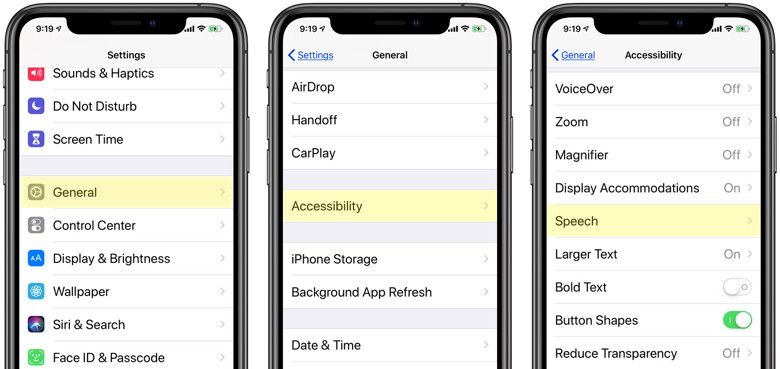 4. Look for the Speak Screen setting and turn the switch on to activate it.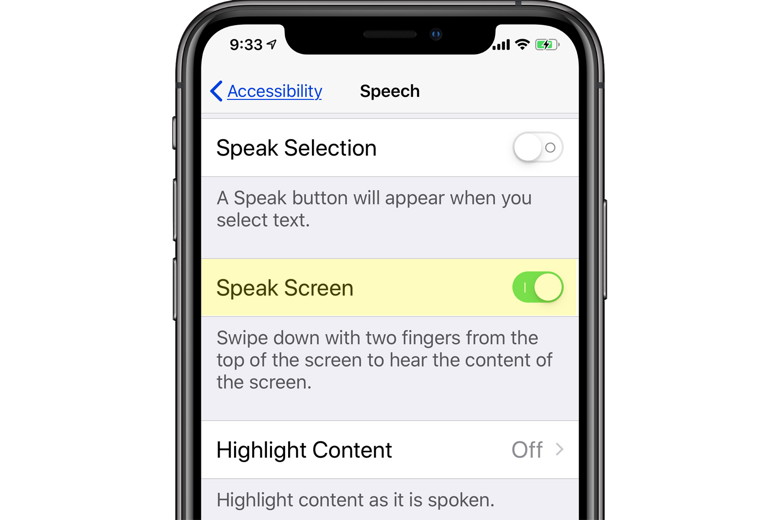 5. Exit the settings.
How to use Speak Screen
With Speak Screen turned on, you can now have the iPhone read the contents of the screen to you. To do this, use two fingers and swipe down from the top of the iPhone's screen.
After you perform the gesture, the Speak Screen controls appear, and the iPhone reads the content on the screen. If it can't find anything readable (like if you try to use Speak Screen on your Home screen), the iPhone will say there is no speakable content on the screen.
When the reading begins, you can use the control panel to make adjustments. The controls from left to right (top row, then bottom row) are:
< button: Minimize the control panel
X button: Close the control panel
Turtle button: Slow down the reading speed
Rewind button
Pause/Play button
Fast-forward button
Rabbit button: Speed up the reading speed
When can you use Speak Screen
You can use the Speak Screen feature just about any time you have content that can be read onscreen. If you use it to read web articles, it will read what's on the page, including the headers at the top of a webpage, footers, and other items that run within the flow of an article.
In some instances, Speak Screen will only read what's on the screen. For example, if you use it with the Twitterrific app, only the tweets you can see on the screen are read.
Speak Screen is a handy feature to have, but it does have some limitations and quirks. Fortunately, they are easy to adapt to and work around.
---

---
The best tips and tricks for getting the most out of your HomePod
by Lief Johnson, macworld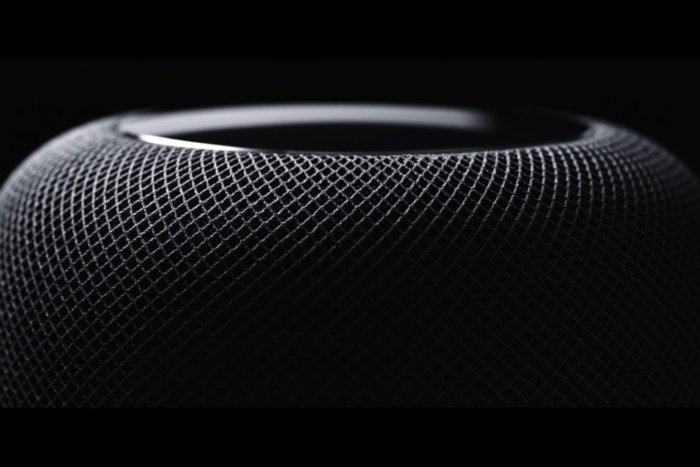 The HomePod is enjoying a bit of a resurgence now that Apple has slashed the price by $50, and I suspect a lot of you are wondering what you can do with Apple's essentially buttonless smart speaker.
Let's get this out of the way: No, it still doesn't do as many things as your average Alexa-powered speaker. It can, however, do a heck of a lot more than it could do at launch thanks to a couple of big patches Apple rolled out last year - though many features aren't obvious. Follow the tips below, and you'll find that HomePod can feel like a member of the family, after all.
A quick note: You'll need to set up Personal Requests to use some of these features. Once you've set up your HomePod, open to the Home app on your iPhone and then press the house icon in the upper left. In the menu that pops up, you'll see your name under People. Press it. In the new menu, you'll see a toggle for Personal Requests toward the bottom. By default it'll say Off. Press it, and then switch on Personal Requests in the new menu. You're good to go!
---
Apple Watch's future excites me more than any other Apple product
by Bradley Chambers, 9to5mac
I've had a long road with the Apple Watch. I bought the original one on release day, but sold it within a few months due to the slowness of watchOS 1. I purchased a Series 2 when it was released, but I ended up returning it a few weeks later. When the Series 3 Apple Watch was released, I ended up buying one to write a review, but returned it before the return period was up (it was around Christmas so I had a longer return period). In the entire time the Apple Watch has existed, I've probably owned it a total of six months. A month ago, I picked up another one. This time, I have a Series 4 Apple Watch with LTE. I know I am late to the Apple Watch party, but I do have some thoughts that I think are interesting based on my past history, and my thoughts on Apple's health plans with Apple Watch. I've been around the watchOS scene from day one, but I've definitely come and gone for periods of time.
The Podcasts app is outstanding
I love podcasts, so being able to listen to podcasts directly from an Apple Watch with my AirPods is really a game changer for fitness. I love how I can stream a new show directly from LTE without having to sync offline.
On that same note, I do wish you could sync shows from Apple Podcasts on iPhone without having to be on the charger. I understand that Apple wants to save battery life, but if you are someone without an LTE Apple Watch, it would be annoying to always have to put your watch on a charger to download shows. If you've been at work all day, you might want to listen to the latest episode of 9to5Mac Happy Hour on an evening run. Since it usually comes out during the day, you wouldn't be able to do that without finding a charger. If you find yourself in that situation often, you may want to look at Overcast as its Apple Watch app can download shows when away from the charger.
watchOS has improved dramatically since 2015

When the first Apple Watch was released in 2015, we were quickly met with software that was barely usable. Apps refused to launch, and it was just generally a pain to use. Apple has made dramatic improvements year over year to Apple Watch. As someone who vividly remembers the frustrations of watchOS 1, watchOS 5 is a dramatic improvement. Apps are fast at launching. I can easily be on a run, use Siri to send a text message, and then change my running playlist on Apple Music.

For those of you who've owned multiple Apple Watches, I am not telling you anything you don't already know. My point is that we really need to take a step back and appreciate the engineering talent of the team building watch OS while also acknowledging Apple Watch Series 4 is fast. The current watchOS experience is smooth as silk, and that was anything but true with watchOS 1. I am really looking forward to seeing what watchOS 6 brings at WWDC 2019 this summer.

Apple Watch health and fitness are still killer features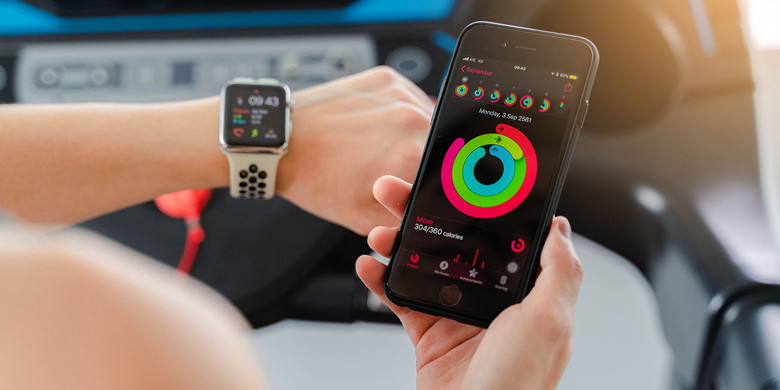 Using an Apple Watch to measure activity and health
When the original Apple Watch was released, Apple was trying to figure out what the Apple Watch was for. Over the years, it's become clear they see it as a health and fitness devices. When you visit the Apple Watch section of Apple.com, this is the first text you see:
Apple Watch Series 4. Fundamentally redesigned and re‑engineered to help you be even more active, healthy, and connected.
When Apple released the Series 1 and Series 2 Apple Watches, it added heart rate monitoring for Apple Health. When you enable heart rate monitoring, you can also turn on heart rate notifications, so you know if your heart rate remains above or below a chosen beats per minute (BPM), or to occasionally check for an irregular heart rhythm. Irregular rhythm notifications are available only with watchOS 5.1.2 or later in certain countries.
With Apple Watch Series 4, Apple added electrocardiogram monitoring (also known as ECG and EKG). The ECG app on Apple Watch (Series 4 or newer) can record your heartbeat and rhythm using the electrical heart sensor and then check the reading for atrial fibrillation (AFib). It then records that information into the Apple Health app.
Since the release of Apple Watch, there have been countless stories of people's lives being saved by the health advancements in Apple Watch and Apple's Health Initiatives.
Apple Watch ECG health
If you have an Apple Watch Series 4 or newer, here's a how to guide on how to take an ECG.
Apple also includes a Health app on the iPhone where it easy to learn about your health and start reaching your goals. It consolidates data from iPhone, Apple Watch, and third-party apps in one place.
Apple's health initiatives are clearly a priority going forward. With all of Apple's other products, it's about creativity, expression, and productivity. Apple Watch and Apple Health may end up transforming the company more than anyone ever thought. While Steve Jobs' legacy will be the iPhone and the Mac, Tim Cook's legacy will be how he ushered in an era of connected medicine in a way that allows users to trust who has access to their data.
Here's a short list of past articles we've posted about major health issues being discovered/avoided thanks to Apple Watch:
Apple Watch user discovers A-fib heart issue with new ECG app, 'this probably saved you,' says doctor
How Apple Watch saved one man's life — and how it's empowering him after his heart attack
Apple Watch again credited with saving a life as it leads New York man to discover erupted ulcer
Apple Watch skeptic discovers Afib days after ECG app reaches Europe
Apple Watch customer identifies A-fib heart condition after dismissing symptoms as 'holiday anxiety'
Apple Watch credited with alerting Seattle man his A-fib had returned, potentially preventing stroke
Reddit user says Apple Watch saved his life helping detect supraventricular tachycardia
Tim Cook shares story of user who discovered A-fib and other health issues with Apple Watch
Wrap-up
Thanks for joining me on this journey. I've had a long road of using Apple Watches. The device is finally clicking for me. I am more aware of my health when wearing one. No, it's not just about closing the rings daily (which I aim to do), but it's more about living an active lifestyle.
As I write this article, I am waiting on the sun to come up so I can go on an early Sunday morning run. While I've been a runner since 2010, I am more motivated to lace up my sneakers with Apple Watch because I know my friends are going to get an alert when I've finished the run. If the iPhone was about being connected with those you aren't with, Apple Watch is about putting all the other devices down and to get moving. I cannot wait for WatchOS 6 and Apple Watch Series 5. I think Apple Watch is the best fitness device on the market and will dominate the competition for the foreseeable future.
---
How to use Apple Watch SOS mode
by Charlie Sorrel, cultofmac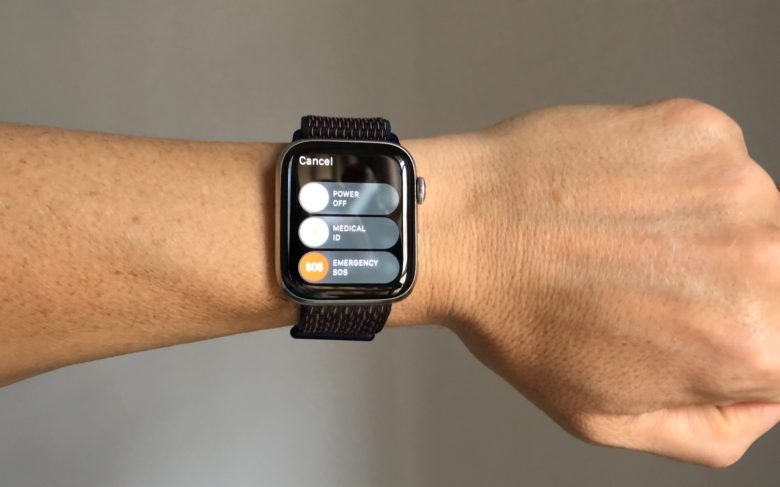 Apple Watch Emergency SOS
If Apple Watch ever becomes as common as the smartphone, TV dramas will get a whole lot less dramatic. You know how when a beloved character is in danger — perhaps there's a killer stalking them in their own home — and you scream at the screen, telling them what to do?
Well, the Apple Watch's SOS Mode pretty much does everything you're telling them to do. It can call the cops, notify a friend, and track your location, all with a squeeze (and maybe a swipe). That might not be great as a standard storytelling trope, but it's fantastic for your personal safety.
What does Apple Watch SOS Mode do?
SOS mode lets you call emergency services from your Apple Watch. Cellular models can call direct. Wi-Fi Apple Watches need to be either a) on a known Wi-Fi network or b) near their paired iPhone. You'll also have to have previously set up Wi-Fi calling.
Once you have made the call to emergency services, the watch will automatically send an SMS to your chosen emergency contact, along with details of your location. If you move, your updated location will also be sent. This will continue until you deactivate SOS mode, or you are rescued by Jack Bauer/John McClane/etc.
How to activate Apple Watch's SOS Mode
This part is easy. So easy, in fact, that it has the power to ruin any dramatic cat-and-mouse situation. To activate Apple Watch's SOS Mode, just press the Digital Crown — and keep it pressed. On the screen, you'll see the following options:

Long-press the Digital Crown to get the Apple Watch Emergency SOS slider.
To enable SOS mode, swipe the bottom bar, marked Emergency SOS. If you can't even do that without tipping off your attacker, then just keep pressing the Digital Crown. A countdown will begin, and when it ends, the watch will sound an alert and call emergency services.
This is the crucial part. As any cop-drama aficionado knows, it's easy to grab a phone and dial 911. What's not so easy is speaking to the police without the baddie hearing you. Maybe Apple will work this out one day, and ruin TV and movies for good. Until then, you're on your own.
After the call ends, a text message with your location will be sent to your emergency contact.
Emergency Contacts and Medical ID
To set your Emergency Contact, you need to use your iPhone. We have a full how-to post about setting up Emergency Contacts and Medical ID, but the short version is that you open the Health app on your iPhone, tap the Medical ID tab, and then tap Edit. This lets you add an emergency contact, as well as several other details. You can add multiple emergency contacts.
Set it up now, before you need it
The Apple Watch's emergency features are great. The iPhone can do the same, but the watch is strapped to your wrist, and therefore more easily available. And it's not just for when you're being stalked by a serial killer in your own basement (although why the hell did you think the cellar was a good place to hide?). You can also call other emergency services if you become injured or trapped.
Go set it up now. After all, in an emergency, you may not be able to.
---
Closing Your Circles - Apple Watch Activity Monitor
by Kibbles & Bytes, smalldog
One of the side benefits of touring the cobblestone streets and castles of Portugal was that just about every day I closed all three rings on my Activity monitor on my Apple watch. Grace cracked that it was because my goals were so low to begin with but it was good to see the closed rings every day.
With the Activity App you can track how much you move, stand and exercise each day. It also tracks the number of steps you have taken, the flights of stairs you have climbed and the distance you have walked. You can share your results with friends and engage in a bit of friendly competition.
To get started, open the app on your Apple Watch and enter some information about yourself. Your Apple Watch lets you know when you reach your goals and it offers suggestions and encouragement to help you close your rings.
---

---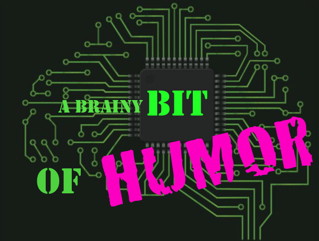 by Penny Holland, MAGIC*
---
Spanish Computers
A SPANISH Teacher was explaining to her class that in Spanish, unlike English, nouns are designated as either masculine or feminine.
'House' for instance, is feminine: 'la Casa.' 'Pencil,' however, is masculine: 'el lapiz.'
A student asked, 'What gender is 'computer'?'
Instead of giving the answer, the teacher split the class into two groups, male and female, and asked them to decide for themselvesï¿1⁄2whether computer' should be a masculine or a feminine noun.
Each group was asked to give four reasons for its recommendation.ï¿1⁄2
The men's group decided that 'computer' should definitely be of the feminine gender ('la computadora'), because:
No one but their creator understands their internal logic;
The native language they use to communicate with other computers is incomprehensible to everyone else;
Even the smallest mistakes are stored in long term memory for possible later retrieval; and
As soon as you make a commitment to one, you find yourself spending half your paycheck on accessories for it.
The women's group, however, concluded that computers should be Masculine ('el computador'), because:
In order to do anything with them, you have to turn them on;
They have a lot of data but still can't think for themselves;
They are supposed to help you solve problems, but half the time they ARE the problem; and
As soon as you commit to one, you realize that if you had waited a little longer, you could have gotten a better model.
The women won.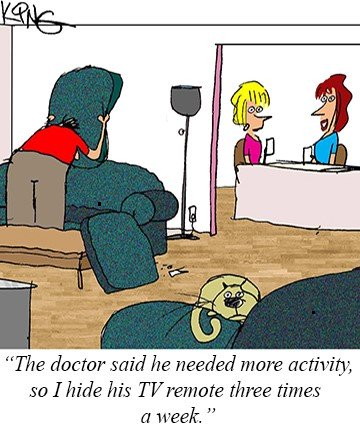 ---
---
Scam emails to look like WhidbeyTel
from Ron Sharp, MAGIC *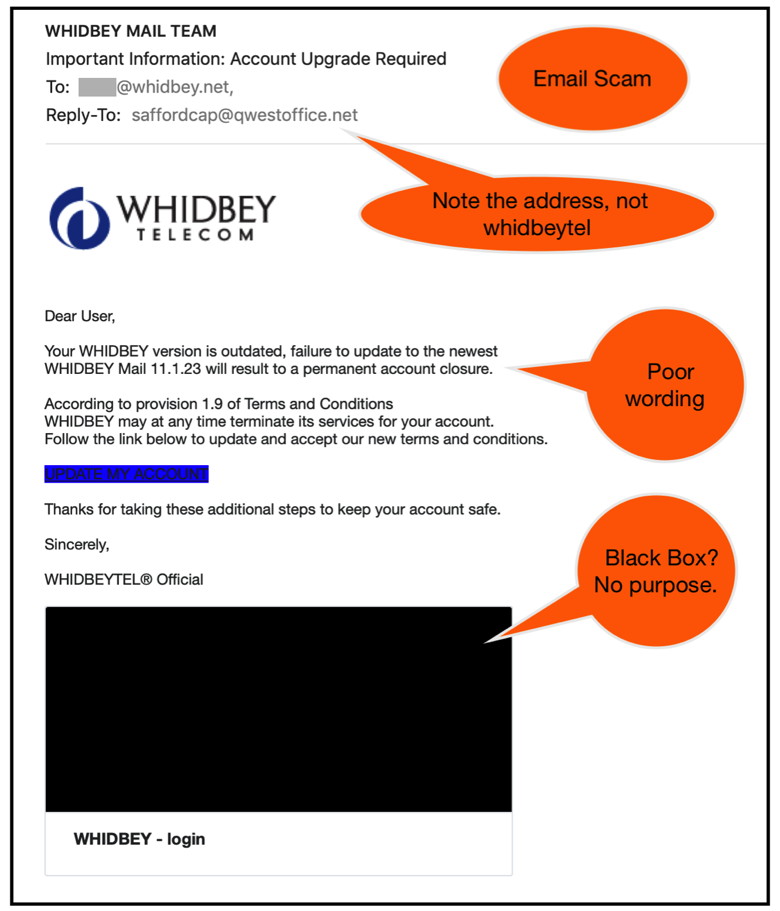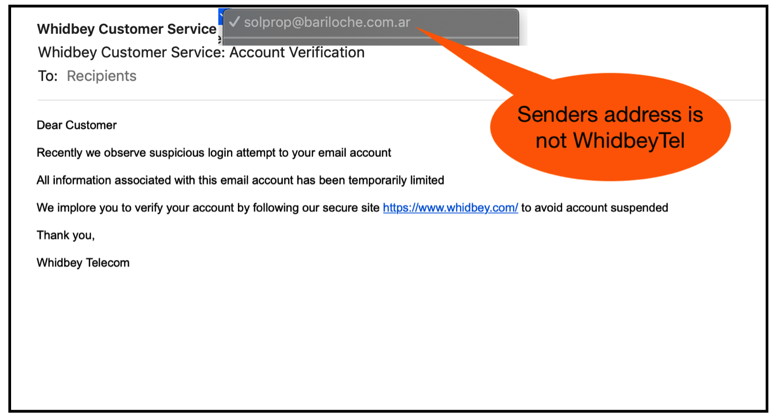 ---
Malware Examples
by Robert Y Elphick, MAGIC *
Below is another selection of emails and browser popups that are up to no good. Never click on anything in an email that is even only slightly suspicious. Macs are only vulnerable to malware that you invite in by clicking on the links or zip files in these emails. So don't touch them!
There are many fake attempts to use Flash to get malware onto your computer.
DO NOT CLICK!
If you wish to remove Flash from your computer (a good ide as it is going away) see
the article in the March newsletter
.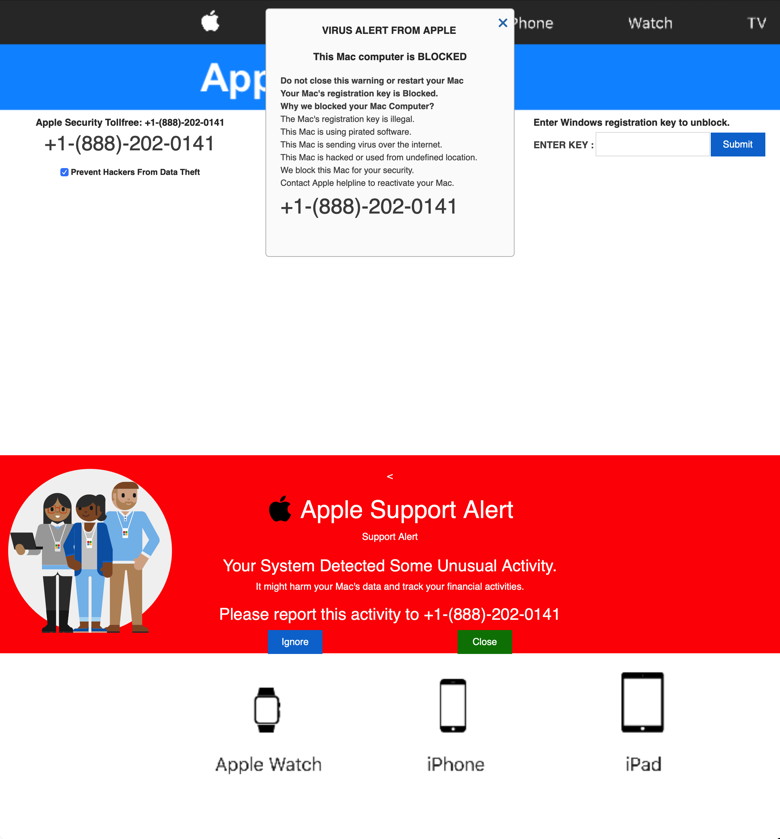 Apple did not send this - Never call and 8xx number from an email, they are all bogus.
Note that the address is weird. This is a scam. DO NOT CLICK.
This had several pages that were blank - by selecting the blank area I could see that there was white text on a white background, the text was all rubbish.
This one also had several pages of white text on a white background.
DO NOT CLICK on the links.
This one also had several pages of white text on a white background.
DO NOT CLICK on the links.<.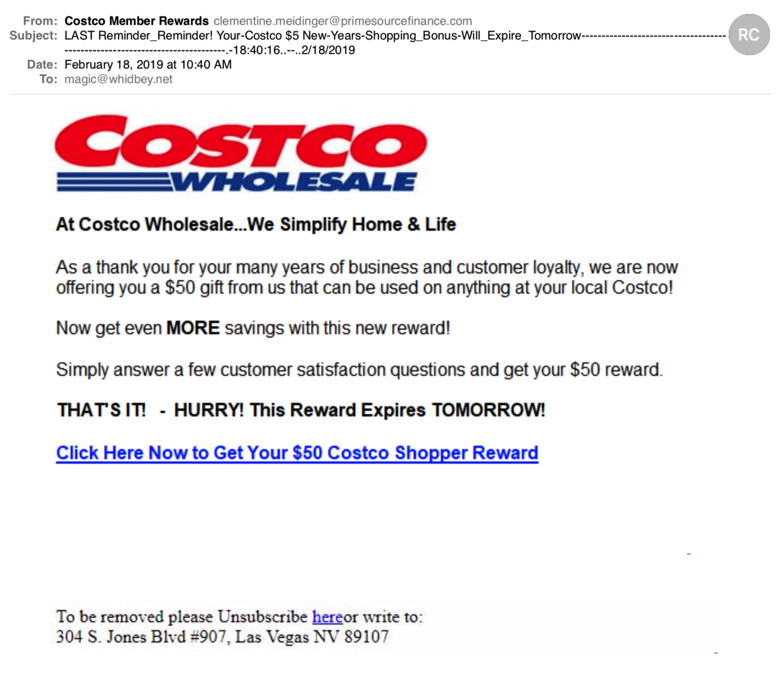 The addresses on this give it away. It is not from Costco!
This email, like many other scams, has a lot of white text on a white background below the message. This is to fool the spam catchers. To see this text use you mouse to select all the blank space at the bottom and it will show up. Cool huh?
DO NOT CLICK on the links.
And this one arrived while I was putting the one above into the newsletter!
This email, like many other scams, has a lot of white text on a white background below the message. This is to fool the spam catchers. To see this text use you mouse to select all the blank space at the bottom and it will show up.
DO NOT CLICK on the links.
Note that the address is weird. This is a scam. DO NOT CLICK.
Hard to believe than anyone would fall for this but please look out for vulnerable people in your family that might.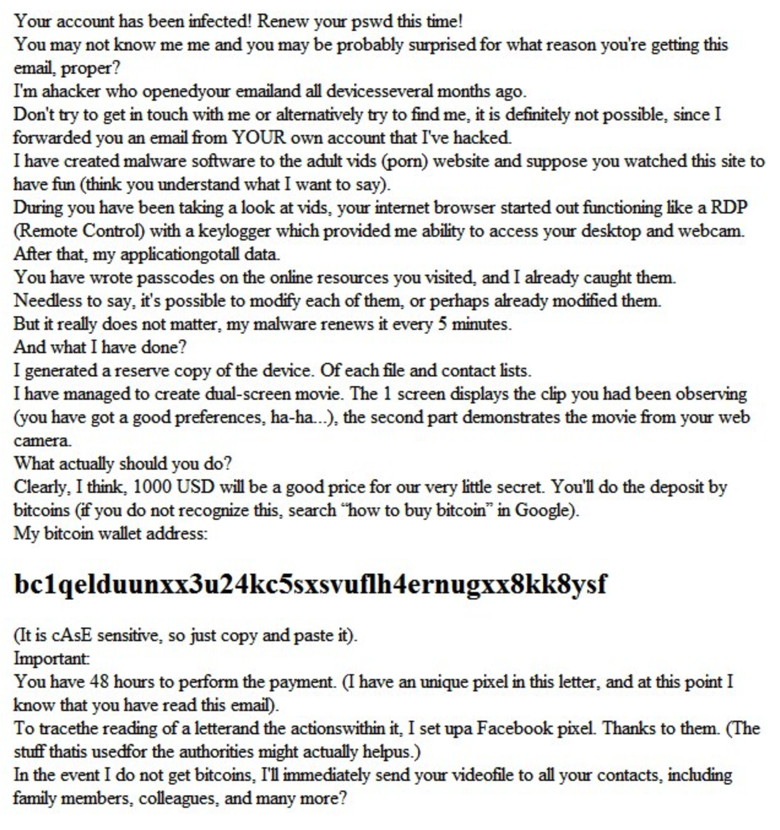 This is just sick. It is a shot in the dark in the hope of finding someone vulnerable. This sicko does NOT have any information on you. All you can do with these is send them to the FBI and hope that bit coin address can be found and shut down.
Internet Crime
Any one bothered by internet criminal activity should report it to the Federal Bureau of Investigation Internet Crime Complaint Center (IC3) at this web page. This includes phishing, malware, spoofing, any demand for money.
---
---
Browsing with Safari on iPhone and iPad
by Ron Sharp, MAGIC *

It's fun to discover new tool tips, particularly for the iPhone and iPad. One thing I learned recently was how to close multiple web pages on iOS. When using Safari for internet searches it's easy to click and hold on a link to open the new web page in a new tab (on iPad) or in the background (iPhone). What some people don't realize is that all the web pages stay in memory until you close them. If you tap on the "Tabs" button you'll see all the open pages stacked up and you can tap on the small x in the corner of each page to close it. However, if you neglected to close web pages for while and you have a lot of pages open then there is a simple way to close them all at once. Just tap and hold on the tabs button and you'll get a drop down window with the option to close all the web pages. Who knew that drop down menu was there! Anyway, it's good to close webpages and even clear history occasionally, particularly if you don't have a lot of free memory.

Other tools that don't seem to get used much in Safari for iOS are the Bookmarks and Reading List and clearing Safari history. To Bookmark a page or save a web page to the Reading List, you use the Share button. Bookmarks is a little confusing to use because you can have bookmark folders you created but the first menu that shows is just the last folder that you used. You have to click more buttons to go back to the list of bookmarks that shows all the folders. If you're not too picky, it's easier to just use one folder, like the Favorites.
To access saved web pages you use the Bookmarks button. You also use the Bookmarks button to clear your browsing history. On iPhone, since its' small screen is not the best for browsing you may decide to use only Private Browsing. You access Private Browsing via the Tabs button. You'll notice the the top search bar and the bottom tool bar turns darker indicating Private Browsing mode. With private browsing your history and cookies are not saved. However, you still have to close web pages.
There are a bunch of other functions available via the Share button. You can send a web page to another local Apple device via Air Drop, email a web page link, print a page, add to your favorites folder, add a link to your Home Screen which is pretty cool, and also save a page as a PDF. To share a page, or any document or photo, via Air Drop, Bluetooth has to be turned on for the devices. Air Drop also does not work on older devices.
---
MAGIC, the Macintosh Appreciation Group of Island County, serves people who use Macintosh computers, software and peripherals. Our goal is to share information and get answers to questions to make us more productive with our use of technology. Our monthly meetings give us a chance to discuss computer problems and share ideas with other Mac users, feature speakers on specific topics, and to keep apprised of Apple news.