CONTENTS
Introduction
Charity Status
Officers / Contact
Bylaws, Officer Duties, Expense forms

Introduction
MAGIC, The Macintosh Appreciation Group of Island County, is a charitable organization that serves people who use Macintosh computers, software, peripherals, and the Internet. The majority of participants are located on Whidbey Island. Our goal is to educate Mac users and potential users in the community, share information and help users to become more productive. There are no membership requirements or fees, and the general public is invited to attend all functions and access all of the group's products.
Participants cover the entire spectrum of expertise: they use their computers at home, at work, and at play. Everyone has a different focus and, therefore, different needs and problems. More experienced users offer advice, and newer users receive an education on the efficient use of Mac computers and the Internet. Monthly meetings give participants a chance to discuss computer problems and share ideas with other Mac users, and to attend presentations by featured speakers on specific topics. The group also offers a monthly newsletter and a public website both of which are primarily used to provide news and education about Macs and the Internet. Hands-on classes offered in the community provide education and training to all Mac users.
The group is an authorized Apple Macintosh User Group (MUG). This gives the group access to additional resources and regular contacts from Apple, access to the online Apple Computer Store, and the opportunity to preview new Apple software. We also hold a federal 501(c)3 tax status which means that donations of cash or merchandise to the group are deductible from the donor's federal income taxes.
Membership is currently free. Benefits include monthly notice of the monthly newsletter in addition to those described above. An electronic application for membership can be sent in by clicking below.
---
Charity Status
MAGIC has been established as a charitable organization and enjoys 501(c)(3) tax exempt status. This means that all donations to MAGIC are tax deductible where allowed by law. Donations can be made to any officer or through the donations page on this website. Receipts will be issued for tax purposes.
---
Officers
Robert Yule Elphick
Robert was raised and educated in the UK earning degrees in Applied Physics and Geophysics & Planetary Physics. He moved to North America in 1974 where he worked in the energy and space industries. He moved to Whidbey Island in 2002 after becoming partially disabled. He has used Macs since 1986.
He spends most of his time doing volunteer work on the Island - including teaching for MAGIC as well as 4-H, designing and building websites, and providing help solving computer problems at homes and small businesses. He lives in Coupeville with his wife Margaret.
Penny Holland
A Seattle native, I graduated from the UW with a degree in mathematics. Taught junior high math in 4 states and then museum education at the Pacific Science Center, Los Angeles Museum of Science and Industry, and volunteered at Cabrillo Marine Museum. My first computer in 1979 was an Apple II Plus with 48K. In those days I reviewed over 50 educational software programs intended for school children. The Mac512 (called the "Fat Mac" for its HUGE memory) was my first Mac, and since then they've only gotten bigger. I wrote my first 8 published books mostly on the old Apple. They were a series of easy-to-read LOOKING AT COMPUTERS books for kids published by Franklin Watts. Since 2005 I've lived full time on Whidbey and have been involved in MAGIC for the past seven years. Besides loving Macs, my other loves are my family and friends, my dogs, and my writing and art. I continue to write for children and paint with watercolors, and sometimes combine both on my Mac.
Gary McIntyre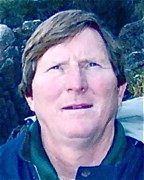 Gary McIntyre was born and raised in Denver, Colorado, and graduated from the University of Colorado with a degree in Economics. He worked for AT&T and several Asia-based telecommunications companies over a thirty year career. His responsibilities included middle to senior management positions in operations, product development, and sales. He and his wife, Brynn, love sailing so decided to retire in the Northwest and live in Sierra on Whidbey Island.
Their daughters helped him "see the light" a few years ago, and he and Brynn are now PC free. They enjoy playing on their iPad, Mac, iPod-touch, and Macbook Air.
Shirley Bennett
Shirley is a long time resident of Coupeville. She has owned businesses here and volunteers for a number of organizations. She is relative newcomer to the Mac world and is learning how use them at MAGIC classes.
Ron Sharp
I was born late in the evening and the constellation Apple was bright in the sky! In the early 90's an Apple computer found me. It was a 16 MHz with 80 MB drive. I was already into technology, diagnosing automobile driveability problems, when I completed an Apple Technical Training course on DVD. Things have changed a lot since then but my interest remains and I enjoy the diagnostic challenges. I'm currently studying Objective C in hopes of writing software eventually, but time will tell how far I get with that hobby.
I'm a Northwest native, lived in California a few years, and moved to Whidbey in 2000. I have some interest in writing and took on the MAGIC newsletter project. Although my computer skills are much better than my writing skills, I continue to do the newsletter. (Newsletter tips or comments are welcome)
Mike Negrete
Mike was born in California, went to Santa Clara University, was a Captain in the US Marines and had one tour in Vietnam. He worked for McDonnell Douglas in California until he moved to Whidbey Island in 1980. Mike retired in 2007 after 20 years with JELD-WEN, a window and door company, where he worked at company locations in the USA, Canada, UK and Europe. Mike is relatively new to Apple products. He has taken the Mac Essentials class and appreciates the opportunity to learn more at the monthly meetings.
Madelyn van der Hoogt
Madelyn lives in Oak Harbor.
Trish (Patricia) Vishnevetsky
I was born and raised in New Zealand, an absolutely beautiful part of the world. From day one my parents said I had the urge to travel so my first venture overseas was to Australia After that I then did the big OE (overseas experience) - I lived and worked in Scotland and England for some time and then moved to Belgium where I met my husband. After living in Belgium we then moved to Buenos Aires, Argentina – after a year there my husband got another transfer to Florida.
We did return to live in New Zealand for seven years before deciding to return the US. Our decision to live in Oak Harbor resulted from many holidays spent here with friends while we lived in Florida. For me this area reminded me of home – I just love the natural beauty of the countryside and everything that goes with it. During all this time I was a confirmed Windows user however once living in Oak Harbor I was introduced to Apple products - from then on Windows was literally out the window. We both now have Apple computers so it has been quite a learning curve for us and I have to say having the MAGIC club there has been a real blessing.
Wilkerson Chuck
Chuck is from Spokane and moved to Coupeville in 1974 after serving 3 years in the Army and is a Vietnam Vet. . He worked for and retired from Washington State DOT after 26 years and still works in his yard service business..
Chuck and his wife have a son and granddaughter whom they enjoy and spend a lot of time with. He enjoys all sports, was a certified USTA tennis instructor and enjoys going to dirt track races.
Chuck served on the Coupeville Planning Commission and then on the Coupeville City Council. He has had a Mac since they first came out and uses a 27" iMac. Of all the Macs he has had, he still keeps a Color Classic and Bondi Blue iMac.
---
Downloads
Click here to get a pdf format file of the MAGIC expense form. Last updated April 2012.
Click here to get a pages format file of the MAGIC expense form. Last updated April 2012.
Click here to get a pdf format file of the Officer Duties of MAGIC. Last updated April 2017.
Click here to get a pdf format file of the Bylaws of MAGIC. Last updated January 2010.
Click here to get a pdf format file of the Articles of Incorporation of MAGIC.